Consumer habits are evolving. But there's one thing that'll never change—people trust people. It's true in business-to-consumer (B2C) markets. And it's the same in business-to-businesses (B2B) industries. Research backs this:
A report from StoryTap shows 88.5% of consumers trust real customer reviews over influencers. So although influencer marketing works, there's nothing like having real customers speak about your product or service.
Nearly 98% of online shoppers read online reviews before buying, and another 66% are extremely likely to buy after reading a review. So there's no reason not to adopt user-generated content (UGC) into your marketing strategy.
That's what we'll discuss today. Let's look at how you can turn everyday customers into advocates.
---
Need User-Generated Content? Turn Customers Into Advocates:
---
What's a brand advocate?
A brand advocate is a person that speaks positively about a brand. They help spread the brand's message using various channels, including social media, forums, review sites, and events. In most cases, it's past customers that carry out brand advocacy.
These individuals purchased your product or service and actively recommend it to others they know (and don't know). It's word-of-mouth marketing at its finest.
When a customer becomes an advocate, they're promoting your brand on their own (unlike an influencer). This makes user-generated content more trustworthy in the eyes of consumers.
Now, not that an influencer can't be a genuine brand advocate. In fact, sending a product to a trusted influencer with no strings attached is an excellent way to get genuine social proof. Not only does their audience know it's a non-paid review, it's content you can potentially use for your own campaigns (with their permission, of course).
Brand advocacy and influencer marketing are earned media, which is proven to deliver hefty returns for brands. In an Influencer Marketing Hub Benchmark Report, we found marketers gained $18 per $1 spent on earned media. So paying for the advocacy of influencers is still worth the investment.
Do note: a brand advocate doesn't have to be a customer or social media influencer—it can be an employee.
"Your people, like your customers and your staff, are the most underutilized assets that your business has." — Bernadette Butler, StoryTap CEO and co-founder.
---
What is a customer advocacy program?
A customer advocacy program is a strategy for creating brand advocates and social proof. It includes rewarding customers for sharing positive experiences with your brand.
It's similar to influencer marketing, except you reward an existing customer who already knows and loves your product. You give the individual something tangible as a token of appreciation. For example, sending a free t-shirt, coupon, or even a year's supply of coffee (or tea).
The beauty of a brand advocacy program is it works across industries and in B2B and B2C markets.
---
Where does user-generated content fit into your content marketing strategy?
User-generated content works well in almost all content marketing efforts. Brands use it across all channels and formats, and at any stage of the buyer's journey.
For instance, if you're writing a top-funnel post explaining a common problem, insert a happy customer's quote describing how they achieved results with your product. It gives a real-world example, showing how to overcome the issue you're educating them about.
Then at the middle of the funnel, use screenshots of customer reviews explaining why they chose your product over a competitors'. An excellent opportunity for a "product plug" in a product comparison piece.
Even at the bottom of the funnel, you can share testimonials or case studies going deeper into using your product or service and the results. For instance, a customer going in-depth about their weight loss journey and how your product sped up that process. Turning a case study into a blog post showcases the customer experience to drive visitors to convert.
Outside of blog posts, you can fit user-generated content into your email campaigns, paid ads, social media posts, podcasts, and videos.
---
How to identify potential brand advocates
Turning every customer into a potential brand advocate...that'd be great, but unlikely to happen. And that's alright. Each advocate can reach hundreds of people with a single review or social media post. So just a handful of advocates can give your brand the visibility it needs to grow revenue.
Although your program should include asking customers for a review, there are other opportunities to find patrons to advocate for your brand. For instance, getting positive feedback from a customer in a support ticket.
Reach out and see if they're willing to leave a review on your site or social media page. You may also find potential advocates in the comments of blog, social media, and podcast posts.
Some brands are bold and connect with a competitors' customer who's unhappy (e.g., in reviews or comments) and offer a free trial for a review. This can work if your product can satisfy their complaint.
Use social listening tools, like Sprout Social to find those mentioning your brand or product (or even competitors). Then to make scraping up posts on Instagram easier:
"We use the IG Helper extension on Chrome that allows us to download all our user-generated content directly from the Instagram website on a desktop. It even saves with the username already in the title. This is valuable because it ensures we can leverage every piece of content that comes our way." — Brandon Chopp, Digital Manager at iHeartRaves
---
How to turn customers into brand advocates
Your customer base is filled with potential brand advocates. It's up to you to capture their satisfaction and share it with the world. But in many cases, it won't happen unless you ask.
This is why it's critical to send a customer review request after they had enough time to use your product. It can be anywhere between a few days to several weeks, depending on what it is. You don't want to send it too soon, or they won't have enough to go on. For example, if you have a weight loss product that takes 30 days, send a request on the 33rd day.
But don't just sit back and hope consumers use your product and have great results. You can create more satisfied customers by providing excellent support. Using our weight loss example, you can:
Build a drip campaign, encouraging them to use the product daily (or other frequency)

Offer tips for making the most of their journey (maybe a beginner exercise routine)

Give discounts for related products to help them lose weight

Create a loyalty program to promote repeat purchases

Ask for their feedback about the product and how it can be better (a missing flavor, possibly?)

Mail a free gift once they reach their 30th day to celebrate

Follow-up after they complete the 30-day challenge with helpful advice (articles, products, routines)
The goal is to root for your customers, request their ideas, and share relevant (and timely) information and products to show you care. Being personable is vital now that consumers demand personalized experiences.
---
How to encourage people to create user-generated content
Getting loyal customers to share their stories with the world is easy today. Most Millennials and Gen Z buyers are digital natives or converts and regularly leave reviews for products. So simply asking for a review or social media promotion is possible, especially when you offer something in return.
"To gather user-generated content from our customers, we have two strategies. First, we directly ask existing customers for feedback. We do this by contacting customers in CRM through email and asking them to fill out a quick survey. Our second method is more tedious. We audit our social media channels. This includes manually searching for brand mentions and hashtags to gather content." — Sam Cohen, Founder of
Gold Tree Consulting
It can be a free gift, discount for a future purchase, or gift card. The goal is to get an honest review, so there's mixed feedback. But don't worry, use this as an opportunity to show your human side.
Reply to the negative reviews and apologize for any mishaps and ensure you'll do better in the future. Look at it as a chance to reflect on your product and how to make improvements. Then reach out to that customer when you improved the product and offer to send another for free. They can update their review if they like the new and improved version.
The key is making it super simple for customers to leave customer feedback. For instance, in your emails and social posts, include a direct link to where they can leave their review. Or have them click "reply" and send it through email. The fewer the steps, the less the friction, the higher the odds they'll do it.
If you're requesting social media promotion, consider gamifying it. Ask for customers to share photos, comments, and Stories of your product (on their wall or your post). In exchange, they get a chance to win a prize.
Don't have a lot of followers? Share the contest with your email list and use paid ads on social media to expand your reach.
Dingle Dangle Baby encourages its followers to leave images and videos with their product reviews:
"We gather UGC from our customers by carefully following up with them 7-10 days after purchase. Via our email marketing system, we ask them how they enjoy the product and encourage them to send photos/videos of them using it. We get about a 30% response rate, which is amazing." — Stewart Gold, Co-Founder of
Dingle Dangle Baby
---
Does user-generated content work?
Depends on who you ask. When done right, it can knock marketing campaigns out of the ballpark. Some even swear it's better than influencer marketing alone:
"In 2021, our enterprise customers used influencers and our customers in their social ads. Surprisingly, the ads that featured customers performed the same if not better than those with influencers, and the ROI was much higher." — Bernadette Butler
Just make sure to get permission, or your marketing campaign will backfire:
"One of the first and biggest mistakes I made with UGC was not getting approval to share the post. I assumed crediting the content creator in the caption as the source of the photo would be enough, but the creator was very upset. This led to our use of the approval hashtag strategy - and we haven't had an issue since (although some folks just don't respond)." — Skylar Whitney,
Dittoe Public Relations
---
How do companies use user-generated content?
Companies use UGC on all types of content and platforms, such as social media, and their website. You should do the same. But if you need a bit of inspiration, let's review how others use UGC today.
3 user-generated content examples
In our first example, we have Custom Neon, which, as its name suggests, creates custom neon signs. They gather user-generated content from social media and reviews posted online or sent via email. They like to publish images with their customer reviews like this: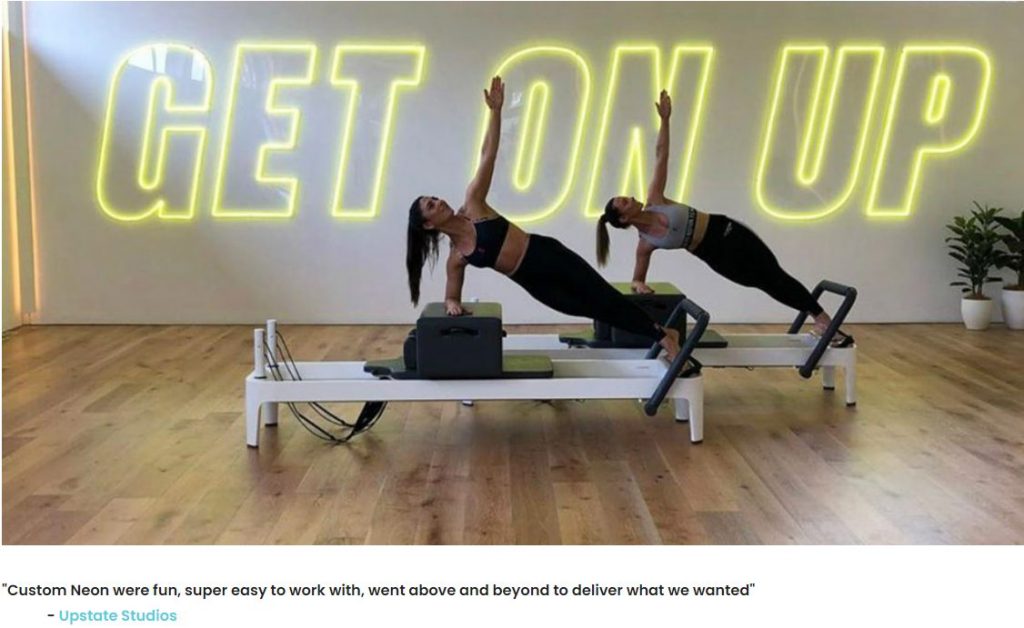 And here's how they used UGC in their latest YouTube ad:
Dingle Dangle Baby takes the UGC they gather from emails and use them in their Instagram posts:
Darren Litt, Co-Founder of Hiya Health also swears by Instagram and uses it to gather and promote using UGC:
---
Don't wait for user-generated content; encourage it
User-generated content isn't something that should happen by chance. Building a strategy around brand advocacy is key. Find ways to involve your customers using surveys, contests, and incentivized reviews.
Make it a win-win, and you'll get more positive feedback. And when you don't—remember to use it as a learning lesson. Because without a great product, you can forget about making customers happy.
Then as your UGC vault grows, you'll have the arsenal needed to build high-converting content marketing and sales campaigns.
Frequently Asked Questions
What UGC works on each network?
UGC works across every social media network. For example:
Facebook is an excellent platform to share customer stories in video format. Or even use UGC in your Facebook ads.
Instagram is another visual platform, making it best to use UGC that showcases your products.
Twitter seems limited, but visuals are worth 1,000 words, so use them. Share UGC product photos or host aTwitter chat to demonstrate the product live.
TikTok is where customers go to share their experiences, so seek and you may find dozens you can use (get permission first).
LinkedIn is for professionals, but they're people too and love great UGC. But instead of using it from customers, have your employees create it instead.
What about content generated by employees?
EGC, or employee-generated content, is best for sharing your brand's story. Allow workers to create a platform to share your brand's story through their eyes and words. For instance, why they love your company's culture or goals you're striving for, and achievements made together.
So what's the best type of UGC to ask your users for?
Honest feedback about your product and if it's tied to a visual (photo or video), even better. This makes it authentic and shareable across all platforms and makes it appealing and scroll-stopping.
How do you measure the success of your user-generated content?
You can track and measure UGC by its reach by analyzing views. It's also possible to track conversions when you tie a link with a UTM code to a landing page (for instance, on an ad or social media post).
Social media listening tools allow you to monitor brand mentions and discussions to see if you're generating buzz.