Best for:
Small, medium and large businesses
Start doing your research on the UpPromote, and you'll see that it's developed by a company called Secomapp. Start researching Secomapp, and you may—briefly—think that you're not dealing with a fully baked company. And you'd be forgiven for thinking the english found on their website doesn't make a great first impression.
But do a little more digging, and you'll realize that how good they are with spoken language isn't as important as what they do with programming languages. And what they do with programming language seems to be making their 150,000+ customers happy. With a focus on developing apps to support Shopify users, it's easy to see their trail of satisfied users at Shopify's app store. Especially with UpPromote, the app is serving more than 70.000 users globally. With eight apps currently available, and an average rating of 4.9 stars (and with the number of reviews often in the thousands), the people at Secomapp clearly know what they're doing.
Much of Secomapp's output are simple, uni-tasking tools, like one that facilitates Buy One Get One offers, or another that works as a physical store locator. Affiliate marketing is a different beast altogether, which makes UpPromote something of an outlier in their catalog. An effective AM tool is multi-faceted, and should be capable of much more than simply using tracking links to pay out commissions. You don't need to be a geography expert to make an app that shows users nearby stores on a map based on a town name; you do have to know something about the practice of marketing at a high level—and affiliate marketing specifically—to create an effective tool to manage it.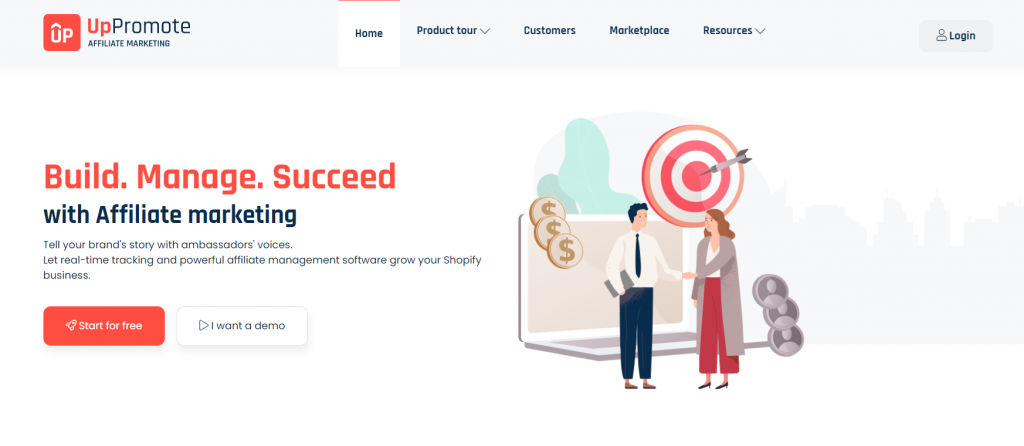 But, no, user reviews of UpPromote are overwhelmingly positive. Its 35k+ users manage over 724k affiliates, with more than 25 million clicks recorded. Maybe they spent more time developing their products instead of their website, and we can't fault them for that.
---
Overview UpPromote:
---
Pricing
UpPromote offers four levels of pricing, so e-comm businesses of all sizes can find something that suits their needs.
Free, $0/mo —

1 user can run 1 affiliate program for up to 200 referrals a month; up to 15 special product commissions, 1 coupon per affiliate, 100 bulk emails a day (for updates to affiliates) with email templates; find affiliates with a Marketplace listing, and by creating a custom affiliate registration form; third-party tracking (for clicks not from Shopify); communicate with affiliates via chat plugin.
Growth, $29.99/mo —

1 user, Unlimited Programs, 300 referrals, 15 special commissions, 1 coupon per affiliate, 300 Bulk emails, marketplace listing, affiliate outreach, convert customers to affiliates, custom registration form, email templates, white label email option, pay in store credit, third party tracking, chat plugin
Professional, $89.99/mo —

All of the above, with the following changes/additions: 4 additional staff accounts, unlimited special commissions, unlimited coupons, 600 referrals, 400 bulk emails, custom affiliate links, shorten affiliate links, autogenerate coupons, auto-discount, lifetime commissions, auto-tier commissions, advanced analytics, standard and custom integrations, postback URLs and Facebook pixel for affiliates
Enterprise, $199.99/mo —

Unlimited everything, but only 500 bulk emails, plus custom feature development, multiple stores, and Partial.ly integration
---
The Details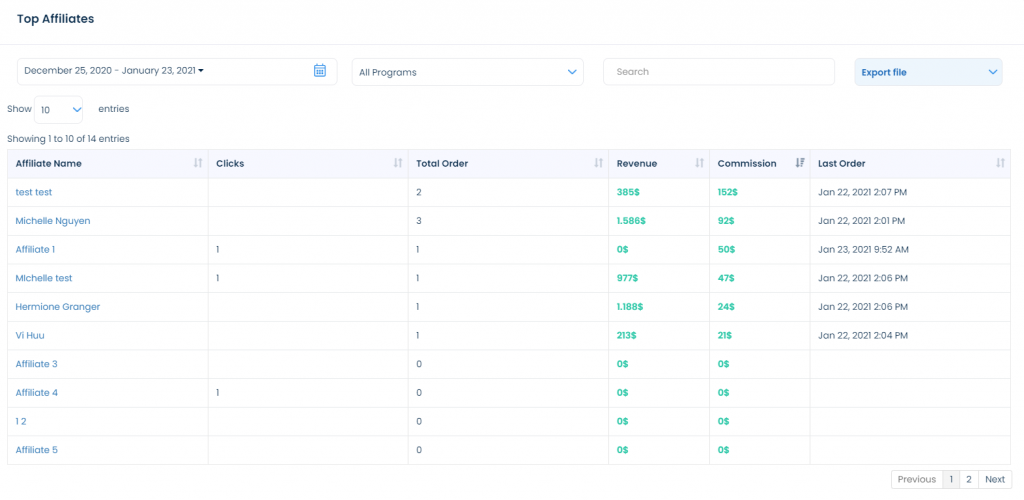 UpPromote's approach to affiliate marketing breaks the process down into its essential steps: create your program, find affiliates, track their performance. This is how they describe it, anyway. In between all that, there are plenty of little tools and features that aim to make all this easier—if not downright automatic—and so the first glance at UpPromote's interface, you shouldn't be surprised to see more menu options than those three steps. The software doesn't do much on its own to guide you into a workflow, though they do have an excellent array of videos at their YouTube channel to get you on the way.
For the curious among you, just navigating through each of the menu items in UpPromote is enough to ground you. When creating your first program, you'll notice that one is already there, waiting for you to customize it to your own preferred setting—and doing this goes a long way toward getting you oriented with what the software has to offer. This is probably because there's not a lot here to bog you down: creating a program is as simple as giving it a name, a description, and defining the commission structure. You'll define whether or not the commission is a flat rate per item or per sale, or if it's a percentage of the total sale.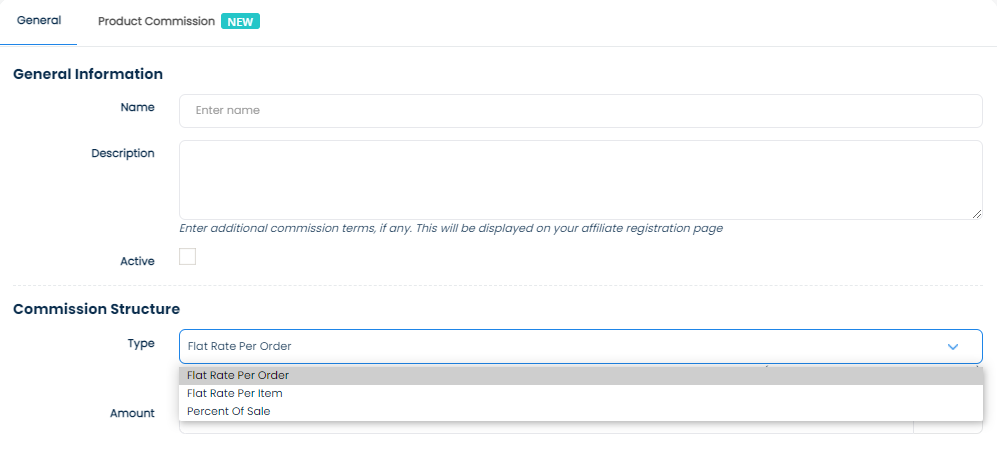 You could stop there if you wanted and move on to recruiting affiliates; but you can go deeper if you like. For instance, you can get more advanced with your commissions, tiering them so the payouts grow larger along with the size of the order. You can also choose to base commissions on milestones instead of individual orders—rather than get 10% for each order, for example, you can set it so that they get 10% once they've referred $500 worth of sales. Or, you can set special commissions for specific products (or collections of products) that you're trying to push. Other advanced settings include automatic discounts for customers referred by an affiliate, and lifetime commissions (an affiliate only needs to refer a customer the first time, and any purchases they make in the future are still credited to that affiliate).

With your program set up, it's time to find affiliates. UpPromote's marketplace is where merchants and potential affiliates can connect: publish your program and wait for the applications to roll in. As helpful as the marketplace is, it's likely not as reliable a place as your own website/Shopify store. For each program you create, an affiliate signup form is automatically generated, as is the link you can share to point people over to it. That link is easily added to your Shopify store, though it could be easier. It's a little weird that Secomapp made this tool specifically for Shopify, but there's no real integration between them for this task. If there were, you could just define from UpPromote which nav menu in Shopify will be where these links go, and it would all happen automatically. As it is, you need to copy and paste each link for each program into your Shopify admin page. That's not difficult, but if you have many affiliate programs defined, publishing those links one at a time becomes cumbersome. Social sharing directly from UpPromote works in that same way: one link at a time to one channel at a time.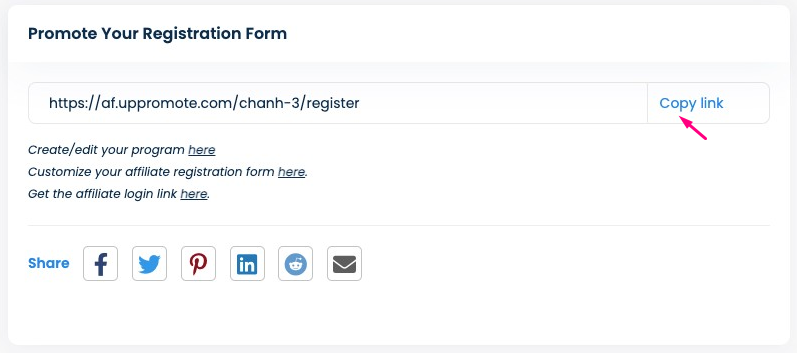 One of the unique features here is the ability to payout commissions in store credit. This is a great way to save a little money on your payouts. A $100 commission sent through PayPal costs you $100 (plus any possible fees). But $100 in store credit only costs you what you paid for the product you're selling. When it's time to pay affiliates in this manner, UpPromote will generate a coupon on the fly solely for their use.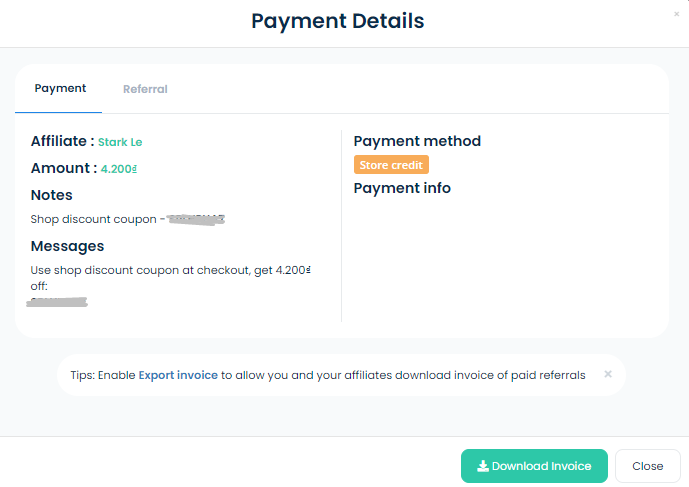 The software also makes communication with your affiliates simpler—in some cases, even automated. A variety of actions can trigger the sending of an email to individual affiliates, like a confirmation that their application has been received, or when one of their referrals made a purchase. There's a chat plug-in, as well, which is a good way for affiliates to be able to reach out to you, assuming you're logged in to UpPromote at the time they contact you. More useful is the bulk email option, for sending out updates and information (maybe new programs, or changes to the commission structure) to everyone you're working with. Or maybe everyone: it's a strange thing that even the unlimited Enterprise plan puts a limit on bulk mail recipients. It simply defies logic that you can have an unlimited number of affiliates but only communicate with 600 of them. Yes, this is a Shopify app, so we're not talking about multinational brands here. But also: this is e-commerce, and anyone can become a multinational brand.
---
Integrations
In the e-commerce world, especially for smaller businesses, integrations are a must. There are a number of useful services for getting more out of your Shopify store. UpPromote works with a few of them, but in that limited pool are some of the more popular options.
One way around the bulk mail limit is to integrate with some other communication tool. You can sync your affiliate lists to Mailchimp, which seems like a natural choice. Even better is the ability to sync these lists to Omnisend, which goes beyond email to also communicate via SMS, WhatsApp, and push notifications—all of which are more popular comm tools than email these days.
If you offer subscriptions through apps like Recharge, Bold or Appstle, you can track referrals for these with UpPromote. And if you're using Partial.ly to accept partial payments, UpPromote can make these work with your affiliate programs.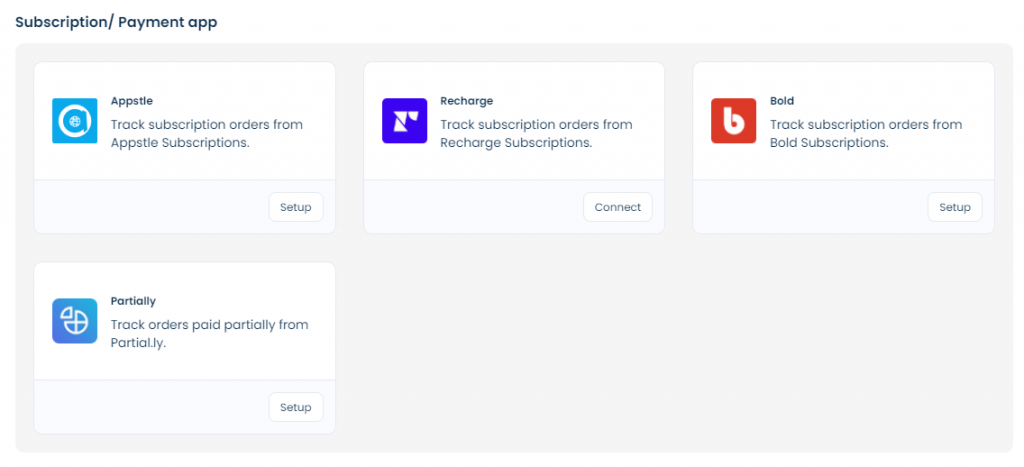 The app offers affiliates the option to select whatever payment method they like to use (ACH, debit payments, Venmo, and others), but to pay them directly and automatically from the platform, you'll need to use the PayPal integration.
It's surprising that there are no CRM integrations, though the developers at Secomapp seem pretty open to taking requests.
---
Conclusion
Shopify is still the number one e-commerce platform in the world, which is why there are so many Affiliate Marketing solutions available for it. As one of the highest rated options, UpPromote should be one of the highest on your list to check out. It's not perfect, and in some ways (for some cases) it has frustrating limitations. But with its makers' track record of satisfied customers, these limitations could very well be temporary. For customers on the Enterprise plan, Secomapp offers custom development to address any features or integrations they don't yet offer. It won't be an out-of-the-box, turnkey solution, but not much is for $140 a month. UpPromote is doing a lot of things right for its target customer.
UpPromote
Features

Ease of Use

Reporting

Integrations

Best for:
Small, medium and large businesses