Video is rapidly becoming an expected element in any social media marketing campaign. People find videos more engaging and memorable than other types of online content. Many brands find video to be the most effective way to tell their story.
Wyzowl's 5th annual State of Video Marketing Survey found that 87% of businesses use video as a marketing tool. 83% of marketers say that video gives them a good ROI. Things have happened quickly, however. Over a quarter of the video marketers that Wyzowl surveyed first used video in the last twelve months.
Google has found that almost 50% of internet users look for videos related to a product or service before visiting a store. Video is becoming an essential part of marketing, so brands must upload exciting, engaging, and useful videos to their various social channels.
In this article, we are going to look at some video best practices they should follow, and how to get the most out of your videos on YouTube, Instagram, and Facebook.
---
How to Best Use Video on Social Media:
---
General Hints and Tips for Using Video on Social Media
In many ways, using video is much harder than other types of social media posts. It is much harder to make a quality video than it is to write a good piece of copy or to design an eye-catching image. There is far more involved in making a video than there is in other kinds of content. Therefore you need to ensure that you can make the best videos for your intended purpose.
Use the Correct Specs for Your Videos
If you want your video to look its best on your preferred social platforms, you need to ensure that you upload it meeting the correct specs. Each social platform has different rules when it comes to video specs (as indeed they do regarding image sizes).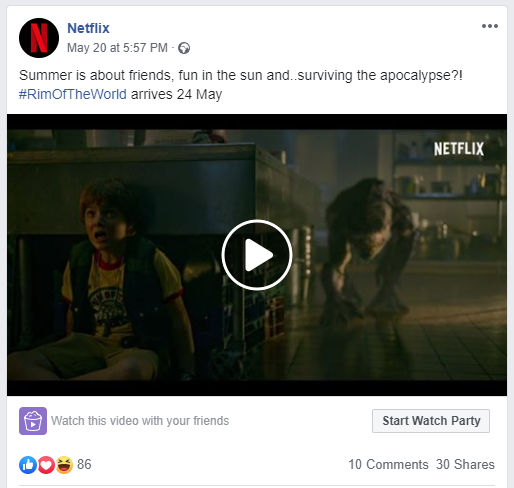 We recently covered this in detail in our Complete Guide to Social Media Specs. We include a summary of the most critical specs here.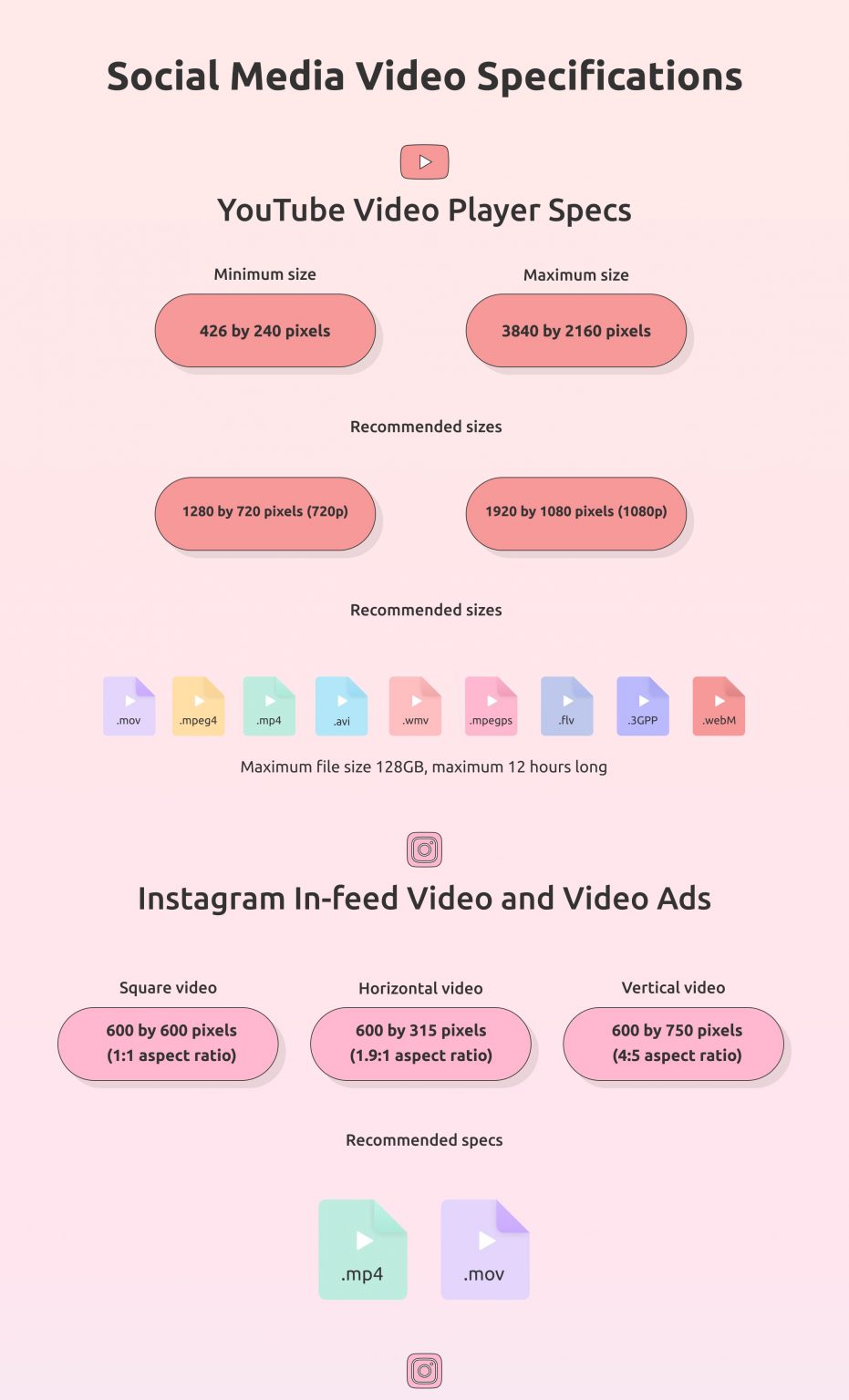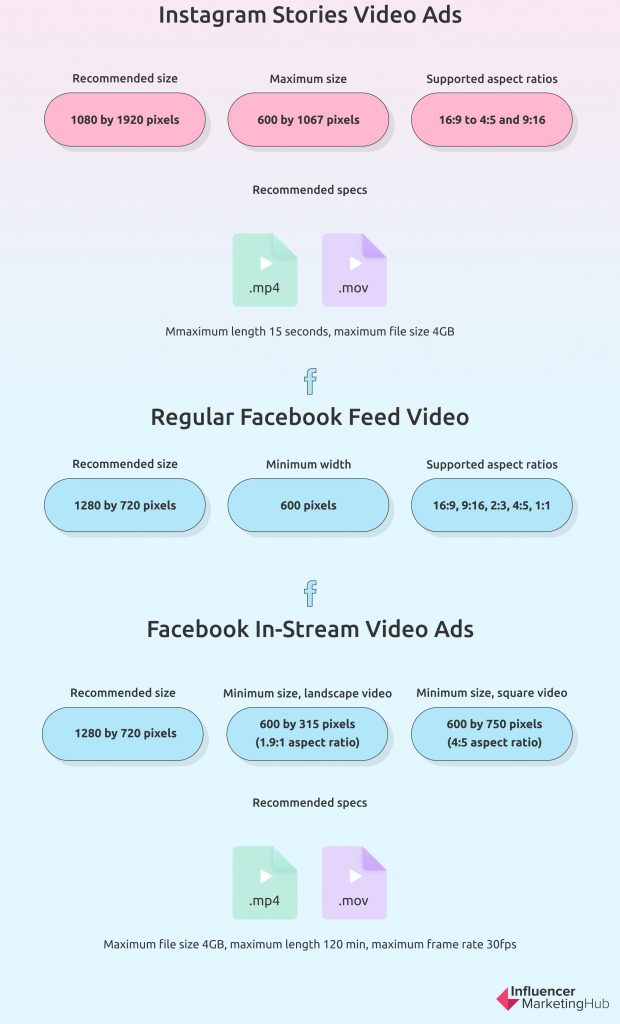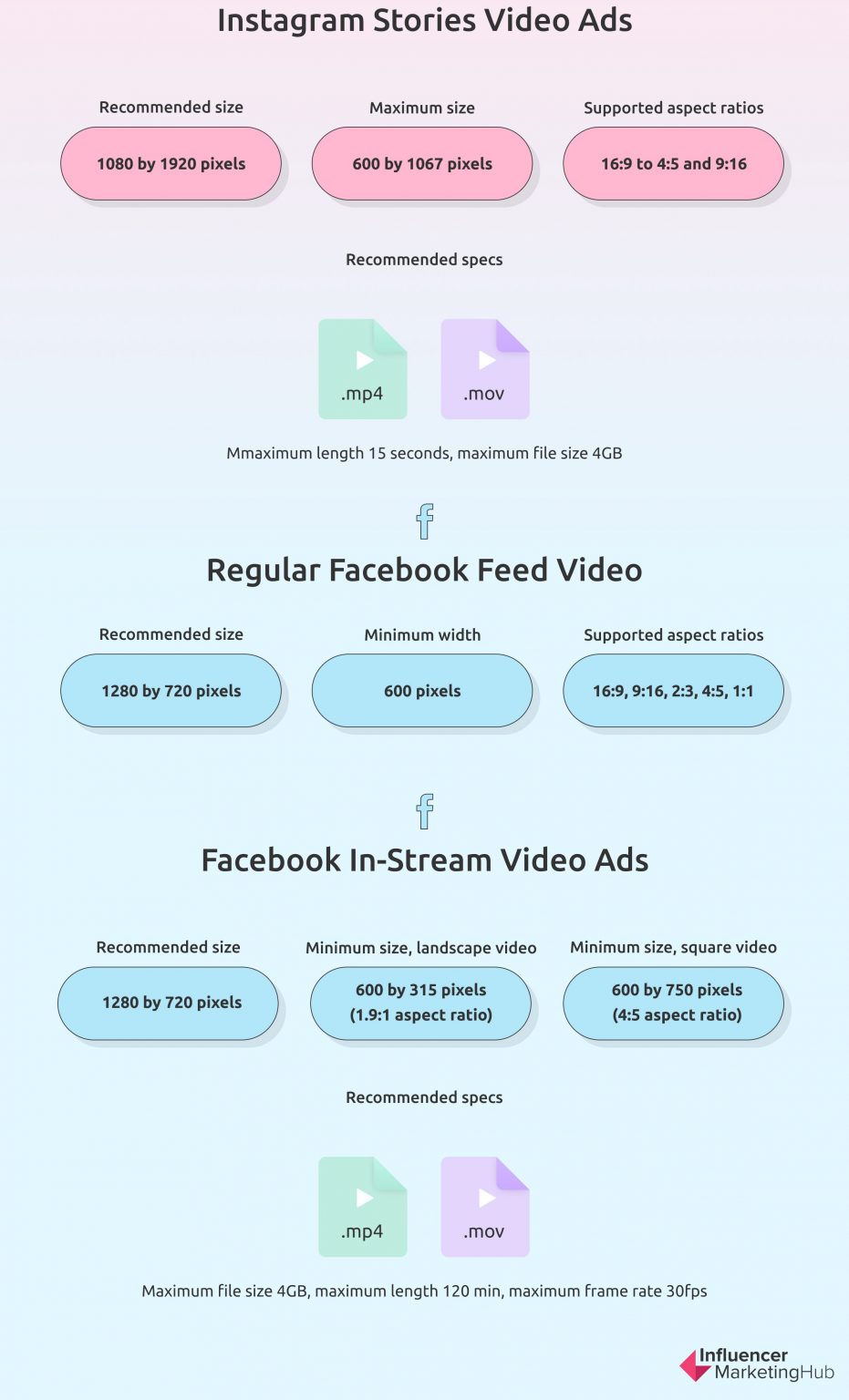 YouTube Video Player Specs
Minimum size: 426 by 240 pixels

Maximum size: 3840 by 2160 pixels

Recommended sizes: 1280 by 720 pixels (720p), 1920 by 1080 pixels (1080p)

Recommended specs: .MOV, .MPEG4, MP4, .AVI, .WMV, .MPEGPS, .FLV, 3GPP, or WebM, maximum file size 128GB, maximum 12 hours long.
Instagram in-feed video and video ads
Square video: 600 by 600 pixels (1:1 aspect ratio)

Horizontal video: 600 by 315 pixels (1.9:1 aspect ratio)

Vertical video: 600 by 750 pixels (4:5 aspect ratio)

Recommended specs: .MP4 or .MOV format.
Instagram Stories Video Ads
Recommended size: 1080 by 1920 pixels

Minimum size: 600 by 1067 pixels

Supported aspect ratios: 16:9 to 4:5 and 9:16

Recommended specs: .MP4 or .MOV format, maximum length 15 seconds, maximum file size 4GB.
Regular Facebook Feed Video
Recommended size: 1280 by 720 pixels

Minimum width: 600 pixels

Supported aspect ratios: 16:9 (horizontal), 9:16 (full portrait), 2:3 (vertical), 4:5 (vertical), square (1:1)
Facebook In-Stream Video Ads
Recommended size: 1280 by 720 pixels

Minimum size, landscape video: 600 by 315 pixels (1.9:1 aspect ratio)

Minimum size, square video: 600 by 600 pixels (1:1 aspect ratio)

Recommended specs: .MP4 or .MOV format, maximum file size 4GB, maximum length 120 min, maximum frame rate 30fps.
---
Make Engaging Videos
It is pointless investing time and money into creating a video if it is unlikely to engage people. Remember, social media video is not a substitute for traditional tv ads. People choose to watch social media videos, and will only do so if they find them interesting and can perceive some benefit to themselves.
Your video should encourage viewers to interact. You could play around with traditional formats, for example, making a 360 format video, meaning that the viewer appears to move the video with their cursor.
You could perhaps make a video that goes behind-the-scenes of your production process, making your viewers feel they are part of the activity.
Videos don't just stimulate the visual sense. Sound is important too. Consider using exciting music and sound effects to enhance the experience. While videos can't directly stimulate smell or taste buds, firms in the food and beverage industries can present their products so appealingly that they set the viewers' tastebuds salivating.
Live video can play a unique role in bringing the viewers into the action. They can tune into your event and follow what is happening in real-time. It can help bring people together and is the next best thing to being there.
---
YouTube Video Hints and Tips
Correctly Set up Your YouTube Business Account
If your organization is going to use YouTube for marketing, you will need to set up and optimize a YouTube business account.
Google owns YouTube so you can sign into the platform using your existing Google log-in details. On the YouTube homepage, click on the avatar icon in the top right of your screen. Then click on "My channel" from the drop-down options.
As you are setting up a business account, you should click on "Use a business or other name" rather than filling in your name and then enter your brand's name in the resulting screen. You then click "Create" to activate your YouTube Business Account.
Before you go further you will want to fill in your remaining (business) profile details. Click on the "Customize Channel" link. You will see numerous sections you can (and should) fill in. Remember that many potential customers will take a close look at your channel's profile. So you need to fill in as much as possible. Think about what you want your potential customers to know about you.
Remember to add a relevant channel icon and banner. The recommended size for your channel icon is 800×800 pixels and your banner should be 2,560×1440 pixels, although anything over 1546 x 423 pixels could be cropped for mobile. Use hi-res images.
Don't forget to include links to your homepage and social profiles (and possibly a dedicated landing page for YouTube traffic) in your description.
---
Promote Your YouTube Channel
There is little point having a YouTube channel if nobody knows about it. You need to promote it, along with your other social accounts.
Begin by getting your channel ready. Perfect your profile, as we discussed above. Ensure that each video you upload has a catchy, exciting title. If your videos have boring titles, people will assume that the videos are mundane and won't bother to click on them. Spend time coming up with an interesting title every time you make a video.
YouTube has the second most used search engine online, second only to big brother, Google. You can use similar SEO techniques with your videos that you do with your websites and blog posts. Use relevant keywords in your titles and descriptions. Be sure to use these keywords naturally in your videos. Encourage and participate in engagement. And make sure you select the best categories and tags for your videos.
Remember that people watch videos on YouTube that interest them. Therefore you should make the type of videos that your intended audience wants to watch – not what you would like them to watch. We can't emphasize this enough – YouTube is not a place to do traditional TV advertising. Red Bull, for instance, doesn't make videos about the benefits of drinking energy drinks. Their videos are about the exciting activities that fans of energy drinks enjoy doing and watching.
Keep a close look at the comments that people leave on your videos. Reply to them where relevant, and at least like the comments that people leave.
Consider customizing your video thumbnails to show the most exciting image from each video – otherwise, you have to put up with a random image that YouTube takes from your video.
Don't forget to cross-promote your YouTube videos. Put links in your descriptions to other videos that are on a similar topic. Also, make sure that you promote your YouTube videos on your other social channels, as well as in any emails you may send to your mailing list.
---
Important YouTube Analytics
YouTube provides a comprehensive Analytics section, showing you how the videos on your channel perform. To find this data, visit YouTube.com/Analytics or select the "Analytics" drop-down in the "Creator Studio" tab of your account.
YouTube provides five reports giving a wealth of information:
Overview

Realtime

Earnings

Watch Time

Engagement
Take a close look at which videos resound with your audience and which don't work so well. In particular, try to establish what is popular with your followers and focus on making similar videos in the future.
---
Instagram Video Hints and Tips
Ways You Can Use Videos on Instagram
We recently wrote about New Instagram Updates and will continue to update that article in the future. Instagram is continually upgrading its feature set, and many of these add to its video capabilities. Undoubtedly the most significant change in recent years was the introduction of their YouTube-competitor, IGTV. However, you have been able to use shorter videos on traditional Instagram for many years.
You can use Instagram Video posts in your standard feed. They are just like regular photo posts but include a video (of up to 60 seconds long) rather than a still image. You can add a filter to these, along with a caption and a location tag.
You can use Live Video on Instagram, too. You upload a live video stream, and Instagram sends a push notification to your followers, informing them you are streaming.
One of the more popular additions to Instagram has been Instagram Stories. You can add multiple images or 15-second video clips to your Stories.
You can use special filters on your Instagram feed and Instagram Stories videos and add multiple types of stickers to them. Consider using them to promote an Instagram contest or setting up some form of an interactive quiz.
---
Using Video in Your Instagram Stories
Stories are now seen as an integral part of Instagram. They have rapidly become one of the platform's most popular features. You can easily collate a mix of still images and short video clips together to make your entire Story, which disappears after 24 hours.
One of the most helpful features of Instagram Stories is that they sit in a separate section of the Instagram app, and don't get shoved down the page by the Instagram algorithm. A purple circle around your profile photo lets your followers know that you have recently added to your Story.
Stories don't have to disappear entirely at the end of 24 hours, however. You can save a Story as a Highlight, which keeps it on your Profile page.
Also, unlike your everyday Instagram feed, you can include clickable links in a Story, which makes them excellent for marketing.
You only have 15 seconds for a video clip in a Story, so you need to ensure that it shows something worthwhile. Of course, if you really need more time, you can include multiple clips that follow in succession.
You have access to a huge array of filters and stickers. Make sure that they don't overpower your video clips, however. Most stickers are probably better suited for placing on the still images in your Story.
Stories Ads allow you to include up to 10 photos or videos and feature a full-screen format. Don't rely on audio in these ads, though, as most people view these ads without sound.
---
Facebook Video Hints and Tips
Using Video on Facebook
Facebook also encourages its users to upload and use videos. It appears to favor videos natively uploaded to Facebook over links to YouTube videos.
People play videos on Facebook without sound by default. Therefore you can't rely on people turning on the audio. It makes sense, therefore, to add subtitles to your Facebook videos.
---
Facebook Live Can Make an Excellent Marketing Tool
Facebook Live is particularly popular for marketers. Videos on Facebook Live are watched more than pre-recorded videos. Facebook Live videos receive three times the engagement of other videos shared on social media.
Of course, there is nothing worse than holding a live broadcast and nobody turning up to watch you (apart perhaps from a large crowd turning up to see you dry up on camera and you make a fool of yourself through lack of planning). You need to promote your broadcast well in advance of your stream. You can target your potential audience with Facebook Ads promoting your upcoming livestream.
You will need to continually remind people, although you shouldn't do so repetitively. Add additional information with each promotion.
Obviously you need to plan your broadcast well. Sure, it won't be scripted, but you still need to know what you intend to talk about so that you don't dry up as soon as ss the camera starts rolling. Facebook Live videos usually end up much longer than the pre-recorded videos that you may upload.
Make sure that you have a quiet place from which to broadcast where you won't suffer from embarrassing interruptions. Test that you have the technical details sorted out and have a trial run first. You will want a steady camera, so use a tripod, and you will get better results from using an external microphone.
You might want to consider how your intended audience uses Facebook. You have the option of broadcasting either vertically or horizontally. What would your audience prefer? You also need to time your Live broadcast to be when the people who you want to target are likely to be viewing. There is little point streaming when they are sleeping, for instance.
You should also keep a close eye on the comments and reactions section so that you can reference your viewers and make it more of a two-way activity.