Advertising Disclosure
Advertising disclosure:
Our partners compensate us. This may influence which products or services we review (also where and how those products appear on the site), this in no way affects our recommendations or the advice we offer. Our reviews are based on years of experience and countless hours of research. Our partners cannot pay us to guarantee favorable reviews of their products or services.
Nowadays, many consumers rely on online reviews and testimonials before they are willing to commit to a purchase. Indeed, even businesses in the B2B sector check potential suppliers' trustworthiness and service performance. Unfortunately, you hear too many horror stories of online scams to believe every promise you see on the internet. So, more and more, people look for social proof that a firm consistently carries out its promises.
One way that many brands try to emphasize their trustworthiness is to include customer testimonials on their websites. You will find a wide variety of testimonial types, including customer quotes, case studies, customer interviews, high-profile reviews, press reviews, and social media posts. However, many companies now include short video testimonials from happy customers on their site. In this post, we look at a range of video testimonial software and tools they can use to facilitate this.
If you're unsure about what you need for a good video testimonial, our Ultimate Guide to Video Testimonials will help you and give tips and best practices for effective video testimonials.
---
Video Testimonial Software and Tools:
---
Video Testimonial Software and Tools to Help Create High-Converting Customer Testimonial Videos
There are three main ways you can make testimonial videos:
Hire a film crew to make professional videos, hand-picking your customers – you generally won't have to worry about video software and tools as the video production company will already have professional editing and other video-related software.

Ask customers to make testimonial videos you can use on your site. These videos might be of varying quality, and you will probably have to edit them for length and improve technical quality. Depending on how often you do this, you might consider investing in professional video editing software like Final Cut Pro or Premiere Pro. If you only edit a few videos, you will find many video editing tools that aren't specifically video testimonial software. We look at some of these in

The Best YouTube Video Editing Tools Money Can Buy

.

Use automated review generation software – these are specialist video testimonial tools you can use to collect and collate testimonials and help you build a library of testimonial videos. You can often even integrate them with your CRM to automatically request customer reviews at the correct time.
In this post, we will emphasize the specialist video testimonial tools you can use to generate (genuine) testimonials automatically.
---
Video Testimonial Software and Tools to Consider
Widewail specializes in products you can use to generate feedback and review response managed services. One of their more recent products is their video testimonial generation software, Invite Video.
You can use Widewail Invite Video to gather user-generated video content and use your customer's own words to help convert future buyers. Customers can record themselves without needing a film crew, setup, or travel. Instead, customers record their videos on their mobile devices, requiring no downloads. Invite Video guides your customers through every step of the process.
You can get a whole library of user-generated videos for the cost of one professional video, so you don't need to be stuck with a few testimonials a year because of budget constraints.
Customers submit videos into Widewail's app that notifies your team of a new submission. You or your team can then navigate to the app to view the latest video content and then download the best ones for use in your marketing.
Every video submission has a signed release form, so your business has the freedom to use the video anywhere, e.g., on your website, social, or ads.
---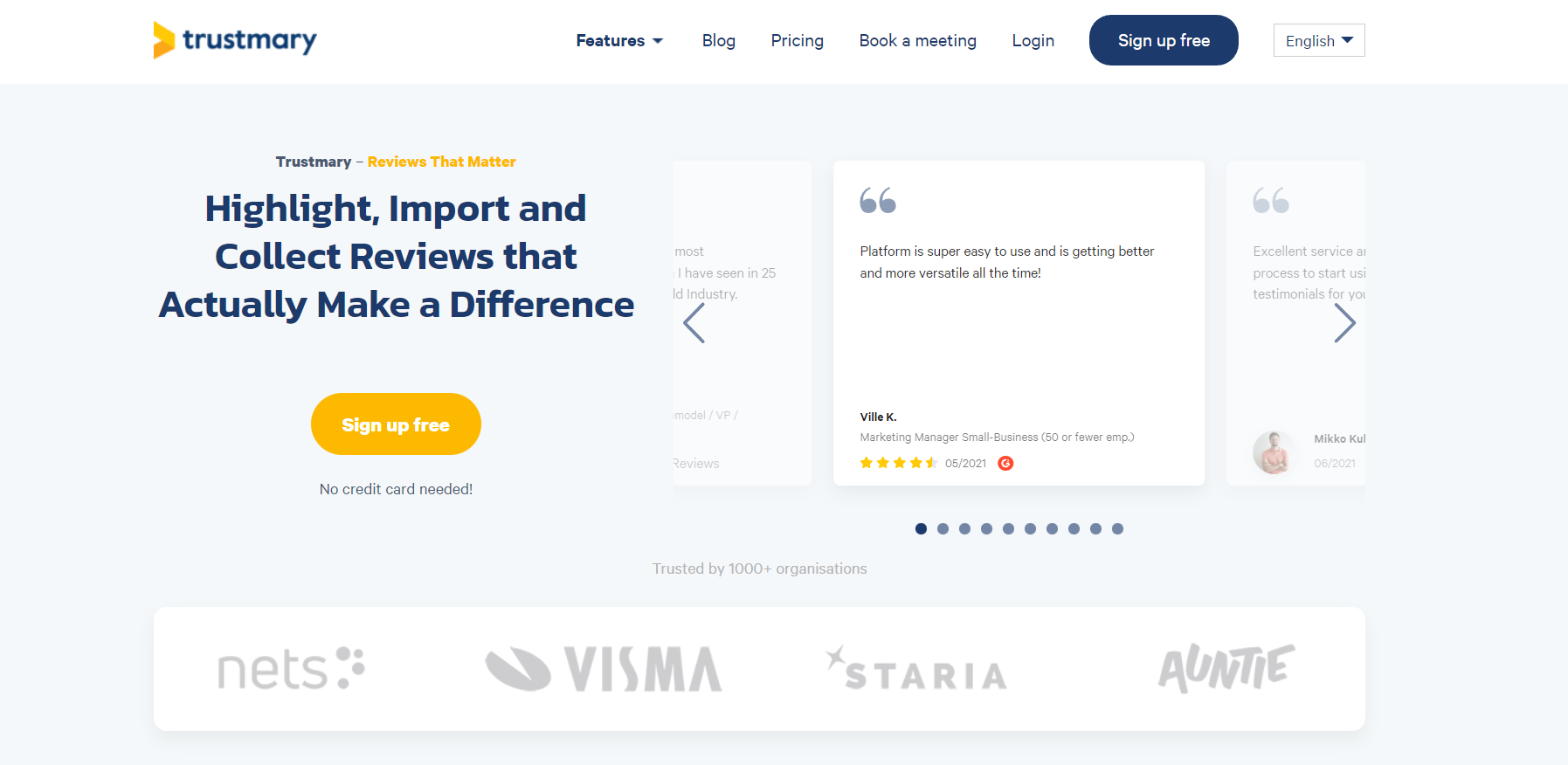 You can use Trustmary to collect testimonials and optimize your website to increase your conversion rate. You can easily create various lead generation forms and showcase your existing happy customer base. It works on the CMS of your choice, including WordPress, HubSpot, Wix, and many more.
Trustmary recognizes that reviews and testimonials are forms of social proof that work well for building trust in your potential customers.
The tool allows you to send customers a form asking them to record a video testimonial; this is usually automated.
The form is simple and elegant, greeting your customers, thanking them for their purchase, and asking them if they'd like to record a video testimonial. The form may guide the respondent with a few helpful questions to answer. Then, the customer only has to agree and click "record" and "send." You then receive the video and can publish and share it online.
---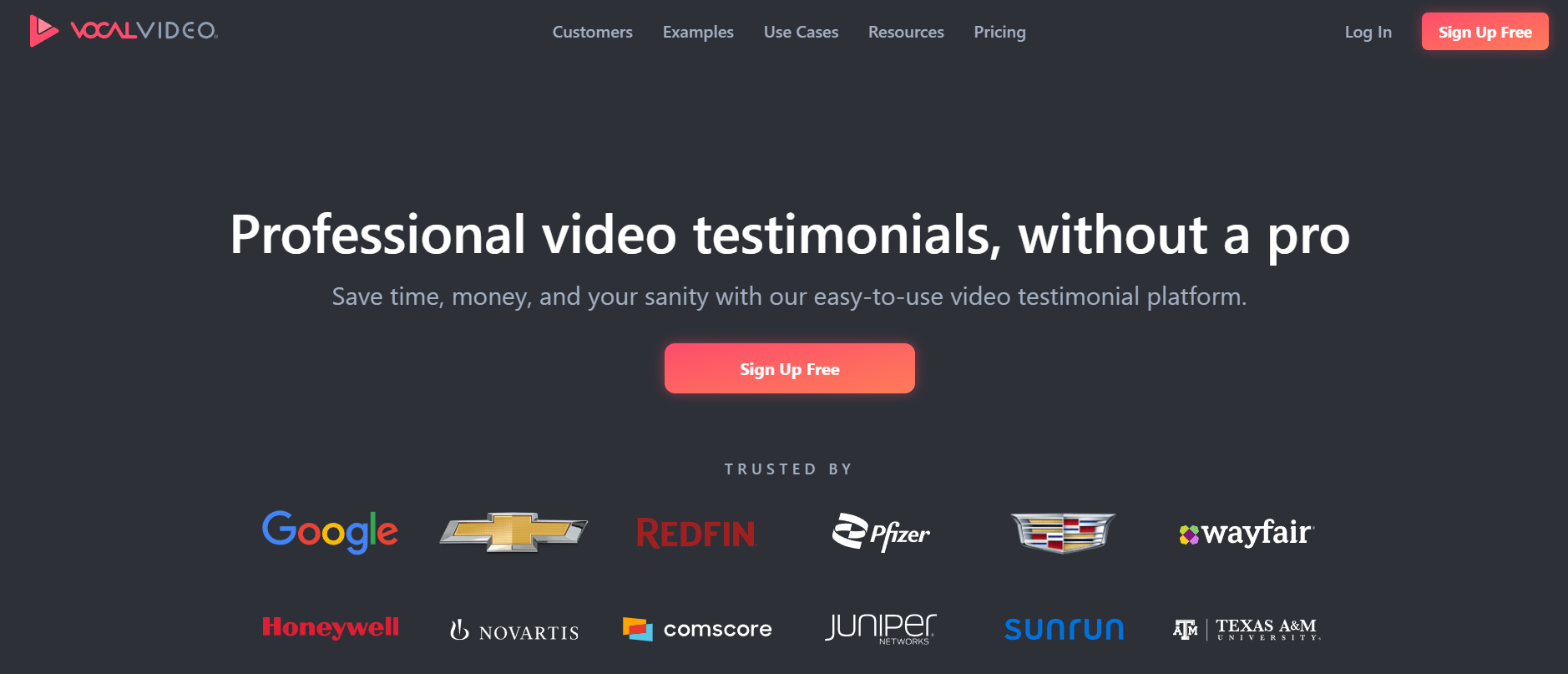 Vocal Video combines collecting, editing, publishing, and hosting video testimonials and reviews. In addition, it creates embeddable galleries and walls of love. Vocal Video "automagically" transforms raw footage into multi-scene videos with motion graphics, soundtracks, subtitles, and branding.
With Vocal Video, your customers can record anytime, from any device, with an interface tailored to match your brand. You can collect video and audio responses, fully remote and asynchronous. Your customers don't even have to install anything to be able to make their testimonials.
Start from an expert-crafted video request template and make it match your brand in seconds. You can even add a video greeting and incentive to boost response rates. You can ask your own questions or use one of Vocal Video's 46 video collector templates.
When you get a response, Vocal Video automatically generates a complete video with your logo and colors, motion graphics, subtitles, and scene transitions. It even autogenerates subtitles from speech to text transcription.
Vocal Video includes simple editing facilities; trim clips, add filters, change the music, or add a call to action. You can edit subtitles instantly and choose from 33 included soundtracks or upload your own. Give your video testimonials personality with a preset theme.
---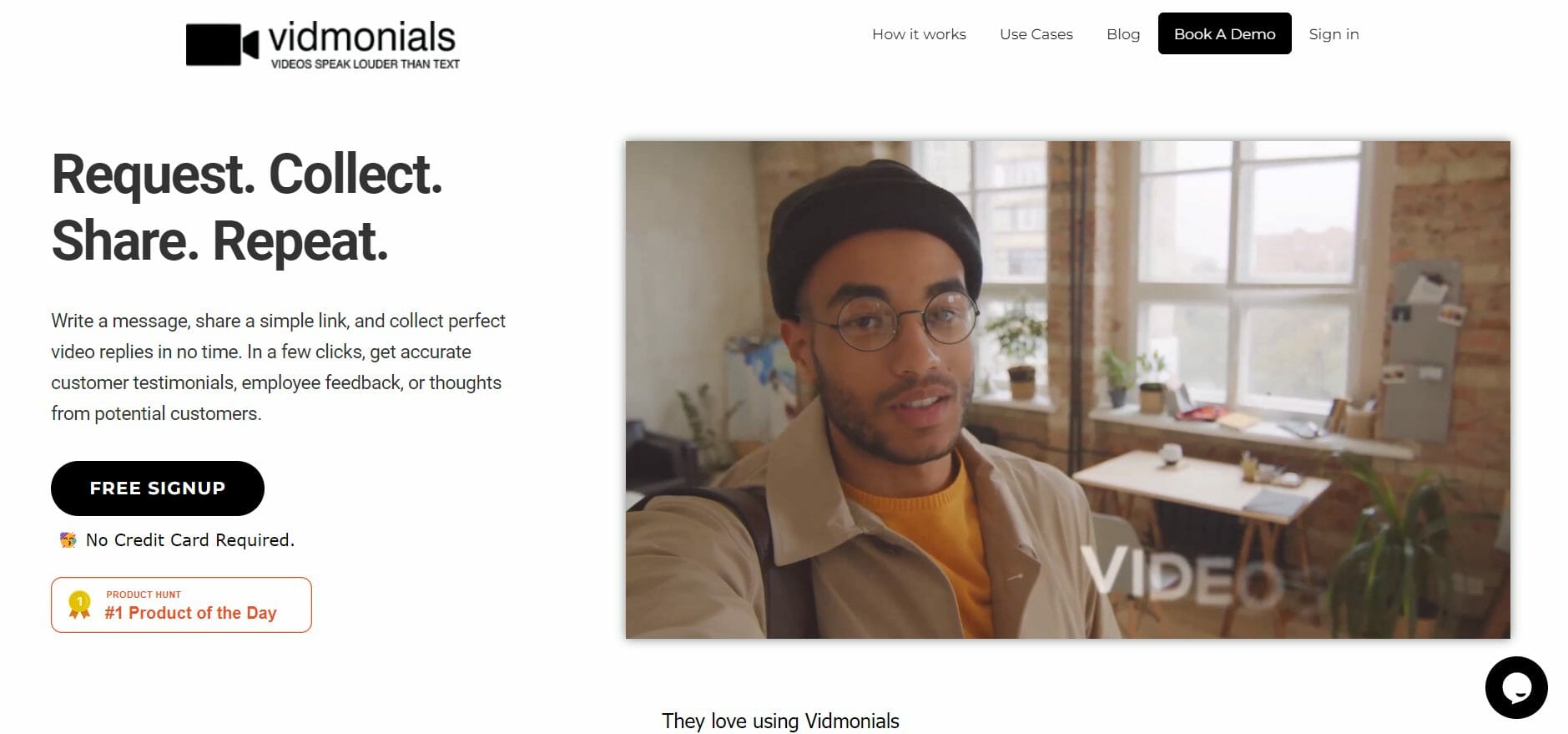 Vidmonials is a powerful customer review management tool that allows its clients to collect, manage, and share authentic and impactful video testimonials from their customers. You can use Vidmonials in either creating video testimonials or text-to-video testimonials.
The text-to-video testimonials differ from complete video testimonials in that they convert your text reviews into video slideshows with background music. You can convert existing text reviews to videos, post on your social media platforms, and improve your organic SEO.
For video testimonials, you begin by sending individual and bulk review requests to your customers in a single click. You can send review requests using QR code or email or automate via Vidmonials' system. Users can submit their video testimonials on a link you provide without signing up for Vidmonials.
You collect testimonials and store them in a library. You can scroll through each testimonial collected with complete information regarding its sender. You can then directly share the videos on YouTube and Facebook and can also download the videos for other marketing purposes.
Showcase your brand's authenticity to your website visitors with Vidmonials' embeddable widgets. These can be either a Floating Vidmonials Trust Seal or a Playlist Widget including all the approved video testimonials received by your business.
---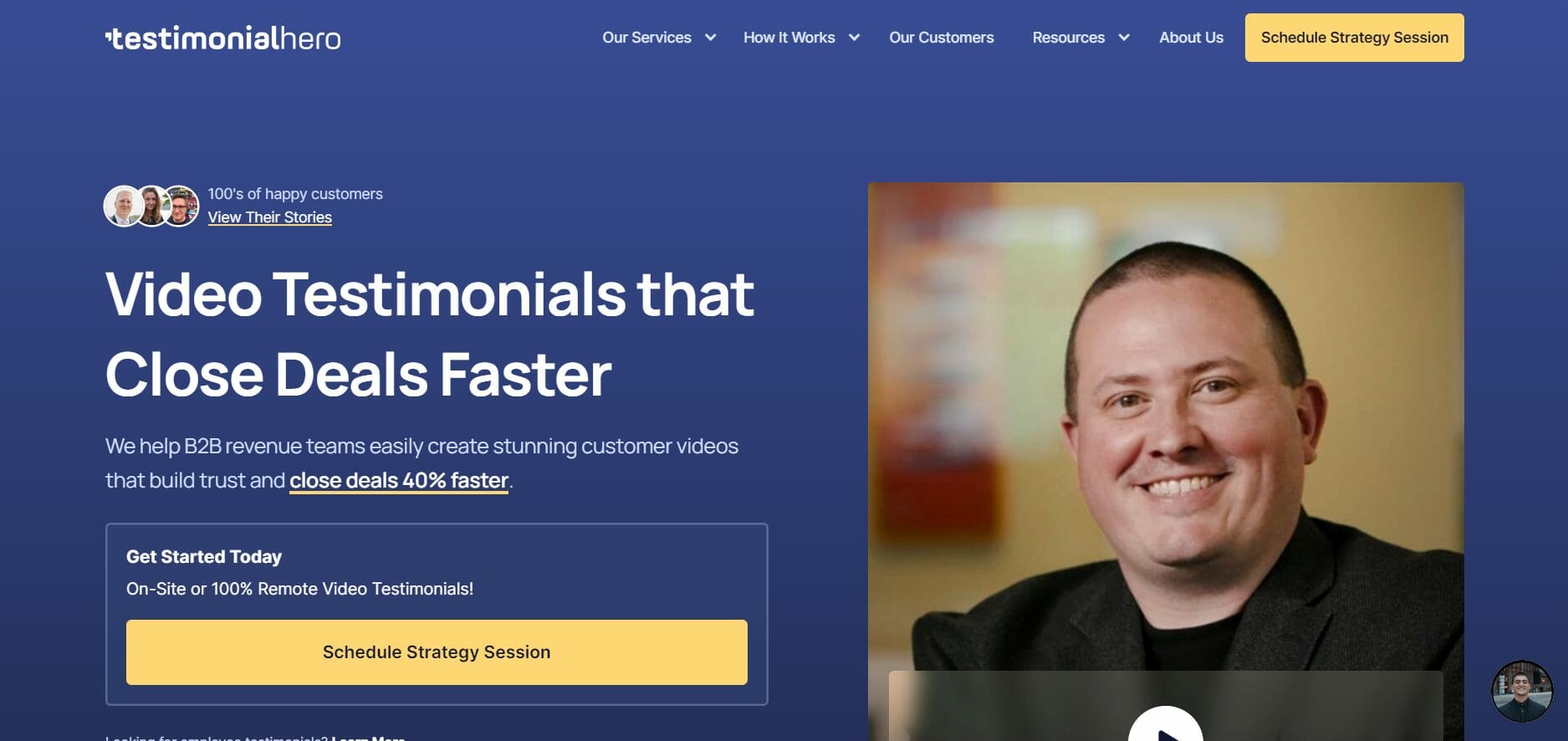 Testimonial Hero targets B2B revenue teams to easily create stunning customer videos that build trust and close deals. They have recently offered employees testimonial software as well.
Testimonial Hero recognizes that customer testimonials provide an overwhelming sense of trust when attracting new business and have been proven to close deals exponentially faster. Testimonial Hero takes you through a step-by-step journey into creating beautifully shot-and-edited commercial-grade video customer testimonials. You can use both remote and on-site video capture to make your videos.
Testimonial Hero takes care of the entire process of creating testimonial videos using remote video capture, from interviews to editing. They begin by working with you to understand the ideal message and story of your customer or employee video so they can write the perfect interview questions. They then coach your customer or employee through an easy, 100% remote capture process and run the interview. The capture platform is a simple app with no sign-in or account required. Testimonial Hero will have the first version of your core testimonial ready within ten business days of filming. They will then work with you to finalize the video within the following ten business days, creating the perfect 90-second edit.
---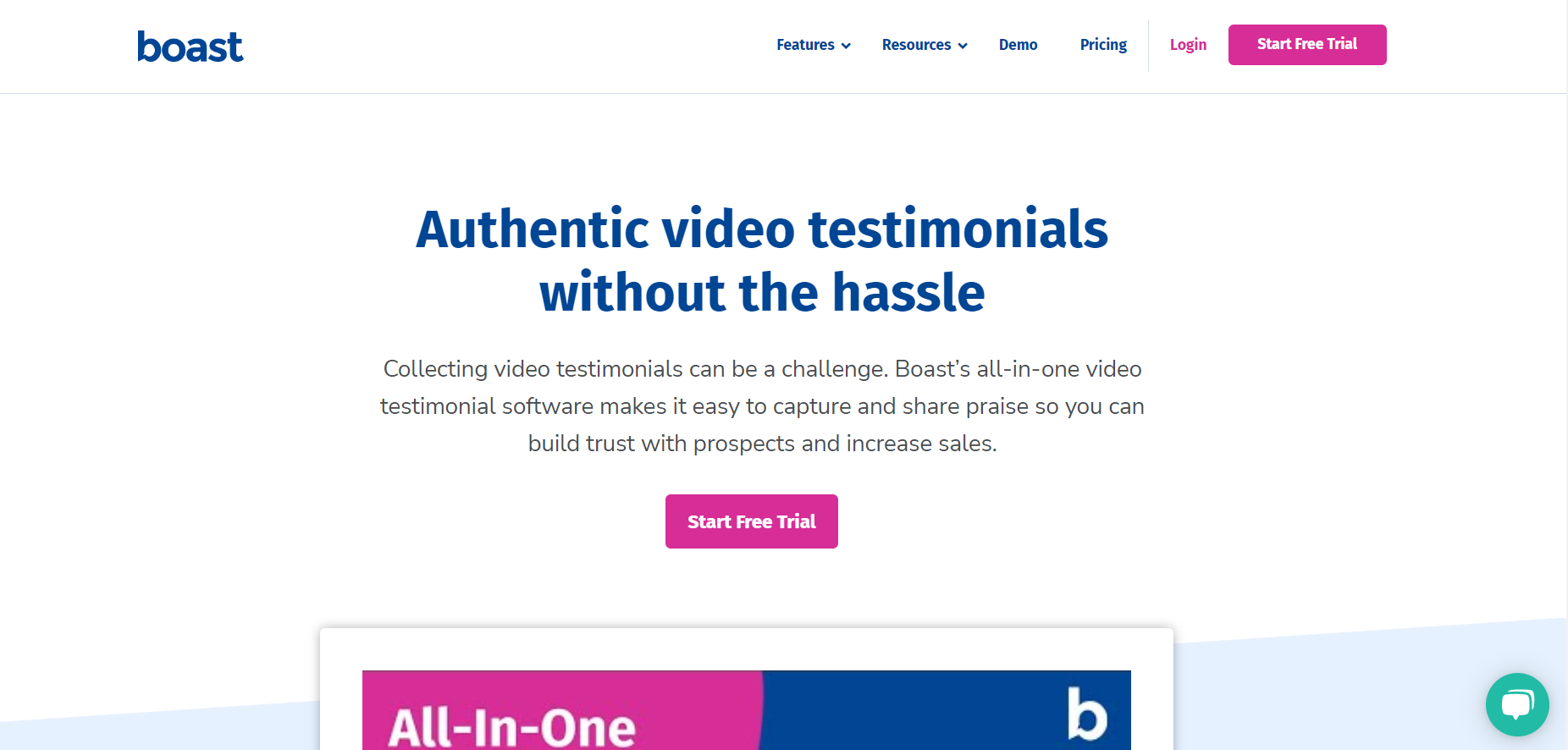 Boast's all-in-one video testimonial software makes capturing and sharing praise easy so you can build trust with prospects and increase sales. You can share a link to your Boast-hosted form and embed a form on your website. Customers can record a video from any camera-enabled device.
Boast integrates with your existing tools to request testimonials at the right time, with the right message, through the right medium to get your customers to act. For example, you can set up newly approved testimonials and reviews to automatically publish to your business's Facebook page. You can link your Google My Business listing for each location with Boast to enable the ability to request a Google review when positive feedback is submitted. And you can leverage Zapier's 1,500+ integration options and collect more feedback by seamlessly integrating Boast into your existing processes.
Tag and filter testimonials based on product, location, staff member, or custom fields, so you can display the right testimonials in the right places to make the most significant impact. In addition, you can set things up to get notified when new testimonials are submitted so you can review them and approve them to be pushed out to your website or social channels.
---
7. Testimonial
As its name indicates, Testimonial helps you collect and display testimonials all in one solution. You begin by creating a dedicated landing page for your business. Then, share the page link easily via email, social media, or SMS. This makes it easy for customers to upload testimonials to you. You will have access to download the videos in the MP4 format with their original resolution. In addition, you can add your own video on the space page. It's more personal and may help encourage customers to send you their best shoutouts.
Testimonial provides a simple and clean dashboard to manage all testimonials in one place. If you have testimonials on social media (e.g., Twitter, LinkedIn, etc.), video hosting platforms (e.g., YouTube, Vimeo), and other review sites (e.g., G2, Google, Capterra, Yelp, etc.), you can bring them all to your Testimonial account.
You can embed a Wall of Love into your website – no coding knowledge required. Treat your Wall of Love as the place to showcase all your favorite testimonials.
Another valuable feature of Testimonial is that you can embed it directly on your website. As a result, you don't need to use any 3rd-party Ad-free hosting service, e.g., Wistia or Vimeo.
---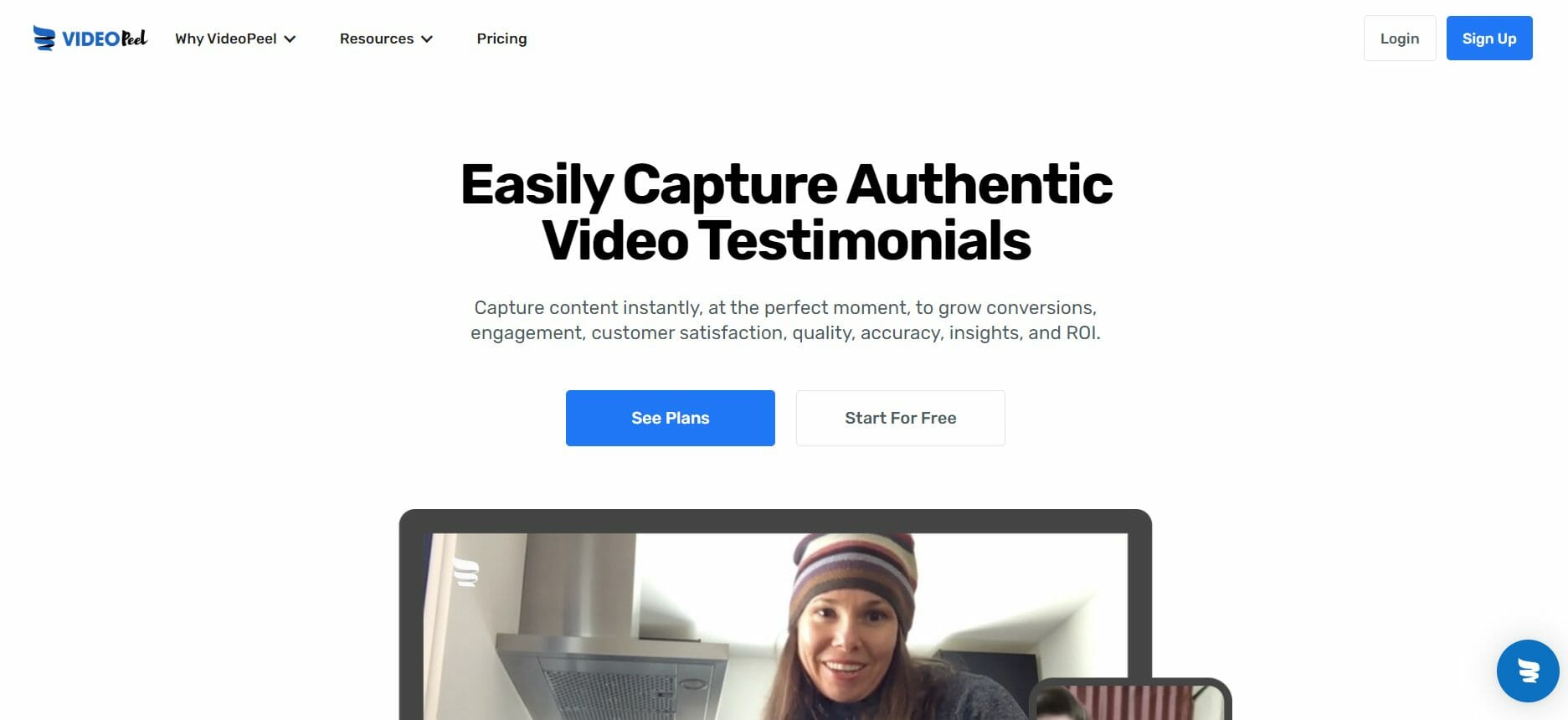 VideoPeel automates the entire customer video lifecycle. You can quickly create campaigns, share them with all of your customers, and begin collecting testimonials. You can add your video, logo, or written presentation, customize prompts, and add calls to action within one VideoPeel campaign.
Pinpoint your viewer's needs by directly asking custom questions and receiving organic responses to empower you with better insights into your target audience, alongside your social proof, which can be published anywhere.
VideoPeel's technology makes it easy for someone to follow your instructions, create a video with their smartphone, and submit it to you. The software handles challenges with large files, transcoding, multi-devices, multiple video formats, etc.
VideoPeel helps you with more than just video testimonials, however. In addition, you can use it to collect video reviews from influencers or beta testers, product videos, video contests, video tutorials from customers or employees, and much more.
---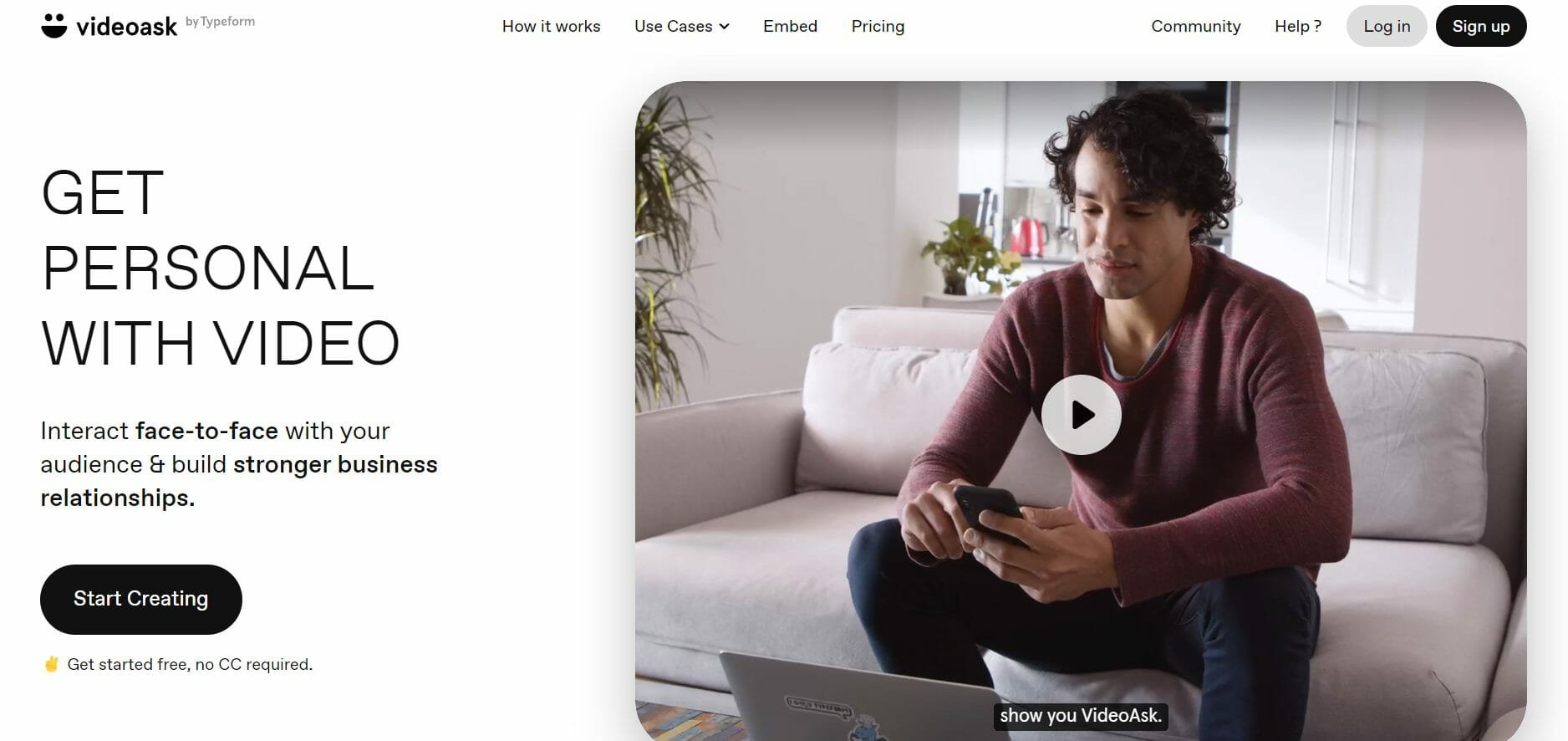 VideoAsk allows you to use asynchronous video technology to interact face-to-face with your audience and build stronger business relationships. You effectively carry out one-to-one conversations at scale. Record your questions and share your link. Your customers are then ready to record their responses. Use conditional logic, multiple response options (video, audio, text, etc.), and contact forms to make the conversation seamless. VideoAsk records, transcribes, and organizes everything for you.
VideoAsk helps by asking for video testimonials and fits smoothly into your customer journey. Share your VideoAsk requesting testimonials by embedding it in emails or texts or share the link. Then, with one click, respondents can answer.
VideoAsk allows you to collect all video testimonials in the same place and format. And they come to you already transcribed. So, you can simply download your videos and start sharing them across your site.
Guide your customers through their testimonials by asking one question at a time. You get more thoughtful responses and a better testimonial. Ask for consent as part of the submission process. This ensures you have the permission you need to share a testimonial. Collect all your testimonials easily in one dashboard. From here, use the transcription, download, and share your testimonials.
---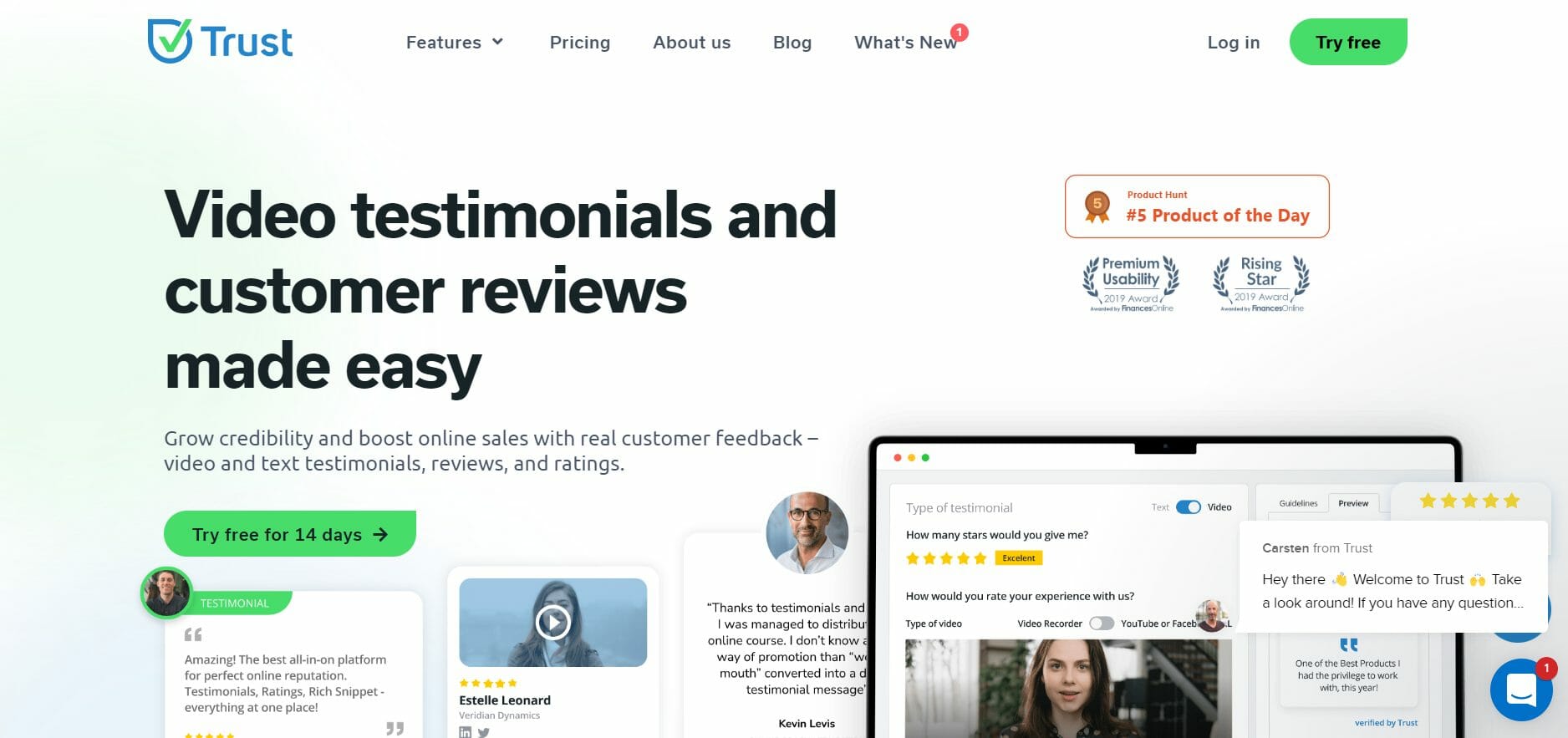 Grow credibility and boost online sales with honest customer feedback – video and text testimonials, reviews, and ratings. Genuine testimonials, especially videos, show how your customers and clients benefit from your offer and what results they get. Testimonials by Trust are focused on real customer feedback and provide all the features you need to easily collect and display on your website.
Their widgets have everything to look trustworthy and dispel any possible doubts: photos of your clients, names, titles, company names, and icons with links to their social media profiles or websites. Trust offers a complete video testimonial solution and makes it simple for you to collect video reviews and for your clients to provide them.
Customers can add links to their existing videos on Facebook and YouTube or quickly record a new video from the testimonial request form.
You can collect testimonials by creating a testimonial request form and sending out its URL, pre-filling a testimonial (a client's name, their company's name, etc.), sending the URL to the client, or creating a rating survey to collect feedback. For example, if a client gives you a good rating, you can make settings that immediately ask the customer to leave a testimonial.
---
Frequently Asked Questions
How do I make a video testimonial?
To make a high-quality video testimonial that will convert, you need to follow these tips:
Pick one of your most successful customers

Make your customer comfortable

Create a scene or show them in action

Use multiple viewpoints

Show the product in use
How do you film a customer testimonial video?
Here's how to film a customer testimonial video easily:
Invite customers to your video interview

Ask customers to record themselves

Create a script

Send questions in advance

Make sure you use HQ equipment
How do you automate testimonials?
To automate your testimonial process and review collection process, you need to have customers submit testimonials with a landing page and form. You can also request customers fill out the form. Then, showcase testimonials and reviews on your website and social channels.
What is a video testimonial?
A video testimonial is a video recording of a customer or client praising a company. Most of the time, the person will talk about how a company's product or services have helped them solve a problem.