Advertising Disclosure
Advertising disclosure:
Our partners compensate us. This may influence which products or services we review (also where and how those products appear on the site), this in no way affects our recommendations or the advice we offer. Our reviews are based on years of experience and countless hours of research. Our partners cannot pay us to guarantee favorable reviews of their products or services.
The COVID-19 pandemic pushed businesses to devise new and creative ways for people to gather and connect—and in pursuing the need for interaction, we discovered the flexibility of online or virtual events. Virtual events progressed from small, intimate meetings to week-long conventions accommodating an international audience.
In 2020 alone, the market size for virtual event marketing was valued to be worth approximately $1 trillion. Today, almost every company with an online presence utilize virtual events like webinars to promote their brand and grow their sales pipeline.
---
Top Virtual Event Platforms for All Your Online Event Needs:
---
What is a Virtual Event Platform?
A virtual event platform is designed to support the online hosting and promotion of events. It aims to replicate the setting and mood of physical events, engaging event attendees in a dynamic experience from the comfort of their homes.
Virtual event platforms elevate the execution of digital events. Rather than simply playing pre-recorded special guestings or showcases, viewers get to engage with the event and the rest of the community in real-time. It is in our human nature to connect and interact, and this is why virtual event platforms support a variety of communication tools like polls and real-time chat to encourage more attendees to connect with one another.
---
Virtual Event Platform vs. Video Conferencing Platform: How are They Different?
Joining a meeting or watching a webinar via video conferencing tools like Zoom and Google Meet were once novel approaches to connecting with other people. However, the lack of interaction makes it difficult to retain the attention of large audiences.
Virtual event platforms, on the other hand, are designed to host much more dynamic and immersive events. It supports notable features such as interactive games, whiteboards, breakout spaces, polls, and chat. Some even sport a dedicated admin panel to program and run an event. While video conferencing tools provide the basic needs for an online gathering, virtual event platforms introduce fun ways for attendees to participate and network among other attendees, be it a small workshop or a large-scale trade show.
---
Top Virtual Event Platforms to Broadcast Your Next Online Event
Top
virtual event platforms
2024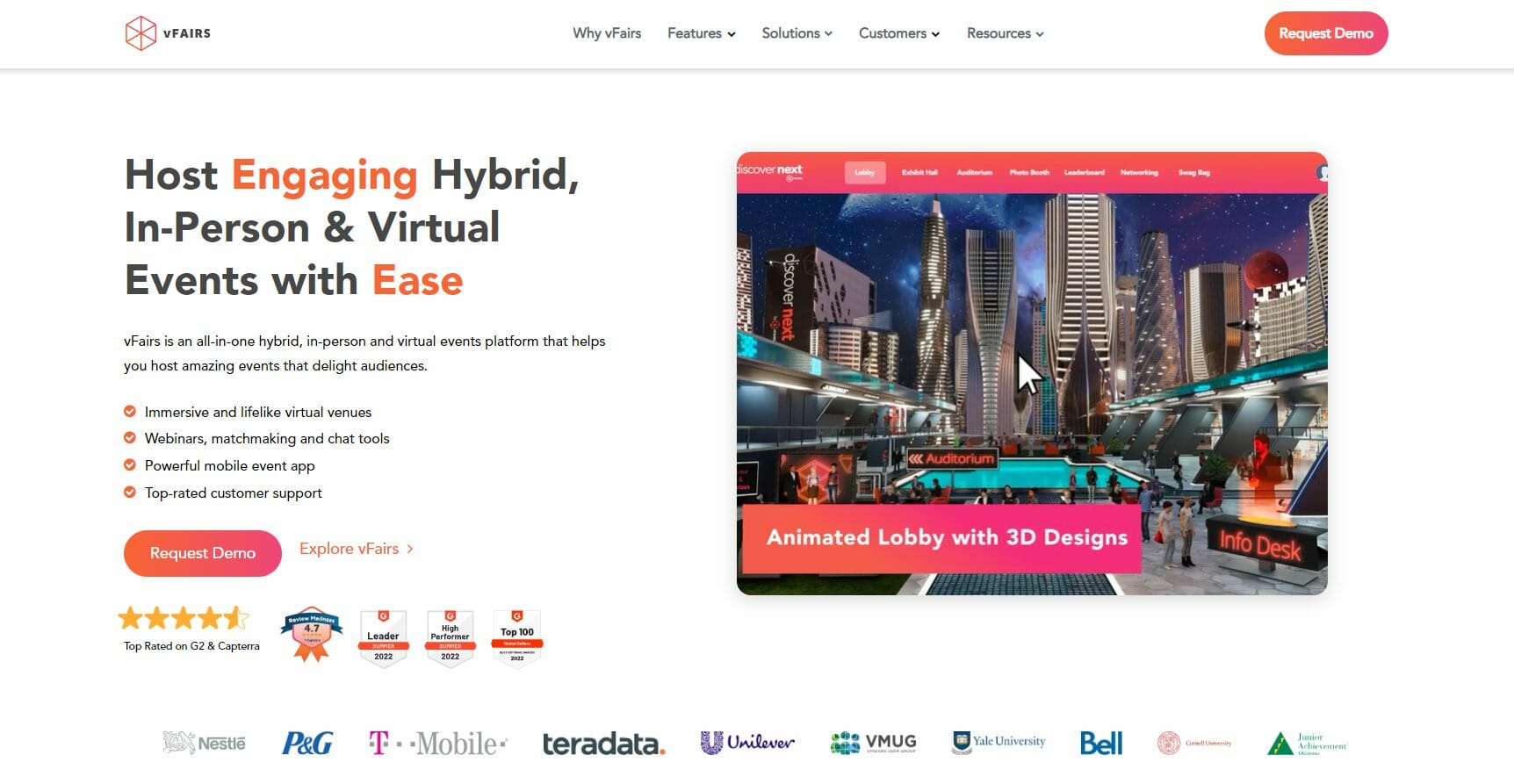 Features:
3D event spaces
Custom event builder
Gamification
Session chat and private networking
Interactive webinars
Mobile app support
Pricing: Quote upon request
vFairs is an all-rounder in hosting and presenting online, in-person, and hybrid events. The top-rated virtual event platform on G2, vFairs elevate the online event experience with 3D environments and a variety of features to deliver an immersive experience.
vFairs features a custom event builder for event organizers to lay down the floor plan and program flow of the event. Setting and stage set-up is highlighted by 3D venues that are fully customizable. To make events all the more realistic, attendees have designated avatars representing them in the events area in real-time.
Finally, vFairs make online events more entertaining and an excellent means to expand your network. Participate in scavenger hunts around the virtual venue and watch your name take first place on the leaderboard. Meanwhile, attendees interested in building a connection with like-minded people can utilize the match-making feature to connect you directly to a fellow attendee.
---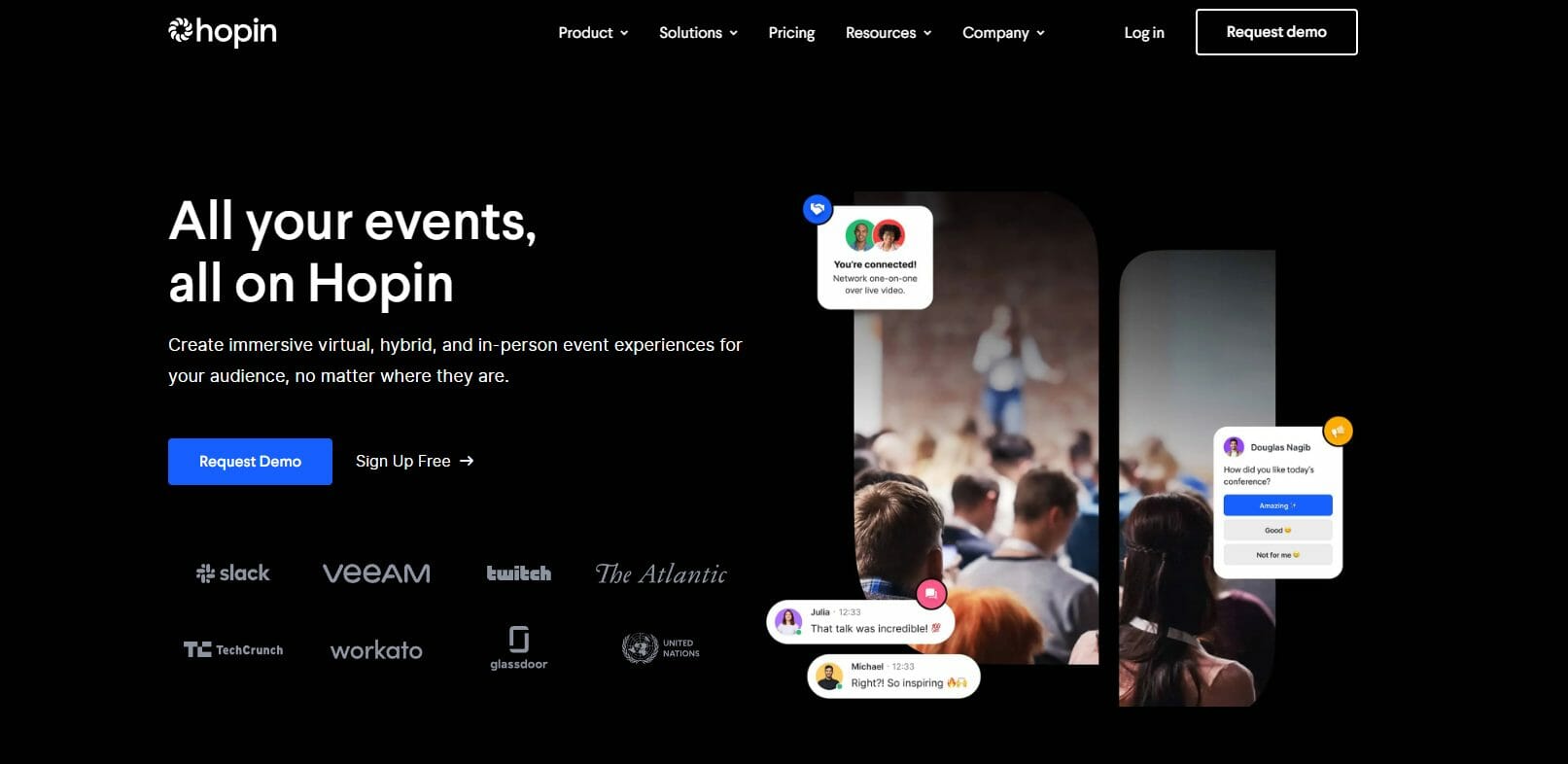 Features:
Virtual venues
Live video studio
Event marketing
Attendee engagement management
Pricing: free plan available; paid subscriptions start at $99 per month
Hopin hosts and manages interactive virtual, in-person, and hybrid events. This virtual event platform excels in delivering bespoke event spaces to immerse attendees and presenters in the nature of the event.
Hopin also takes the virtual experience to another level with the power of virtual venues. These venues are laid out and designed in such a way that attendees can differentiate conferences from workshops and conventions. Event organizers can program several sessions of an event simultaneously in dedicated spaces.
Event marketing is made efficient through Hopin's built-in support for branding and design. Customize landing pages, registration, and ticket sales with your brand logo and colors. Impress your audience with professional-quality content through Stream Yard, a live broadcast studio that mixes and processes video content for a smooth and hassle-free livestream.
---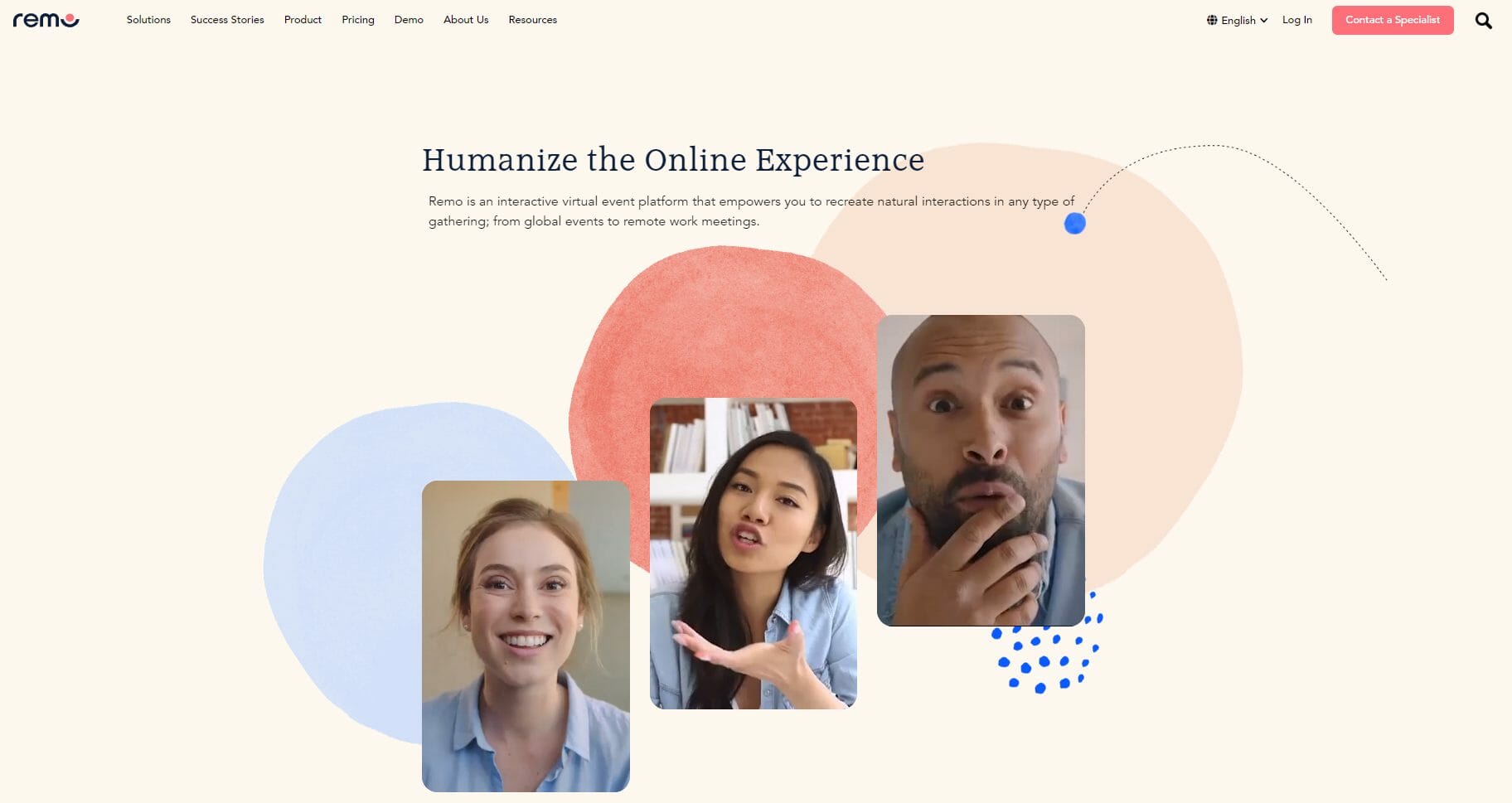 Features:
Virtual floor plans
Interactive breakout spaces
Multi-speaker screen sharing
Dedicated Q&A section
Pricing: Starts at $270 per month
Remo transforms online events of all types with streamlined interaction between guests and presenters. This virtual event platform has accommodated over 2.6 million guests with their innovative floor plans and seamless communication channels.
Any event is made possible by Remo, from small group discussions and training, to global networking events and fairs. Attendees not only consume the content presented, but also interact with the presenters, event moderators, and the rest of the audience. Fireside chat and a dedicated Q&A section help spur the discussion on. Presenters can also invite attendees on the stage to share their insights.
Just like any in-person event, networking is crucial to personal growth and success. With Remo, attendees can connect with one another via 1-on-1 direct messaging, or by transferring between session floors and breakout spaces.
---

Features:
Interactive webinar streams
Landing page builder
Integrated live studio
Engaging media hubs
Pricing: Quote upon request
BigMarker is a comprehensive events platform with tools to optimize in-person, hybrid, and virtual events. It comes packed with features to scale and promote your events, whether it be a short webinar or a 24/7 on-demand content hub.
Whatever event you have lined up for the next month, BigMarker has a virtual venue for it. Customize venue presets to match the setting of your next conference, workshop, or, expo. Arouse the interest of more attendees with engaging landing pages and compelling email marketing campaigns.
Content makes or breaks a well-planned event. With BigMarker, mix and process your video content into high-quality broadcasts. Have it available on-demand across streaming sites like your social media accounts. Outside livestreaming schedules, sate your audience's curiosity with informative posts and graphics available around the clock with a dedicated media hub.
---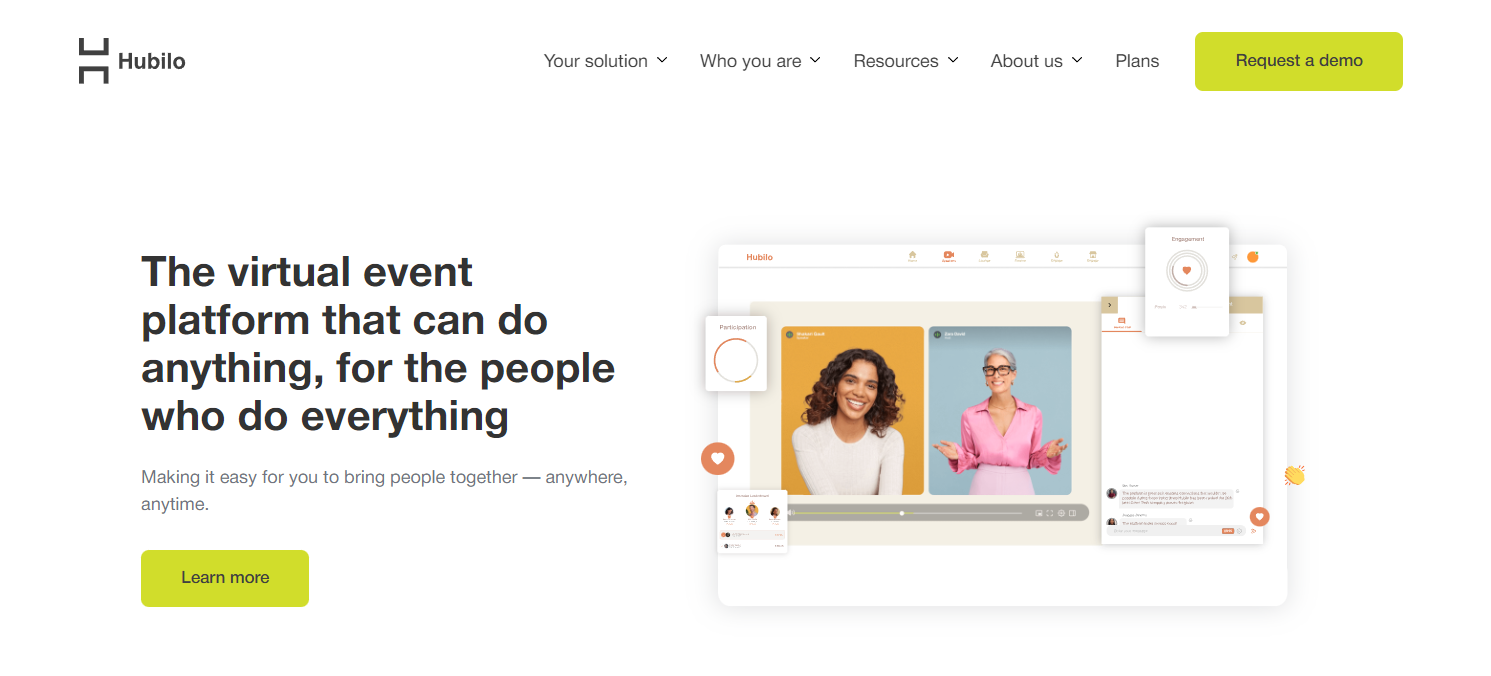 Features:
Integrated content studio
Virtual backgrounds
Live chat
Gamification
Mobile app support
Attendee engagement management
Matchmaking
Social media integration
Pricing: Quote upon request
Hubilo is a straightforward tool that boosts online engagement and event marketing. With smart analytics at your disposal, plan dynamic virtual and hybrid events that cater especially to the needs of your guests and attendees.
Business owners aiming to scale ROI and strengthen customer relations can take action with smart event planning. Hubilo provides an extensive suite of media functions and marketing aids, from an integrated studio to produce premium video content and a landing page builder to attract more participants.
Events are never one-sided as attendees can voice their opinions via live chat. Hubilo offers gamification to break the ice and keep attendees entertained. Polls, surveys, and leaderboards gauge attendee engagement, all the while encouraging attendees and brand sponsors in establishing connections among each other.
---

Features:
Interactive stages
Dynamic booths
Event planning and management
Event gamification
Robust analytics
Mobile app support
Pricing: free plan available; paid subscriptions start at $200 per month
Airmeet is a virtual and hybrid events platform designed to help businesses grow and collaborate at a global scale. Leveraging the power of the Internet, Airmeet boosts the efficiency of virtual events of all types: meetups, talent fairs, hackathons, and international summits.
Airmeet boosts brand ROI with data-driven and engaging events. Stand out from the countless virtual events with meaningful conversations and a strong community. Dynamic booths increase conversion rates, while gamification keeps attendees entertained and competitive as they navigate through the event's sessions. Airmeet reports to improve revenue and demand generation by 200%.
---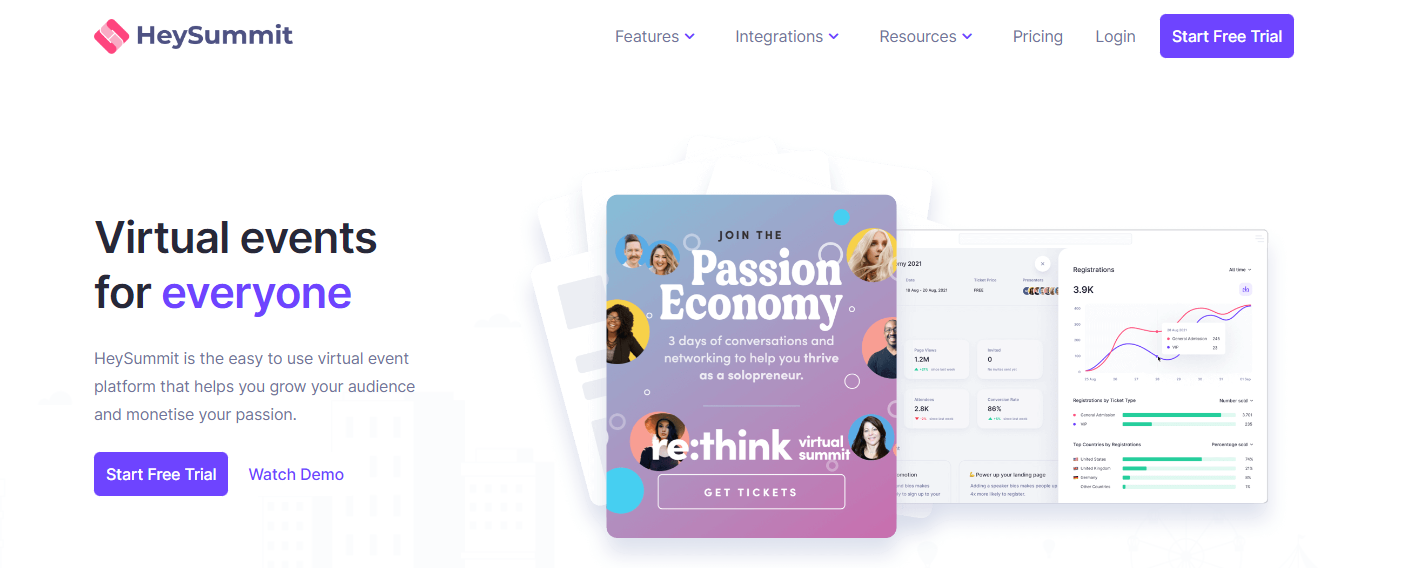 Features:
Diverse speaker directory
Speaker dashboard
Landing page builder
Video content and event management
Pricing: starts at $25 per month
HeySummit is a virtual events platform that is perfect for the not-so-tech-savvy content creators and small businesses. In just a few minutes, HeySummit guarantees to manage your events, from landing pages and email campaigns down to program flow. Integrated marketing tools help you spread the word, gather an audience, and launch a profitable online event with connections that grow at a global scale.
HeySummit not only hosts and manages events; it also keeps the audience in the loop about speaker activity. Keynote speakers and presenters can share further information on upcoming schedules and spur discussion on timely topics. In addition, branded marketing and broadcasting of virtual events are made possible with customizable layouts.
---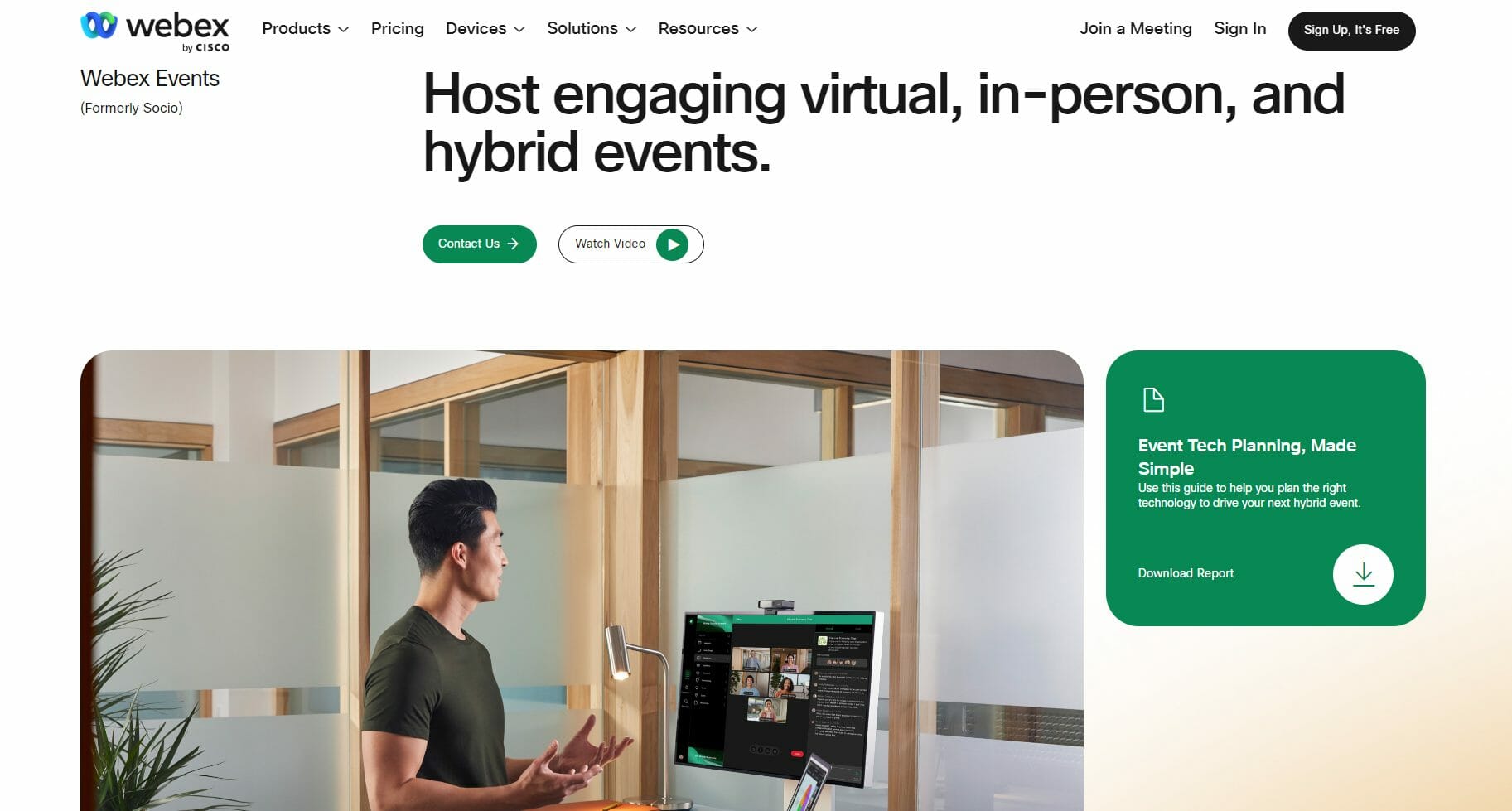 Features:
Scalable audience accommodation
Interactive webinar designs
Slido for engaging polls and q&a sessions
Pricing: Quote upon request
For the technologically apt, Webex Events (formerly Socio) is the best option. Webex Events is a virtual events platform from the Webex Suite, incorporating event planning and management with immersive communication tools and content to host large-scale events such as networking and conferences.
Webex Events focuses on generating audience engagement; this means event planning scales with the number of targeted attendees. Their webinars are structured to encourage attendees to shape the conversation with polls and Q&A sessions integrated in the event. Event managers are also prompted about the ideal streaming equipment to ensure the reliability of the event's livestream.
---
What are the Features of a Virtual Event Platform?
Virtual event platforms reimagine the flow of in-person events into dynamic online gatherings for participants to not only consume content presented by keynote speakers but also engage in meaningful discussion.
Engagement Tools
Audience participation makes online events all the more enjoyable and informative. Virtual event platforms feature a plethora of tools to encourage participants to exchange ideas and make connections with like-minded people.
Some engagement tools that are commonly used in virtual events include:
Raise questions and share your thoughts through chat without interfering the current program flow. This allows event organizers and speakers to highlight the attendees' insights.
Private chat allows attendees to directly connect with other attendees without leaving the online event platform.
Event organizers will want to assess the attendees expectations and feedback on the execution of the online event. Running a survey or poll is an excellent method to gather feedback to reflect upon for future events.
Capture the attention of participants with an on-screen Q&A exchange. Event moderators allow attendees on to the "stage" with the speaker/s to have their questions answered.
---
Virtual Rooms
Online events may very well be hosted and presented live from the living rooms of event managers, but that doesn't mean the event venues don't have to look the part of an in-person convention or trade show.
Virtual event platforms provide personable virtual rooms and spaces to suit the setting of various events. Workshops, for instance, can be broken down into smaller breakout rooms. Online trade shows comprise of an "expo hall" with multiple virtual booths for entrepreneurs and brands to showcase their products. Virtual stages are some of the most popular options, with event managers broadcasting online concerts, talks, and more to the entire audience.
Depending on the nature of the event, virtual event platforms can set up different virtual areas to immerse presenters and the audience in the flow of events. Multiple virtual rooms also enable event organizers to run multiple sessions simultaneously, with attendees having the freedom to visit different rooms.
---
Video
Not one virtual event runs without video. Videos in online events are crucial in presenting content, delivering real-time conferences, and engaging in conversation via video chat.
Virtual event platforms aim to deliver a premium experience to online events and bridge the gap between in-person and online events. That being said, the quality and value of video must be optimized to boost engagement and attendee experience. Several online event platforms work with live video studios to effectively process video content, design on-screen layouts and broadcast them live to the viewers.
---
Custom branding
Hosting an online event is a great promotional strategy to build brand awareness and expand audience reach. Showcase your brand identity and initiatives with custom stage design on a virtual event platform. Virtual event platforms allow you to design the virtual stage with the brand's logo, colors, and initiate call-to-action prompts through custom widgets.
---
Virtual Events, AR/VR, and the Future of Event Marketing
The transformation of the meetings, incentives, conferences, and exhibitions (MICE) industry continues to grow beyond innovations in event marketing, audience interaction, and event platforms. Augmented reality (AR), virtual reality (VR), and the metaverse are raising the bar to make online events a more realistic, immersive experience.
Virtual events unfolding in the virtual reality space are not unheard of. In fact, the gaming community had firsthand experience in engaging in a virtual reality concert as artists Travis Scott and Ariana Grande headlined virtual music festivals in the battle royale game Fortnite. Players and their avatars participated in virtual VIP events and games as they enjoyed the live performances of the artists in their avatar forms.
Meanwhile, Japan has long been a witness to in-person concerts starring holographic fictional artists like Hatsune Miku. As AR/VR technology and virtual reality marketing become more refined, the events industry can expect a tidal wave of changes in the way people enjoy and engage themselves in events.
Frequently Asked Questions
What is a virtual event?
A virtual event is much like an in-person event—except program functions and audience participation take place in shared virtual spaces over the Internet. Virtual events aim to connect and engage individuals in meaningful discussion despite geographical constraints.
Are virtual events expensive?
No, planning and managing a virtual event is cost-efficient as event organizers no longer have to rent venues, book catering, and the like. Custom virtual venues mimic the setting of an in-person event while the rest of the budget is spent in gathering talents and running marketing campaigns. Attendees also save up on travel and accommodation fees, especially if they are from other countries.
Is Zoom a virtual event platform?
Zoom is categorized as a video conferencing tool as it offers efficient video content presentation and video chat experience. Zoom also shares several features with virtual event platforms, such as reactions, polls, breakout rooms, and live chat. However, it is not optimized to drive audience participation or differentiate event stages, which are the core functions of a virtual event platform.