Best for:
Content creators, influencers, and small businesses
What is it, Exactly?
Airsubs enables creators to host live virtual events and make money from them. It's a platform that pulls together the tools you need to go manage the admin of making money through live virtual events. Features include a scheduling tool, payment solution, and Zoom integration for going live and sending invite links to attendees.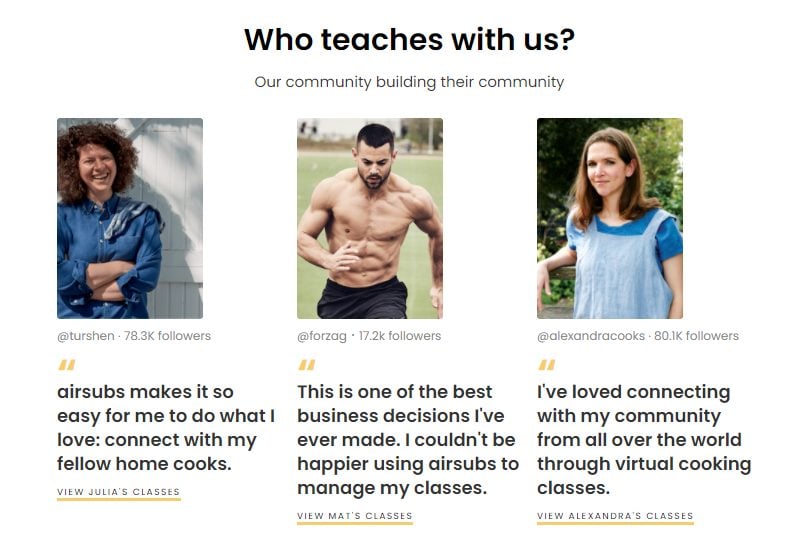 ---
What's the Cost?
Airsubs comes in three flavors, each offering the same features with a variance in transcation fees which are based on the income you generate each month. All plans include live classes, the ability to host on-demand classes (which also include recordings of previous live classes), membership facilities, embeds for your website, and premium support.
Plan pricing:
Pro

: $25/mo with a 3% transcation fee, and is recommended for creators who sell less than $2,500/mo

Premier

: $50/mo with a 2% transcation fee, and is recommended for creators who sell betwee $2,500 and $5,000/mo

Unlimited

: $100/mo with a 1% transcation fee, and is recommended for creators who sell more than $5,000/mo
---
Is It Easy to Setup and Use?
Airbubs' signup covers all the necessary aspects of creating an account. During signup, you can add an avatar and personal brand logo, a brief bio, select a profile color, add a personal website URL, and Facebook, Instagram and YouTube account URLs. Once done, you'll see a dashboard. It's where you'll go to get started creating live classes. 
Payment is based on a Stripe integration, something that's easy to set up and forget once done. As a side, while Stripe is recognized in over 40 countries, it would be great to see other platforms made available for a larger global audience. PayPal is a good choice we'd love to see considered as they are used by many creators.
Classes are easy to create, as much as everything in the platform. And this is something we appreciate about Airsubs. You can get stuff done in minutes and nothing requires deep technical knowledge or expertise.
---
How to Make Money With Airsubs
Airsubs offers 6 ways to make money:
1. Live classes
These are launched through Zoom and attendees pay a fee to participate.
---
2. On demand classes
Video recording available for members. These include previous live recordings and any other video you'd like to give members access to.
---
3. Offer Memberships
Memberships are predictable income generators. Airsubs helps creators tap into recurring income by simplifying the often heavy tech and admin load of pooling together tools and processes to make memberships happen and manage them effectively. At this point memberships appear to be available on a monthly and annual billing cycle.
When creating a membership you control all aspects of what to offer. From the interval, to the amount, and which content people can subscribe to.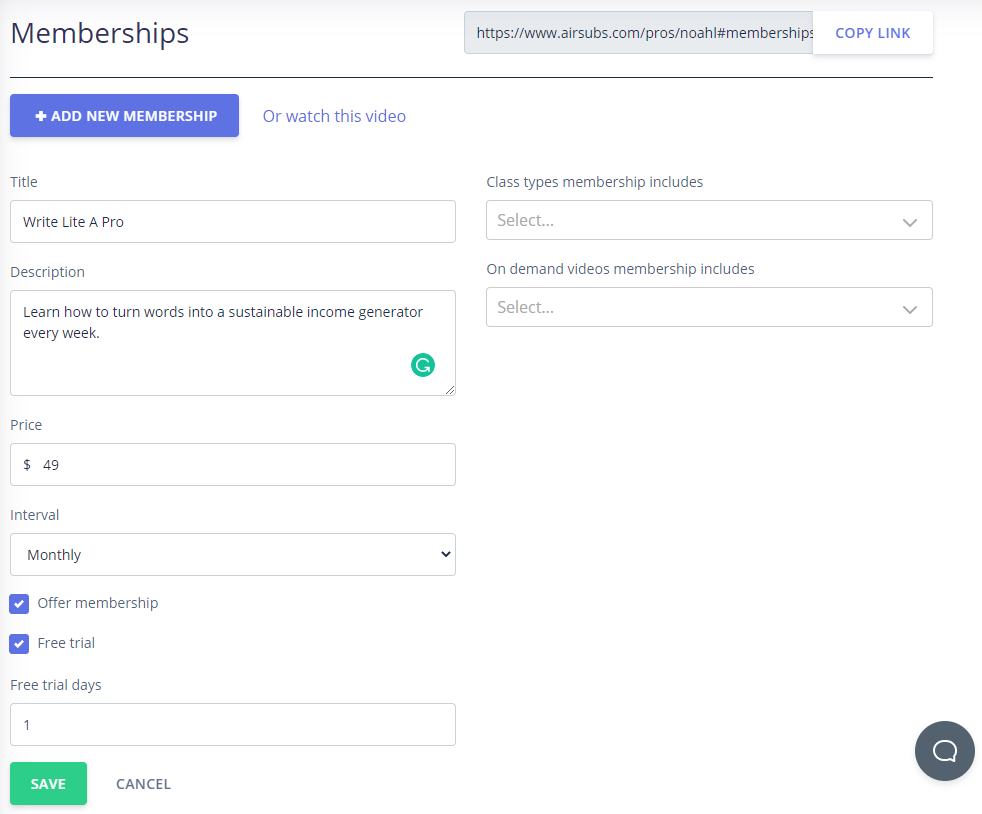 ---
4. Sell Packages
Packages make it possible to bundle your content. Bundling can be in the form of volume offers, like 3 live classes, or as a series on a topic. Setting up packages takes a few minutes and everything about the process is easy.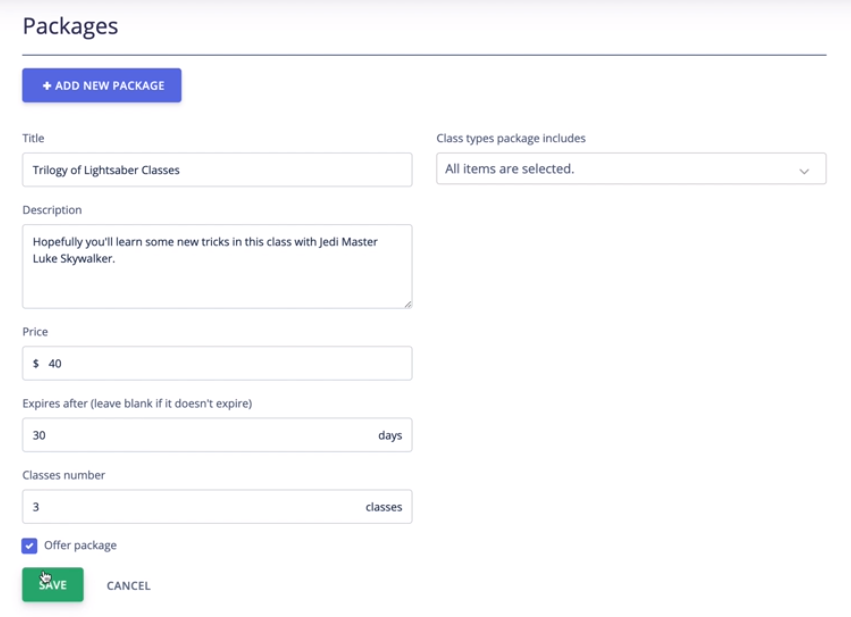 ---
5. Offer Gift Cards
Gift cards are a smart incentive tool and a way to make money while reaching a larger audience. You can create one in a couple of minutes and they can be promoted anywhere.

---
6. Discounts
Discounts are another savvy way to attract more customers. Airsubs has a built-in discount tool that, like gift cards, memberships and packages, is quick and easy to use.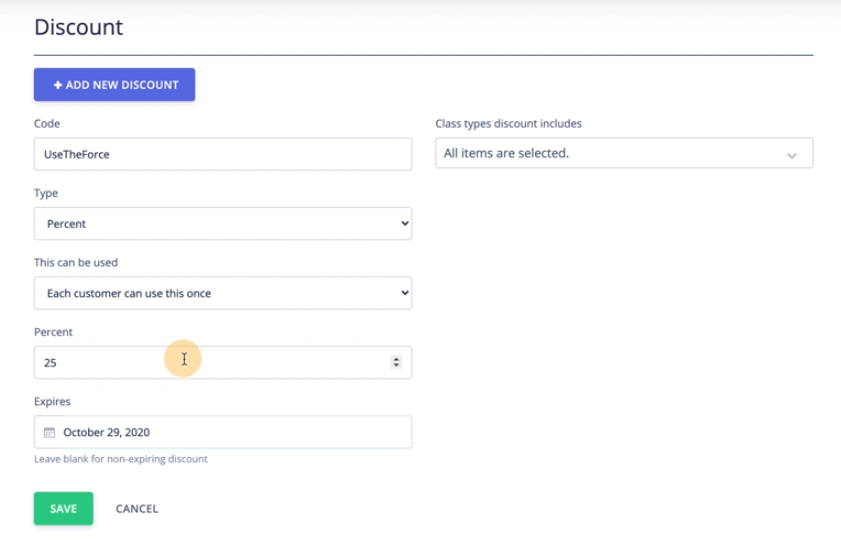 ---
Other Features
Money-making aside, here's a look at other handy features that make Airsubs worthwhile:
Zoom Integration
Zoom is the live video conferencing platform of choice and integration is seamless. Simply authorize your access from within Airsubs and you're good to go. Zoom makes for a smart choice, but we think that widening the pool of conferencing tools would be helpful and possibly more affordable for more creators.
---
Private Availability Calendar
Scheduling is a big part of hosting live virtual events. To help, Airsubs offers a calendar that can be found under Private Availability left-hand menu. You'll see when your classes are scheduled. You can also dig deeper into the settings for more control. 
Settings helps protect your time by assigning a cut-off window between live events, allowing you to prevent stragglers from signing-up at the last minute, but we're not sure about this feature. It seems less growth-focused. As with most things online, it's not unheard of to stumble across something you'd like to get in on, and live virtual events are not exempt.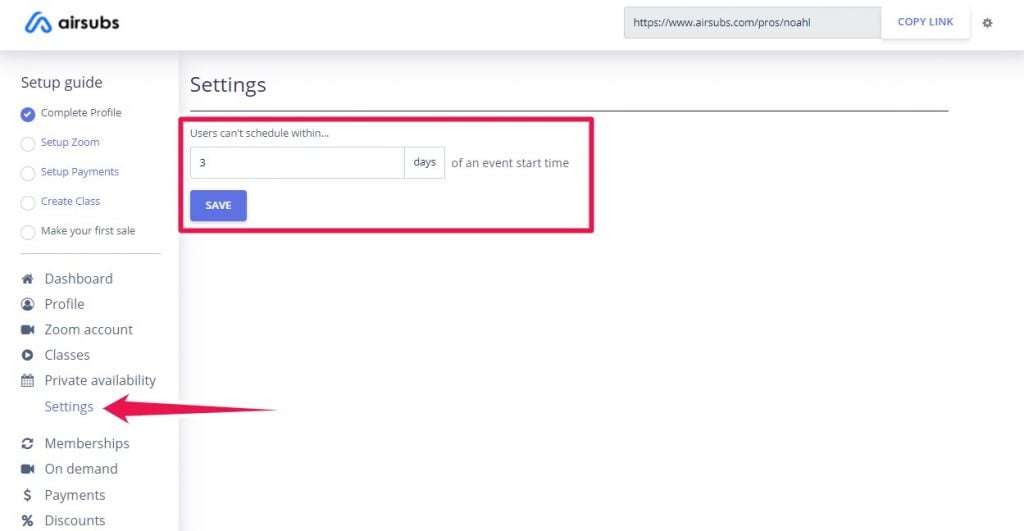 ---
Customers 
Running a well-oiled business can't really happen without knowing who your customers are. Airsubs offers a Customers feature which shows a list of who your customers are, allows searches for specific customers, and also displays classes attended and registered for when viewing a customer's profile. You also have the option of CSV download, something that you'll need when it comes to communicating with your audience.

---
Custom Emails
Communication is a big deal for any business and one of Airsubs shortfalls. At the time of this writing, you can only customize two emails; one for subscription purchases, and one for class confirmations. 
You can also send emails to customers from the main dashboard view. This feature is, however, limited. Emails don't allow for image inserts and can only be sent to all customers and not individuals or segments. A 'Weekly Email' is also available and used to share what your live class schedule looks like for any given week (also only sent to all customers).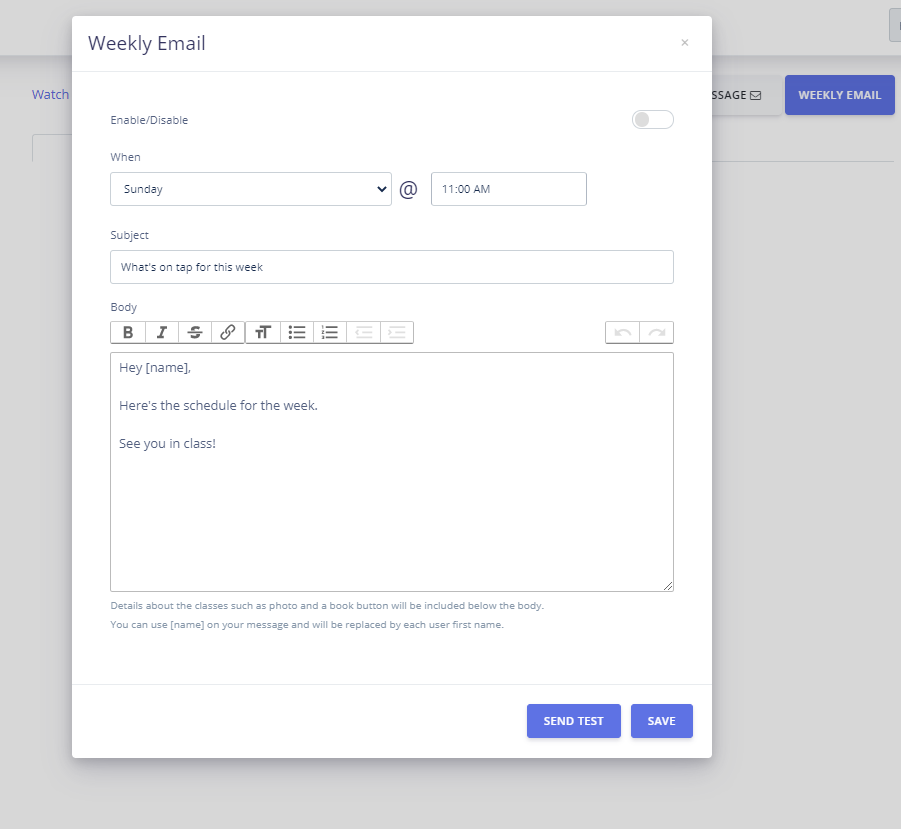 If this leaves you wondering about email marketing and promoting more offers to your audience, this is where your CSV customer list download comes in handy. You'll need to upload and use it in your favorite email marketing software platform.
To edit emails, head to Email Settings in the left-hand menu. Customizable fields include customer first and last names, profile names, page URLs, and membership titles. 
---
Reports
Reports offer a quick snapshot of performance. It includes a date selector and shows a dollar value of sales and membership income for the month to date.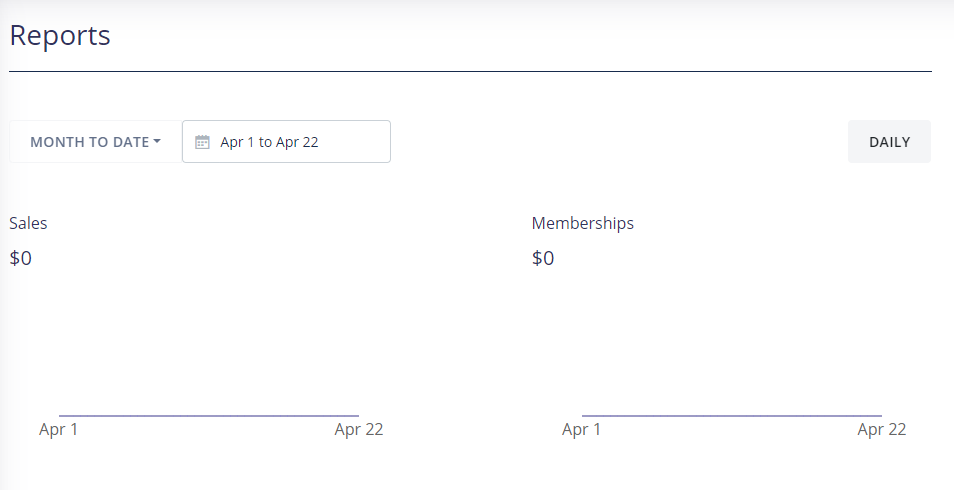 ---
Referrals
Airsubs offers a referral program for creators with creator friends. When a referral makes their first $2,500, you get $100. Airsubs also makes it easy to get links into the wild. All accounts automatically get one and you can send a referral invite from your dashboard.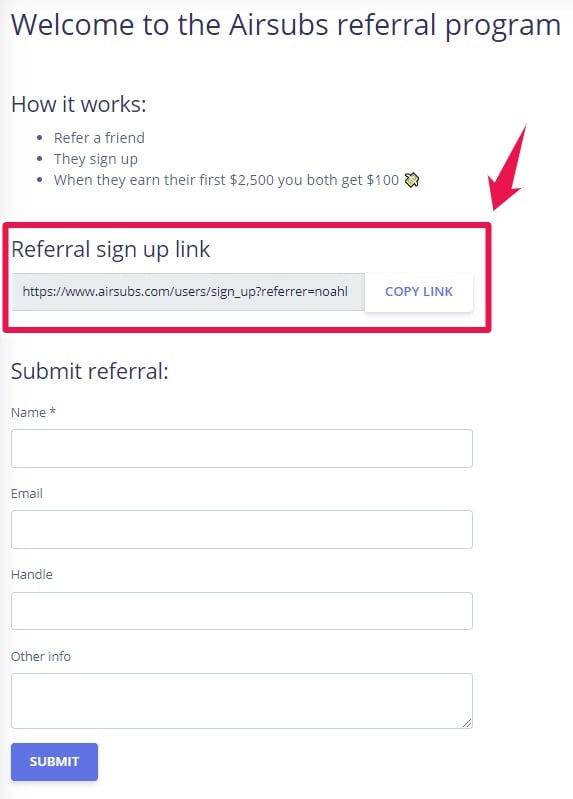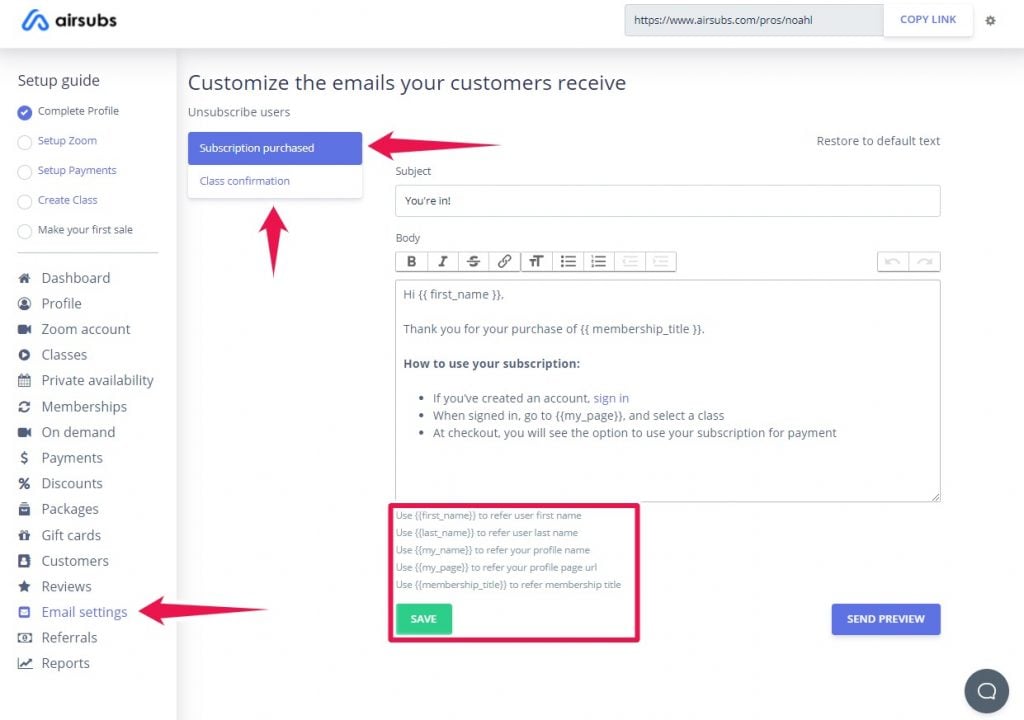 ---
Reviews
Reviews are great social proof and can be collected through Airsubs. Once provided, they are displayed on your Airsubs profile.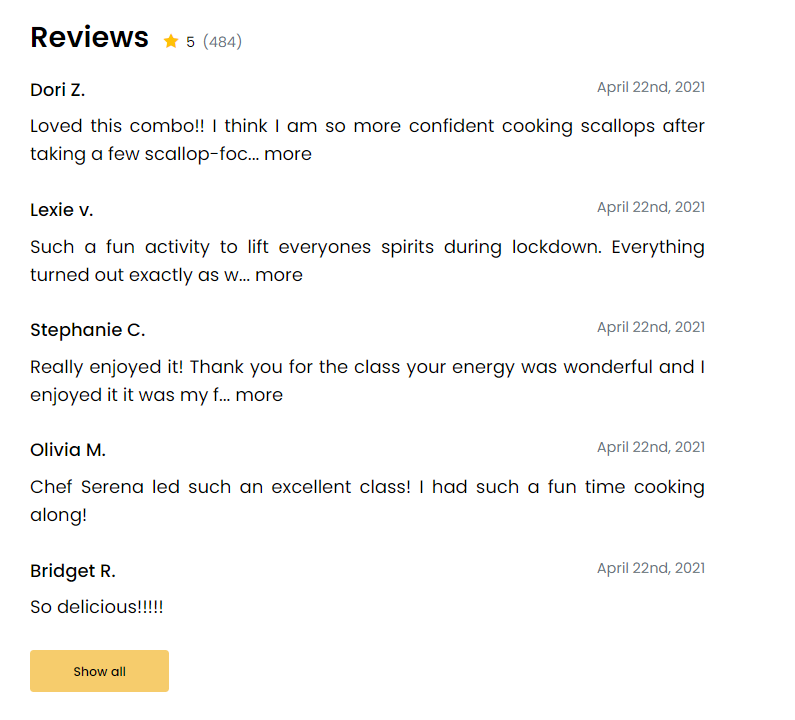 ---
Embeds on Your Website
Website embeds are a clever way to drive traffic to your profile. Airsubs offers these in the form of links for all features covered above. We'd like to see more added to this feature, allowing for embeds with calendar bookings and images.
---
Premuim Support
We struggled to classify premium support. At present, we could only spot an email contact form, something that's also hard to find.
---
The Bottom Line
Airsubs enters a growing market alongside apps like fitness VoD platforms Playbook, Strydal, and Salut. Where most platforms like these lack functionality is on the promotional tool front, but that's quickly remedied with access to a third-party email marketing platform. Hard-to-find support details and the need for a wider pool of integrations aside, Airsubs is a strong contender. It makes monetizing your passion easy and is affordable.
Airsubs
Features

Ease of Use

Support

Best for:
Content creators, influencers, and small businesses