By definition, Social Commerce is the process of selling products directly on Social Media. As an ever-evolving phenomenon, the entire shopping experience from product discovery through to checkout sees the user never actually having to leave the Social Media platform. Features like the "buy now" button or autofill payments remove the friction from the consumer journey, thus making the whole process faster and more efficient. From a report conducted by Research and Markets, the global Social Commerce Market was estimated to reach $89.4 Billion in the year 2020 and it's projected to reach $604.5 Billion by 2027, thus growing at a CAGR of 31.4% over the period 2020 to 2027.
Why is Social Commerce becoming more and more important? It can be argued that this is due to the growing number of Social Media and advertising platforms, along with the simplification of the shopping experience, with other factors being the popularity amongst Gen Z and Millennials, as well as increased time spent on the social media platforms. Social Media is used not only to share personal stories and experiences but also to follow and get inspiration from your favorite celebrities and influencers. Apparel and accessories are the two categories that dominate Social Commerce, but it can be applied for other product categories.
Social Commerce has many pros, for example, reducing the risk of abandoned carts which is something that can happen a lot when shopping in an eCommerce site. The whole shopping experience is customized and personalized. Think about your Instagram shop; every brand you follow shows up there. Influencers that once were only paid to post affiliate links using the "swipe up" feature, nowadays can partner up with brands using different approaches, for instance; live streaming, "shoppable" stories, and "guides" on Instagram. Moreover, Facebook Shops styles and layouts can be customized by choosing colors, fonts and adding, removing or arranging collections and product grids.
Many people mistakenly believe Social Commerce is eCommerce, however, the two are different. eCommerce is buying and selling goods via a website or a dedicated app. Social Commerce is about selling goods via Social Media, without leaving the Social Media app. With Social Commerce, the checkout is within the app, creating an all-in-one experience which some may even argue is preferred over traditional in-person shopping. Brands can make the most out of Social Commerce by interacting with customers, setting personalized discounts, and receiving important feedback as Social Media offers valuable insights.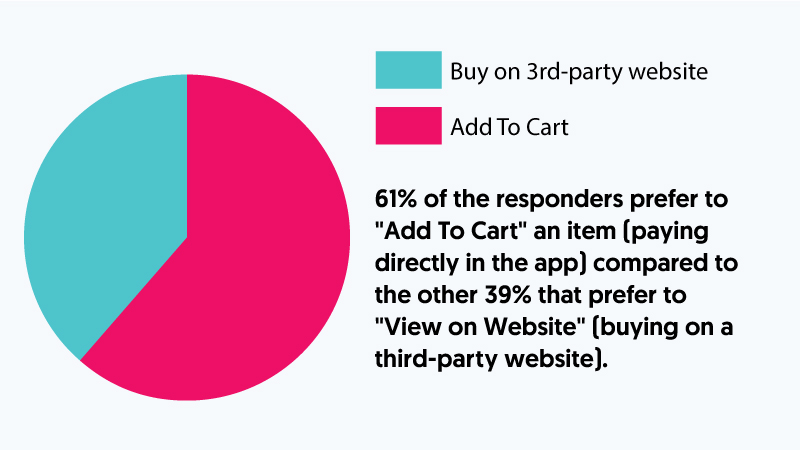 ---
What is Social Commerce?
---
Our Findings
In order to better understand shoppers' preferences and habits, our agency The Influencer Marketing Factory ran an online survey based in the US focused on Gen Z and Millennial shoppers. We discovered some interesting insights about Social Media, online and offline shopping, and overall consumer behavior.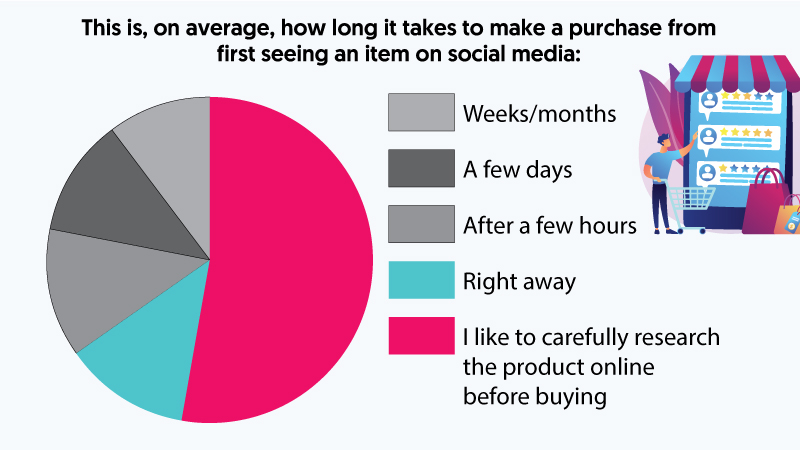 Our study revealed three main findings:
40% of Gen Z and Millennials interviewed bought something while watching a live stream on a Social Media app.

53% of the respondents said they like to carefully research the product online before buying, while only 12% said they buy something right away after seeing it on Social Media (e.g. in an influencer post or live streaming).

61% prefer "Add to cart" (without leaving the Social Media app), while the other 39% prefer "Buy on third-party website" (leaving the Social Media app).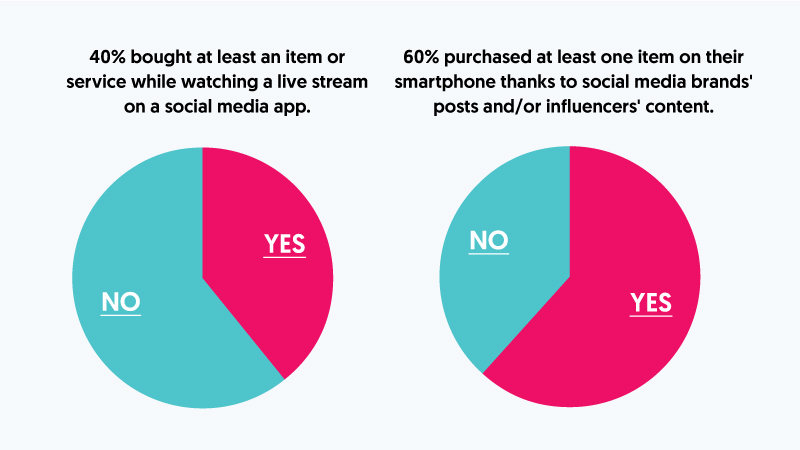 ---
The Changes in the Online Shopping Experience
A recent eMarketer research study showed that the number of US Social Commerce buyers grew by 25.2% to 80.1 million in 2020 and will grow another 12.9% to 90.4 million in 2021. US retail Social Commerce sales will rise by 34.8% to $36.09 billion this year, representing 4.3% of all retail e-commerce sales.
The shopping experience is changing for both companies and consumers. After Covid-19 companies and brands are trying to find new ways to acquire and retain customers. With Social Commerce, customers can now interact with brands, read comments, and share products with friends and family to get quick feedback on whether to purchase.
Before the "buy button" feature was added on Social Media apps, brands only used Social Media as a shop window and a way to communicate new collections or advertise new product lines. Now, instead, consumers can visit a brand's profile and directly shop products, thus creating a great opportunity for companies to easily collect data and have direct feedback on what customers like. Brands and customers can engage on a whole new level by making the whole experience more fun and interactive. Brands, in fact, can take advantage of what these Social Media apps are already offering, such as live sessions, direct messaging, AR, connecting with influencers, and so on. Users can discover new products and brands every day, thanks to the algorithm that showcases products and brands based on user activity, thus increasing the possibility of reaching new customers and increasing brand awareness. Platforms like Pinterest and Snapchat are using AR technology to win at Social Commerce by letting users try products on before they buy them. Pinterest is doing this by letting users try on different shades of eyeshadows and lipstick, Snapchat has collaborated with Gucci by letting users try on their sneakers. The recent Snapchat acquisition of Fitanalytics underlines the effort to help users to find apparel and shoes powered by AR technology.
The Influencer Marketing Factory CEO & Co-Founder Alessandro Bogliari commented on the benefits of Social Commerce: "Social Commerce will help brands increase their mobile conversion rates and decrease cart abandonment rates. It will support influencers in terms of additional revenue streams thanks to affiliate fees every time they sell third-party items and they will be able to earn better margins on their own merchandising, products, and services. Our survey shows that there is a big interest and potential in Social Commerce and I am personally really curious to see its future development."
---
China's influence with Super-apps and Livestream
All-in-one platforms (also known as "Super Apps") stem from the example of China, one of the most advanced Social Commerce markets in the world. When it comes to selling goods online, China has advanced beyond any other country, because most consumers are using Social Commerce to shop on their mobile devices. Additionally, many of their online storefronts begin on mobile apps, in contrast to the US where stores develop a site first and then shift to mobile.
Apps like WeChat include mini-programs, which are "apps in the app" that allow users to do almost anything, from food ordering and shopping online to playing games and buying cinema tickets. Brands (especially luxury) and KOLs' (Key Opinion Leaders) use mini-programs to grow their business and boost sales.
Apps like Pinduoduo permits users to shop as a group, allowing them to have access to lower prices. The Chinese TikTok (Douyin) allows users to click on product links and shop inside the app. Live-streaming and mini-programs are also integrated. For instance, Douyin recently launched the e-wallet called "Douyin Pay". One of the most important aspects of shopping online in China are customer reviews because users rely heavily on them and that's why they are usually long-form and detailed with photos.
KOLs' are a big part of Social Commerce; they are highly trusted by customers who consider them as friends who are sharing personal recommendations and advice. KOLs' are crucial for brands that want to effectively promote their products: some of the most famous KOLs' such as Becky Li, Austin Li and Viya have sold millions of dollars of products... not just fashion and beauty items, but also cars and on one occasion a rocket!
---
What is Live Stream shopping?
Live Streaming is a popular way to shop online in China and it's an emerging trend in the US as well. For example, Amazon Live, Instagram, and Facebook are already letting sellers experiment with this feature. During the live stream, the products are linked next (or below) to the video so that buyers can easily add them to their cart. Similar to the good old QVC, but totally digital and mobile-first. Live stream viewers can join from anywhere in the world with a phone or tablet and seamlessly interact with the seller. Through features such as "live chat", the seller is able to have a real-time conversation with the customer as if it was in a store: this allows the customer to ask questions and the brand to provide personal customer service. Interaction is key!
In China, you can buy anything, from farmers' goods to luxury pieces. It's also a great entertainment opportunity, for example on the app NTWRK you can shop exclusive drops for shoes, home goods, apparel, art, and more. Products are showcased by special guests too. Stocks are limited and you can find them online for a massive markup days after the drop. This app also offers live festivals, mixing shopping with entertainment. This app collaborates with big artists such as Billie Eilish who teamed up for an exclusive drop of three original prints inspired by her Apple TV+ documentary "Billie Eilish: The World's a "Little Blurry". Another emerging app is Shop Shops that is a great example when it comes to small businesses: a lot of retailers choose to live stream their products directly from their stores.
All in all, brands are starting to invest more in lLive stream shopping, especially after Covid-19. For example, Walmart partnered up with TikTok for a shoppable experience hosted by some of the best social media app creators. The viral hashtag #Tiktokmademebuyit has more than 1.5 Billion views and the hashtag #amazonfinds more than 6.7 billion views. There are a lot of products that every week go viral that you didn't know you needed in your life until they pop up on your For You Page: From beauty products to home decor the list of cool and useful products is endless.
TikTok partnered with Shopify too: now merchants can target and create aAds directly from the Shopify App. This allows new growth possibilities for brands to reach potential new customers. Live stream shopping often relies on FOMO: if you don't buy it right away you are missing out.
---
Social Commerce and Influencer Marketing
From our survey, we found that 46% of the respondents buy something at least once a month thanks to social media brands' post and/or influencer content. This highlights the clear need for influencer marketing, as Influencers can help brands achieve different marketing goals such as brand awareness, sales, engagement, and high-quality content. When Influencers become brands, they are even more trusted by their followers, who are always looking for inspiration and the latest trends.
Shoppable stories are a perfect example;: followers get daily updates via stories about trends and products. Influencers can tag the brand's products in their stories while they showcase their outfit of the day or their new favorite beauty products. The same happens also for food/beverage items, for new apps, gadgets, accessories and much more. Within a few clicks, followers can purchase the products without leaving the app: from product discovery to in-app purchase paying, for example, using ApplePay or a credit card associated with their Facebook and Instagram accounts.
Social Commerce can work greatly with influencer marketing because Influencers are highly trusted by their followers and they are able to genuinely integrate the product into their content, making the purchase flow smooth and frictionless. We are not just talking about Macro-influencers but also Micro and Medium ones, who often have an above average engagement rate and have built an even stronger trust from their followers.
---
Buy Now Pay Later
BNPL "Buy Now Pay Later" services such as Afterpay, Klarna and Affirm are becoming popular among the online shopping platforms because they let customers split payments without paying any interest. It's the perfect business model for the Gen Z audience, which often has less spending power for high-end products. The pandemic pushed consumers to find alternative ways to finance their spending, that's why BNPL services are becoming more and more popular and Social Commerce can only benefit from it.
---
Wrapping Up
Social Commerce will continue to develop with new technologies such as Virtual Reality, Artificial Intelligence and Augmented Reality integrating into the Social Media platforms. Brands and businesses alike have the opportunity to increase their digital presence with the ability to track metrics such as CAC, CPA, CPC and CTR, analyzing the real ROI of their online activities and being able to reconnect with those users that left items in their cart (toon the contrary of browsing an eCommerce as guests that won't give that opportunity to brands owners). By merging influencer marketing with social commerce, brands and companies are able to reach new audiences and make the customer purchasing journey as seamless and short as possible.
If you are interested in learning more about Social Commerce you can download our full report here.
AUTHOR BIO