Xmas is one of the main events on a marketer's content calendar. It's one of the few golden opportunities in the year that brands can generate loads of sales and brand exposure. To give you an idea of what's at stake, according to data shared by Statista, it was projected that in 2021 retail sales during the Christmas period in the UK would reach nearly £85 billion. Over in the USA, the picture looks even more promising. In 2021, holiday retail sales were predicted to exceed $840 billion and that was viewed as a conservative estimate.
You get the idea.
To be able to cash in, though, you'll need to plan your marketing campaigns well in advance. Which channels do your target audience prefer? Which type of content do they resonate with more? Video or email? And, which leading voices does your target audience listen to?
In addition to holiday email marketing, influencer marketing can be a very effective strategy during the festive season. Collaborating with the right influencer can help you to gain a lot of visibility and put your product and exclusive holiday deals and promos in front of bigger audiences.
To help you launch successful influencer marketing campaigns this holiday season, here are some campaign ideas. While these ideas are pretty stratforward, it's best to leave it to an experienced influencer marketing agency. Not only do they already have a network of influencers, but they also know how to turn even the simplest idea that has been used before by other brands into something unique.
We know that you would much rather be shopping for Xmas presents than an influencer marketing agency. So, we've also shared five of the leading influencer marketing agencies that you can put on your shortlist.
---
Xmas Influencer Marketing Campaign Ideas:
---
Why Choose Influencer Marketing?
Our State of Influencer Marketing Benchmark Report 2022 found that the majority of marketers (68%) planned to spend more on influencer marketing in 2022. In fact, 77% shared that they will be dedicating a budget specifically to influencer marketing.
Clearly, influencer marketing must be delivering a high ROI. Why else would marketers be willing to spend more?
Our report also revealed that more than 90% of marketers that participated in our survey stated that they think influencer marketing to be an effective marketing strategy. So, most brands that incorporated it, were pleased with the outcome. One of the reasons why they feel so positively about influencer marketing is because it attracts high-quality customers and two thirds feel that it actually attracts better customers than many other forms of marketing.
As to issues about brand safety and fraud, two of the most common concerns regarding influencer marketing, most companies weren't too worried that an influencer could negatively impact their brand, while fewer companies have reported falling victim to influencer fraud. Perhaps this is partly because most don't consider it too challenging to find the appropriate influencers for their campaigns.
---
Tips and Ideas for Holiday Influencer Marketing Campaigns
Here's the thing about holiday marketing campaigns — you don't necessarily need to reinvent the wheel. This time of the year shoppers rediscover their love for the traditional. You can use this to your advantage when creating social media holiday calendars for the approaching holidays. Perhaps give a familiar tactic, such as a competition, a new face, like that of a popular influencer? To help you with your planning, here are some practical tips and campaign ideas.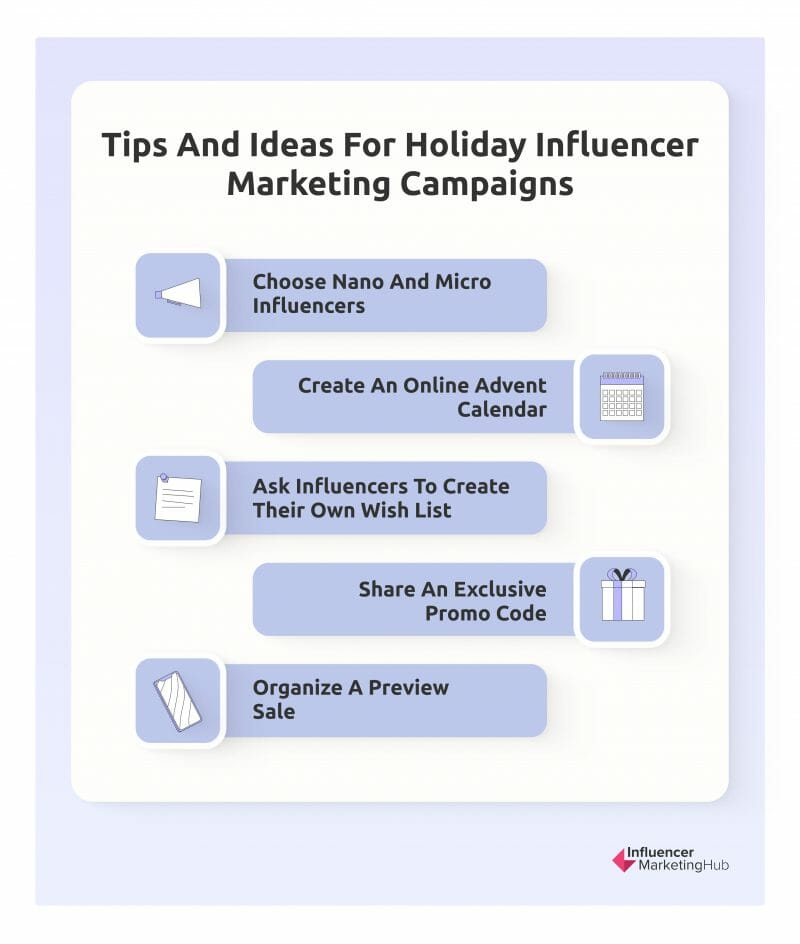 1. Choose nano and micro influencers
We've written on several occasions about the power of working with micro influencers (influencers with between 10,000 and 75,000 followers) over macro influencers. Irrespective of your type of brand or its size, these are the types of influencers that can deliver great engagement rates, and for much cheaper.
Here's the thing about working with micro influencers… As they're not that big (yet), they have a more personal connection with their audience. Nowadays, authenticity is one of the driving forces and this personal connection helps them to come across as more sincere.
The key takeaway — worry more about engagement rate than the number of followers.
Finding a suitable micro influencer to partner with your brand can turn out to be more labor-intensive. However, if you use an influencer marketing agency (which we'll focus on later in this article), this is one of the cons of working with micro influencers that you won't have to worry about.
The trick is to find (nano and) micro influencers who already take a keen interest in your niche and share your brand's values. Then, once you've found a few, be sure to keep your tone of voice friendly and the brief clear.
---
2. Create an online advent calendar
Advent calendars aren't just restricted to bit-sized chocolates. From GIFs to gift ideas to competition entries to comedic clips, there are various types of bit-sized digital content that you can share via an online advent calendar. What makes this such a great strategy to incorporate into your influencer marketing campaign this holiday season is that it can help drive engagement and brand interest for longer.
You can, for example, get a number of influencers to promote one of your best-selling products every second day. On the other days, you can, for instance, ask them to share one of their product tips. And, every now and again, it can also be a good idea to throw in a reward in the days leading up to Xmas.
To help boost brand recognition and visibility, you can also create a branded hashtag to use with each day's post. This hashtag can be a combination of your brand name and a word closely linked to the particular event. Not only will a catchy branded hashtag help you to increase visibility, but it can also make it easier to generate more excitement about your posts, possibly helping it to go viral.
---
3. Ask influencers to create their own wish list
Instead of getting influencers to share a cool gift idea every once and again as part of your digital advent calendar, you can ask them to create and share a complete wish list featuring products that they would like to receive for Thanksgiving or Christmas. Not only will this serve as gift ideas for your target audience, but also as a type of endorsement or social proof that your product works.
---
4. Share an exclusive promo code
Promo codes are popular all-year round, but especially during the holidays when your audience will most likely have to buy a number of presents at once and will be only too grateful for 20% off. Not only can it help to drive more sales, but it also makes it easy to track just how effective your influencer marketing campaign was. It's also easy for influencers to share promo codes with their followers. They can, for example, add it in their bio link or as a caption to an Instagram Story.
You can also, for example, tie a promo code to an automatic entry into a holiday competition. Depending on the finer details, this can be a win-win strategy for you. You'll end up getting an extra sale and a new email address to add to your contact list. Your customers won't mind either. They can get a product that they've been eyeing for a while at a reduced rate and stand the chance to win a prize.
---
5. Organize a preview sale
With social commerce and live shopping becoming more mainstream, another possible idea is to partner with an influencer and hold a holiday preview sale. This strategy can help you to clinch a few early sales. You can also use it as an opportunity to get more email subscribers or social media followers. This way, when the time comes for you to launch your other great holiday marketing ideas, you'll already have a bigger captive audience.
When searching for live shopping influencers to partner with, one of your priorities will be to ensure that they'll appeal to your target audience. Once you've identified a few possibilities, double-check that they are indeed comfortable in front of the camera. Just because they're an influencer doesn't mean that video is their preferred medium of communication. Then, there's also the logistical issue of being able to get the actual products to the influencer on time. For this to work, you can't rely on product photos.
---
6. Launch a competition
If you don't like the idea of rewarding customers for when they buy a product with an automatic competition entry, you can use other criteria such as liking and/or sharing an influencer's post. This is a very common strategy for a reason and a great route to take if engagement and views are more important to you than sales.
---
6 Influencer Marketing Agencies for Your Holiday Influencer Campaigns
As micro influencers can help you to reach an engaged audience for cheaper, we've decided to focus on some of the leading influencer marketing agencies that work specifically with these types of influencers. The following five agencies have delivered real results for various industries.
---
---
---
---
---
---
---
Wrapping Things Up
The Xmas season is a time to unwind and spend with friends and family. Though, if you're a marketer or business owner, it's also one of the busiests times during the year. Much of the year's targets depend on sales generated during these last few weeks.
To help you meet your goals and create some "free" time, why not embrace influencer marketing? It has proven itself to be an effective strategy over and over again. Plus, that way you can leave the content creation to someone else. Even better yet, leave all the work to an influencer marketing agency. From finding the right influencer to sorting out contracts and content creation guidelines to measuring the results, that's what they're all about.