Since 2017, we have been conducting research to provide useful insight into how brands and agencies view the state of the influencer marketing industry. The culmination of data in this study brings no shortage of value for those in any function of marketing.
This Social Intelligence Insights Report Q1 2020, in collaboration with NeoReach, analyzes data collected from over 6,000 YouTube videos indicating brand partnership or sponsorship in accordance with FTC regulations. YouTube videos considered for this report also needed to meet the criteria of earning higher than 10,000 views and be published content from USA or CA brands for the Q1 2020 period. The results from this data have been aggregated and interpreted to present valuable insights into the behavior of the top spenders on YouTube and the results these campaigns generated.
On top of the results from this research, we have added further relevant statistics regarding influencer marketing within and across different industries. The data and conclusions contained in this report are thanks to our partner NeoReach, who provides influencer marketing data, software, and agency services for leading brands and Global Fortune 500's. NeoReach's data is collected from their best-in-class enterprise marketing software, Social Intelligence API, which is utilized to build influencer relationships and create effective campaigns at scale.
Although we have seen a turn of events towards the end of Q1 2020, sponsored videos and brand partnerships continue to capture a variety of industry and audience. The effectiveness of influencer marketing is clear, as demonstrated by the top spenders on YouTube.
Henceforth are the leading results from our Social Intelligence Insights Report Q1 2020, in addition to a collection of other relevant statistics pertaining to the influencer marketing industry we have found useful to include.
---
Youtube Influencer Marketing Global Spend Report: Q1, 2020
---
Important Takeaways
COVID-19 hit the travel industry hard with the sponsored videos taking a nosedive and flatlining at 0 by the end of March.

A handful of influencers, totaling an equivalent reach, earns 96% more views than the Starbucks Rewards' campaign accomplished endorsing The Ellen Show.

Gaming spent 42% of the total IMV for the top spending industries

Blue Chew sponsored the highest viewed video with 7.6M views.

10 brands spent over $1M on influencer marketing including Skillshare, Nord VPN, Squarespace, DLive, and Blue Chew.

96 videos received over 1M views.

Audience sentiment is crucial for the beauty industry's success with an average like to dislike ratio of only 89.95%, well below the other top 5 industry spenders.

Beauty and gaming account for half of all brands– tied for the highest brand participation representing 25% each.

Highest grossing videos are the product of repeat brand-influencer partnerships. Continuous reinvestment in your industry's biggest powerhouse influencers is the most underrated strategy.

Campaigns activating a curated set of influencers flaunt far greater returns than celebrity endorsements.

Casey Neistat, PewDiePie, SSSniperwolf, Demolition Ranch, Matt Stoanie, Zach King, Tana Mongeau, Marques Brownlee highlight a list of the top influencers brands activated during Q1 2020

Find out which brands are purchasing all the YouTuber influencer inventory

Did you know? In 2020, more people consume commercials on their phones than on their TVs?

Bang Energy spends more on influencers than RedBull, Monster, & Rockstar combined!

Only 17/100 of the Fortune 100 brands spent more than $100k on YouTube integrations. Including Amazon, Google, Starbucks, Kroger, Intel, AT&T, CVS, Johnson & Johnson
---
Research Methodology
We collected the data included in this report from over 20,000,000 total YouTube videos. All YouTube influencer data presented has been captured by the NeoReach Social Intelligence API and must abide by proper FTC disclosure regulations. We analyzed YouTube videos during the months January through February 2020 to compile this data. We further targeted YouTube videos of influencers located in the North American regions of the United States and Canada.
From the qualifying selection of videos, this report only showcases those companies activating campaigns with sponsored content achieving a minimum of 10,000 views. The resulting data set which met all of these criteria outlined contained over 6,000 YouTube videos.
Therefore, this does not include all sponsored content on YouTube for Q1. However, it does include the top spending brands and industries for influencer marketing on YouTube for Q1 2020.
Influencer Media Value (IMV) is calculated to determine the return on investment of influencer marketing campaigns. The NeoReach Social Intelligence API automatically retrieves, evaluates, and scores sponsored posts against standard industry benchmarks. These benchmarks are created from data on all types of traditional and influencer marketing channels. NeoReach's software takes into account past campaign performance, paid channels, industry surveys and reports, and other performance-tracking analytics. IMV uses the reach of sponsored posts, reviewed for quality, and compares it to these industry benchmarks. The result is the specific IMV for the cost of generating an equivalent engagement level using another form of paid media.
---
Social Intelligence Insights
Top Industries that Spend on YouTube
From the 1,232 brands we found with proper disclosure of advertisement, ad or sponsored videos running on YouTube, the following are the top 10 industries with the highest spend: Gaming, Tech, Food & Drink, Beauty, Fashion, Travel, Education, Fitness, Automotive, and Health & Wellness.
Surpassing a $90M Influencer Media Value for the period, the top spending industries combined achieved over 6.3B in reach. These impressive statistics boil down to an average IMV per video of only $16K. For many brands, this is less than the typical campaign budget, proving you can drive impactful results with influencer marketing on YouTube– and, arguably, other platforms as well. Even upon entering a time of economic recession, influencer marketing spend during Q1 2020 demonstrates the undeniable success of this marketing channel.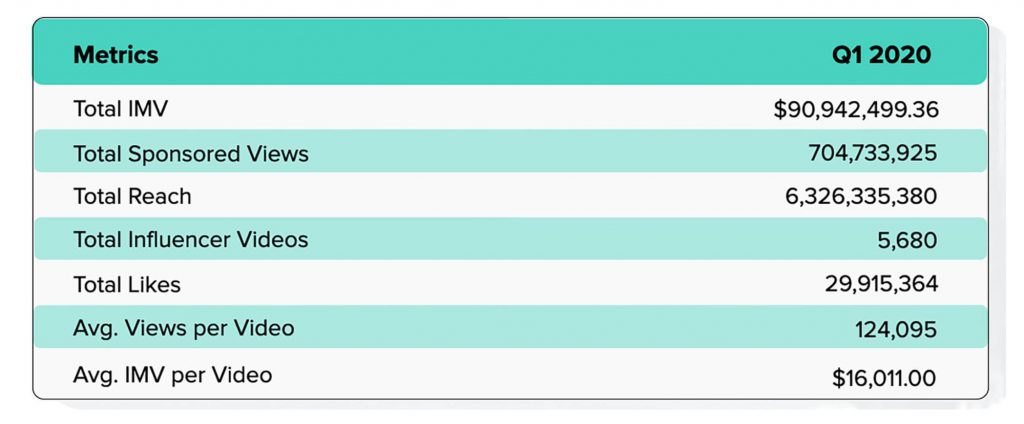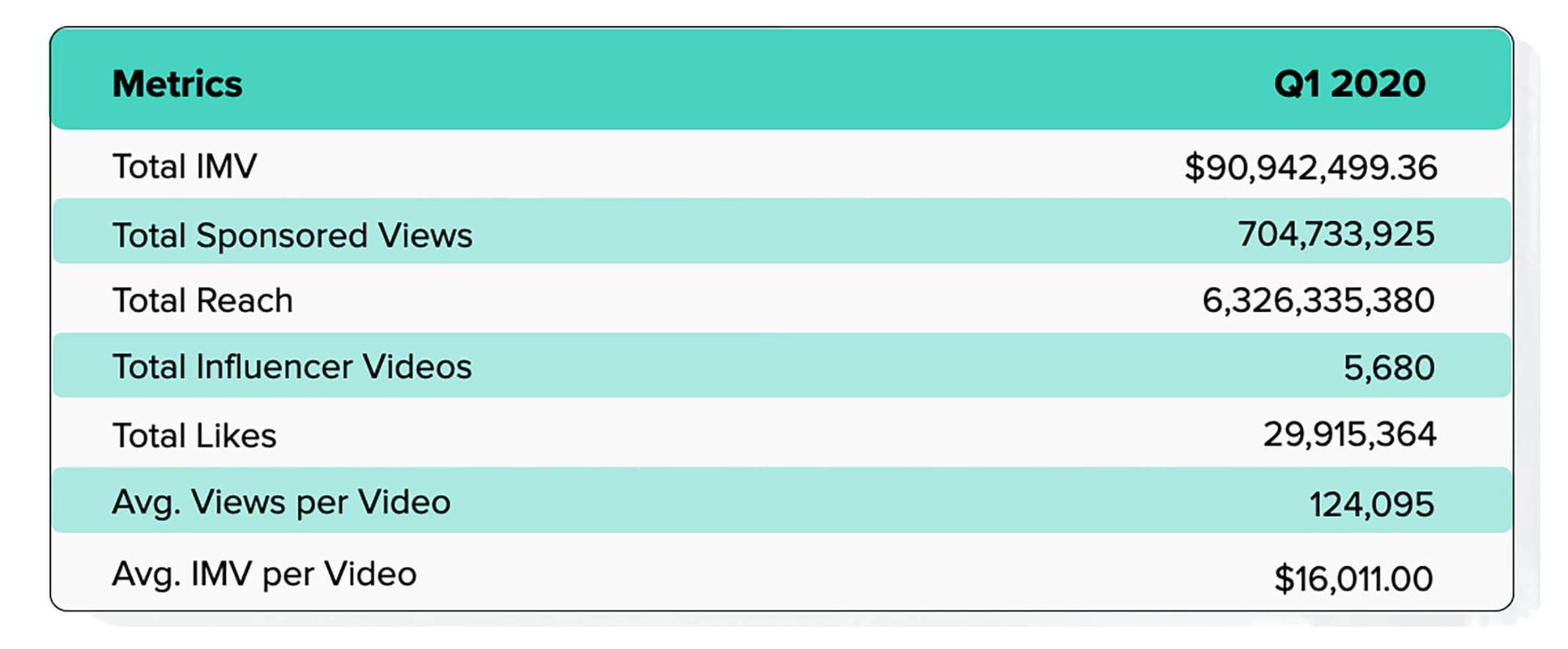 ---
Top Industries on YouTube: Closer Look
Breaking down the top industry spenders on YouTube, these 6 industries account for 70% of the overall $90M IMV. With the #1 highest spend, Gaming makes up 42% of the IMV for these 6 industries, and 30% of the total IMV for all top spending industries.
As the industries with the greatest IMV, brands in these spaces are experiencing the greatest return on investment from their influencer marketing campaigns. Compared to industry benchmarks of other forms of paid advertising, influencer marketing reaps immense reward for Gaming, Tech, Food & Drink, Beauty, Fashion, and Travel industries. High performance in Q1 2020 sets the framework for a successful year of influencer marketing.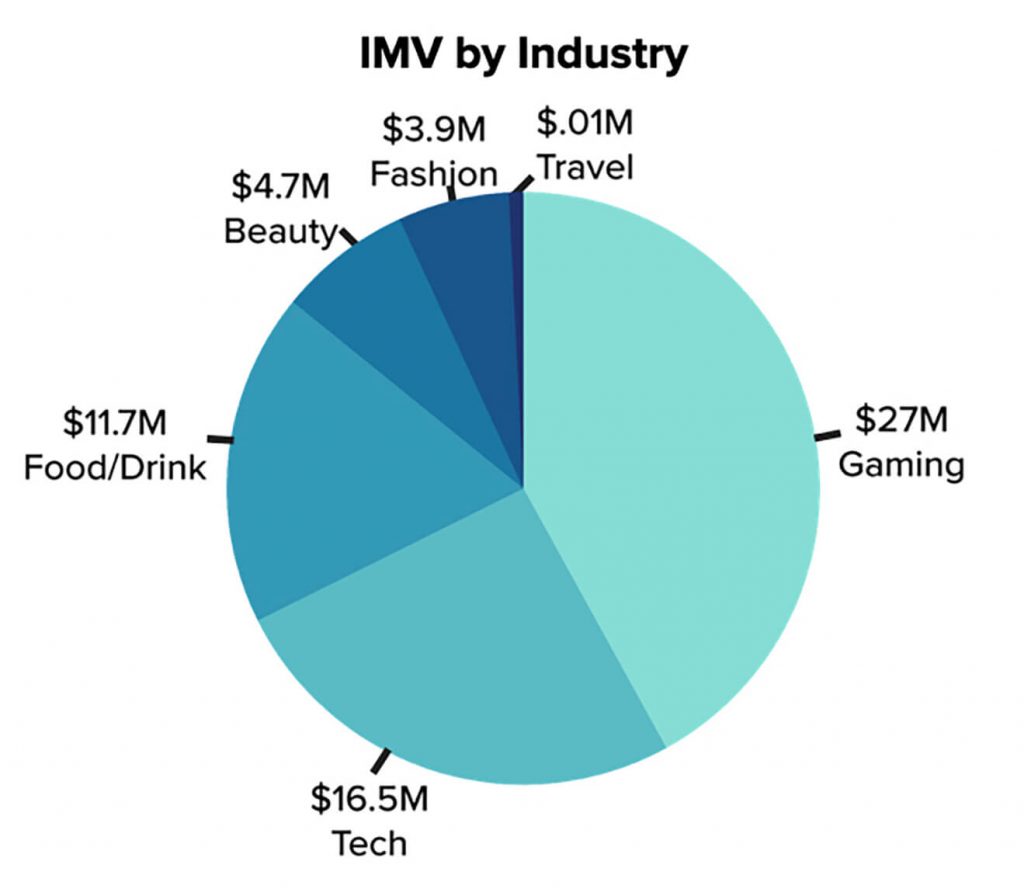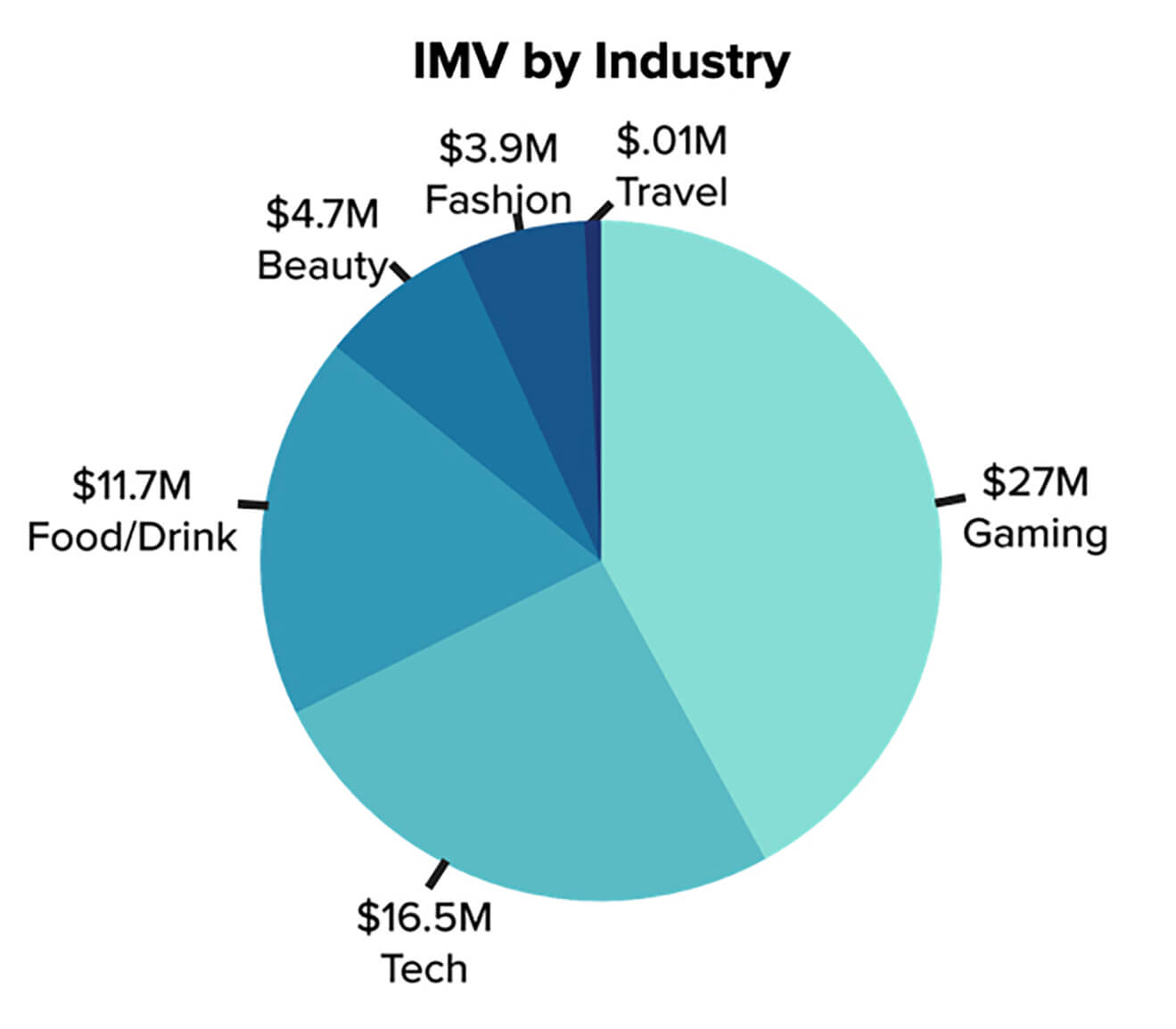 Gaming also tops the charts for views across the board for Q1 2020. However, all industries experienced a decline in viewership during the month of March due to the onset of COVID-19 and reduced campaign budgets. The Travel industry clearly ranks the lowest with viewership under 1M as an industry beginning as far back as the middle of January.
With industries like Tech, Beauty, Fashion, and Travel depicting relatively uninterrupted viewership, the Food & Drink industry experienced a large decline between January and February. It is possible that other industries will show similar reactions in Q2 following the implications of COVID-19.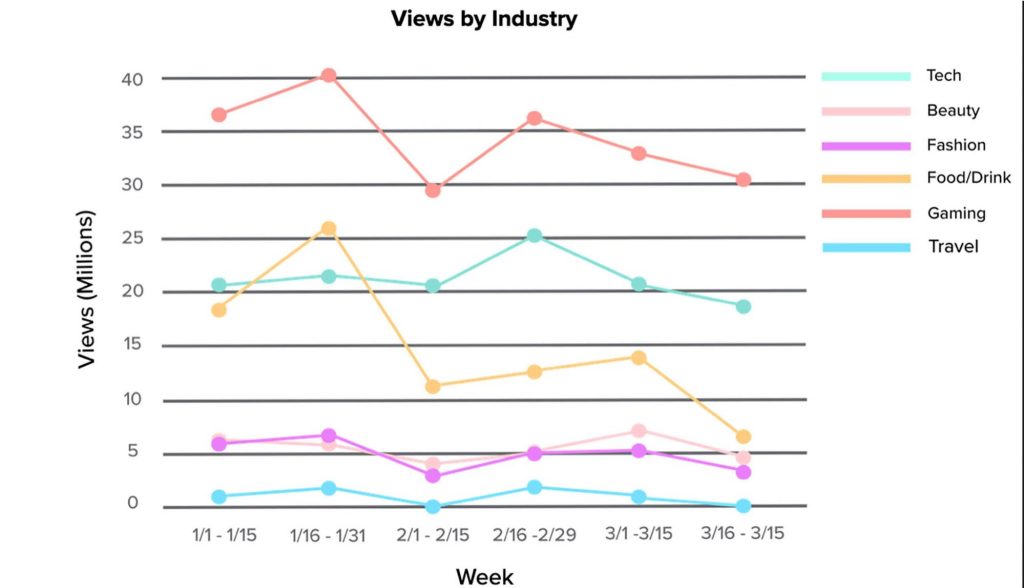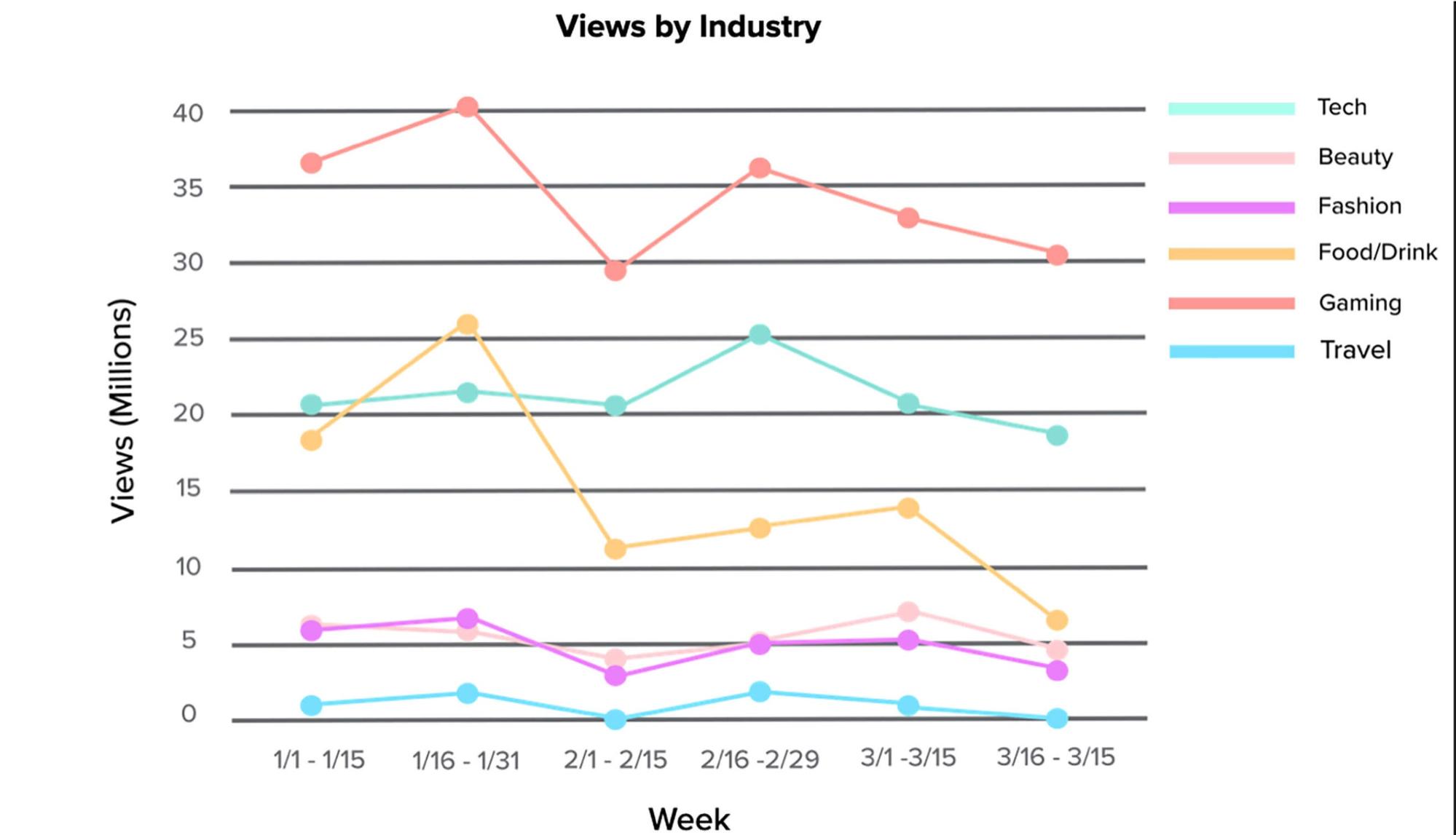 ---
COVID-19s Impact on the Travel Industry
One of the most volatile industries as a result of the COVID-19 pandemic, the travel industry has taken a hard hit. Sponsoring only 15 videos during Q1 2020, influencer marketing spend takes a nosedive, flatlining at 0 by the end of March.
Government regulations and public fear foreshadow that the Travel industry may also be one of the last to revive following the global pandemic. The payoff from influencer marketing has been strong for the Travel industry in the past, but the disadvantage of the current global climate hinders its success moving forward. As the economy begins to rebound, we expect to see a sharp spike in spending, performance, and profit related to influencer marketing in this industry.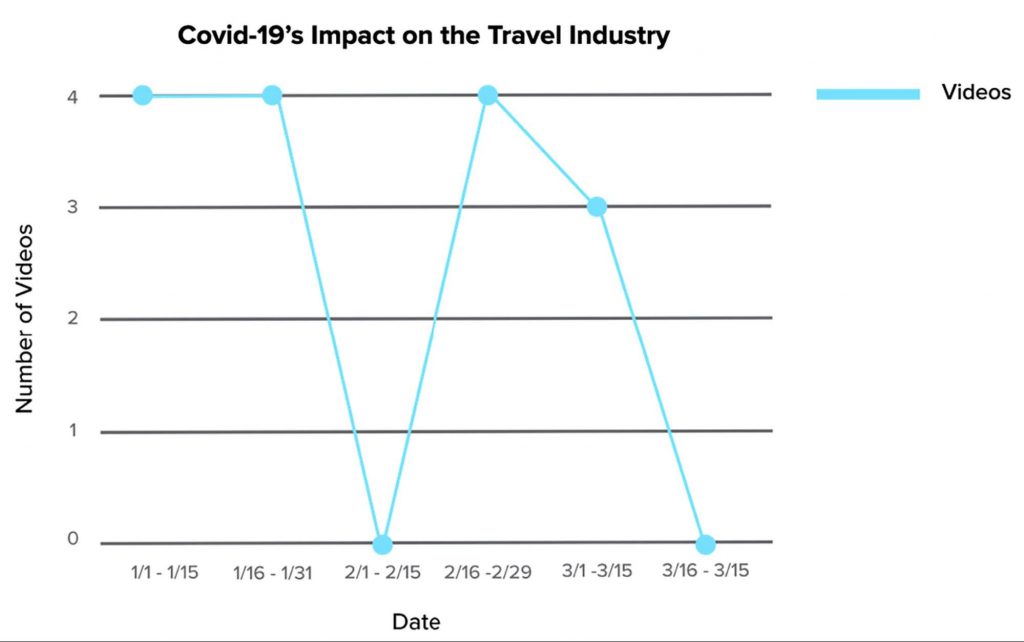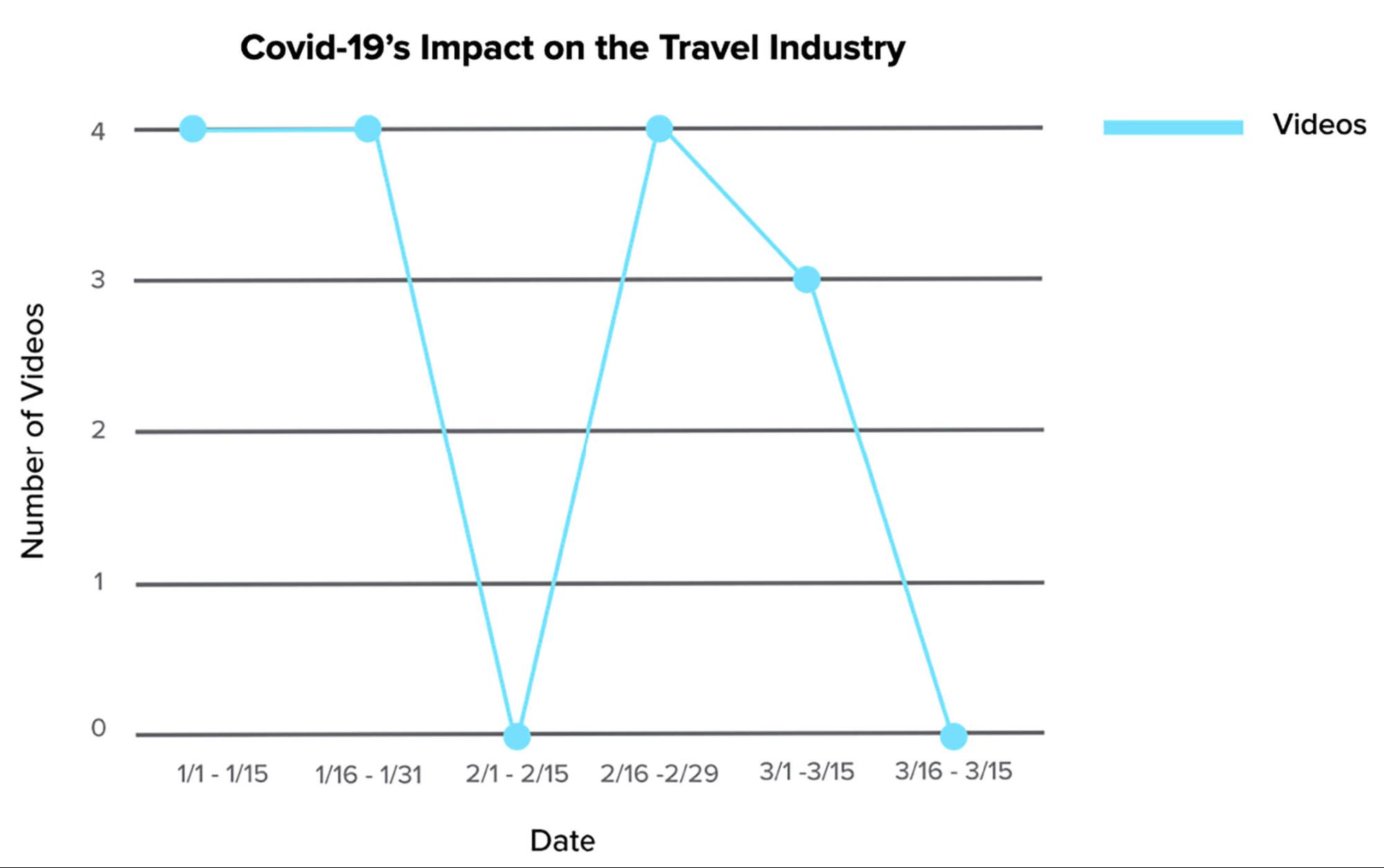 ---
Top Spenders on YouTube
Of these top spending accounts, brands were able to acquire a total reach of over 6.3 billion users. A component of this success is the 77% increase in total sponsored views compared to the last quarter of 2019. Check out the growth for yourself from our Social Intelligence Insights Report Q4 2019.
Following the industry trends, gaming brand Epic Games takes the cake for highest brand spend at nearly $11M over 304 videos. A jump down to second place with Bang Energy coming in close to $8M over 141 sponsored videos. An even larger gap follows with the rest of the top spending brands all within the range of $1-3M allocating that budget across anywhere from 1 to 304 sponsored videos.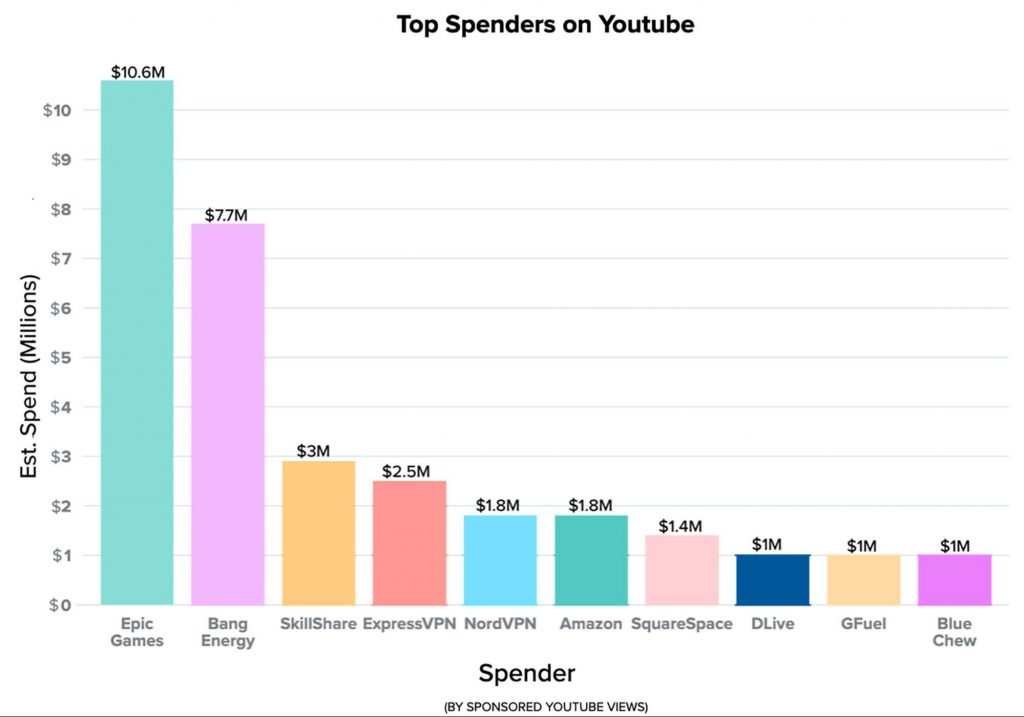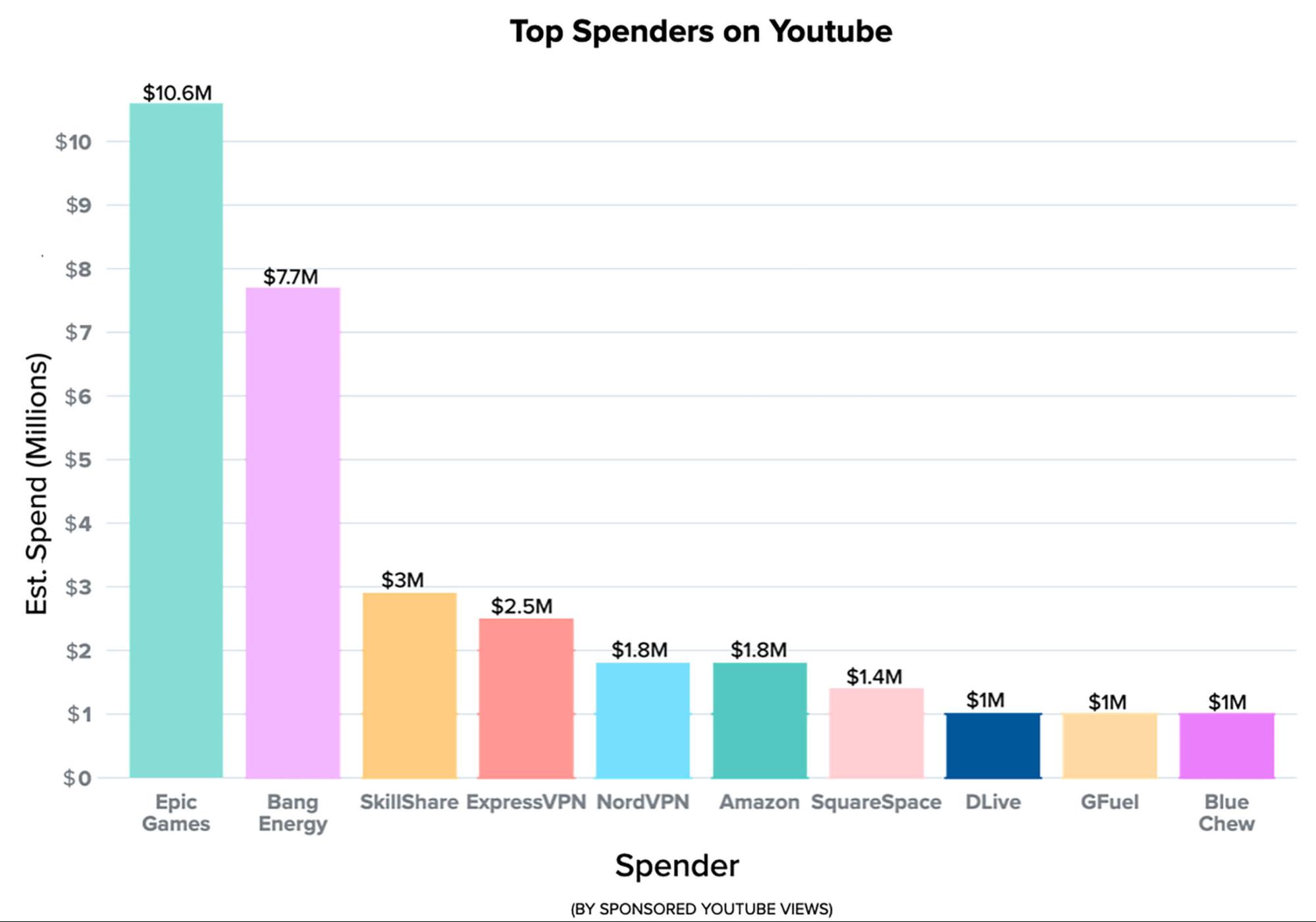 ---
Top Recognizable Influencers
These top 10 influencers have become household names. Across all brand sponsorships over all the top spending industries, brands are already working extensively with this list of notable influencers. If you want to ensure widespread success with your influencer marketing campaign, it is to your benefit to use data to identify a top-tier influencer who aligns with your brand and target audience.
PewDiePie has been a long-standing well-known influencer on YouTube for over a decade. His sustainable growth makes him a key player, especially in the gaming industry. Ryan ToysReview is raising the bar for child influencers on YouTube, showing the marketing community there is no age limit for prosperous influencer activations. Casey Neistat's candid and cinematic vlogs capture a diverse audience hanging on his every word. By accurately choosing a top influencer for your campaign, brands are guaranteed a huge return on their investment.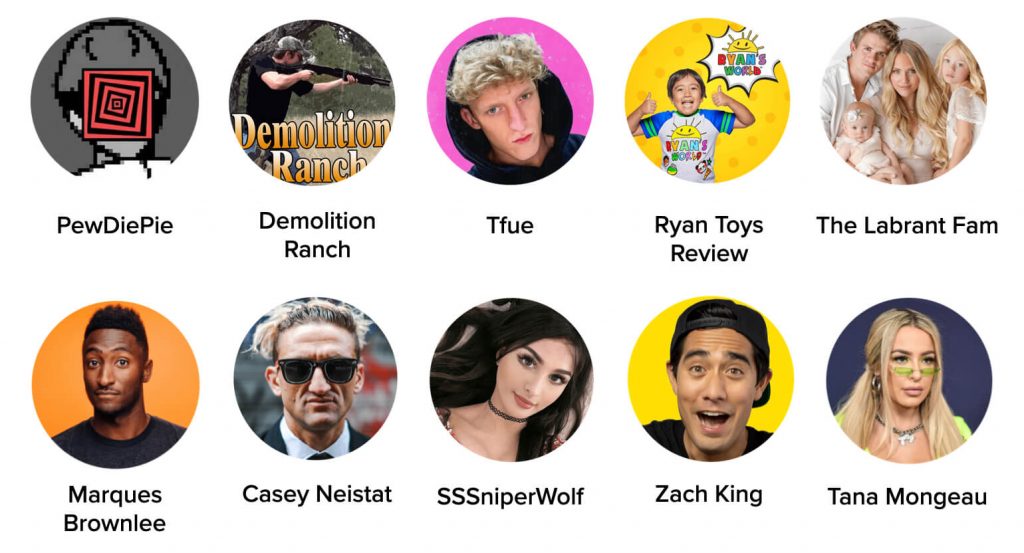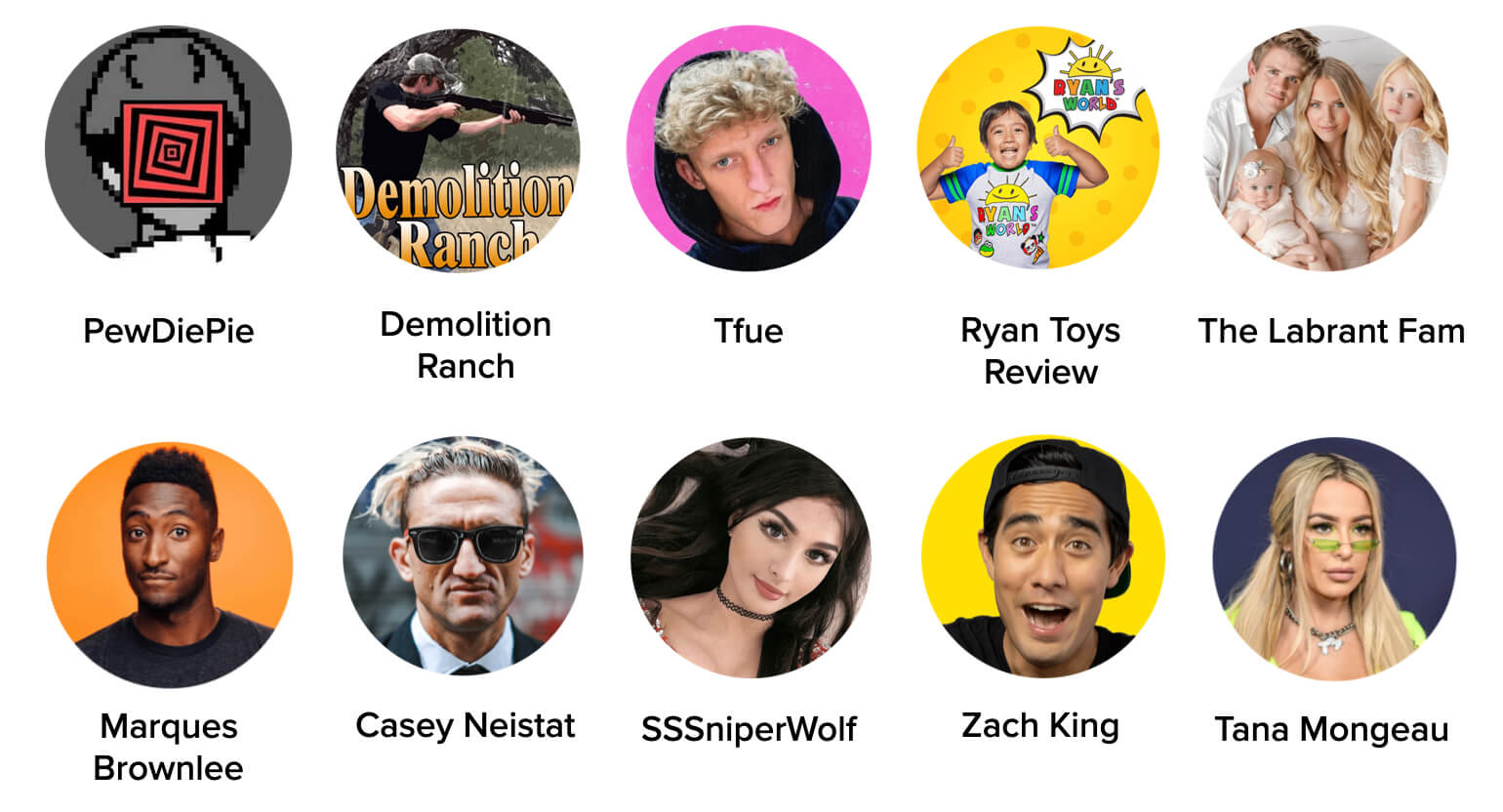 ---
Is Ellen Worth It?
Brands contemplate the tradeoff between celebrity and influencer endorsements for each campaign. Starbucks Rewards launched a celebrity campaign with The Ellen Show. Unfortunately, the results were less than stellar. Although the channel has a reach of over 37M, the video only received 95K views, less than 100 comments, and an even split of audience sentiment with a 1:1 like to dislike ratio. Based on the results, Starbucks Rewards should have paid less than 10K for this video.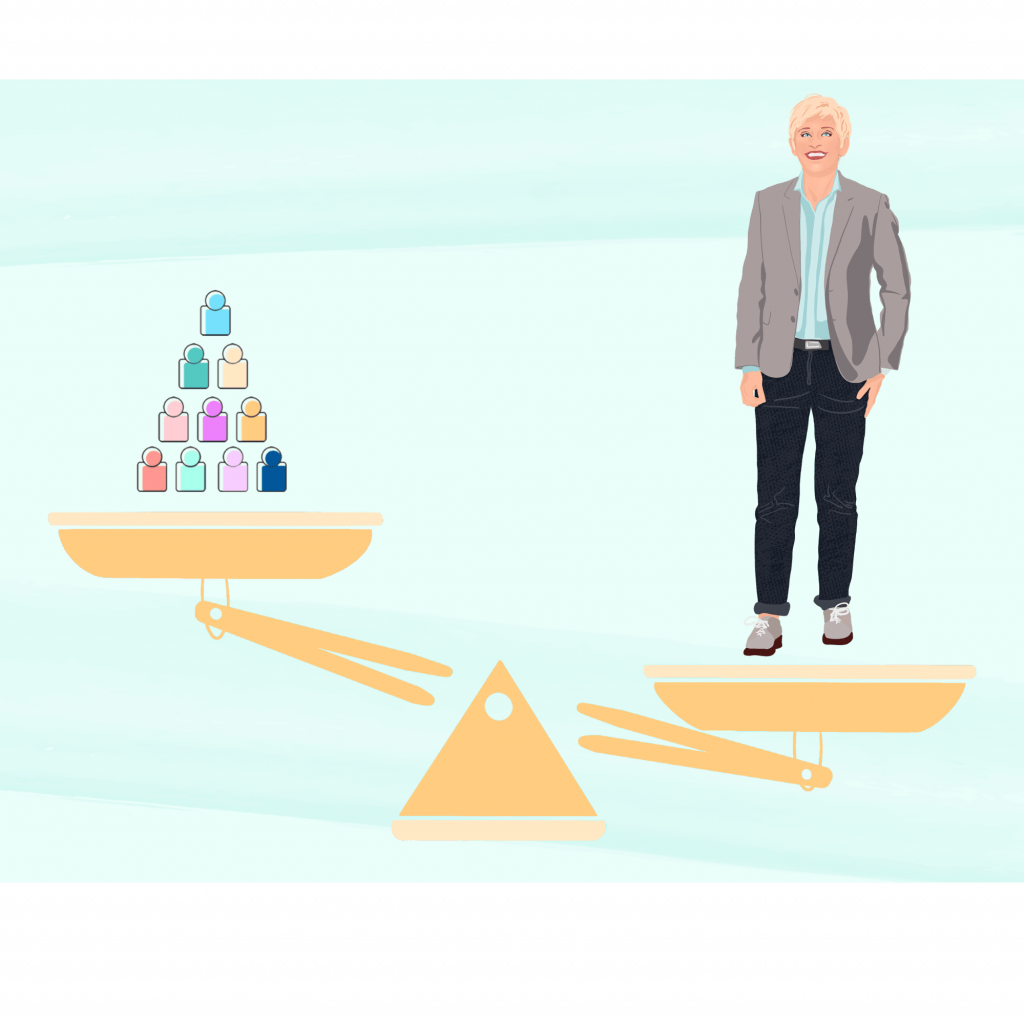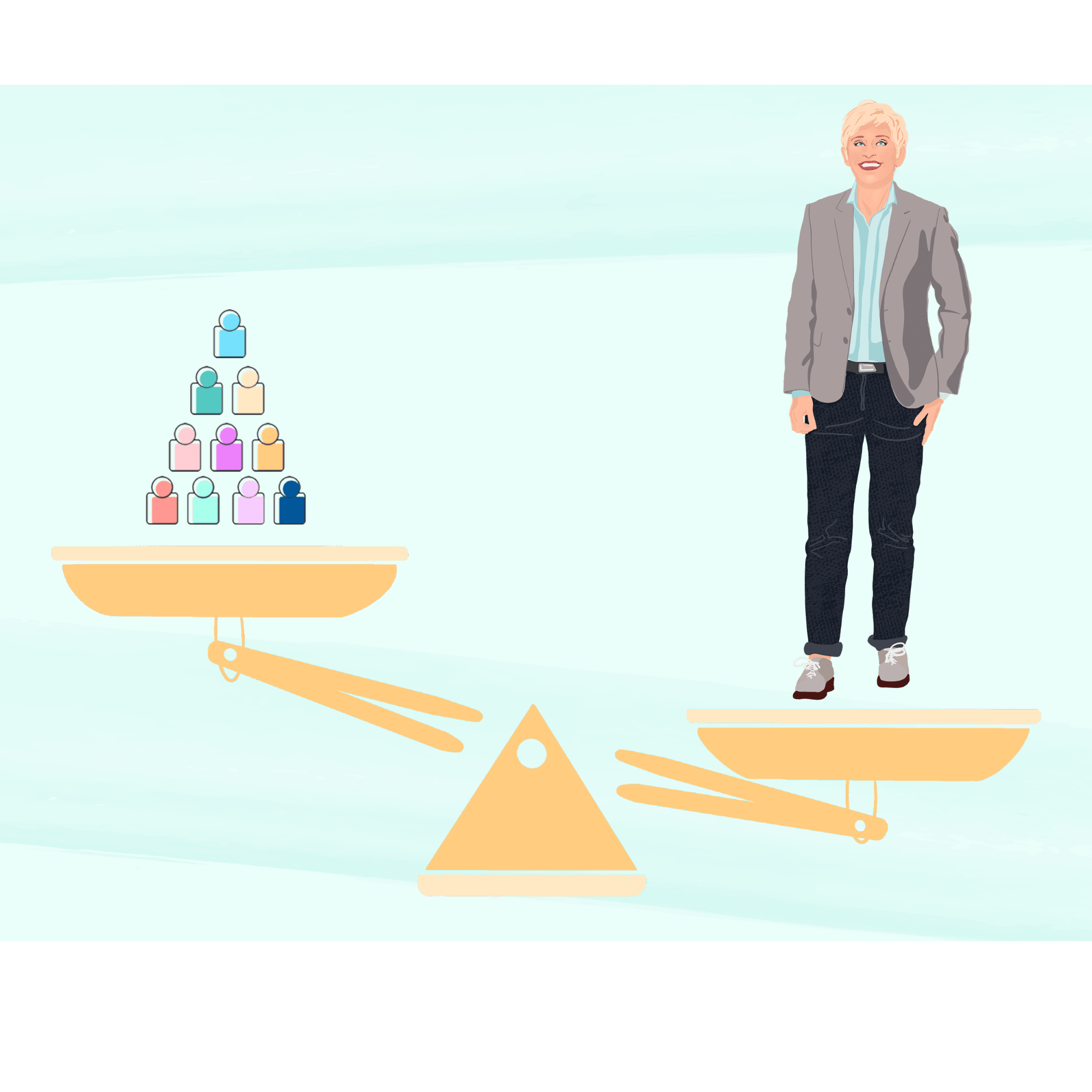 ---
Influencers or Ellen?
Campaigns activating a curated set of influencers flaunt far greater returns than celebrity endorsements. A handful of Food & Drink industry influencers, totaling an equivalent reach to The Ellen Show, earns 96% more views than the Starbucks Rewards' campaign accomplished. For a much smaller budget and greater reach, brands can achieve higher views, brand awareness, and ROI sponsoring a collective of influencers on YouTube.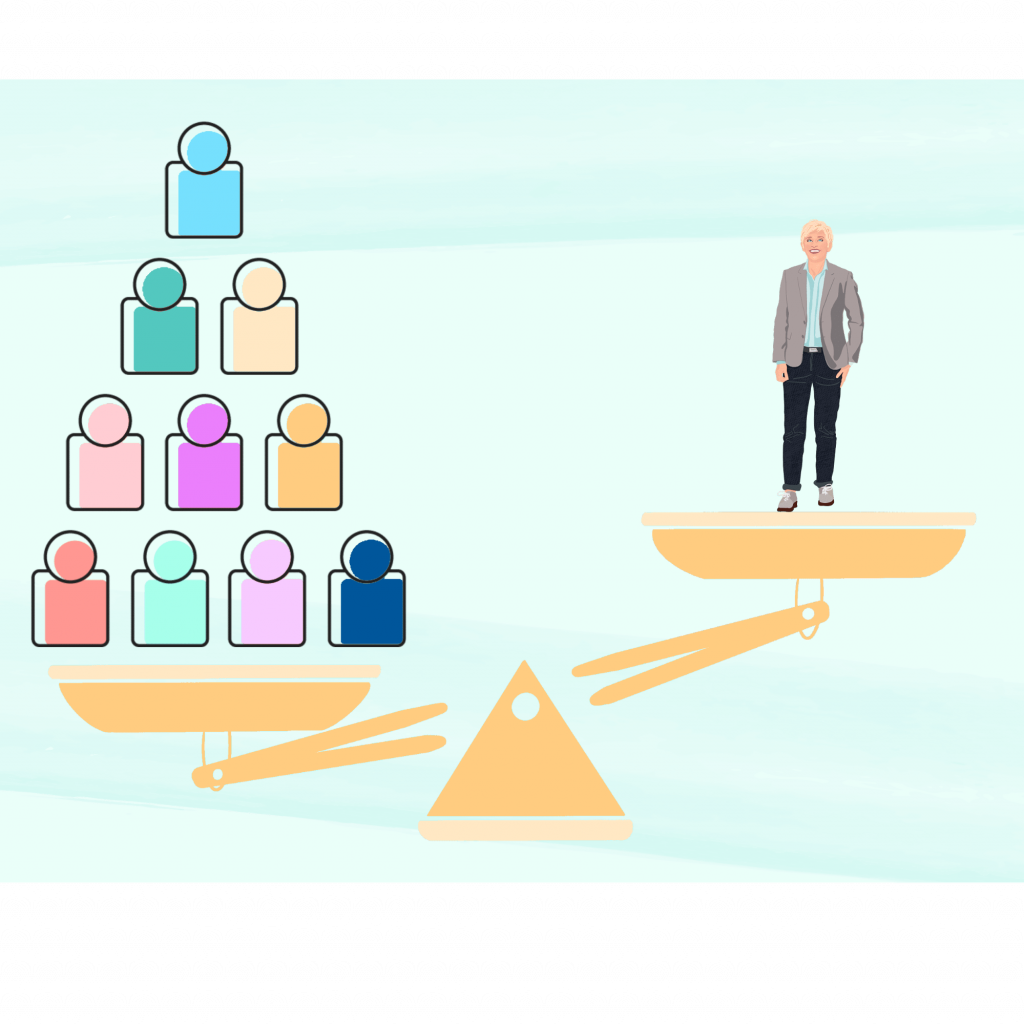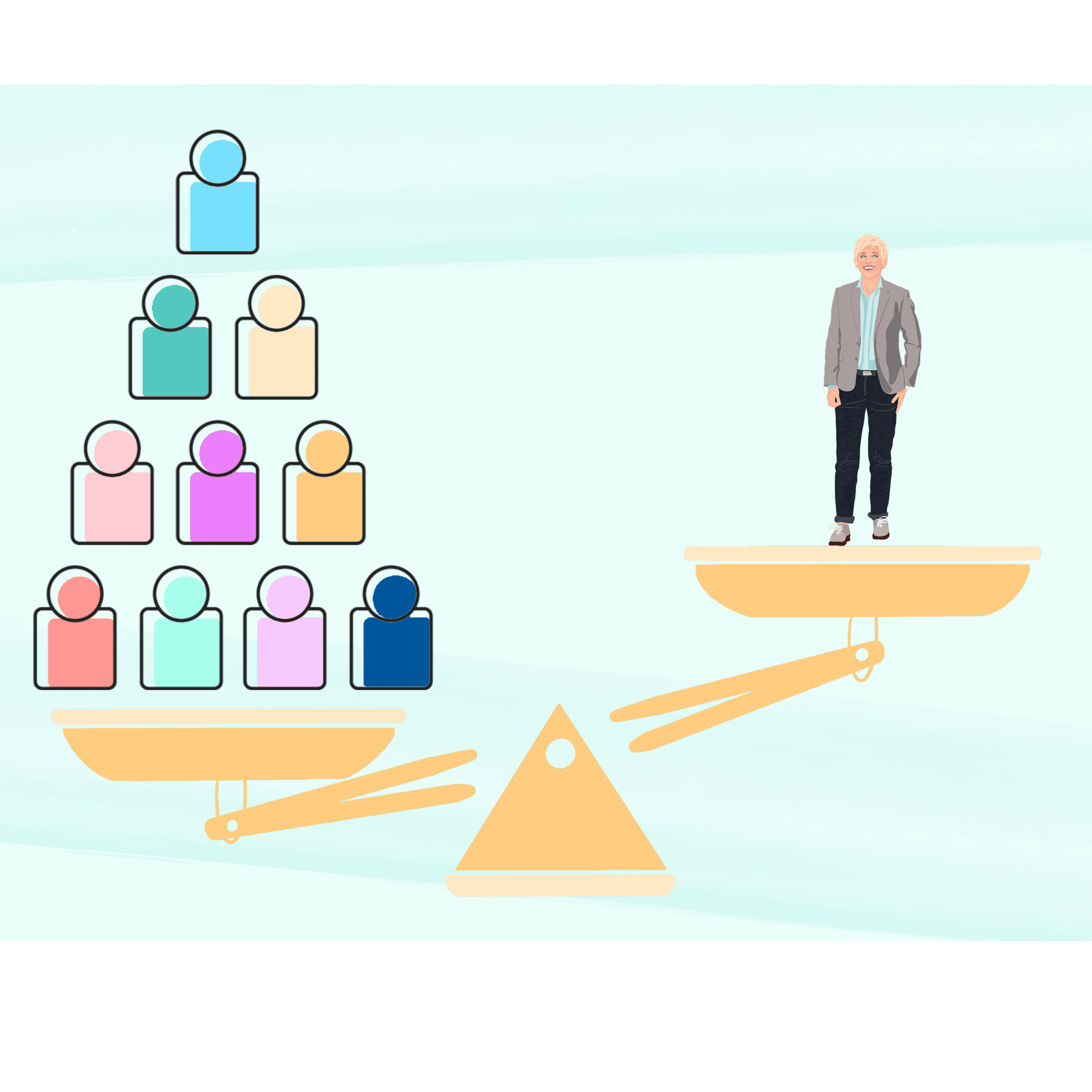 ---
Gaming Industry Overview
As the largest YouTube spender accounting for 30% of the top 10 industries, the gaming industry has achieved incredible results already in 2020 for their Q1 influencer marketing investment. Gaming accomplished double the reach of the next highest spending industry. With only 50% more sponsored videos than its successor, influencer marketing through YouTube sponsorships shows a clear return on investment for the gaming industry.
Effectively riding on the strong attribution between video and published gaming content, marketing through YouTube influencers is a great match for this industry. Other industries with strong correlation to video engagement should expect similar success with sponsored campaigns on YouTube.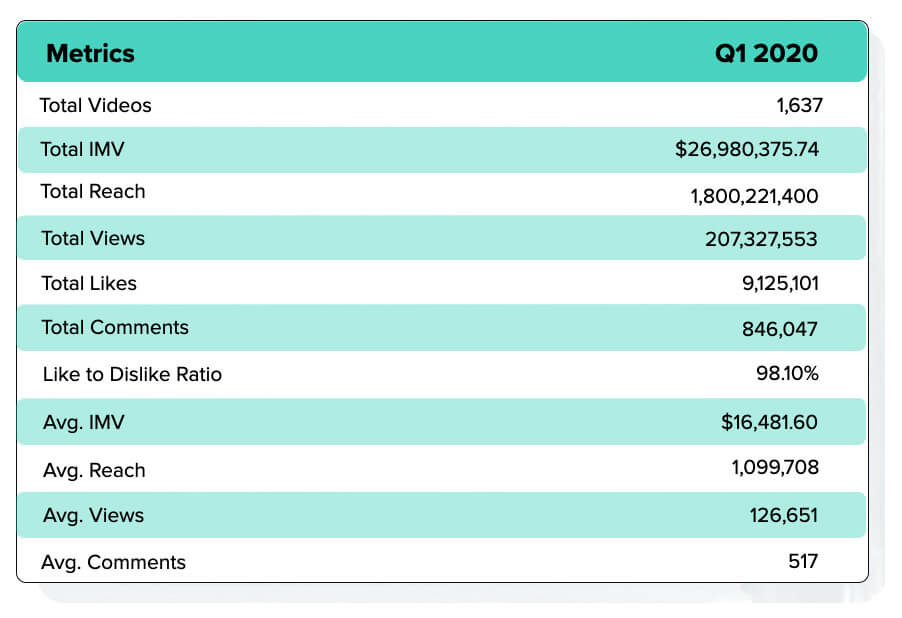 ---
Top 5 Gaming Spenders on YouTube
While new streaming platforms establish themselves in the digital gaming community, YouTube still remains the top gaming site to host influencer marketing initiatives. Even other streaming platforms, like Twitch, use YouTube for their growth-focused campaigns.
The top 5 spenders in the gaming industry depict a breadth of variation in their influencer strategy. The data shows that the number of influencers activated and campaign spend have no clear trend to model the outcome. Proving tools like the Social Intelligence API are critical to influencer marketing strategy and success.
Reaching a total estimated spend of close to $14M, the top 5 gaming spenders on YouTube for Q1 2020 achieve influencer marketing with a variety of strategies. With nearly 12 times greater spend on half as many sponsored videos, Epic Games locked in 11 times more views than Raid.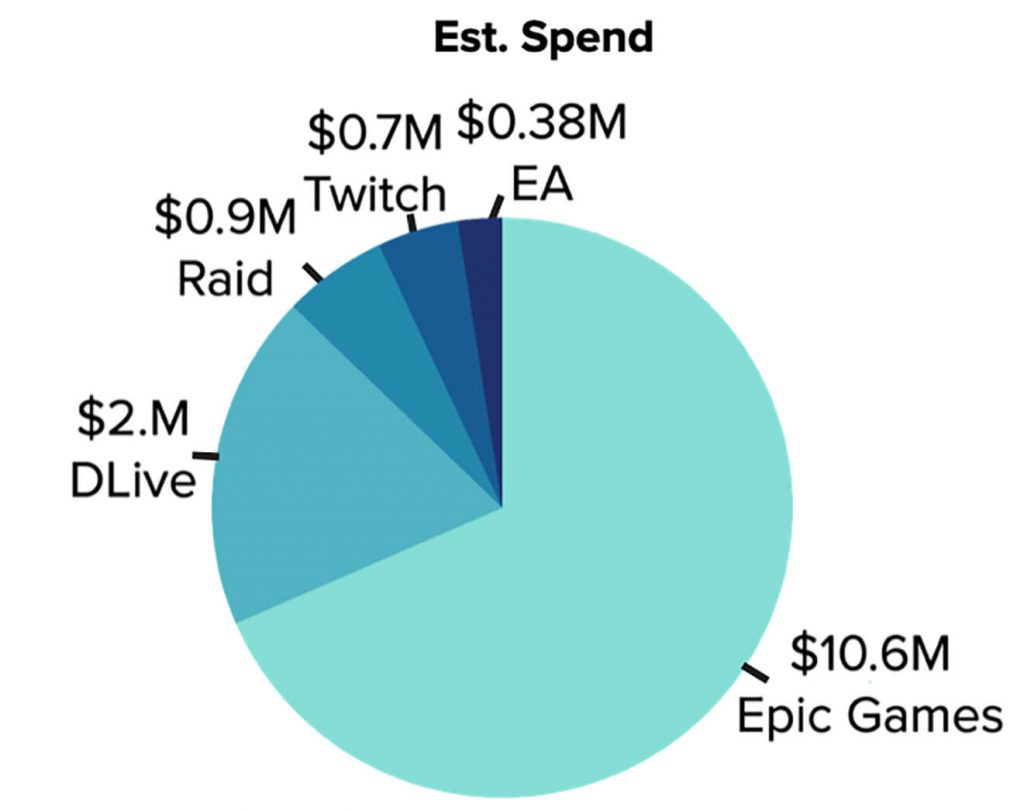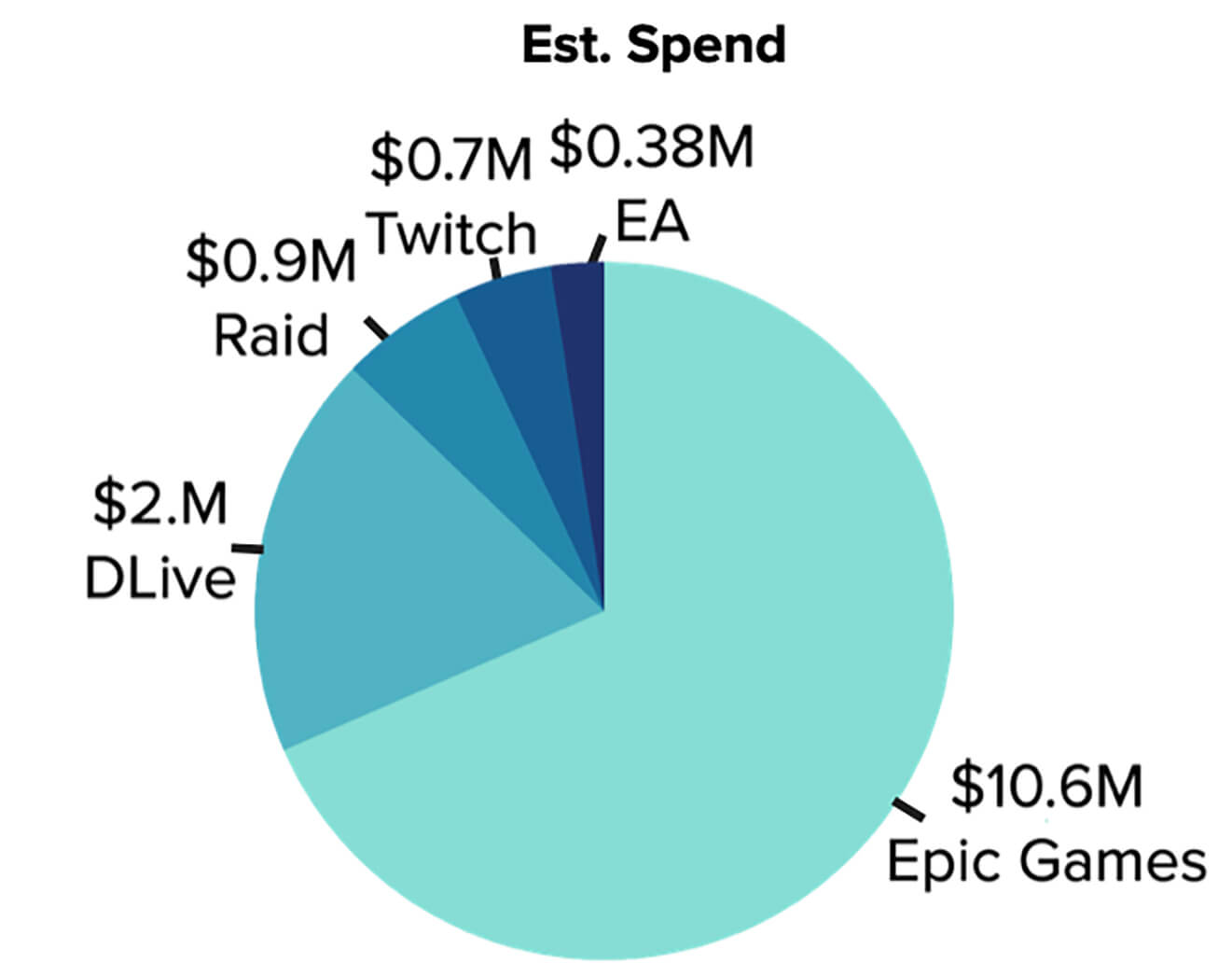 ---
Top Gaming Spender Spotlight
Epic Games was the largest YouTube spender in the gaming category for Q1 of 2020. With more than double the spend than all of the other four top spenders combined and just shy of two dozen activated influencers, Epic Games was able to achieve massive success.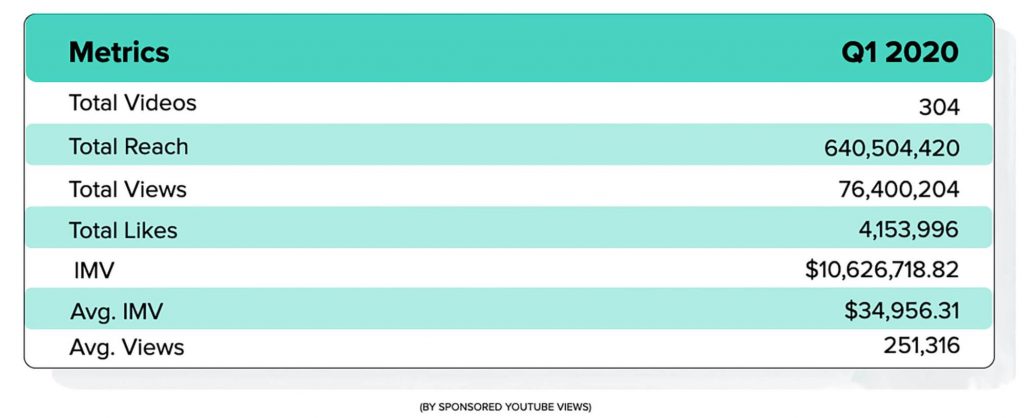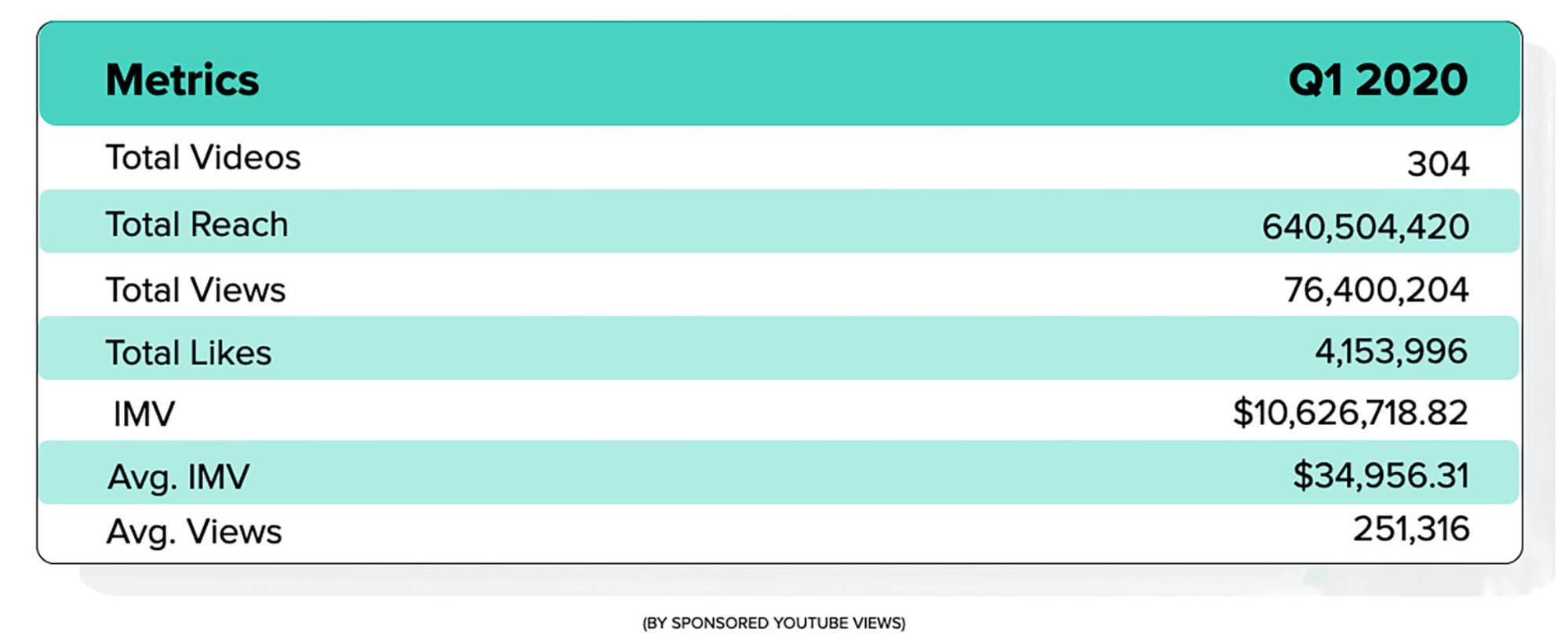 ---
Top Influencers: Gaming
The top gaming influencers were all activated for multiple videos each between two hot ticket brands– one being our top spender, Epic Games. With a combined reach of 20M, these top Gaming influencers are at the front of the pack. However, these three represent only 1% of the total 1.8B industry reach, proving there are ample opportunities for successful brand sponsorships yet to come.
---
Tech Industry Overview
Achieving a reach of nearly a 1M, YouTube is clearly a reliable marketing channel for the tech industry's leading brands. The tech industry spent an upwards of $16.5M on influencer marketing in Q1 of 2020. That comes out to 18% of the total spend across the top industries.
Despite their second place ranking, the tech industry flaunts higher video engagement of over 660K total comments compared to gaming.
---
Top 5 Tech Spenders on YouTube
The tech industry has proven influencers are effective at word of mouth marketing. Lacking the ability to demonstrate the brand's product or service in many cases, audiences have come to trust influencers' words as truth. The top 5 spenders in tech account for 51% of the total industry YouTube spend– and equally 51% of the total industry views.
Tech industry top spenders represent a much more even split across brands. Their combined $8.5M spend garnered 66M views on YouTube for Q1 2020. The distribution of this budget varies over a range of 50 sponsored videos per brand.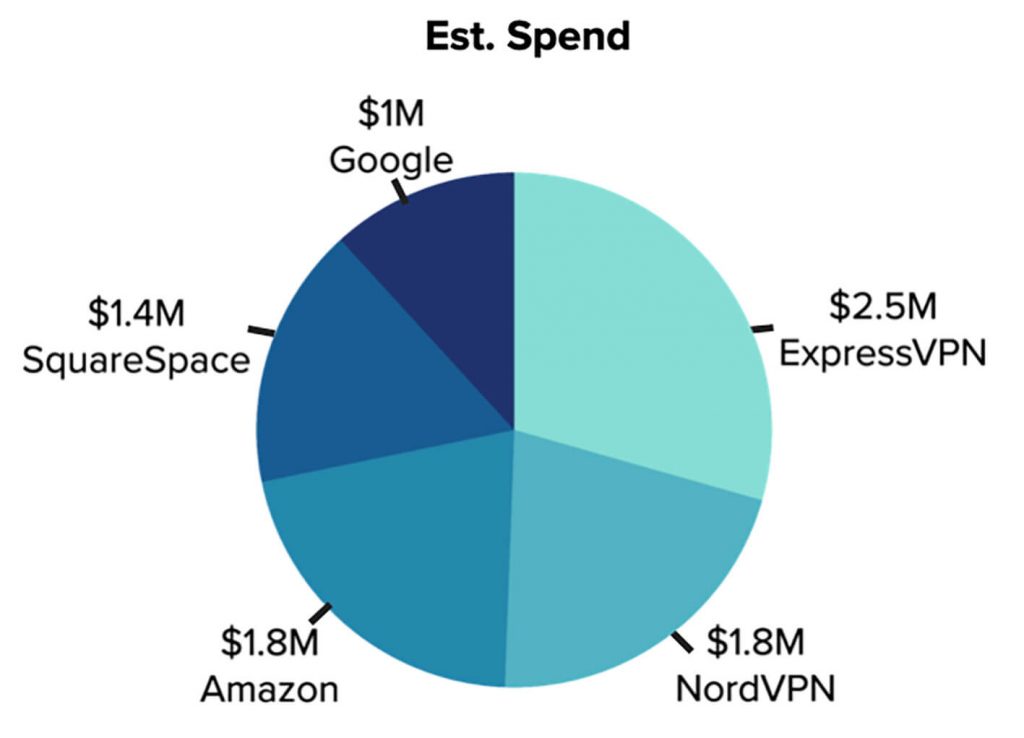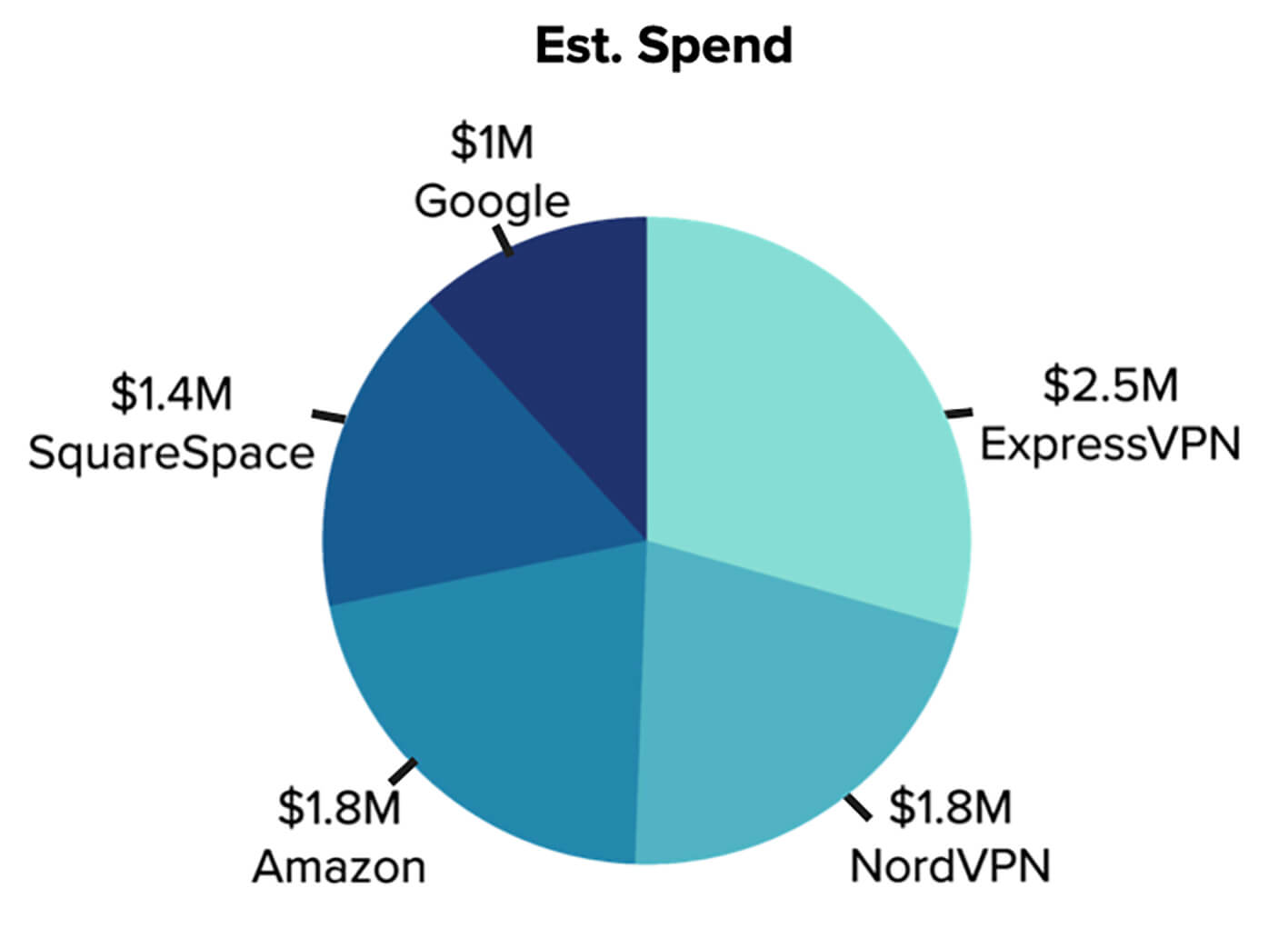 ---
Top Tech Spender Spotlight
ExpressVPN was the highest spender on YouTube in the tech industry for Q1 of 2020. With 11 influencers and 133 total videos, they were able to reach 212K. ExpressVPN sponsored the highest grossing video in the industry which gained 300K impressions.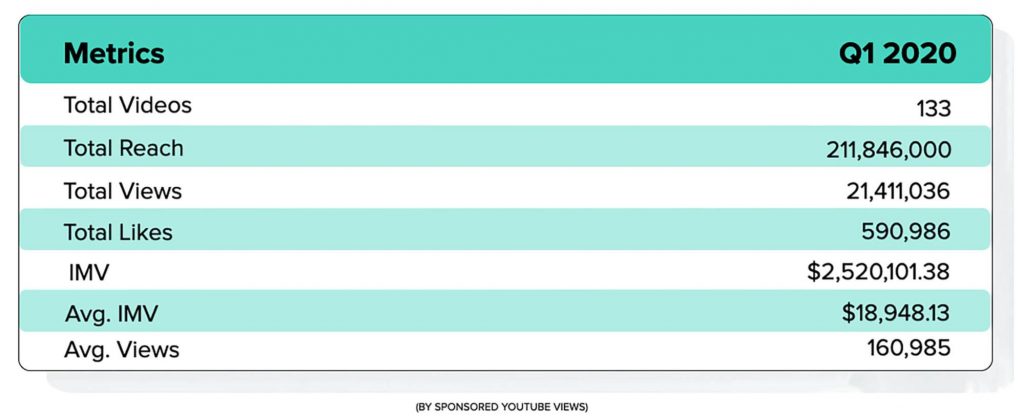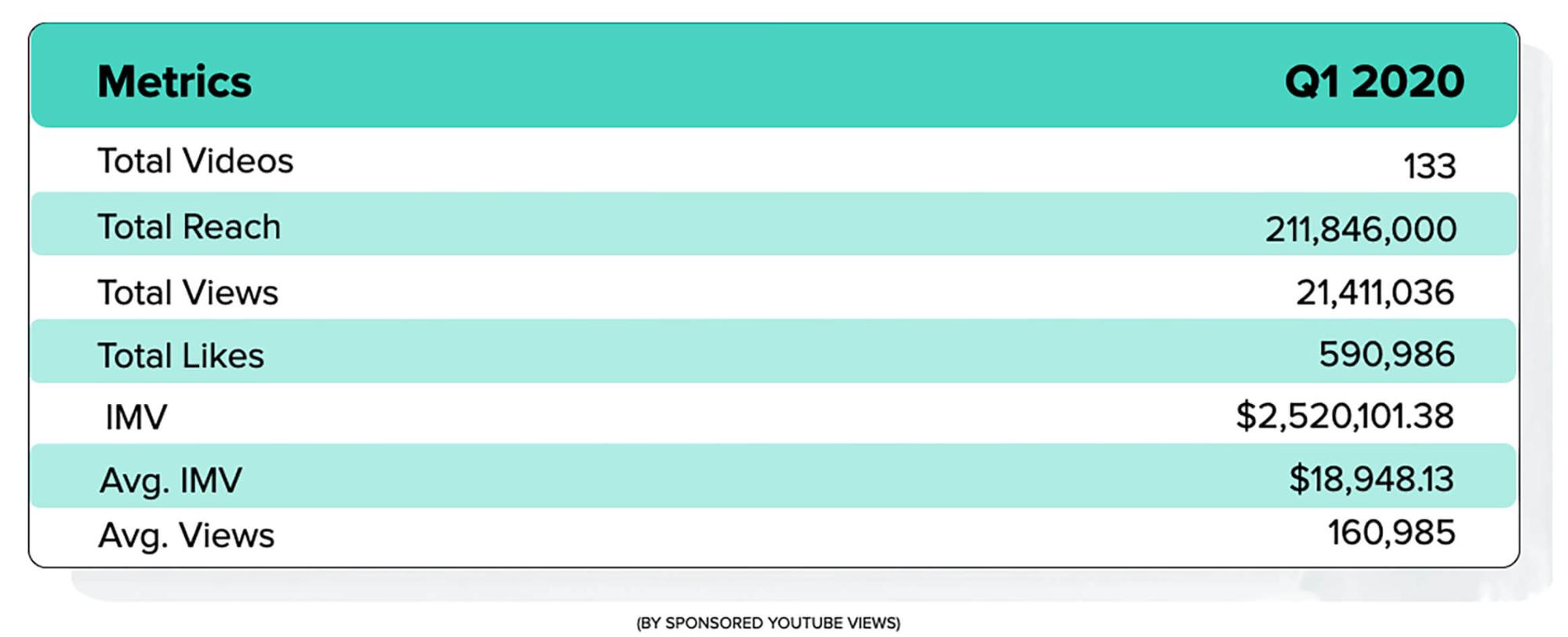 ---
Top Influencers: Tech Industry
Of the 323 unique influencers activated in tech campaigns over Q1 of 2020, these three are the standout channels. With a combined reach of 4.4M, at first glance, they are impressive. However, it is hard to believe that these big players account for less than 0.5% of the total industry reach. At individual subscriber counts much lower than the top Gaming influencers, Tech flaunts a high reach per sponsored video of only 30% lower than its #1 contending industry. Tech influencers demonstrate higher engagement despite their lower reach with nearly identical industry averages as Gaming.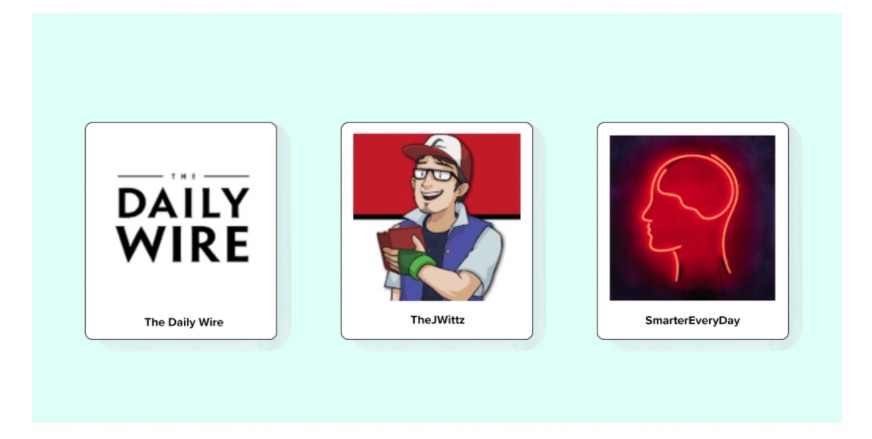 ---
Food & Drink Industry Overview
From fast food to fine dining to a home cooked meal, the food and drink industry spent over $11.7M in Q1 of 2020 on YouTube. Surpassing a reach of 1M, this industry also amassed 90M views and 4M likes on its 408 sponsored videos.
Though the numbers represent only a fraction of the total top spenders on YouTube, the food & drink industry has brands that repeatedly spend big bucks, ranking among the top 10 spenders over all.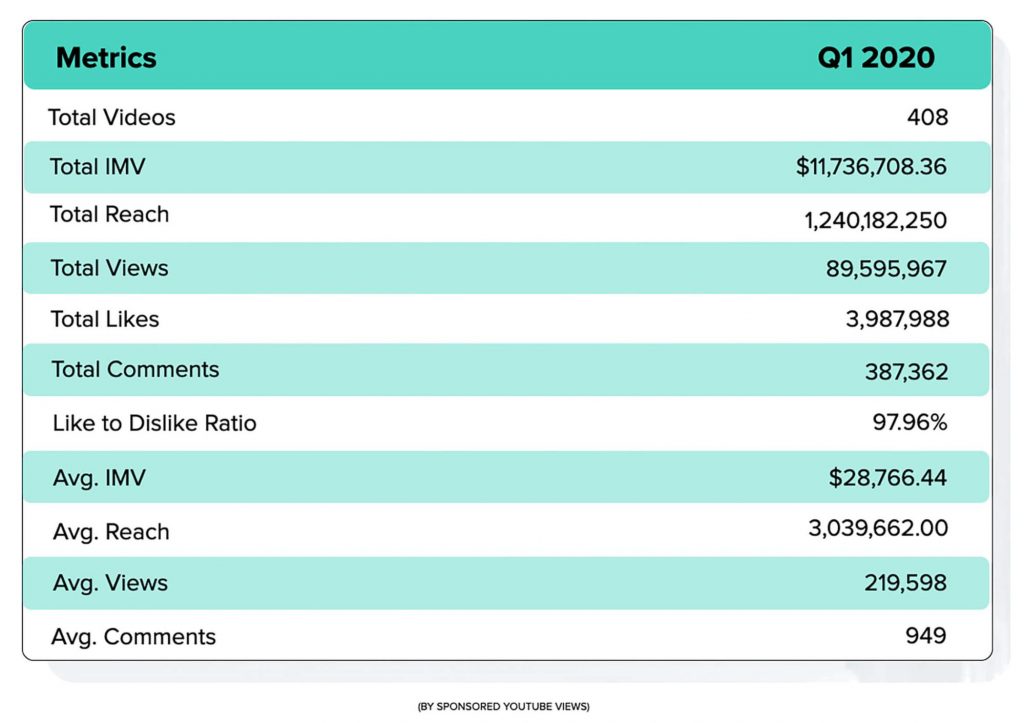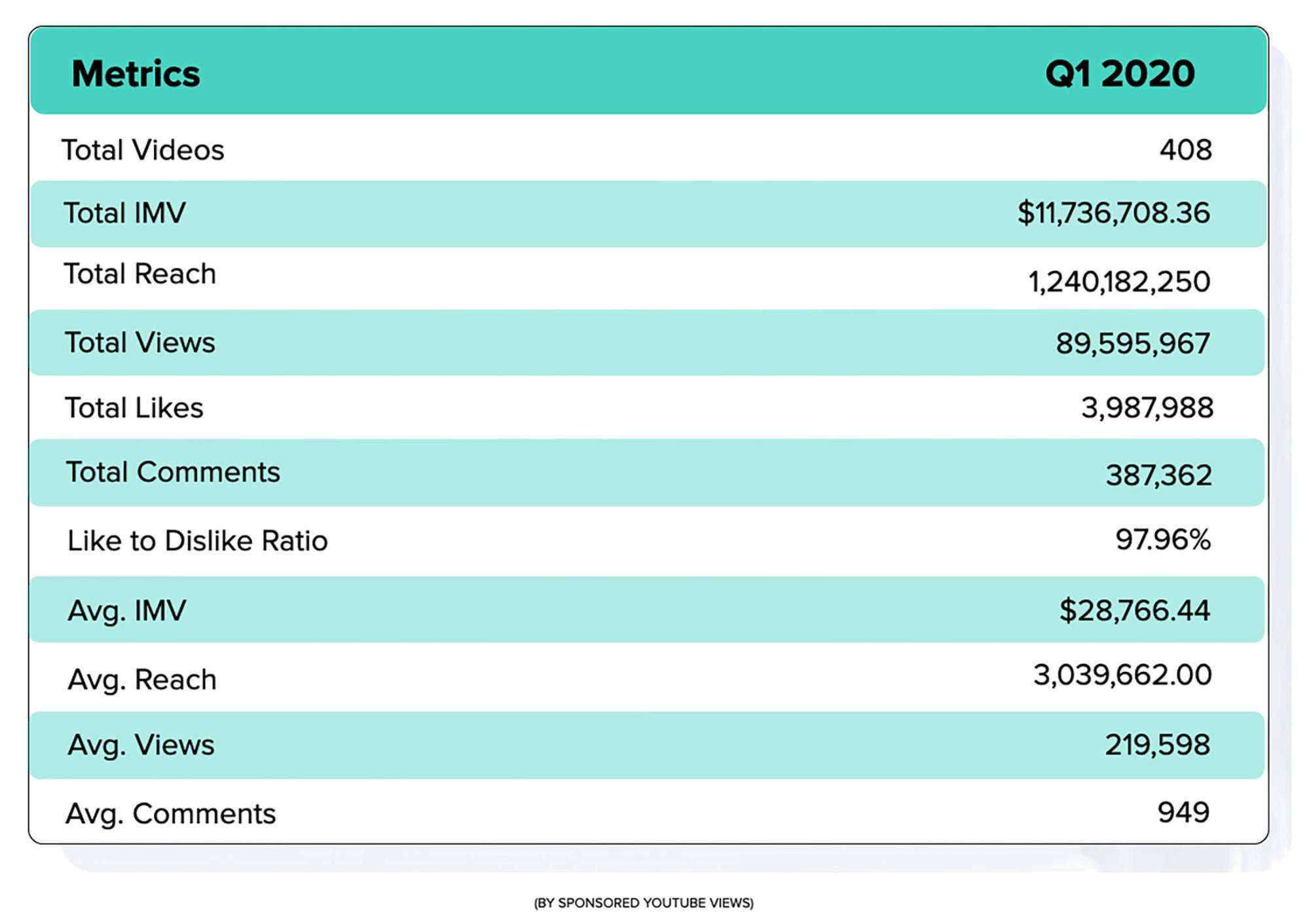 ---
Top 5 Food & Drink Spenders on YouTube
The top 5 food & drink brands were altogether able to reach over 81M views spread across 80 influencers. That means 81M hungry consumers were turning to YouTube for a recommendation, and judging by the industry's #3 spot, it seems to be paying off very well. From energy drinks to meal prep delivery services, the brands investing the most in influencer marketing are amounting to a large proportion of the total industry spend.
A clear breakaway as the highest Food & Drink spender, Bang Energy is 72% of the combined top 5 influencer marketing budgets for the industry. Similar to the other top spending industries, the distribution of budget across sponsored videos shows no definitive pattern related to the campaign spend.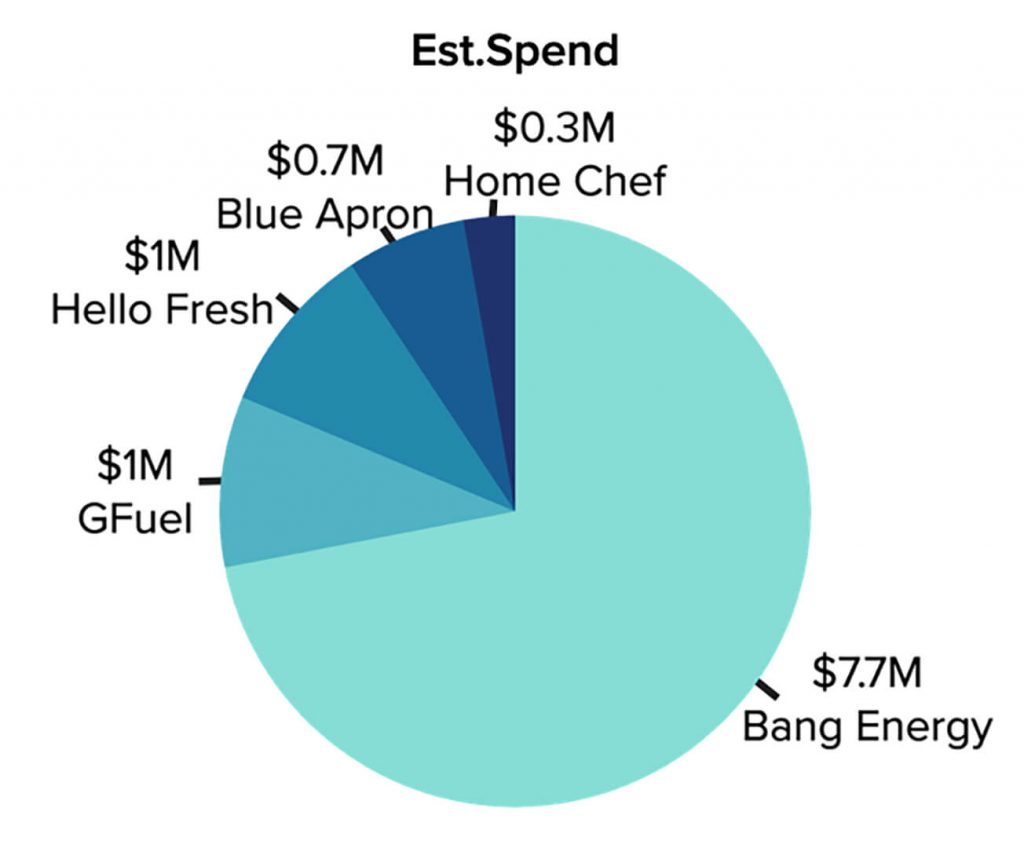 ---
Top Food & Drink Spender Spotlight
Bang Energy was the highest spender from the food & drink industry. With a Q1 2020 YouTube spend 7 times greater than the second place spender, Bang Energy arrives at a total of $7.7M. However, they were able to reach an audience size equivalent to 150% of Epic Games, who spent nearly $3M more over Q1, with less than half the number of videos.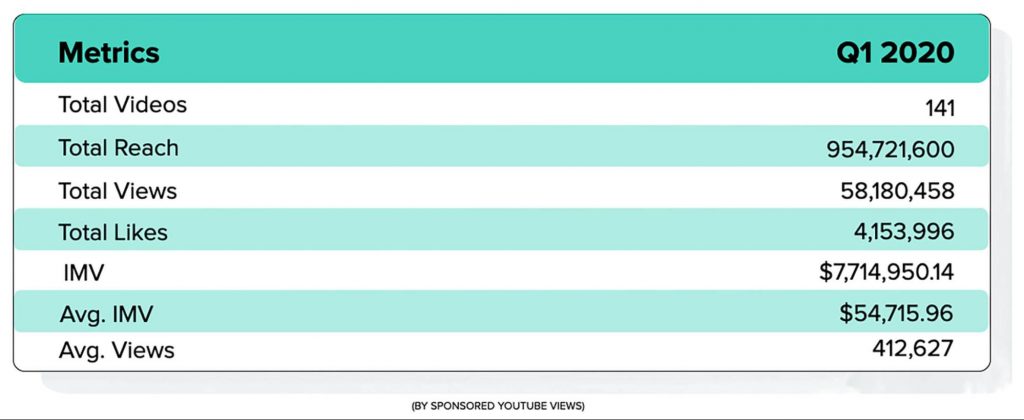 ---
Top Influencers: Food & Drink Industry
With nearly 40M subscribers between these top influencers, the Food & Drink industry boasts the highest reach by top influencers among the three highest industry spenders. Food & Drink top influencers have double the reach of Gaming and 9 times greater reach than Tech top influencers. Although, this industry has many more influencers flaunting a high reach. These three channels only equate to 3.2% of the industry total. Average views per video and average reach per video, however, surpass both higher ranking industries with 2x and 3x greater metrics, respectively.
---
Call to Action
Want to find your biggest powerhouse users? NeoReach has the software and data for your brand to unlock the most strategic influencer initiatives. Find out how the NeoReach Social Intelligence tool can help your band reap the benefits of influencer marketing.
To learn more, email us at [email protected] to schedule time with our influencer specialists for out-of-the-box influencer campaigns, custom reports, and more!
Share a few contact details and we'll send a download link to your inbox