Advertising Disclosure
Advertising disclosure:
Our partners compensate us. This may influence which products or services we review (also where and how those products appear on the site), this in no way affects our recommendations or the advice we offer. Our reviews are based on years of experience and countless hours of research. Our partners cannot pay us to guarantee favorable reviews of their products or services.
Los Angeles houses a spectrum of top-tier advertising agencies. These are often the difference between successful advertisement efforts and throwing money down the drain. But with all the LA-based agencies out there, how would you know which one to pick?
Fear not, as our curated list of the top 8 ad agencies in Los Angeles highlights the crème de la crème of advertising maestros dedicated to pushing boundaries and delivering unmatched results to their clientele. Through a lens of analytical scrutiny, we unfold the distinctive prowess each agency holds in maneuvering brands to pinnacles of market dominance.
---
Top Los Angeles Ad Agencies
Top
ad agencies los angeles
2024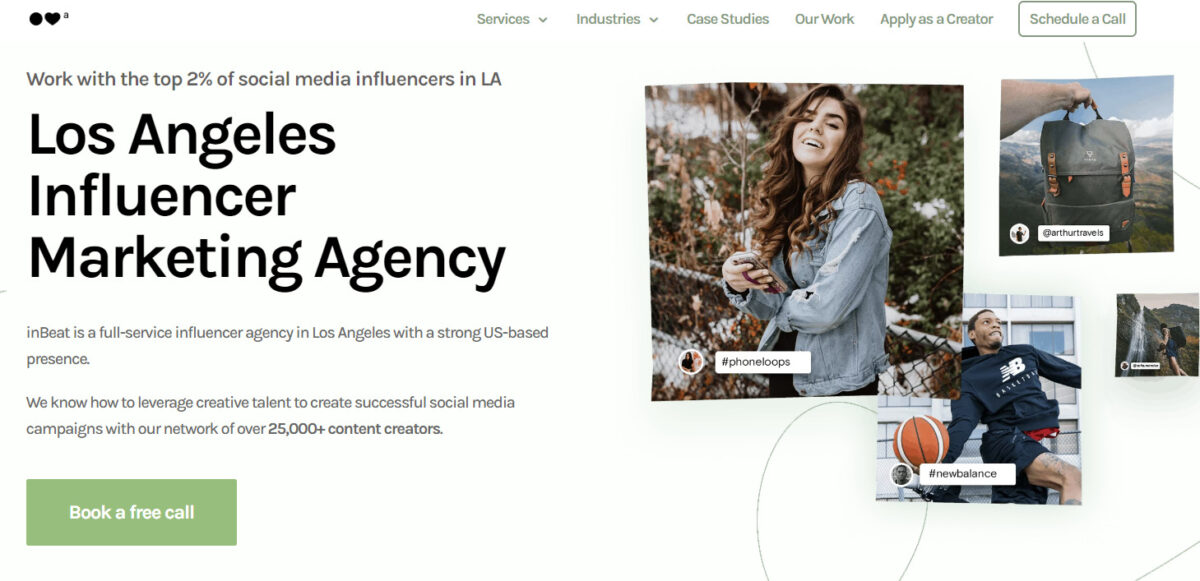 Location: Canada
Industry Focus: Consumer products & Services, eCommerce, Information Technology
Best for: Enterprises
inBeat Agency distinctively emerges with a reputation for its adeptness in influencer advertising and content creation. Their proficient team is renowned for crafting authentic and engaging content by synergizing the creativity of vetted influencers and in-house conversion experts. Brands in search of visually compelling marketing assets find a haven at inBeat, thanks to their capability to blend artistry and strategic insights, ensuring content not only captivates but also converts. Their flexibility in content creation is a hallmark, catering to diverse brand narratives and marketing objectives with a touch of customization that speaks directly to target audiences.
Efficiency and scalability underscore inBeat's operational ethos. With a promise of fast turnaround, clients are assured of receiving content within a fortnight, a testament to the agency's commitment to timeliness without compromising quality. Their Instagram and TikTok influencer ad programs are data-driven, engineered to yield optimal ROI through the confluence of authenticity and strategic ad and paid content placement. By leveraging a network of micro-influencers with high product affinity, inBeat ensures that brand stories resonate profoundly, evoking engagement and conversions.
A case in point is their notable campaign for "Got Milk?", where inBeat Agency's expertise was put on full display. Utilizing a meticulously curated network of influencers, they crafted an array of original, compelling content that not only elevated brand visibility but also drove tangible awareness and traffic. The campaign accentuated inBeat's acumen in seamlessly blending creativity and analytics, ensuring that each piece of content resonated with the target demographic while achieving the desired marketing objectives. Such demonstrable outcomes are a testament to the agency's position as a frontrunner in the competitive Los Angeles advertising domain.
---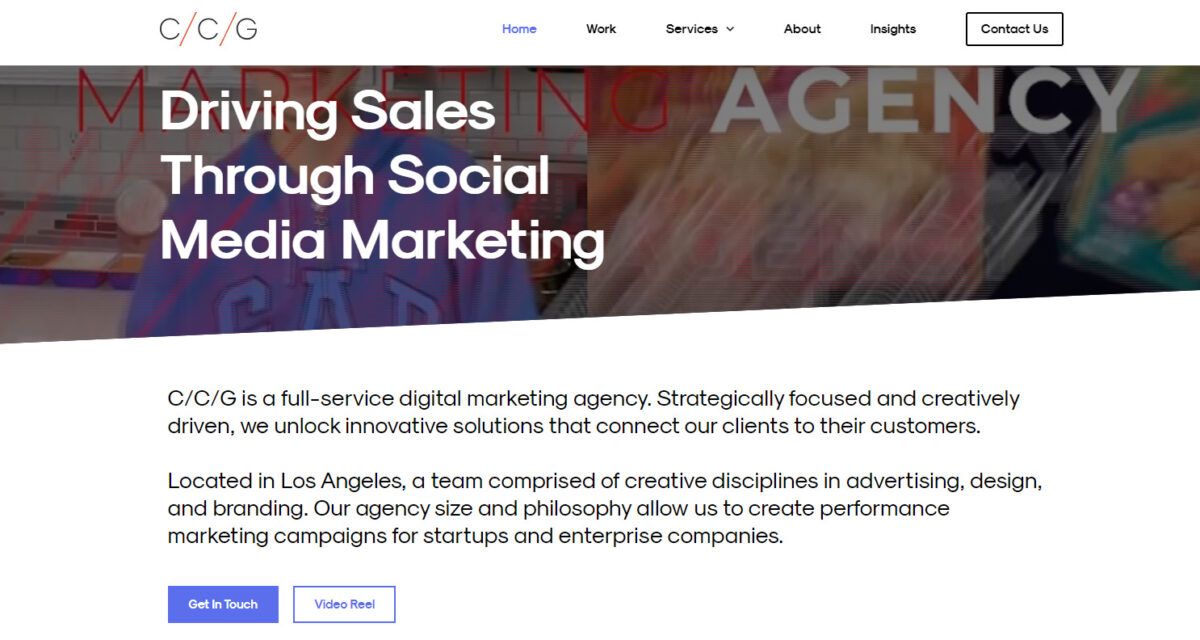 Location: Los Angeles, California
Industry Focus: Consumer Products & Services, Retail
Best for: Businesses and agencies of all sizes
CCG stands prominently amid the landscape of Los Angeles advertising agencies, marked by its comprehensive suite of social media solutions tailored to amplify brand narratives and foster impactful consumer connections. CCG also excels at Paid Media campaigns, characterized by authentic messaging and captivating visuals, aiming at conveying brand stories precisely to the precisely targeted audience.
CCG also crafts digital content that challenges convention and captivates consumers, ensuring a lasting impression. Analytics are integral; with strategic social monitoring of essential KPIs, ad campaigns are consistently optimized for performance and ROI. Emerging platforms are within CCG's purview, reflecting the agency's adaptability and forward-thinking approach to harnessing new, innovative channels for brand amplification.
A testament to CCG's efficacy is the case study "Bringing the Flavor with José Olé." Here, CCG's multidimensional approach – from strategic influencer activations to engaging content creation and meticulous analytics – converged to foster a dynamic, impactful campaign. This case underscores CCG's expertise in orchestrating campaigns that not only resonate with consumers in real-time but also engender a sustained and lasting brand impact. Each ad campaign is a symphony of creativity, analytics, and strategic placements, positioning CCG as a pinnacle in the crowded Los Angeles advertising scene.
---
Location: West Hollywood, California
Industry Focus: eCommerce, Automotive, Business Services, Consumer Products & Services, Hospitality & Leisure, Legal
Best for: Small businesses with some middle-sized agencies and entities
Intensify asserts its prominence in the Los Angeles ad agency milieu with a suite of specialized services characterized by innovation, effectiveness, and a tailored approach. The agency's digital advertising prowess is evident in its adept use of Google Ads, Facebook Ads, TikTok Ads, and Microsoft Ads. Intensify capitalizes on strong copy, inventive ideas, and data-driven targeting, amalgamating these elements with continuous A/B testing to optimize performance and returns. SEO services are equally distinguished, embodying a comprehensive approach that includes on-page, off-page, and local SEO to assist with advertisement placements and strategies.
Their conversion rate optimization (CRO) and full-funnel strategy are instrumental in scaling businesses to new heights. With a dual focus on profitable customer acquisition and maximizing revenue per session, Intensify's meticulous testing extends to various elements, including landing pages, upsell widgets, and design modifications. The agency is acclaimed for its tangible growth deliverance, promising and executing noticeable business expansion within a three-month window.
A pivotal case study underscoring Intensify's efficacy is their work with Tom Ferry, a renowned real estate training company. The partnership marked a significant uptick in lead generation while ensuring a reduction in cost per lead. Intensify's strategic approach, deeply rooted in analytics and creative ideation, facilitated a campaign that not only elevated brand visibility but also converted engagements into tangible business outcomes. This exemplifies Intensify's adeptness in balancing creativity and analytics to drive both brand resonance and conversion, affirming its esteemed standing in Los Angeles' competitive ad agency sector.
---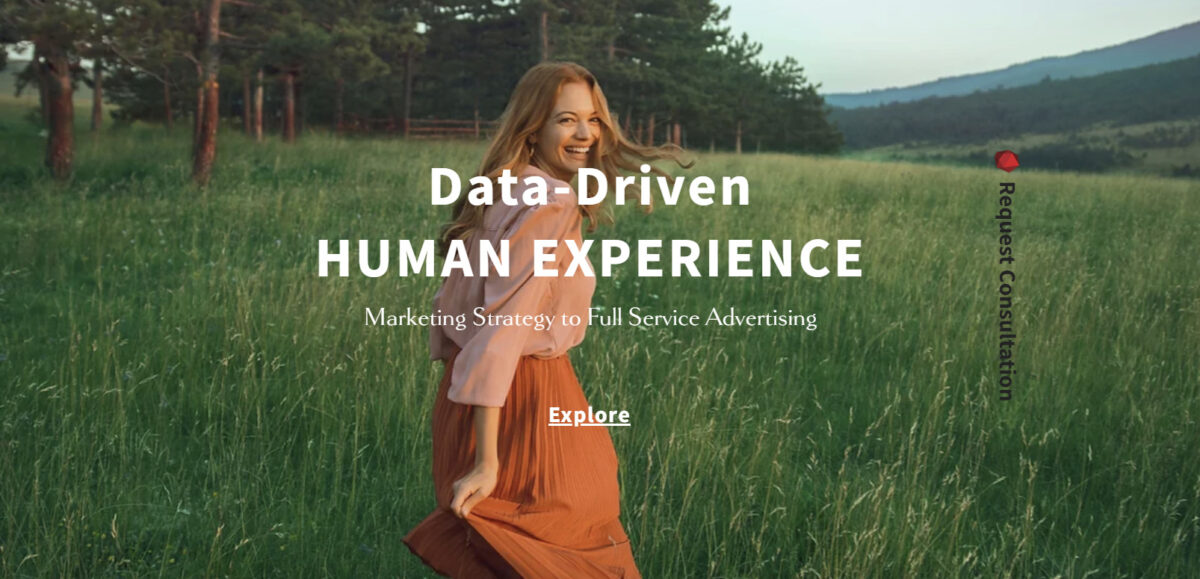 Location: Los Angeles, California
Industry Focus: Automotive, Consumer Electronics, Education, Commerce, eCommerce
Best for: Businesses of all sizes, especially enterprises
Spicy Tribe stands out as a formidable entity within the Los Angeles ad agency landscape, offering a mosaic of services honed for precision and efficacy. Their New Growth Strategy is engineered to catapult brands into new market echelons, leveraging meticulous market research, analytical strategies, and consumer insights. The agency excels in unearthing and addressing pain points that hinder brand exposure and growth, positioning itself as the fulcrum for transformative brand trajectories. Through a seamless blend of problem diagnosis, market penetration, and robust growth advertising strategies, Spicy Tribe manifests as a catalyst for driving tangible brand awareness.
Performance Marketing is another forte of Spicy Tribe, characterized by a rigorous, data-driven approach aimed at maximizing ROI and achieving targeted audience reach. Their specialization spans from Google AdWords and PPC to conversion rate optimization and social media advertising, each service intricately crafted to drive measurable traffic to client websites. The agency's profound adaptability is underscored by its capability to track, analyze, and recalibrate strategies to align with evolving brand objectives and market dynamics, ensuring campaigns that are as responsive as they are impactful.
The agency's adeptness is palpably demonstrated in their eCommerce Advertising, a service characterized by comprehensive strategies meticulously designed to enhance ad placements and optimize stores for conversion. Each service offered by Spicy Tribe is a testament to their commitment to fostering brand growth, ensuring they are not just seen but are also resonant and memorable in the competitive Los Angeles market.
---

Location: Los Angeles, California
Industry Focus: Brick-and-Mortar, Apparel, Fashion, Cybersecurity, Telecommunication
Best for: Mid-sized businesses and enterprise giants
Kobe Digital distinguishes itself through an amalgamation of innovation, tailored solutions, and a performance-centric ethos. The agency's forte lies in social media advertisement, email marketing, and paid search, each crafted to align with the client's unique objectives and market dynamics. A holistic approach, characterized by adaptive strategies and meticulous execution, underscores Kobe Digital's service delivery, ensuring campaigns that are not only resonant but yield measurable outcomes.
One exemplar case study that epitomizes Kobe Digital's efficacy is their partnership with LF Stores, a contemporary womenswear brand navigating the transition from a brick-and-mortar model to a pure-play online retailer. Amidst shifting shopping habits and market conditions, Kobe Digital was entrusted to architect and execute a transformative social media advertisement strategy. The agency's innovative approach not only facilitated LF Stores' digital metamorphosis but ensured the brand's essence and engagement metrics remained robust and vibrant in the digital sphere.
Furthermore, Kobe Digital's work with Leica Camera AG accentuates the agency's adeptness in reimagining direct-to-consumer ad campaigns and diversifying distribution strategies for established brands. For Leica, adapting to transformative shifts in the retail sector was instrumental. Kobe Digital not only navigated this transition but optimized it, ensuring the century-old institution remained not just relevant but predominant, showcasing the agency's ability to meld tradition with innovation and creating tailored solutions that are both contemporary and effective. Each advertisement campaign is a testament to Kobe Digital's unwavering commitment to delivering bespoke, results-driven solutions in the competitive advertising space of Los Angeles.
---

Location: Los Angeles, California
Industry Focus: Broadcast, Print, Entertainment
Best for: Enterprises
Ignition Creative exemplifies a fusion of artful branding and the dynamic realm of entertainment. Its identity as an independent ad agency is fortified by a compelling portfolio that bespeaks creativity and innovation. Specializing in audio-visual, print, and digital ad production, Ignition Creative demonstrates an adeptness in concocting captivating narratives that resonate across diverse audience segments, ensuring each brand's essence is not only communicated but felt profoundly.
This Los Angeles-based ad agency has been instrumental in orchestrating advertisement campaigns that transcend conventional boundaries. Every piece of ad, whether in print or social, is characterized by a distinctive touch of creativity that aligns with the unique attributes and objectives of the featured brand.
Ignition Creative stands as a bastion of inventive advertisement coupled with entertainment's vibrancy. The agency's expertise is not confined to the geographical expanse of Los Angeles but extends globally, with a significant presence in the United Kingdom. Each campaign is an embodiment of Ignition Creative's commitment to driving narratives that are as impactful as they are visually arresting, placing it as a formidable entity in the competitive landscape of Los Angeles ad agencies.
---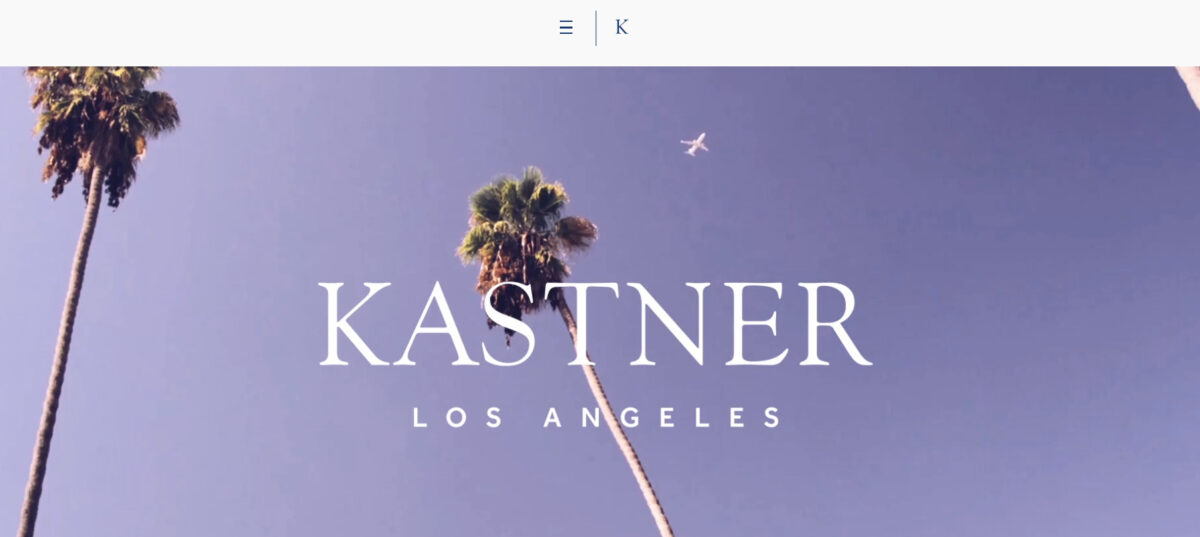 Location: Los Angeles, California
Industry Focus: Attire, Fashion, Wholesale
Best for: Enterprises
Kastner is a Los Angeles-based ad agency that prides itself on being a catalyst for cultural transformation. It's not just an agency but a crucible where world-class design, cutting-edge technology, and immersive storytelling converge to create resonant brand advertisements across the social and entire digital domain. With a suite of services, including brand and social strategy, experiential and digital marketing, and more, Kastner crafts narratives that are not only attuned to the present but are also forward-looking, echoing the dynamic shifts in today's cultural climate.
In a world where the tempo of cultural shifts is rapidly accelerating, Kastner distinguishes itself through its innate ability to target and captivate the right audience. The agency's work ethos is encapsulated in its commitment to driving movements and fostering communities that are bound by shared values, beliefs, and aspirations. This is not just about branding or advertising; it's a holistic approach that sees marketing as a vehicle for engendering meaningful connections and fostering communities that are reflective of shared ideals and collective goals.
Kastner embodies diversity, inclusivity, and innovation. Culture is not just an external entity but is intrinsic to the agency's identity. It's a place where the multifaceted hues of the world find expression, where diversity is not just celebrated but integral to the creative ethos. Every campaign, every narrative is a testament to Kastner's commitment to reflecting the world in its diverse, dynamic, and vibrant splendor, making it a standout amidst the constellation of ad agencies in Los Angeles.
---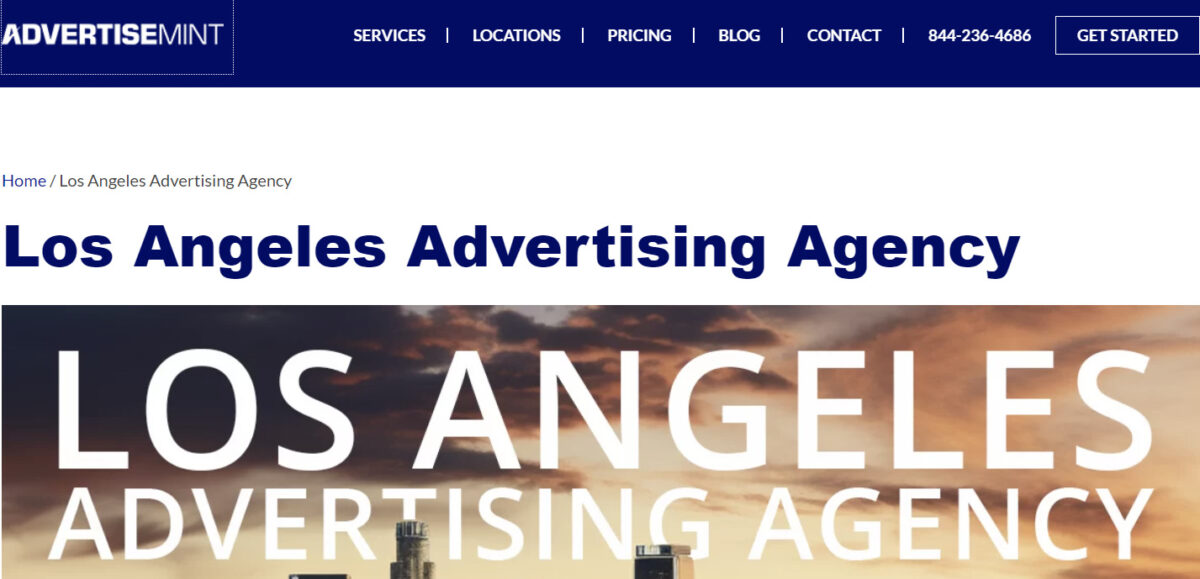 Location: Los Angeles, California
Industry Focus: Beverage, eCommerce, Finance, Entertainment
Best for: Businesses and agencies of all sizes
AdvertiseMint epitomizes the quintessence of a cutting-edge advertising agency that has mastered the art of intertwining technology, creativity, and strategy. Specializing in navigating the intricate terrains of platforms like Facebook, Instagram, TikTok, and a spectrum of others, this agency is adept at capitalizing on powerful targeting options that ensure precision in reaching the exact audience. Each campaign is meticulously crafted to resonate with the audience, not just in content but in timing, ensuring that messages are delivered at the pinnacle of receptivity.
With a team of paid social experts, AdvertiseMint isn't just about launching campaigns; it's about engendering narratives that echo with authenticity and resonate with the audience on a profound level. Every strategy is ROI-focused, ensuring that each dollar invested translates into tangible, measurable returns. The flexibility of month-to-month contracts underscores the agency's confidence in delivering unwavering quality and unmatched results consistently. AdvertiseMint isn't just an agency; it's a partner that walks alongside clients, navigating the ebbs and flows of the digital advertising landscape with expertise and innovation.
The agency's prowess is evidenced by its holistic approach to social advertising. From managing ad spending with an unwavering focus on ROI to building custom audiences and setting up remarketing, every service is tailored to elevate the client's brand presence. AdvertiseMint is renowned for its advanced ad technology and meticulous reporting, ensuring clients are not just spectators but informed participants in the advertising journey. The endorsement from various successful clients and five-star agency service ratings are a testament to AdvertiseMint's indomitable spirit of excellence and innovation in the ever-evolving world of digital advertising.
---
What Range of Services Do Top Los Angeles Ad Agencies Offer?
Los Angeles, a hub of creativity and innovation, hosts a myriad of top-notch advertising agencies that offer a comprehensive range of services to cater to the diverse needs of brands. At the core, these agencies excel in creating compelling advertising campaigns that resonate with the target audience, fostering brand recognition and loyalty.
At the forefront is the creative department, which is the bedrock of any advertising agency. They are entrusted with concocting visually appealing and message-centric advertisements. This encompasses graphic design, video production, and copywriting, which are crucial in articulating a brand's message succinctly and creatively. According to an Oberlo report, video content is highly popular in the United States. But what's interesting is that 91% of consumers want to see more videos from brands.Moreover, 89% of consumers were convinced to buy a product after watching a promotional video. This highlights the potency of creative content in modern advertising.
In the digital age, online presence is paramount. Top ad agencies in Los Angeles offer digital advertising services, including Search Engine Marketing (SEM), Search Engine Optimization (SEO), social media marketing, and email marketing. The potency of digital advertising cannot be underestimated, especially since 58% of consumers do most of their product and service shopping online. LA-based ad agencies leverage digital platforms to enhance a brand's visibility and engagement, attracting consumers to convert.
Media Planning and Buying
A pivotal service is media planning and buying, which entails identifying the right media channels to broadcast the advertising message. This includes negotiating and purchasing ad spaces in online platforms, TV, radio, and print, ensuring the ads reach the desired audience at optimized costs. In fact, a Finance Online report stated that 53.3% of all advertisements go through traditional media channels.
Data is at the heart of informed decision-making. Agencies offer analytics services to track the performance of advertising campaigns, providing insights on customer behavior, campaign effectiveness, and ROI. This data is instrumental in refining strategies for better outcomes.
By offering a holistic suite of services, Los Angeles ad agencies serve as a one-stop solution for brands aiming for a strong market presence and a lasting impression in the minds of consumers.
---
How Do These Agencies Measure the Success of Their Advertising Campaigns?
Measuring the success of advertising campaigns is indispensable for both the agencies and their clients to ascertain the effectiveness and ROI of the campaigns. Here's how top Los Angeles ad agencies go about it:
Key Performance Indicators (KPIs)
To gain profound insights into campaign performance, agencies meticulously establish a repertoire of Key Performance Indicators (KPIs). These KPIs extend beyond mere click-through rates, encompassing a multifaceted array of metrics. They include click-through rates, engagement rates, conversion rates, cost per acquisition, customer lifetime value, and more. By assessing a spectrum of KPIs, agencies attain a holistic view of how their campaigns are resonating with their target audience.
The arsenal of tools at an agency's disposal is nothing short of cutting-edge. LA ad agencies leverage sophisticated analytics tools to meticulously track and analyze campaign performance in real-time. This process goes beyond surface-level data collection; it involves a comprehensive examination of website traffic patterns, user behavior, geographic segmentation, and other pertinent metrics. These tools not only enable agencies to identify strengths but also pinpoint areas in need of optimization.
The evaluation of customer feedback takes on a more nuanced approach. AD agencies utilize a combination of methods, such as meticulously crafted surveys, real-time social media monitoring, and the systematic analysis of customer reviews. This multifaceted approach unveils invaluable insights into customer satisfaction, sentiment analysis, and campaign resonance. The sentiment analysis, in particular, delves into the emotional impact of campaigns, uncovering how they resonate with the audience on a deeper level.
In pursuit of a comprehensive understanding of a campaign's success, agencies delve deep into sales metrics. Beyond just conversion rates, LA agencies scrutinize lead generation, sales volume, customer retention, and customer acquisition cost. By dissecting these sales metrics, agencies gauge the tangible impact of the campaign on driving business objectives and growth. This extends the evaluation beyond mere click-throughs and engagement to concrete business outcomes.
The financial aspect of advertising campaigns is subject to rigorous scrutiny. Agencies meticulously calculate the return on investment (ROI) by comparing the total cost of the campaign to the generated revenue. This granular analysis leaves no stone unturned in determining the financial effectiveness of the advertising efforts. It provides a clear and quantifiable picture of whether the campaign was not only engaging but also profitable.
Through a blend of quantitative and qualitative measures, agencies ensure a thorough evaluation of the campaign's success, providing a foundation for continuous improvement and strategic refinement.
---
Conclusion
Navigating the prolific advertising domain of Los Angeles can be a daunting venture, given its replete offerings and dynamic market demands. However, the top 8 ad agencies we've spotlighted not only demystify this endeavor but elevate it into a journey of strategic innovation, creative mastery, and measurable success.
These agencies embody a fusion of diverse services tailored to catapult brands into realms of market dominance and consumer reverence. Their prowess extends beyond mere advertising campaigns; they deliver comprehensive brand narratives that resonate across digital and traditional platforms. The discernible growth in ad spend and the robust repertoire of successful campaigns underscore a thriving ad sector ready to transcend conventional boundaries.
Frequently Asked Questions
What industries do these Los Angeles ad agencies specialize in?
Los Angeles ad agencies cater to a broad spectrum of industries, including entertainment, technology, fashion, healthcare, and hospitality, among others, leveraging their advertising expertise to meet the unique demands of each sector.
What is the average cost of engaging with one of these top ad agencies in Los Angeles?
The cost of engaging with a top ad agency in Los Angeles can vary widely based on the scope of the project, the services required, and the agency's prestige. It's advisable to request a customized quote to get a clearer understanding of the costs involved.
How do Los Angeles ad agencies stay ahead of advertising trends to ensure brand relevance and market dominance?
Los Angeles ad agencies prioritize continuous learning, research, and adoption of cutting-edge technologies to stay abreast of evolving advertising trends. They engage in regular training and attend industry events to ensure they deliver innovative and relevant advertising solutions for brand relevance and market dominance.