Advertising Disclosure
Advertising disclosure:
Our partners compensate us. This may influence which products or services we review (also where and how those products appear on the site), this in no way affects our recommendations or the advice we offer. Our reviews are based on years of experience and countless hours of research. Our partners cannot pay us to guarantee favorable reviews of their products or services.
AI copywriting is writing content using software with machine learning (ML) and natural language processing (NLP) capabilities. 98% of marketers include written content for their campaigns, convincing their target audience to take a specific action. If you find yourself suffering from writer's block, or if there are times you need additional inspiration mid-way through your copywriting work, it might be time to consider AI-powered software to spark new ideas or give you more momentum.
---
Best AI Copywriter Tools to Use for Better Ideas and Efficiency:
---
How Does AI Copywriting Work?
Like AI email marketing platforms, AI copywriting software uses technology to turn your idea—which may be only a few words or sentences long—into a complete product description or article.
For these automated solutions to start "writing," you must choose the content type you need, feed data such as the title or opening sentence, then supply the parameters, which may include word limit, subheadings, and so on.
The tool then generates text using NLP, which interprets written language or the initial info you supplied, and ML. The latter makes predictions based on patterns learned from published work online. Most platforms feature the third-generation Generative Pre-trained Transformer (GPT-3) language model. This sophisticated text predictor uses 175 billion parameters and internet data to create text. GPT3's applications include language translation and generating text for chatbots.
AI copywriting software can generate an ad copy or article almost instantly. You can later edit the content to align with your brand voice and add other details.
As high-quality as the output may be, you still need to review it to match the tone and word choice for which your brand's content is known.
---
Top AI Copywriting Platforms
To help you get started with your search for the right AI copywriting tool, we've listed the top 7 platforms below.
Top
ai copywriting tools
2024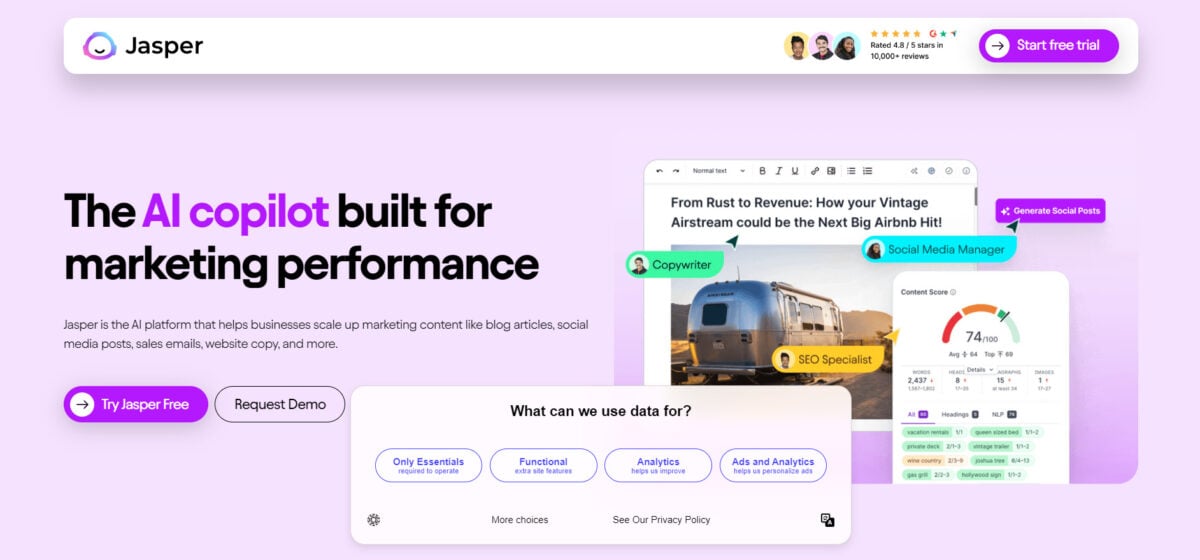 Jasper helps you "stop chasing word count and start pursuing ideas" through its Command and Recipe features. Available under the platform's Boss Mode plan, the Command feature can carry out an instruction containing an action, structure, and direction. For example, you can type: "write + a video description + about how to fix a flat bicycle tire." Meanwhile, you can make a series of commands to create a Recipe for long-form documents.
Another option is to use Jasper Chat, which Business and Boss Mode subscribers can enjoy. You can type an instruction in the chat box and watch the Jasper bot fulfill it. Similar to making a command, your message should contain an action (example, summarize), your expected output (this transcript), and direction (about the brain and gut connection). Or you can ask the bot a question, such as: "How can bookkeeping services help you weather inflation?" The chatbot's answers come from materials from the web until the summer of 2021. You can then choose from Jasper's suggested answers and refine them further with another command "Shorten this paragraph to two sentences." The good news is that using Jasper Chat won't eat up any of your word credits.
The tool has 50 pre-built templates and a Chrome extension. The platform can understand 24 languages and can generate content in 25 languages. Users can click "Official Bootcamp," which serves as Jasper's on-demand training hub, containing guides and videos on how to use the software. At the same time, you can also book a spot for their 101 Training.
Jasper has three subscription packages. The Starter and Boss plans are available on a free 5-day trial with 10,000-word credits. The Starter Plan begins at $24/month with 20,000-word credits. This plan allows up to 5 users to access all templates, the Chrome extension, and email support. The Boss Mode Plan begins at $49/month with 50,000-word credits. This plan gives you access to Jarvis Command and Recipes, Grammarly integration, and live chat support. Boss Mode users can also interact with Jasper Chat, the platform's chatbot. However, you may need to fact-check responses if you use the bot to research data. Meanwhile, the Business Plan starts at $499/month and can accommodate over 5 users. Plan holders can enjoy workspace admin features, document sharing, custom AI templates, personalized training, and a dedicated account manager.
---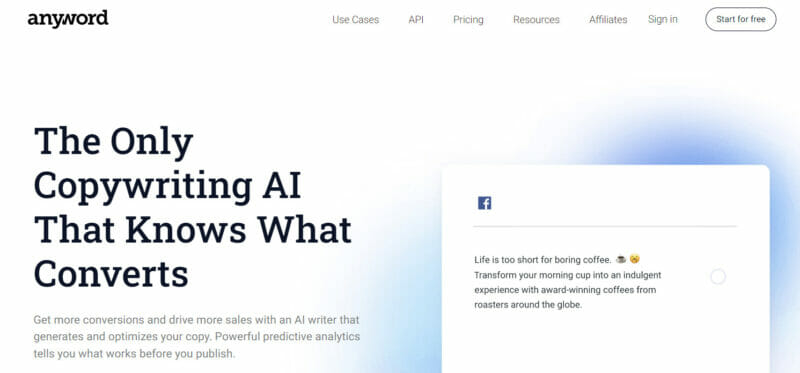 Anyword claims to be the first AI copywriting tool with predictive performance scoring for the content it generates. After keying in your desired format, style, and tone, the tool generates variations of AI copy arranged from the highest to the lowest score. You can later scan your content with Anyword's plagiarism checker, which you can access using the tool's Blog Wizard.
Moreover, the platform's customer persona feature allows you to describe your target audience for a more tailor-fit ad copy. Make keywords relevant to your industry and brand appear in Anyword's text suggestions by saving these terms and other popular words related to your brand in its Preset Keyword Library. Also, you can use the platform to optimize your existing ad copy by using its Paraphrasing Tool. Meanwhile, the Ad Copy Generator can customize your content to make it ready for placement on the platform of your choice: Facebook, Google, Twitter, LinkedIn, Pinterest, Outbrain, and Taboola.
The platform supports 28 languages. Its users saw a 30% rise in conversion rates since using the software. Its free trial covers a 5,000-word credit or seven days, whichever ends first. You can access real-time predictive performance scoring, analytics, and custom automation in the higher-paid plans.
You can "teach" the platform's AI to write according to your brand's style and tone through Power Mode under custom templates. You can train Anyword's AI to produce up to five custom writing styles. For the AI to effectively learn each category, you must import text and ad samples into Anyword. The samples you feed per category must have a similar tone and style. Do you want to optimize every webpage on your website? You can do so and even test many copy variations simultaneously when you sign up for the Website package.
---
Copy.AI is ideal for blog writers, social media managers, and email marketers. It names top brands like Microsoft, eBay, Ogilvy, and Nestle among the 4 million professionals and teams that use its software. Like Anyword, Copy.AI produces several versions of the ad copy or any content that you programmed the system to create. You can later copy the version you want or ask Copy.AI to generate more content from your preferred sentence or paragraph.
The platform also has sentence and paragraph rewriting tools for improving existing copy and a paraphrasing tool that rephrases content from your original references. Moreover, you can use Copy.AI to generate product names and fitting acronyms for your business, event, or team.
Do you need to craft the perfect email for every stage of a customer's journey? Copy.AI claims to save 80% of email writing time with templates for cold outbound, lifecycle, nurture, follow-up, event promotion, and discount emails. The platform's template library has business, careers, HR, marketing, personal, real estate, and sales categories.
Copy.AI integrates with most CMS and recognizes 25 languages. It also has a Google Chrome extension. This tool has a free and paid Pro Plan, which you can pay monthly or annually. The Free Plan accommodates one user only and gives you access to over 90 copywriting tools and its blog wizard tool. However, you're only limited to 2,000 words monthly. Meanwhile, Pro Plan users get everything on the free plan but enjoy unlimited word credits and 5-user access. They also get priority email support and access to the newest features. You can contact Copy.AI directly for subscriptions covering over 20 seats.
---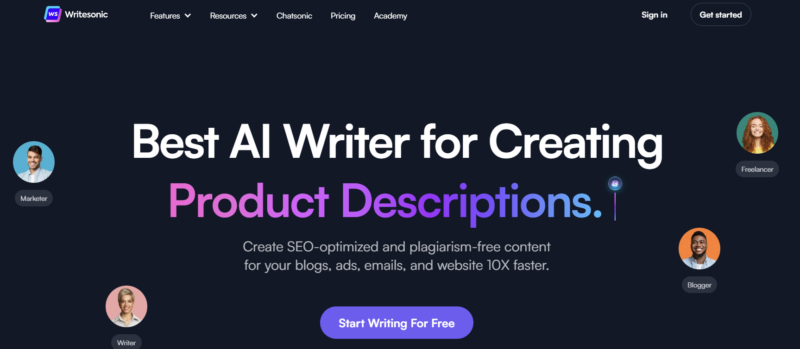 For as few as five words to describe your topic, Writesonic can generate an SEO-optimized piece of content for your campaign. In particular, its Article Writer can produce a 1,500-plus-word document for you within seconds after you supply a title, language, and quality (average, good, economy, and premium). The platform promotes its services to various types of written content creators—writers, marketing teams, entrepreneurs, and eCommerce stores.
Writesonic's over 65 templates help you develop ads, Quora answers, customer review responses, "pain-agitate-solutions" writeups, and more. The software can also upload content (ad copies, product descriptions, and others) in bulk. Are you making a "trends report"? The software's Chatsonic AI chatbot works with Google Search to help you search for data faster, whether with a written or voice command. The bot can also convert your text into art.
Writesonic supports 24 languages and integrates with Semrush, Surfer SEO, WordPress.com, WordPress.org, and Zapier. The platform also has a Chrome extension. It offers a free trial comprising 2,500-word credits. You can access its templates, Chatsonic, Landing Press Generator, AI Article Writer, WordPress Exporter, and Zapier integration. If you're satisfied with its performance, you can subscribe to the Long-Form Plan, which gives you access to bulk processing, the Article Rewriter, and Surfer SEO integration. Meanwhile, Writesonic recommends larger teams try Custom Plans for access by an unlimited number of users to an unlimited number of word credits and custom AI development.
---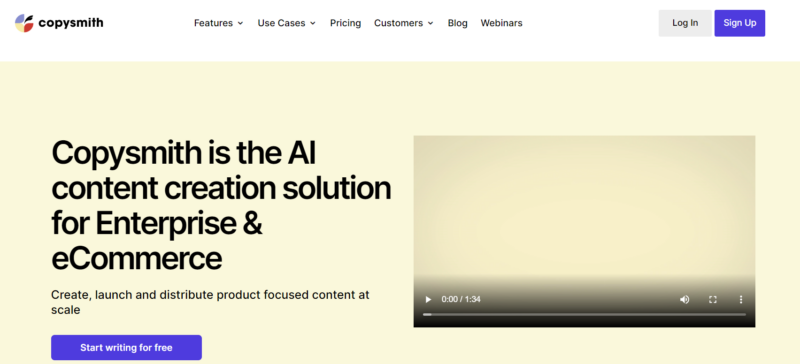 Copysmith calls on marketing agencies, eCommerce site owners, and enterprise teams to consider its services for a "better way to scale" their businesses through well-researched SEO content and bulk generation of product descriptions, blog topics, and more. The software displays readability scores to help you determine how the AI-generated copy will resonate with your readers. At the same time, the tool checks for plagiarism through its tie-up with Copyscape, which automatically scans all content produced within Copysmith.
Also, the tool lets you add product photography to your written content through its AI Image Generator. You can use the feature to create lookalike renderings of your product for websites or social media in no time. Your marketing teams don't have to leave the platform for feedback and approvals of generated content. Your company staff can exchange ad copy, emails, and other documents using its Workflow Queue. Files are shareable in .txt, .docx, .pdf, and .csv formats.
Moreover, Copysmith can produce content and translate over 50 languages. You can use the language feature on all templates except landing pages and blog posts. The platform has integrations with Frase, Google Ads, Google Chrome, Google Docs, Hootsuite, WooCommerce, MS Word, and Zapier.
You can subscribe to Copysmith, which sells the monthly and annual plans below. Take advantage of two free months and rollover credits by signing up for a year. While other AI copywriting service providers set prices according to count word credits, Copysmith counts the number of generated marketing copies across all templates you use. Its Starter Plan covers 75 credits and allows 20 plagiarism checks monthly. Bulk content generation is limited to 50 files only per upload. On the other hand, you get 400 credits and 100 plagiarism checks monthly under the Professional Plan. Bulk generation is limited to 100 files per upload.Copysmith also offers an Enterprise Plan. This provides unlimited bulk import-export and includes unlimited credits, unlimited plagiarism checks, customized templates, and a dedicated account manager.
---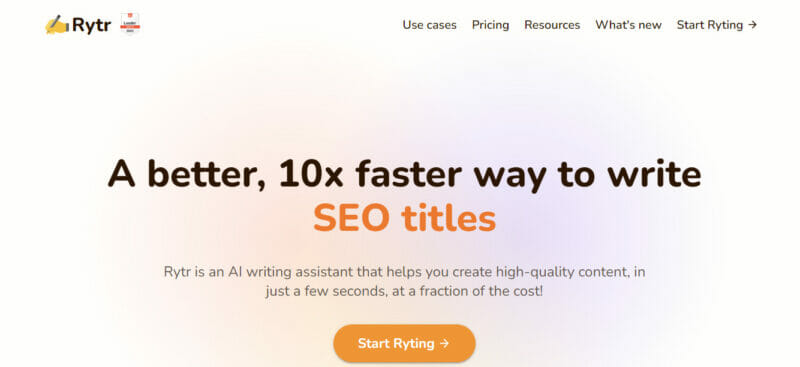 Rytr is the most cost-effective option in the list so far, with over 4 million users claiming satisfaction over its straightforward features. Its subscribers include Dell, PWC, Payoneer, Ford, and IKEA. The platform has over 40 use cases and templates, including "text completer" tools (Append Content and Continue Ryting), which finish sentences and paragraphs for you, story plots, and song lyrics. Its Magic Command feature can generate any content type as long as you key in your preferred language, tone, and description of the content you want the software to produce. Meanwhile, watch your sentences and paragraphs shrink into more concise lengths by clicking "reword" and "shorten."
Rytr offers 36 language and 22 tone options. It generates up to three variants of a piece of content it generates. The platform also has a keyword generator and SERP analysis, which suggests the number of times its suggested keywords should appear in your document for your document to rank high in search engine results. You can also insert an image to support your copy by clicking "AI Image" after supplying some context in the description box. Have you run out of fresh campaign concepts? Let Rytr come to the rescue with its business idea pitches, YouTube video ideas, SEO meta titles and descriptions, and Google Search ads.
The length of the written content and the number of AI images Rytr generates will depend on your subscription. The free version offers up to 2,000 words and five AI images monthly. Meanwhile, you can create use cases and templates specific to your brand with a paid plan. Use Rytr in your favorite email, chat, social media, and document or blog creation platform by downloading its Chrome extension. Plug-ins are also available, so you can use Rytr on Shopify, WordPress, and other project or work management systems.
---
Writecream boasts over 31 tools, including an AI article writer with a built-in plagiarism checker that can compose 1,000-word pieces in half an hour. You can also use this platform to convert long-form articles to scripts and voice-overs for YouTube videos and podcasts. One of Writecream's selling points is its ChatGenie. The knowledge base of ChatGPT, a common feature in many AI copywriting tools, only covers facts and events up to 2021. ChatGenie is a superior language model because it contains the latest data available on the Internet. Unlike ChatGPT, ChatGenie is accessible on mobile devices. It also supports over 75 languages and doesn't limit the number of users, no matter what time of day.
Writecream's other top features include personalized text, image, and audio icebreakers for cold emails or LinkedIn outreach. This software's human-sounding icebreakers have reportedly helped brands experience a 300% increase in replies. If you wish to add more flair to your outreach efforts, use Writecream ART to generate images based on your prompts. Also, let the tool put AI to work when you need inspiration for personal brand statements, value propositions, catchphrases, slogans, mottos, and email pitches for your seed or angel round funding campaign.
Like Writesonic, this tool has a Quora answers generator, which uses AI to fetch answers from the web. You can click for more "answers" if none of the suggestions from the initial batch satisfies you or until you get the output containing your desired keywords and key phrases.
This tool, which has a Chrome extension and mobile app, offers the most extensive multi-lingual support in our list with 71 languages. More than 250,000 businesses rely on its AI services. As with other services, the number and length of written and audio (icebreakers, voice-overs, and podcasts) content you can generate with this platform will depend on your subscription plan.
---
Drawbacks of AI Copywriting
Amid all its benefits, AI copywriting platforms have their limitations.
The generated content is not 100% error-free all the time, so you may still need a grammar and plagiarism checker. Output from your AI tool couldn't claim the credibility that human resource persons have. Thus, AI-generated articles may not score as high in Google. The search engine's E-A-T algorithm covers expertise, authoritativeness, and trustworthiness for evaluating content.
Moreover, AI platforms can publish intelligent content, but it lacks the creativity to make analogies or tell stories the way human writers can.
---
Factors to Consider When Choosing an AI Copywriting Tool
The best software should help marketers produce original, diverse, and error-free content through quick and convenient steps. To help ensure you select the platform with those qualities, look for the following:
Straightforward interface
When you check reviews and tutorials, ensure that the software is easy to navigate.
Diverse content formats
Look for a platform that offers templates for various use cases: product descriptions, social posts, ad copies, blogs, website content, and more.
Integration with third-party apps
Check if the software syncs with your content or project management systems and other workflow tools. The best tools also have a content export feature, allowing the transfer of output to blogs, social media, eCommerce customer relationship management tools, and Google Ads.
Plagiarism checker
This feature assures you that no one will chase after you for lifting content from their product pages or blogs.
Built-in search engine optimization options
Tools that will help with keyword search and SEO-friendly phrase suggestions are necessary for better search results page ranking.
Flexible pricing plan
Most service providers offer monthly and annual subscriptions. Take advantage of software with a free trial period—get a feel of its functionality before buying a plan.
---
AI Can Generate, But Humans Still Need to Perfect Copy
AI won't take over the jobs of real marketers soon. However, these tools can definitely hasten ideation and proofreading. To stay abreast of how you can use AI to optimize your business strategies, you may also want to read: "Top 20 AI Marketing Tools to Grow Your Business in 2023" and "The Ultimate Guide to AI Marketing in 2023."
Frequently Asked Questions
What are AI copywriting tools?
AI copywriting tools are a type of software that uses natural language processing (NLP) tools to assist with creative writing, content generation and editing. They can be used to create a variety of content such as social media posts, ads copies, blogs, website content and more. AI copywriting tools can help expedite the ideation process and reduce redundancies in a piece of writing while also suggesting alternative phrases and keywords for better SEO.
What are the best AI copywriting tools I can use?
There are a number of great AI copywriting tools that can help you get ideas and improve your efficiency. Some of the options available include Jasper which was previously known as Jarvis, Copy.ai, and Rytr that offers multi-lingual support in 32 languages and 22 tone options.
What factors should I consider when choosing an AI copywriting tool?
When selecting a tool for your copywriting needs, look for a platform that has a straightforward interface, diverse content formats, integration with third-party apps, a plagiarism checker, built-in search engine optimization options and a flexible pricing plan.
Is there a free trial period for AI copywriting tools?
Yes, many providers offer a free trial period for their AI copywriting tools. This is a great way to get a feel of the platform's functionality before investing in a subscription plan.