Pinterest may be the platform for inspiring DIY projects and planning your dream wedding. But it's much more than that–it could also inspire purchase decisions and drive people closer to buying your products. That's why you shouldn't miss out on the chance to use Pinterest for your business.
In this guide, we explore the biggest benefits of using Pinterest for business. We also provide you with some of the best practices on how to make the platform work for you. Let's get started.
---
Pin It and Win It: How to Use Pinterest for Business:
---
What is Pinterest for Business?
Pinterest for Business also called a Pinterest business account, is a version of Pinterest that's designed specifically for business users. It gives you access to comprehensive analytics reports and special content formats to market your business effectively on the platform. It's free to sign up for and lets you upload your product catalog, which means you can add product tags to your posts so people can buy the product directly through Pinterest.
---
Benefits of Using Pinterest for Business
One of the biggest questions may be why you should use Pinterest for your business. What makes Pinterest so important for marketing your business? And if you're already marketing through other social media channels, why do you need to add Pinterest to the mix? Here are a few of the key reasons why your business could benefit from marketing on Pinterest: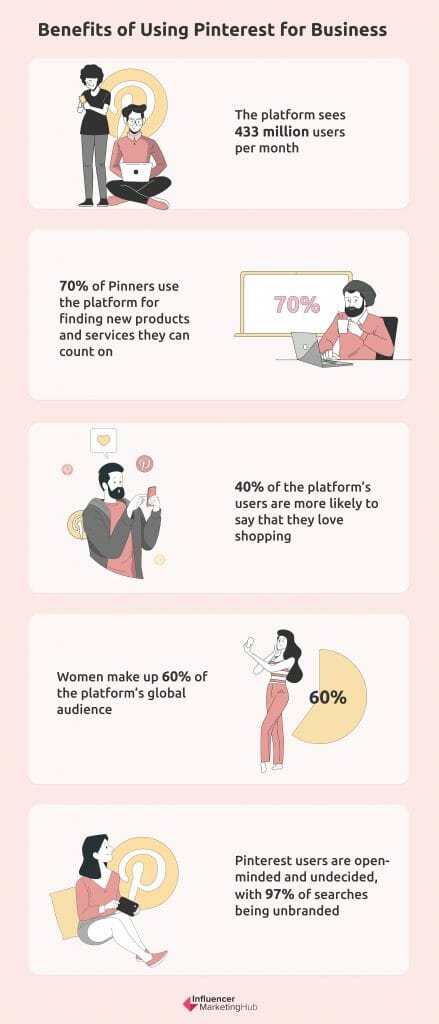 Based on the latest

Pinterest stats

, the platform sees 433 million users per month. That's millions of people who could potentially turn into valuable customers for your business.

In fact, the platform is known to inspire purchasing decisions. The stats show that 70% of Pinners use the platform for finding new products and services they can count on. Moreover, compared to those who don't use the platform, 40% of the platform's users are more likely to say that they love shopping.

According to the

latest data from Pinterest

, women make up 60% of the platform's global audience. This makes it an excellent platform to use if your target audience is mostly female.
However, that doesn't mean you should shy away from it if you're targeting men. Male Pinners are also up 40% year over year, meaning it could be an excellent place to reach a male audience as well.
Pinterest users are open-minded and undecided, with 97% of searches being unbranded. That means most of them aren't looking for a specific brand, leaving them open to discovering other brands such as yours.

Pinterest for Business comes with plenty of powerful tools that make it easier for brands to execute their

marketing strategies

. This includes the option to upload product catalogs and tag their products to make shopping easier on the platform. The Pinterest analytics feature provides you with actionable insights to inform your strategy and maximize your results.
---
7 Best Practices for Using Pinterest for Business
If you think marketing on Pinterest is the right choice for you, it's time to think about the next steps. Follow the best practices below to start using Pinterest for your business.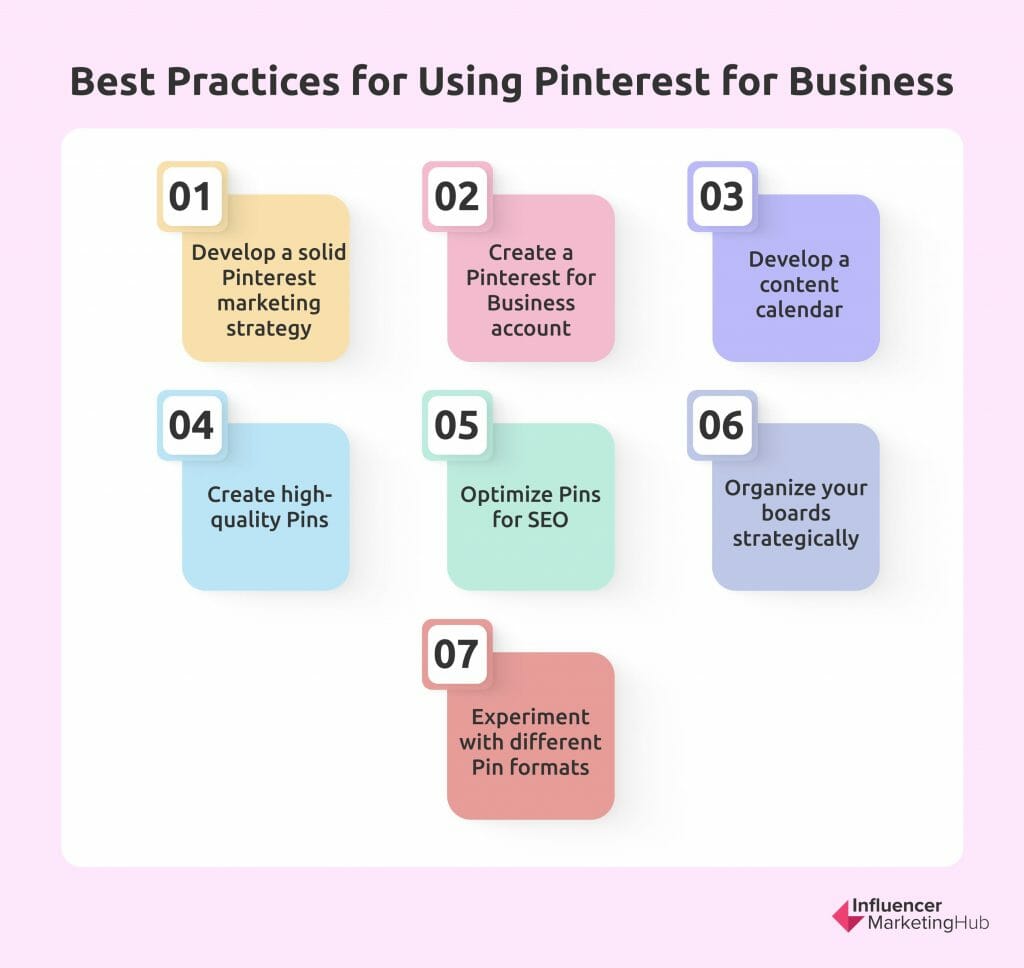 1. Develop a solid Pinterest marketing strategy
All good things start with a dream. And to turn that dream into reality, you need a plan of action. Even with Pinterest marketing, you need a strategy that will help you realize your dream of growing your business.
Start by defining a clear goal–one that's measurable and attainable. Whether you want to drive more sales or increase your referral traffic, be specific with what you want to achieve through Pinterest.
Next, make sure to identify and define your target audience. Having a clear idea of the people you want to reach will help you understand how to target your messaging and strategy to resonate with them.
Additionally, it's important to look at what others in your industry are doing so you know where you stand. This will help you identify what strategies are working so you can replicate them for your own. Moreover, you can also figure out if there are any gaps that you can capitalize on.
---
2. Create a Pinterest for Business account
If you don't have one yet, make sure you're signed up for a Pinterest for Business account. This offers plenty of powerful tools to help with your marketing and analytics. With your business Pinterest account, you'll be able to:
Set up a Pinterest Shop and tag products in your Pins.

Access robust analytics insights for measuring your performance.

Run

paid advertising campaigns

to maximize your results.
The process of setting up a Pinterest for Business account is pretty straightforward. You just need to enter some basic info such as email, password, and age to create a new account. After this, you'll be asked to fill out details about your business such as the name, location, and language. Additionally, Pinterest will also ask you to select the best description for your business and add a link to your website, and that's it!
---
3. Develop a content calendar
Just like on other social media channels, Pinterest requires posting consistency. You need to constantly keep your feed updated with fresh content that would engage your audience. To maintain the kind of publishing consistency you need, make sure to create a content calendar.
This content calendar will have all your content ideas laid out along with the proposed timeline for publishing each idea. The calendar will serve as a guide for your team to consistently develop content for your Pinterest strategy. It'll help them organize their efforts since they have clear directions on what to create and by when to create it.
There are plenty of free content calendar templates that you can replicate and customize for your own strategy. Some social media management platforms also offer publishing tools that come with a visual content calendar. With this type of tool. you'll even be able to create the posts ahead of time and schedule them to automatically go out at strategic times.
For instance, the Sprout Social publishing tool offers a visualized calendar that will let you plan your content for all leading social networks. Here, you can create and schedule your posts to go out at specific times and even have other team members collaborate with you.
---
4. Create high-quality Pins
It goes without saying that your Pins must be of the highest quality if you want to effectively market your business on Pinterest. For starters, this would involve ensuring that your Pins are visually appealing. Remember that people also get their purchase inspiration from Pinterest, so your Pins should also be descriptive enough to inform and inspire your audience. In other words, don't just post images without context or you'll end up confusing the audience.
Here are a few best practices to help you create impactful and engaging Pins for your marketing strategy:
To make sure that your Pins look great, aim for the highest resolution of images and videos possible. This will prevent pixelation and help you maintain professional-quality visuals.

Most

Pinterest users (82%) use the platform on mobile

. Keeping this in mind, focus on creating vertical images that will show up properly on a mobile screen. That way, you can also avoid photos that are awkwardly cropped or show up incomplete for mobile users.

As mentioned briefly earlier, your Pins should also be accompanied by proper descriptions to give context to the visual. You should explain why you're posting the Pin so people can understand what to focus on. For example, if you're creating a Pin that focuses on a bedroom, you could use the description to call attention to the exquisite wallpaper that's used in the bedroom or the luxurious bed linen that makes for a cozy space.
See how Whole Foods Market still includes a short description for the following Pin even though the image already contains instructions. The description explains why people should consider following the recipe because tomato grazing platters are great for entertaining guests.
Since most people see the visual element first before they read the caption, it's also a good idea to include a text overlay. This will help the audience instantly understand what the Pin is about at first glance, which would make them want to click on it and engage with it.



For example, see how Mejuri Jewelry includes text overlay in the following Pin so you can instantly see what it's about. This could draw in people who are interested in learning how to style diamonds for everyday wear and get them to click on the Pin to learn more.
If you're including a link in the Pin, double-check to make sure the link is working. Broken links will reflect badly on your brand and ruin the user experience. You don't want people to land on a 404 page, especially if you want them to buy your product or visit your website.
---
5. Optimize Pins for SEO
Remember that many Pinterest users are open-minded and are searching for nonbranded keywords. That means they're undecided about the brand they want to shop from, which gives you an excellent opportunity to attract new customers.
But for that, you'd need your Pins to show up in relevant search results. To optimize your Pins for SEO, use keywords strategically in your descriptions and boards. You can also include hashtags that are relevant to the content to further improve the chances of Pins showing up in relevant searches.
See how The Good Trade includes several hashtags in their description. Some of the keywords are also incorporated into the Pin title and description, which helps with SEO.
Rich Pins are an excellent way to boost your Pinterest SEO as they allow you to pull the information from your website and include them in your Pins. Even if changes are made on the website content, the Rich Pin will also be updated automatically. These are perfect for Pins related to products, recipes, and articles.
---
6. Organize your boards strategically
Boards are great for organizing your Pins. Be strategic with your organization so that people can easily find what they're looking for. Considering mixing things up between boards that are informational and boards that are promotional.
For example, Lavendarie neatly organizes their Pins into different boards to help visitors navigate their content. They have a good mix of promotional boards and helpful boards to appeal to all kinds of users.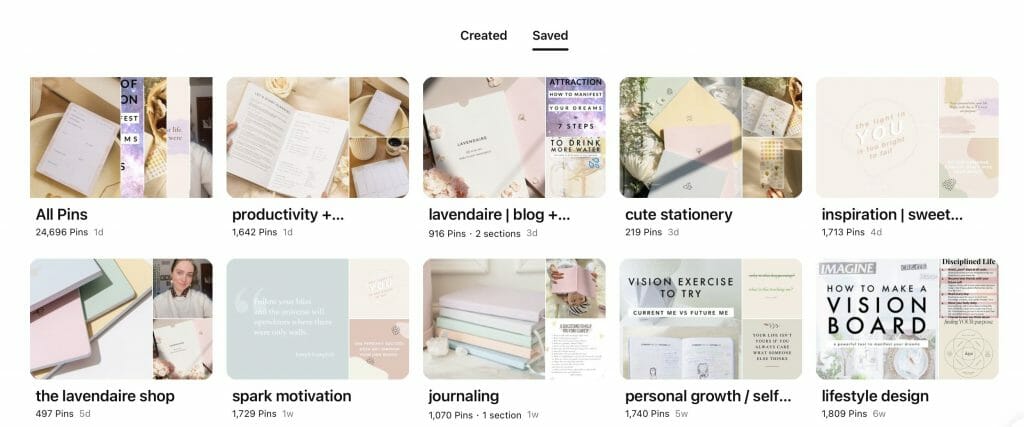 ---
7. Experiment with different Pin formats
Pinterest offers a ton of options for businesses to get creative, including the option to use different Pin formats. So, don't just stick to one type of Pin. Mix things up and play around with different formats to see what drives the most engagement. You may also find that certain formats work well for specific types of content and vice versa.
Use short videos to share instructions and tips. For example, IKEA shared video pins to provide ideas on how to use smart lighting.
Carousel Pins are also a great way to share multiple ideas and products in one Pin. For example, Ruggable created a carousel Pin to share fall décor ideas for different rooms.
---
Keep Optimizing and Growing Your Pinterest
The above best practices are just to get started with Pinterest for business. Don't forget to have fun and get creative with your Pinterest strategy. And make sure you're using the analytics reports to gain actionable insights to optimize and grow your Pinterest.
Frequently Asked Questions
Is Pinterest still good for business?
Pinterest still gets millions of monthly users–most of them looking for buying inspiration. Plus, it offers an excellent channel to visually present your brand.
Is Pinterest for business free?
Yes, Pinterest for business is free to sign up.
Is Pinterest good for business marketing?
Yes, Pinterest is a great place to market your business with an audience that's undecided and open-minded and a host of tools to help with marketing.
What are the benefits of Pinterest for business?
Pinterest for business gives you access to special content formats, robust analytics, and advertising tools to grow your business.
What is the difference between Pinterest and Pinterest for business?
Pinterest for business is just a variation of Pinterest that's intended for business users. It comes with special tools to help you market your business on the platform.