By now, you've most probably heard about artificial intelligence (AI) and its impact and uses in digital marketing. AI marketing is changing the face of the industry, from automation tools and content creation to data gathering and analysis.
In recent years, the adoption of AI technology in marketing activities has been increasing, with 90% of marketing professionals around the world using AI tools for customer interactions in 2022. This shows that AI is ideal for improving customer experiences and catering to the needs of consumers.
This also opens up the potential for AI to be a positive force in the eCommerce industry. Despite the apparent end of the pandemic, online shopping isn't expected to die down any time soon. In fact, reports estimate that the eCommerce market share is forecasted to grow to 20.8% this year and up to 23% in 2025, up from 17.8% in 2020 when the pandemic was at its peak. In a couple of years, approximately a quarter of all retail sales will come from online purchases. Moreover, retail eCommerce revenue in the US alone is projected to reach an astounding $1.1 trillion this year.
---
eCommerce Intelligence: Using AI for Customer Delight and Satisfaction:
---
What Is eCommerce Intelligence and How Does It Work?
eCommerce intelligence is the application of AI technology in eCommerce to maximize revenue and improve business performance by providing enhanced shopping experiences for each visitor. Using AI in eCommerce isn't a new trend, but the term "eCommerce intelligence" is fairly recent and proof that AI in eCommerce is beginning to grow into its own industry.
Using machine learning, a subset of AI, eCommerce intelligence involves analyzing each customer's visit to an online store and gathering important data. It uses customer data like location, history, and searches within the website to provide an optimized customer experience. For example, it may suggest relevant products to the customer according to the products they were viewing. It may offer discount codes applicable to their location, cart, or even the number of times they've visited.
eCommerce intelligence can also provide data on other businesses, so you can better position yourself within the market. To put it briefly, eCommerce intelligence is the marriage of AI and eCommerce best practices to ensure every site visit is maximized for revenue.
---
Benefits of Using eCommerce Intelligence
With eCommerce intelligence, businesses can identify and create customer segments that truly represent their target market. Marketing efforts can be optimized for specific segments to ensure that no ad dollars are wasted.
They can determine which customer segments visit their website the most, what they look for, how long they spend on each page, and what they ultimately end up purchasing (or if they don't purchase at all). Stores can learn which payment modes are most widely used by customers and what other benefits and options they prefer (free shipping, gift cards and gift wrapping, etc.).
These data can be powerful if used correctly. If you know that most visitors come from a specific location, you can place more targeted ads for them. If you determine that the majority of payments are made through credit cards, then you can strengthen your credit payments and offer it at the top of your list. If you see which products are frequently purchased in single transactions, then you can start offering them as a bundle or suggest additional items for people considering buying just one of them. If you see the same customer make repeat purchases, then you know they're a loyal customer that you should nurture. eCommerce intelligence can help with customer retention and loyalty, which is less costly than attracting new customers.
Automation is also a key benefit of eCommerce intelligence. Because customers demand personalized experiences, it can be hard to keep up with a lot of visitors and cater to their individual needs and interests. AI can be utilized in this regard to make each customer journey unique and personalized.
In short, eCommerce intelligence helps you provide your customers with a smooth, seamless experience on your website, promote new or little-known products, increase sales and revenue, and foster your relationships with high-value customers. It gives you access to important data you can use for better marketing, operations, and overall performance.
---
How Can Online Businesses Use eCommerce Intelligence?
There are many ways that eCommerce businesses can tap into AI to offer personalized customer experiences and maximize profits. The AI options for eCommerce are seemingly endless; from market intelligence software tools to automated chatbots, the industry can benefit from a range of AI tools.
Hyper-Personalization
Because of the pandemic, many brick-and-mortar companies have opened online shopping channels, increasing eCommerce competition. More competitors mean that businesses must learn how to stand out to be consumers' preferred choice. Personalizing customer experiences is a great way to acquire and retain the loyalty of your target market. 71% of consumers expect businesses to provide personalized interactions.
As advances in technology brought about more AI tools, the concept of "hyper-personalization" in marketing emerged. In reality, personalization has already been a key strategy in marketing for many years, with marketers recognizing the need to provide tailored messaging and offers to specific consumer groups. Then came developments in AI, which allowed deep data mining and analysis, such that eCommerce marketers can now offer personalized experiences for smaller and smaller customer segments. Powerful AI tools can even go as small as targeting individual visitors.
With the right set of eCommerce intelligence tools, brands and businesses can offer hyper-personalized experiences through the following:
Using AI to identify which products a visitor is viewing or adding to their cart, eCommerce sites can recommend relevant products. Think of Amazon's "Also Bought" recommendations, where their algorithm shows you products that other customers purchased. It's a bit different from "Related Products," which shows other items from the brand you are browsing or other products from competitors. These recommendations are triggered by the fact that you are either currently on a product's webpage or have added it already to your cart.
Related product recommendations on eCommerce sites serve a purpose for both the customer and the business. For the customer, it helps in product research, so they'll have an easier time comparing items. For the business, suggesting add-ons or promoting lesser-known products encourages customers to purchase more.
---
Promotional offers and rewards
Customers enjoy receiving freebies, promos, and rewards—just make sure that you send them to eligible visitors. Few things annoy people more than finding out they're not qualified for an exciting offer prominently displayed on the website or sent to them via email. Hyper-personalization ensures that only eligible customers can receive specific offers and rewards. Businesses can also create individual offers based on a visitor's online behavior and past purchases—imagine buying something from an online brand and receiving a promo for a hefty discount on your favorite product. Discounts and freebies that are meaningful and based on your customer's preferences will more likely be appreciated and used. It will also foster a better relationship with your market, some of whom may be converted from one-time customers to high-value customers.
---
One of the biggest eCommerce trends now is mobile shopping. Mobile commerce is primarily driven by smartphones, which account for 87.2% of all mobile sales. App downloads have increased, including remarkable growth during the pandemic.
Personalize mobile push notifications to help your brand stay top-of-mind without annoying customers with irrelevant messages and driving them away. eCommerce intelligence can be utilized to make sure notifications go out to the right people. AI can notify a customer if their favorite moisturizer is back in stock. If an online business is having a sale, AI can send a mobile alert to customers so they don't miss out on great deals.
Mobile notifications are also great for keeping customers updated about pending orders. They can opt to receive messages when their order's been shipped, when it's due to arrive, or when there are delays due to unforeseeable circumstances.
---
Chatbots
Chat assistance provides personalized experiences by default since it's intended to answer customers' specific questions. With the global reach of eCommerce, many brands have customers from different parts of the world. This means that at any point, someone may be browsing the website and wanting to know more about a product.
Chatbots are handy for eCommerce customer service—no longer do businesses need to hire dozens of people just to monitor and answer the same questions over and over again. Chatbots ensure that answers are available immediately whenever a customer needs them. Even if a customer has a complex question, it will help if there are chatbots that can reply to at least let the visitor know that the query has been forwarded to a customer service representative for a proper response.
AI chatbots can drastically decrease your customer service team's workload. They can handle straightforward or frequently asked questions, leaving human agents to deal with more complex queries.
---
Cart Abandonment Prevention
Online businesses can increase their revenue and conversion rates using eCommerce intelligence by avoiding cart and checkout abandonment. Studies have found that around 7 out of 10 online shoppers fail to complete checkout, for a number of reasons: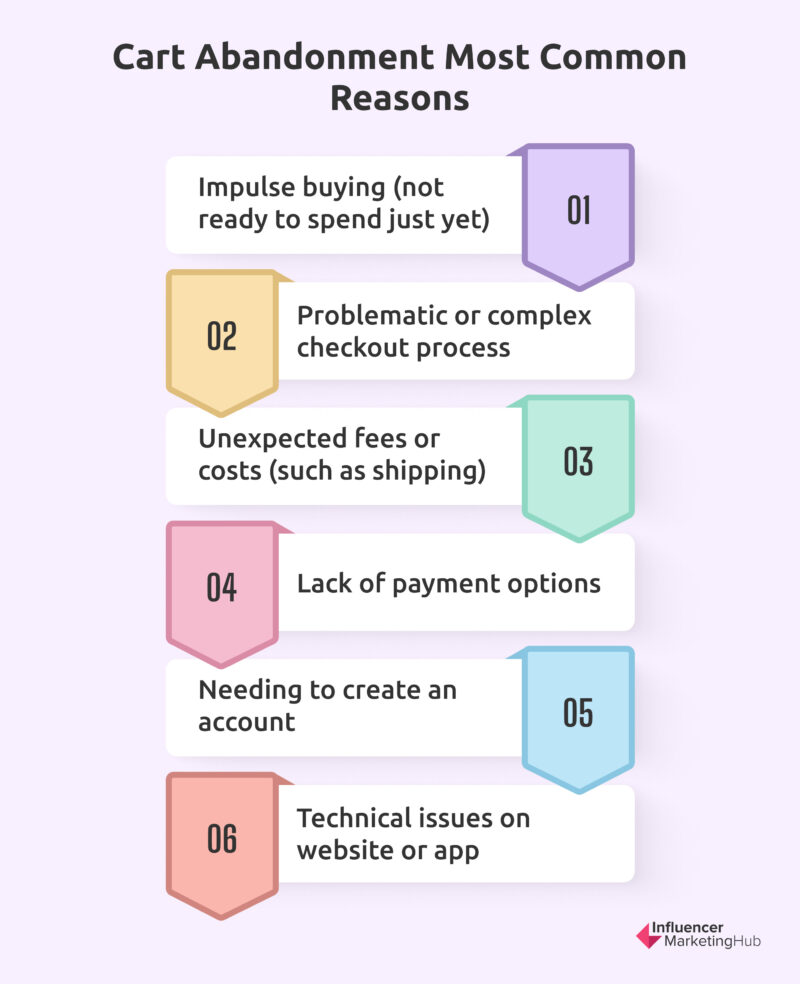 These are only some of the most common reasons that visitors abandon their shopping cart before or during checkout. To combat this, eCommerce businesses can use AI to identify pain points in the checkout process, determine at which stage customers leave their carts, then use that data to analyze and improve the system. Is the checkout flow smooth, clear, and easy to understand? Do users have to input a lot of information before they can complete a transaction? Are the webpages too cluttered with CTAs? All these things can affect customer attrition and, ultimately, a business's bottom line.
---
A/B Testing
A/B testing, or split testing, is a common method to find the best-performing marketing material for your audience. It's a controlled, randomized experiment that compares two marketing variables to see which one produces better results.
A/B testing may seem simple on paper, but it requires thorough planning, careful analysis, and monitoring of data. AI tools that can automate A/B testing will make the nitty-gritty of these experiments easier to manage.
Among the things that AI can do regarding A/B testing are: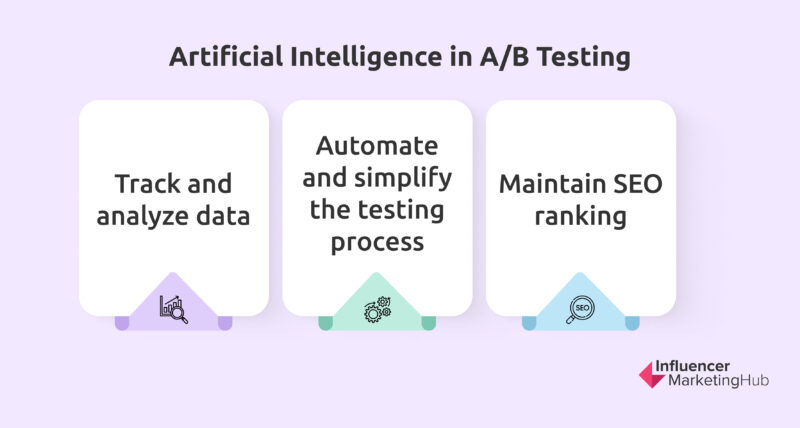 As an experiment, A/B testing requires you to track several data points for analysis. This can be difficult to do manually, so having AI track views, clicks, impressions, and other KPIs will make your test more reliable and valid.
Automate and simplify the testing process
AI tools for A/B testing are excellent at automating and streamlining the process. Look for full-featured tools that offer automated testing. You can also simplify test creation by automating the process. Set up the AI to take care of minor details, so you can focus on the significant factors that you need to modify for a specific test run.
Doing A/B testing manually might get your SEO messed up if you're not careful. By using AI-powered A/B testing tools, you can ensure that your SEO ranking won't be affected by the tweaks of your A/B test experiments.
---
Data Analytics
Of course, one of the most significant uses of eCommerce intelligence is data analytics. The online marketplace is a complex territory, but mastery of the market is essential for an online business to be successful. A strategy rooted in data will help simplify the complexities of the eCommerce market so you can make informed decisions.
In particular, predictive analytics in eCommerce intelligence will help enhance the customer experience. Businesses can be proactive rather than reactive, anticipating the customer's needs and wants in advance. You can identify consumer behavior patterns to encourage loyalty, decrease dissatisfaction, and offer more value.
AI can also dig up data on competitor performance, online trends that can affect product demand, and public opinion on your brand. Data analysis on these factors will allow businesses to make sound decisions that can improve their websites, product quality, product catalog, customer service, and even operations. Constant improvement is a mark of a good enterprise, with the business always striving to provide what customers look for. Without AI tools to mine relevant data and run analyses, it would be difficult and time-consuming for eCommerce businesses to master their market.
---
Total eCommerce Management with AI
Because eCommerce intelligence encompasses such a wide range of tools and uses, it may seem a bit daunting to incorporate them into your operations. Online businesses can make the most out of eCommerce intelligence by using an eCommerce management solution, such as Pacvue. The Pacvue platform covers advertising, sales, and intelligence across multiple channels and marketplaces. Using a complete eCommerce intelligence management software like Pacvue will help businesses optimize their entire operations without guesswork and a lengthy learning curve.
---
Companies Using eCommerce Intelligence
Amazon
Industry leader Amazon uses eCommerce intelligence to provide product recommendations for their customers. Of course, we can't forget about Alexa, Amazon's virtual assistant that can be integrated with other companies' products for a seamless voice shopping experience. Meanwhile, users can also make voice-activated payments using Amazon Echo.
eBay
Another eCommerce giant, eBay uses AI for a variety of features on their website. From product recommendations to shipping and delivery, AI is incorporated into their operations. Some of the newer AI functions they've developed are the Find It On eBay feature and the eBay ShopBot, a chatbot assistant that works on Facebook Messenger. The company also claimed that AI allows them to prevent credit card fraud online by identifying suspicious payments.
North Face
American apparel company North Face has been using AI for their online store as early as 2016. Powered by IBM's Watson technology, the Expert Personal Shopper (XPS) creates an engaging and helpful shopping experience for customers looking for specific products from the brand. Users can provide details about the type of apparel they need, and XPS can ask for more information like location, gender, and activity type to provide the most appropriate product recommendation.
Sephora
In the cosmetics industry, augmented reality (AR) is becoming a staple in online stores to allow people to virtually try on a product before buying. Sephora is an example of an eCommerce site that harnesses AR.
Other cosmetics and apparel brands with virtual try-ons include L'Oréal, Ray-Ban, MAC Cosmetics, Baume & Mercier, and Wacoal.
Hungryroot
Hungryroot is an online recipe and grocery delivery service based in New York that uses AI to personalize recommendations. When customers sign up, they fill out a form that asks for their dietary habits, preferences, budget, and household size, among others. The company uses this data to recommend recipes, predict customers' grocery needs, and automatically fill the shopping cart. In its recommendations, the AI tool also considers practical food distribution and reduction of food waste.
---
Use eCommerce Intelligence for Customer Delight
Thanks to eCommerce intelligence, the future of online shopping will focus on delighting customers and providing them with an exceptional experience. In doing so, businesses will also increase their revenue by retaining customers and establishing a positive brand reputation.