Advertising Disclosure
Advertising disclosure:
Our partners compensate us. This may influence which products or services we review (also where and how those products appear on the site), this in no way affects our recommendations or the advice we offer. Our reviews are based on years of experience and countless hours of research. Our partners cannot pay us to guarantee favorable reviews of their products or services.
Recent survey results show that excellent grammar continues to be a mark of competence in business communication. About 25% of email newsletter subscribers will disregard messages with typos in the subject line, and more than half state that they won't do business with those who send emails containing grammar errors.
If letter-writing mistakes can turn off readers, how much more can grammar flaws affect the public reading your blogs and ad copies? Fortunately, various platforms can help review and correct any written content.
Grammar checkers don't only speed up your proofreading time. These AI-powered tools improve readability and professionalism through word suggestions.
---
Write Content That Converts with These 10 AI Grammar Checkers:
---
AI Grammar Checker to Assist—Not Replace—Editors
Manual editing will still be necessary even if grammar tools contain settings that allow you to pick the tone of voice or save industry terms.
Although grammar checkers can cut down your fluff and offer more precise language for your ideas, they have several limitations. For example, platforms don't always recognize context and may inaccurately correct sentences or skip legitimate errors (for instance, correctly spelled homonyms). Because AI depends on learned patterns, these tools are typically rigid and unaccepting of more creative writing styles. Human editors and proofreaders know when to apply these AI suggestions or not so that the document will resonate with a specific target audience.
---
Grammar Checkers vs. Spellcheck Software
Most word processing software, like MS Word, has a built-in spellchecker that allows you to identify and correct mistakes immediately. But these spellchecks alone aren't enough. Since they only spot misspellings, spellcheckers won't alert you if you use the same sounding word that doesn't fit the context of your sentence (your vs. you're, lose vs. loose, affect vs. effect). Or if you're sleepy or distracted and you type something you didn't intend to (such as "with love and infection"), the spellcheck feature won't detect it because you spelled the words correctly.
---
Top 10 AI Grammar Tools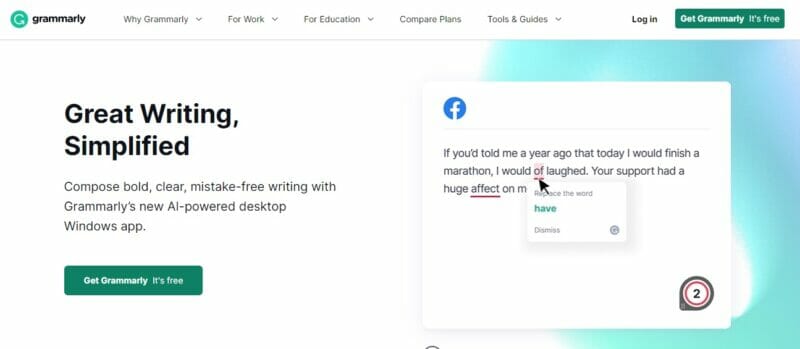 Probably the most popular grammar and spelling checker online, Grammarly offers tools that empower individual writing or produce a unified brand voice across your whole organization through its customizable style guides. Before you start writing, the platform asks you to set goals and define:
Your audience (general, knowledgeable, or expert)

The formality of language/tone (formal, informal, or neutral)

Domain (general, academic, business, email, casual, or creative)

Intent (describe, inform, convince, or tell a story)
Grammarly also supports inclusive writing, sending the notification "Potentially sensitive term" when your word choice might offend or disrespect some groups.
Grammarly features plagiarism detection and citation support. The company's partner, ProQuest, gives Grammarly users access to its databases of journals, newspapers, and other references to spot any plagiarism and ensure your final document is considered original.
The platform's infrastructure ensures the privacy of your content through data encryption and other security certifications. The free version includes conciseness checks, tone detection, and readability scoring, besides spelling, grammar, and punctuation. Meanwhile, Premium plan holders enjoy everything in the free plan, plus word choice, full-sentence rewrites, tone suggestions, and citation generation. Grammarly suggests the Business plan for enterprises to access style guides, brand tones, snippets, the analytics dashboard, and more.
---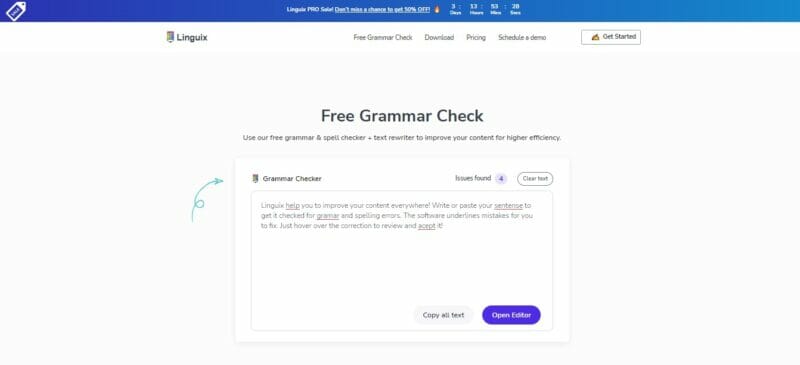 Linguix claims to reduce editing and approval time for web content and email newsletters by as much as 68% with its grammar checker and "rewriter." You can highlight a passage you want to improve, click the colored pencil (Linguix's icon), and the platform will generate a list of alternative sentences that convey that same thought. Linguix also offers advanced writing suggestions, from deleting overused words and clichés to simplifying sentences.
Even the best writers experience mental block. Linguix can help with that, providing templates that can spark inspiration and break off the inertia of rest. You can also refer to the Linguix dictionary or use the platform's synonyms tool to make your writing sound less monotonous.
Like Grammarly, Linguix has an audience tool where you can choose traits to match your content's readability with that of your readers (general, knowledgeable, academic, specialist, or genius). You also select the goal of your writing (storytelling, "share info," promotion, or call to action) and your preferred emotion (calm or exciting). Moreover, the platform shows your readability score and document stats (total word count, average word and sentence length, and so on).
Linguix has browser extensions for Chrome, Firefox, Google Docs, Safari, Edge, MS Word, and MS Outlook. Moreover, the tool is available on mobile and has free and paid plans. Business plan subscribers can create their style guides for their brand voice.
---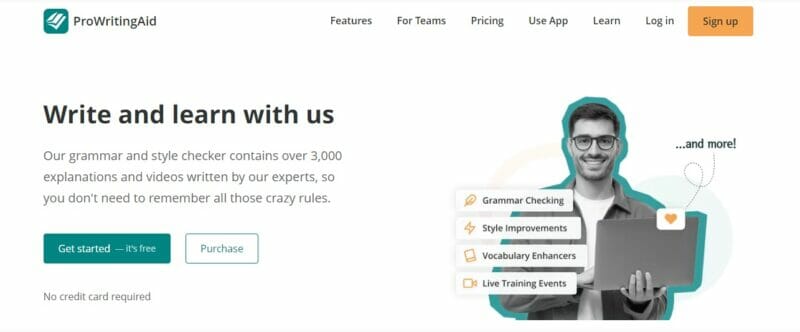 ProWritingAid's unique selling point is its writing style report, which lists as many as 20 areas that need improvement. You will find a tally of redundant phrases or sentence starts, overused words, long-winding sentences, passive verbs, and clichés. It also notes inconsistencies in the type of English used, capitalization, spelling, punctuation, and acronyms. The report also covers pronoun use, homonyms ("He lost his patients"), transitions, pacing, dialogue tags (words preceding a quoted line such as "said" or "exclaimed"), and alliteration.
The platform offers real-time, quick fixes, including style suggestions that produce clearer and more impactful writing. Meanwhile, you can use ProWritingAid's Word Explorer and contextual thesaurus to find the most suitable words for your ideas.
Free and expert plans are available. You can get basic writing suggestions for up to 500-word documents and 10 rephrases a day when you use ProWritingAid's free version. For plagiarism-free content checking, try the Expert plan.
---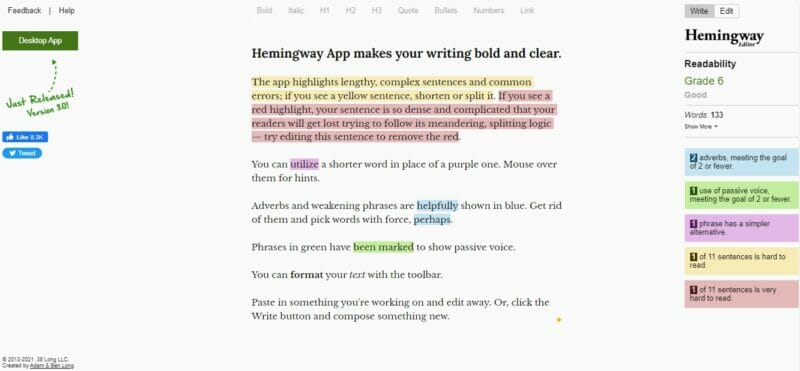 Hemingway lets you get down to work immediately, with its homepage welcoming you to a blank page where you can write or copy-paste your content. The right side of the interface offers a color-coded summary of your performance: blue for adverb use, green for passive voice, pink for complicated phrases, yellow for long sentences, and peach for complex sentence structure.
You will find your readability score (US grade level) on top of that right column. The reading time length, word count, and number of sentences and paragraphs are also found there. Scoring can go down as low as 5th grade, although the platform notes that the average American reads at the 10th-grade level.
Hemingway is an effective tool for tightening your copy. It may not be advisable for non-commercial content such as manuals, novels, or textbooks.
You can use it offline for desktop through a paid subscription. Hemingway has no plug-ins or extensions at the moment.
---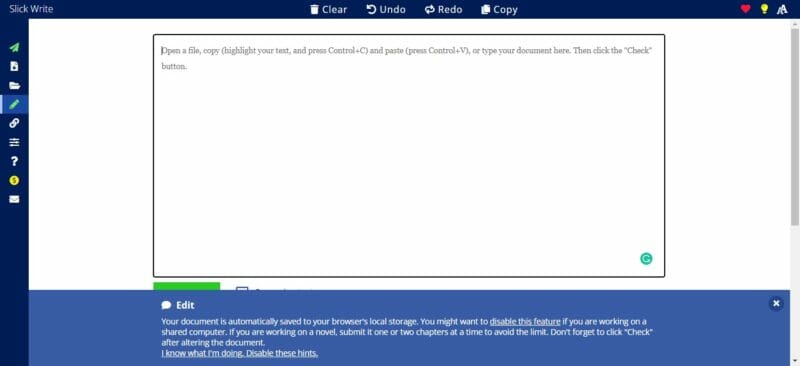 Slick Write is a free, all-around tool for content marketers, novelists, students, and job applicants. Each editing session can accommodate up to 30,000 words.
On the Editor page, click the Settings icon on the left side to open the Analysis feature. Here, choose the aspects of your writing that Slick Write must check. The platform offers analysis for:
The basics

: capitalization, doubled words (or words used twice in a row), extra spaces, and commonly confused words

Sentences

: starting with the same word, long sentences, excessive prepositional phrases, transition words and phrases, recycled or redundant linking verbs, misplaced conjunctions, and misplaced prepositions

Concise language

: hidden verbs or wordy substitutes for verbs, filter words (or verbs that describe an experience from someone else's viewpoint: "Olivia took a shower when she realized she smelled bad."), legalese, wordiness, double negatives, and more

Professional language

: slang, cliches, split infinitives, gender-specific pronouns, weak descriptions ("Her dress was long and it touched the floor" versus "Her long dress touched the floor."), and more

Honesty and objectivity

: weasel words (or abstract words that lack specificity), biased language, and third-person pronouns
Click the pencil or edit icon to type or paste your content. Once the tool scans your document, the view switches to Critique mode. This mode allows you to view your copy in four ways: the Feature view shows the words or phrases you must revise. Note that Slick Write doesn't auto-suggest replacements for errors. Meanwhile, the Structure view identifies your sentences by length (simple, compound, and compound-complex). The Quotes and Vocabulary views also provide more insights into your writing style.
You get your stats in a list and graphical form. The platform has Chrome and Firefox extensions. It also integrates with WordPress, Open Office, and Libre Office.
---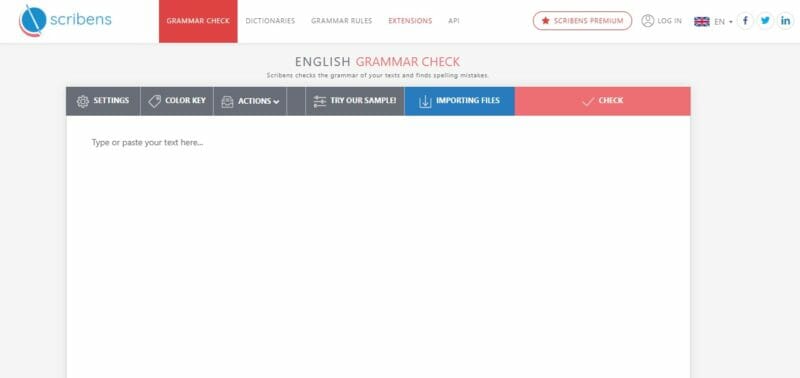 Scribens prides itself in detecting grammar errors 10x better than Microsoft Word's built-in checker. The platform is comparable with standard grammar checkers in that it highlights the words that need correcting and explains the grammar rule when you click on the highlighted word.
Scribens detects redundancies and run-on sentences and suggests alternative words for your document with the help of its built-in dictionary. To easily distinguish corrections, the tool underlines punctuation errors in blue. Meanwhile, wrong verb forms are underlined in green. Other grammar mistakes will have red lines.
Its writer's report, which appears on the left panel of the screen, shows your performance in three areas: style (redundancies, vocabulary enhancement, subjectivity that lists words with a positive and pejorative connotation), suggested synonyms, and stats (including Flesch and Gunning Fog readability indices). Once you've corrected your content, you can save it as a .txt, .odt, or .docx file.
Enjoy the Scribens extension for web-based use, office tools, and mobile when you sign up for a premium plan. You can also perform grammar checks for up to 50 pages with a paid subscription.
---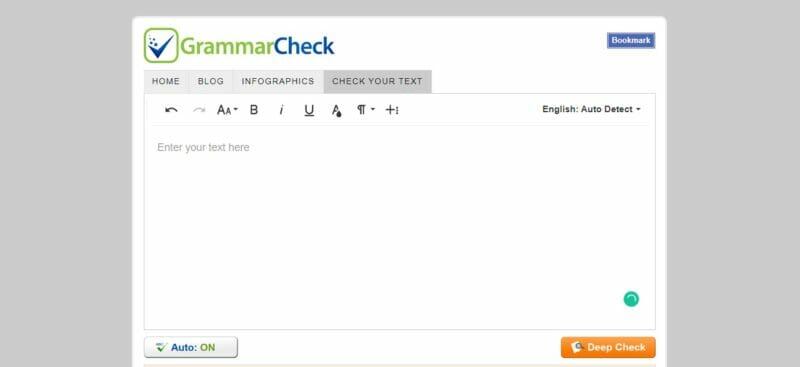 GrammarCheck offers a clean interface where you can upload your content. The tool recognizes various types of English (UK, Canadian, Australian, New Zealand, South African, and even AI-based English). GrammarCheck highlights spelling errors in red and grammar mistakes in blue. For more intensive proofreading, click the Deep Check button to surface dangling modifiers, incorrect tenses, style issues, and plagiarism.
The platform has no reporting feature, so you can only edit your work on the website. To perform the grammar check, click the "Check Your Text" tab to start typing or copy-paste the document onto the blank space.
---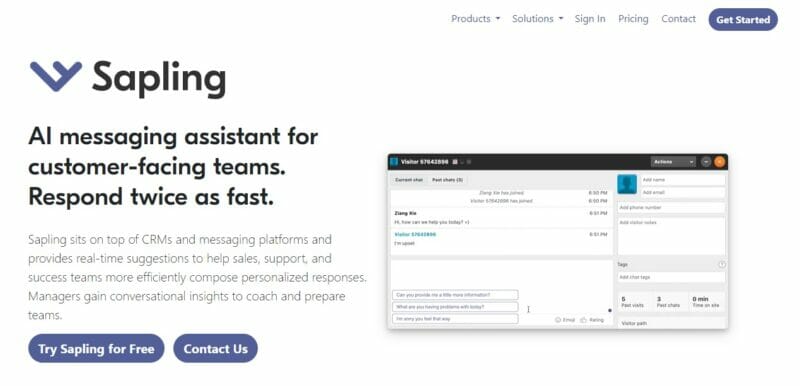 Sapling is a writing assistant designed for creating grammatically correct content in live chat or messaging platforms. The platform also helps craft concise and straightforward emails and social media posts. Hence, customer-facing teams in eCommerce, gaming, and logistics can benefit the most from this tool in a fast-paced environment where customers say they needed answers "yesterday."
Moreover, you can use Sapling's response bank to store replies to customers and partners. You and your team can later turn to this database to pull out a message relevant to your current situation. Free, pro ($25 per month), and enterprise (customized rate) plans are available.
---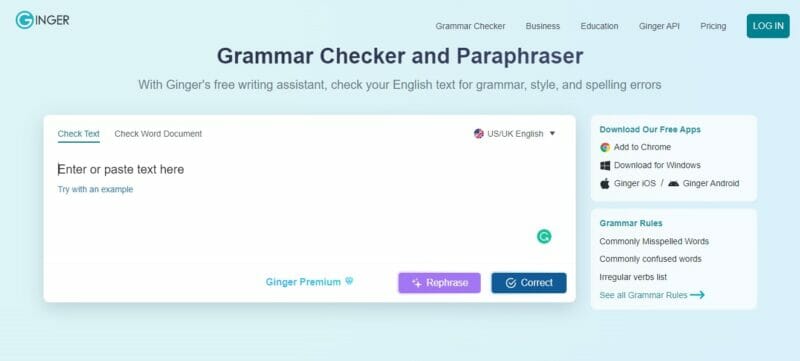 Ginger's powerful Rephraser tool generates up to eight other versions of your original sentence, allowing you to discover and choose the most effective way to convey your message. Unlike other grammar checkers, the platform has a "Correct All" feature that lets Ginger auto-correct all the mistakes in one sentence or paragraph in one sweep.
Moreover, this tool's various grammar-focused features will delight nit-picky writers. On the "Complete Ginger Grammar Book" webpage, you'll find the different parts of speech plus comma use with clickable tabs detailing the rules. Ginger also has sections where you can verify commonly misspelled and confusing words.
You can use the platform—which has free and paid subscriptions—via browser extension, desktop app, or mobile app. Ginger allows Premium plan holders to pay monthly, quarterly, annually, or bi-annually. Meanwhile, the Ginger Business plan can cover up to 100,000 team members.
---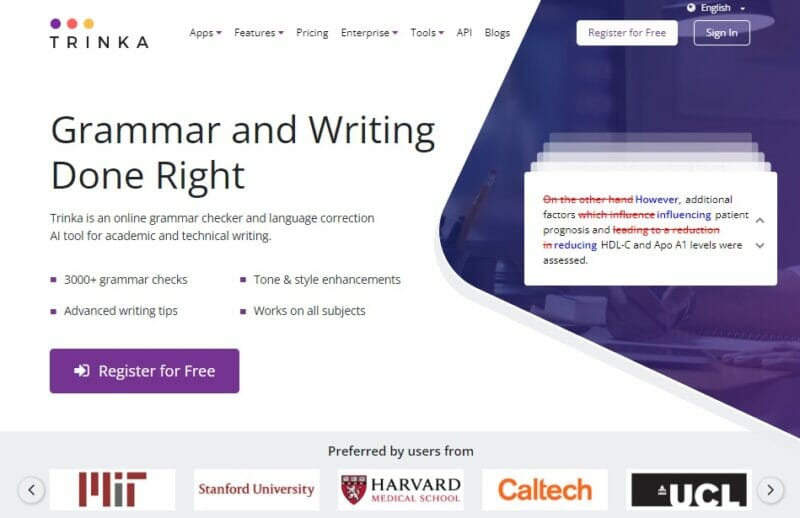 Trinka is geared toward technical and academic writing, providing users with features to check various aspects of formal documents. The platform checks technical spelling and word choice, proper usage of APA or AMA style guides, and industry-specific tone and language. Its users include Harvard Medical School, Princeton University, Yale, and Cornell University.
To make your writing publication-ready, Trinka goes through your document using over 20 checkpoints, including:
Technical phrasing so you can pick the appropriate terms that readers in your field can relate to

Unbiased language by identifying and suggesting replacements for biased and insensitive language

Word count reduction by showing areas of redundancy and wordiness

Achieving an academic tone by suggesting formal words in place of casual terms
Trinka also helps reduce the possibility of journal rejection with its "Journal Finder" tool. The platform shows you how you can align your writing with the standards of your target publication. Journal Finder can also recommend a journal where you can pitch your paper after understanding the concepts discussed in your manuscript.
The writer's suite includes a plagiarism checker powered by iThenticate, an auto file editing tool that revises your entire document in minutes. Once Trinka is done editing, you can download your manuscript showing markings for the revised sentences. Meanwhile, the Citation Checker analyzes your citations to ensure your paper contains only credible sources that can strengthen your argument. Trinka also checks for consistency, saves your brand or technical terms in its personal dictionary, and stores the "track changes" or edits on your document.
Trinka has a free basic plan (10,000 words per month) and a paid premium plan (unlimited words and higher credits for Plagiarism Check, Auto File Edit, Journal Finder, and Citation Checker). Its plug-in works on Twitter, LinkedIn, Google Docs, ResearchGate, Authorea, Evernote, Medium, and more.
---
---
Optimize Your Content with an AI Grammar Checker
Marketers and creators can't afford any dissonance resulting from grammatical errors in their written content. Clean and readable copy hooks prospects and delights customers to repeatedly return to your website, social channel, agency, or brick-and-mortar store. Moreover, checking your content for grammar adds to a brand's credibility and authority.
What more does it take to have impactful content? Know the best practices for content writing and copywriting by reading our two guides on these subjects: "What Is Content Writing? (+ How to Excel At It In 2023)" and "13 Best Copywriting Practices – Writing for the Web in 2023."