While shopping on Amazon, at some point, you must have come across a group of bright yellow and orange buttons to the right of the product listing on your desktop, or below the product image and key product details on a mobile device, labeled "Add to Cart" and "Buy Now."
The Amazon Buy Box is the white box on the right side of a product listing that contains product prices, shipping, and seller information, along with "Buy Now" and "Add to Cart" buttons. In addition to information, the Buy Box allows buyers to select products and the quantity they wish to purchase
Both of these buttons are linked to specific product listings from individual sellers, where customers can add items to their carts. This greatly increases the visibility and performance of sellers' products in the Amazon marketplace.
If, as a seller, your product listing is available on the Amazon Buy Box and a buyer just clicked on the "Buy Now" button, then you might make a sale.
A lot of information is available on the Amazon product pages, but among the information available, the Buy Box is the most important. Research by experts has shown that the Buy Box is responsible for 82-90 percent of sales made on Amazon.
---
An In-depth Guide to Amazon Buy Button or Box:
---
How Does Amazon Buy Box Work?
Most sellers on the Amazon space often complain about not generating enough sales. There are complaints about some sellers generating more sales than the others.
First of all, understanding the Amazon Buy Box is very vital to every seller in the Amazon space because it has a very large role to play in making sales. In a marketplace as big as Amazon where there is no restriction on the number of merchants and the products they offer, there are many merchants selling the same item.
Individual Buy Boxes are not given to each seller, instead, the Buy Box is shared by multiple sellers and their share of the Buy Box is determined by several variables.
Oftentimes, buyers purchase products on Amazon using the Buy Box button on the product page. When buyers use this method, the bestselling product pops up on the Buy Box.
The question remains, why is Amazon doing this? Or in other words, why is there a Buy Box? Amazon has always been known to put their customer first and in line with this, Amazon's Buy Box was created to ensure that every customer received value for their money.
Amazon also bluntly stated that its goal is to "provide the best shopping experience for customers." The Buy Box was therefore created to determine which product offers the best balance between high sales performance and low prices.
---
Becoming Amazon Buy Box Eligible
Many sellers find the Amazon Buy Box qualification process cumbersome and hectic. One of the major misconceptions behind the Amazon Buy Box is thinking it is awarded to merchants with the lowest price.
Sellers tend to lower their prices to create good competition, but in the end, they make less profit, and some consumers think that their products are of poor quality. The Buy Box qualification can be achieved by completing a few simple tasks listed below:
💡Professional Seller Account
As a seller, getting a professional account is the first step to become eligible for the Amazon Buy Box.
According to Amazon, a professional account is for sellers who: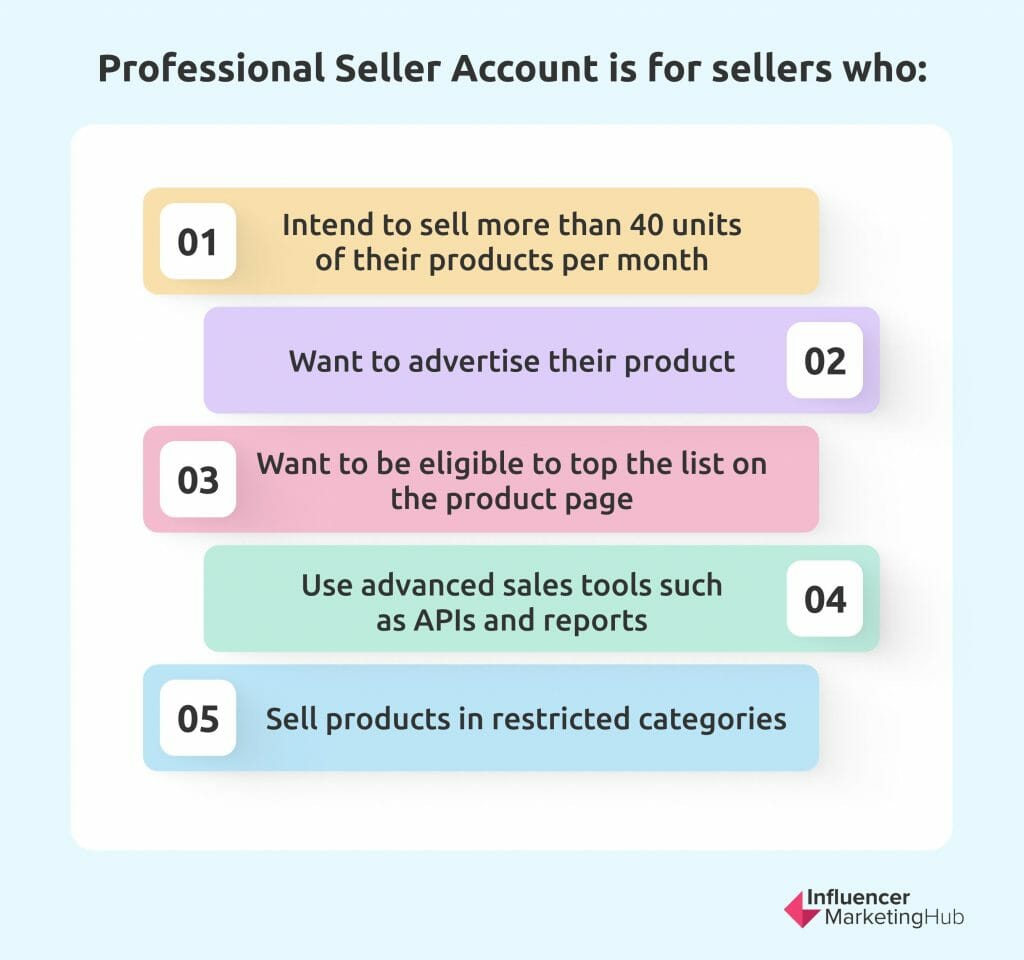 If these features are available on your account, you must use a professional account.
✔️Buy Box Eligibility Status
Amazon has very strict performance expectations for third-party sellers, which are even more difficult to meet because there is no standard way to determine if you are achieving the correct performance expected by Amazon.
No matter how many products you sell on Amazon, it's always useful to know which of your goods is suitable for the Amazon Buy Box. Follow the steps below to do so:
Sign into your seller account
After signing into your seller account
---
Select the "Manage Inventory" option from the "Inventory" tab and move to the next step.
---
Click on the "Preferences" box on the right.
Select the icon on the top right corner of your device. This is the "Preferences" tab.
---
Select "Buy Box Eligible" from the list displayed
With this column display, you can now select which box you want to tick, but remember, you are trying to check your eligibility, so click the "Buy Box Eligible" option.
---
Click on "Save Changes" at the bottom of the page.
After clicking on "Save Changes," you will find more information on your products page. If you are eligible, you will see a "Yes" in the Buy Box Eligible column—otherwise, you will see a "No."
Other points to note include:
Sellers are allowed to sell new items only in the regular Buy Box, although there is a Buy Box for used items.

As a seller, you should have a history of successful trade and good reviews from consumers.

The number of months in the market also determines your eligibility for the

Buy Box

. A seller should have been in the marketplace for at least two to six months to be eligible.
---
Why Is the Buy Box so Important?
The Amazon store is a big online marketplace with a lot of sellers who sell the same goods or the same product in most cases. The Buy Box helps in sieving out the right sellers to help customers get the best value for a product for the price offered.
Over 82% of sales on Amazon were because of the Buy Box.
Any seller who is lucky enough to be in the price listing of a Buy Box will easily get a sale because of the convenience the Buy Box creates for consumers while clicking it instead of going to look around the Amazon marketplace for a good seller.
---
Does Amazon Always Win the Buy Box?
In a reviewed statistic by Forbes, Amazon has twice the chance of winning a Buy Box when competing with third-party merchants for a Buy Box.
When the price of the competing third-party merchant is lower than that of Amazon, the chance of the merchant winning the Buy Box increases two and a half times.
For sellers with the prime badge, the likelihood of winning a Buy Box in comparison to other merchants is three and a half times that of a merchant without the badge.
Additionally, merchants are five times less likely to win the Buy Box if their percentage of positive reviews decreases over time.
Amazon will often win the Buy Box by offering its own products at the lowest possible price, using the same rules as other sellers, but it is advisable for merchants to compete for the Buy Box in sections where Amazon does not have the product.

---
Tips to Winning a Buy Box on Amazon
Most times, being eligible for a Buy Box does not necessarily mean you are getting a sale on the Amazon Buy Box. This is because there are so many sellers selling the same goods, so the competition is very high.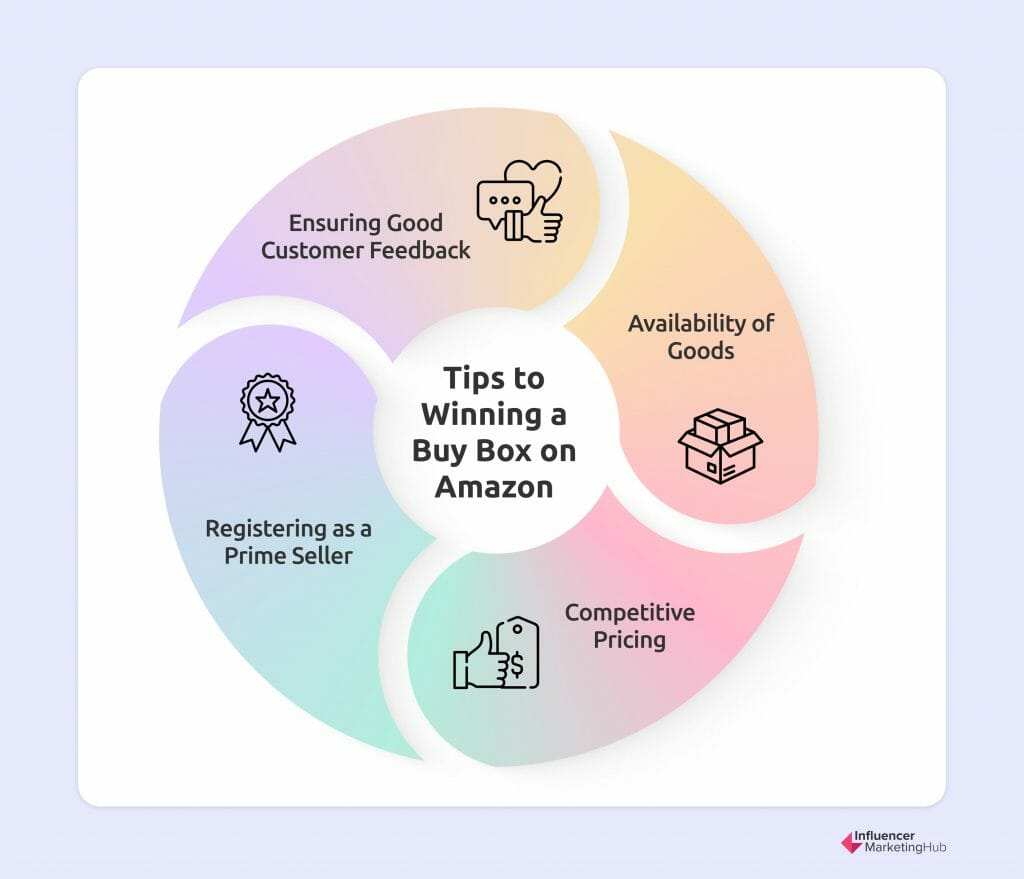 Knowing the right strategies to use in this case is vital as it helps in giving you an edge over other third-party sellers competing for the same customer.
Amazon is very discrete with its methods of awarding a Buy Box sale to a seller, but these are some factors that might determine and boost your sales.
✔️Ensuring Good Customer Feedback
It's not certain how much importance Amazon places on customer feedback when awarding the Buy Box sales, but getting good feedback in any business venture is vital for continuous progress and building trust.
✔️Availability of Goods
As a seller, you should never go low on stock, because most times, sales are given to sellers with a high amount of stock available for sale.
💰Competitive Pricing
Although most people have the misconception that the Amazon Buy Box sale is usually given to sellers with lower prices, you should always provide prices that are competitive with other prices in the market. This is because in cases where a lot of sellers are eligible for a Buy Box, the Buy Box is rotated among them and that seller can be you.
✔️Registering as a Prime Seller
In Buy Box sales, Amazon generally prioritizes Prime sellers over all other sellers. As a premium seller, you can ship directly from your warehouse to domestic premium consumers.
Sellers using fulfillment-by-Amazon (FBA) are automatically eligible to be Prime sellers, but that does not disqualify merchants who use Fulfillment-by-Merchant (FBM) from being Prime sellers.
There are various tips but enough time has been taken to sieve out and provide these four major tips.
---
Amazon Algorithm and Performance Metrics
While there are many variables that affect your chances of winning the Buy Box and being favored by Amazon's algorithm. Some hold more importance than others.
While some only help increase your chances of winning the Buy Box, other metrics which are not followed duly can lead to an account being suspended.
One option to help you win the Buy Box is Pacvue Commerce, an enterprise platform geared towards Amazon sellers. In short, it allows you to keep control of all the Add-to-cart moments by keeping track of the 3P ecosystem and price history among other things. You can, for example, use it to keep track of lost sales. This way, you can identify the Buy Box weight on revenue and adjust your strategy accordingly. For example, Pacvue helped one brand to increase their Buy Box ownership and in doing so gained almost $2 million in leaked revenue.
Read on as we take a look at these metrics and how they affect your sales and even your account in general.

Fulfillment-by-Amazon (FBA)
Fulfillment-by-Amazon (FBA) is considered to have a perfect metric rate and therefore is a great option when trying to win the Buy Box. FBA deals with all the things listed below:
Pre-fufillment Cancel Rate (PFCR)
The Amazon algorithm looks out for the rate at which orders are cancelled before they are dispatched. The rate at which orders are cancelled shows how responsible and disciplined a seller is towards making sure an order is completed properly.
The shipping rate shows the number of times the shipment confirmation for an order is missing, lost or late with respect to the number of orders received. FBA ensures that your shipment is delivered on time and there is no shipment missing.

---
Seller Fulfilled Prime (SFP)
Seller Fulfilled Prime is the most trusted set of products by customers on the Amazon marketplace. It gives merchants the privilege of easy ship guaranteed delivery within one to two days. With a seller-fulfilled prime badge, customers know that you have completed your seller fulfillment and are also able to enjoy certain benefits from Amazon Prime.
As a Seller Fulfilled Prime merchant, certain privileges are available:
Product visibility

Building trust with Prime customers

Merchants can participate in advertisements in the deals section such as top deals, deal of the day, and best deals
---
Customer Experience Health (CX)
The customer experience metric is displayed in the "Voice of Customer" dashboard with a CX rating. It shows the breakdown of a customer experience and their reviews on a merchant's products.
The dashboard has a set of colorful labels with each button showing the number of good or bad product reviews from customers.
Providing the best possible service to shoppers should be every merchant's goal because this is the only way to increase your performance metrics and help win the Buy Box. To increase sales, you should probably try the metrics listed above.
---
Does Every Product on Amazon Have a Buy Box?
In some cases, where merchants available for a certain product do not qualify for the Buy Box, there is no Buy Box for such products.
Similarly, in situations where the sellers listed offer versions of their products at prices well above or below the average selling price of the product, the Buy Box may not appear.

In such situations, shoppers have to go through the list of merchants available in the Amazon marketplace and select merchants whose pricing fits well with the product they are trying to get.
---
The Amazon Buy Box Rotation
Winning a Buy Box might seem like a difficult task, but keeping it is even harder. Most sellers are usually under the impression that once they get a Buy Box, it stays permanently, but this is not true.
Depending on the market competitiveness for a product, Amazon may forward the Buy Box to multiple sellers within 24 hours.
In a scenario where more than one seller is eligible for the Buy Box, the Amazon algorithm would decide on rotating the Buy Box between the number of sellers.
Since it's not certain how the Amazon algorithm rotates the Buy Box due to its complexity, merchants should invest in Amazon tools that give your product higher chances of winning the Buy Box.
---
Alternatives to Amazon Buy Box
What should be done when you lose a Buy Box? The Buy Box is not the only way to sell on Amazon.
In some cases, buyers even think they can find a better merchant than the default seller on the Buy Box, so you may be lucky to get sales from buyers who like to explore the Amazon marketplace.
Trying other sales options on Amazon could generate more sales for you although not as much as the Buy Box in this case. Other options may include:

There is an option directly below the Buy Box for other sellers who were eligible for the Buy Box but didn't get it.
It allows customers to see other merchants who have the same product at a competitive price. Some shoppers use this option and you could be making your first sale of the day.
This page shows the list of all sellers (eligible for the Buy Box or not) that are selling certain products and shoppers can then choose the merchant that suits them the most.
On this page, the customers are able to get enough information about the seller: the pricing (price + shipping), customer reviews, "Add to Cart" options, and the condition of the product (used or new).
---
In Conclusion
Amazon is a very large marketplace with rules and a new metrics system coming out to protect the interest of its customers. As merchants, to make the most of this wonderful market, customer satisfaction should be your first priority.
Although, there is no trick or method to accurately predict or determine which merchant the Amazon algorithm gives the Buy Box to, different metrics and other necessary information have been mentioned in this article, which can help you make the best out of your Amazon journey.
Frequently Asked Questions
How do you get Amazon Buy Box eligible?
Amazon sellers can become Buy Box eligible so long as their metrics, under seller performance, are in good standing. You need to have the following metrics in good standing to be buy box eligible: order defect rate, cancellation rate and late shipment rate metrics. You can become eligible, as well, based on the speed of delivery, competitive pricing, and customer service as well.
How do I get the Amazon Buy Box as a new seller?
Amazon sellers can be eligible to win the Buy Box for certain products and not other products. Amazon sellers can fast-track their way to Buy Box eligibility using Amazon FBA. You need to have the following metrics in good standing to be buy box eligible: order defect rate, cancellation rate and late shipment rate metrics.
How does a seller win the buy box?
For an Amazon seller to get a buy box, they need to maintain a consistent order volume. The seller needs a product that sells steadily to win a share of the buy box. Amazon wants to be helpful to their customers by showing products that sell well in their buy box. Consistent orders will demonstrate this.
Does Amazon provide free boxes for sellers?
Amazon can absolutely provide you with packing materials. Amazon's packing materials include poly bags, boxes, stretch wrap, bubble packs and more. Certain US sellers may also get free packing supplies from shipment providers like UPS, FedEx and USPS if they use their services.