If you've arrived at this post by Googling "What is Amazon DSP?", you might be somewhat surprised by the list of results Google serves up to you. Apart from this post, you will find two apparently conflicting posts from Amazon itself – "Amazon DSP - Start Advertising with a Demand Side Platform" and "Amazon Delivery Service Partner Program". Surely, Amazon doesn't offer two services using the same acronym? Well yes, they do – Amazon DSP can refer to both the Amazon Demand Side Platform and Amazon Delivery Service Partner Program, depending on which best fits your purpose.
This post focuses on the first of these acronym uses, Amazon's Demand Side Platform.
---
What is Amazon DSP and How Can it Benefit Your Business?:
---
What is Amazon DSP (Demand Side Platform)?
Demand Side Platforms (DSPs) are software platforms that allow advertisers to buy advertising using automation. The basic pattern on any DSP is that an advertiser uploads creative, applies targeting criteria to ensure that the advertising platform (in this case, Amazon) places its ads before the right consumers, and then commits a budget to an advertising campaign. Advertisers and media buying agencies typically bid automatically on display, video, mobile, and search ad spots.
There are many demand-side platforms advertisers can use, depending on what they want from their advertising. These include Facebook Ads, Rocket Fuel, DoubleClick, TubeMogul, AppNexus, and many more.
If you're selling on Amazon, however, you will want to consider Amazon DSP for your ads on their platform. We have previously explained the process of setting up Sponsored ads in The Complete Guide to Amazon Advertising. Although similar, Amazon DSP ads have some differences, however. According to Amazon, "Amazon DSP is a demand-side platform that allows you to programmatically buy ads to reach new and existing audiences on and off Amazon." Advertisers can bid on and optimize ads all in one place.
---
Programmatic Advertising
Programmatic advertising is the use of software to automate the buying and selling of digital advertising. This allows advertisers to serve impressions at the right time, to the right audience and cut down on ad waste. Programmatic advertising compares each impression against an advertiser's goals in real-time.
Although there are multiple ways advertisers can pay for their ads, the most common with Amazon DSP is CPM – cost per 1,000 ad impressions (the M in CPM stands for mille – Latin for 1000). A variation on CPM is dCPM (dynamic cost per 1000 impressions). Here, advertisers can set a price range for any single impression, differing depending on an impression's value and campaign optimizations.
Programmatic advertising automates the buying process. Advertisers can either bid on impressions through real-time auctions or buy guaranteed ad impressions directly from publishers.
---
Reasons Amazon DSP Is a Powerful Tool for Advertisers
Amazon sees four main types of benefits accruing to advertisers using their demand-side platform: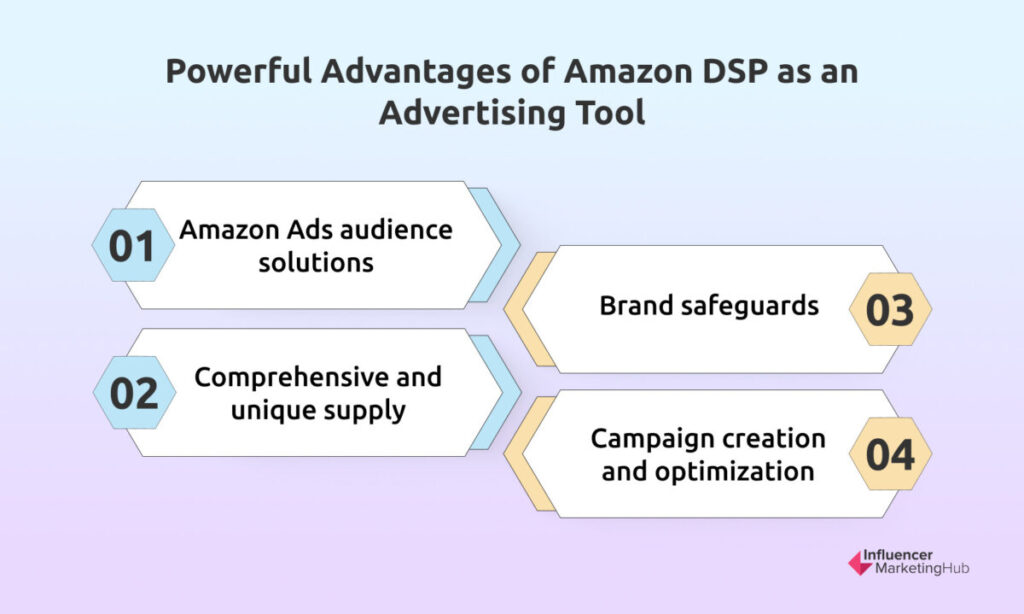 Amazon Ads audience solutions - Amazon DSP enables advertisers to leverage Amazon's first-party insights based on billions of observed shopping patterns. To reach the most relevant audience, advertisers can leverage both Amazon's audiences and their own audiences. Amazon provides in-depth analytics and key metrics to assist with this.
Comprehensive and unique supply - advertisers can access comprehensive and unique inventory from Amazon owned-and-operated, third-party exchanges, Amazon Publisher Services (APS), and private marketplaces. Advertisers can achieve marketing goals by reaching Amazon shoppers at scale wherever they are, both on and off Amazon.
Brand safeguards - Amazon DSP uses both Amazon's own and third-party solutions to uphold quality standards and brand safety. It monitors brand safety, traffic quality, viewability, and third-party supply quality.
Campaign creation and optimization - advertisers can optimize their campaigns to reach advertising and business goals, through manual and automatic optimizations.
You can use Amazon DSP to reach audiences using a wide variety of devices and sources. These include:
Amazon website
Fire TV
IMDb
Freedive (IMDb Streaming)
Kindle
Apps
Published Partners
Twitch
Third-Party Exchanges
Digital Signage Ads
---
Amazon DSP Service Models
Amazon offers two fundamental ways you can use its DSP: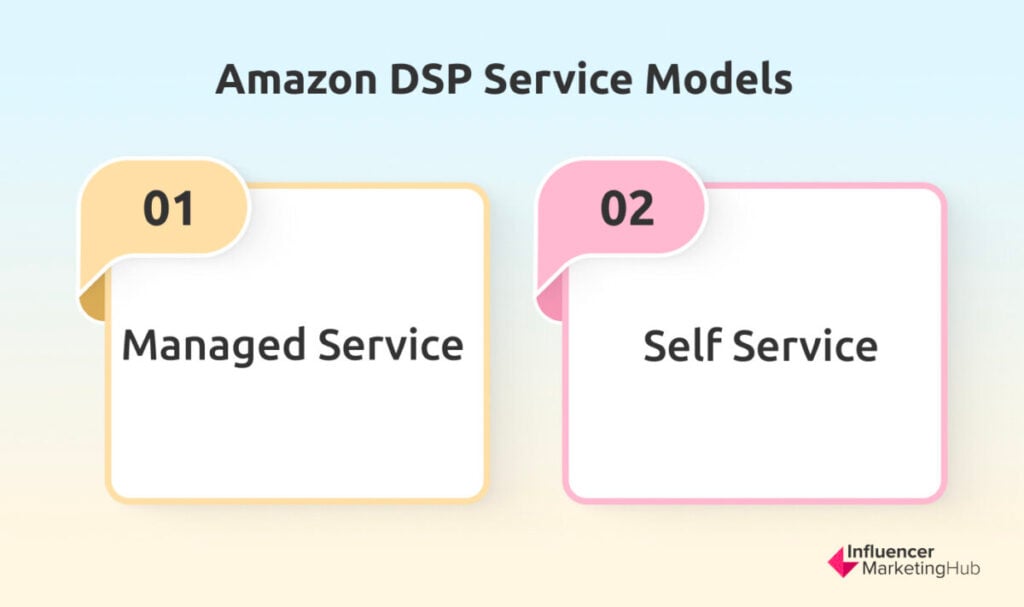 1. Managed Service – you pay a fee to use Amazon's complete programmatic campaign management services on an insertion order (IO) basis.
2. Self Service – advertisers and agencies create ads themselves (without insertion orders
This article mainly deals with Self Service ads, as you can leave most details to Amazon representatives if you choose Managed Service ads.
---
Amazon DSP Ads vs. Sponsored Ads: Key Differences & Opportunities
One thing we had better clear up is that although similar, Amazon DSP Ads are different from Sponsored Products, Sponsored Brands, and Sponsored Display Ads.
Unlike Sponsored Products and Sponsored Brands Ads, Amazon DSP ads can be placed outside of Amazon's website (even as part of Google Ads). And you don't have to sell on Amazon's marketplace to purchase Amazon DSP ads, which gives opportunities for non-Amazon sellers to reach the Amazon audience with their advertising, as long as they aren't promoting products directly competing with those that sell on Amazon. Sponsored Display Ads can also play off-Amazon, but Amazon DSP provides more custom creative capabilities, including audio and video, and available placements.
Unlike Sponsored Products, Sponsored Brands, or Sponsored Display ads, brands wanting to use the self-service model of DSP are required to work with an Amazon Ads Agency Partner. While you don't need an agency partner if you opt for Managed Service, there is a minimum ad spend of $US50,000 to qualify, meaning that only large companies (or those who want nothing to do with their campaigns) are eligible.
---
Amazon DSP Programmatic Auctions
In many ways, the critical component of any Demand Side Platform is the auction where potential advertisers (programmatically) bid for advertising slots. There are many bidding strategies you can use to succeed here, however, your chosen strategies must be consistent with your campaign goals.
Amazon DSP auctions operate in real-time and appear to be instantaneous to the users. However, behind the scenes they go through the following steps: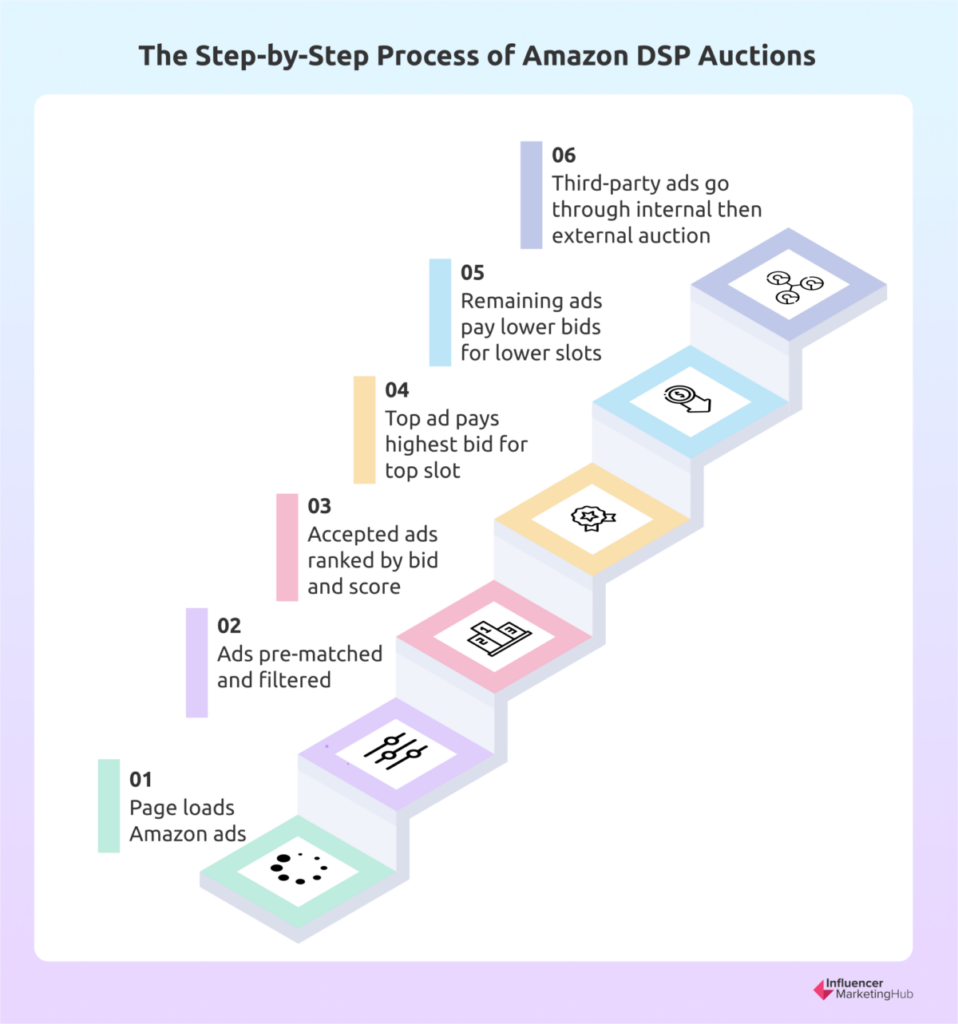 1. A potential customer loads a page on a website (often Amazon, but sometimes external websites) that is eligible to have Amazon ads placed.
2. As the page loads, it considers all ads eligible to appear in those ad slots. Technically, it does this twice – first by pre-matching potential ads (eliminating clearly incorrect ads for the slot) and then by filtering (eliminating ads that don't match due to creative size/type, format, targeting, supply, maximum bid, etc.)
3. The remaining ads are "accepted" as being potentially usable in the ad slots.
4. Amazon DSP then ranks all the accepted ads based on bid size, model-predicted score (the estimated likelihood that an ad impression will result in a conversion), and pacing score.
5. Bid values for each slot are generated, with the ad that tops the ranking paying the calculated bid value for the top slot, and the remaining ads being given successively lower slots at each calculated bid value in order (until all ad slots are filled). For Amazon Owned and Operated inventory (O&O), e.g., ads placed on Amazon.com, the auction ends, and the page publishes, with the appropriate ads in position.
6. For third-party ads, e.g., where you're bidding to sell your Amazon products in ads outside Amazon, this is only the first auction. If your ad makes it through the internal auction, it then goes to an external auction where it bids against ads from other sources for the advertising spots (and has to go through filtering and comparative bidding processes relating to whatever platform is hosting that auction).
---
First-Price vs Second-Price Auctions
There are two ways that bids can be applied to auctions: first-price and second-price. Amazon generally uses the second-price system with its ad auctions, although some external sites may follow the first-price system.
First-price auctions: The highest bidder wins the auction and pays what they bid
Second-price auctions: The highest bidder wins the auction, but pays one cent more than the second-highest bid, e.g., if the winner of the auction bid $1 and the second-highest bid was $0.75, then the winner would pay $0.76.
In many cases on Amazon, there is more than one ad position on a page. Therefore, the positions are ranked, with the ads being placed in their bid position. In each case, the advertiser will have to play one cent higher than the next lowest bid.
---
Link-in vs Link-out Campaigns
You can use the Amazon DSP to create both Link-in and Link-Out campaigns. This is just a fancy way to describe where your campaign will take place if you succeed with your bids.
Link-in – campaigns directing customers to a destination on an Amazon website, e.g., your brand's product detail pages. Use these to drive consideration and purchase.

Link-out – campaigns directing audiences to your brand's landing page off Amazon, e.g., directing Amazon customers to your website when you're launching a new service or product (in a category that Amazon doesn't sell). You can't direct audiences away if they could buy the product from Amazon, however. Amazon gives an example of how an automotive brand could create a Link-out campaign when they launch a new car, as Amazon doesn't sell new cars from their platform.
---
Determining Who to Target with Your Ad Campaigns
Much of the success of Amazon DSP ads is ensuring that you target your ads at the right people for your products. To an extent, this will depend on your marketing funnel, and the stage in your funnel you are targeting with your ads. However, if you are advertising on Amazon, you can generally assume that most visitors will have at least some purchasing intent. People searching for your product type (or brand) on Amazon will generally be reasonably keen on buying products.
Amazon provides a variety of key insights to its advertisers, including brand-level insights and overlap reports.
Brand-level insights show audience composition and behavior on Amazon for your brand in its main categories of operation. It includes demographic insights, timing insights, and purchase frequency insights.
Overlap reports allow you to understand which audiences have common customer membership. You can use them to learn more about your audience on Amazon, determine audiences to include in your Amazon Ads campaigns, find new overlapping audiences to whom you can extend your campaign, and refine your creatives and messaging to better suit those likely to be interested in your brand.
---
Amazon Audiences
You can either create custom Amazon audiences based on their past shopping interactions on Amazon (with both your brand and related products) or use pre-built Amazon audiences based on Amazon shopping and streaming signals.
If you opt to use a pre-built Amazon audience, you can select from the following options: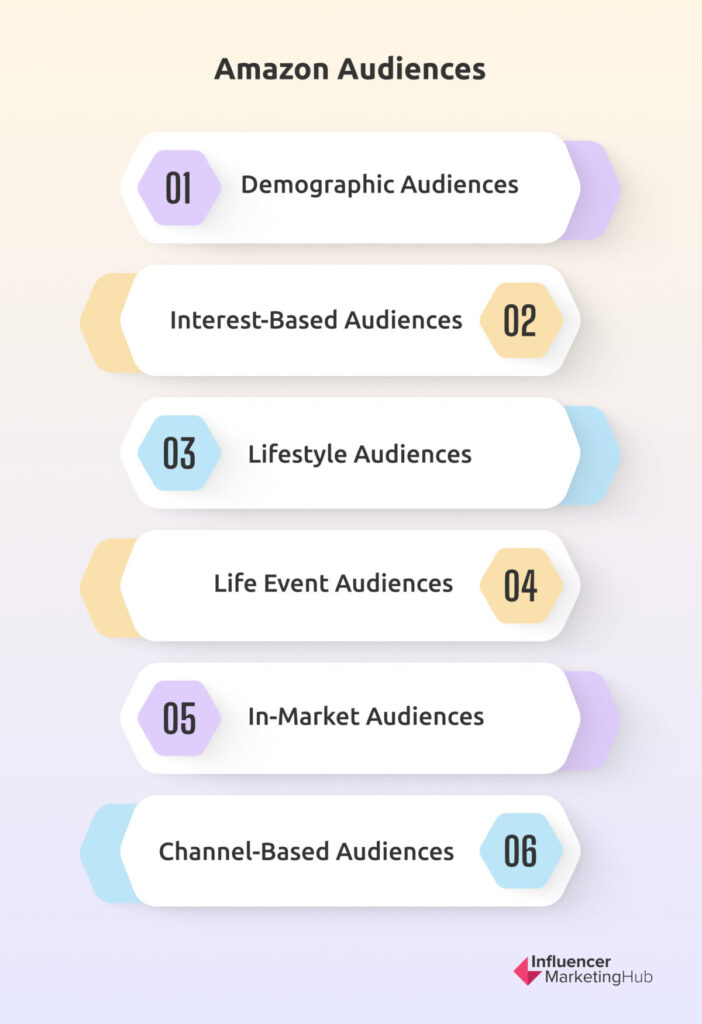 demographic audiences – audiences based on age range, gender, income range, education, geographic region, and household size
interest-based audiences – audiences based on a user's activities, opinions, and choices
lifestyle audiences – audiences based on shopping and viewing activities (e.g., browsing, purchasing, or streaming) that map to specific lifestyles such as foodies, sports enthusiasts, tech enthusiasts
life event audiences – audiences based on specific life moments, such as those moving or getting married.
in-market audiences – audiences based on customers who have been browsing for products within your category in the last 30 days
device audiences – audiences based on users visiting from certain devices or browsers
channel-based audiences – audiences based on specific channels, such as Amazon Business, Whole Foods Market, Twitch, and Amazon Garage.
You can select any Amazon audience in the Targeting section when setting up your campaigns. You can mix and match audiences by using the Boolean operators AND, OR, and NOT, combining and/or excluding audience segments.
---
Building a Custom Amazon Audience
Amazon gives you much scope to create a custom audience for your ads. You can build your custom audience in Amazon's audience builder based on any of the following interactions:
Products: shopping engagements with products on Amazon
Brands: engagement with your brand on Amazon
Prime Video: content streamed on Amazon
Streaming TV ads: engagement with your Streaming TV ads
Twitch: content watched on Twitch
Stores: shoppers who engage with your Store on Amazon
Whole Foods Market (beta): in-store shopping at Whole Foods Market
Website traffic: website visits captured by a pixel (i.e., an off-Amazon audience captured by you)
Advertiser hashed audience: audiences based on the information you collect directly from your customers
You can mix and match a variety of audience behaviors for each of these interactions to create a custom Amazon audience.
---
Advertiser Audiences
Another way you can target your ads on Amazon is to transfer your existing audiences to Amazon DSP. These can include pixels (e.g., Facebook Pixel), advertiser-hashed audiences, and any audiences you have in a data management platform (DMP).
---
Amazon DSP Hierarchy
When setting up an Amazon campaign, you need to think in terms of a hierarchy of levels: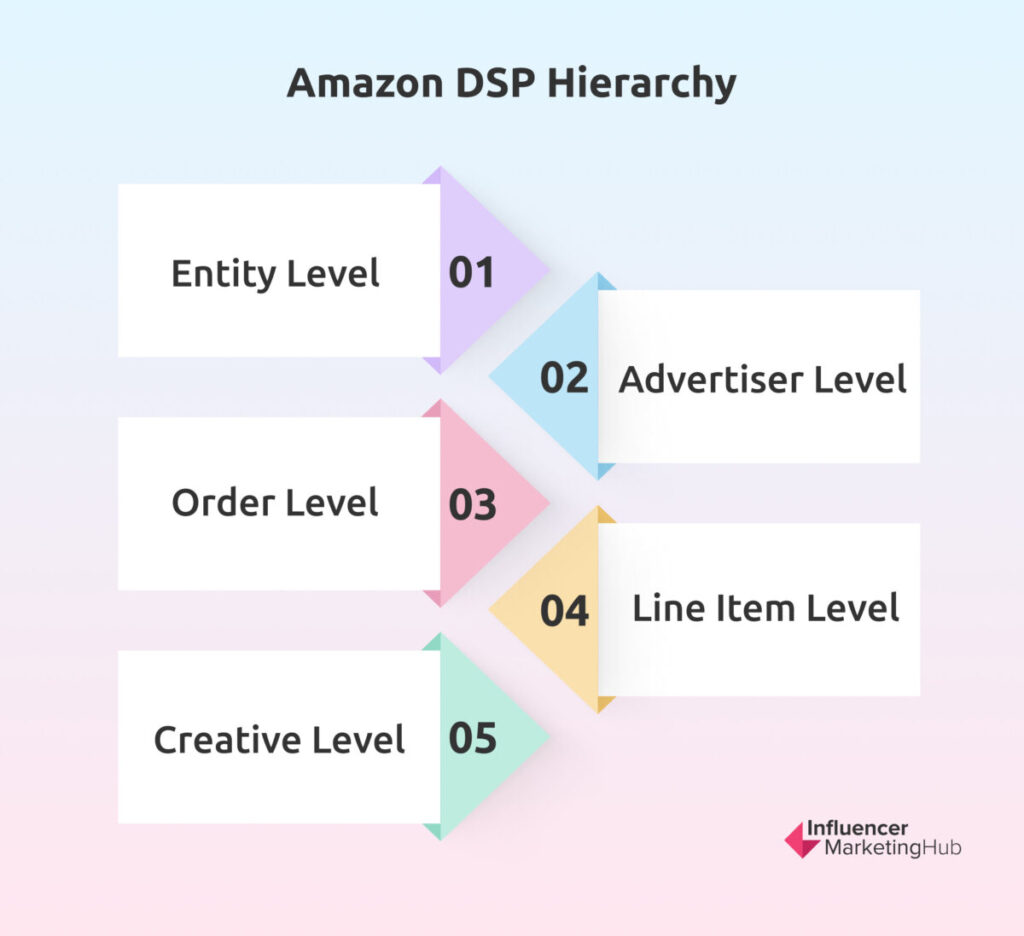 Entity level – the overall screen you see when you first arrive at Campaign Manager
Advertiser level – shows all the advertisers within your entity
Order level – shows all the orders for a selected advertiser
Line item level – shows all the line items associated with an order
Creative level – shows all the creatives associated with a line item
When you create an advertising campaign in Campaign Manager it's important you realize what level you're on – you can generally see this in the left-hand margin when setting up your campaign.
Line items are the basis of your campaigns. These determine what "inventory" to display creatives on. Inventory refers to the channel (desktop sites, mobile sites, and apps) and specific sites and apps within those channels where ads can run. Line items contain crucial information for how your campaign will run, such as segmenting, supply, budget, optimization, and other settings you'd like your campaign to use.
Amazon recommends breaking out your campaign's line items by device type, audience, and supply type. This means you can effectively manage your bids and budget once lines are separated by device types.
---
Amazon DSP Ad Types
Firms advertising Amazon DSP are most likely to be targeting audiences near the top of the marketing funnel – Awareness, Consideration, Purchase Intent, and Purchase Experience. They are less likely to target their ads at people ready to make a purchase. You are far more likely to use Sponsored Product ads for audiences near the bottom of the funnel.
The four most common Amazon DSP ad types are: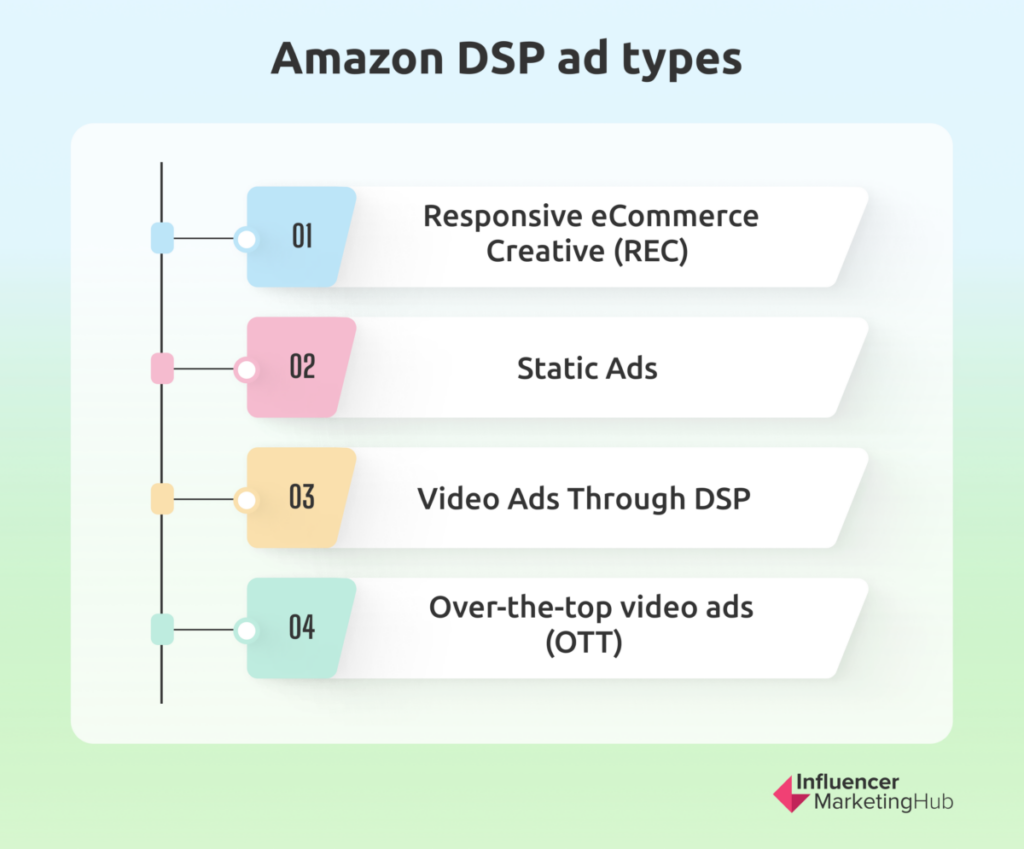 1. Responsive eCommerce Creative (REC) - Amazon Ads optimizes between various creative elements to drive the best performance for your eCommerce creative. These ads are available in various sizes both on and off Amazon, above and below the fold, for a range of device types. The main content area and product title are clickable; on clicking, the customer is taken to the relevant product detail page. The product shown in the image must correspond to the product on the detail page to where the ad links to. Advertisers may select up to 10 different creative sizes and 20 ASINs in an eCommerce creative.
2. Static Ads – as the name suggests, these ads don't have any dynamic changing content, so you need to ensure they include a clear Call to Action. They can link to an Amazon storefront, product detail page, or custom landing page.
3. Video Ads Through DSP - advertisers can serve 5+ second in-stream and out-stream video ads in MP4, WebM, or FLV format using the Amazon DSP. You can link your video ads to a product detail page on Amazon or your own site.
4. Over-the-top video ads (OTT) - non-skippable, full-screen ads reaching people on connected TV sources (like the Amazon Fire TV Stick). They are non-clickable. OTT advertising involves brands advertising on streaming TV and movies over the internet on channels not owned by traditional cable companies or providers.
---
How Can Amazon DSP Help with Ad Campaign Optimization?
You can select one of two ways to optimize your Amazon DSP campaigns:
Automatic optimization – if you're new to advertising on Amazon, or are time-poor and happy with past results, then this is probably the best path for you to take. Here, you permit Amazon to automatically optimize settings, according to the best formats, supply sources, and sites. Amazon keeps your selected goal in mind whenever it makes a decision in real time.
Manual optimization - here you (the seller) refine factors, such as budgets, audiences, bids, frequency caps, and supply. This gives you much more flexibility but can lead to problems if you don't have an excellent understanding of what you're doing.
---
Wrapping Things Up
Using Amazon DSP can be an excellent way for Amazon sellers to scale. It doesn't limit its use to merely creating and placing ads for use onsite in Amazon searches and product listings. You can also use it for both Link-in campaigns and Link-out campaigns. Link-in campaigns involve creating ads to use off-Amazon that link through to your brand and product details pages on the platform. Alternatively, if you sell a product or service that doesn't directly compete with Amazon, you could create a Link-out campaign, using ads on Amazon to send potential customers to a landing page on your website.