Amazon ranks millions of products from the most to the least purchased. The Amazon sales rank is a valuable tool that sellers need to understand to improve the way they promote their products and increase their revenue. The online retailing giant will continue to be a force to reckon with, forecast to capture 50% of the e-commerce market this year. That's alongside the fact that 74% of consumers currently start their product searches on Amazon.
---
Amazon Sales Rank: 10 Tips to Boost Your Score:
---
What Is Amazon Sales Rank?
The Amazon sales rank, also referred to as best sellers rank or BSR, indicates the popularity of one's product against other products within a specific category where it stands out.
It's expressed as a numerical score, with a lower number representing a more superior rank. For instance, #1 to #3 in a category means being the first to third top sellers in that grouping. The more products sold, the higher the sales rank will be.
---
Where Do You Find the Sales Rank?
You can find the sales rank in several ways.
Best Sellers Rank that appears under "Product Details"
Best Sellers Rank that appears under "Additional Information"
One way to find it is to look for the "Best Sellers Rank" on the product page. It's listed as part of a table under "Product Information" or "Additional Information." One or more rankings may show up on this table, depending on the category or subcategories where Amazon ranked your product.
---
Another way to verify sales ranking is to go to Amazon's Best Sellers page. From here, you can choose the "department" to browse to find the best-selling products for each category. Products carry an orange badge with their ranking.
---
If you're a seller or retailer, you can go to Seller Central to check their product's sales ranking. At the top of the navigation bar, choose Reports, then click Business Reports. Then select Inventory in Stock before clicking Brand Performance. Sales ranking data appears in the second to the last column.
---
How Is the Ranking Calculated?
Amazon doesn't publicize its ranking method. However, experienced Amazon sellers cite the following contributors to a better score:
This refers to the number of orders placed, not the number of units ordered.
Current and historic sales (sales velocity)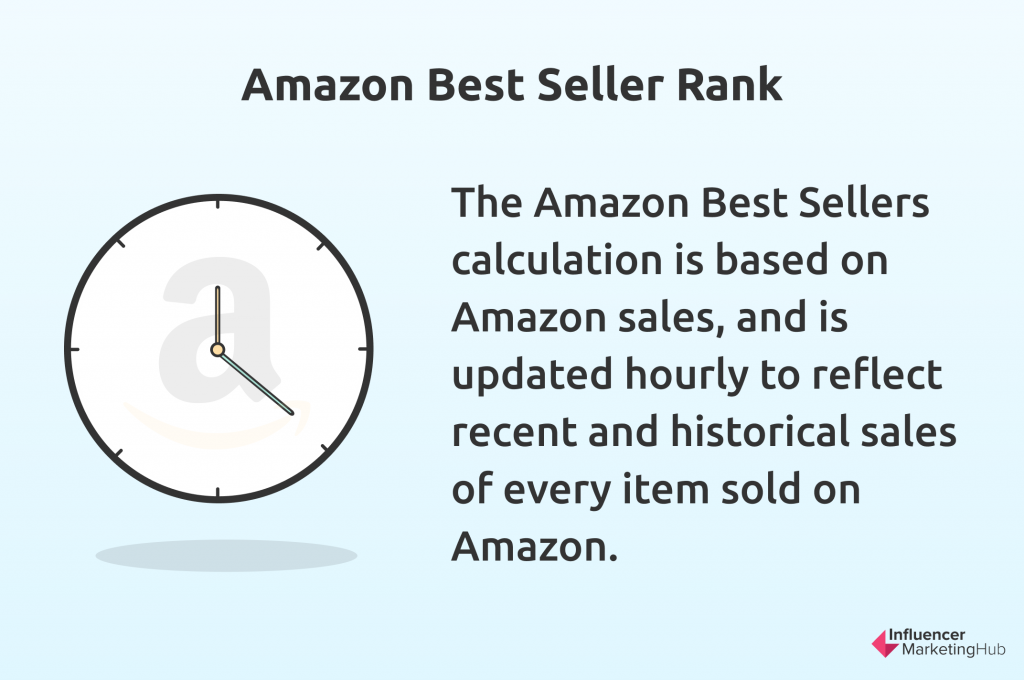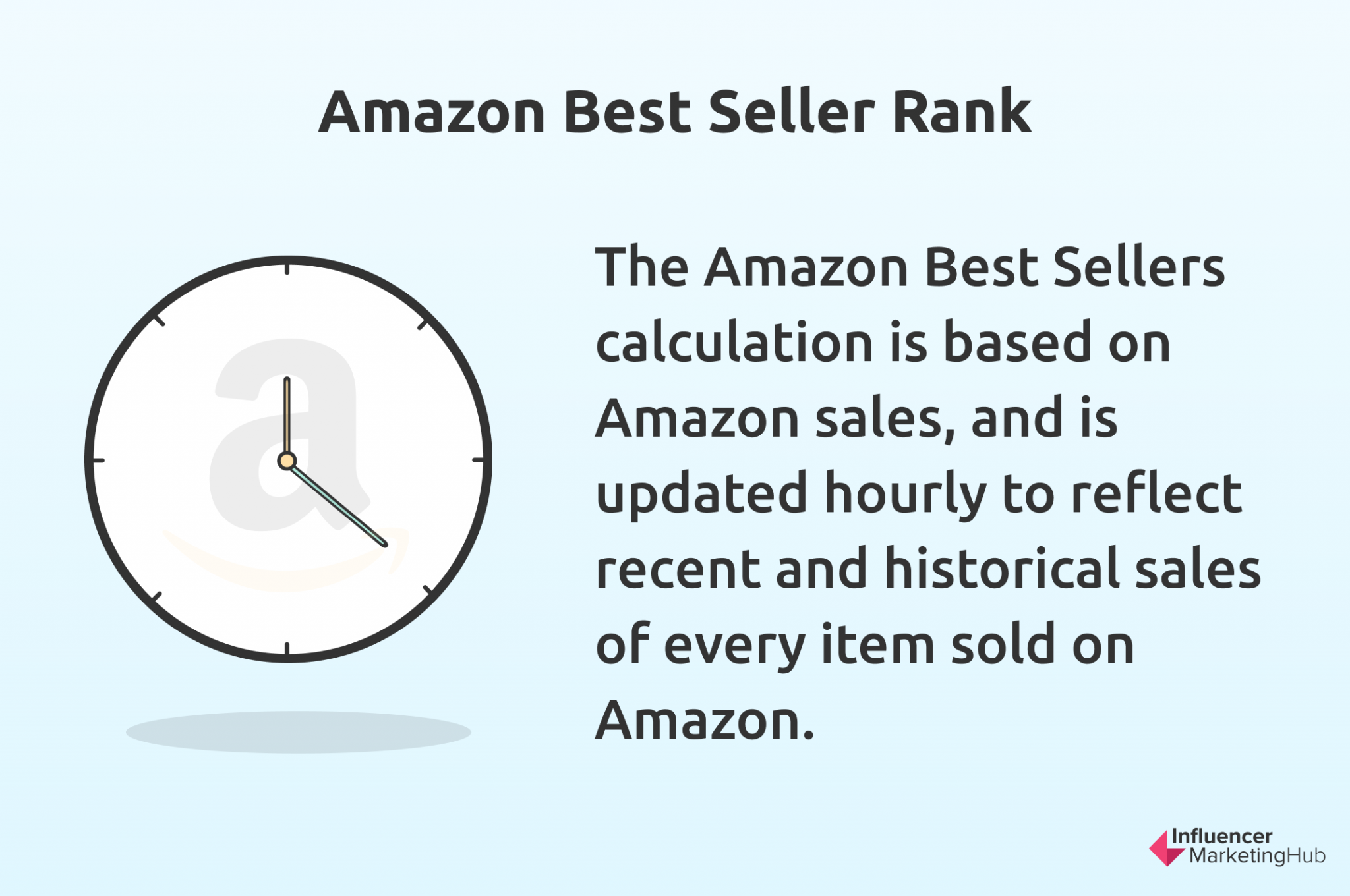 A large volume of recently placed orders can push up your ranking. However, Amazon also takes your historic sales into account. As a result, a competitor with more sales within the hour may not necessarily overtake you if the volume of past orders made on your product exceeds your rival's.
Sales ranking updates vary in frequency. Hourly updates cover the top 10,000 products in a category. Meanwhile, updates are done daily for products with rankings higher than 10,000 to 100,000.
Search engine optimization (SEO)
You can gain a high ranking in Amazon's search engine through text relevance. This means the right choice of words for the title and description of your product.
Being fully stocked sustains ongoing traffic to your product page. Buyers generally look for alternatives if they see an "out of stock" on a product page.
Depending on what season you're currently in, some products sell well during some parts of the year.
---
Why is the Amazon Sales Rank Important to Sellers?
For those preparing to sell their products on Amazon, the Best Sellers Rank or Amazon Sales rank is valuable because:
1. It points you to in-demand products.
By looking at items' scores, you can determine which products are most sought-after in one or multiple categories. This helps you decide on what types of items to offer. As a general rule, high-demand products are those with a ranking of 2,000 and below.
2. It identifies your competitors in a given category.
You can check who and how many other suppliers there are for the product or products you plan to sell and what their rankings are. You can go to the product pages of the entities with a high ranking to examine their strategy, including their keywords, pricing, and external links.
3. It can predict the frequency in which a product sells on Amazon.
Using sales estimator tools such as Jungle Scout, Helium 10, SellerApp, and AMZScout, you can view the average monthly sales and revenues that each of the top-selling products makes.
For current sellers:
4. It shows your standing in the online marketplace.
Your rank indicates how your product is performing compared to other brands.
5. It signifies your buyers' vote of confidence for your product.
The high patronage indicates that consumers consider you to be a credible brand with a useful product.
6. It boosts brand awareness.
Being a best-seller will make your product more visible, with the stickers awarded to top-performing brands. Consumers are likely to buy a product once they know that many others have already bought it.
---
What Is a Good Amazon Sales Rank?
Getting a spot in the top 3 is ideal. But at the end of it all, your total sales are what really matters and not your sales rank. If you're starting out, work on raising your sales on a monthly basis and keeping your margins healthy. Improving your ranking to below 5,000 is a good sign that you're leaving the "low demand" zone.
---
10 Ways to Improve your Amazon Sales Ranking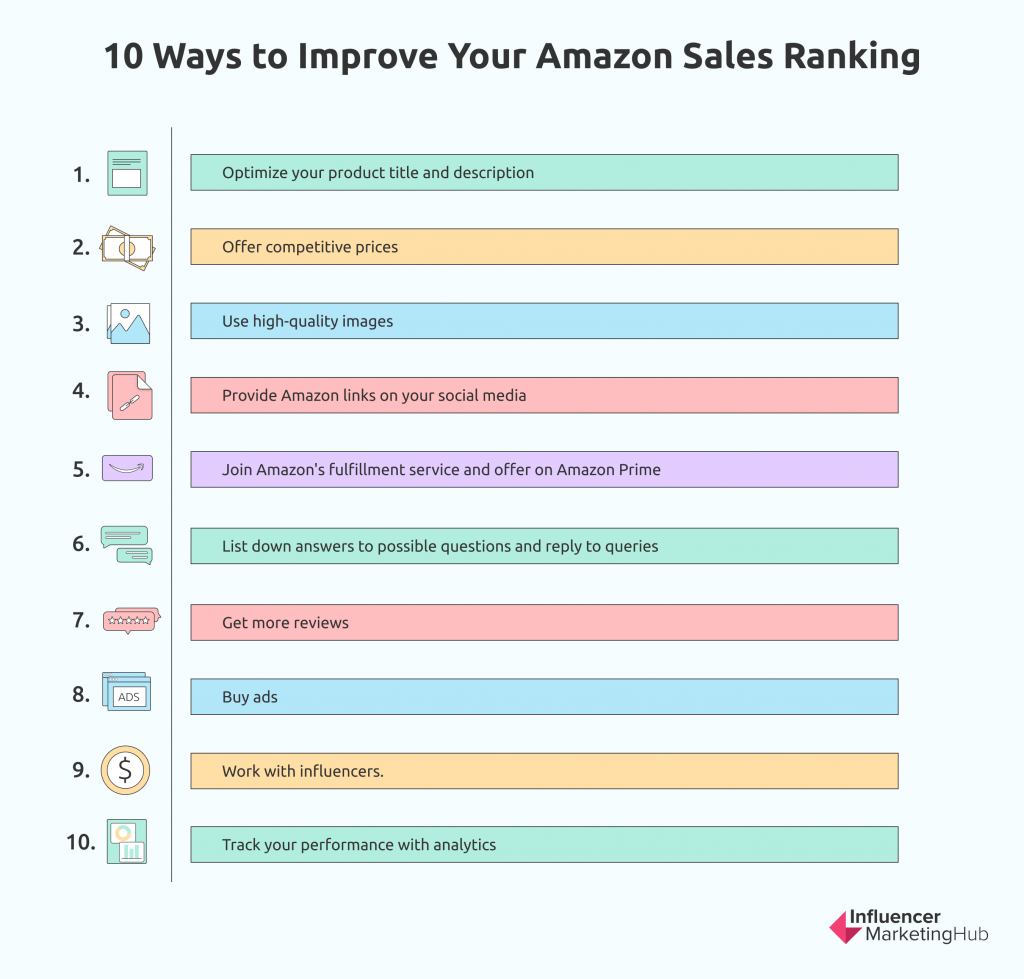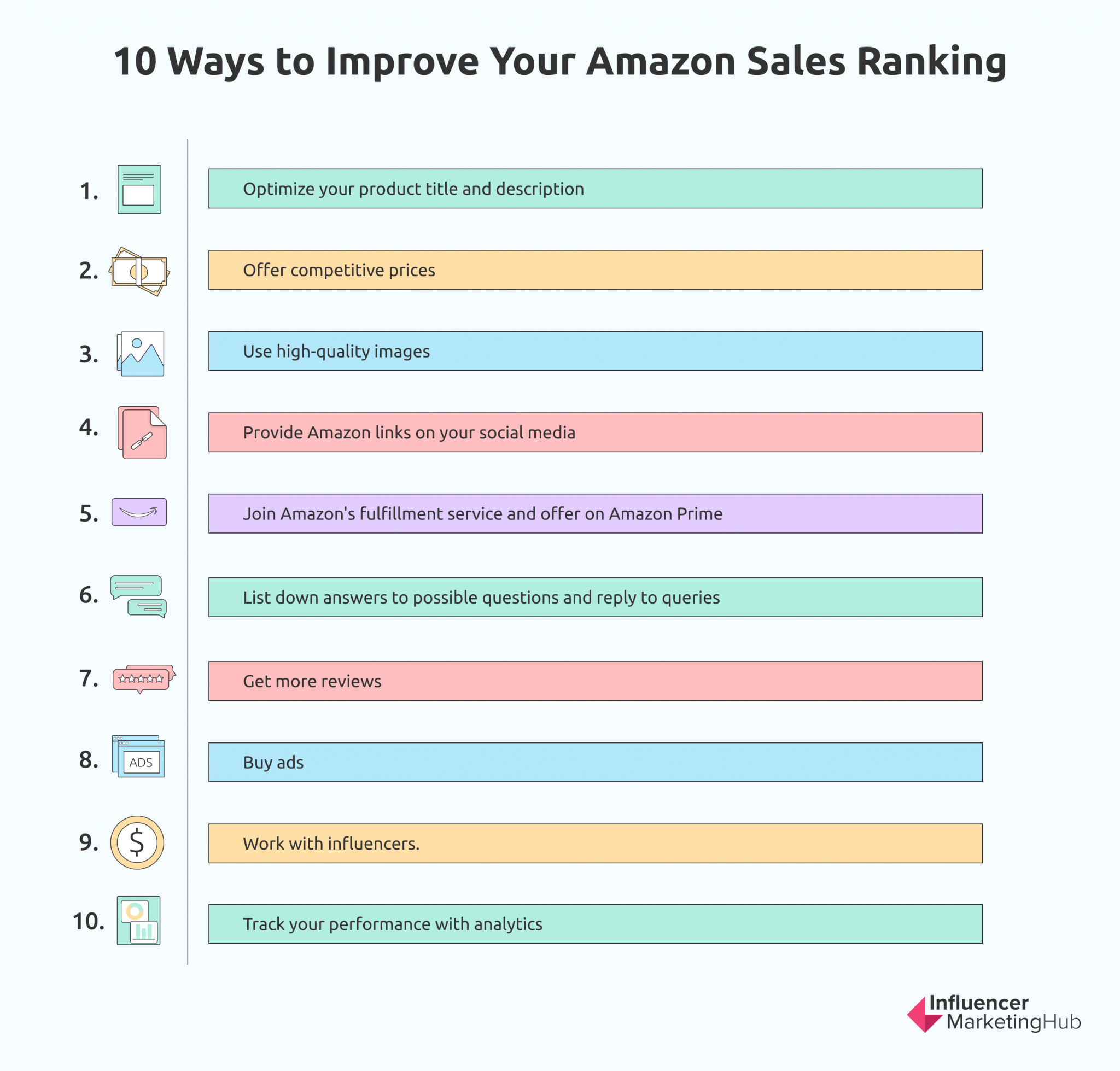 For your Best Seller Ranking to rise, you need to make more sales. The following steps can help you attract more shoppers and convince them to buy your offers:
1. Optimize your product title and description.
Create well-written sales copy by including all the crucial information on your product listing. For the product title, these can include the brand name, model type and number, product type, quantity and size, power output needed, color, and design. Meanwhile, the product description should expand on the title.
Amazon has a list of requirements and a style guide for formatting product titles. The rules include:
200-character maximum length, including the spaces (although a length of 80 characters or fewer is ideal)

absence of text in all caps as well as subjective phrases and promotional phrases, such as "Hot Item" or "100% quality guaranteed."

use of numerals instead of words (4 instead of four)

spelled-out measurements (36 inches instead of 36")
Amazon also has rules for detailing product features. They include using bullet points to describe your product. You can focus on one benefit per bullet point, highlighting what makes the product different from others in the same category.
Amazon has a formula for writing product descriptions per category. But the general or default bullet style goes this way:
General description

Composition (materials) and construction

Most important feature or features

Other important features

Dimensions
You also need to do a keyword search for your product to determine the related words consumers use in their searches for your product category.
Product description tools are now available online for those starting out and who need help with content writing. Description generator sites or apps use natural language generation to help you describe your product by asking for the product name and the key details.
Moreover, Amazon suggests adding search terms about your product on your seller account.
---
2. Offer competitive prices.
It's best to use a repricing tool to sell your product at a lower rate than your competitor's and still earn a profit. Using this tool can help you win the Buy Box, which appears on the page of a product that's offered by many sellers.
---
3. Use high-quality images.
Shoot your products at their best visual condition, using a high-resolution camera. Use natural or artificial lighting, whatever is more appropriate. Amazon's set of photo guidelines says it prefers the use of a plain white background.
Show your product from different angles—interior and exterior and from afar and up close—as this is the closest your audience can get to your item virtually.
---
4. Provide Amazon links on your social media.
More prospects can discover your products if you include a link to your Amazon listing on your Facebook, Twitter, or other social media account.
You may also opt to hold a contest (giveaway) or offer a promo code.
---
5. Join Amazon's fulfillment service and offer on Amazon Prime.
Joining Fulfillment by Amazon (FBA)'s network will allow the online retailer to pack and ship your products either for free or within two days under the Amazon Prime program. Amazon also offers customer support and returns management for FBA-listed products, all of which can improve customer satisfaction and encourage repeat purchases. Two-thirds of Amazon sellers are already a part of the FBA service.
---
6. List down answers to possible questions and reply to queries.
In your product listing, include the possible questions and concerns that your buyers may have about your product and provide answers for each.
Amazon shoppers will also be interested in buying from suppliers who reply to customers' questions. The company's Community Guidelines offer reminders for posting replies.
---
7. Get more reviews.
Amazon can send a message on your behalf, asking customers to leave feedback after buying your product. Activate this automated process by clicking the Request a Review button in the Order Details page of your Seller Central account. You arrive at that page after going to the Manage Orders page and selecting the product that you want a review for.
Amazon doesn't allow sending buyers free gifts in exchange for a review. However, Amazon can send samples of your new or pre-release products to the Vine Voices. These most trusted Amazon reviewers can then write about your items.
Meanwhile, an offline option is to include inserts in your packaging that contain a hand-written note or message of thanks, including a request to leave a review.
---
8. Buy ads.
To gain more visibility, you can try placing pay-per-click ads on Amazon. There are three types to choose from: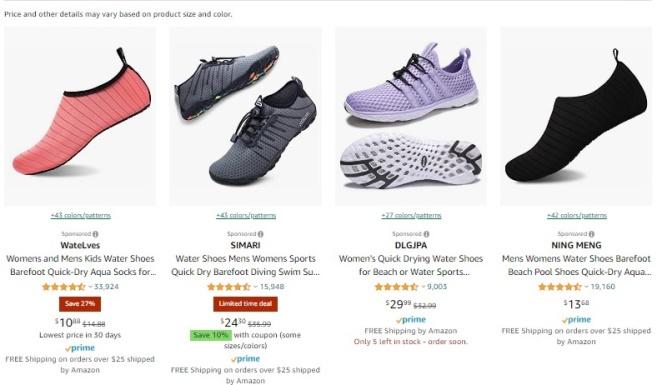 Professional sellers on Amazon should offer new—and not refurbished or used—products and need to have a Buy Box to be eligible for sponsored product ads.
To have access to sponsored brand ads, sellers should be registered in the Amazon Brand Registry and be able to ship to any point in the US.
While product ads and brand ads only appear when shoppers conduct an Amazon product search, sponsored display ads work differently. Besides appearing on searches, display ads also pop up after shoppers have browsed (but haven't bought) your product or when they search for items similar to yours. Sellers should also be registered in the Amazon Brand Registry to be qualified for these ads.
---
9. Work with influencers.
Products that influencers endorse would usually sell well due to their followers' trust regarding their brand opinions and recommendations.
Work on getting more reviews and research the online personalities who your customers follow. You can then check if they mention or talk about your product in their feeds. Also, verify if they have an Amazon page or belong to the Amazon Influencer Program, as this will make it easier for you to contact them. When you decide to connect with an influencer, establish a relationship with them first before sending a formal request for a working partnership.
---
10. Track your performance with analytics.
Amazon Brand Analytics is available to third-party sellers who own a brand and want to keep track and improve their product's performance. It allows you to view key metrics such as popular keywords, the demographics of your customers (age, household income, gender, marital status, and education), and an "item comparison." The tool lists the five most frequently viewed products during the day your product(s) were also viewed or during a range of selected dates.
Frequently Asked Questions
What's organic ranking on Amazon?
Organic ranking on Amazon refers to a product's position on Amazon's search engine results page when a user types in a keyword. However, with the help of SEO techniques, your product can rank high or appear among the first entries on the SERP. This will make your product more visible and attractive to buyers as the first three items on Amazon's SERP make up for 64% of clicks.
What is Amazon's A9 Algorithm?
The A9 Algorithm is Amazon's search engine and also the system behind the product ranking on the site. It's named after Amazon's subsidiary, A9.com, which was originally founded in 2003 to be the independent search engine for the World Wide Web. But since 2008, it has solely worked for the online retail behemoth.
It's currently tasked with building, managing, and enhancing its search and advertising technologies. It handles SEO, indexes the text describing every product in the Amazon universe, observes historical traffic patterns, and analyzes data.
The factors that the A9 Algorithm looks for in ranking products sold on Amazon include the points mentioned above. They include text match relevancy, sales velocity, pricing, stock availability, FBA, images, ads, and reviews. However, Amazon's algorithm is updated regularly. The latest version, A10, reportedly gives more weight to positive feedback, click-through rate, and off-site ads like those appearing on social media. Ads and promos now carry less impact.
What are the most common Amazon SEO mistakes?
Some common mistakes when it comes to optimizing your content for Amazon include:
- Not managing your product inventory
Your SEO strategy is useless without a streamlined inventory process. Check Amazon's suite of inventory management tools on Seller Central.
- Failing to sustain SEO efforts
With the updated algorithm putting a premium on accurate and relevant content, you cannot be lax when it comes to your product descriptions. Check for grammar and spelling. Keep your content descriptive, with an emphasis on benefits and your target market. Increase your relevance by regularly doing a keyword search to refine your existing product listing and ensure your future ones contain well-optimized keywords.
- Lack of effort to get reviews
Give your customers a voice and let them feel you hear them by enrolling in the Vine program and answering their questions.
- Featuring few or poor-quality images
Use all available image slots for your page. Sellers get at least seven slots in most categories. Choose informative images that will help shoppers better understand your bulleted descriptions. Review Amazon's photo guidelines.
- Not keeping tabs on your competitors
Find out who your competitors are and take time to find the loopholes in their product listings. This form of competitive research can help you strengthen your product pages.
How do I enroll in Amazon FBA?
You first need to set up an Amazon seller account:
1. Go to https://services.amazon.com.
2. Scroll down below the "Become an Amazon Seller" heading until you find three boxes, including one with the title "Make Money." Click "See Pricing."
3. You will find two options: "Sign up for Individual" and "Sign up for Professional." Click the button that applies to you.
4. For an individual account, enter your email address or phone number. Amazon will send a one-time password to your email address. You then copy this OTP to proceed with your registration.
5. Next, you'll be asked to enter your business location, business type, and full name.
6. Amazon will then ask you to enter your personal information, including citizenship, birth country, birth date, proof of identity (ID such as passport with its expiration date and the country where it was issued), business address, and phone number.
7. You next have to choose your marketplace and give your credit card details and billing address.
8. The final steps include supplying the name of your store, telling whether your products have universal product codes, specifying whether you're a manufacturer or brand owner of the product you're selling, and giving your store's physical address.
Once you've set up your seller account, you can visit the Getting Started with FBA page or sign up here to join the FBA network.
Should I rely on Amazon's Best Seller Rank when deciding on which items to sell?
No. Use it with a combination of tools, including keyword research and sales estimators to have a better picture of what's hot in the market and how much money you can make.