Advertising Disclosure
Advertising disclosure:
Our partners compensate us. This may influence which products or services we review (also where and how those products appear on the site), this in no way affects our recommendations or the advice we offer. Our reviews are based on years of experience and countless hours of research. Our partners cannot pay us to guarantee favorable reviews of their products or services.
Websites are essential to any business, whether for eCommerce and retail, B2B, or other industries. A well-designed, user-friendly website establishes a company's credibility and legitimacy. Your website should have a good balance of aesthetics and function to make a memorable impact on your intended audience, and an animated website is one way to deliver exciting user experiences for visitors.
---
Amp Up Your Website With Animation (Plus 8 Websites To Draw Your Next Design Inspiration From):
---
Animated Websites vs. Static Websites
An animated website refers to visual effects on a web page that provide movement and interaction for visitors. This is in contrast with static elements, which remain stationary. Static web pages are the simplest to create, as well as the cheapest. The disadvantage of static websites is that each visitor will see the exact same things when they visit the site, regardless of their location or search terms. Nothing a visitor does on static pages will change the look and feel of the website. On the other hand, animated websites are more dynamic. They can offer visitors a more engaging experience even if the primary purpose of a web page is to provide information.
Animations and graphics can help your website stand out and be more memorable. The animated elements of your website need not be complicated—simple animations can also help take your website to the next level.
---
8 Examples of Creative Animated Websites
It's easy to get carried away with including many animated elements on your site, but it's best to keep things simple. Animations should enhance the user experience, not diminish it with irrelevant and impractical effects. Here we list eight excellent examples of websites with stunning visuals and animations that elevate the experience.
---
---
---
---
---
---
---
---
Best Types of Animations for Websites
Animation comes in different types, and it goes without saying that website animations differ from those for YouTube videos, films, and TV. Here are some of the most utilized types of animations you'll see on websites.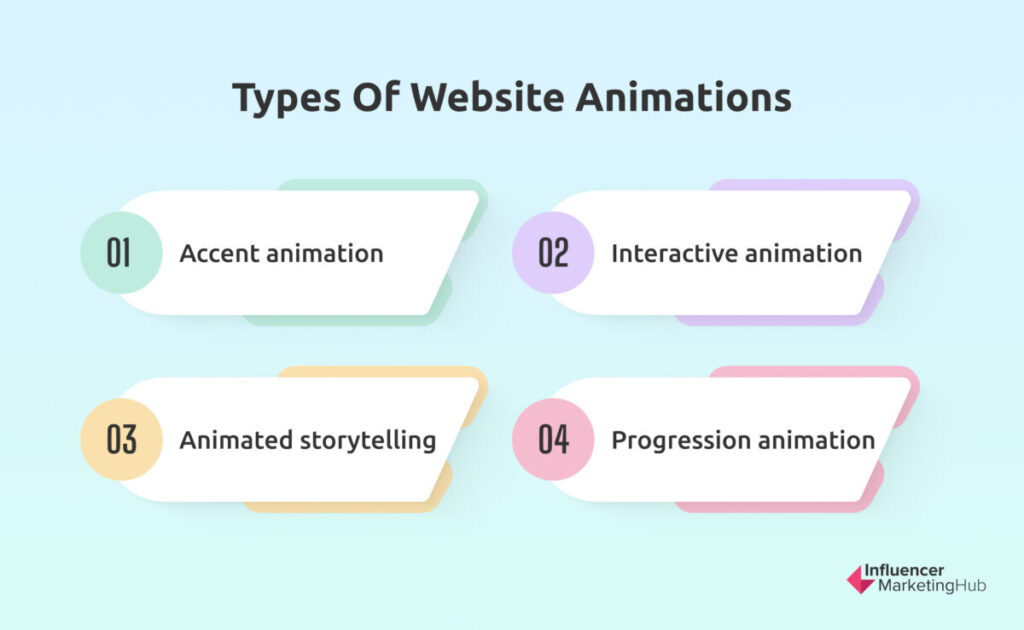 Accent animation
Accent animations are used to highlight important elements in a webpage. These buttons or images are given some form of motion to stand out from an otherwise static page, drawing the visitor's attention to them. Accent animation can improve your site's scannability and help visitors determine the most essential parts of a webpage. Additionally, it can increase user engagement and interaction.
Interactive animation
Another way to increase user interaction is through interactive animations. These give visitors more opportunities to engage with the website in a way that also provides value.
Many brands utilize interactive animations to showcase their products. A good example of an interactive animation that engages the visitor is through a 3D model of a product, such as a car, that the user can then manipulate with their mouse to view the vehicle from all angles. Another example is a 3D render of a house that can show potential buyers a virtual tour.
An advantage of interactive animations is that they won't make your website feel like too much movement is happening; only selected elements or ones that perform an action will be animated. Interactive animations are triggered by user actions, such as hovering the cursor over a button and scrolling up and down.
Hover animation.

Web developers can use hover animations to tell visitors which page elements are clickable. When a user hovers the cursor over an animated element of a webpage, the animation is triggered. It can move or change color or font style. It draws the user's attention to a specific feature, so it is often used for buttons or links that the company wants visitors to see and click, such as calls to action.

Scrolling animation.

Another action that triggers an interactive animation is scrolling. You might see these kinds of animation on websites for creative industries; it creates movement on an otherwise static page.

Scrolling animations can range from fade-in effects, where elements appear or disappear as the user scrolls up and down, to animated backgrounds, where elements move or have other effects. You can also use "sticky effects," where important buttons are fixed at a particular space in a webpage, even as the user scrolls down. Designers and developers must be careful not to incorporate too much motion when using scrolling animation, particularly animated backgrounds. Animation aims to provide a dynamic and interactive experience for visitors, not to bog them down with too much visual activity or clutter. Scrolling is necessary for website navigation, and you don't want visitors to

bounce

out of the website because scrolling up and down distracts them.
Animated storytelling
Brand storytelling is an essential aspect of marketing. You want your brand to be memorable and to resonate with your target audience. Storytelling is an effective way of ensuring that people will identify your brand identity with your desired values. Using animation to tell your brand's story is a good way to use animation techniques on your website, whether through a simple animated brand logo, an infographic, or even a short video that tells a story.
Progression animation
Users tend to leave quickly if a site takes a while to load. Waiting for a site to load takes away from a good experience, even if your site only takes two seconds. Incorporating visually appealing animation can help visitors know the progress of anything that needs to load. Catchy and exciting animation can help make the wait more bearable, assuring the visitor that, yes, the page is loading and is almost done.
---
Is an Animated Website Right for You?
In a world with over 200 million active websites, it is wise to have one that can stand out from the crowd. Animations are a good way to achieve this. When done right, it can be both aesthetically pleasing and serve a purpose.
You don't need to be in the creative industry or in entertainment to incorporate animated elements into your website. The best web design agencies can create subtle effects that fit your brand identity and purpose. Not all animations are flashy, and for websites, animations almost always have a function other than beautifying a webpage.
If you feel like animations would elevate your website and attract more visitors, check out any of the agencies listed above and see how a bit of creativity can transform your site.