Advertising Disclosure
Advertising disclosure:
Our partners compensate us. This may influence which products or services we review (also where and how those products appear on the site), this in no way affects our recommendations or the advice we offer. Our reviews are based on years of experience and countless hours of research. Our partners cannot pay us to guarantee favorable reviews of their products or services.
When launching a startup, it's important to have a solid plan and professional assistance to achieve your growth objectives and short- and long-term goals. To optimize your campaigns, consider hiring a digital marketing agency. Other important steps are investing in startup tools to improve your product or service and engaging a branding agency to create a compelling brand identity. Another crucial step is working with a custom web designer to create a standout website, your startup's focal point.
Having a well-designed website is crucial for startups to leave a good impression on potential investors and customers. Many startups try DIY website builders to save money, which often leads to amateur-looking results. To avoid this, you can work with a web design agency that can create a website that aligns with your business goals and budget.
---
Top Custom Web Design Agencies for Startups
There are many digital marketing agencies available today and finding one that specializes in startup web design can be challenging. To help narrow it down for you, here's a list of agencies that specialize in developing user-friendly, responsive, visually appealing websites that can draw both buyers and investors to your venture.
---
---
---
---
---
Why Do Startups Need an Exceptional Website?
Web design is crucial for startups to stand out from their competitors. A well-designed website helps investors and customers find information easily. It also reflects the company's values and mission and fosters trust. An engaging design can create emotional connections with potential customers, driving sales and revenue. 
Here are some of the objectives that a well-designed website can help you accomplish.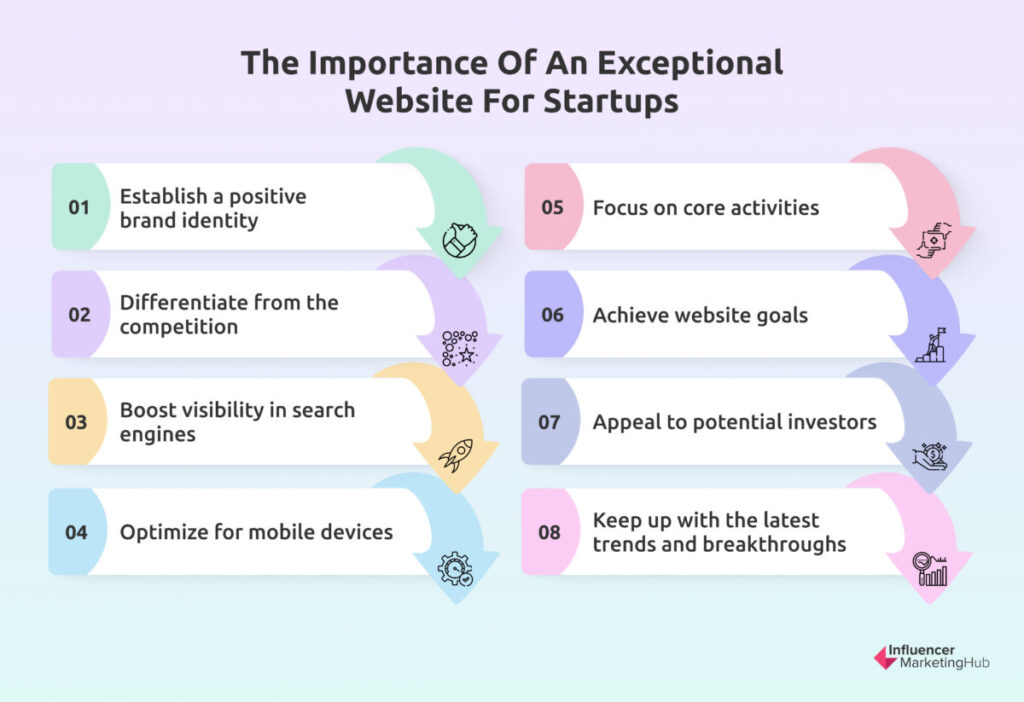 Establish a positive brand identity
A memorable website is crucial for connecting and communicating with customers and investors. To do this, it is important to create a unique brand identity that reflects a company's values, mission, and personality through messaging and design elements such as the logo, color palette, typography, and imagery. By embodying a brand's identity, a well-crafted website can build trust with customers and investors and establish a solid online presence.
Differentiate from the competition
A well-executed web strategy can distinguish your website from competitors in a crowded market. It should create a unique and captivating website with compelling content, engaging visuals, intuitive navigation, fast loading speeds, and responsive design to enhance user experience. With a standout website, you can gain a competitive edge and make all the difference.
Boost visibility in search engines
In addition to having an appealing design, it's vital to ensure that your website is easily discoverable. Working with an agency can help optimize every element of your site for better search engine rankings, which can lead to increased visibility for your business online.
Optimize for mobile devices
A mobile-friendly site is essential as roughly half of the worldwide web traffic originates from smartphones and tablets. A web design agency can develop a uniform experience across all devices, ensuring visitors enjoy a seamless experience. A positive mobile experience benefits your visitors and plays a significant role in your SEO strategy as search engines also consider mobile-friendliness when ranking your site in search results.
Focus on core activities
Outsourcing web design to an agency allows your startup to focus on core business activities. The agency can handle all design-related tasks, giving you more time to concentrate on product development, marketing, and other essential aspects of your business's growth.
Achieve website goals
The ultimate goal of your website is to drive results for your business. Whether visitors are browsing through your products and services or completing online purchases, you want them to take action. Calls-to-action are essential elements that, when used effectively, encourage more conversions. With a professional web designer, you can create a website that removes the guesswork and hyper-targets your goals.
Appeal to potential investors
Investors seek companies with strong potential and a solid online presence. A well-crafted website demonstrates a startup's resources, skills, and processes, impressing investors and boosting their confidence in the venture's success.
Keep up with the latest trends and breakthroughs
Web design trends are constantly evolving with new ideas and cutting-edge features. Working with a web design agency can help ensure that your website remains current, modern, and competitive in the ever-changing digital world.
---
Tips for Selecting the Right Design Agency for Your Startup
Not all web design agencies are the same. Before hiring web designers for your startup website, outline your business's website objectives and target audience to find an agency that aligns with your vision. Look for an agency that has experience working with startups in your field, as they will be better equipped to understand your target audience and the dynamics of your market. This can help ensure that the website they design is tailored to your specific needs and can help you stand out from your competitors. You can also read reviews and testimonials from other startup companies to gauge the agency's reputation and customer satisfaction.
Check their list of services and examine their portfolio to ensure their style aligns with your needs. Assess their website development offerings, including CRO, A/B testing, technical SEO, speed optimization, third-party integrations with external APIs, web hosting, web server maintenance, and support for sustainable website growth. This will help ensure that your website is not only visually appealing but also functional and optimized for performance. 
It's also important to understand their process, timeline, operations, and payment schedule to ensure that you're comfortable with the way they work. Determining the timeframe for starting work and the level of involvement required from both parties can ensure that you have a clear understanding of the project timeline and what will be expected of you as the client.
---
Final Thoughts
Crafting a successful startup website involves evoking a specific emotional response from the audience, guiding them on a captivating journey from the landing page to their exit. To achieve this, partnering with a reputable web design agency specializing in startups is crucial. The five agencies mentioned above offer excellent starting points. Choose the one that aligns best with your startup's objectives and budget for a seamless journey to online success.
Frequently Asked Questions
What is a startup?
A startup is a recently founded business or company that strives to introduce fresh and inventive products, services, or solutions to the market. These ventures typically aim for fast growth and seek investments to expand their operations and carve out a distinctive position in their industry or market niche.
What is a startup website?
A startup website is an online platform that displays a startup company's products and services. It also facilitates crucial tasks like attracting potential investors, sharing important information with customers, reaching new audiences through SEO strategies, and driving sales.
Do startups need to hire a web design agency?
Working with a web design agency can be highly advantageous for startups. These companies have the expertise and experience to craft a visually captivating, user-friendly, and optimized website. This is vital for startups aiming to establish a positive brand identity and a solid online presence, attract investors and clients, and gain trust and influence within their industry.