Advertising Disclosure
Advertising disclosure:
Our partners compensate us. This may influence which products or services we review (also where and how those products appear on the site), this in no way affects our recommendations or the advice we offer. Our reviews are based on years of experience and countless hours of research. Our partners cannot pay us to guarantee favorable reviews of their products or services.
Even if you don't plan on processing payments via your website, it's critical that you ensure that your website is secure by adding an SSL certificate. Not only will your customers be more rest assured to do business with you, but you'll also win the favor of the search engines. SSL is one of the main factors that Google's algorithm considers when ranking websites and SSL-enabled sites will enjoy better rankings.
Back to the topic of website visitors… While your site visitors might not see the actual digital certificate and all the finer details, just seeing that padlock icon in the URL bar is enough. If it's not there, your brand will appear less trustworthy and credible.
The goal of this article isn't to explore the nitty-gritty about what SSL is and how it works, but rather to give you a list of tools that you can use to check if a website has SSL, find out other certificate details, and identify potential certificate errors early. Most of the tools listed are free and none of them require technical knowledge.
---
Best SSL Checkers to Keep Your Site Secure:
---
Top SSL Checker Tools
Use our tool to find out if your website currently has SSL
Enabling SSL helps to show your audience that you're indeed trustworthy. With SSL enabled, your website visitors know that they can trust your website as you'll keep their info safe.
SSL is one of the factors that Google's algorithm keeps in mind. This means that SSL-enabled websites may rank higher in the search engine results than sites that don't have SSL.
Both businesses and their website visitors can enjoy peace of mind that their info is safeguarded against potential hackers. As neither party has to worry about online security, they can get back to business and focus on other important matters.
If you're a regular reader of Influencer Marketing Hub, you'll probably already be familiar with our list of useful tools that include a number of calculators and hashtag generators. Yours truly has now also introduced an SSL checker tool.
Our tool keeps it simple and will tell you if your website currently has SSL or not. If it has SSL, you'll get the green light and thumbs up for doing it right. If it doesn't currently have SSL, an easy-to-understand, pop-up message will be the bearer of bad news and encourage you to invest in SSL.
We realize that SSL can get very technical, making it unnecessarily complicated for business owners to get to the bottom of it. For this reason, we made it our goal to keep our SSL checker tool as straightforward as possible and free.
---

Site24x7 is the brainchild of Zoho and ManageEngine that was officially born in 2006. It's one of the most flexible cloud monitoring solutions and is trusted and used by businesses of all sizes as well as governments that include well-known names like Ford, GoDaddy, and Getty Images.
It can be used to monitor web and mobile apps as well as cloud infrastructure, making it an incredibly powerful tool to have in your tech stack. In addition to its list of monitoring features, it also includes a number of useful free tools, one of which is an SSL checker.
In short, it will check if the SSL certificate or a domain is valid. You can also use it to keep tabs on your website globally to make sure that it's always up and running. Then, if the site should go down, Site24x7 will notify you. All you need to do to take advantage of this functionality is to sign up for a free account.
Plans and pricing: To use its SSL checker, you just need to create a free account. For access to their other tools, they offer various plans for their different products. If you're interested in their all-in-one package, pricing starts at $35 per month when paid annually after a free, 30-day trial.
---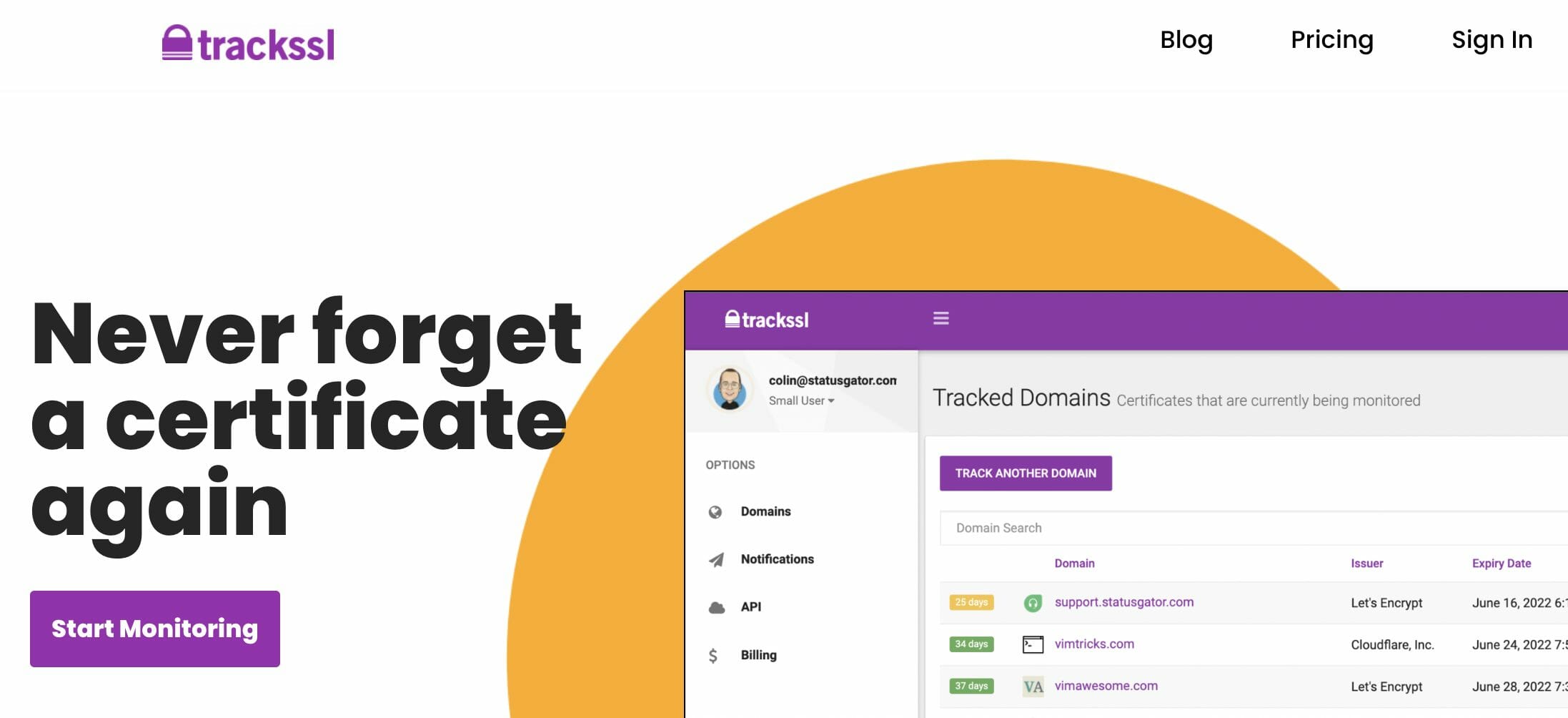 If you need help keeping up to speed with your SSL/TLS certificates for your different websites, you can check out TrackSSL. It helps minimize the risk of website downtime by tracking your certificates for expiration dates and changes. Then, if an expiration date is creeping closer, it will send you an email or text message to alert you so that you can take the necessary action on time.
It will also inform you of any changes to your current SSL certificate. Then, to help keep your business protected from fraudulent certificates, it's planning a Certificate Transparency Alerts feature. This way, whenever a new one gets issued for your domain, it will inform you right away.
If you're unsure whether this is the tool to use, check out they're client list. It includes a number of big names, like Western Digital, BigCommerce, and IBM, and for these companies there's no compromise when it comes to online security.
Plans and pricing: It has a free forever plan for brands that need to monitor only two domains and will make do with limited support and notification options. For more advanced features, pricing starts at $9 per month.
---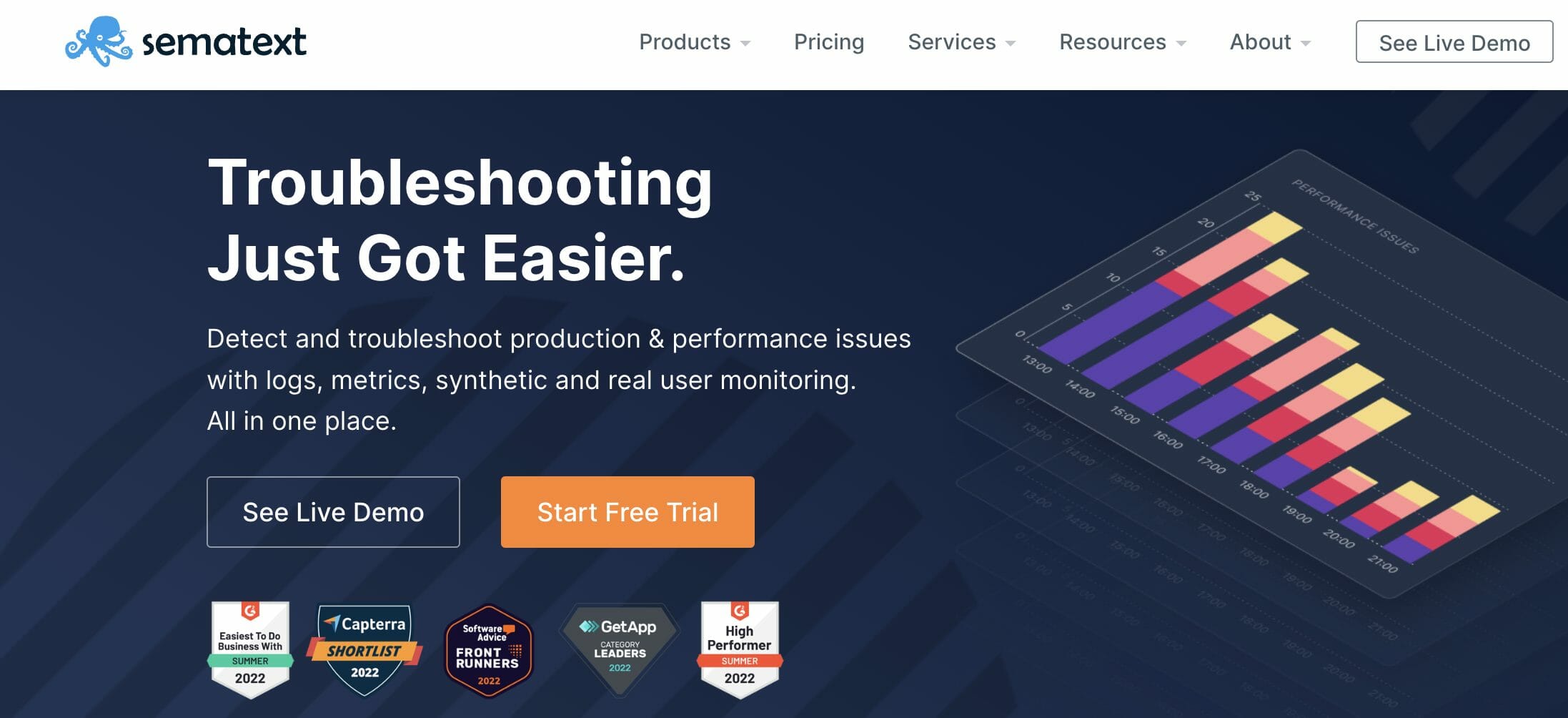 Launched over a decade ago in 2010, Sematext is a global company that builds on-premise and cloud solutions that are used by leading companies like Etsy, Instagram, and Microsoft. What makes them different from many other performance monitoring and logging tools is that they've combined all the core competencies into a single suite.
If you're interested in using it only to keep an eye on your SSL certificates, you can check out its Sematext Synthetics product. It essentially checks for three things: validity, expiration date, and certificate changes. If it detects any issues with your SSL/TLS certificate, it will alert you. It will also share a certificate report that lists all the certificates in the chain.
In addition to security, it can also help to monitor the overall performance of your website. This way, you can identify performance problems early to ensure that your site remains fast, reliable, and available.
Plans and pricing: For their Sematext Synthetics product, it offers a pay-as-you-go option and two paid plans that start at $29 per month. For the pay-as-you-go plan, you'll be charged $2 per HTTP monitor or $7 per browser monitor. All the plans also come with a 14-day free trial.
---

Geekflare creates high-quality tools and APIs that make it easier for businesses to scale their operations. Included in their list of 35 tools is a TLS scanner that you can use free of charge. Just like SSL, TLS also creates a secure connection between the web server and the user. Though, TLS is an updated version of SSL, meaning that it's more secure.
Geekflare's TLS scanner will give you a detailed breakdown of your TLS implementation to help identify any problems that can make your site vulnerable. In addition to this free online tool, they also include a number of other security tools that include:
Secure Headers Test
HTTP Headers Checker
Blacklist lookup
WordPress Security Scanner
Secure Password Generator
---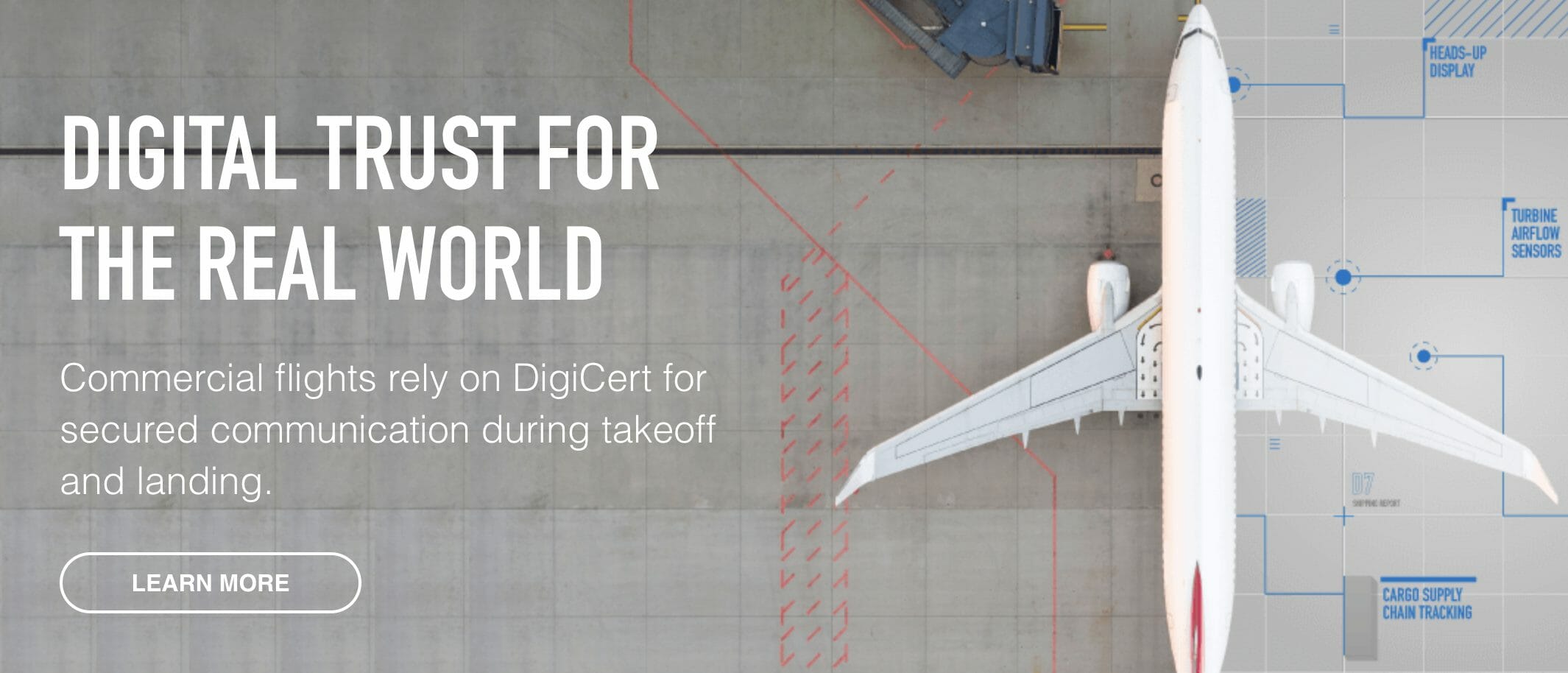 The team behind DigiCert creates digital trust solutions for real-world applications. It's much more than just a simple SSL checker. From issuing to renewing, and everything in between, DigiCert CertCentral TLS/SSL Manager can automate certificate management.
Let's start with the reason why you've probably landed on this page — certificate inspection. DigiCert makes it easy to scan your SSL/TLS certificates for weak configurations and other vulnerabilities. It will generate a report that lists analytics about your network's health, helping you to avoid issues with site security.
Though, it doesn't stop there… If it detects a problem, it will also share suggestions for how you can remedy the situation.
In addition to these nice-to-have features, it also offers the other "standard" features that most of the other tools on our list offer. This includes automatic tracking of expiration dates (plus, it can also renew your certificates automatically).
All in all, it's one of the most powerful tools available. It, for example, also lets you assign specific tasks by adding role-based users, making it a great choice if you're working as part of a bigger team.
Plans and pricing: For more information about their pricing, you'll need to contact their sales team directly.
---

SSL Labs is a resource center that's powered by Qualys, a software company that offers services related to cloud security and compliance. Here you can find tools and articles to help you with SSL.
If you would first like to sharpen your book knowledge, you can check out its documentation that will teach you how to implement SSL/TLS correctly. If you're ready to get down to the practical stuff right away, you can head on over to its tools.
It offers three tools to help you with SSL-related tasks. You can use it to:
Test your website's certificate and configuration
Test your browser's SSL implementation
Evaluate the performance of other websites
When performing a free SSL server test, all you need to do is type in your domain address and it will give you a report that highlights weak areas and an overall rating.
---

ComodoSSLstore.com is one of the leading sites in SSL and is run by The SSL Store, a company of DigiCert. Included in its offering is an SSL checker tool.
With the help of their SSL Checker, you can verify that your SSL certificate on your web server was indeed installed properly and that the major browsers trust it. Like with the other tools, it's very easy to use and all you need to do is type in your website address.
It will then automatically check your domain. After the check (it takes only a few seconds making it faster than many of the other tools), it will show you key details such as the server type, issuer, expiration date, and certificate chain.
---

According to their website, IONOS is the biggest web hosting company in Europe. They manage over 8 million customer contracts (their target market is mostly small and medium-sized businesses) and host more than 12 million domains.
To use their SSL Certificate Checker, you don't need to be one of their users or sign up for a free account. Anyone can use it to complete a free SSL test.
After typing in your website address, it will tell you if the certificate has been installed correctly and a few other details like if the site owner has been validated and if it's advisable to trust this site for exchanging personal or financial information. What we like about their tool is that not only is it free, but it also doesn't overwhelm you with hard-to-understand jargon.
If the test reveals that your SSL is not up to standard, you can sign up for one of their SSL packages. They partner with DigiCert, one of the leading SSL providers, and so you can rest assured knowing that your online security is in good hands.
Plans and pricing: Pricing starts at $20 per year and includes protection for one domain.
---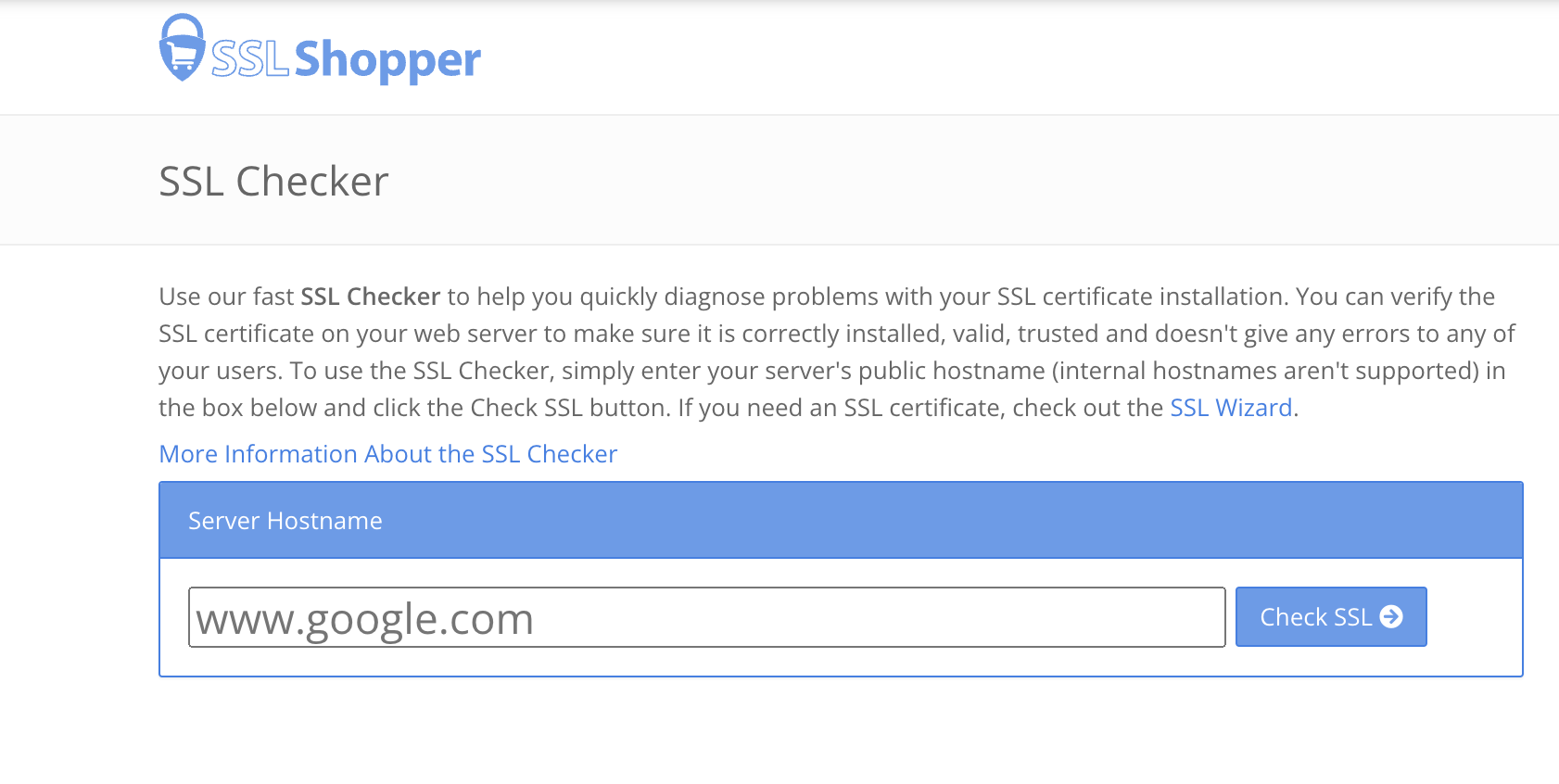 While most of these free online SSL checker tools aren't something to look at, SSL Shopper's interface looks even more dated. Though, if you can look past the aesthetics (or, rather, lack thereof), it offers a quick way to diagnose issues with your SSL certificate.
You can use it to double-check that the certificate on your web server has indeed been installed correctly. Other details that it will also display are whether or not the different major web browsers will trust it and how many days are left before it will expire.
You can then also use it to create a reminder of when it will expire. This way, it's much easier to remember when you need to renew your certificate, helping to prevent error messages that will only hurt your brand.
---
Wrapping Things Up
While there's no law that states a website must have SSL, it's best practice. After all, why would you want to place your own business, its customers, and website visitors at risk? And, without a valid SSL certificate, that's essentially what you're doing.
You don't need to know the technical details. The only two things that you do need to know are: that you need to have SSL and if you do. If it turns out that you don't, there are a number of great web development agencies that can help you with this specific task and check which other key elements you've neglected to pay attention to.
Frequently Asked Questions
What is the best SSL provider?
These are the best five certificate SSL providers:
GoDaddy

Comodo

The SSL Store

DigiCert

GeoTrust
What is the most secure SSL certificate?
These are the 5 best SSL certificates of 2022:
Comodo EV Multi-Domain SSL Certificate

DigiCert Secure Site Pro with EV SSL

GeoTrust True BusinessID Multi-Domain SSL

RapidSSL Wildcard SSL Certificate

Thawte SSL Webserver EV
How do I keep track of SSL certificates?
These are the 10 best tools to keep track of SSL certificates:
Influencer Marketing Hub

Site24x7

TrackSSL

Sematext

Geekflare

DigiCert

SSL Labs

Comodo SSL Checker

IONOS

SSL Shopper
Which free SSL is best?
These are the best SSL checkers to keep your site secure:
Influencer Marketing Hub

Site24x7

TrackSSL

Sematext

Geekflare

DigiCert

SSL Labs

Comodo SSL Checker

IONOS

SSL Shopper