So you need to send a large file across the web. The thing is, sending large files across the web can be a little tricky. You've likely thought about your Gmail account, and how you could use it to send a file as large as 25 MB. But what about something larger?
In this blog post, we'll look at 10 ways that you can send large files across the web. It includes 10 free and paid tools you can use. We'll look at what makes each a good option, and what their limitations are. Being able to send large files across the web isn't all you need to be concerned with. You need to know how to prepare them before sending them into the wild. To help, we've included 5 handy tips that are easy to follow.
Let's begin!
---
10 Free Tools to Send Large Files Fast and Secure:
---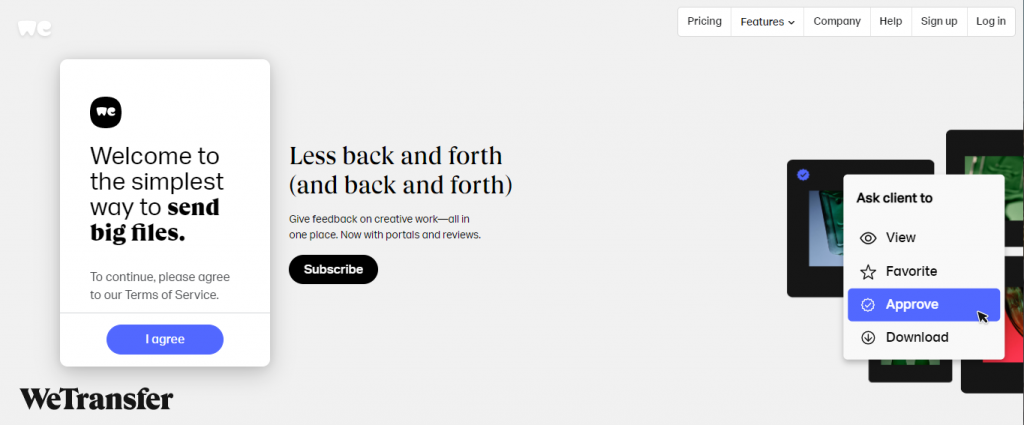 WeTransfer is a great option and one you've probably heard of before. It's convenient, and if you are looking for something free, you'll get up to 2 GB of space. The free plan is for personal use, and there is a Pro plan for people who need a little more. Pricing is available on monthly and annual plans. The Pro plan comes in at around $12 for a monthly subscription and around $120 if paid annually. Going Pro will let you send up to 20 GB per file and offers 1 TB in space, 3 decks in Paste, and unlimited boards on Collect.
What are Paste and Collect? This is where things get interesting. Paste and Collect are WeTransfer products. Paste acts as a deck where you can create slides with your team. And it's a useful collaboration tool. It comes with a host of design features like drag-and-drop functionality, multiple font and color options, various design canvas layouts, and tons of color options. As a collaborative tool, you get to comment on and edit content as you need. You can also add everything from images to GIFs and videos, and if you want a link.
Collect allows you to save anything you come across on your laptop, phone, or tablet for later. And this is super helpful if you're a creative who needs to regularly grab URLs, images, GIFs, and videos. Collect is available as a chrome extension and for download on the play and Apple App Stores.
Sending large files with WeTransfer is easy. Enter your email address, your recipient's email address, locate the file on your computer or device and you're set.
---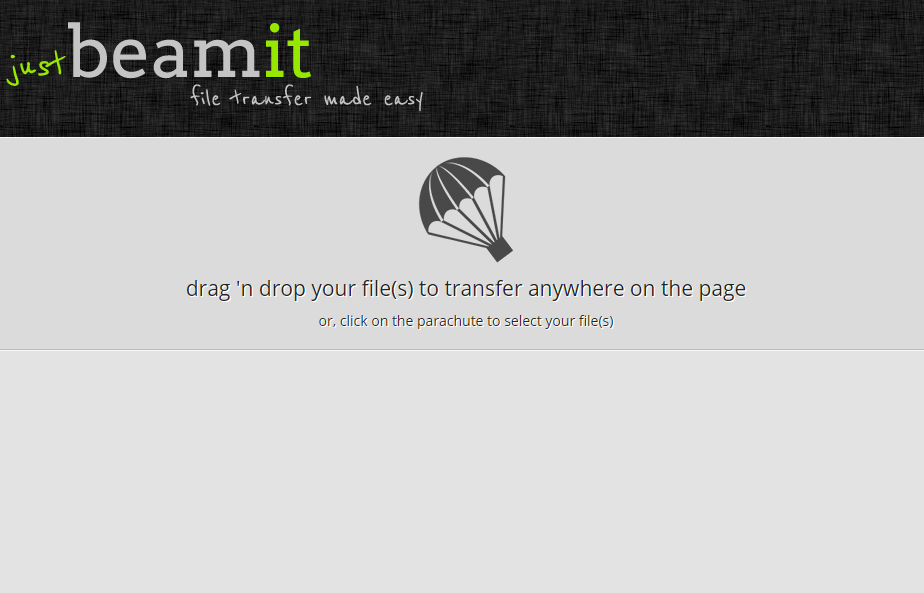 JustBeamIt is a more bare-bones-looking solution but it still gets the job done. With it, you'll be able to send up to 2 GB at a time. To send a file, visit JustBeamIt.com. There, drag and drop your file and place it in the center of the page. And if you'd rather search for files to upload, do so by clicking on the parachute.
Once you've uploaded a file, JustBeamIt will create a special link that you can send. JustBeamIt is a little different from most other online file-sharing services. When sharing a link, you and your recipient must keep your browser windows open for the duration of the transfer. If closed, the transfer will fail. If you're working on a tight budget or noneat all, JustBeamIt is a smart choice. It's 100% free service.
---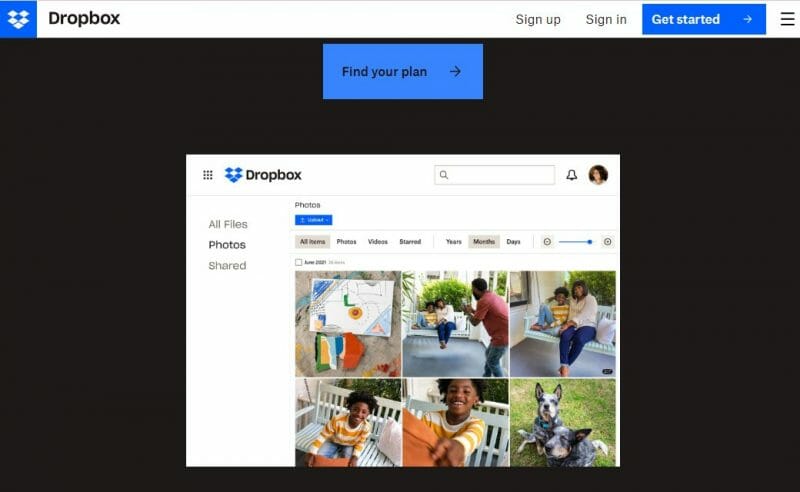 Dropbox is one of the biggest names in file sharing. And if you have been around during the last decade, there's a good chance you've received an invite from a friend or family member with an offer to sign up. Dropbox offers 2 GB of free online space, with the option of increasing storage by referring friends and family.
What makes dropbox a great option is its interface. You get what resembles a folder storage system on your computer. In it, you can create folders and share them using links. Dropbox also comes with desktop and smartphone apps. These help you sync files across all devices so you are never without access to important and updated information.
The free or Basic plan will allow you to transfer up to 100 MB at a time. This increases across plans. Beyond sharing files and folders, Dropbox offers version history. It's handy for those moments we need to see how files have changed over time.
To send the file with Dropbox, create or sign in to your account. Upload the file or folder you like to share and then hover over it until you see a sharing icon (a person). Type the email, name, or group of the person (or people) into the fields, and then click Share File or Share Folder.
If you are looking for even more space within Dropbox, there Professional, Standard, and Advanced plans. Pricing starts at around $16 per month.
---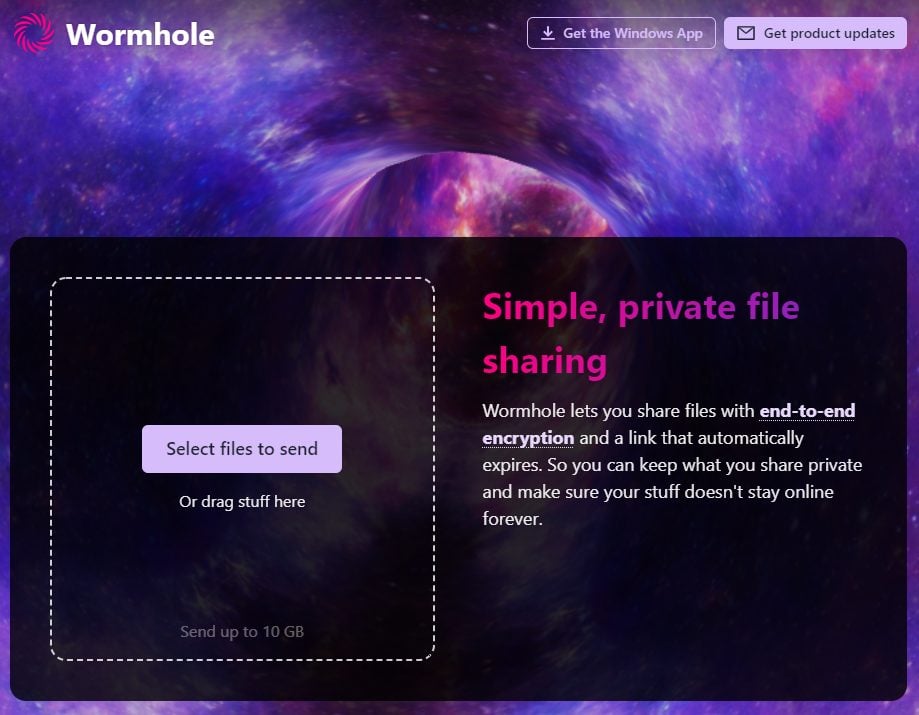 Wormhole offers an interesting value proposition. Most file storage and transfer tools encrypt files during transfer. Wormhole says they do the same but also offer end-to-end encryption. How does that differ from services like Dropbox or WeTransfer? According to Wormhole, these services offer encryption for the uploads and downloads of files, and while files are on their servers. But they also have the key to decrypt your files.
So what do you get with Wormhole? At present, you can send files up to 5 GB in size. Wormhole will store these for up to 24 hours. For anything larger, Wormhole offers a peer-to-peer or transfer option directly through your browser to your recipient.
To send files using Wormhole, head over to Wormhole.app. You'll find it's a very clean and clear service. Simply drag-and-drop files you'd like to send or click on the Select files to send button. As soon as you've selected a file, Wormhole will create a link that you can copy and share immediately and your recipient doesn't need to wait for the file to be uploaded. Wormhole also offers up to file downloads within 24 hours. And if you're a Windows user, an app is available for download.
---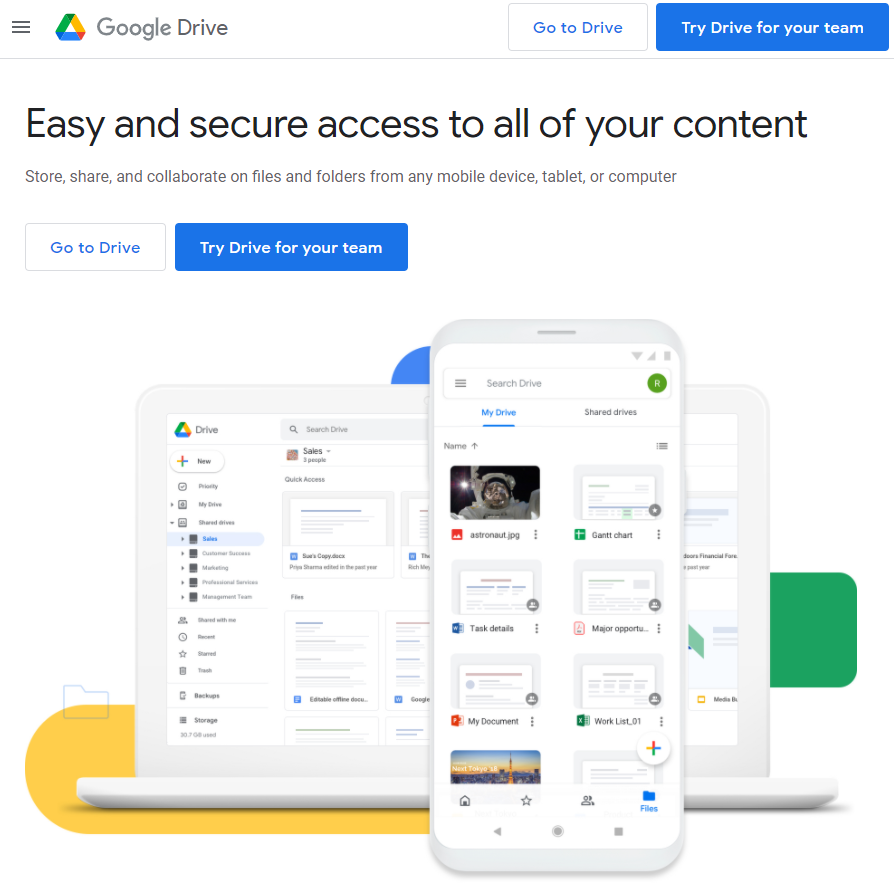 Google Drive is, for all intents and purposes, a great tool. A free plan will get you up to 15 GB of online space. And when you think about it, that's a fair amount. If you're familiar with Google's suite of apps, using Google Drive should feel intuitive. Like most online storage apps, you can install Google Drive on your computer and it will automatically sync files between your devices and your online storage space.
To share files and folders, right-click on the file or folder and click on Share or Get link. Google Drive offers free sharing options. These include:
Restricted allows you to share the following folder with a specific recipient

Share files with people in your migration (for Google business customers)

Share your file with anyone with the link
You also get to choose rights of access. Recipients can be viewers, commenters, or have complete control as editors of your files and folders.
---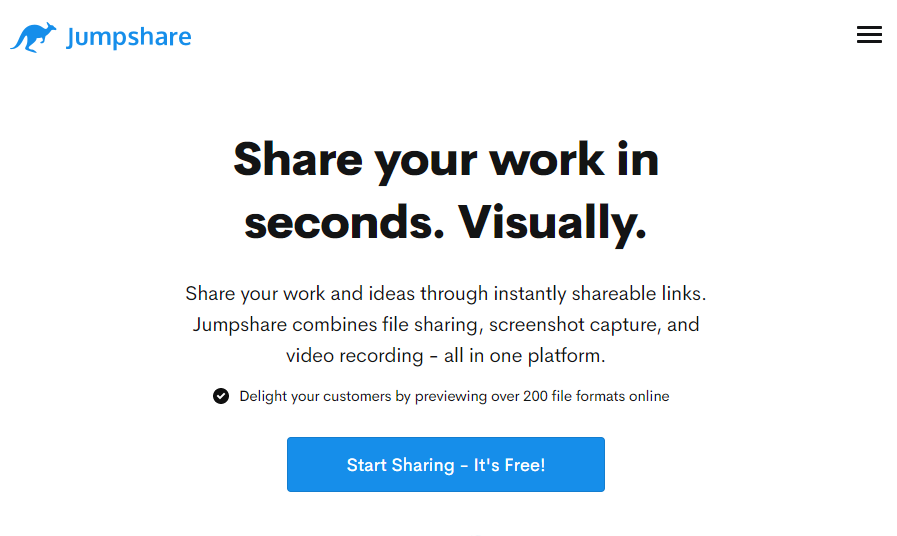 Jumpshare is a little more than a way to send large files online. It includes two interesting features that almost anyone doing anything online would be happy with. One is a screen capture tool with annotation, and the other is a 30-second video recorder with sharing capabilities. Jumpshare also comes with a Slack integration, something many will love. Desktop apps include Windows and Mac options, and there's the ability to see file stats, get alerts when files are downloaded, and see feedback from collaborators. All files uploaded are managed in a neat interface to easily sort and find your files and folders.
Sharing files in Jumpshare can be done through your online account, via the desktop, or the iPhone smartphone app. Using your web browser, for instance, you'll locate the file on your computer, upload or drag and drop it, and receive your sharing link. Sharing links are generated from the moment you click the upload button, and there's no need to wait for a complete upload.
If you'd like more space, Jumpshare offers Plus and Business plans. These are around $8 and $12 per month and offer 1 TB and 2 TB in space. The Plus plan will let you upload files up to 20 GB in size, and that limit falls away on the Business plan.
---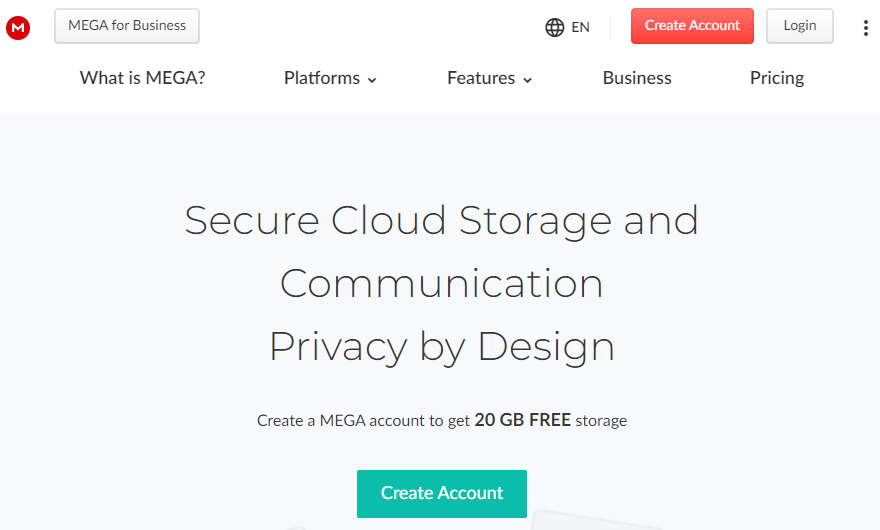 Mega offers end-to-end encryption for file transfer and communication. Like other file tools, Mega includes a degree of collaboration functionality. You're able to communicate, exchange messages and chat with people about your files, and you can have audio and video calls. Mega doesn't offer a free account, but it has competitive pricing and it does have a free trial. You can get started with 4 GB of storage and a 1 TB of file transfer cap for around $5 a month. Prices go all the way up to around $30 per month with 16 TB of storage and up to a 16 TB file transfer limit.
To send large files using Mega on your computer, first, locate your file. Next, right-click on the file and then click on the Sharing button. Enter the email address of the recipient and choose the permission level for their access.
Mega also offers file versioning and comes with a helpful auto-backup feature that syncs files with your devices. If you'd like to have a client installed on your computer, you can download the Mac OS, Windows, or Linux desktop apps. And if you want or prefer a smartphone app, they are available on the Apple App Store, Google Play, and Huawei's App Gallery.
---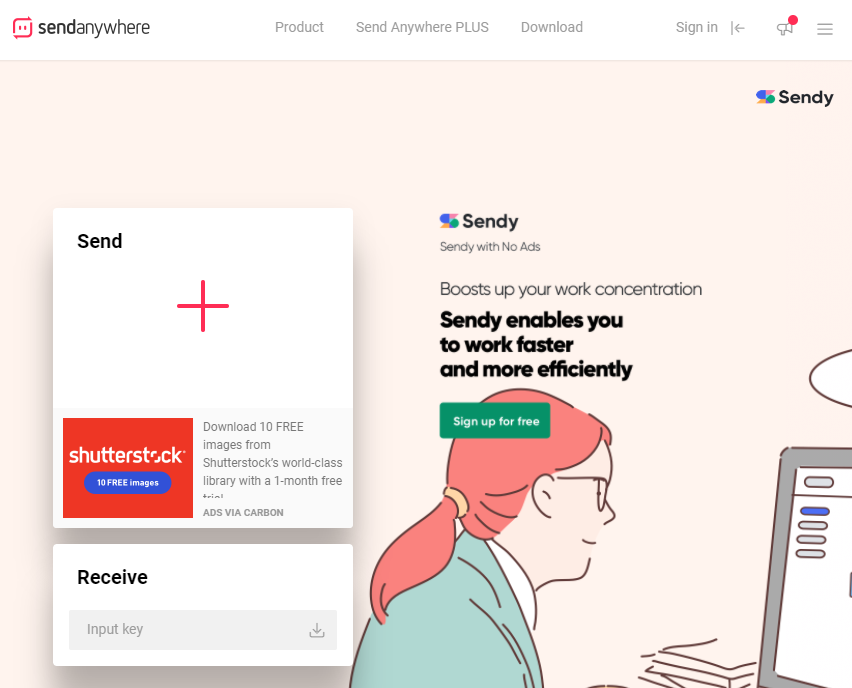 Send Anywhere offers real-time file transfer. You can send or share files with a link or send them to a specific device using a 6-digit key. Unlike other platforms, Send Anywhere doesn't limit the number of downloads of your files. It does, however, offer a 24-hour expiry window which is something of an industry standard. Send Anywhere is available on mobile devices and you can download the Android, iOS, and Amazon Kindle apps.
On desktop, Send Anywhere has apps for Windows, Mac OS, and Linux. If you are more of an extension person, you can get your hands on the Chrome extension, Whale extension, or the Office 365 Outlook extension. And for WordPress loyalists, there is a plug-in that you can use.
Sending a large file is straightforward with Send Anywhere. Using the web interface as an example, you click on the plus icon, select the file you want to send, and choose to send it using the direct transfer option (with a 6-digit key) or shoot an email to your recipient.
Send Anywhere is a free service and you can send up to 10 GB of content using the link sharing and direct-to-device features.
---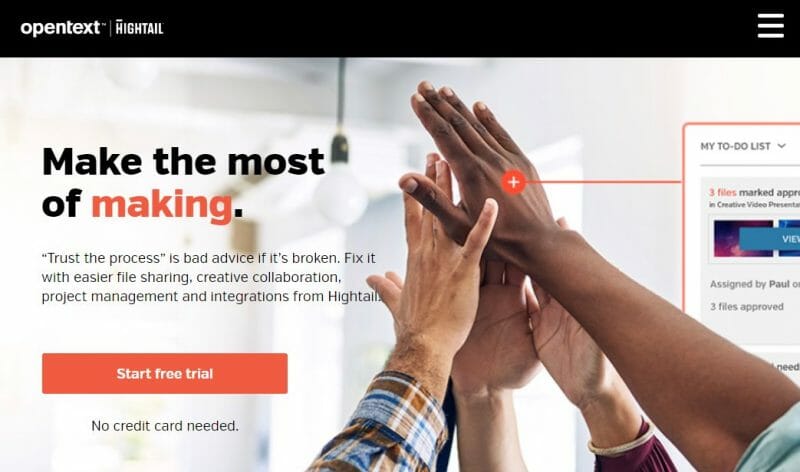 Hightail is a great alternative for teams that need to collaborate daily. It offers a simple way to organize your files and folders, much like you would on some of the best file-sharing platforms today. And collaboration is easy. You can also have conversations in real-time, assign and manage tasks, send content for approval, compare files side-by-side, and use file version control.
Hightail includes handy project management features, too. You can do anything from creating tasks and to-dos, assign follow-ups, start conversations around projects, and managing approvals and updates as required.
Plans include a free Lite plan, with 2 GB of space and a 100 MB file transfer cap. Paid plans range from around $12/mo to business or team accounts at around $36/user/mo. Hightail offers Mac and Windows apps, and Apple and Android smartphone apps. Need to know if your file's been downloaded? Hightail will send a notification showing who grabbed your file and when it was downloaded.
Something not all too common is Hightail's Uplink URL feature. With it, you can place it anywhere online for anyone to upload files to your account.
Sending files is straightforward. Using a web browser, you'll need to log into your account and click on Create New, then select the Send option. Enter the email address of your recipient, include a message, and select your files. You can source files from your computer, Google Drive, or Dropbox. After clicking send, you and your recipient will receive a notification that your files have been sent.
---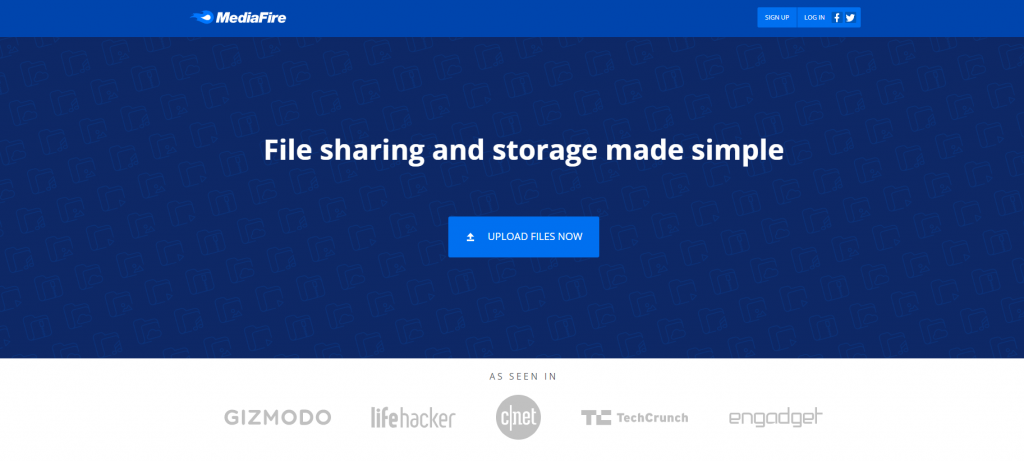 MediaFire is likely one of the best free options available today. You get 10 GB of free storage and a 4 GB file transfer limit. They also offer unlimited bandwidth. And with all that space, they provide folder control options, much like you would on your desktop computer. Files can also be shared with One-Time links. These only work for one recipient.
MediaFire's Pro plan offers a whole lot more. For around $3/mo, you'll get 100 TB of storage, can use URLs to upload and download files, and send up to 100 One-Time links a day. There's also a business plan for around $40/mo. With it, you can brand your account, get detailed security logs, and give over 100 team members access to your files. And for users who prefer apps, MediaFire supports Android, BlackBerry, Windows, iPhone, and iPad.
MediaFire is also easy to use. On desktop, upload your file and then right-click to share it. You'd be able to copy a link, and depending on your file types, share it via email or on social media.
---
Tips for Sending Large Files
Sending large files seems simple enough. Most tools have easy-to-use interfaces, and it takes less than a minute to send a file. But there's a little more to it. To send your files like a pro, you need to prepare them. And I'm not just referring to smart naming conventions, although they do help. I'm talking about security, saving space, and not missing a beat when it comes to what happens to your files.
Here are 5 tips to help you prep your large files:
1. Use a Compression Tool
Depending on how much you need to send and the platform you choose, you may want to compress your files to save space. Compression is super-easy, and there are free helpful tools that do a great job. Personal favorites include 7-Zip and WinRaR.
2. Label Your Files Correctly
This matters. A lot! More sophisticated tools offer version control, but if your choice doesn't, be sure to label files using a naming convention that indicates which version you're looking at.
3. Clean Your Online Storage Regularly
Online sharing platforms typically expire files after 24 hours, but not all do. It's a good idea to clean yours out at least once a week to make room for new files you need to send.
4. Password-Protect Your Files
Password protection, as you've gathered above, isn't always a standard feature. Where all platforms offer encryption for file transfer, anyone who can get their hands on a file link can access it, unless it's password-protected. Aim to secure your files at all times.
5. Set up Notifications
This may not matter in some use cases, but notifications can be helpful. If you need to keep tabs on an important file to ensure you meet a deadline of sorts or to see how useful it is to a larger audience, notifications are worth it.
---
Happy Sharing!
And that's our list of 10 tools for sending large files. If you've been on the fence about using file-sharing services, I hope this blog post settles as many of your concerns as possible. Sending large files shouldn't be a painful or hard-to-perform task. With 10 options to choose from and a look at each, you don't need to look any further.