Advertising Disclosure
Advertising disclosure:
Our partners compensate us. This may influence which products or services we review (also where and how those products appear on the site), this in no way affects our recommendations or the advice we offer. Our reviews are based on years of experience and countless hours of research. Our partners cannot pay us to guarantee favorable reviews of their products or services.
Business-to-business or B2B commerce platforms continue to grow in popularity as businesses steadily pivot to digital structures. As consumers are drawn to businesses that offer the convenience of online shopping, B2B sellers must also meet the heightened demand of an influx of wholesalers, large retailers, and resellers online.
Now that establishing a digital presence is more essential than ever to business growth, B2B sellers can't afford to ignore it anymore. One way to get digital is through a B2B ecommerce platform that offers automation, personalization, and efficiency at cost-effective prices.
Here, we go through some of the reasons why you should shift to B2B commerce platforms, what the most popular platforms are today, and how to choose one that's most appropriate for your business.
---
Transform Your B2B Business with the Top 11 B2B Commerce Platforms:
---
Why Shift to B2B Commerce Platforms
Ecommerce websites are projected to facilitate more than $2 trillion in B2B product sales by 2024. Nevertheless, this amount will still account for a minor share of total US B2B product sales, and slightly above 20% of B2B electronic sales.
Aside from expanding your customer reach, shifting to B2B commerce platforms provides several benefits that ultimately help drive B2B growth. The technology that powers B2B platforms eliminates labor-intensive manual processes that hamper traditional B2B sales models. They automate sales processes, foster better partner relationships, boost customer engagement, and improve business productivity.
B2B commerce platforms enable sellers to reach the mass market at scale. It also provides a consistent and constant omnichannel presence, giving customers access to services whatever their geographical locations and time zones are.
Moreover, B2B platforms reduce costs associated with sales and marketing. They also reduce infrastructure and overhead costs, lower marketing expenses, and lessen the need for intermediaries. While B2B platforms still incur some expenditures, they are more cost-effective than traditional models.
---
Top B2B eCommerce Platforms
Top
b2b ecommerce platforms
2024

Amazon needs no real introduction. While Amazon doesn't quite fit the description of the other platforms listed, according to B2B eCommerce trends, B2B sales via online marketplaces like Amazon are expected to grow. The reason for this actually makes complete logical sense. More millennials hold executive positions and, as they're very familiar with these types of online marketplaces, they're seeing how Amazon can be used for professional purposes too.
If you want to go this route, though, it's recommended that you check out a tool like Pacvue Commerce, an enterprise platform software suite for advertising, sales, and intelligence that acts like an algorithmic operations manager. It offers unified analytics and recommended actions that help you to uncover new opportunities to help grow your business faster.
Armed with this type of data, it's much easier to optimize ad campaigns, sales, and digital shelves.
---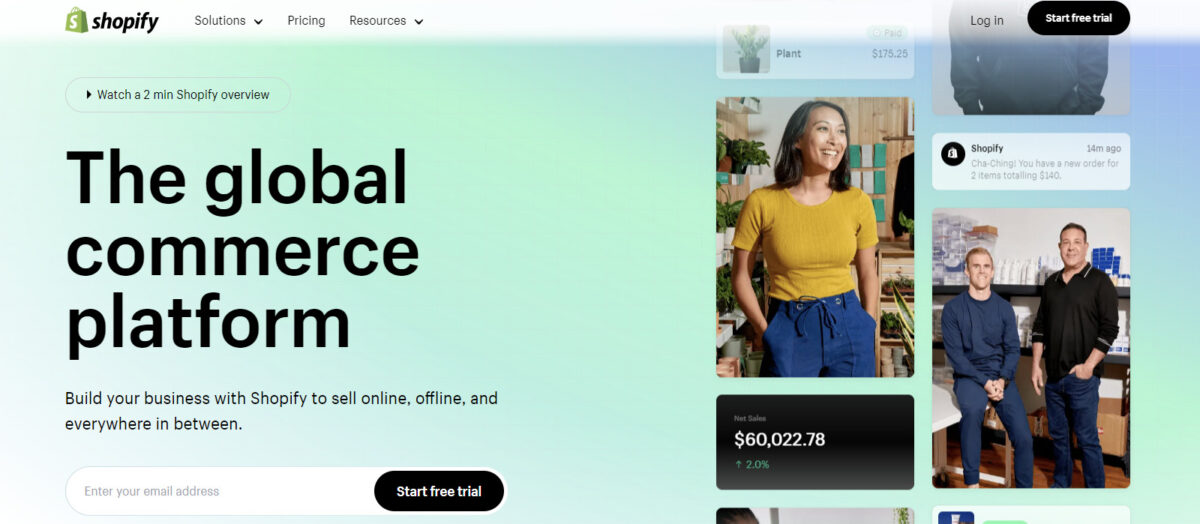 Whether you want to add a wholesale option to your existing online retail store or have a dedicated B2B site, Shopify lets you do either on one platform. B2B on Shopify has all the ecommerce features we're familiar with—then augments them with the essential wholesale features B2B sellers need to run their business online.
Its suite of tools include advanced theme customization, customer-specific pricing, flexible payment terms, customer authentication, and variable discounts. It also provides you access to Shopify Functions, Shopify APIs, and other native integrations.
To minimize friction, B2B on Shopify enables seamless enterprise resource planning (ERP) integration with major providers such as Acumatica, Brightpearl, and NetSuite. It also enables integrations with customer relationship management (CRM) and over a thousand business apps. This allows you to easily integrate existing business tools and run your business smoothly.
Since Shopify is already known for its reliable and secure platform, it lends your business more credibility which is crucial when you are building a brand.
---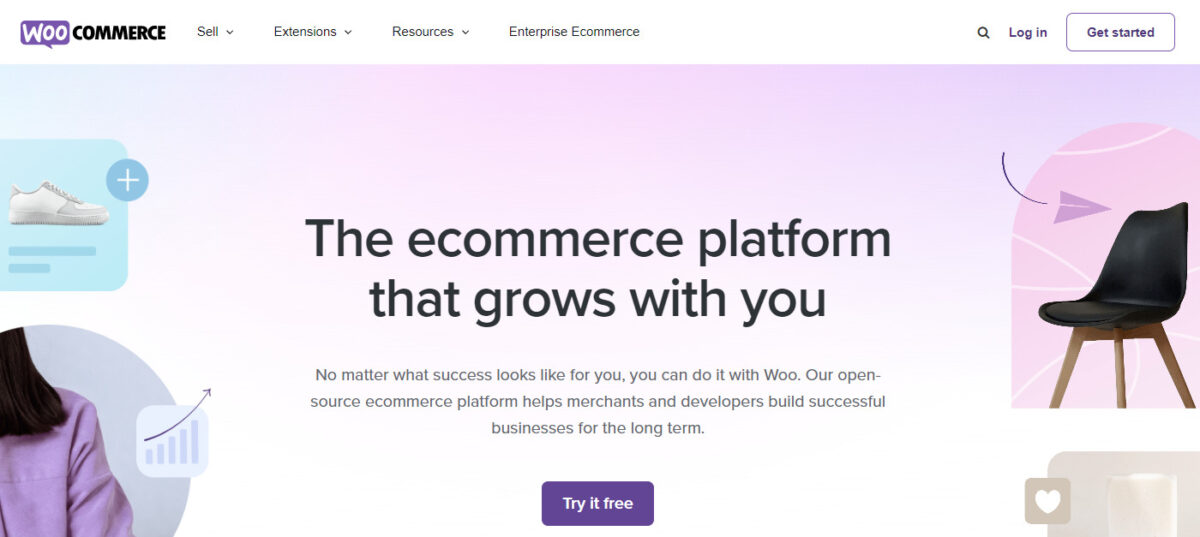 Turn your WordPress site into an ecommerce shop optimized for both B2C and B2B customers. Get the WooCommerce B2B extension to get more advanced features and more flexibility in running your wholesale arm.
This plugin integrates five of WooCommerce's best standalone extensions with robust B2B features to enable users to run their B2C and B2B operations from a single site. The default registration form has drop down options for both business-to-customer (B2C) and B2B customers. You'll need to manually review and approve all registrations for B2B accounts. Once granted the specific user role, B2B customers are given customized options such as dynamic pricing, unlimited fields for quote submission, quote-to-order conversion, CSV file import of prices, and tax exemption options.
Aside from its native extensions, WooCommerce B2B also benefits from the massive plugin ecosystem of WordPress itself. This makes it a reliable and adaptable platform for growing both your B2C and B2B operations.
---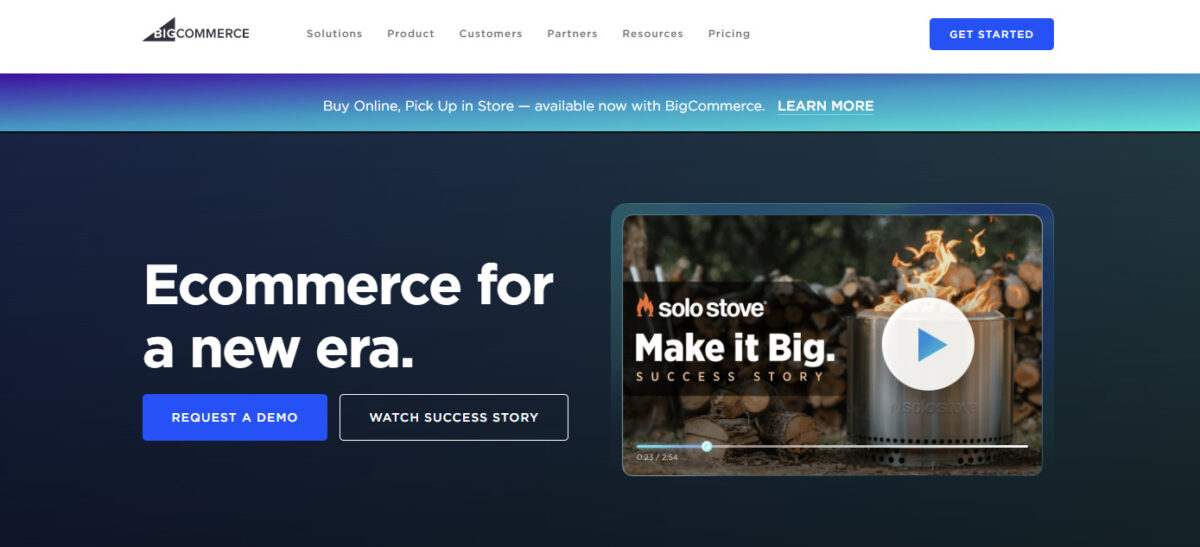 BigCommerce is built for big stores. It is one of the most powerful platforms capable of handling large scale businesses and propelling them to omnichannel growth. If you're starting small with great plans of going big, take advantage of its feature-packed entry-level plans affordably priced for new shops and small businesses.
The B2B Edition augments the standard features of the Enterprise plan with more advanced features designed specifically to meet the unique needs of B2B commerce. Six B2B-optimized themes enable you to customize your ecommerce shop and design your site for large catalogs. One-click integrations allow you to use your existing CRM, ERP, and order management system (OMS). User roles automate pricing, punch out, and net payment terms.
While BigCommerce is a software as a service (SaaS) platform, it has an easy-to-use interface that lets you build and manage your B2B commerce shop even without much technical knowledge. Support teams are also always on hand to help you deal with technical or account management issues you may encounter.
---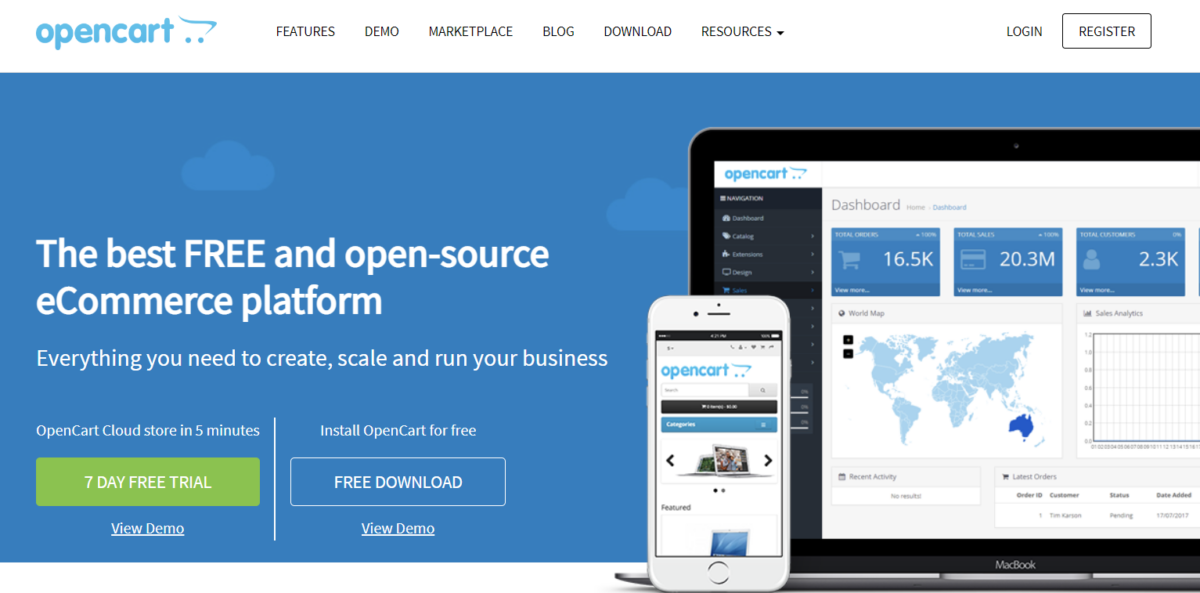 OpenCart is an open-source software that can be downloaded for free, making it a good option for B2B sellers starting out with limited capital. It does require a bit of developer knowledge to use and maintain but there's a community of users to help you out when you need it. There's also a dedicated support team for commercial accounts.
Simply download and install the software to gain access to the OpenCart platform. Create an account, grant access to teams, and set privileges according to their specific roles. Upload product information, manage customer orders, design coupon codes, and set tax exemption rules for B2B customers. Manage affiliate and influencer marketing within the built-in affiliate system. Get a full overview of all your important data from the administrator dashboard and manage your entire B2B operation in one interface.
The free version of OpenCart has all the core ecommerce solutions for small businesses and requires no monthly subscription and fees. When you're ready to scale, you can opt to shell out a few hundred dollars to access the multi-vendor marketplace and a tailored B2B-specific interface.
---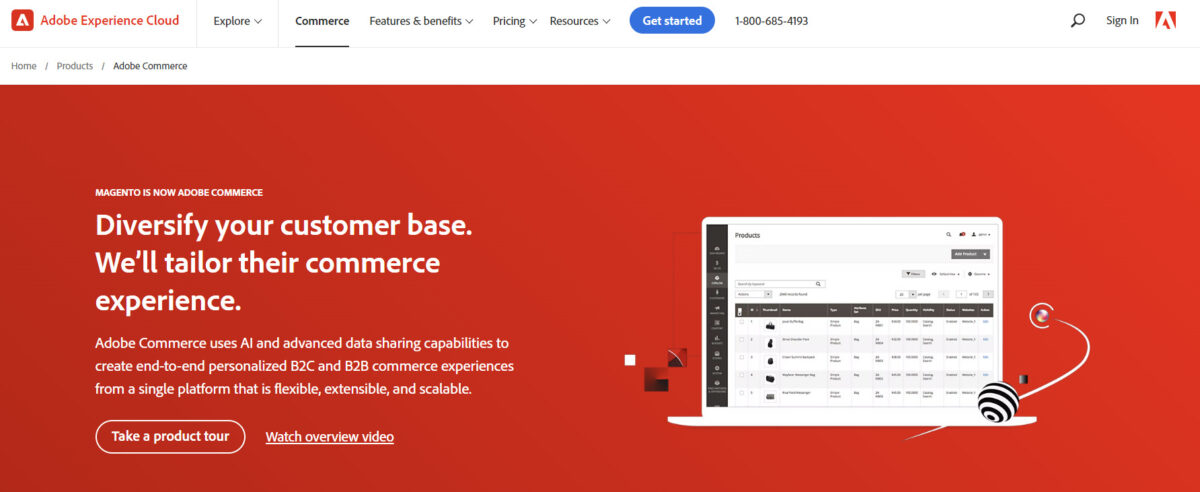 Powered by Magento, Adobe Commerce combines high performance with high security for large-scale B2Bs. It has the capability to provide omnichannel experiences for both B2C and B2B customers on a single platform.
With Adobe Commerce, you can utilize powerful automation tools for customer segmentation and personalization. A user-friendly interface and drag-and-drop features enable you to create visually appealing content and streamlined shopping experiences for your B2B customers. Native integrations with Experience Manager, Target, Creative Cloud, Analytics, and other Adobe Products empower you to manage and scale your B2B business.
For small businesses with limited budgets, Magento Open Source offers a free and open-source alternative. You can leverage other Magneto extensions and functionalities to boost your B2B site. Once you're ready to scale, easily switch to Adobe Commerce for advanced features that give you limitless possibilities in growing your business.
---

Eliminate friction between disparate systems by leveraging a platform that unifies all the tools and systems you need to grow your B2B business. NetSuite combines its core business systems with a selection of extensions in a unified SuiteCommerce platform.
SuiteCommerce integrates NetSuite ERP, CRM, order and inventory management, point of sale (POS), financials, customer service, and other systems. Cloud-based and mobile-optimized, it enhances omnichannel shopping experiences on multiple devices. It also provides you with much flexibility through feature-rich extensions that enhance site performance and user experiences.
Manage your business better with an interface that puts all critical business data in one view. Make sound and timely business decisions with access to real-time data across your B2B operations. Extend and scale your business with an agile platform that adapts to your specific needs. The platform supports multiple languages and currencies, enabling you to grow on a global scale.
---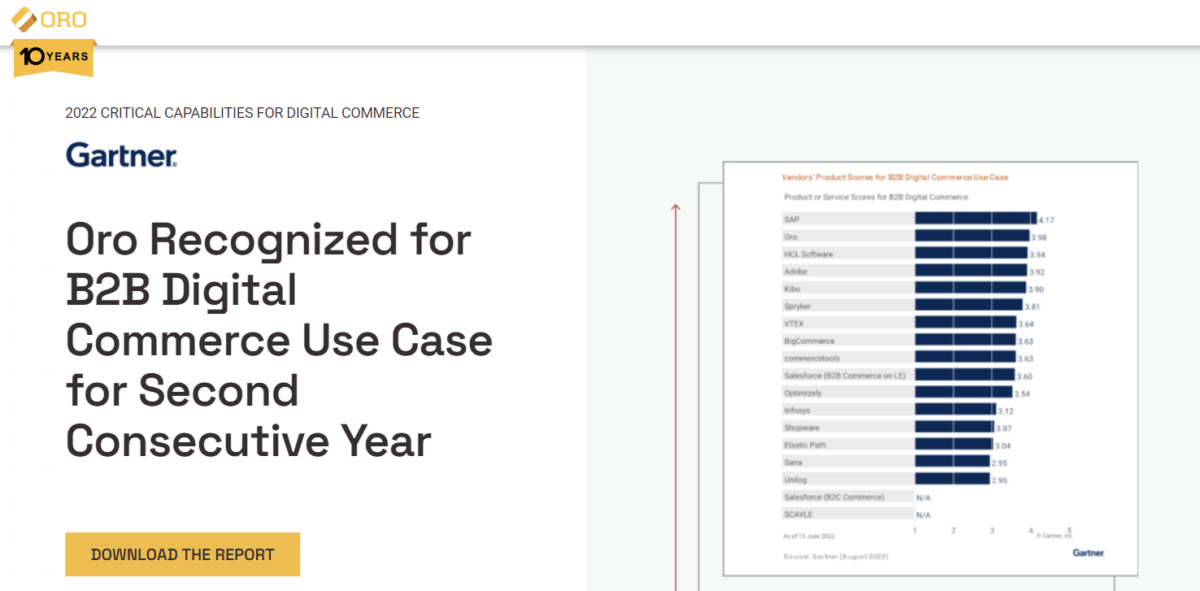 Jumpstart your digital transformation with the unified B2B ecommerce and CRM platform of OroCommerce. The platform is equipped with pre-built components and agile features that let you create a sleek and modern B2B selling environment. The easy-to-use interface empowers you to design and deploy your B2B site with lower development costs.
OroCommerce comes with tools for digitizing product catalogs, granular segmentation, flexible payment options, and order tracking. Its reporting features and performance dashboards harness the power of data analytics to help you make better business decisions. The platform integrates well with existing business systems so you can run your B2B business in one place.
---
Give your B2B customers a B2C-like shopping experience through Shift4Shop. This ecommerce platform combines an intuitive customer interface with powerful B2B solutions that simplifies and streamlines the purchasing process of B2B customers.
To create a mobile-responsive design with intuitive navigation, Shift4Shop harnesses its proprietary Core Template Engine. B2B customers can transact business wherever and whenever they are on any device. Unlimited categorization and product variant options enable them to quickly find the products they need. Pricing tiers, order quantity requirements, and other wholesale options are customized and set according to customer types to give them more flexibility with their purchases. Financing solutions through Apruve offer them more payment options.
Designed as a fully scalable platform, Shift4Shop has a B2B commerce solution for you wherever you are in your business growth journey.
---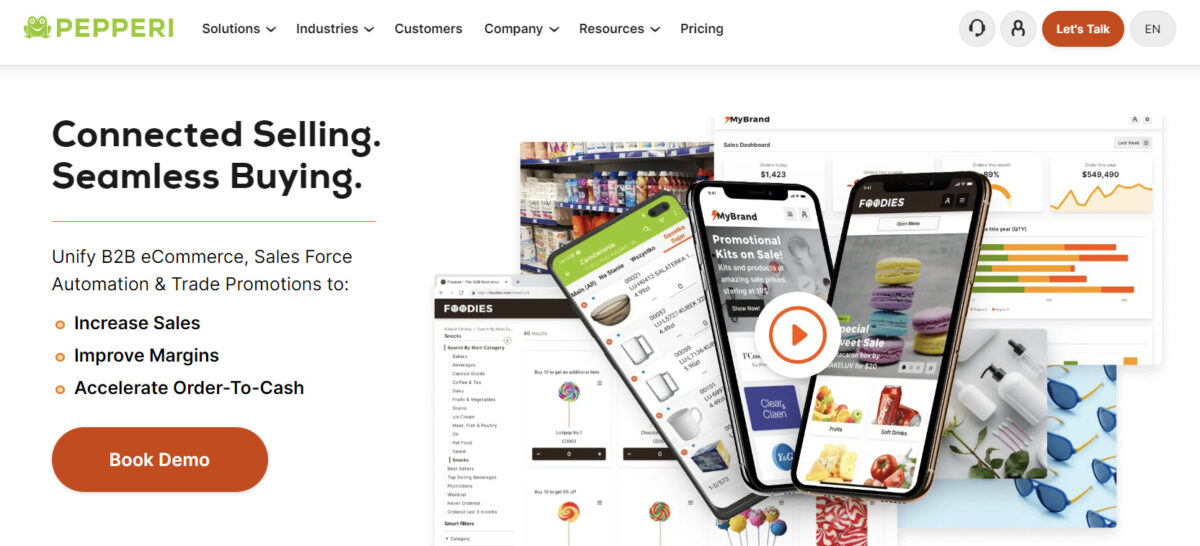 Connect field sales and B2B commerce in an enterprise-grade ecommerce platform built for omnichannel experiences.
Pepperi spices up your B2B offerings with buyer-specific features such as custom catalogs, tailored pricing, and trade promotions. An intuitive and mobile-responsive interface ensures customers have access to your business from any device. Order history, self-service portals, configurable dashboards, and other tools provide consistent buyer experiences that help improve retention rates.
Back office integrations keep data fresh and maintain consistency in performance across all channels. Seamless integration with different payment gateways provide customers with flexible payment options.
---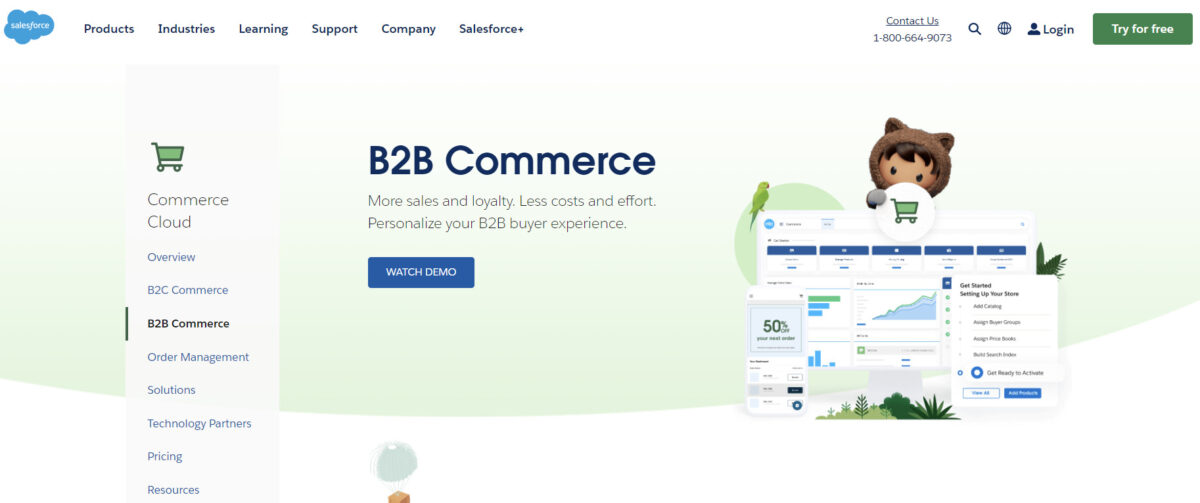 Launch your B2B commerce site within weeks and reach your target market faster. Salesforce propels your business to growth by driving B2B efficiency and creating seamless omnichannel experiences for your customers.
Boost efficiency by integrating all the apps, data, processes, and systems you use to run and manage your B2B operations. Access the Salesforce dashboard to get a 360-degree view of your customers and understand their needs better. Salesforce lets you deliver B2C shopping experiences to make B2B transactions more enjoyable. It provides access to handy features such as custom catalogs, fast reorders, contract pricing, and other features that simplify the complexities of B2B shopping.
With Salesforce, you can build lasting B2B relationships by delivering more connected customer experiences. Unify the buyer journey by engaging customers at every touchpoint. Use data analytics to make purchasing recommendations and guide them in their journey. Increase customer retention by staying connected and delivering relevant content.
With all these capabilities, Salesforce B2B commerce lets you tailor your B2B site to your business and to your customers.
---
How to Choose a B2B Commerce Platform
Whether it's your first time shopping for a B2B commerce platform or you're looking to make a switch to a new one, you must consider different factors to help you decide which will fit your business best. Each platform has its own pros and cons which you need to weigh against your B2B goals.
Still, there are some basic features that a B2B platform should have for it to be an effective vehicle for lucrative growth. Here are some of the basics your B2B commerce platform of choice should have.
1. Customization
Even for B2B transactions, personalization is a large part of excellent customer service. Your platform ideally allows room for customization so you can make each customer's buying journey more tailored to their needs.
Some customization features to look for include personalized product recommendations, client-specific offerings, variable pricing, and different shipping options.
2. Speed and reliability
To keep B2B customers coming back to your business, you must provide them a quick and seamless experience. A high performing platform that offers speed and reliability is crucial for this. Make sure your platform of choice can handle your volume and keep transactions fast and uninterrupted.
3. Ease of use
Look for a platform that is easy to use both for you and your customers. Choose one that has an intuitive interface with a unified dashboard to make monitoring and managing your business less confusing. This should be complemented by a similarly easy-to-use dashboard for your customers to complete their purchases and track their orders.
4. Mobile responsiveness
Most B2B customers now make their wholesale purchases on mobile devices, making it imperative to have a B2B platform with mobile-first solutions.
5. Competitive pricing
Even open-source and free platforms will incur some costs to run and maintain. Set your budget accordingly and find the platform that gives you the most value for its services. Specifically, make sure the rates you pay for are appropriate to the level of service and features you can enjoy. A B2B commerce platform with flexible plans is a good option as it enables you to easily scale up or down depending on the needs of your business.
---
Push Boundaries with B2B Commerce Platforms
Create new revenue streams, streamline buyers journeys, and offer better customer experiences for your resellers and retailers. There's no better time to move your B2B business online and push the boundaries of your B2B sales. Choose the right B2B commerce platform that meets your needs with capabilities aligned to your business goals. If you're unsure how to make the shift to digital structures, partner with a B2B branding agency that can help you stand out.
Frequently Asked Questions
What is B2B eCommerce example?
Examples of B2B eCommerce include manufacturing materials, car parts, and semiconductors. These materials are part of transactions between two businesses.
Is Amazon a B2B or B2C?
Amazon is primarily a B2C platform because they sell their products directly to consumers. Other competing platforms like Alibaba are both business to business sales (B2B) and business to consumer sales (B2C). However, Amazon has other products – like Amazon Web Services – that operate as B2B products.
Is Shopify a B2B or B2C?
Shopify is a B2B company that gives merchants the technology they need to start and their online businesses. The company offers a big range of products and services to help businesses, including point of sale and marketing tools.
What is B2B eCommerce software?
B2B eCommerce – or business-to-business electronic commerce – is the sale of goods and services through online transactions between businesses. Orders can be processed digitally so it's easier to buy more efficiently and effectively. It's easier for wholesalers, manufacturers, distributors and other types of B2B sellers.