As a digital storefront for your business, your website should perfectly represent your brand. This makes your WordPress theme a vital element when building your website because it can make all the difference in the overall look and feel. Not only should it look great but it should also offer a seamless user experience.
But with thousands of themes to choose from, it can be challenging to find the best one for your brand. In this post, we've narrowed down some of the best WordPress themes of 2024 to make the job easier for you.
---
Best WordPress Themes in 2024:
---
What Is a WordPress Theme?
A WordPress theme is a set of files that determines the overall look of your blog or website. It can include style sheets, template files, graphics, and code. A theme is used for customizing and controlling how your website is presented to visitors. It doesn't necessarily change the content of your website but only changes how the content is displayed.
While WordPress offers thousands of themes for free, you can also find paid themes from third-party developers that come with more advanced features. These features allow more flexibility for brands to customize their websites to perfection.
---
What to Look for in a WordPress Theme
While your WordPress theme should look visually appealing, it should offer something else beyond that. To make sure you're choosing the right theme for your brand, make sure it checks off a few boxes:
Mobile-responsiveness
Does the theme look great on both desktop and mobile screens? Keep in mind that many visitors will use their phones to visit your website. Make sure the theme you use is optimized for viewing on different devices.
Intuitiveness
Visitors should be able to seamlessly navigate your website and easily find the information they need. This is why it's important to choose a WordPress theme that offers intuitive navigation that keeps the user experience in mind.
Customizability
Since your website is an extension of your brand, it should look and feel like your brand the moment visitors land on your page. This is why customizability is another important aspect to look for when choosing your WordPress theme. You should be able to customize the overall appearance so that it aligns with your brand image.
Plugin support
Plugins offer even more versatility to do whatever you want with your website–whether you want to add forms, enhance security, allow membership signups, send push notifications, enhance your site search functionality, and more. So it's important to find a WordPress theme that supports all the major plugins that you want to use or intend to use later down the line.
---
Best WordPress Themes in 2024
Now that you know the main features to look for in a theme, let's take a look at some of the best WordPress themes to consider in 2024:
Price: Starts at $59

Designed for speed, this lightweight and fast-loading theme is a favorite among WordPress users. Astra offers a library of starter templates that help you save time on website design with the help of pixel-perfect, ready-to-use demos.
It's highly customizable, which means you can use it to build all kinds of websites–from food blogs to business websites to e-commerce stores. The visual theme customizer allows you to create a look that fits your brand identity, making it easy to change the layout, colors, headers, and blog design.
With an SEO-friendly markup, Astra also makes it easier to improve your search engine ranking. And it's accessibility-ready, which means you can instantly make your site accessible to all types of users and follow the WCAG 2.0 standards.
---
Price: Starts at $89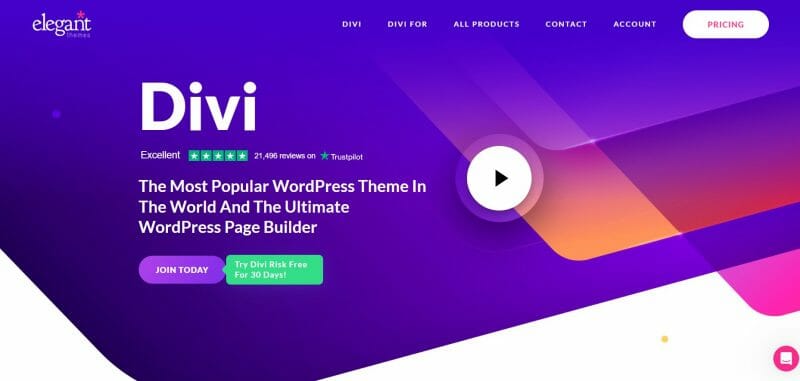 With a drag-and-drop visual editor that simplifies the building process, this multipurpose website builder is another popular option. It offers plenty of customization options with a large library of layouts and 40+ website elements such as calls-to-action, sliders, blogs, testimonials, forms, and galleries.
Divi layouts are responsive by default, but you can take it a step further by tailoring the appearance of each element across different devices. That means changing text size, letter spacing, line height, and other elements so they look great no matter what device is being used.
---
Price: Starts at $79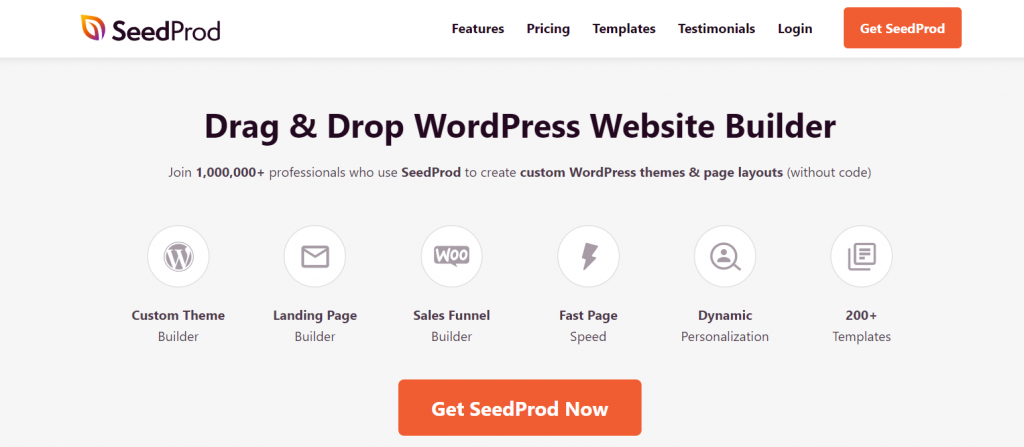 SeedProd features a drag-and-drop page builder that's easy to use, so even non-tech users can build a website exactly the way they want to, customizing it block by block. You can start with a blank page and create a website completely from scratch using 80+ pro blocks for displaying static and dynamic content.
It also comes with pre-built starter templates to simplify the website creation process for beginners. You even have templates for building different types of landing pages for webinars, sales, login, thank you, or opt-in. So SeedProd offers a good balance of customizability for pro users and simplicity for novices.
---
Price: Starts at $59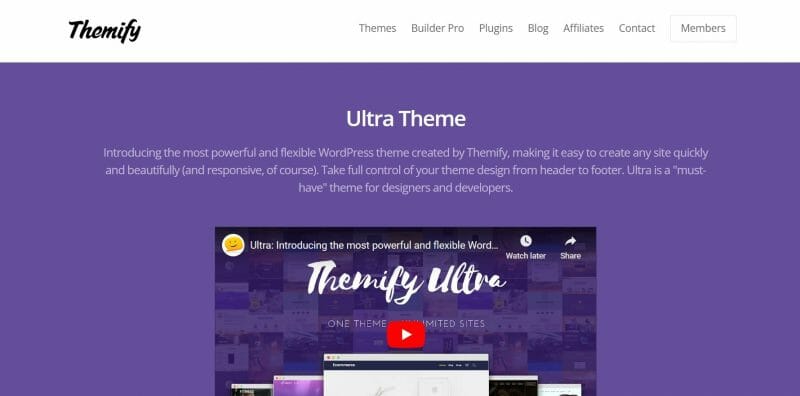 One of the most flexible WordPress themes available in the market, Ultra is a powerful theme from Themify. It comes with a huge collection of pre-made websites that you can start using in just a few clicks to save time. Along with 60+ pre-designed layouts, you can also create as many layouts as you need using the drag and drop builder.
Ultra offers plenty of customization features including the option to display animated background colors, add filters to your images, include a portfolio of your work, and enable section scrolling. You can even integrate it with your WooCommerce shop, instantly matching the shop with the overall look and feel of your website theme for a cohesive ecommerce shopping experience.
---
Price: Starts at $59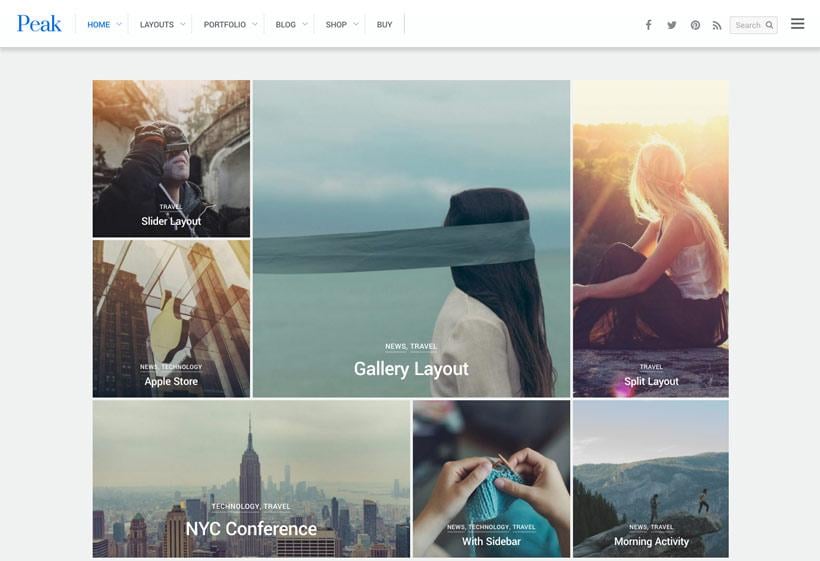 Another option from Themify, Peak boasts a masonry tiles layout that is perfect for showcasing visual art relating to photography, painting, and design. The layout is 100% responsive so it instantly adapts to whatever screen is being used to access the website. This lets you showcase your portfolio for potential clients or sell your merchandise with WooCommerce.
You can customize the look by choosing between different gallery styles, page templates, title banners, and animated widgets. It also offers all the standard Themify features including a drag and drop builder and a quick demo import.
---
Price: Paid plans start at $99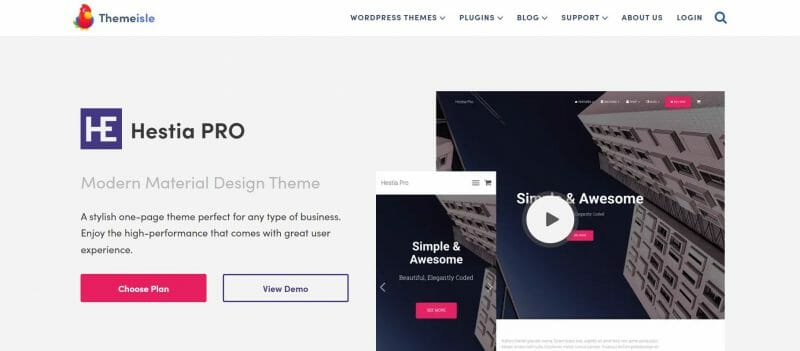 This simple, one-page theme from Themeisle is free to use with a premium-like feel. Users have the option to upgrade to pro versions of the theme to gain access to more advanced features. It comes with plenty of starter sites that you can use to save time and quickly set up your own website. And the Customizer gives you full control over the final appearance of your website.
Hestia comes with an SEO-ready structure, enabling you to set up a site with a good chance of ranking high on Google SERPs. It's translation-ready with free and premium plugins letting you translate every element in your theme. This makes it a great option for businesses that want to achieve a global reach.
---
Price: Starts at $59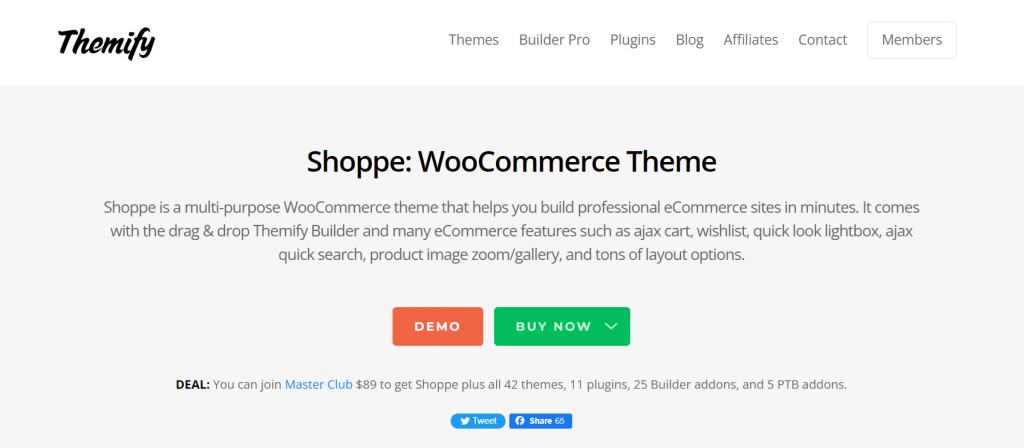 Perfect for ecommerce shops, Shoppe is a WooCommerce theme from Themify that lets you create a professional website in minutes. The simple drag and drop Themify Builder makes it easy for novice users to quickly build and customize their websites. It also comes with plenty of ecommerce features such as wishlist, ajax quick search, ajax cart, quick look lightbox, and product image zoom/gallery. This allows you to deliver a seamless ecommerce shopping experience that will keep customers coming back.
Shoppe lets you customize the overall look and feel of your ecommerce store with 60+ layouts and plenty of free plugins. You can use these plugins to tailor your site with store locators, announcement bars, and popups.
---
Price: Paid plans start at $54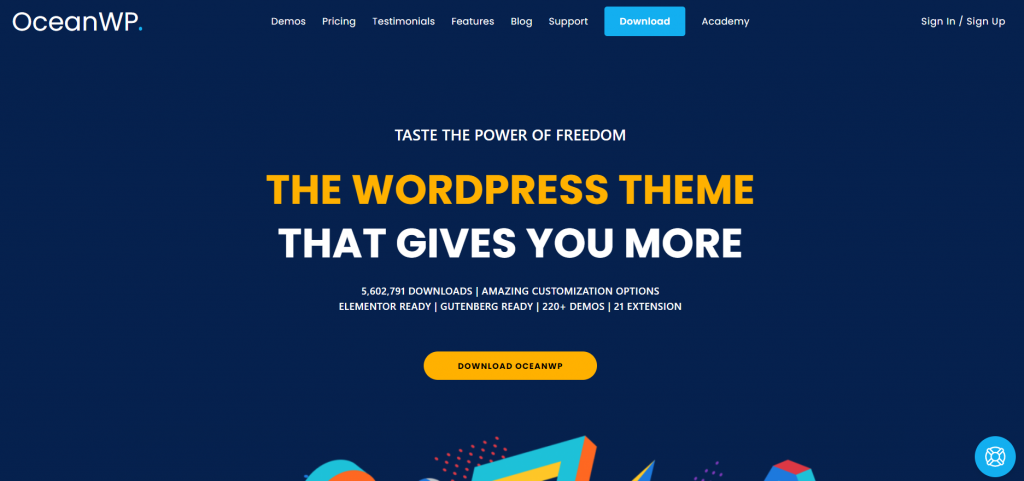 If you're looking for a cost-effective way to build a highly professional website, OceanWP is a free theme that's lightweight and super easy to customize. You can also upgrade to one of the paid plans if you're running more than one website. OceanWP allows you to create a website that looks and feels like your brand with the option to apply colors and typography settings to different sections.
It comes with free header styles that are customizable to your taste and layout options to tailor how your blog entries and elements are displayed to readers. With WooCommerce integration, OceanWP also offers robust ecommerce customization and features so you can build a shop that makes buying convenient and seamless.
---
Price: Starts at $59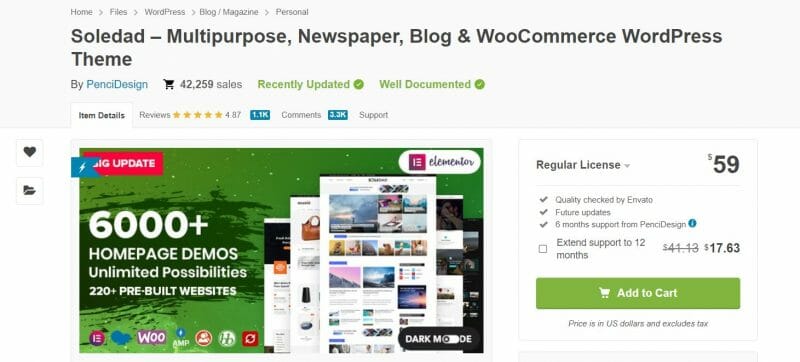 This multi-purpose WordPress theme from Themeforest comes with 6000+ homepage demos and hundreds of pre-built websites that allow you to quickly set up your site in just a single click. This makes it a great option for beginners and pros alike as it helps you save time. Optimized for speed, Soledad allows you to deliver an enhanced visitor experience. It also offers 40+ customizable elements so you can create a site that's tailored to fit your brand identity.
You can choose from 1000+ sliders and blog/magazine layout combinations to beautifully display your blog entries. The online store builder lets you create a mobile-first ecommerce site with an enhanced shopping experience through features like product wishlist and product comparison. This makes Soledad a great option for bloggers, businesses, and ecommerce stores alike.
---
Price: Starts at $59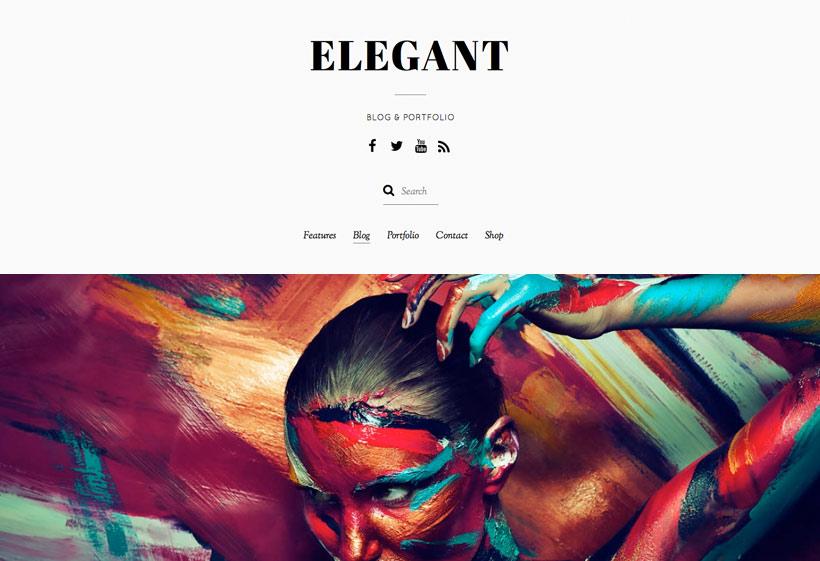 If elegant minimalism perfectly defines your brand, this theme from Themify might be the perfect option for you. As the name suggests, Elegant is an elegant multipurpose theme that minimizes clutter and puts greater attention on typography. So it lets you focus on the most important element–your content. This makes it a popular option with artists, bloggers, photographers, and writers.
The responsive theme makes sure that your website looks great on any device. And the drag and drop builder allows you to easily tailor the overall appearance of your site with image filters, layout options, and other customization features.
---
Price: Starts at $99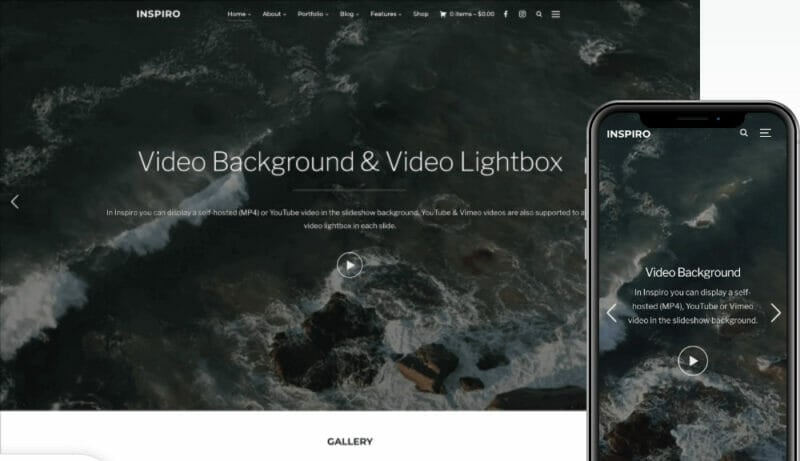 The ideal theme for those who want to display videos and slideshows on their homepage, Inspiro is a theme that focuses on photos and videos. The full-screen slideshow supports Vimeo and YouTube as well as self-hosted videos. It also has a portfolio module that includes multiple-page templates for showing off your work. This makes it a great option for showcasing your portfolio–whether you're an artist, photographer, designer, or videographer.
Inspiro lets you save time building your professional site with pre-built pages for Services, Contact, About, and more. And you can easily edit these pages in minutes using Elementor. You can further tailor your site with the colors and fonts you want using the Customizer. Inspiro has SEO-friendly code, which lets you build a high-ranking website. It's also translation-ready so you can localize your website content across multiple locations.
---
Price: Free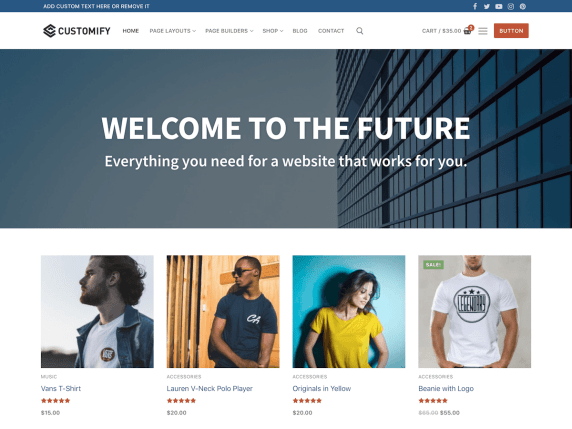 Customify is a free and lightweight WordPress that's super flexible, offering plenty of customization options. And the best part is that it's free to use. It works great with leading page builders such as Elementor, Thrive, Architect, Visual Composer, Divi, Beaver Builder, and SiteOrigin. Customify lets you build any website you want using the Header & Footer Builder, so you can create beautiful landing pages that perfectly speak to your brand image.
You can use the WordPress customizer to tailor your website to perfection, with unlimited typography choices at your disposal. The responsive theme makes sure that your site looks great no matter which device visitors are using. It's also SEO-friendly, which means that your site stands a good chance of ranking high in SERPs.
---
Price: Starts at $99
Neve takes a mobile-first approach to website building with AMP compatibility and mobile responsive designs. This ensures that your site looks great and is functional on both desktop and mobile devices. With this lightweight theme, you don't have to sacrifice speed for aesthetics, making sure that your pages load super fast and enhance the visitor experience.
The drag and drop editor lets you create a fully customized website in minutes, tailoring every element to your liking. That means you can adjust the layout, header, footer, colors, background, typography, buttons, form fields, and menu to perfectly match your brand identity. Plus, Neve also offers 100+ starter sites that are ready to import and will let you finish building your site in minutes.
---
Ready to Start Building?
Choosing the right WordPress theme is a key step to building a professional website that looks and works great and perfectly represents your brand. Make the most of the options given above and see which one would be best for your site.
Frequently Asked Questions
What is the most popular WordPress theme?
The most popular WordPress theme is Astra. Astra is the most downloaded WordPress theme of all time. This multipurpose theme offers both free and premium versions, depending on your budget and your site's ideal setup. Astra is used by both major brands and organizations thanks to its lightweight build, speed and power.
What are top five most popular WordPress themes?
These are the top 5 most popular WordPress themes for blogs and websites alike:
1: Astra
2: Divi
3: SeedProd
4: Ultra
5: Peak
What is the best WordPress theme 2024?
These are the 10 best WordPress themes in 2024:
1: Astra
2: Divi
3: SeedProd
4: Ultra
5: Peak
6: Hestia
7: Shoppe
8: OceanWP
9: Soledad
10: Elegant
11: Inspiro
12: Customify
13: Neve
Is WordPress still popular 2024?
Wordpress is still popular in 2024. According to statistics, WordPress is still used 43.2% of all websites on the Internet in 2024. This is an increase from 39.5% in 2021. Approximately 2 of every 5 websites uses Wordpress.