Shopify is one of the leading ecommerce software platforms used by many companies globally. It is arguably the biggest online shopping platform operating today. Data estimates put Shopify as the seventh largest Canadian company by market capitalization.
Amazon may still be king in the online retail industry, but Shopify is more versatile, offering more diverse options for the online seller. Amazon is more of an online marketplace that offers virtual space for sellers alongside other vendors; Shopify lets people build their own online store from the ground up.
The subscription-based platform enables users to set up a website to sell their products online. From a basic store for small businesses to a fully customized on-brand website for corporations, Shopify allows its users to customize the shopping experience of their customers. It even offers its own point-of-sale app for businesses to use with their physical stores.
VIEW TOP SHOPIFY ECOMMERCE COMPANIES IN THE USA
It is not surprising, then, that many big brands and companies use Shopify for their online shops. The platform's Shopify Plus product offers more features for businesses that deal with high volume sales. Aside from letting companies pick their own site design, Shopify Plus enables them to modify checkouts, add additional themes, and even gain access to other advanced features. Shopify's functionalities even work with third-party developers, so big brand customers can have a truly unique online store that is aligned with their branding.
Let's take a look at 20 of the biggest and most influential brands that sell their products and services on Shopify. Most of these companies are valued at upwards of $1 billion and have partnered with Shopify Plus for their ecommerce needs.
---
20 Popular Brands That Use Shopify:
---
Beauty and Fashion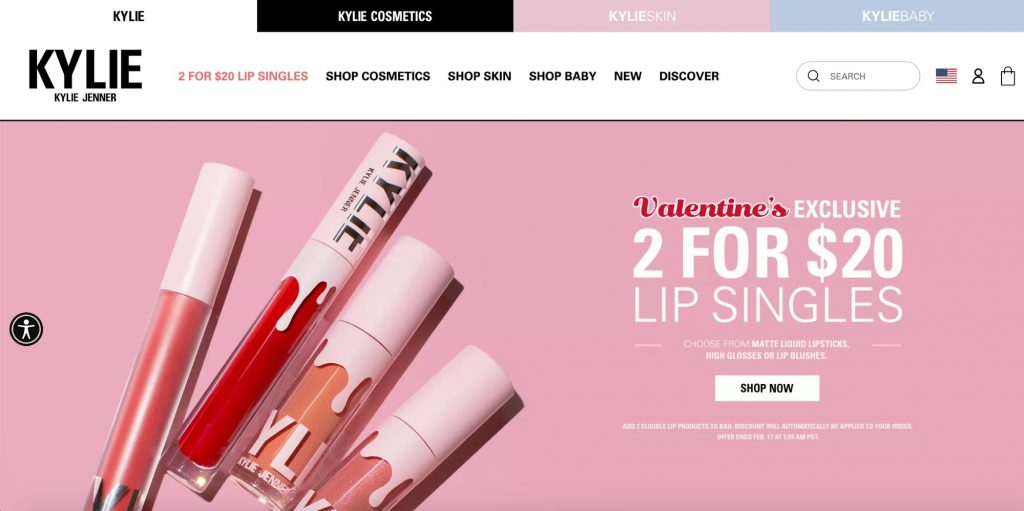 The controversial Kardashian-Jenner clan's youngest business mogul, Kylie Jenner, has made a name for herself in the beauty and cosmetics industry with her own company, Kylie Cosmetics. Then 18-year-old Kylie, together with her mother-slash-manager Kris Jenner, launched Kylie Lip Kits in 2015. Its success led to the formation of Kylie Cosmetics soon after.
The cosmetics brand uses Shopify Plus for its online shop in order to customize the look and management of Kylie Cosmetics. Shopify provided special software to the business in order to support the huge demand for its products.
---
Shopify has been one of the long-term partners of the Kardashians, having also provided the platform for the now-defunct Dash boutique of the Kardashian sisters. Today, Shopify powers not only Kylie Jenner's online beauty store, but also older sister Kim Kardashian's own line, KKW Beauty, as well as her underwear and shapewear line, Skims.
Kim founded Skims in 2018, selling everyday underwear in a variety of cuts and styles, along with shapewear and loungewear. The company has partnered with various brands, including Fendi and Nordstrom. Recently, Skims entered an agreement with Team USA to provide loungewear and underwear for both the 2020 Tokyo Summer Olympics and the 2022 Winter Olympics in Beijing, which are also available for sale online on its website.
---
3. KKW Beauty (soon to relaunch)
On the other hand, KKW Beauty, undoubtedly also one of the biggest beauty brands on Shopify, is taking a hiatus from its operations and online sales while undergoing a major rebrand. The company announced in 2021 that website operations would cease starting from August 1st, to work on a "new, more modern, elevated, and sustainable brand and customer experience."
News reports have stated that the rebranded KKW Beauty will be launched this year, although Kim is reportedly having legal issues over the potential new name of her cosmetics empire.
---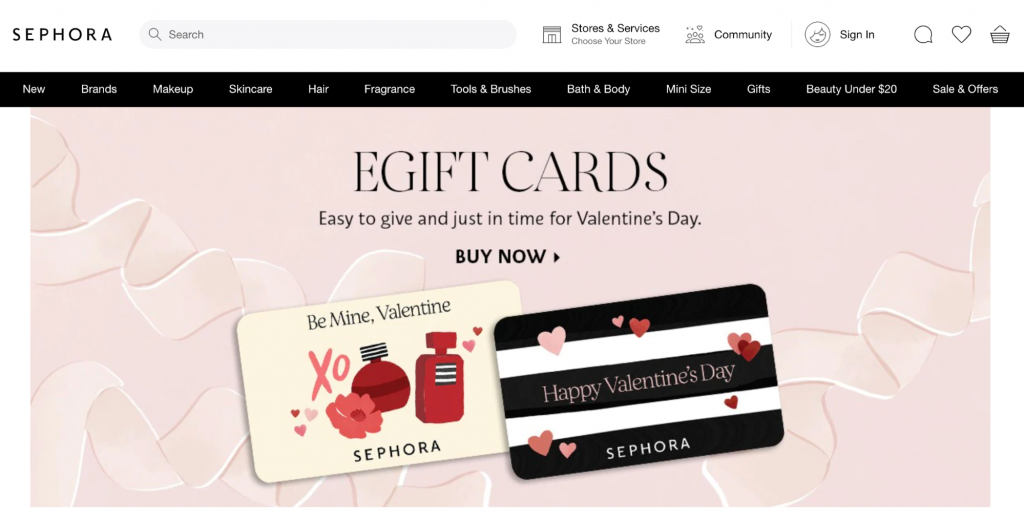 Anyone who loves makeup knows Sephora. Owned by luxury company Moët Hennessy Louis Vuitton (LVMH), Sephora is another cosmetics giant that uses Shopify for its ecommerce platform.
Sephora's online shop includes a vast number of products from various brands, perhaps one of Shopify's largest product catalogues. You can buy almost everything from cosmetics, skincare, and haircare to fragrances, nail colors, and body lotions.
---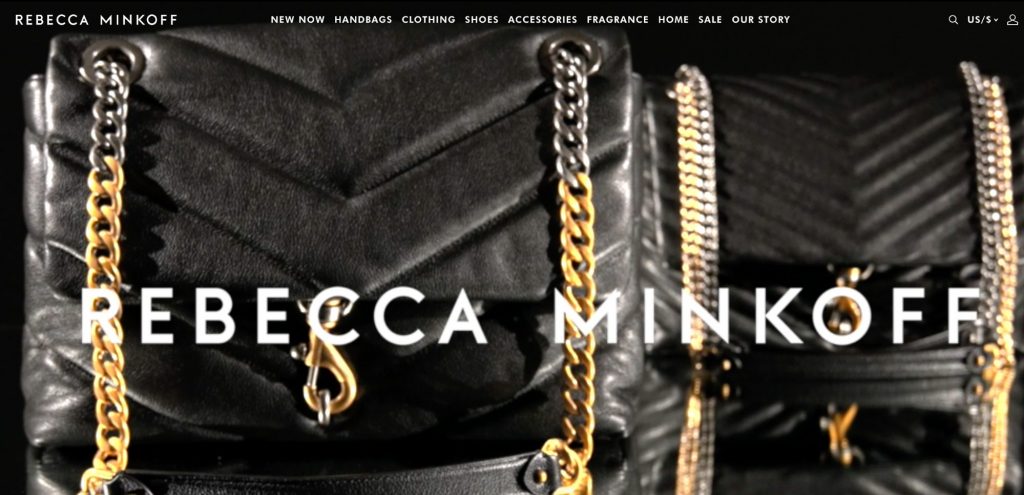 Another well-known brand in the world of fashion, Rebecca Minkoff is no stranger to adopting new technologies in its business. On the Rebecca Minkoff website powered by Shopify Plus, users can interact with the product in 3D and augmented reality. The company felt that customers did not truly "feel" the brand when shopping online; there's an element of brand ambience in physical stores that is missing on websites. So the company decided to add the 3D and AR element to the Rebecca Minkoff online store to give customers a chance to engage more with the products, and get a feel of how their signature handbags would look on them.
Because of this technology, online shoppers are 30% more likely to purchase Rebecca Minkoff products. Co-founder and CEO Uri Minkoff said that the decision to adopt 3D technology for the company's Shopify store helps the customers "get a better sense of quality, size, and other details that matter."
---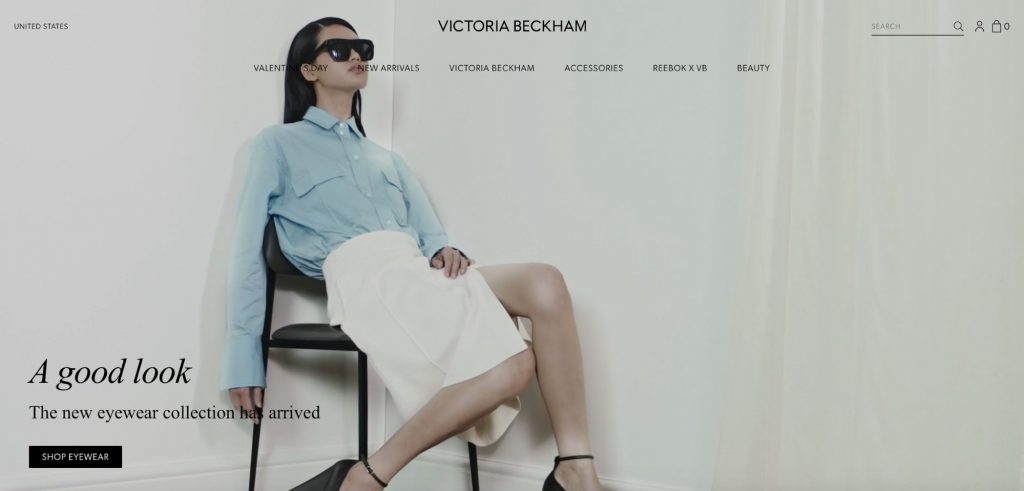 Clean beauty is the focal point of Victoria Beckham Beauty, the skincare and cosmetics company founded by fashion and beauty entrepreneur Victoria Beckham with Sarah Creal. Wanting to be meticulous and unique, the company needed specific design and user experience requirements, something that needed a tremendous amount of customization from Shopify's themes. But the ecommerce agency that Victoria Beckham Beauty hired was able to leverage the flexibility of Shopify's APIs, using its superior checkout UI for the company.
The Victoria Beckham Beauty case is one such example of a brand using Shopify along with other technical approaches to create the perfect, bespoke online shopping experience for its customers.
---
Already a well-established brand in the offline world, LeSportsac was on the cusp of making a major decision regarding its ecommerce operations when it realized that Shopify had the tools and functionality it required. The company's online store was not performing as expected, and bugs frequently plagued the website. LeSportsac decided to overhaul its online shop and identify changes. When the directors of LeSportsac discovered what Shopify can provide, they quickly signed on and built a website that offered much better user experience for their customers.
After getting Shopify Plus for its ecommerce needs, the American company saw its online sales grow by 37%, as it began to more effectively communicate its values and brand online.
---
Food and Beverage
Austrian company Red Bull, famous for its energy drinks, is also on Shopify. Red Bull cannot legally sell its main product online, but its numerous sports teams in racing and football have produced loyal fans around the world. Its online shop sells Red Bull merchandise branded with its famed sports franchises. From apparel to accessories, model cars to media products, Red Bull has something for every fan.
---

The COVID-19 pandemic saw the proliferation of ecommerce websites as businesses moved online, including the food and beverage industry.
American food and beverage conglomerate PepsiCo launched two ecommerce websites in 2020 to give its customers alternative options to buy its products without leaving their homes. On pantryshop.com, built with Shopify, people can order essential pantry goods and their favorite Frito-Lay snacks. All of the company's most popular food brands—Gatorade, Pepsi Cola, Quaker, Tropicana, and Frito-Lay—are available on the website.
---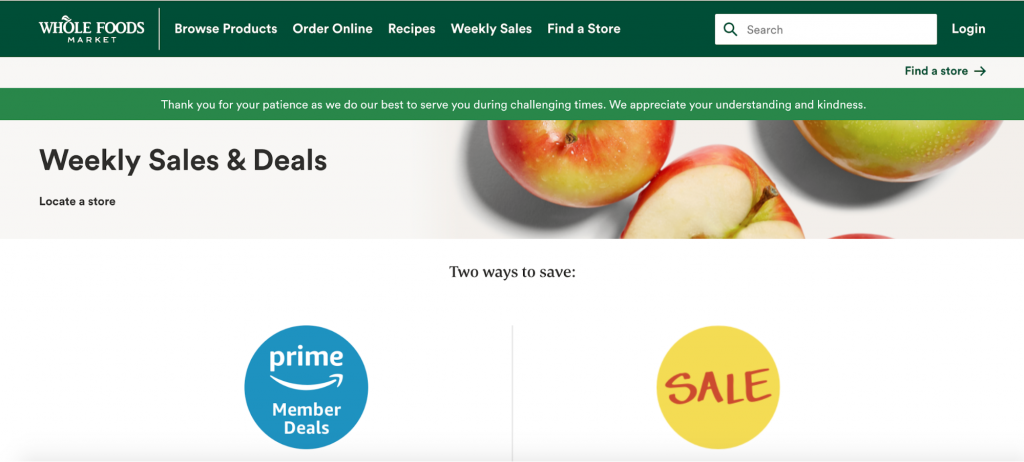 Amazon's Whole Foods Market is a retail supermarket chain famous for its natural and organic food products. It has more than 350 grocery chains, and its online store is powered by Shopify Plus. Customers can select and order from Whole Foods' inventory, and their orders are fulfilled by Amazon via delivery or pickup.
---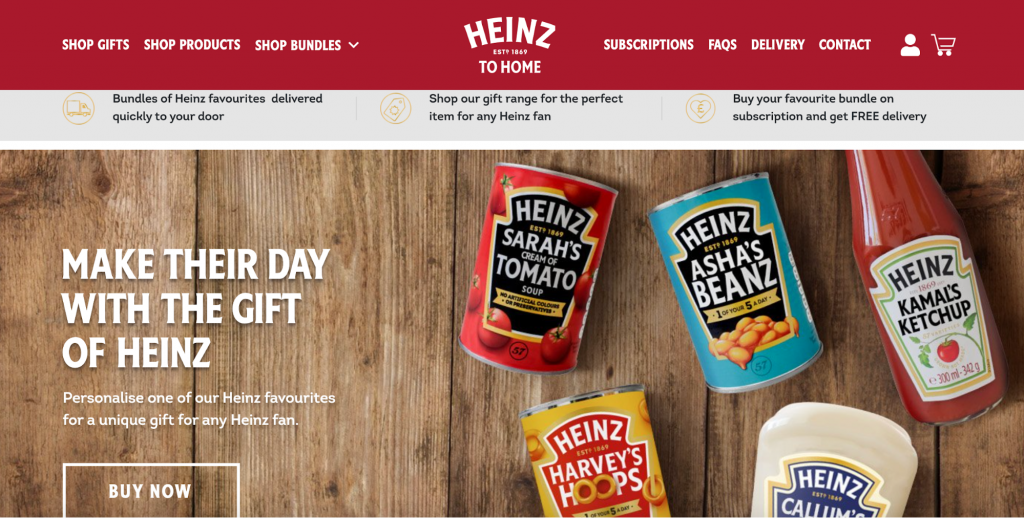 A case study in quick launches, Heinz created its direct-to-consumer online shop in only seven days. Like many companies in the food and beverage industry, COVID-19 impacted the company negatively. Heinz discovered that consumers needed more alternative ways to access its products, particularly in its UK market, as the pandemic placed restrictions on going out.
Heinz to Home was launched in the UK just seven days after signing a contract with Shopify Plus, which provided the platform with essential products online for frontliners and vulnerable populations.
---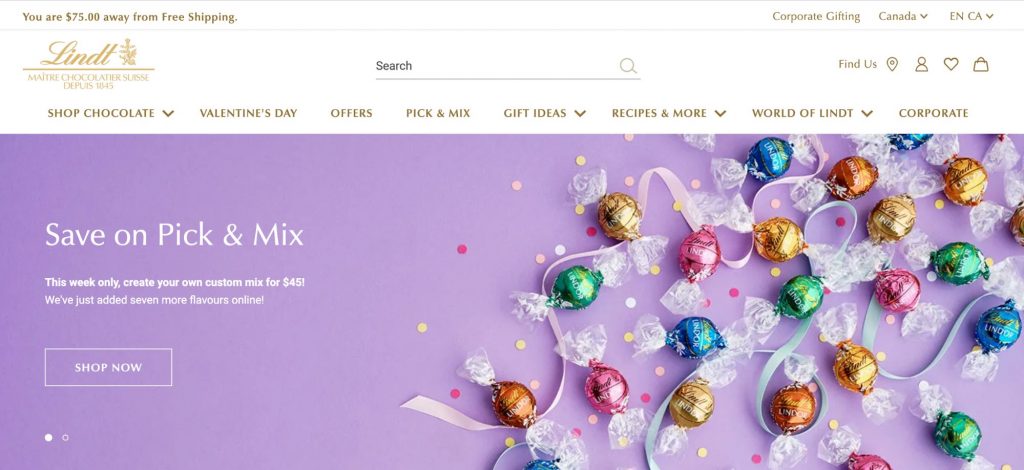 Chocolates are probably not what you'd first think of when you think about ecommerce. But Lindt & Sprüngli, home of the Lindt, Whitman's, Russell Stover, and Ghirardelli brands, opened its online stores across the globe when the pandemic forced everyone to stay inside their homes. While the Swiss chocolatier company did not use Shopify in every country, it did open the largest ecommerce site in Canada with Shopify.
It is another case study in the advantages of Shopify's functionality, as the company's online store was up and running in less than a week.
---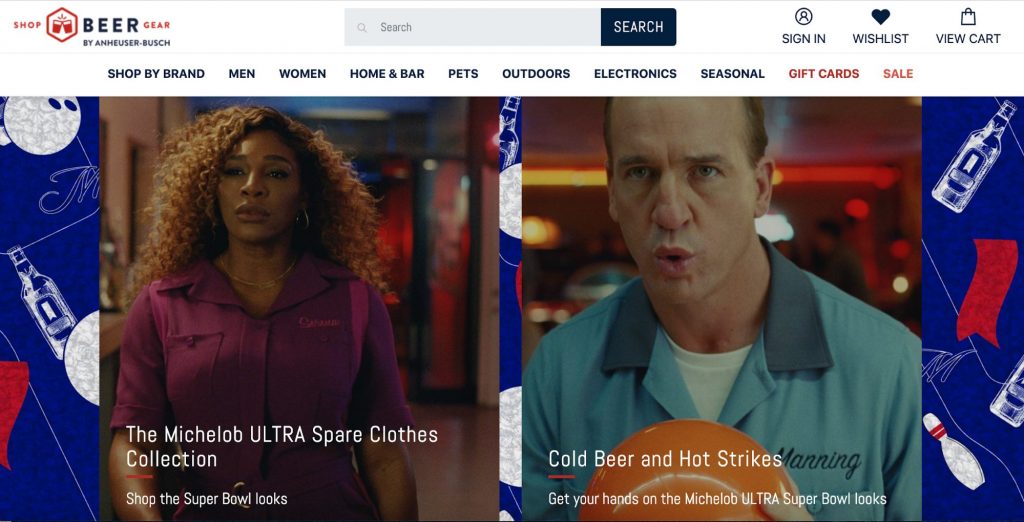 You may not be familiar with its official company name, but you might certainly know the company's brands. Anheuser-Busch, makers of the famous "King of Beers"—Budweiser—is a Belgian company considered to be the biggest beer brewery in the world.
Its online store, shopbeergear.com, features branded merchandise from Budweiser, Stella Artois, Presidente, and its other brands. You won't find any alcohol for sale on the website, but there is a multitude of other "beer gear" you can find. They have men and women's apparel and accessories, plus categories for home and bar, outdoor, electronics, and even pets.
---
14. Nescafé (soon to relaunch)
Swiss company Nestlé's world-famous coffee brand Nescafé also used Shopify for its direct-to-consumer online store. In 2016, Nescafe wanted to target millennials for one of its instant coffee variations. The company decided to use Shopify Plus for its features and functionality. The team tasked to create Nescafe's ecommerce platform only had several weeks to implement the plan, and Shopify's easy to use system and customizable themes helped them to stay on target.
Currently, the Nescafé shop is offline, with an announcement to re-open soon. Shopify will continue to be their choice of ecommerce platform when they open, given their good working relationship in the instant coffee campaign in 2016.
---
Entertainment, Lifestyle, and Fitness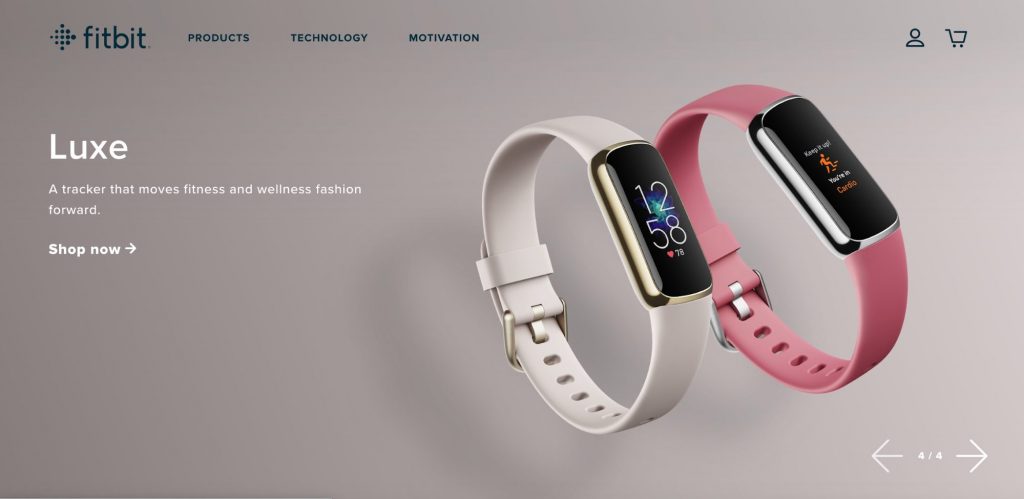 Fitbit is a pioneer in the fitness wearables industry, launched in 2007 in San Francisco. Its flagship product, a wearable fitness tracker, soon became so popular that other electronics manufacturers began producing their own versions. In 2021, Google acquired Fitbit for an impressive $2.1 billion.
Fitbit uses Shopify for its online store, which features its line of smartwatches, fitness trackers, smart scales, and accessories.
---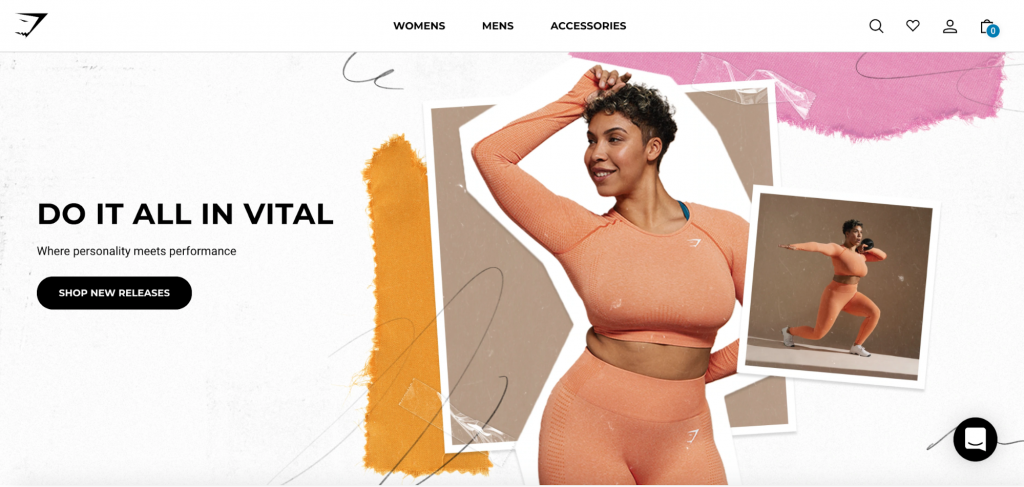 Founded in 2012 by a 19-year-old Ben Francis in his mother's garage, British fitness apparel company Gymshark manufactures and distributes activewear for men and women. In 2020, the company was valued at over $1 billion, making it one of the biggest companies to have a Shopify-powered online store.
Its products are known for being affordable, flexible, breathable, and flattering, making it popular among sports and fitness people. Gymshark created its online platform through Shopify, where it continues to attract global audiences. Though based in Europe, the company says you can find its largest customer base in North America, thanks to the global reach of its online store.
---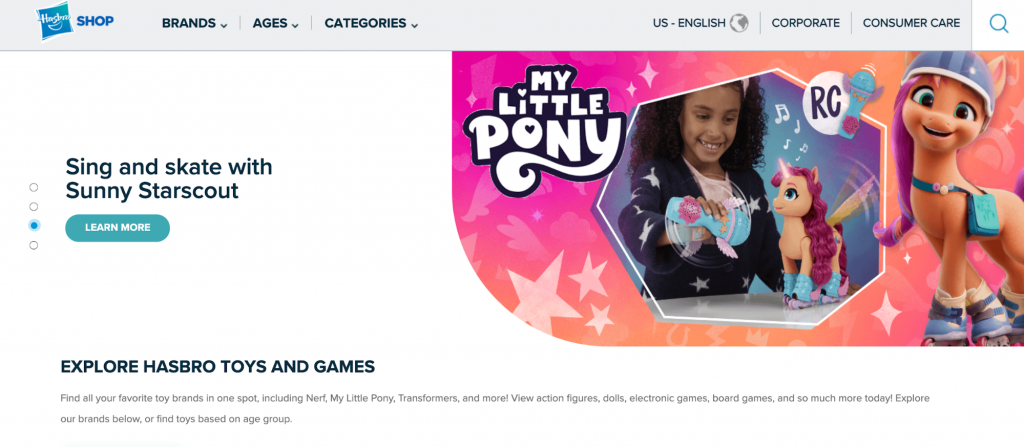 Hasbro used to have three separate platforms for its ecommerce operations. But as one of the leading manufacturers of themed toys and collectibles, Hasbro needed to streamline its online store. Shopify was able to offer Hasbro the functionalities that it needed, including support for huge traffic spikes during peak seasons like Comic-Con and other fandom events.
Taking things a step further, Hasbro even offers pre-orders for custom toys for die-hard fans who want to design their own figurines from their favorite movie franchise. Shopify also powers their crowdfunding app, HasLab.
---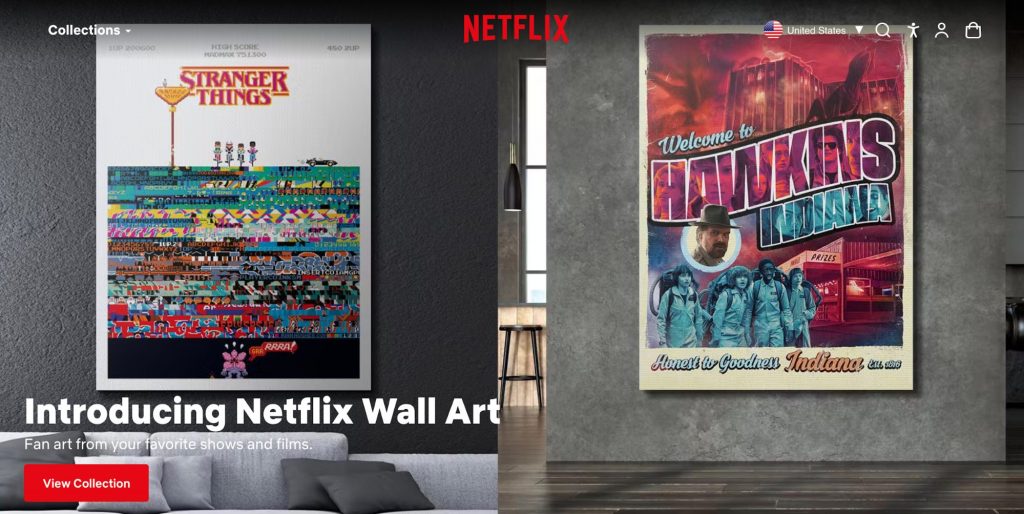 You may be wondering what a streaming company like Netflix is doing on Shopify. Well, as it turns out, ecommerce is not limited to retailers. The solid fan base of Netflix series and movies proved to be an excellent market for Netflix merchandise. Netflix.shop sells themed apparel and lifestyle products to fans of shows like Stranger Things, Cobra Kai, Lupin, and The Witcher. The items on sale are limited edition runs, so loyal fans are sure to snap them up.
The website went live in June 2021, and more collections are expected to drop this year. Netflix has announced that it is partnering with up-and-coming young designers, who the company hopes will be a big influence in the future of the design industry.
---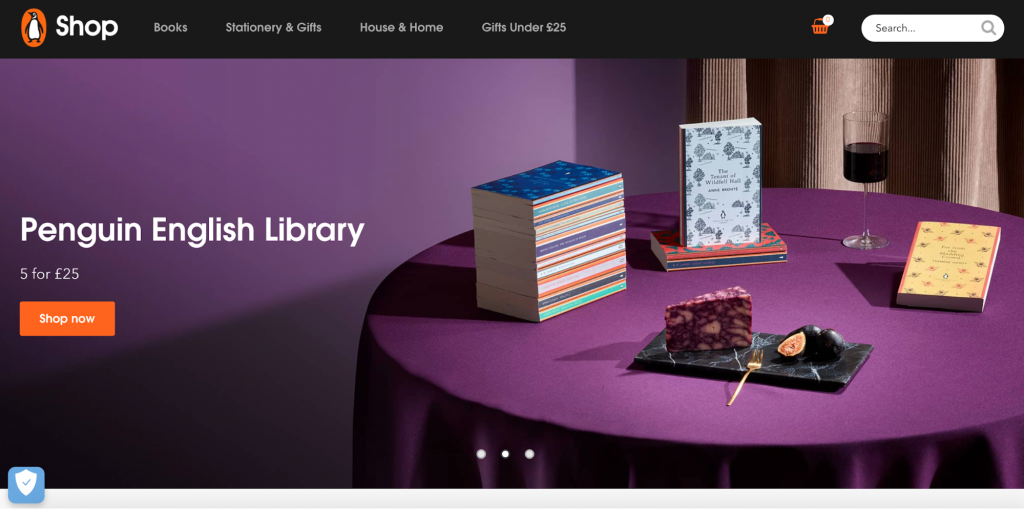 UK-based publishing giant Penguin Books has been around since 1935, but it has fully embraced ecommerce with its own Shopify-powered online store. Featuring books, stationery, home accessories, and gifts, Penguin's online store is a book lover's dream.
A subsidiary of Penguin Random House, Penguin Books is now owned by German media conglomerate Bertelsmann, which acquired the mother company in 2020.
Shoppers can find their favorite modern and vintage classics, even framed prints of their favorite books featuring the famous Penguin tri-band cover design, on Penguin's online shop.
---
Automotive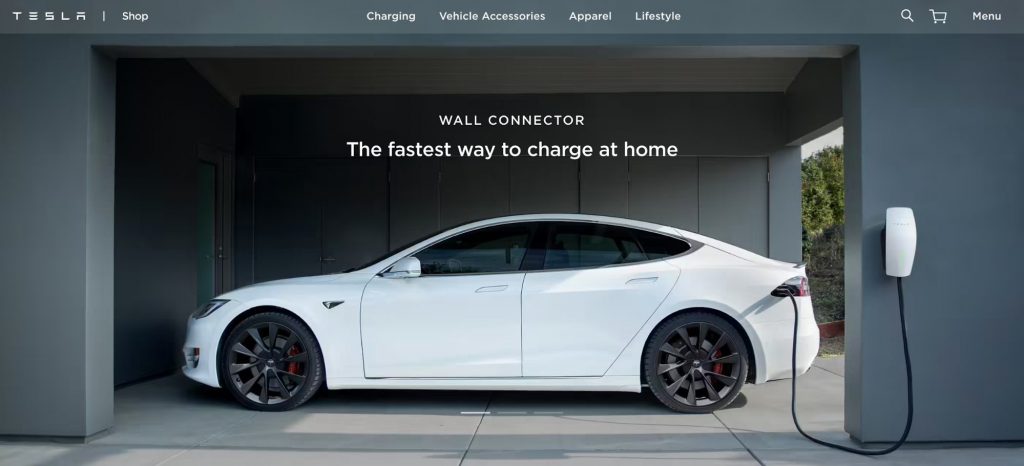 The most valuable company on our list with a whopping market value of over $640 billion, Tesla, is also in on the ecommerce market. But don't go online shopping for your first Tesla electric vehicle just yet. The Tesla shop sells car accessories and chargers, apparel, and other Tesla-branded lifestyle products. You can, however, purchase the Cyberquad for kids, a four-wheel ATV powered by a lithium-ion battery and suitable for children ages eight and up.
A unique distinction about the Tesla online shop is that it accepts cryptocurrency as payment, with the Cyberquad ATV priced at 14,135 DOGE on the website.
---
Ecommerce on the Rise
With such big multinational corporations turning to ecommerce, it is inevitable that the future of the industry is headed toward the digital age. Shopify, the leading provider of customizable online shopping platforms, continues to dominate the market share because of its features, functionality, and versatility.
Even as the pandemic nears its end and the world slowly returns to normal, ecommerce is not likely to fade out anytime soon. If anything, the previous two years have shown people that it is possible for companies from different industries to embrace ecommerce— there is a market for online shopping. And with Shopify continuing to expand and offer more and more features, we're certain that more businesses will adopt ecommerce, further changing the landscape of global shopping.