The COVID-19 pandemic changed the way consumers shop. Online shopping - and with that mobile commerce - picked up. However, it's not long after the world returned to normal and now economic uncertainty is threatening to dampen the shopping spirit. Most consumers are feeling the pinch to some degree.
A few years ago marketers had to plan around rising infection numbers. Now, it's about planning around rising inflation. One way that they can beat the impact of inflation is to leverage mobile devices more. The following statistics and trends show why it's crucial that brands include mobile devices in their marketing strategies this holiday shopping season.
Download the BF Influencer Guide
---
Black Friday: 10+ Red Hot Mobile Shopping Trends to Shape Your Strategy:
---
1. Mobile Accounts for Over 70% of Black Friday Traffic
It's clear: consumers love using their smartphones to browse the web. The 2022 Black Friday eCommerce Strategy and Stats Report shared by SaleCycle found that online traffic typically increases quite significantly over the course of the week leading up to Black Friday. According to their numbers, it grows by nearly 40% with mobile devices accounting for 74% of this online traffic.
---
2. Browse Abandonment Rate Higher for Mobile Device
While shoppers mostly use mobile devices for browsing, mobile shoppers are still more likely than desktop users to browse a page only to leave without buying a product. According to the Statista Research Department, in 2022, the browse abandonment rate for Black Friday shoppers was 86.73% for mobile and 81.13% for desktop.
However, SaleCycle estimates that it can be even higher. According to their numbers, the average browse abandonment rate for mobile is 89% compared to 85% for desktop throughout the week before and week after Black Friday.
It did, though, reduce slightly as the big day approached and at 6 p.m. it was the lowest.
A possible reason for this is that shoppers first pondered during the day (and the weeks leading up to the event) whether they really want (or need) a product. Maybe it wasn't the voice of reason that prevailed but instead after a long day of browsing/shopping, decision fatigue set in and it was simply easier to give in to those (guilty) pleasures.
---
3. Mobile Shopping Contributes to Over Half of Online Sales
According to Adobe Analytics Insights, mobile shopping during Thanksgiving and Cyber Week reached a record in 2022 and accounted for a whopping 55% of online sales. What makes this number even more impressive is that in 2021 Adobe stated that "mobile shopping hit a wall" with smartphones only generating about 40% of sales on Cyber Monday.
SaleCycle suggests that it could even be as high as 60%. Whichever number you choose to use, mobile devices were responsible for more online sales during Black Friday than desktop.
As for revenue, the picture is slightly different. In 2022, smartphone purchases accounted for about 48% of the revenue generated during the holidays.
This suggests that while mobile devices might be used for increasingly more online sales, the purchases are typically smaller.
That said, in 2021, smartphones generated about 42% of Black Friday revenue. So, if online purchases 2023 were to follow the same trajectory, smartphone sales will also generate more than half of the revenue.
---
4. Conversion Rates for Mobile Devices (Still) Lower Than Desktop
While the online sales during the holiday season generated via mobile devices are steadily increasing, mobile shopping still lags behind in conversion rates. The conversion rate of online shoppers on Black Friday in 2022 was as follows:
5.6% for desktop devices

3.3% for mobile devices
The difference in conversion rates was even higher for Cyber Monday. Nearly double as many online shoppers converted when they used their desktop (6.9% vs 3.6%).
In fact, this picture looks pretty similar for other popular holiday events. The conversion rate via desktop devices is generally at least 2% higher.
---
5. Mobile Shoppers Are More Likely to Add Items to Their Cart
While mobile shoppers are less likely to convert, they're more likely to add items to their cart than desktop users. In 2022, the average add-to-cart rate for Black Friday mobile shoppers was 18.42%, about 5% higher than for desktop users. Shoppers typically added items to their cart between 10 a.m. and 1 p.m., according to SaleCycle's numbers.
---
6. Mobile Devices Are Very Popular for Product Reviews
A massive 89% of shoppers use mobile devices to review products (aka read product reviews) before they approach a sales rep. This can be viewed as an example of how physical and digital retail interactions can cross paths. Consumers might browse online (even add the product to their carts) and rather opt to buy the product in store (but only after they first quickly check what others are saying online about the product).
Experts McKinsey explain that we're entering the "phygital world". It will become more important for brands to create connected experiences. In other words, the lines between physical and digital store experiences will become less clear.
---
7. Omnichannel Communication Preferred for Black Friday
Mobile devices might not be the clear winner for buying products, but they definitely have a major role to play in communication. Infobip anticipates that moving forward various messaging channels will be used to communicate with shoppers on Black Friday.
SMS, in particular, is expected to enjoy more interactions. According to Infobip, they anticipate that SMS interactions on Black Friday can increase by as much as 54% compared to your average Friday. In Europe, these types of interactions can increase by as much as 73%.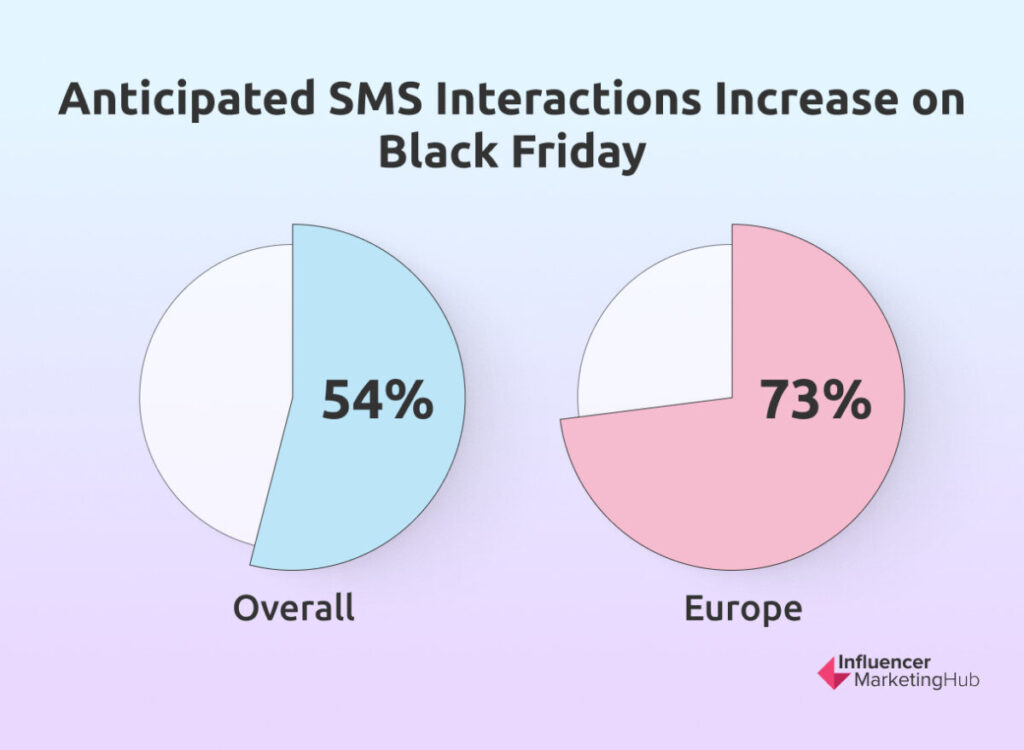 Even more impressive is that Multimedia Message Service (MMS) messaging is expected to more than double on Black Friday in North America. On Cyber Monday, the increase in MMS interactions can be as much as 149% higher compared to your typical Monday.
---
8. Consumers Find Impersonal Messages Annoying
SMS, MMS, and WhatsApp might be popular channels for reaching your target audience, but if you simply send them an impersonal message you'll probably just annoy them. According to Infobip research, more than half of consumers (54%) admit that impersonal messages annoy them.
And, if they aren't annoyed, it's likely because they chose to ignore your message. Nearly half (47%) simply ignore these types of messages completely.
Basically, if you send an impersonal message, you're faced with two likely outcomes. You risk annoying your potential customers or for them to ignore you. Neither outcome is good for a brand looking to generate more mobile sales.
---
9. An Intuitive App Is the Third Biggest Factor Influencing Buyers
Black Friday might be synonymous with super savings and sales, but that's not the only factor that influences buyers to support a brand. According to the National Retail Federation, an easy-to-use app (or website) is one of the top three factors.
If you truly want to optimize your chances of generating more eCommerce sales, ensure that your app is user-friendly, run a limited-time sale, and include free shipping. If you manage to add all three of these elements, you leave holiday shoppers with basically no reason not to convert.
---
10. Sales Start as Early as October
Pre-black Friday sales are basically just as popular as Black Friday itself. According to RetailMeNot's survey, 52% planned to shop pre-Black Friday deals in 2022 with online retailers indicating that they'll start rolling out these sales in October already. Other early deals, like Prime Early Access, are even more popular with 56% planning to use this day.
And, if consumers didn't support sales already in October, it doesn't mean that they're necessarily leaving it for Black Friday. SaleCycle tracked the growth in online sales during the week before and week after Black Friday. Their numbers reveal that each day leading up to the event, online sales increase significantly. Between Monday and Friday, the overall sales grew by 62%.
---
11. Mobile Shoppers Browse Earlier
Online retailers should also consider the time of day. This time, though, an early start isn't necessarily needed, at least not if you want to target mobile users.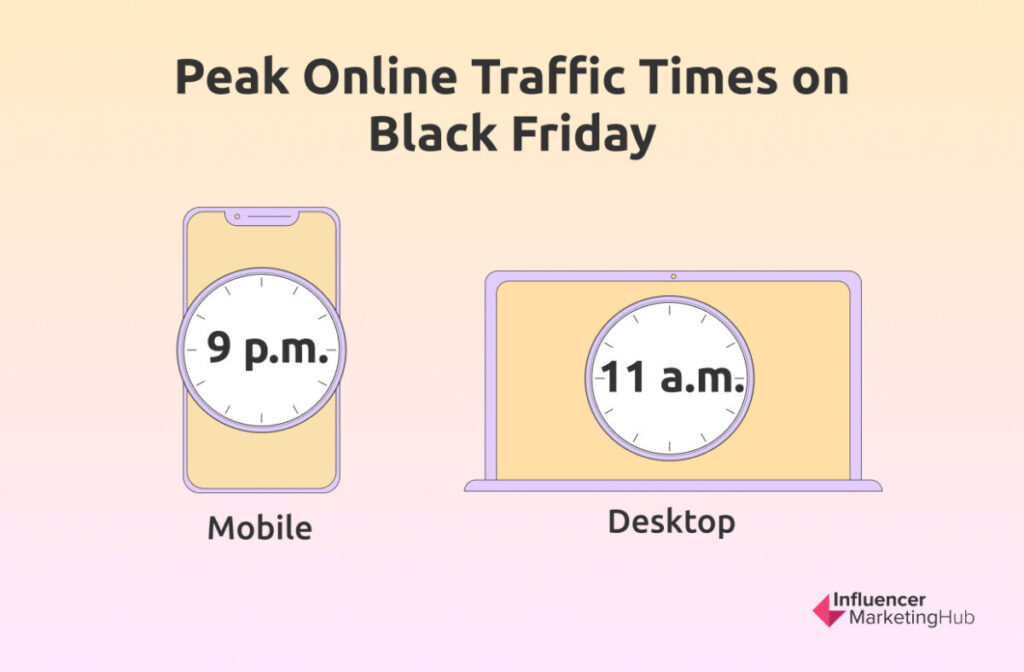 SaleCycle's 2022 Black Friday eCommerce Strategy and Stats Report found that on Black Friday itself, the peak time for online traffic from mobile devices was at 9 p.m. That said, the busiest time of the day for online traffic in general was at noon. However, desktop users preferred an earlier start and the peak time for online traffic from desktop devices was at 11 a.m.
---
12. Toys , Electronics, and Sporting Goods Drive the Sales
According to Adobe, toys generated record-spending on Cyber Monday in 2022. Online sales for this product category were nearly 700% higher compared to on your average day the previous month.
Popular toy products included:
Lego

Pokémon cards

Hot Wheels

Hatchimals
Electronics and sporting goods were also in demand. Electronics were up by nearly 400%, while sporting goods' demand was up by 466%. Surprisingly enough, the average discount offered for sporting goods was much lower. It was about only 10% (which was still higher than previous years). Even such a small incentive still managed to motivate consumers to add it to their carts, proving that a generous discount is only one way to encourage holiday spending.
Top-sellers in the electronics department included:
Apple AirPods

Apple MacBooks

Smartwatches

Air fryers (yes, there are still households without one)
---
13. Buy Now, Pay Later a Popular Method for Cash-strapped Consumers
The uncertain economic climate leaves eCommerce brands guessing what 2023's Black Friday sales will look like. Analytics suggest that one way to copy the success of previous years is to introduce buy now, pay later (BNPL) as a payment option.
According to Adobe, BNPL orders increased by 85% during Cyber Week. This just shows again that brands that are willing to introduce more flexibility will be the ones that will thrive, even during tougher times.
---
14. Paid Search the Biggest Driver of Sales
During Cyber Week in 2022, paid search was the biggest driver of sales across the major marketing channels. It helped to generate nearly a third of online sales (28%).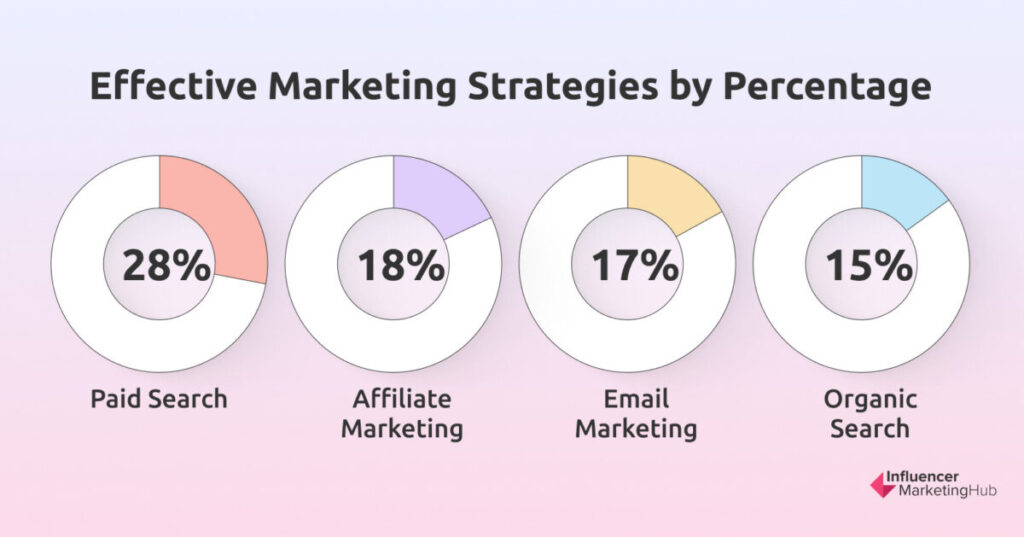 Other marketing strategies that have proven to be powerful include:
Affiliate marketing (18%)

Email marketing (17%)

Organic search (15%)
---
15. The Average Discount Is ± 25%
Now, for the big question — how much discount to offer?
Sure, these trends and stats show that there are other factors, like convenience, that also drive consumer behavior significantly. However, the major appeal of Black Friday remains the savings, whether that's in the form of fee shipping or online discounts.
The average discount for this period hovers around 25%. However, in some cases it can be as high as 80%. Adobe's insights identified toys as one of the product categories that were the most generous and offered discounts of 34% (almost double the discount that was offered in 2021).
---
Key Takeaways
If you can sum up these stats into a single sentence it would read something like this:
Cater towards mobile users and ensure that you keep your approach personal (and start early with your marketing campaigns).
This means that your website (and app, if you have one) needs to be mobile-friendly. The design needs to be responsive so that customer experiences are as seamless as they would be if they were to use a desktop.
Then, to ensure that your messages and deals catch their attention without leaving them feeling annoyed, incorporate personalization. You can, for example, use a customer's previous purchases and tailor your SMS marketing campaign to include personalized product recommendations.
Aside from the actual messaging, you'll also need to keep in mind factors like timing and channel. Know when they're most likely to convert and which channels they prefer to use.
Even if you start early, waiting for your deal to be discovered isn't the most effective strategy. Invest in paid search. It's nearly double as effective as organic search this time of the year.
In addition to paid search, it can also be a good idea to get an affiliate program going. Your potential customers aren't the only ones that will appreciate a discount. Turn to your current customer base and reward them with, for example, gift cards for converting new customers. Rewarding customer loyalty is rewarding, especially during Black Friday.