The holidays are fast approaching and Cyber Week is just around the corner. Many online retailers and brick-and-mortar establishments, such as Walmart and Best Buy, are starting to roll out early deals in preparation for it.
Cyber Week is a mega retail event that spans five days, covering five major shopping dates: US Thanksgiving Day, Black Friday, Small Business Saturday, Super Sunday, and Cyber Monday. Of these special days, consumers look forward to Black Friday and Cyber Monday the most.
Just how popular are these shopping days? What trends do retailers and shoppers need to know to prepare for this year's Black Friday and Cyber Monday, and just how much revenue did these two events generate in 2020?
Let's take a look at some jaw-dropping statistics for Black Friday and Cyber Monday and explore the best practices for online sellers, consumer behavior, and shopping trends.
---
Exploring Black Friday and Cyber Monday: Stats & Consumer Trends:
---
What is Black Friday?
You might have already come across footage showing retail stores in total chaos or shoppers frantically racing into stores, grabbing TVs, small appliances, and clothing from shelves. That's Black Friday in a nutshell: outrageous deals, big crowds, and bigger revenue.
Black Friday, the Friday after Thanksgiving, is a popular time for consumers to do their Christmas shopping because of generous discounts. Popular items that go on sale during Black Friday include electronics, toys, home furnishings, and apparel.
But before the term "Black Friday" became synonymous with low prices and hordes of shoppers, it was originally used to describe streets filled with shoppers looking for deals after Thanksgiving. This was back in the early 1960s in Philadelphia. The term itself goes back to almost 100 years prior. In 1869, it was used to refer to the collapse of the stock market.
Why is it called "Black Friday"?
Let's go back to the 1960s, when it was used to mark the start of the holiday shopping season. The "black" referred to the shift from the use of red to black ink in accounting records during the season, where the latter was used to mark profit.
While Black Friday is traditionally observed after Thanksgiving, its date hasn't prevented many retailers, both online and physical, from offering deals weeks before the actual event. Some of these offers even get extended a few days after Black Friday itself.
---
What is Cyber Monday?
Compared to Black Friday, Cyber Monday is a more recent retail event. The term was used in the early 2000s by the National Retail Foundation (NRF) to describe the popularity of online sales that happened on the Monday after Thanksgiving. It served as an online counterpart to Black Friday, which primarily involved brick-and-mortar establishments.
The growing popularity of smartphones has also pushed Cyber Monday and online shopping to the forefront. Many consumers have started using their smartphones to discover Cyber Monday deals and make purchases.
While it was previously a one-day event, Cyber Monday has become so popular that some retailers have extended the event to span up to a week, calling it Cyber Week or Cyber Week II, which usually starts during Christmas Day (December 25) until the New Year.
Cyber Monday is known for low prices on tech-related merchandise, like laptops, gaming consoles, smart speakers, VR devices, and TVs. However, you can also spot other deals for mattresses, appliances, and cameras.
---
2020 Cyber Monday vs. Black Friday Statistics and Revenue
Now, it's no secret that Black Friday and Cyber Monday rake in a lot of sales and revenue. But just how big is big when it comes to generated revenue, and how many shoppers took part in these retail events? Let's take a look at some figures that paint a picture of the scale of last year's Black Friday and Cyber Monday.
📊In 2020, Cyber Monday sales hit $10.8 billion (CNBC).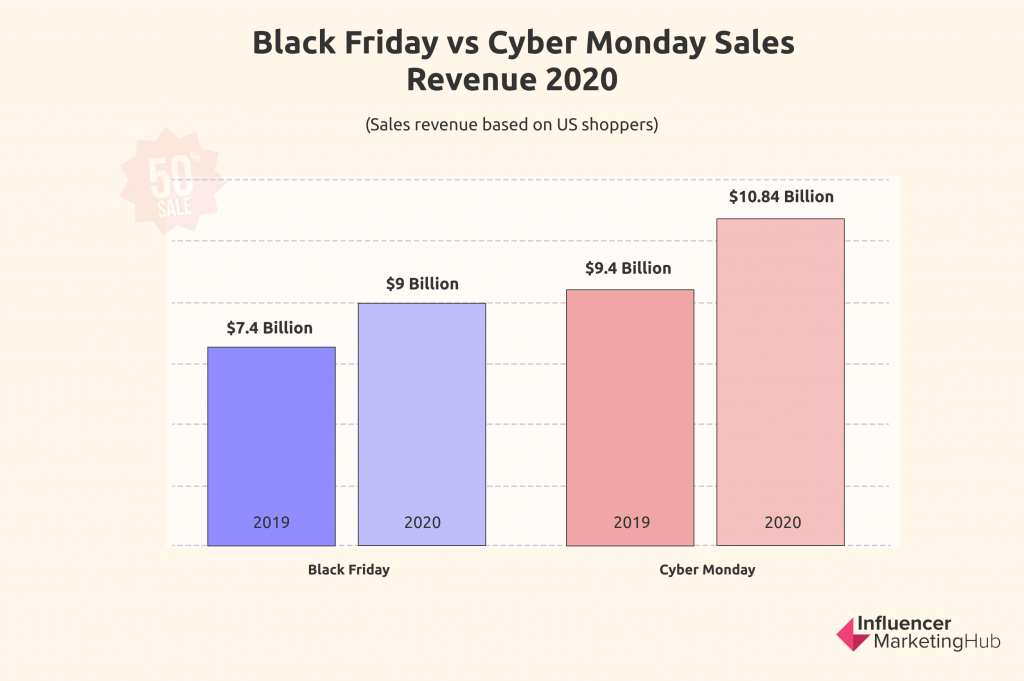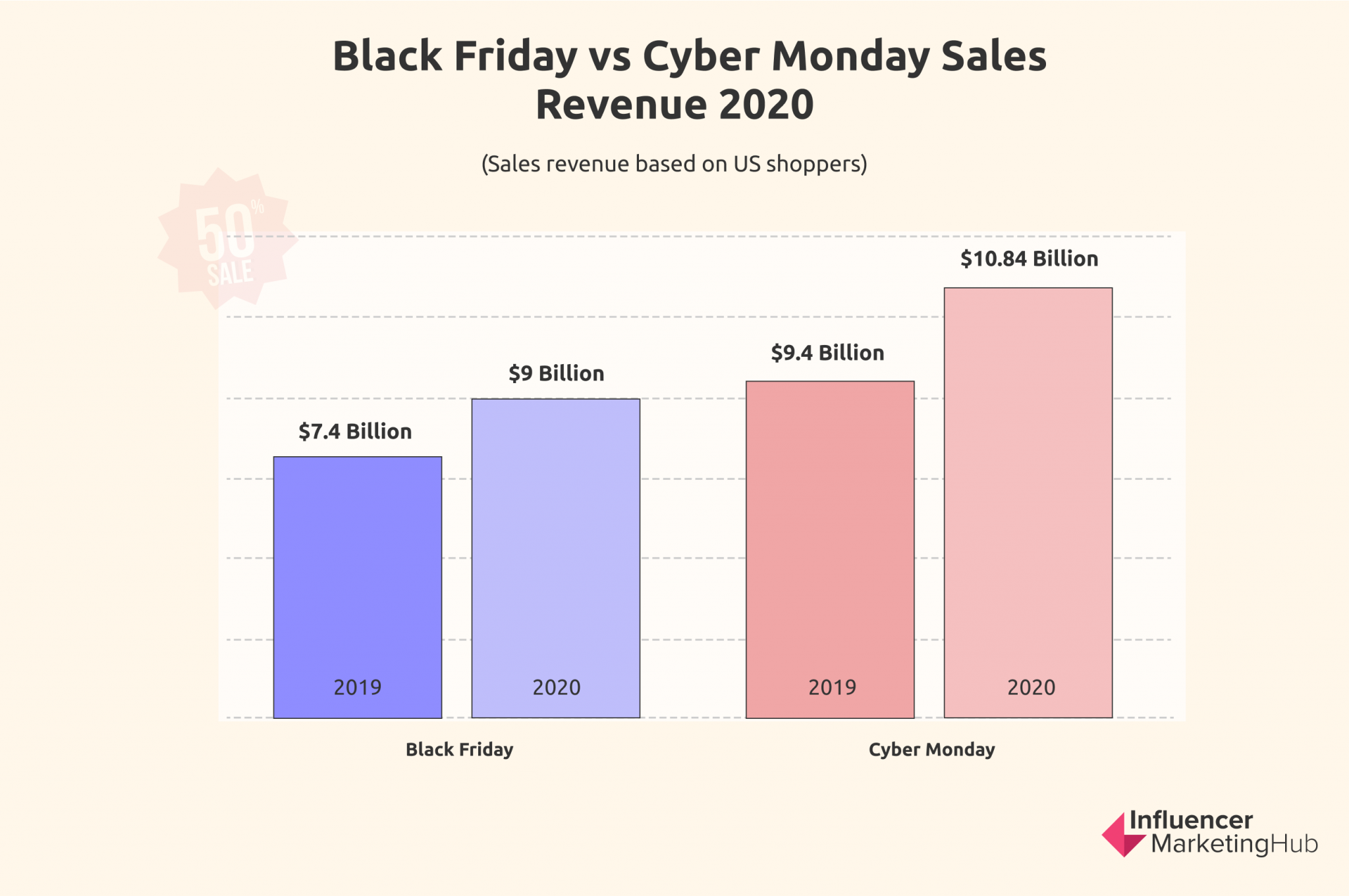 📊In the US alone, there were over 174 million shoppers during Cyber Week (Digital in the Round).
📊As many as 37% of consumers preferred shopping online to avoid big crowds during this period (Digital in the Round).
📊During Cyber Week, sales of physical stores dropped to 23.9%. In-store traffic for brick-and-mortar stores was down 42.3% during the weekend (Forbes).
📊Digital retailers saw an increase of clicks by up to 77% on Black Friday and 46% on Cyber Monday. Clicks leading up to Cyber Week increased an average of 118% (ClickZ).
📊During the 2020 Thanksgiving Weekend, shoppers spent an average of $311.75, compared to $361.80 in 2019 (Black Friday).
📊2020 Black Friday sales increased by 19%, bringing the total online sales to $14.13 billion (Adobe Analytics).
📊The weeks leading up to Black Friday and Cyber Monday saw an increase of 49% in purchases. However, conversion rates decreased an average of 33% since shoppers were given more options on how and where they could spend their money (ClickZ).
📊Online shopping during Black Friday experienced an 8% year-on-year increase, bringing the total number of online consumers who shopped online to 100 million (NRF).
📊In 2020, Cyber Monday beat Black Friday by $2.4 billion on digital spending. However, Black Friday and Thanksgiving had faster year-on-year growth rates (Comscore).
📊For 2020 Cyber Week, Amazon was the leading online shopping destination. Moreover, the US is considered the top country for Cyber Week Sales, with the retail event being very successful in states such as California, Texas, Florida, New York, and Pennsylvania. However, Cyber Week isn't just celebrated in the US. It's also gaining popularity in many countries, including the UK, Australia, Canada, New Zealand, China, and Japan (BigCommerce).
📊Sporting goods sales had a 136% gross merchandise value (GMV) year-on-year growth in 2020. Other categories that experienced significant growth during Cyber Week 2020 include apparel, automotive, and health and beauty. Furniture and office supplies also had significant GMV growth in 2020 (BigCommerce).
📊Online shopping , from November 1 to December 31, 2020, brought in a revenue of $74.6 billion (39%) from shoppers who used smartphones and $113.6 billion (61%) from shoppers who used their laptops and other devices (Adobe).
📊On Black Friday, consumers in the US spent a whopping $6.3 million per minute for online shopping. That's an average of $27.50 per person. During Cyber Week, particularly during Small Business Saturday, many smaller retailers enjoyed successful sales up to 211%. Large retailers were also successful, with a 403% increase in sales (ABC News).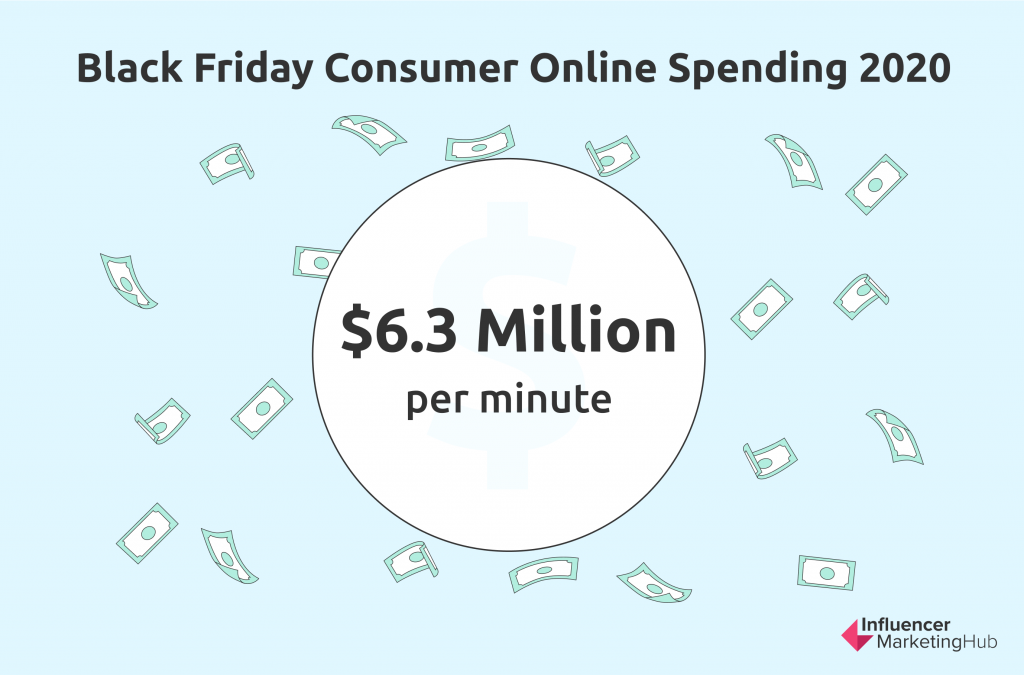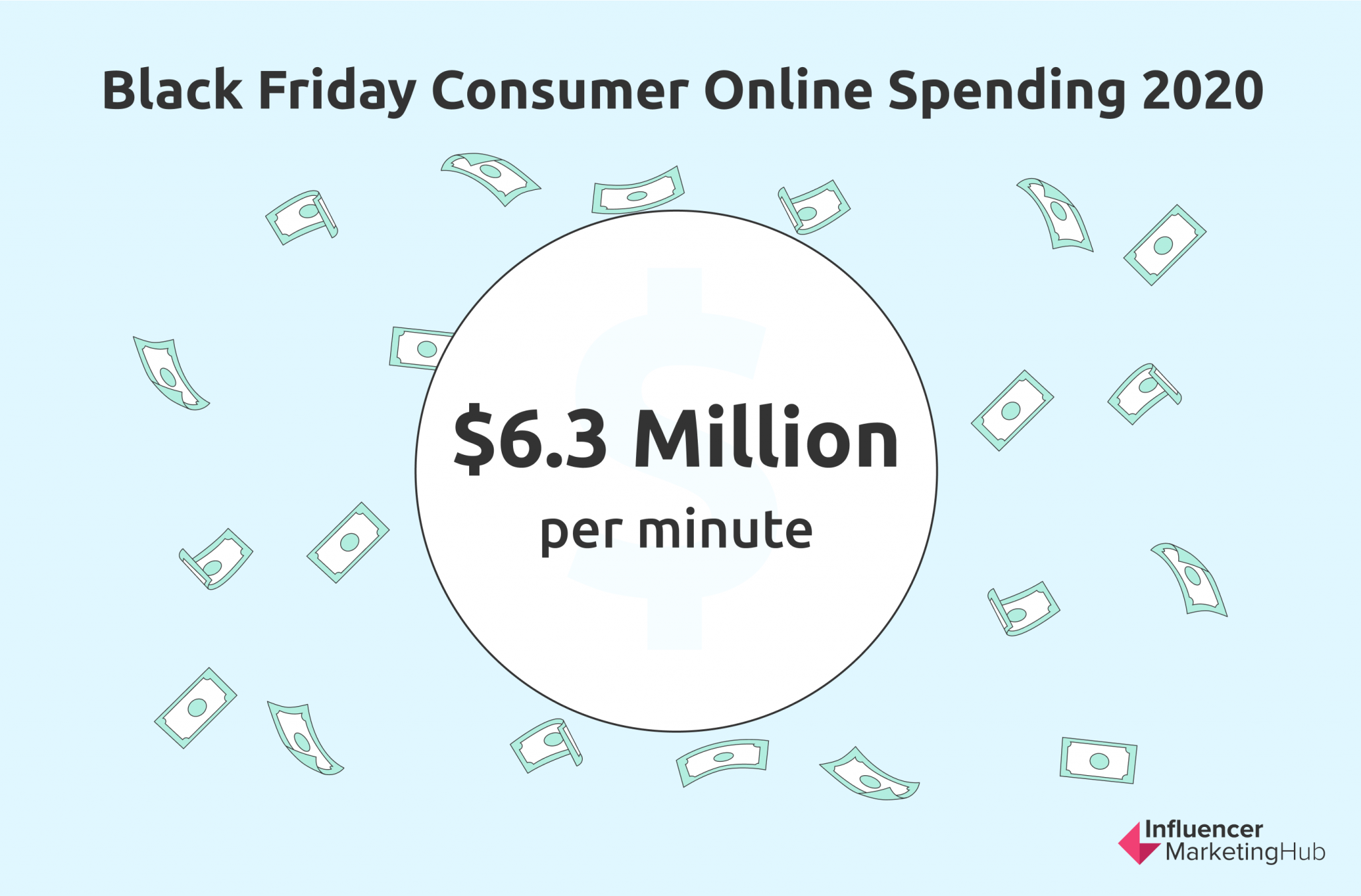 ---
Cyber Monday vs. Black Friday: 2021 Consumer Behavior and Trends
Everything changed in 2020, with the pandemic.
It caused ecommerce growth to skyrocket as more people shopped from the safety of their homes. As lockdowns and quarantines reshaped the way we shopped, many emerging trends have now become more commonplace including:
🧷More payment options
🧷Free shipping offers
🧷Growing support for small or local businesses
However, this uptick also gave rise to challenges such as shipping delays and increased competition for retailers.
Moreover, shoppers aren't just restricted to offers from physical stores. With the surge in online shopping, more online channels have popped up. Consumers are now choosing to make purchases from channels that are more accessible and convenient for them. Instead of going to physical stores, more people have opted to shop online, thus the decrease in in-store traffic.
Shopping on smartphones was up by 7.4% from 2019, bringing the total to 41.1% and social media became a popular avenue for online shopping. Social media has become a popular alternative to shopping on the retailer's website, enjoying a 17% increase in 2020.
The pandemic has also prompted more physical stores to start offering deals on their websites or upgrading their ecommerce platforms to accommodate the growing demand.
So, what can we expect for this year's Black Friday and Cyber Monday?
Given the current situation with the pandemic, we can expect retailers to implement limits on in-person shopping during these major retail events. Some large retailers, including Walmart and Best Buy, may close shop during Thanksgiving. This highlights the growing importance of ecommerce and the role it plays in enabling retailers to reach consumers despite the pandemic.
However, some retailers are preparing for the comeback of in-store shopping and, surprisingly, several people are looking forward to that, especially if they're unable to find a deal online. We can expect that more people are going to do their holiday shopping earlier to avoid issues like shipping delays, and they're planning to do their shopping from retail giants like Target.
The pandemic hasn't curbed the popularity of Black Friday and Cyber Monday. Instead, it has strengthened the demand for these major retail events.
---
Best Practices for Online Sellers
Sellers can take advantage of the sales boost that these retail events bring. Having a solid strategy can help you leverage the popularity of Black Friday and Cyber Monday. Here are some tips to help you out:
📌Work on establishing your online presence
There's no denying that you'll have a lot of competition on Black Friday and Cyber Monday. To increase your chances of getting found by consumers, you need to focus on improving your brand visibility. Optimize your website and incorporate relevant keywords in your listings, product descriptions, or content. Promote your business on social media or work with influencers who can help your products or services obtain a bigger audience.
📌Employ email marketing
Email marketing is here to stay because it's an indispensable tool. It also offers a more cost-effective alternative to CPC campaigns, while still being a viable source of substantial return on investment (ROI).
📌Think carefully about the deals you're offering
While it might be tempting to offer countless deals and discounts to entice customers, it's worth noting that you should go about this carefully. Your offers can become a doubled-edged sword, especially if you just throw in discounts willy-nilly.
Aside from discounts, consider offering product bundles, especially if you have some old stock, or discounted shipping rates.
📌Leverage positive reviews
Work on getting genuine, positive reviews from your satisfied customers because these can help you gain the trust of new visitors.
---
Final Thoughts
While Black Friday and Cyber Monday are two separate events, the lines dividing them are increasingly getting blurred. Both offer low prices for a variety of products. They technically fall under the same holiday shopping period. In some cases, Black Friday deals even extend well into Cyber Monday. Moreover, as Black Friday offers are rolled out as early as late October, many retailers are pushing their Cyber Monday sales earlier.
As the digital landscape continues to change, we're seeing how ecommerce retailers adapt to trends and consumer needs. Online shopping has been gaining popularity for quite a while now, but the pandemic has elevated it to new heights. We're seeing more individuals doing their shopping online using their mobile devices and more retailers rolling out shopping deals earlier.
Whether you choose to offer deals on Black Friday or Cyber Monday, capitalizing on the popularity of Cyber Week can be a sales and revenue booster.
Frequently Asked Questions
Which has better offers: Cyber Monday or Black Friday?
While both events offer major discounts, Black Friday lends itself well to newer or big-ticket items. Cyber Monday is an ideal time for promos on new gadgets or smaller items.
How much revenue did Cyber Monday and Black Friday generate in 2019?
Black Friday raked in a total of almost $6 billion, while Cyber Monday hit almost $8 billion in 2019.
Which retailers offer Cyber Monday and Black Friday deals?
A lot of big names and smaller retailers regularly participate in Black Friday and Cyber Monday. Retail giants include:
Amazon
Walmart
Target
Best Buy
Bed Bath & Beyond
When did Cyber Monday begin?
The term was first used in 2005 by the National Retail Federation.
Which categories are the most popular during Black Friday?
A lot of products go on sale during Black Friday, but here are some of the most popular categories you can look forward to:
Small appliances
Electronics (smart speakers, gaming consoles, mobile devices, etc.)
Clothing