The holidays are fast approaching and Cyber Week is just around the corner. Many online retailers and brick-and-mortar establishments, such as Walmart and Best Buy, are starting to roll out early deals in preparation for it.
Cyber Week is a mega retail event that spans five days, covering five major shopping dates: US Thanksgiving Day, Black Friday, Small Business Saturday, Super Sunday, and Cyber Monday. Of these special days, consumers look forward to Black Friday and Cyber Monday (BFCM) the most. BFCM serves as a snapshot of global trade and retail and offers a view into the next year.
Just how popular are these shopping days? What trends do retailers and shoppers need to know to prepare for this year's Black Friday and Cyber Monday, and just how much revenue did these two events generate in 2022?
Let's take a look at some jaw-dropping statistics for Black Friday and Cyber Monday and explore the best practices for online sellers, consumer behavior, and shopping trends.
Download the BF Influencer Guide
---
Exploring Black Friday and Cyber Monday: Stats & Consumer Trends:
---
Use our Free eCommerce Earnings Estimator below to calculate your own earnings potential.
eCommerce Revenue Estimator
landing page visitors/month:
Monthly Revenue Potential
$10,000
Yearly Revenue Potential
$120,000
---
What is Black Friday?
You might have already come across footage showing retail stores in total chaos or shoppers frantically racing into stores, grabbing TVs, small appliances, and clothing from shelves. That's Black Friday in a nutshell: outrageous deals, big crowds, and bigger revenue.
Black Friday, the Friday after Thanksgiving, is a popular time for consumers to do their Christmas shopping because of generous discounts. Popular items that go on sale during Black Friday include electronics, toys, home furnishings, and apparel.
But before the term "Black Friday" became synonymous with low prices and hordes of shoppers, it was originally used to describe streets filled with shoppers looking for deals after Thanksgiving. This was back in the early 1960s in Philadelphia. The term itself goes back to almost 100 years prior. In 1869, it was used to refer to the collapse of the stock market.
Why is it called "Black Friday"?
Let's go back to the 1960s, when it was used to mark the start of the holiday shopping season. The "black" referred to the shift from the use of red to black ink in accounting records during the season, where the latter was used to mark profit.
While Black Friday is traditionally observed after Thanksgiving, its date hasn't prevented many retailers, both online and physical, from offering deals weeks before the actual event. Some of these offers even get extended a few days after Black Friday itself.
This year, Black Friday is slated to happen on November 24, 2023. As with the previous years, you can expect some retailers, both physical and online, to roll out Black Friday deals days or weeks leading up to the event.
---
What is Cyber Monday?
Compared to Black Friday, Cyber Monday is a more recent retail event. The term was used in the early 2000s by the National Retail Foundation (NRF) to describe the popularity of online sales that happened on the Monday after Thanksgiving. It served as an online counterpart to Black Friday, which primarily involved brick-and-mortar establishments.
The growing popularity of smartphones has also pushed Cyber Monday and online shopping to the forefront. Many consumers have started using their smartphones to discover Cyber Monday deals and make purchases.
While it was previously a one-day event, Cyber Monday has become so popular that some retailers have extended the event to span up to a week, calling it Cyber Week or Cyber Week II, which usually starts on Christmas Day (December 25) until the New Year.
Cyber Monday is known for low prices on tech-related merchandise, like laptops, gaming consoles, smart speakers, VR devices, and TVs. However, you can also spot other deals for mattresses, appliances, and cameras. This year's Cyber Monday will take place on November 27, 2023.
---
2022/2023 Black Friday and Cyber Monday Statistics, Revenue, and Data
Now, it's no secret that Black Friday and Cyber Monday rake in a lot of sales and revenue. But just how big is big when it comes to generated revenue, and how many shoppers took part in these retail events? Let's take a look at some figures that paint a picture of the scale of last year's BFCM, as well as some projections for this year's upcoming BFCM.

📊

Record-breaking 2022 sales

Last year's BFCM pulled in over $11 billion in online sales (Cyber Monday) and $9.12 billion for Black Friday sales (TechCrunch). These numbers greatly surpassed 2021's figures by 5.8% and 2.3%, respectively. BFCM 2022 raked in $211.7 billion dollars in total season revenue, indicating a 2.5% growth compared to BFCM 2021. Desktop and other device types had a 55.1% share of revenue, while mobile devices had nearly a 45% share of revenue (Adobe). On a more global scale, Cyber Week revenue reached $281 billion, showing a 2% YoY increase (Salesforce).

For BFCM 2023, eMarketer estimates that holiday retail sales will grow by 4.5% despite economic uncertainty (Insider Intelligence eMarketer). Meanwhile, based on 2022 BFCM data, Wunderkind estimates that Black Friday will continue to dominate 2023 holiday sales events. However, Cyber Monday remains a close competitor. Furthermore, it's projected that the median average order value will grow during this year's BFCM (Wunderkind).
📊

Mobile devices are playing a bigger role in sales

Mobile devices were some of the biggest sources of sales traffic during BFCM 2022. 76% of 2022 Cyber Week e-commerce traffic came from mobile devices, with social media being responsible for nearly 10% of referrals (Salesforce).
📊

Amazon remains one of the most popular retailers

Amazon remains the most popular retailer during the 2022 Cyber-5 event, garnering a 23% share. It's followed by Walmart (21%) and Target (10%). For apparel and accessories (department stores), Kohl's ranked 1st in 2022, followed by T.J. Maxx, Old Navy, and Marshalls (Earnest Analytics).
📊

Consumers spent more on clothing, shoes, and accessories during Black Friday

On Black Friday 2022, 53% of consumers spent their money on clothing, shoes, and accessories, compared to 49% of shoppers who purchased electronics and 39% who purchased toys. Less than 30% of consumers spent their money on beauty and personal care. Only 26% spent their money on groceries during Black Friday 2022 (NIQ).
📊

Consumers spent more on electronics on Cyber Monday 2022

In contrast, 43% of shoppers spent their money on electronics on Cyber Monday 2022. Only 42% and 31% spent their money on clothing or accessories and toys, respectively (NIQ).
📊

Nearly half of consumers spent more on Black Friday 2022

46% of consumers spent more on 2022 Black Friday sales, while only 27% spent the same amount. 22% spent less than last year. In contrast, more shoppers (71%) spent more on 2022 Cyber Monday sales compared to last year's event. In general, more consumers (80%) felt that 2022 BFCM offered better deals compared to last year's BFCM (NIQ).
📊

More than half thought that Black Friday 2022 had better deals

51% of consumers thought that 2022 Black Friday deals were better than last year's deals. Meanwhile, only 32% thought that the deals were the same, and 17% thought that 2022 BFCM deals were worse than last year (NIQ).
📊

Websites are still the most popular sources of BFCM-related news

45% of Nielsen's respondents discovered Cyber Monday deals through a retailer's website. 41% discovered related deals via social media, while only 38% learned about Cyber Monday deals through email. Digital marketing remains a popular method to advertise BFCM promotions. However, traditional media like TV ads are still considered important advertising vehicles, with 31% of consumers discovering Cyber Monday deals through such ads (NIQ).
📊

2022 BFCM had more shoppers than last year's event

Shopper turnout during BFCM 2022 surpassed 2021 figures. Nearly 200 million shoppers shopped in-store and looked for the best deals. That's 20 million more shoppers compared to 2021's 179 million (CNBC). During the BFCM weekend, nearly 123 million shoppers visited physical stores, showing a 17% increase from 2021.
📊

Cyber Monday grows in popularity

While Black Friday remains the most popular in-store shopping event, its online counterpart, Cyber Monday, is steadily growing in popularity. Each year, consumers spend $11.3 billion on Cyber Monday (or nearly $13 million per minute during the peak hour), indicating a 5.8% YoY growth (Adobe). Aside from electronics, other popular categories with strong demand during last year's Cyber Monday include sporting goods, appliances, and books.

According to data from Adobe, sales for these categories grew between 439% and 466%. The same Adobe report also shows that discounts peaked at an average of 25% off the listed price, compared to 2021's 8%.
---
2022/2023 Black Friday and Cyber Monday Consumer Behavior and Trends
Despite the concerns brought about by record inflation, higher prices, and the threat of a recession, consumers still flocked to Black Friday and Cyber Monday shopping events. Among the key contributors to record-breaking sales were the higher prices of goods. However, despite this seemingly bleak picture, consumers were still able to get substantial discounts on goods like electronics, clothing, and toys. Let's look at some of last year's consumer shopping habits and trends, as well as emerging trends for this year's BFCM.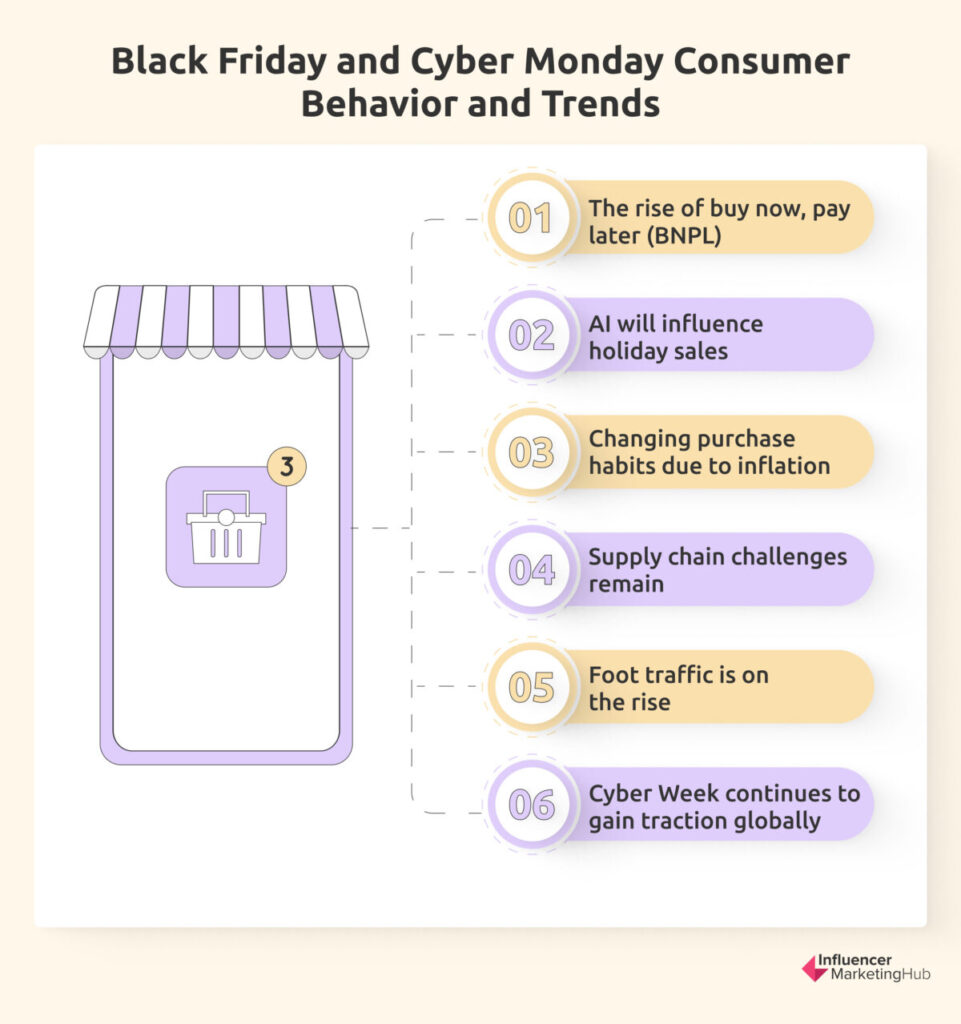 📊
The rise of buy now, pay later (BNPL)
Buy Now, Pay Later (BNPL) services are becoming more popular these days for orders of all sizes. In 2022, LendingClub found that four in 10 holiday shoppers planned to use financing to pay for their holiday purchases. Moreover, the report found that younger generations were more likely to use alternative payment methods to pay for their holiday purchases. 59% of consumers in 2022 reported that they planned to use BNPL (LendingClub).
📊
Customers are forgoing long lines and curbside pickup
Curbside pickup services were popular during the 2021 BFCM, but last year, it was utilized less. That's because more shoppers began returning to physical stores. During the 2022 BFCM, curbside pickup was only used in 17% of online orders, compared to 2021's 18% (Adobe).
Moreover, you might think that because more shoppers turned to in-store shopping, you'd be seeing long lines. While traffic remained brisk during the 2022 BFCM, these events didn't have long wait lines. One factor that lessened these lines was BOPIS (Buy Online, Pick Up In Store).
As its name suggests, buyers can purchase items online and pick them up at their local store. In fact, BOPIS is 20% more popular on Black Friday compared to other days (Retail Dive). It's also estimated that BOPIS will drive nearly $30 billion in global store sales (Salesforce).
📊
AI will influence holiday sales
AI opens up new growth opportunities for businesses. For this year's BFCM, it's estimated that generative and predictive AI will drive $195 billion in global online spending during the holidays (Salesforce).
📊
Changing purchase habits due to inflation
Inflation has greatly influenced consumers' shopping decisions. For instance, during Cyber Week 2022, 82% of consumers said that discounts and savings were one of their biggest motivating factors for shopping. Moreover, despite decreased average order value (down by 3%), sales transactions grew by 7%, which means that consumers made more purchases in 2022 than they did in 2021.
More consumers also did a lot of bargain hunting, with up to 45% of shoppers looking up or requesting email alerts for promotions and other savings deals. Meanwhile, 41% of shoppers checked coupon sites, and 38% checked a brand's social media pages to find the best deals (Impact.com).
📊
Inflation contributed to record-breaking sales numbers
Last year's BFCM raked in record-breaking sales figures despite concerns over economic instability. One of the key contributors to this spike is inflation, which prompted consumers to "pay more to buy less". Consumers are now looking at higher prices despite having a lower budget. With lower spending power and savings, consumers are turning to shopping on credit, which prompted credit card balances to jump by 15% in 2022 (NPR, Federal Reserve Bank of New York).
📊
Supply chain challenges remain
Supply chain challenges plagued BFCM 2021. While some of these issues have eased up during last year's BFCM, some significant challenges still remain. These include the rising cost of goods, data inaccuracies, and delayed inventory planning. According to an Anvyl survey, 83% of retailers were forced to make adjustments to their ordering quantities, while 31% of retailers said that they noticed a 5-10% increase in the cost of goods in 2023, which has made them hesitant to place orders for BFCM 2023 (Anvyl).
📊
Retail crime has largely affected retailer performance
Retail crime has negatively impacted the performance of major retailers like Target. During BFCM 2022, the retailer missed its quarterly expectations, raking in a profit margin of only 3.9% instead of its estimated 5.35%, bringing down its gross profit margin by $400 million. This is due to retail crime like shoplifting (MarketScale).
📊
Foot traffic is on the rise
According to a Nielsen survey, 80% of respondents made in-store purchases, signaling a return to in-store shopping activities during the 2022 BFCM sales events. In-store shopping became more popular with younger shoppers, while 40% of older shoppers (between 55 and 64 years old) and 56% of shoppers aged 65 or older shopped online during Black Friday 2022 (NIQ).
📊
Customers are expected to return more products
For the 2023 BFCM, it's expected that returns will rise. Customers will likely order multiple products, try them out, and return most of their purchases. For retailers, this means taking proactive measures, such as offering try-on options or free trials, to stay on top of returns. (Kortx) Online returns increased by 11% during Q1 2023. Moreover, poor returns experiences and processes may cause retailers to lose 21% of online orders (Salesforce).
📊
Cyber Week continues to gain traction globally
Cyber Week is expected to become more popular worldwide. Online global sales in 2022 grew by 2%, pulling in a total of $281 billion. In the US online sales across Cyber Week reached $68 billion, indicating a 9% YoY increase (Salesforce).
---
Best Practices for Online Sellers
Sellers can take advantage of the sales boost that these retail events bring. Having a solid strategy can help you leverage the popularity of Black Friday and Cyber Monday. Here are some tips to help you out: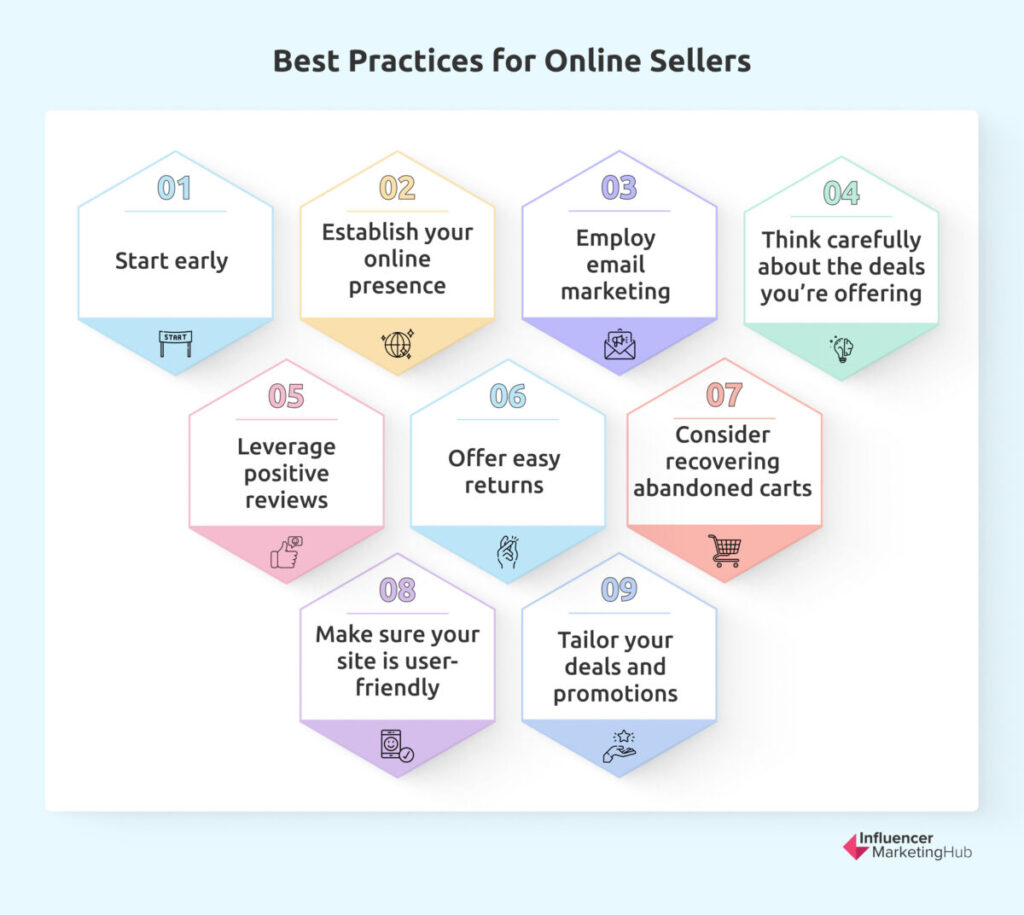 📌Start early
Since there will be many variables to consider, you should start preparing as soon as possible to make the most of the Thanksgiving shopping event. Additionally, advertising costs are more expensive during BFCM season, so optimize your ads across all your digital platforms. If you draw in fresh leads now, you can remarket to them in the days before BFCM with special, tailored offers.
📌Establish your online presence
There's no denying that you'll have a lot of competition on Black Friday and Cyber Monday. To increase your chances of getting found by consumers, you need to focus on improving your brand visibility. Optimize your website and incorporate relevant keywords in your listings, product descriptions, or content. Promote your business on social media or work with influencers who can help your products or services obtain a bigger audience.
📌Employ email marketing
Email marketing is here to stay because it's an indispensable tool. It also offers a more cost-effective alternative to CPC campaigns, while still being a viable source of substantial return on investment (ROI).
📌Think carefully about the deals you're offering
While it might be tempting to offer countless deals and discounts to entice customers, it's worth noting that you should go about this carefully. Your offers can become a double-edged sword, especially if you just throw in discounts willy-nilly.
Aside from discounts, consider offering product bundles, especially if you have some old stock, or discounted shipping rates.
📌Offer easy returns
Based on the trends mentioned above, it's likely that customers will end up returning more products after trying them out. While returns may be a hassle for both you and your customers, make sure that you're prepared for the influx of returns.
Respond to return requests in a timely manner, identify the root cause behind every return to see how you can improve your products or service, and if you spot any negative feedback, respond promptly and politely. Returns can also be seen as an opportunity to establish a stronger relationship with your customers. When someone returns an item, continue to provide them with exceptional customer service.
📌Consider recovering abandoned carts
Shoppers abandon their carts for a number of reasons. One of the key reasons is that they were just browsing or they weren't ready to buy at that point. In 2023, cart abandonment rate averaged 70.19%, which amounted to $260 billion worth of potentially recoverable lost orders (Baymard Institute).
Re-engaging shoppers can help minimize the risk of abandoned carts. Look into recovery methods like creating personalized offers, email reminders, and retargeting ads. Implementing such methods can help you boost your conversion rates, especially during major sales events like Black Friday and Cyber Monday.
📌Make sure your site is user-friendly
It's estimated that in the next three years, global e-commerce sales will grow by 50%. Furthermore, it's projected that by 2026, mobile commerce transactions will account for nearly 9% of all retail transactions in the US alone (Adobe). All these numbers point to the fact that you need to create appealing shopping experiences for both mobile and desktop shoppers.
Optimizing your website offers several benefits for both you and the user. By optimizing their shopping experience on both web and mobile, you can drive sales, expand your reach, and make it easier for potential customers to learn more about you and your brand. If you haven't yet optimized your site for mobile, now is the best time to do so, given the fact that during the 2022 BFCM, 78% of traffic came from mobile devices, while 48% of Black Friday sales were made using smartphones (TechCrunch).
📌Tailor your deals and promotions
Personalizing your marketing efforts, including deals and promotions, helps drive sales, boost conversion rates, and bolster customer loyalty. Leverage customer data to create bespoke deals based on their preferences, shopping behavior, and purchase history. While the 2023 BFCM can potentially be a lucrative event for retailers, this doesn't mean that you should only offer personalized deals during this period. If you can, apply these deals year-round. For example, you can offer early-bird deals to existing customers, or you can offer relevant pre-sale invitations or exclusive bundles to new customers to entice them.
📌Leverage positive reviews
Work on getting genuine, positive reviews from your satisfied customers because these can help you gain the trust of new visitors.
---
Final Thoughts
While Black Friday and Cyber Monday are two separate events, the lines dividing them are increasingly getting blurred. Both offer low prices for a variety of products. They technically fall under the same holiday shopping period. In some cases, Black Friday deals even extend well into Cyber Monday. Moreover, as Black Friday offers are rolled out as early as late October, many retailers are pushing their Cyber Monday sales earlier.
As the digital landscape continues to change, we're seeing how ecommerce retailers adapt to trends and consumer needs. Online shopping has been gaining popularity for quite a while now, but the pandemic has elevated it to new heights. We're seeing more individuals doing their shopping online using their mobile devices and more retailers rolling out shopping deals earlier.
Whether you choose to offer deals on Black Friday or Cyber Monday, capitalizing on the popularity of Cyber Week can be a sales and revenue booster.
Frequently Asked Questions
Which has better offers: Cyber Monday or Black Friday?
While both events offer major discounts, Black Friday lends itself well to newer or big-ticket items. Cyber Monday is an ideal time for promos on new gadgets or smaller items.
How much revenue did Cyber Monday and Black Friday generate in 2022?
Black Friday raked in $9.12 billion in sales, while Cyber Monday pulled in $11.3 billion in online sales (TechCrunch).
Which retailers offer Cyber Monday and Black Friday deals?
A lot of big names and smaller retailers regularly participate in Black Friday and Cyber Monday. Retail giants include:
Amazon
Walmart
Target
Best Buy
Bed Bath & Beyond
When did Cyber Monday begin?
The term was first used in 2005 by the National Retail Federation.
Which categories are the most popular during Black Friday?
A lot of products go on sale during Black Friday, but here are some of the most popular categories you can look forward to:
Toys

Small appliances

Electronics (smart speakers, gaming consoles, mobile devices, etc.)

Apparel