Clubhouse is an audio-based social media platform that used to be an invite-only iOS app. Today, it can be used on iOS and Android devices by anyone who downloads the app and creates a free account.
You can use the app to listen in and participate in different conversations on different topics—sometimes with celebrities like Oprah, Kevin Hart, Jared Leto, and others. Users have described the Clubhouse experience as a combination of networking opportunities, panel discussions, and live podcasts.
If you're looking for hard, fast facts about Clubhouse, you are not alone. That is why we have pulled together these Clubhouse statistics. Here, you'll learn more about Clubhouse users and revenue. We'll close out with a few tips you can follow to make the most of your time on the platform.
---
Clubhouse Statistics: Revenue, Users and More (2022):
---
Clubhouse Statistics and Facts
Clubhouse is a relatively new app released just over a year ago. As such, there's little information available out there about this exclusive, invite-only app. Here are some Clubhouse facts and statistics we were able to uncover to help you better understand the app and decide whether you should join the community.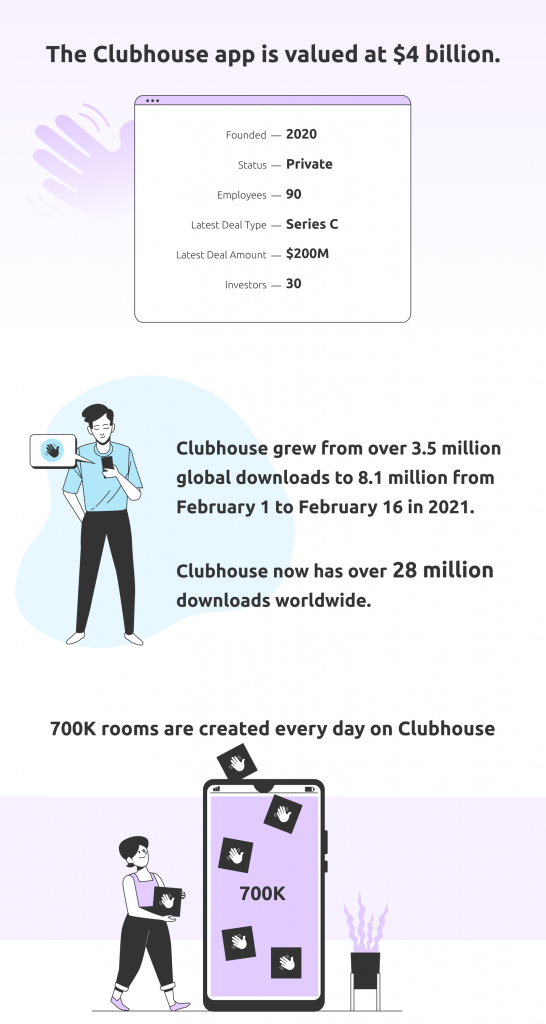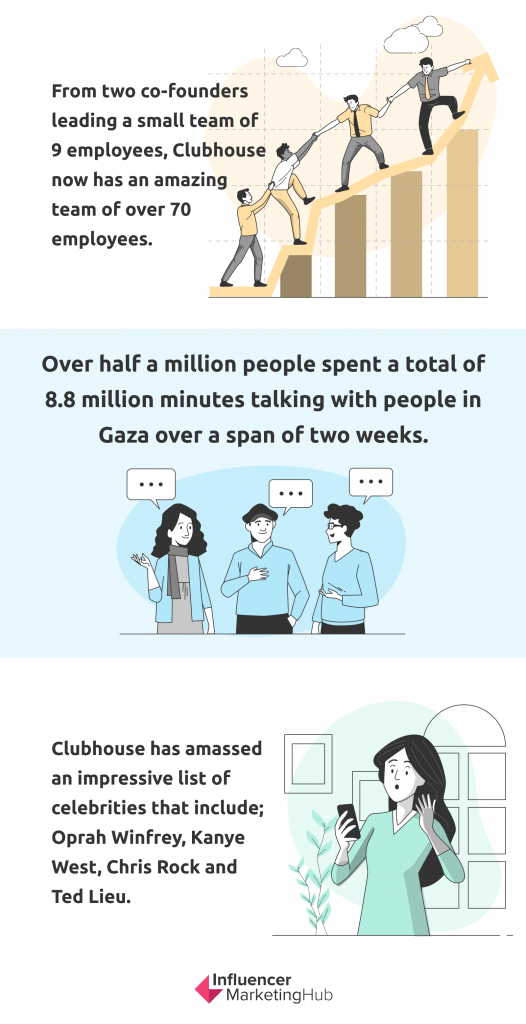 1. The Clubhouse app was first released on iOS in 2020.
Clubhouse is the brainchild of Paul Davison and Rohan Seth. The two co-founders started conceptualizing the design for an audio-based social app in the last quarter of 2019. Initially, they were developing an app named Talkshow that would help podcast users find other speakers. After several iterations on the prototype podcasting app, they rebranded it as the social audio app Clubhouse. Initially released on iOS in March 2020, Clubhouse grew amazingly fast in the following months. A year after its launch, it registered 10 million users worldwide.
---
2. Both Co-founders of Clubhouse were also founders of other startups.
Before co-founding Clubhouse, Paul Davison created Highlight - a social app that lets users share their contact information with people nearby. The primary purpose of Highlight was to bring people together, in person, to make positive social connections. In 2016, Davison sold Highlight to Pinterest.
Rohan Seth, a former Google engineer, co-founded Memry Labs in 2014 and helped develop several social mobile apps. In April 2017, the startup was eventually acquired by Open Door.
---
3. Clubhouse venture capital went from $10M to $100M in less than a year.
In May 2020, just a couple of months after its launch, Clubhouse raised a series A funding. Valuing the company at $100 million, Andreessen Horowitz purportedly sealed a deal that included $10 million in primary capital and $2 million in secondary shares. This amount was noteworthy because, at that time, the app only had around 5,000 beta test users, no unique website, and hardly any press release about the app or the company.
After a round of Series B funding in January 2021, Clubhouse was able to raise around $100 million with Andreesen Horowitz leading the funding round. Other angel investors boosted the company's capital funding to a hundred million dollars and a value of $1 billion.
---
4. The last funding round valued the Clubhouse app at $4 billion.
In the January 2021 Series B funding, Clubhouse was valued at $1 billion – 10 times higher than its initial valuation during its launch the previous year. Its perceived value rose even higher to $4 billion in April 2021 after it closed a Series C financing round.
Led by Andrew Chen at a16z, the Series C round raised $200M with 29 major investors including Elad Gil, Tiger Global, and DST Global. Clubhouse estimates its entire investor base to have almost 200 creators, angels, and funds.
---
5. Clubhouse makes it to the 2021 CNBC Disruptor 50
In the ninth Disruptor 50 list released by CNBC every year, Clubhouse ranked 33rd and was dubbed as the new sound of social. Its explosive growth just a year after its launch helped it best over 1,500 startup nominees for the 2021 list.
---
6. Clubhouse ranks among the Top 20 Social Networking apps on iOS.
At the start of 2022, Clubhouse ranked #12 in Social Networking on the App Store. Its average rating from 675.5K reviews was 4.8. While its ranking and ratings at the Google Play store isn't as high, it still has a phenomenal 10,000,000+ installs on Android devices.
---
7. From 9 to 90 – the Clubhouse team is constantly growing.
From two co-founders leading a small team of 9 employees, Clubhouse now has an amazing team of over 70 employees. In fact, Pitchbook pegs its employee count at 90 people. With the company still set to scale up in the next couple of years, it is still on the lookout for extraordinary individuals who want to join the team. Check out if you've got what it takes to be a part of Clubhouse's core at their jobs page.
---
8. Clubhouse now has over 28 million downloads worldwide.
According to AppAnnie, Clubhouse grew from over 3.5 million global downloads to 8.1 million from February 1 to February 16 in 2021. This meteoric rise was attributed to the adoption of the platform by several high-profile influencers such as Elon Musk, Kanye West, and Facebook founder Mark Zuckerberg.
In December 2021, Appfigures noted that 28 million Android and iPhone users downloaded the Clubhouse app since it was launched in 2020. While downloads steadily declined after they peaked in mid-2021, users have been gradually increasing again. This may be an indication that the app is likely to stay and not just silently fade into oblivion.
---
9. Clubhouse downloads peaked in February 2021 and June 2021.
When Elon Musk, Mark Zuckerberg, and other luminaries appeared and held chat sessions on Clubhouse in February 2021, the app reached its first download peak and reached 5.5 million users that month. Downloads dipped in subsequent months but had a meteoric increase right after the Android app was released on Google Play in May 2021. By June, the app had 8.7 million users worldwide.
---
10. Clubhouse was downloaded over 1.3 million times in December 2021.
According to Sensor Tower, Clubhouse had around 800,000 downloads on iTunes and 500,000 downloads on Google Play in December 2021. It was given a Sensor Score of 93 and 88 on the App Store and Google Play, respectively.
---
11. Clubhouse only had about 2 million weekly active users during its invite-only phase.
Part of the draw and popularity of Clubhouse during its initial stages was its exclusivity. Just look at OnlyFans; people love being part of something exclusive. Clubhouse had about 2 million weekly active users according to its CEO, Paul Davison. Davison himself has been known to head into rooms to ask for feedback on the app and its features.
---
12. Users spend a lot of time on the app.
Okay, this is less a Clubhouse statistic and more anecdotal but it's still fascinating to know. Even though the app only has a few hundred thousand users, the users who are lucky enough to have snagged an invite are spending tens of hours on the app each week. One woman reported spending more than 40 hours a week on Clubhouse (New York Times). Other users tweeted about their own usage, showing usage between 11 to 22 hours for the week.
In its last blog for 2021, Clubhouse mentioned how over half a million people spent a total of 8.8 million minutes talking with people in Gaza over a span of two weeks. Although this isn't a regular scenario on the app, it still evinces how much time users spend on the app talking about or listening to controversial issues and current events.
---
13. Clubhouse's first influencer was Sheel Mohnot.
Sheel Mohnot is the founder of Better Tomorrow Ventures and is Clubhouse's first influencer. He is a regular participant in "Back of the Bus," an after-hours Clubhouse room. Mohnot has also been a contestant on Zoom Bachelorette, an online dating event where fans hosted a live discussion party about it on Clubhouse. Mohnot connected with record executive Scooter Braun on Clubhouse and has since found himself featured in music videos from Justin Bieber and Ariana Grande (New York Times).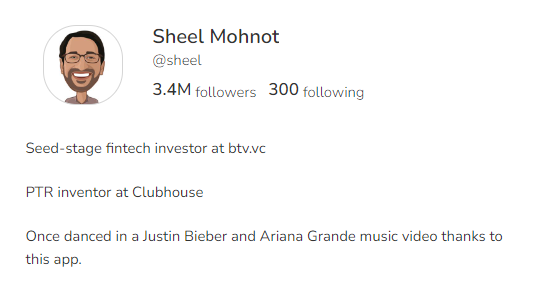 ---
14. Clubhouse has a go-to "after hours" room.
Around 10 pm every night, you'll find a group of 30 to 50 people in a room called the "Back of the Bus." Its host, Ryan Dawidjan, is a 28-year-old account executive at a tech company. His role is to make sure that nobody talks about tech or talks about Clubhouse. Nearly everyone in the room is a host and has moderator privileges, and the microphones are largely unmuted, giving the room the true feel of a house party. With tech talk the only thing off the table, topics range from dating advice to a tarot card reader critiquing Instagram accounts to the truly random.
---
15. Clubhouse draws in celebrities and other "elites".
In just a few months, Clubhouse amassed an impressive list of celebrities taking to the app. Here's a list of the celebrities (A-list and not) we've seen creating rooms, lurking, and participating in conversations:
Oprah Winfrey (talk show host, television producer, actress, author, and philanthropist)

Drake (rapper, singer, songwriter, actor, and entrepreneur)

Jared Leto (actor and musician)

Tiffany Haddish (actor, comedian, and author)

Joe Budden (broadcaster, cultural critic, media personality, and former rapper)

Kevin Hart (comedian, actor, and producer)

Chet Hanks (actor, musician, and Tom Hanks's son)

Meek Mill (rapper, songwriter, and activist)

21 Savage (rapper, songwriter, and record producer)

Ashleigh Louise (UK's famous moderator)

Wiley (rapper, songwriter, DJ, and record producer)

Ashton Kutcher (actor, model, producer, entrepreneur, and venture capitalist)

Chris Rock (comedian, actor, television producer, and filmmaker)

DeRay McKesson (activist, podcaster, and former school administrator)

Shaka Senghor (Head of Diversity, Equality & Inclusion at TripActions, Director's Fellow Alumni of the MIT Media Lab, college lecturer, and author)

Van Jones (news commentator, author, and lawyer)

Virgil Abloh (designer, entrepreneur, and DJ)

Kanye West (rapper, record producer, and fashion designer)

CC Sabathia (former professional baseball pitcher)

Jaylon Smith (Dallas Cowboys linebacker)

Marcellus Wiley (retired American football defensive end)

JaVale McGee (Cleveland Cavaliers center)

Michael Ovitz (businessman, investor, and philanthropist)

Ted Lieu (U.S. Representative)

Mark Cuban (entrepreneur, television personality, media proprietor, and investor)

Terry Crews (actor, comedian, activist, artist, bodybuilder, and former professional football player)

Jeffrey Katzenberg (film producer and media proprietor)

Jodie Turner-Smith (model and actor)

MC Hammer (rapper, dancer, record producer, and entrepreneur)

Estelle (singer, songwriter, rapper, record producer, and actor)
It's quite an impressive list for an app that's barely a couple of years old. And we guarantee you it's not even a complete list.
---
16. Clubhouse launched an invite-only Creator Pilot Program.
As of December 2020, Clubhouse is testing a Creator Pilot Program with more than 40 Clubhouse influencers. The influencers have been promised the ear of at least one of the app's founders during weekly meetings as well as early access to special tools and features within the app. If you do influencer marketing, we recommend getting on Clubhouse as soon as possible to guarantee your spot as a top influencer on the app.
---
17. Clubhouse Payments enabled creators to monetize their content or ideas.
Using part of its recent funding, Clubhouse initially tested paying creators on the platform directly through features like tipping, tickets, or subscriptions. It eventually launched Clubhouse Payments, a monetization feature for creators that was powered by Stripe. Clubhouse users can now send payments directly to creators. Users sending payments shoulder the processing fee so 100% of the money they send goes to the creator.
---
18. The Clubhouse Creator First program supports its pioneer batch of creators.
In March 2021, Clubhouse launched its accelerator program for emerging creators. Creator First aimed to support and equip creators by providing them with the right equipment, boosting promotion for their shows, and giving advice on creative development. It also granted financial support in form of monthly stipends and matching with brands who can turn their ideas into lucrative ventures. After testing thousands of submissions, selected finalists held pilot episodes on Clubhouse HQ during the Pilot Season. Those who made it to the Creator First Class of 2021 received financial, logistical, and promotional support the entire summer.
---
19. Creator First program goes global.
After the successful launch and implementation of Clubhouse Creator First in the U.S., the accelerator program was replicated in two other countries – India and Brazil. In September 2021, Clubhouse revealed the creators who made it to the first class of Creator First India. The first batch in Brazil was announced in December of the same year.
---
20. By the third quarter of 2021, 700K rooms were being created every day on Clubhouse.
Although downloads were declining, the number of rooms created daily was increasing. By the end of September, Clubhouse reported that approximately 700,000 rooms were being used every day in the app. The majority of these rooms were created by users to share private moments with family and friends. These included casual conversations, binge-watching shows together, celebrating special occasions such as birthdays, and other bonding activities.
---
How To Use Clubhouse App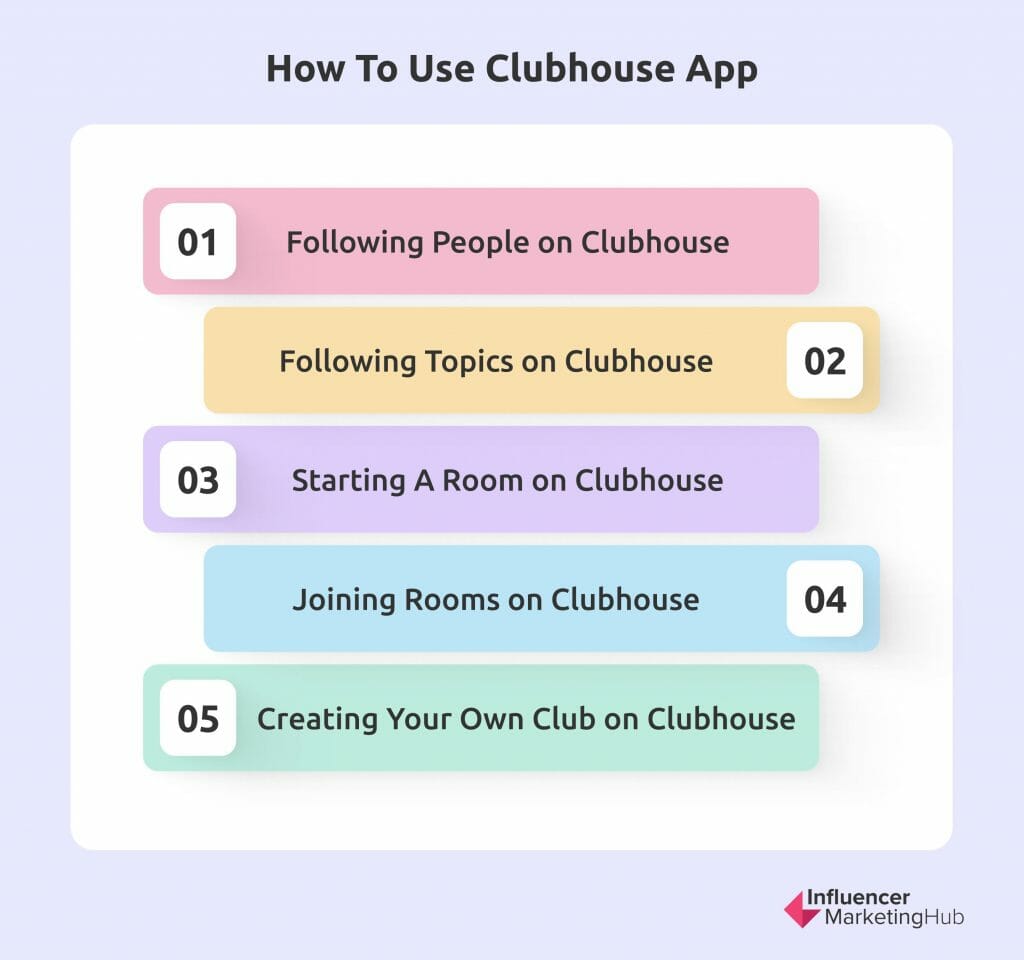 Great news for everyone! You no longer need to wait for an invite to join Clubhouse. Just download the app from the App Store or Google Play and create an account.
When you sign up, you will be prompted to follow people or choose topics. Based on your choices, you will be able to scroll through a list of all the rooms that are available to you. The rooms you see could be from your own network on the app to celebrities you like. Plus, you can set up the app to send notifications when conversations that you might be interested in are happening.
Following People on Clubhouse
When you sign up for Clubhouse using your mobile number, the Clubhouse algorithm will connect you to the people in your contact list and you can choose to follow them on the app (or not). The app will also recommend people to you based on your preferences, topics, and people you have followed. Whenever you find someone interesting, click the follow button and you're good to go.
Following Topics on Clubhouse
Clubhouse is an app for conversations, so it should come as no surprise that the topics you'll find will range from broad ("wellness") to very specific ("police and criminal justice reform"). Under Clubhouse's recommendations for people to follow, you'll see a section with topics that says Find Conversations About... where you can tap on general topics and go deeper into subtopics to find exactly what it is you're interested in.
Starting A Room on Clubhouse
Starting your own room at Clubhouse is easy to do. Just tap on Add a Topic and you'll be given the option of making your room closed, social, or open. Closed rooms are private—only for you and the folks you invite. Social rooms are open to the people you're directly connected to on Clubhouse. Open rooms are exactly what you'd imagine—open to anyone and everyone.
Joining Rooms on Clubhouse
When you find a room that you want to enter, just tap on Join Room. You'll enter the room muted and you never have to speak if you don't want to. If you're ready to share your thoughts, tap on raise hand, request speaking, or go ahead and unmute yourself. When you're ready to leave, just tap leave quietly.
Creating Your Own Club on Clubhouse
Clubhouse also has interest-based groups called Clubs. They currently limit each user to creating no more than two clubs, so those users don't get spread too thin. This is because club founders are expected to host recurring club conversations. According to Clubhouse, they've had a lot of requests for new clubs so they're prioritizing clubs for users who have already hosted a weekly show three times. They plan to offer self-serve clubs in the future, but that hasn't started yet. So, for now, users who want to create their own clubs need to wait for Clubhouse to review and approve requests for new clubs.
Starting a club room is just as simple as starting a regular room. Just tap Start a Room at the bottom of the Clubhouse hallway. From there, tap on either Add a Topic or just tap on one of the clubs instead of the room types. Your club room will start as a closed room and will only be visible to club members. Tap the three-dot icon to the right of the club name for actions like letting visitors in (making the room public), reviewing club rules, or ending the room.
---
Stay Tuned for More Clubhouse Statistics...
Clubhouse is still a relatively new app and its founders have been constantly updating the software and adding new features. As the app matures, keep checking back for more Clubhouse statistics and facts you can use to leverage the app for your marketing efforts. While you are waiting on how Clubhouse will fare in the social networking industry, why not start a podcast to help you generate a larger following while improving your speaking skills?
Frequently Asked Questions
What is Clubhouse?
Clubhouse is an audio-based social app that was created by Paul Davison and Rohan Seth in 2020. It used to be an exclusive invite-only app available only on iOS but has since been released on Android as well and opened to the public. It has been described by users as a mixture of networking opportunities, live podcasts, and panel discussions. You use the app to listen to and participate in different conversations about various topics. In some instances, celebrities will also join the discussions.
Is Clubhouse popular?
When Clubhouse was an exclusive invite-only app that was only available on iOS, its exclusivity became part of its draw and popularity. After all, people love to be part of something that is exclusive. When its Android app was released on Google Play and the invite-only restriction removed, downloads peaked right after. However, there has been a steady decline in downloads in the latter part of 2021. Whether its popularity will soar again in 2022 may likely depend on the new features and functionalities it will release this year.
Who is Sheel Mohnot?
Sheel Mohnot is the founder of Better Tomorrow Ventures and a regular participant in "Back of the Bus", an after-hours room on Clubhouse. He was also a contestant on Zoom Bachelorette, an online dating event where fans hosted a live discussion party about it on Clubhouse. After connecting with Scooter Braun, a record executive, he also featured in music videos from Ariana Grande and Justin Bieber.
Can anyone create a club on Clubhouse?
Any active user can start a club. However, you can only create one club at a time and won't be able to delete that club directly in-app.
If you are unable to create a club, check if you have recently started one. If not, be more active by joining conversations. Once the app detects regular and consistent activity from you, you'll see the plus icon that will enable you to start a club.
How can you get an invite to Clubhouse?
During the invite-only phase, you needed to ask or wait for someone who is already on Clubhouse to send you an invite. Or you can sign up for the waiting list and reserve your Clubhouse username. After you have been accepted to Clubhouse, you will also be able to invite other people. However, Clubhouse removed the invite-only restriction, so you don't really need to get an invite to join the community.
How do Clubhouse Replays work?
Replays enable creators to save a live recording from their room. This can be shared on your profile so audiences who missed the live episode can still tune in to it. Room creators can also share these recordings on their other platforms.
Can I block a user on Clubhouse?
Yes, you can block a user from joining your rooms. Tap on their icon if they are in the same room or look for them on "find people to follow". Then tap on the three vertical dots in the top right and select Block. If you want to undo this action, just tap on the three vertical dots again but select Unblock this time.
Can I earn money on Clubhouse?
In 2021, Clubhouse added a Payments feature that enabled creators to receive money directly from Clubhouse users. So, if you have ideas and engaging content, you can earn money on the platform. You can also try applying for the Creator First program to get financial support for your content creation. Clubhouse can also help find brands you can work with, so you gain profit from your creative ideas.