Advertising Disclosure
Advertising disclosure:
Our partners compensate us. This may influence which products or services we review (also where and how those products appear on the site), this in no way affects our recommendations or the advice we offer. Our reviews are based on years of experience and countless hours of research. Our partners cannot pay us to guarantee favorable reviews of their products or services.
Are you looking for the best crowdfunding marketing agencies to help with your social media campaigns in 2023? With so many options available, it can be hard to decide which agency is right for you.
To make things easier, we've put together a list of the top 8 crowdfunding marketing agencies that offer services related to social media marketing. Each agency on this list has proven track records and impressive portfolios of successful campaigns. Whether you're a start-up or an established business, these companies will provide the expertise needed to create effective campaigns and maximize ROI from your social media investments.
---
The Top 8 Crowdfunding Marketing Agencies in 2023: Companies for Social Media Marketing:
---
What is crowdfunding?
Crowdfunding is the process of raising money for a project or venture by receiving small donations from a large number of people. It allows businesses, organizations, and individuals to receive the necessary boost to cash flow needed to get off the ground or launch new projects.
Furthermore, it provides an opportunity for those who support a particular idea or cause to donate money in exchange for rewards such as products or services offered by the crowdfunding campaign creator. Crowdfunding can be successful when it attracts backers who are passionate about what you're doing.
---
What are Crowdfunding Marketing Agencies?
Crowdfunding marketing agencies are specialized companies that help entrepreneurs and businesses craft successful crowdfunding campaigns. These agencies provide a variety of services such as creating compelling content, setting up social media accounts to promote the campaign, building an effective donor network, and providing post-campaign analytics.
The role of a crowdfunding marketing agency is to ensure that all the elements necessary for a successful crowdfunding campaign are in place. In fact, many of the biggest crowdfunding successes have been the result of partnering with a reputable crowdfunding marketing agency.
---
Top Crowdfunding Marketing Agencies of 2023
---
---
---
---
---
---
---
---
Things to Consider in Choosing a Crowdfunding Marketing Agency
Crowdfunding does not just create brand awareness as you might think. It is also a great way of generating funds for new ventures and businesses. That's why it is so important to find a marketing agency that can not only help you create a well-designed campaign but also execute it flawlessly in order to maximize your chances of success.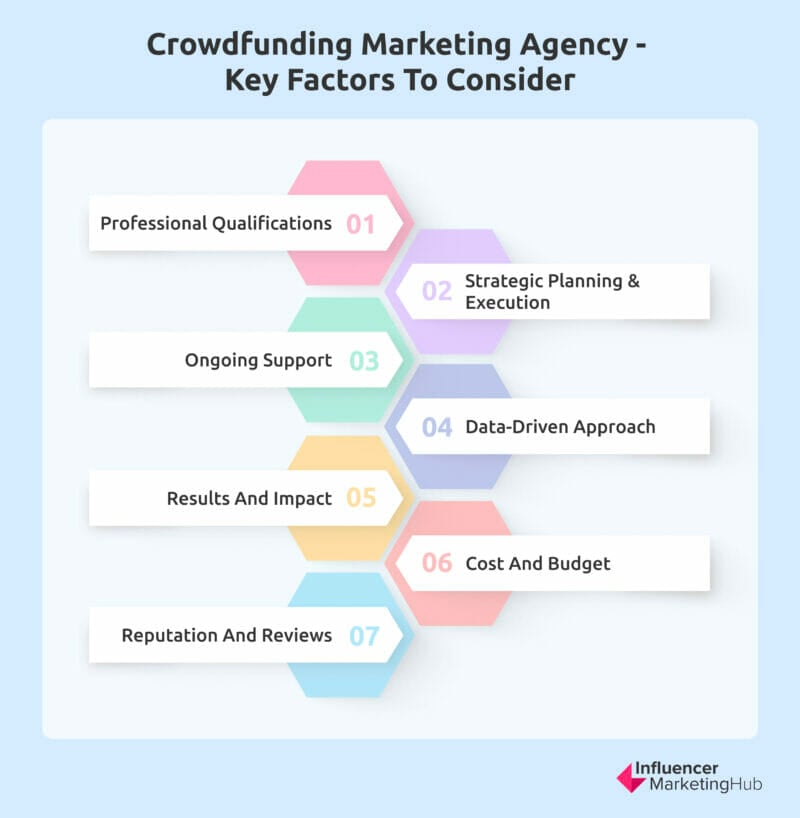 Professional Qualifications
When choosing a crowdfunding marketing agency, it is important to consider the qualifications of the agency. Qualifications to look for include experience in the industry, knowledge of successful campaigns, and an understanding of crowdfunding platforms like Kickstarter and Indiegogo. The marketing services they provide should also be based on data-driven strategies, which will help you focus your marketing efforts and optimize results.
---
Strategic Planning & Execution
A successful crowdfunding campaign requires meticulous strategic planning as well as excellent execution. The agency you select should be able to provide both services in a cohesive way so that you can maximize results. Look for agencies who have years of experience in marketing and fundraising, and who have a proven track record of success. After all, business development and marketing are two of the most important aspects of any campaign.
---
Ongoing Support
While crowdfunding is all about raising funds for a new venture, it can be daunting and full-time work. Make sure your agency provides ongoing support throughout the campaign so that you don't have to spend endless hours online or managing social media accounts on your own. Agencies that specialize in crowdfunding will also be able to provide expert advice and assistance with setting up funding goals, tracking progress, and even dealing with potential investors.
---
Data-Driven Approach
When selecting a crowdfunding marketing agency, it is important to ask about its data-driven approach. This means that the agency will use data analytics tools to help you craft your fundraising campaign strategy and optimize performance. Agencies that use data in measuring performance marketing will be able to provide you with detailed analytics that will help you understand how your campaign is performing.
---
Results and Impact
Choosing the right crowdfunding marketing agency can have a significant impact on your campaign's success. These agencies have experience in the field and know how to best market your product or idea in order to reach as many potential backers as possible.
---
Cost and Budget
When choosing a crowdfunding marketing agency, it is important to consider factors such as the services they offer, who they have worked with in the past, and their reputation in the industry. Additionally, it is crucial to evaluate their pricing structure and budget requirements to ensure you find an agency that fits your needs.
---
Reputation and Reviews
Choosing the right crowdfunding marketing agency can be a challenging task, as there are many out there with varying levels of experience and expertise.
Reputation and reviews can help you identify which agencies have the most successful campaigns and are most likely to provide effective services. Reviews can also give you an idea of what to expect from working with each agency, as well as any potential drawbacks.
---
Final Thoughts
In 2023, data-driven marketing will be key to achieving successful crowdfunding campaigns. When choosing an agency, it is important to consider their approach, results and impact, reputation and reviews, as well as budget and pricing. In addition, real-time analytics will be essential to monitoring campaign performance. At the end of the day, business growth and success will depend on finding the right agency for your specific needs.