If you're an online content creator — musicians, gamers, YouTubers, writers, podcasters, and more — it's likely you've heard of Patreon. You might even be using it already to supplement your income by letting your followers sign up for a monthly membership. But if you're not already using Patreon, or if the platform isn't living up to your expectations, you're not stuck with it! There are so many Patreon alternatives these days. Here, we've compiled a list of the best Patreon alternatives that might be a better fit for your online business. But first, for those of us who aren't already familiar with it...
---
10 Best Patreon Alternatives to Jumpstart Your Membership Business:

---
What Is Patreon?
Patreon is a membership platform that gives content creators the chance to bring in revenue by putting their work on the platform. Followers who want to support the creator can do so by paying for a membership, typically getting membership benefits like exclusive content, access to the creator's community, or access to the creator through Q&A or live streams. Patreon and other membership platforms are sometimes called crowdfunding platforms. As you'll see when we get into our list, there's a bit of a difference between membership sites like Patreon and traditional crowdfunding platforms.
---
10 Best Patreon Alternatives
Before you pick a platform from our list of the best Patreon alternatives, make sure you check out the features and how the platform compares and differs from Patreon. You'll also want to check out the different costs to share your content on the platforms. Finally, you'll need to make sure that the platform you're going with offers the pricing model you want. If you're looking to bring in one-time funds for a project you have in mind, a membership platform might not be the best option for you.
Alright, let's dive into the best Patreon alternatives!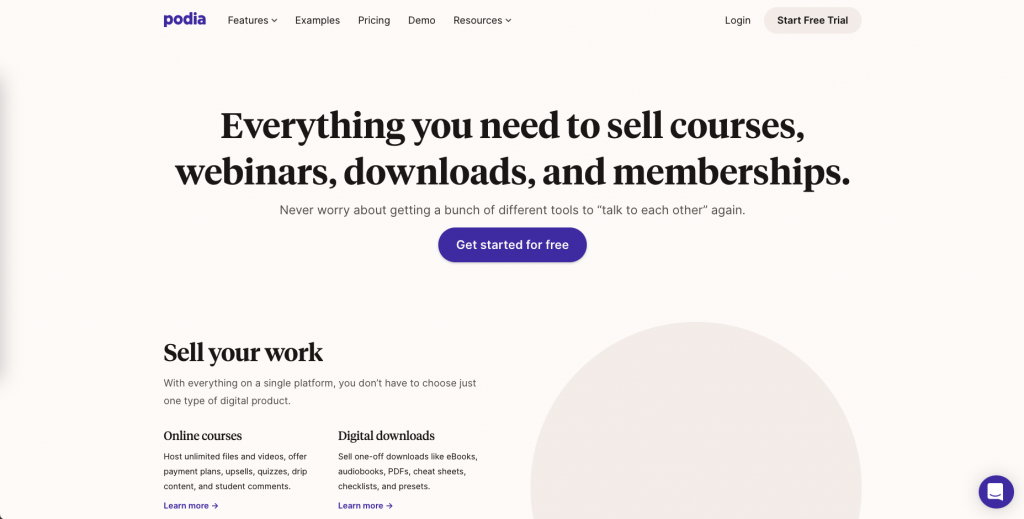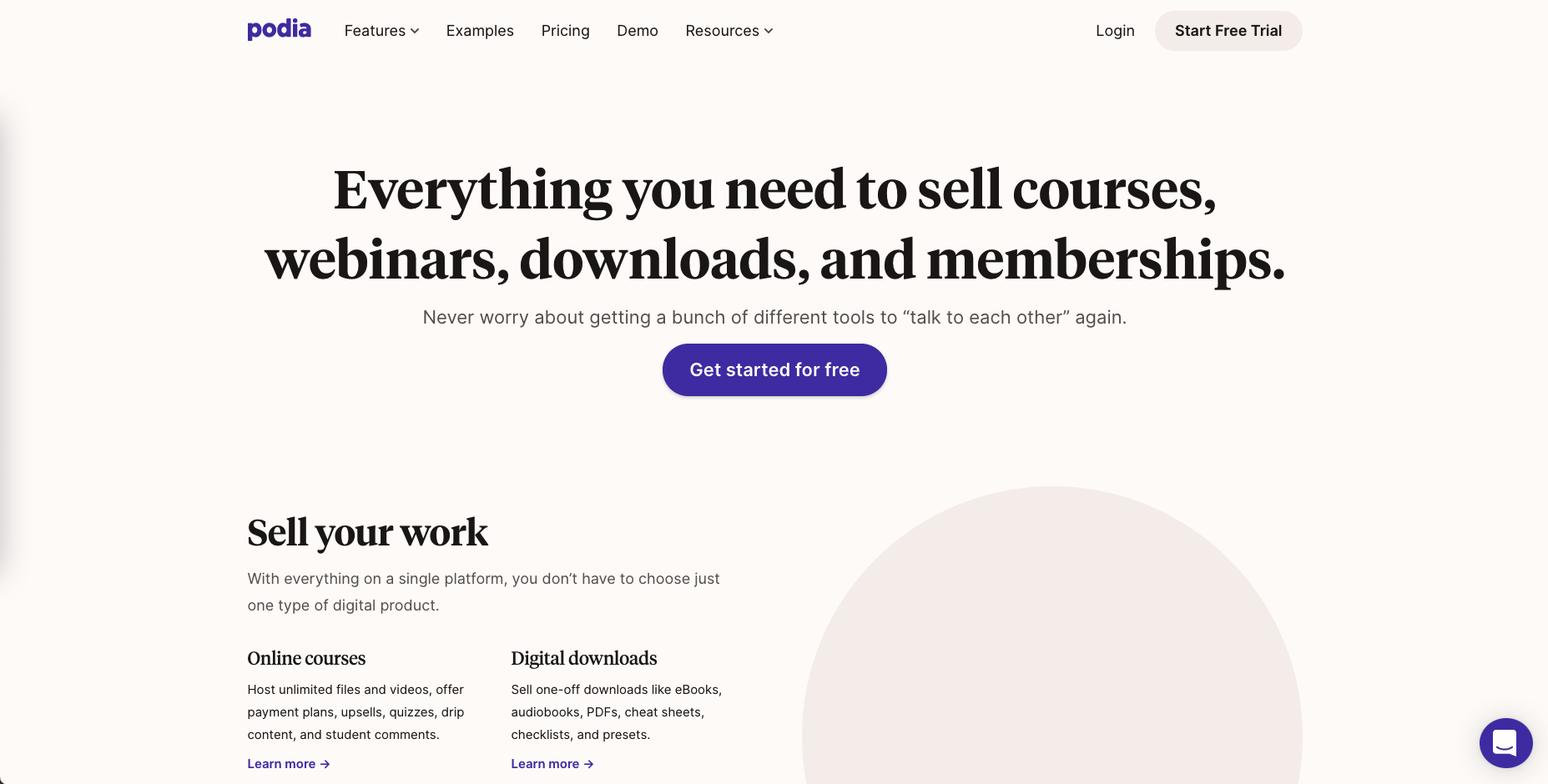 Podia is a creator-focused platform that you can use to sell memberships to your followers. Unlike Patreon, Podia is an all-in-one platform where you can also sell digital products, downloads, webinars, and online courses. The platform even includes email marketing and affiliate marketing features.
Podia landed on our list as one of the best Patreon alternatives because it's just so user-friendly and has a great user interface. While the platform is a bit more complicated than Patreon, it also offers quite a few more features than you're going to find on Patreon. That might be a trade-off some creators are willing to make.
Podia Pros and Cons
😊 No limits on products, emails, or audience

😊 No transaction fees

😊 Great user interface

😩 Monthly subscription fees make it a bit expensive

😩 More complicated to use than Patreon
Pricing
Podia has three paid plans:
Mover:

$39/month or $390/year

Shaker:

$79/month or $790/year

Earthquaker:

$179/month or $1790/year
---
2. Ko-fi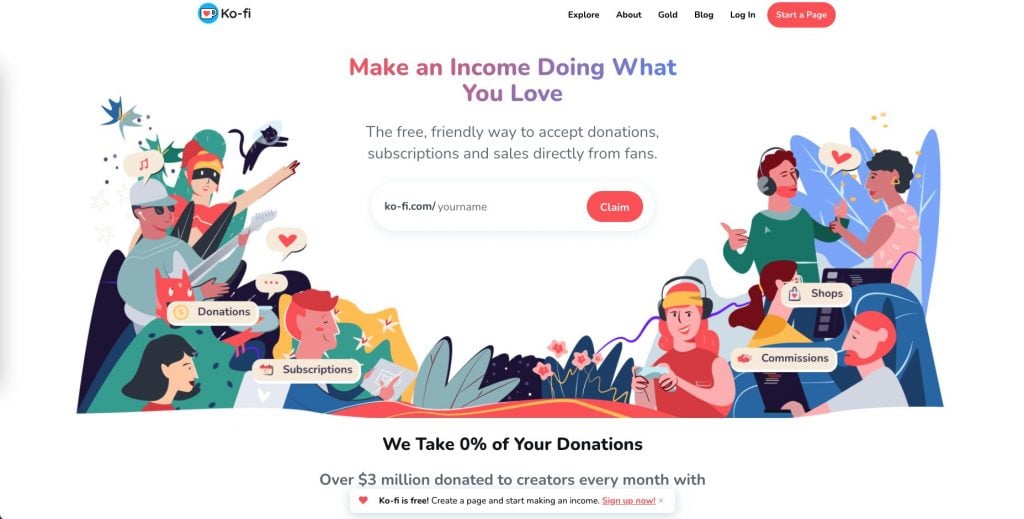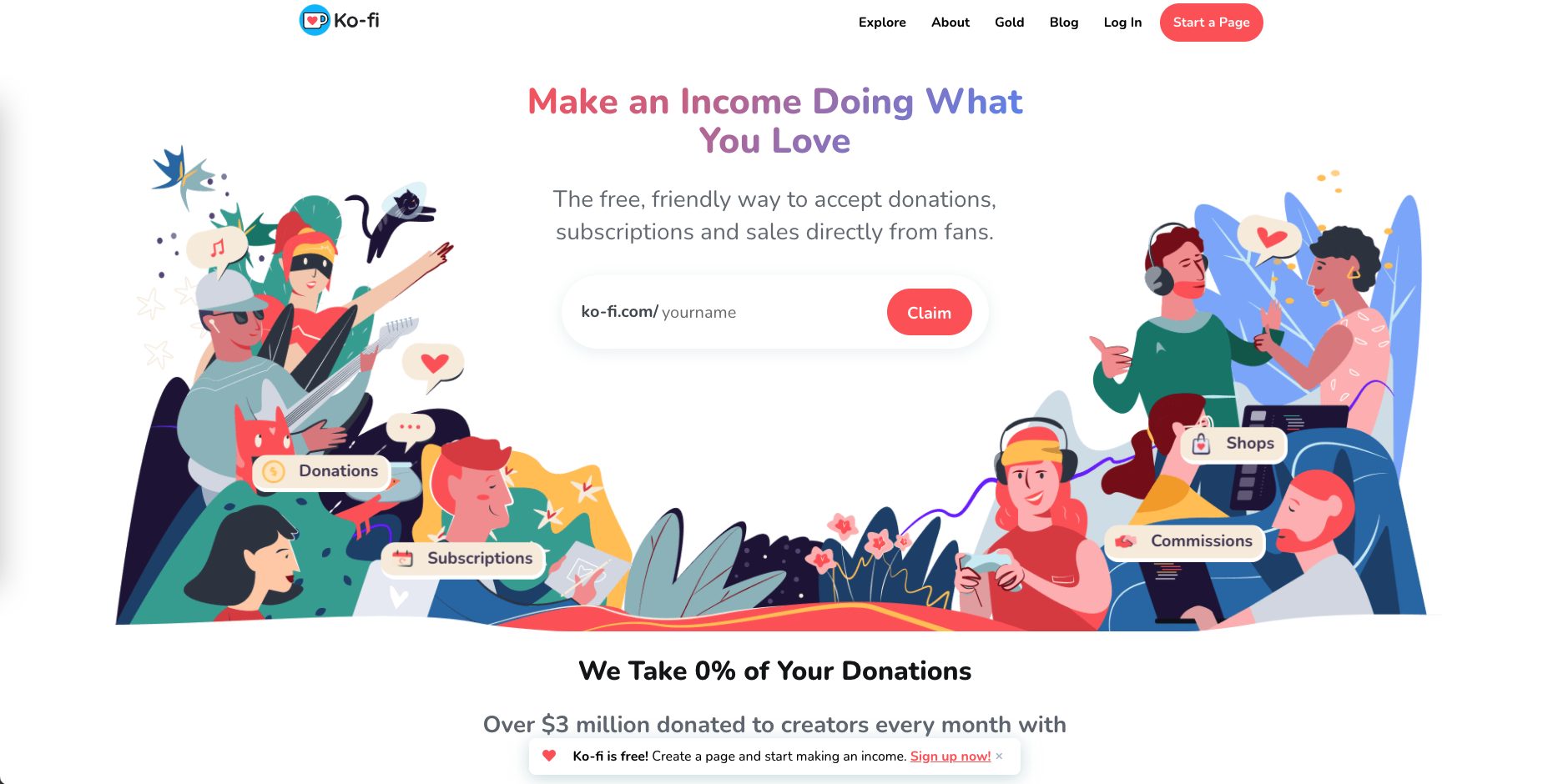 Ko-fi is a popular alternative to Patreon that's been around since 2012. As a content creator on the platform, you can create a portfolio to show off your work. People who like what you're doing can then donate to you or even commission you to create a custom piece. Ko-fi creators have the option to upgrade to Gold status, which gives you access to analytics, ad-free pages, and better images in exchange for a small fee.
Ko-fi Pros and Cons
😊 Accept one-time payments and donations

😊 Allows for one-time commission sales

😊 Storefront for digital downloads or physical products

😊 Ko-fi doesn't charge fees unless you're paying for Gold status

😩 Can't separate memberships into tiers

😩 Can't create gated content
Pricing
Ko-fi is free. Premium features like Subscriptions, Ko-fi Shop, and Commissions can either be paid for via a small subscription to Ko-fi Gold or a low 5% transaction fee.
---
3. Kickstarter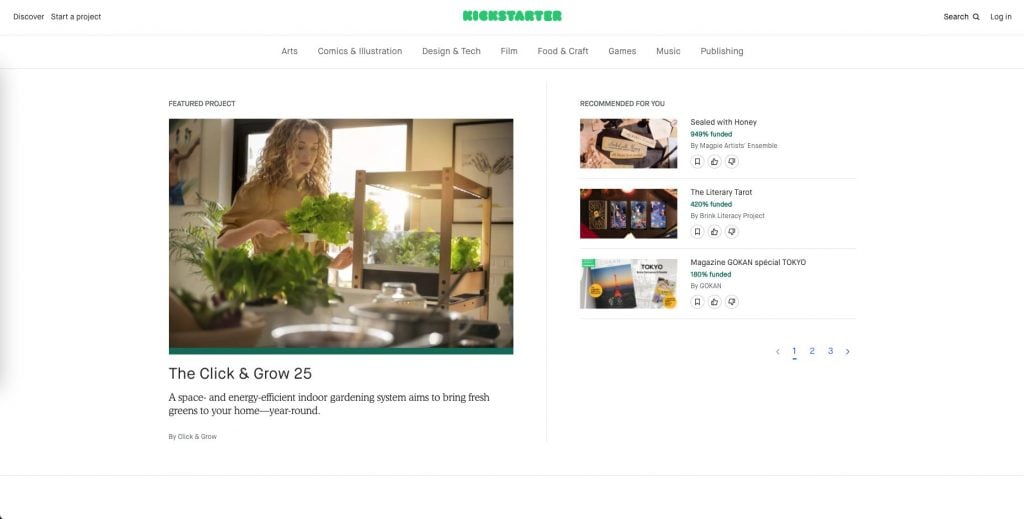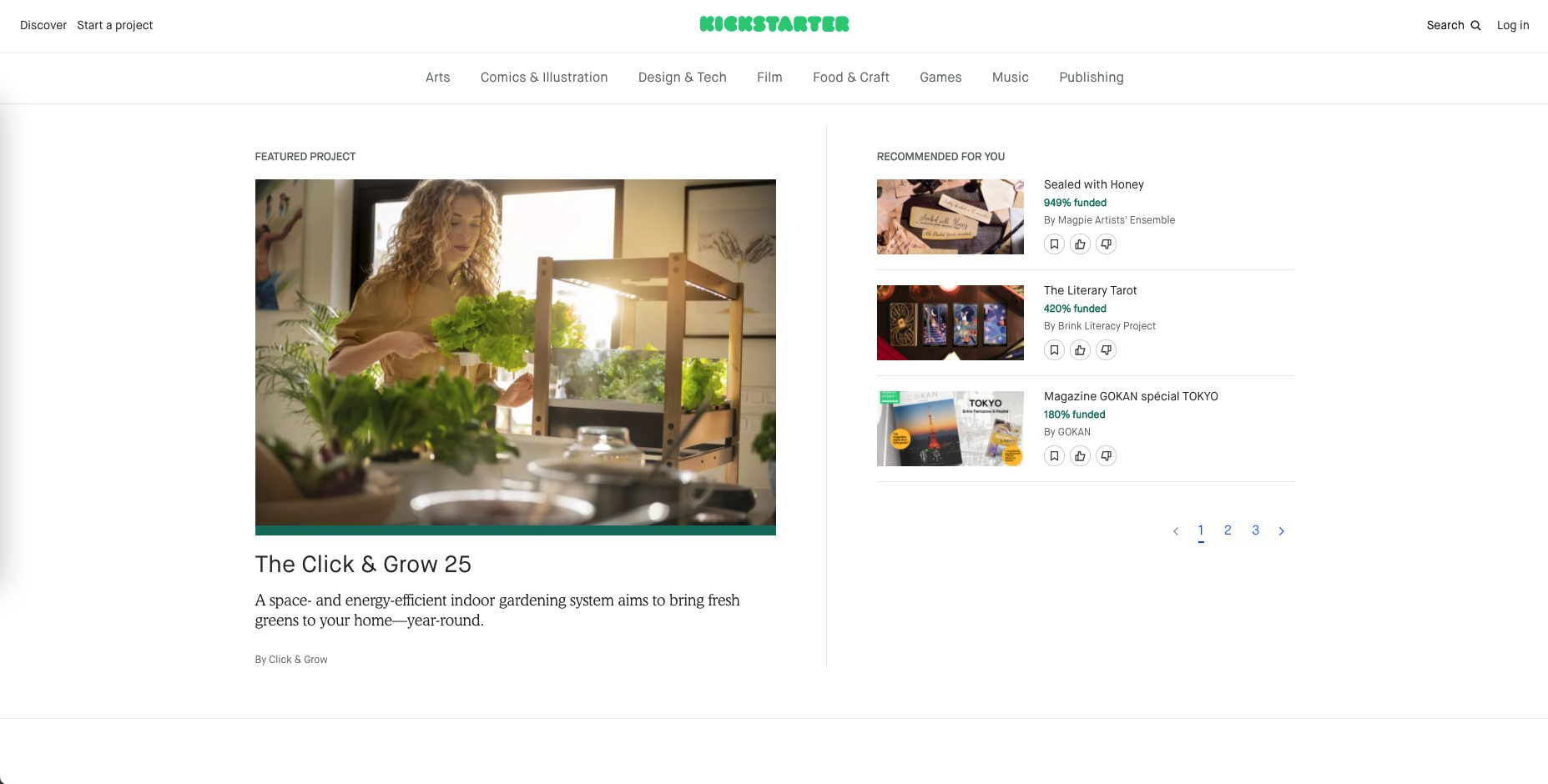 Kickstarter is a crowdfunding platform that you might not have even considered as a Patreon alternative. However, if you're a creator looking to fund a one-time project (or maybe you put out major pieces a few times a year), Kickstarter is an option worth looking into. It's quite a bit more difficult to break into than Patreon and campaigns are pre-screened carefully before being approved. And, if your campaign isn't funded, you're not going to earn anything. This can be a positive for those creators who don't want to take on a project if they're not going to be able to complete it.
Kickstarter Pros and Cons
😊 Easy setup

😊 Nice promotional tools

😩 For one-time projects

😩 No memberships or recurring revenue
Pricing
If your project is successfully funded, the following fees will be collected from your funding total: Kickstarter's 5% fee, and payment processing fees (between 3% and 5%). If funding isn't successful, there are no fees.
---
4. Indiegogo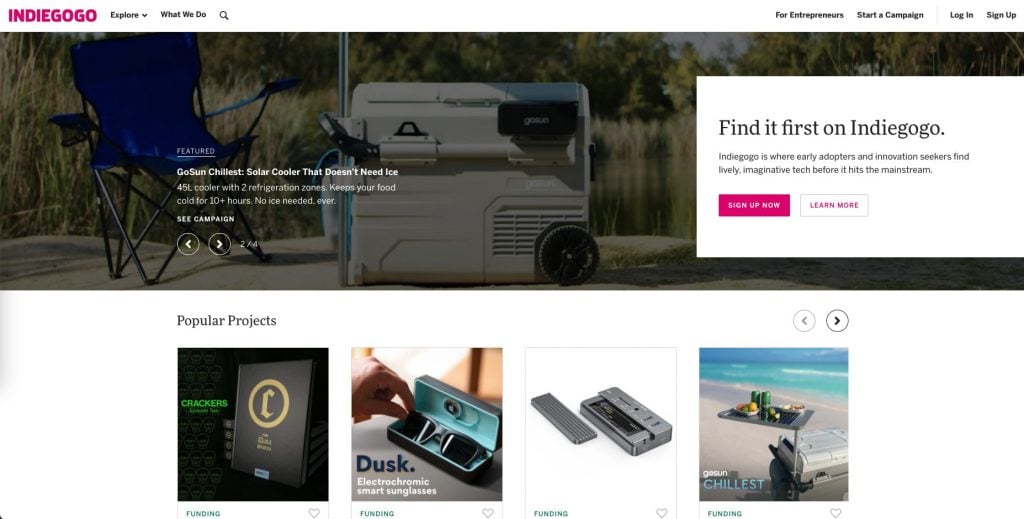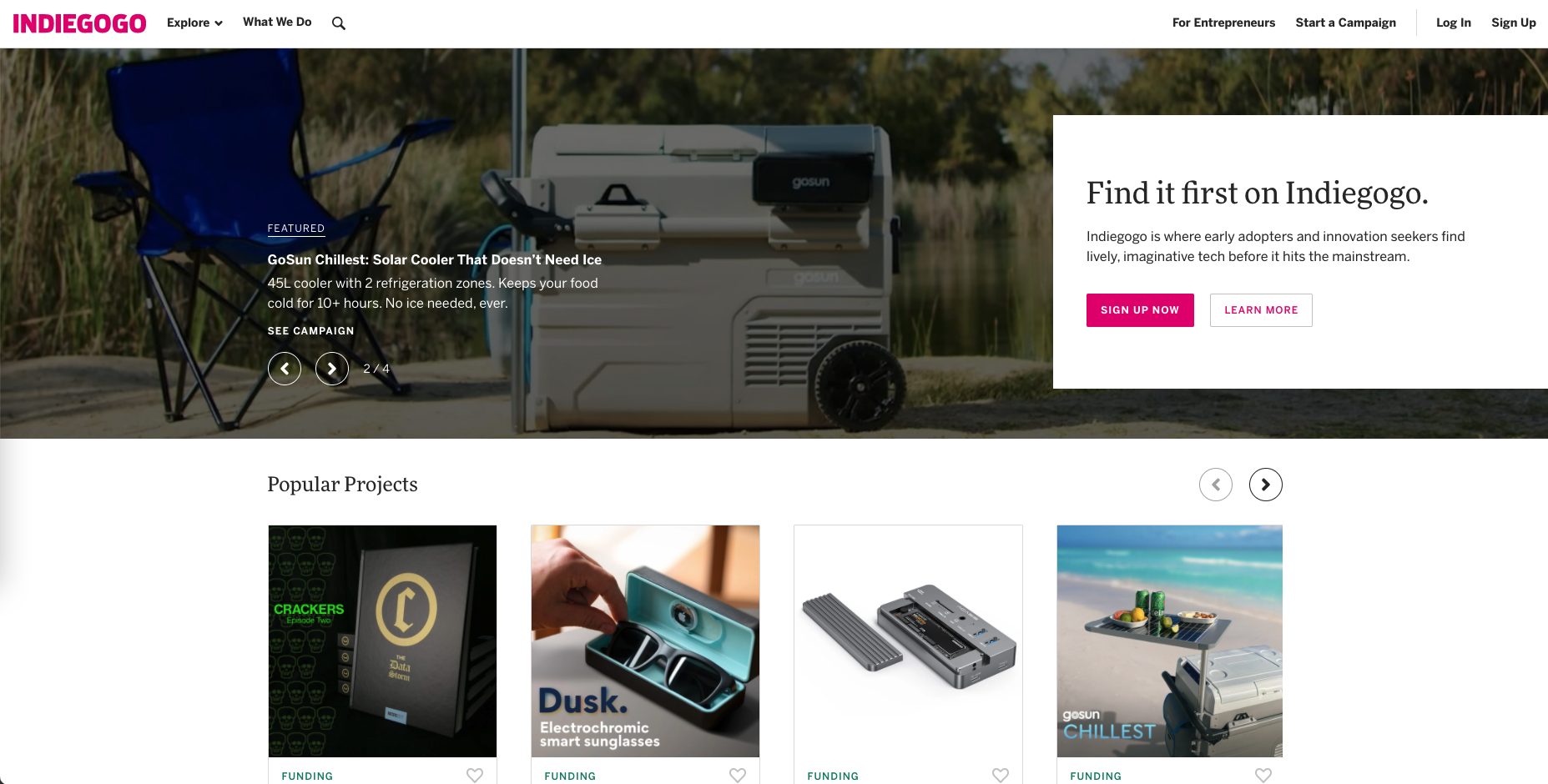 Like Kickstarter, Indiegogo is a crowdfunding platform best for one-time creative projects. Unlike Kickstarter, though, Indiegogo gives creators the option to use continuous campaign after you've run a successful crowdfunding campaign on any platform. Indiegogo is a less exclusive platform that doesn't screen those who sign up to create a campaign. You can also set up your campaign to be "all or nothing" (you don't get any money if you don't hit your goal) or "keep what you raise" (you get to keep what you bring in even if you don't hit your goal).
Indiegogo Pros and Cons
😊 Extensive support network for project creators

😊 Marketplace lets you post your products so people can buy them directly from you

😊 InDemand lets you keep bringing in funds after your campaign is over (even if you didn't hit your goal)

😩 Not as popular as Kickstarter so might need more promotional effort
Pricing
Indiegogo charges a five percent (5%) platform fee on all funds raised for your campaign. Fees are calculated and deducted from the funds you actually raise (not the goal you set). Our payment processor also charges a processing fee that varies according to your location and currency.
---
5. GroupApp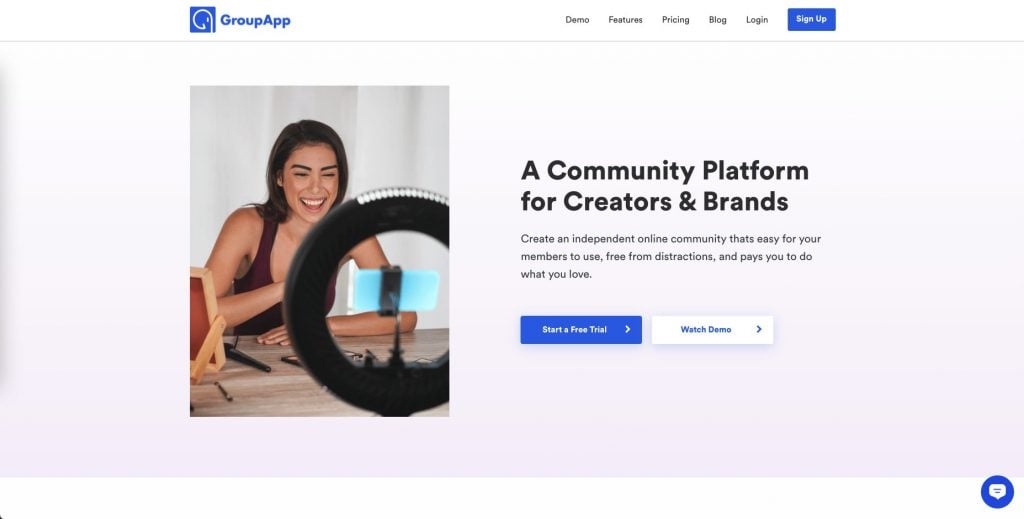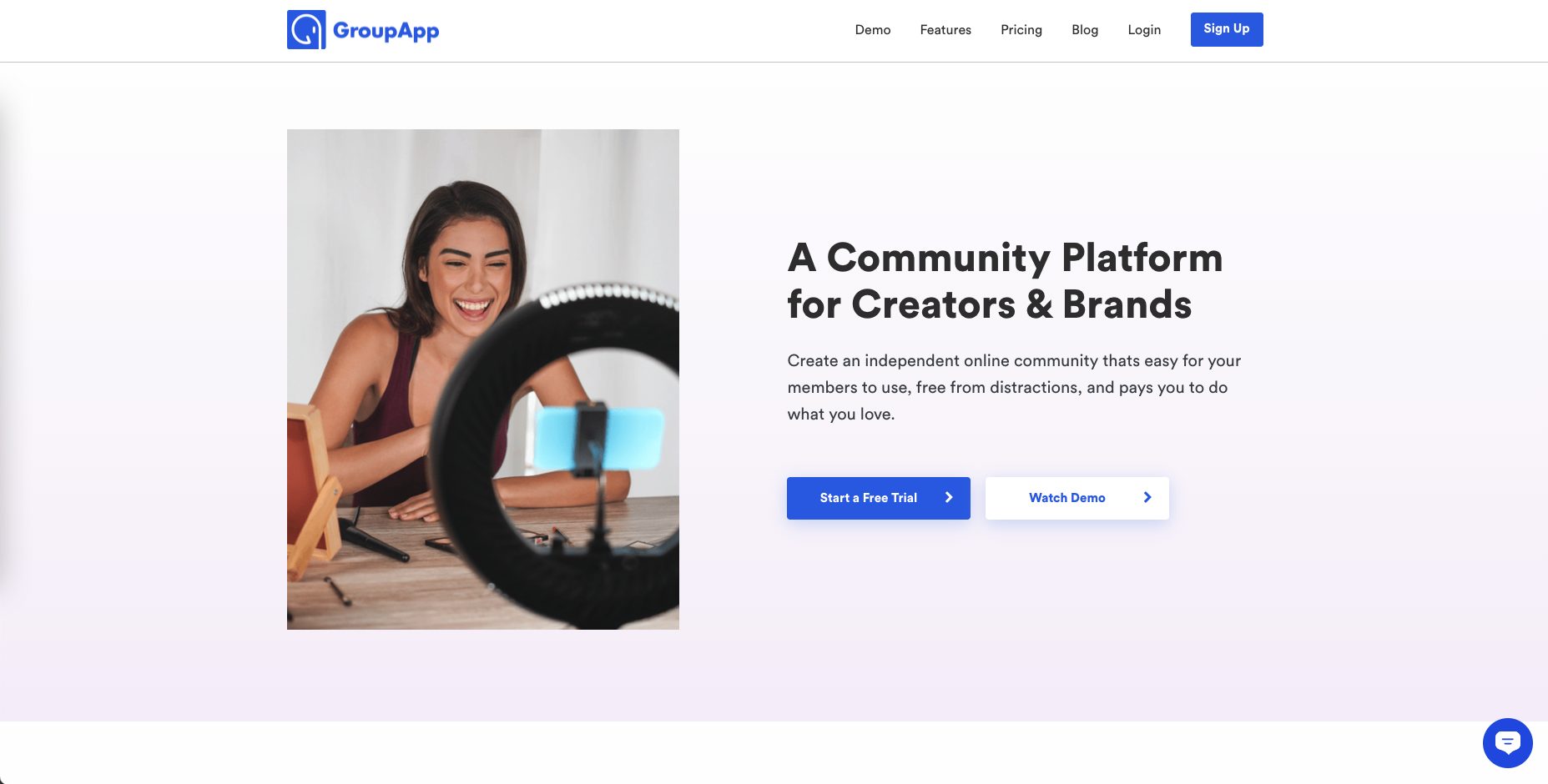 GroupApp is a great Patreon alternative that lets you host online courses, set up membership plans, and build your online community from a single platform. With GroupApp, you won't need to rely on third-party platforms like Discord to build your community. Plus, the platform includes a free, easy-to-use course builder so you can create and monetize online courses easily.
GroupApp Pros and Cons
😊 Build and own your community right on the platform

😊 Easy-to-use online course builder

😊 Third-party integrations with

email marketing platforms

and tools you already use

😊 Set up monthly or annual membership tiers

😩 No donation or tip option

😩 Must have a Stripe account to accept payments
Pricing
GroupApp has three pricing plans:
Starter:

$19/month or $168/year

Pro:

$49/month or $468/year

Premium:

$140/month or $1,344/year
---
6. Hyax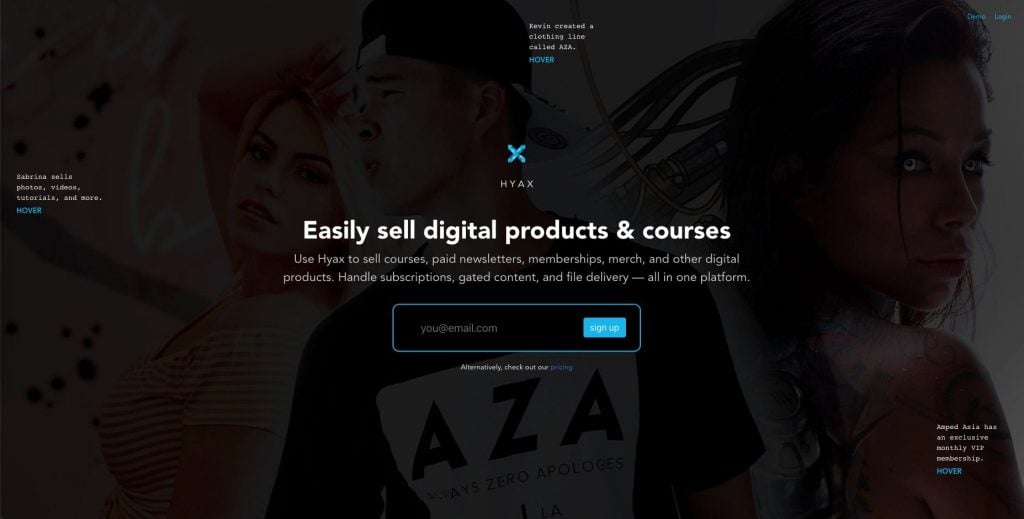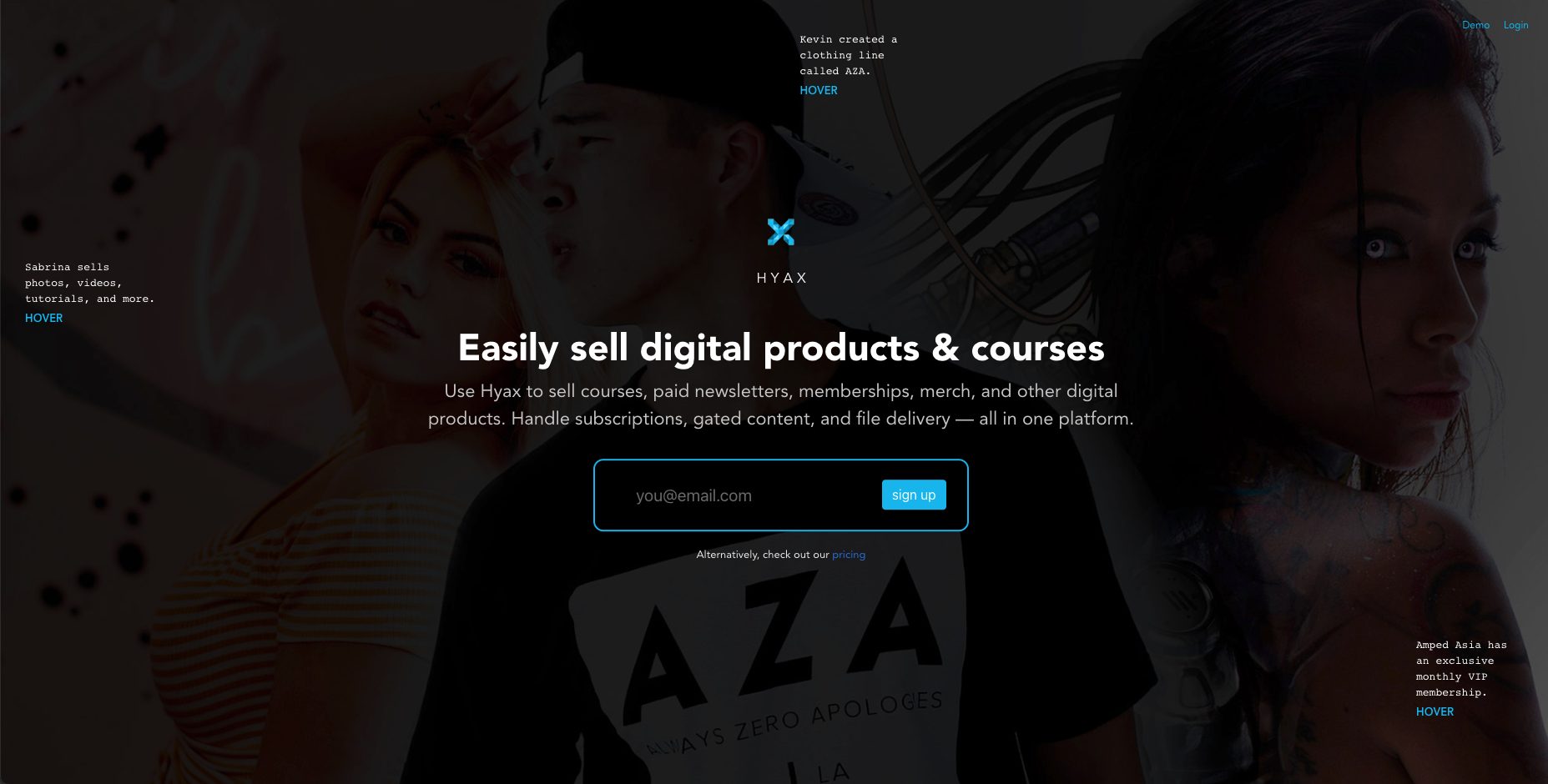 Hyax is an all-in-one membership site builder where you can create, promote, and sell your physical and digital products. Within the platform, you'll be able to create your membership site and design a landing page to make it easy for new members to sign up. It also provides the tools you need to manage memberships and subscriptions, build courses, sell digital downloads, and more. You'll also be able to build your community right on the platform.
Hyax Pros and Cons
😊 Build multiple membership sites

😊 Lots of customization options

😊 Marketing features

😊

Affiliate and referral program

tools built-in

😩 No free plan

😩 Only accept payments through PayPal or Stripe
Pricing
Hyax offers three pricing plans:
Beginner:

$49/month

Advanced:

$99/month

Enterprise:

By quote
---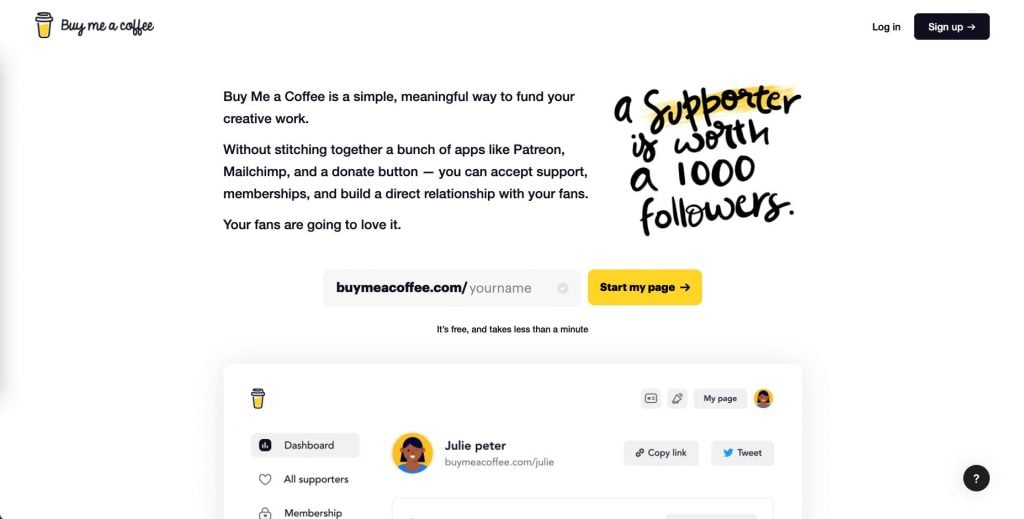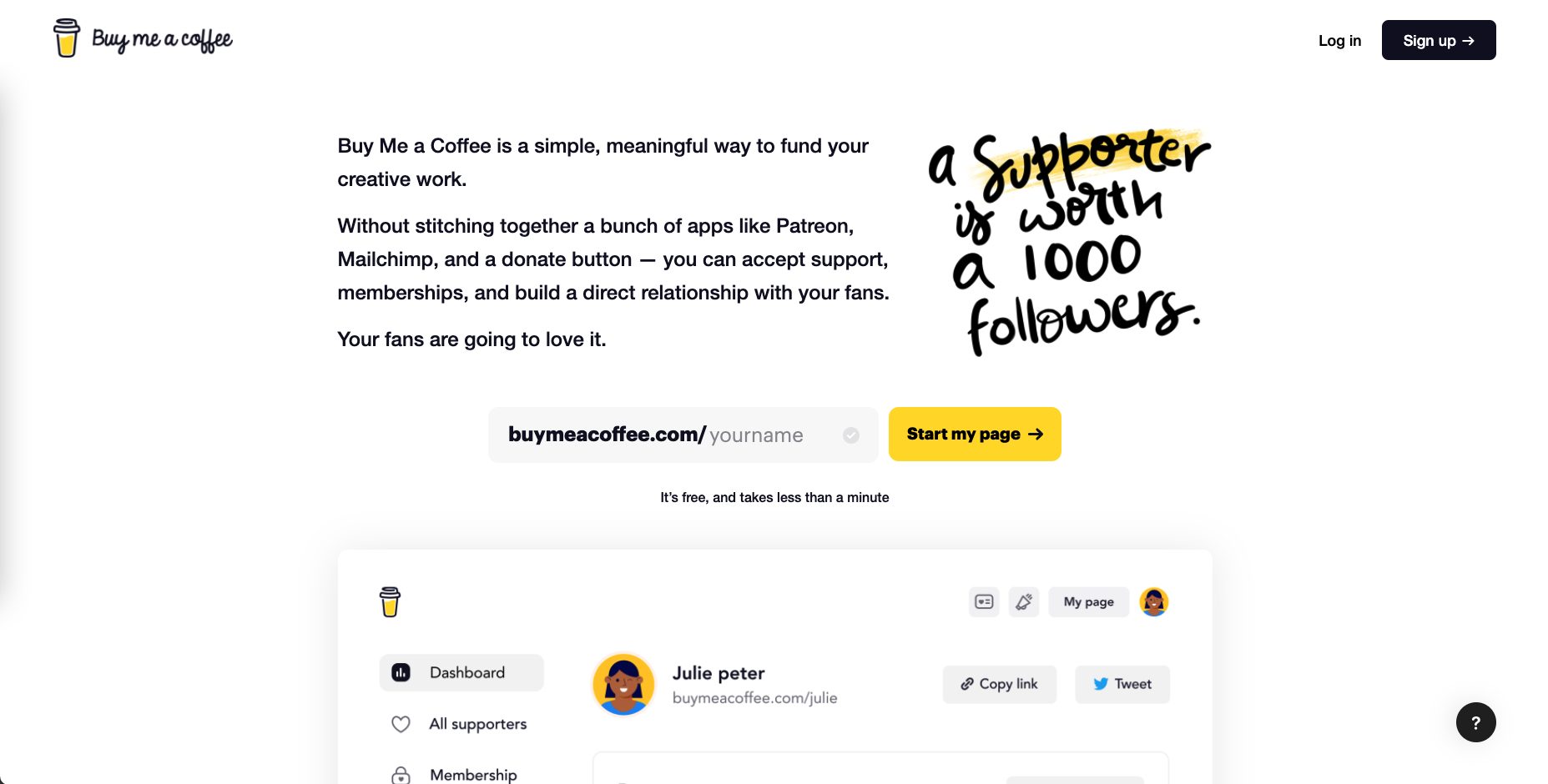 Buy Me A Coffee is an incredibly simple alternative to Patreon that makes it easy for your followers to support you through memberships and one-time donations. Plus, while Patreon requires that you keep up a constant stream of content or risk getting shut down, with Buy Me A Coffee, you don't have to be actively working on a project. The platform also offers customizable widgets for your website as well as reward links you can send to your supporters.
Buy Me A Coffee Pros and Cons
😊 Not a big commitment

😊 Accept one-time or recurring payments

😊 No accounts required

😩 Doesn't have much in the way of membership features

😩 No analytics

😩 Donation amounts are really limited
Pricing
All features including publishing and emails are free to use, but BMAC charges a 5% transaction fee.
---
8. SubscribeStar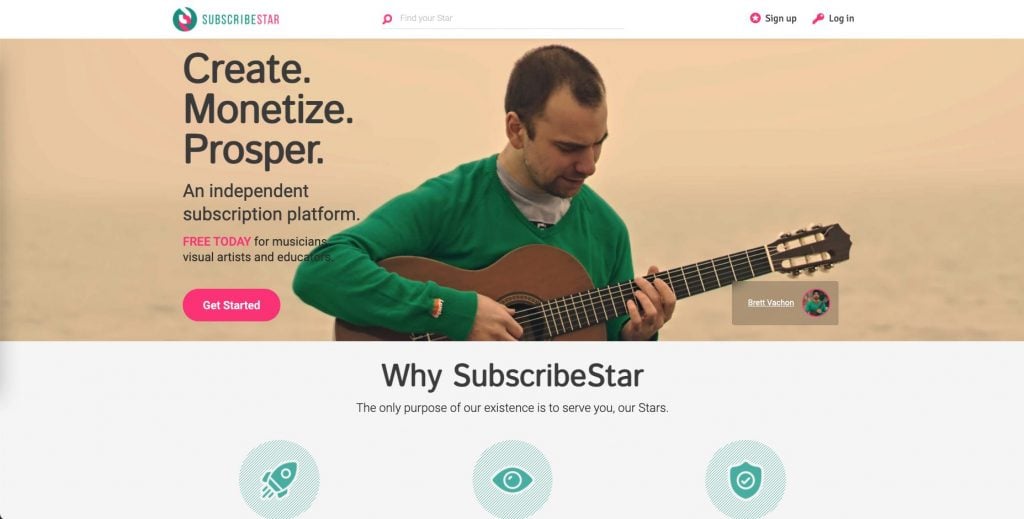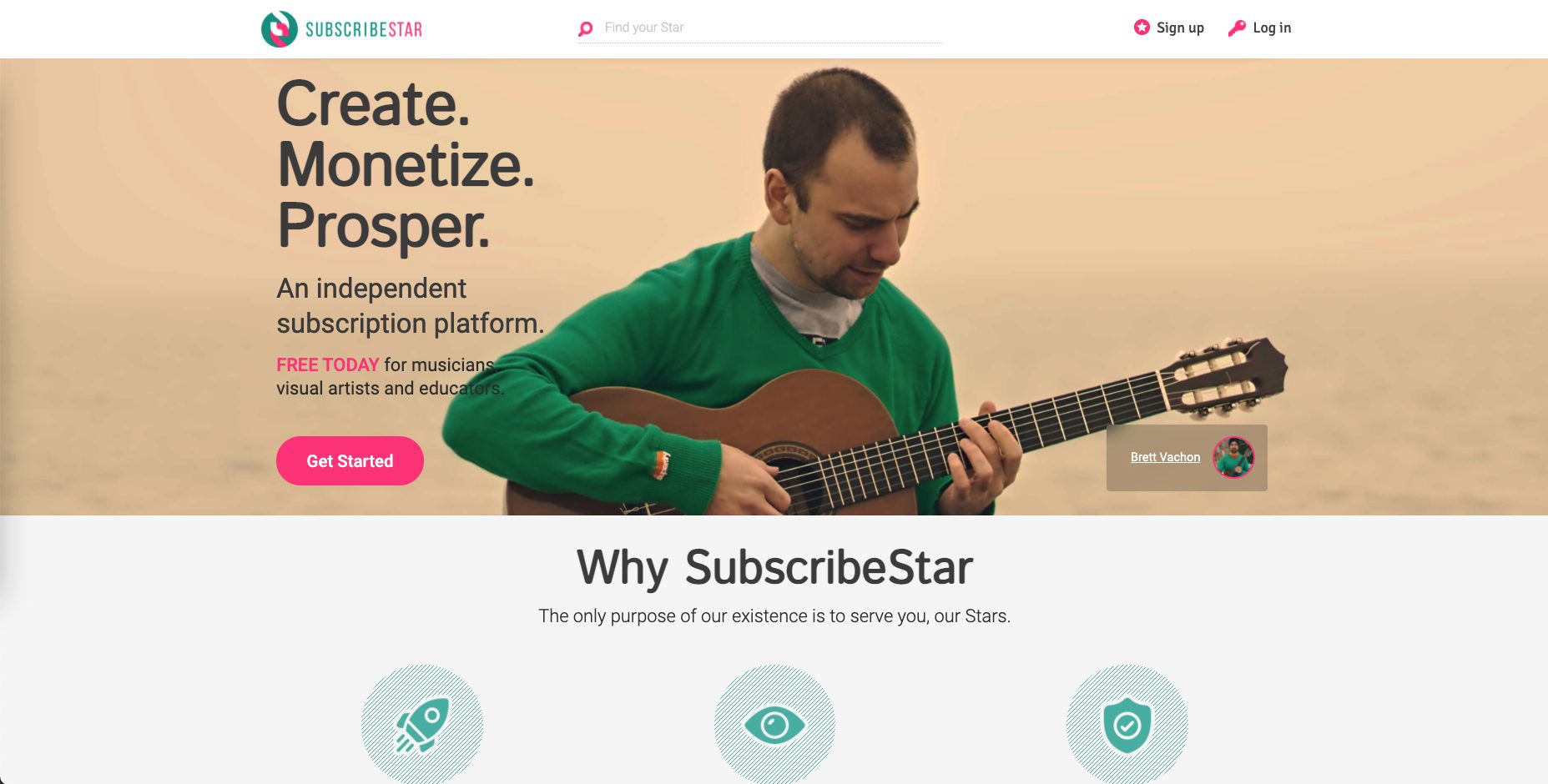 SubscribeStar is one of the best Patreon alternatives for any type of creator. The interface is a bit more sophisticated than other platforms on our list. You'll be able to integrate with other platforms like Google Analytics and Discord as well as link your own apps to the platform (if you're handy with GraphQL).
SubscribeStar Pros and Cons
😊 Fewer restrictions on the type of content allowed

😩 No PayPal or Stripe

😩 Can only withdraw payment every two weeks (and you have to have at least $150 in earnings)

😩 Platform has a reputation as an alt-right platform thanks to its "free speech" model
Pricing
To start and run a Star account is free. You'll be responsible for processing fees through your payment processor. When you request a payout, you'll be charged a payout fee that varies based on things like financial institution charges, payout frequency, and payout amount. The payout fee will never be lower than $3. In addition to this, SubscribeStar charges a flat service fee of 5% on every pledge, deducted from your monthly earnings.
---
9. YouTube Channel Memberships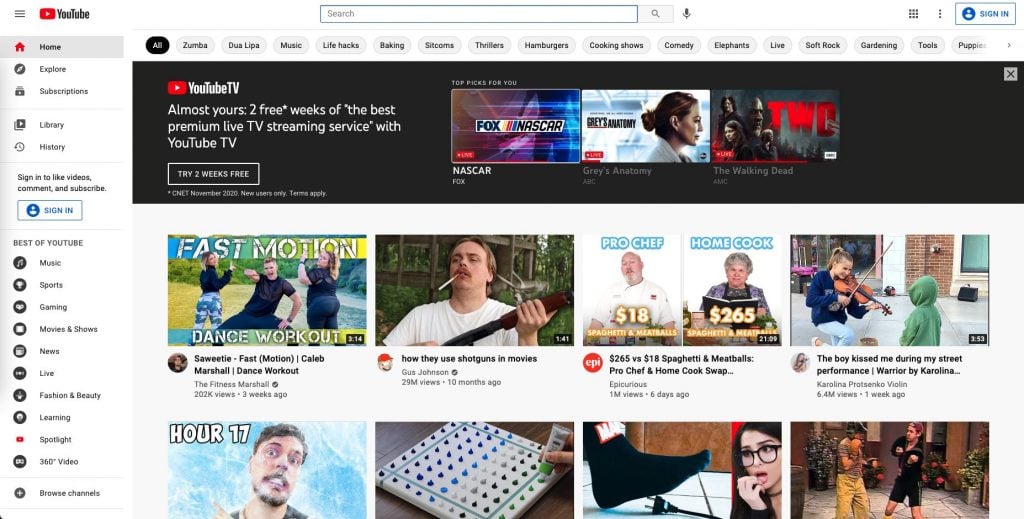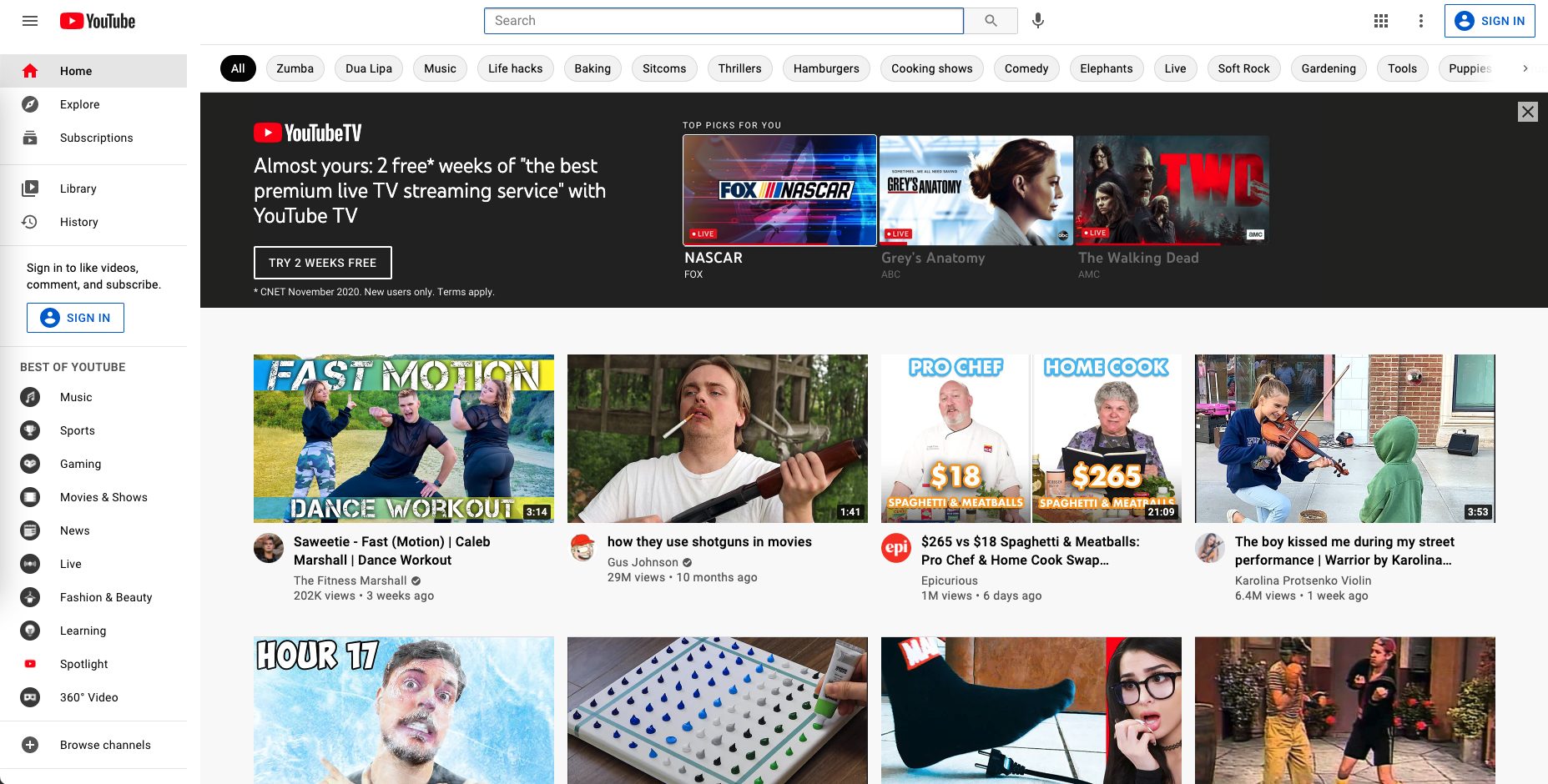 YouTube allows creators with at least 1,000 subscribers who are in the YouTube Partner Program to offer channel memberships. You create the content and your members pay a monthly fee for access. You can offer multiple membership tiers with varying prices and access to different content.
YouTube Pros and Cons
😊 If you're already

creating YouTube content

, this is a perfect option

😊 YouTube covers the transaction costs

😩 YouTube takes a 30% cut of earnings (which is why they can cover the transaction costs)

😩 Only viable for video content creators
Pricing
YouTube keeps 30% of your revenue.
---
10. Facebook Fan Subscriptions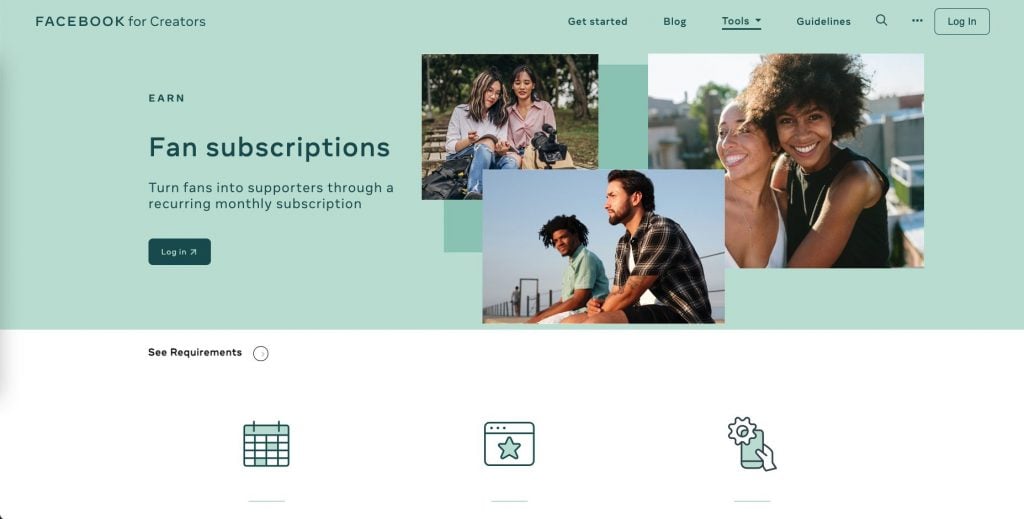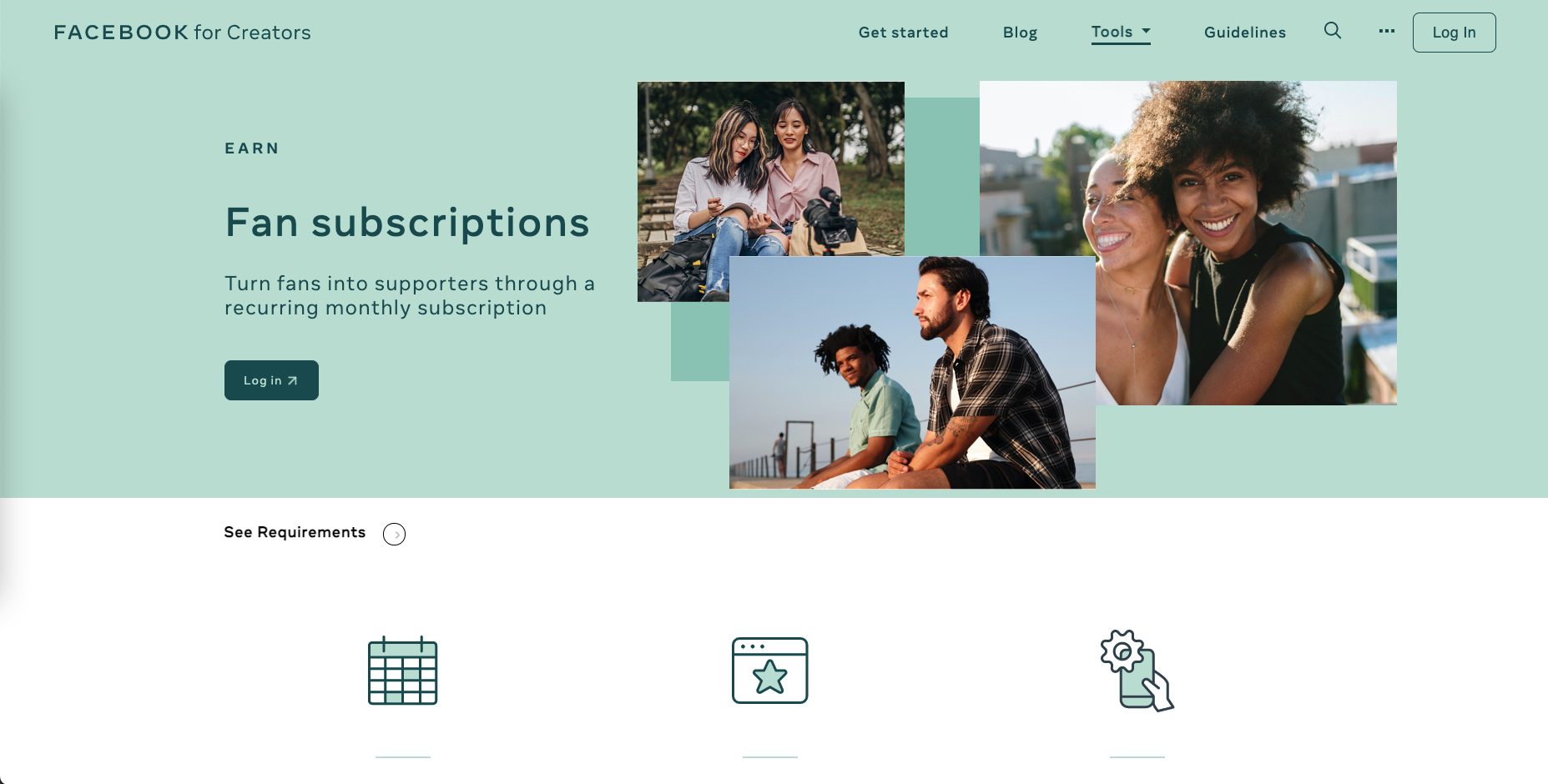 Did you even know that Facebook lets creators offer fan subscriptions? Fan subscriptions essentially let you monetize your Facebook page, giving fans the option to subscribe to your page for access to exclusive content, page badges, and personal contact with you, the creator. You can also run subscription groups on the platform, providing access to your Facebook Group for a fee.
Facebook Pros and Cons
😊 Facebook has an enormous user base

😩 There's a bit of a question about whether Facebook will begin taking the planned 30% fee at some point
Pricing
The percentage that you earn is dependent on how supporters pay for fan subscriptions. For transactions made on the web, you'll receive 100% of the price that supporters pay, after applicable taxes and fees. For transactions made on a mobile device through Apple (iOS) or Google (Android), you'll receive 70% of the price supporters pay because the mobile provider will take 30% of the revenue for in-app purchases, after applicable taxes and fees.
---
Wrapping Up
If you're looking to monetize your content, we've just covered some of the best Patreon alternatives you can check out. When you're looking for the right platform, make sure you consider the type of content you have to offer, how much you want to charge, and how much you can afford to pay in fees. You'll also need to verify that the type of content you want to share is accepted on the platform you have in mind.
Frequently Asked Questions
What are the best alternatives to Patreon?
Any of the platforms on this list will help you add a revenue stream to your business and get paid for the content you create. We think the best Patreon alternatives are:
Podia
Ko-fi
Kickstarter
Indiegogo
GroupApp
Hyax
Buy Me A Coffee
SubscribeStar
YouTube Channel Memberships
Facebook Fan Subscriptions
What is Patreon?
Patreon is a crowdfunding platform that lets you accept payment from followers for your work in the form of videos, music, podcasts, and more.
Why do I need a Patreon alternative?
You don't necessarily need a Patreon alternative. However, despite the popularity and success of the platform, even the CEO doesn't think the business model is sustainable. Choosing an alternative now, even if you just keep it in mind as a backup, might save you the headache of dealing with Patreon down the road if they increase fees or change their model.
What are the benefits of crowdfunding?
Crowdfunding is a great way for content creators to generate additional income from their followers.
How can I accept donations?
Choose a platform from this list that allows for tips or one-time payments like Buy Me A Coffee or Ko-fi.