While many smaller creators and merchants prefer to work with affiliate networks, many firms have designed their own affiliate programs, and operate them separately.
If you feel comfortable running an affiliate program and working hands-on with all your affiliate merchants, you don't have to fit into the rules of a network, potentially having your products in the same catalog as your competitors. And by operating your affiliate program directly, you can avoid paying any affiliate network fees.
Here, we look at some affiliate programs that operate independently of the networks (as well as a couple that partner with them).
It's important to remember that to be successful, affiliate marketers need an interested, keen audience, listening to their words of wisdom (or images of beauty). Most people are only interested in certain things, however. The best fashion influencer in the world will have little connection with people who couldn't care about clothing and attire. The world's top travel experts mean nothing to somebody who has never left his or her village and has no wish to do so.
This means that distinct niches are incredibly important when it comes to online marketing. Top influencers make super affiliates – as long as they operate in the same niche as the affiliate programs to which they belong. In many cases, influencers only choose to join affiliate programs for products they use and like. That way, they don't feel compromised when recommending these products to their followers.
We have taken a look at an assortment of affiliate programs here (excluding multi-product networks), and have a selection of what we believe are the best.
---
Here are the 9 Best Affiliate Programs To Bolster Your Revenue:
---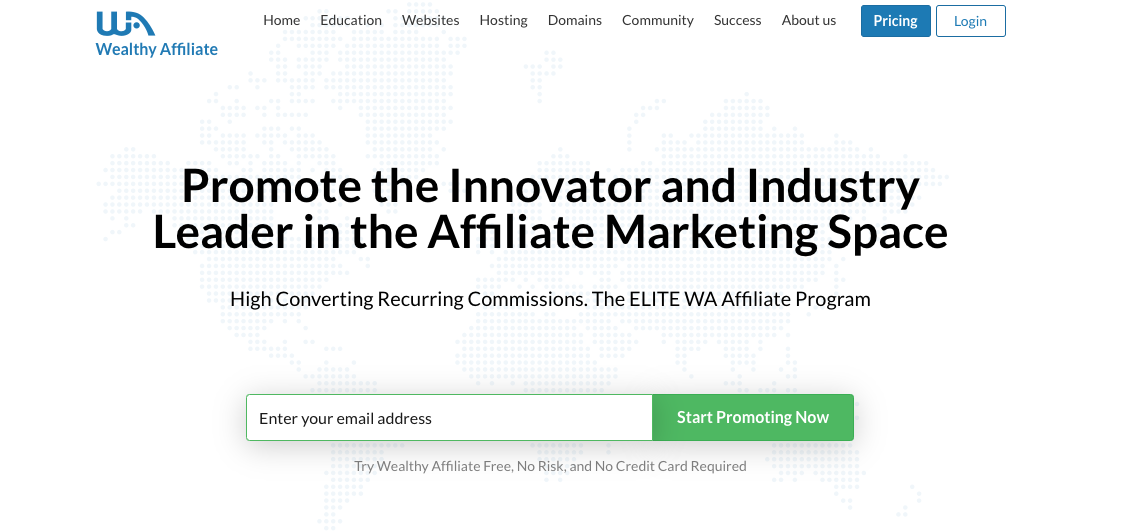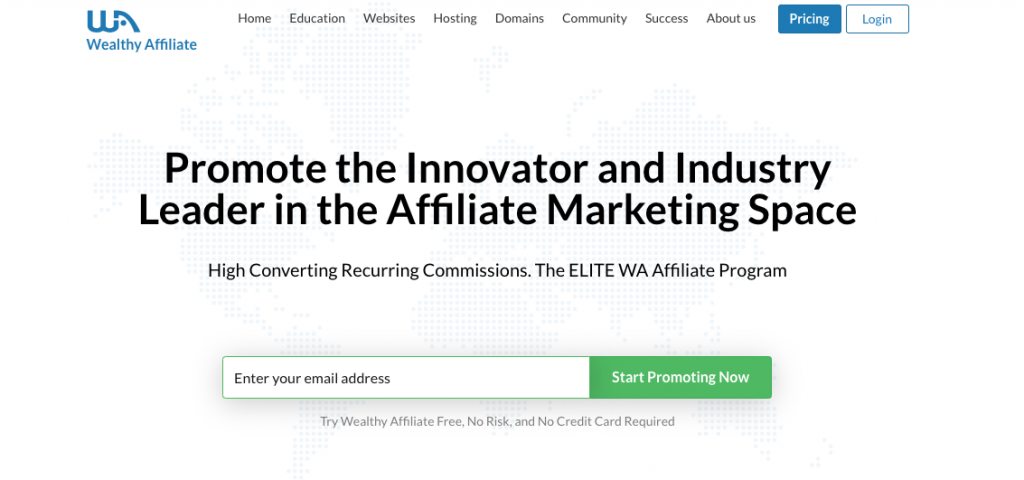 Wealthy Affiliate is in the slightly surreal position of being a website/training platform about affiliate marketing that pays affiliate commission to people who refer new customers to learn more about affiliate marketing.
In theory, at least, Wealthy Affiliate's affiliates could use their affiliate earning to reinvest into their Wealthy Affiliate membership to improve their skills and knowledge about affiliate marketing, and in turn, make more affiliate fees.
One of the benefits of a Wealthy Affiliate membership is that they will host your websites for no additional costs to your membership fees. You could, of course, use these to create review sites for Wealthy Affiliate.
Indeed Wealthy Affiliate includes a separate in-depth training program targeted at people who wish to act as affiliates for Wealthy Affiliate.
In the 14 years that Wealthy Affiliate has existed, it has had more than 1,400,000 members, with 10,000 new businesses built monthly.
Their affiliate program pays on a residual commission affiliate marketing model. Not only do you earn commissions for the first month that your referrals join, but you will also earn recurring commissions for your referral for the life of that member. The average commission works out to be more than $121 per sign-up.
---
2. Kajabi (Online Courses)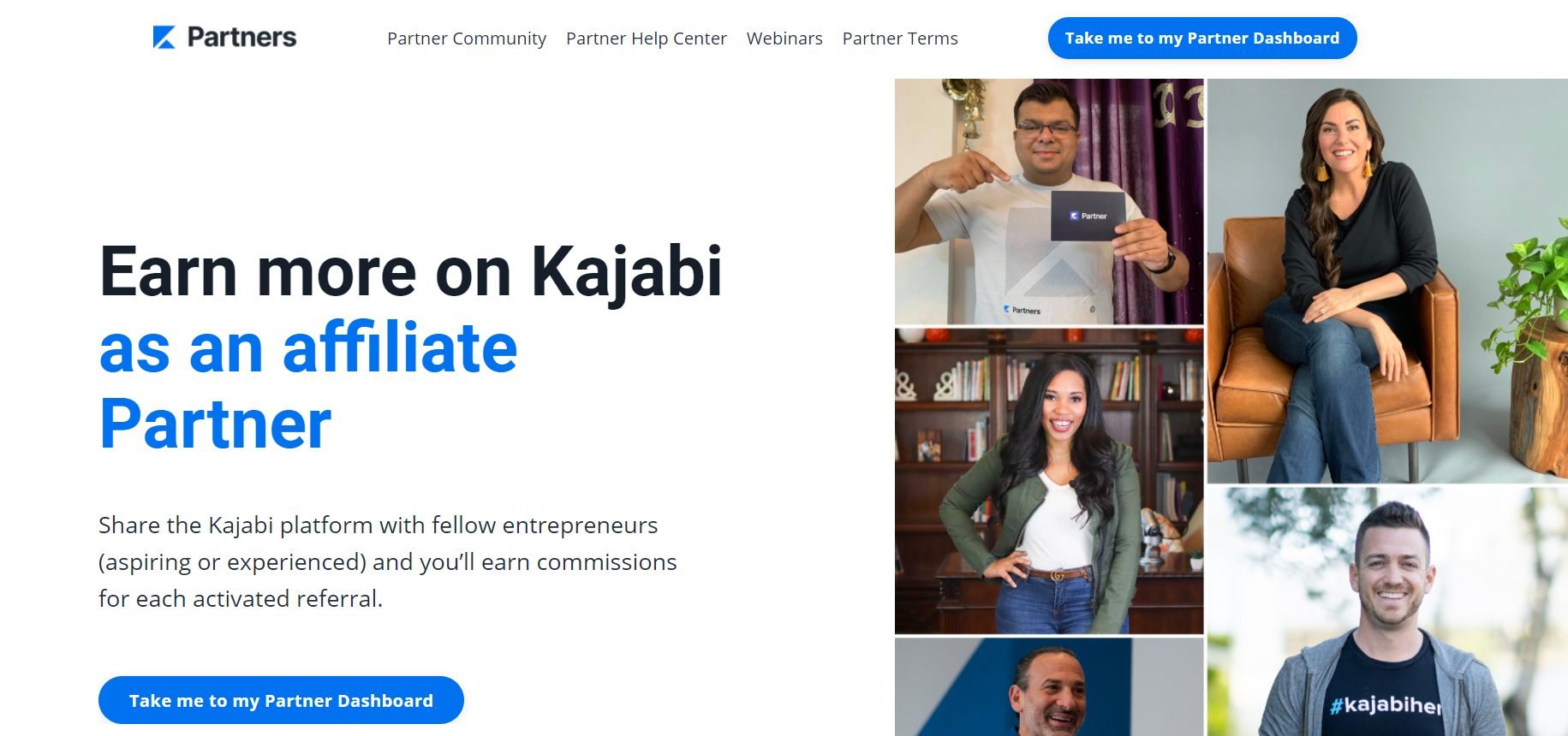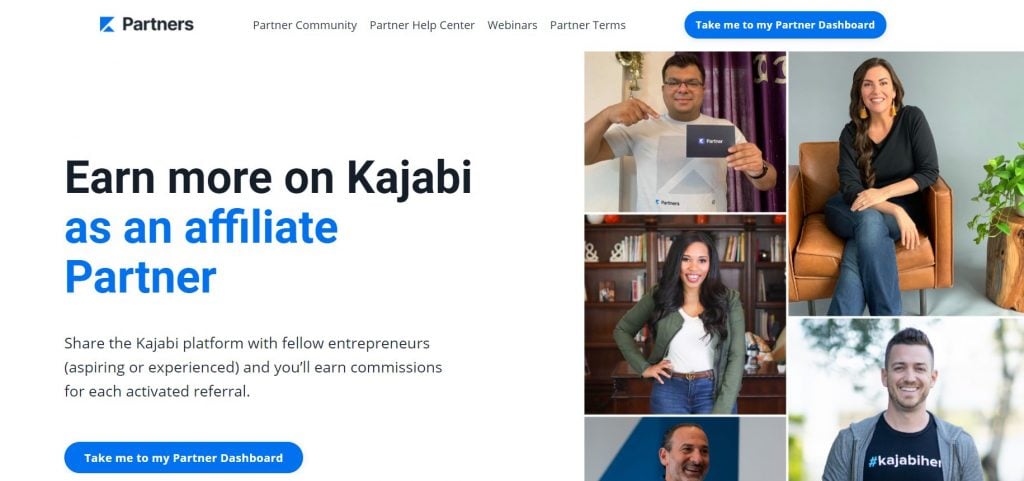 Kajabi may not have the high profile of course providers like Udemy or iTunes University. However, it is still a popular all-in-one platform that makes it easy to create online courses, launch marketing campaigns, build landing pages, and design the perfect website.
Indeed, it has highlighted its success with a few statistics: $1,000,000,000+ transactions made through Kajabi, 20,000+ businesses worldwide trusted through Kajabi, and 41,000,000+ consumers served through Kajabi.
It also features an attractive affiliate program, the Kajabi Partner Program. Affiliates receive 30% recurring commission, i.e., Kajabi will pay them 30% of the fees that any Kajabi customers they refer pay after their trial period, for each month they remain a member of Kajabi.
Kajabi also incentivizes its affiliate marketers by giving them exclusive rewards that they unlock as they progress to higher status levels. For instance, at the bottom (Blue) level, they will provide you with a commission of up to $116.70/mo or $1,119.60/yr. By the time you have 50 active referrals, you will reach the Diamond level, and Kajabi will give you a car, and a commission of up to $5,835.00/mo or $55,980.00/yr. Bonuses continue up to the Legend level (with 200 active referrals).
---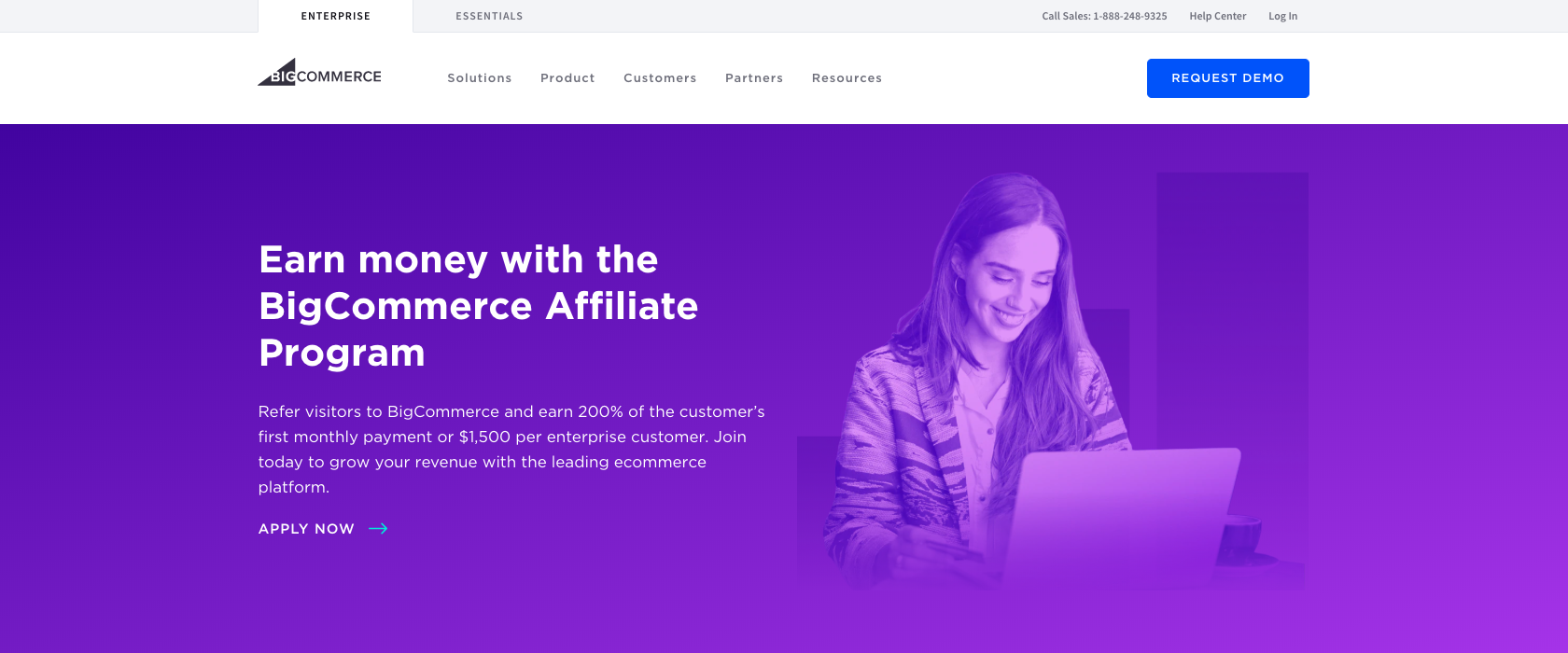 BigCommerce offers an online storefront for firms wanting to build an online commerce platform. You can use their platform to sell virtually anywhere online – not just in a shop on your website, but also integrated into marketplaces, such as eBay and Amazon, your social channels, and even connected to in-store POS systems.
They run an affiliate scheme where affiliates who refer visitors to BigCommerce can earn 200% of the customer's first monthly payment or $1,500 per enterprise customer. The more referrals you drive through the program, the higher your commission tier can go.
---
4. AWeber (Email Marketing)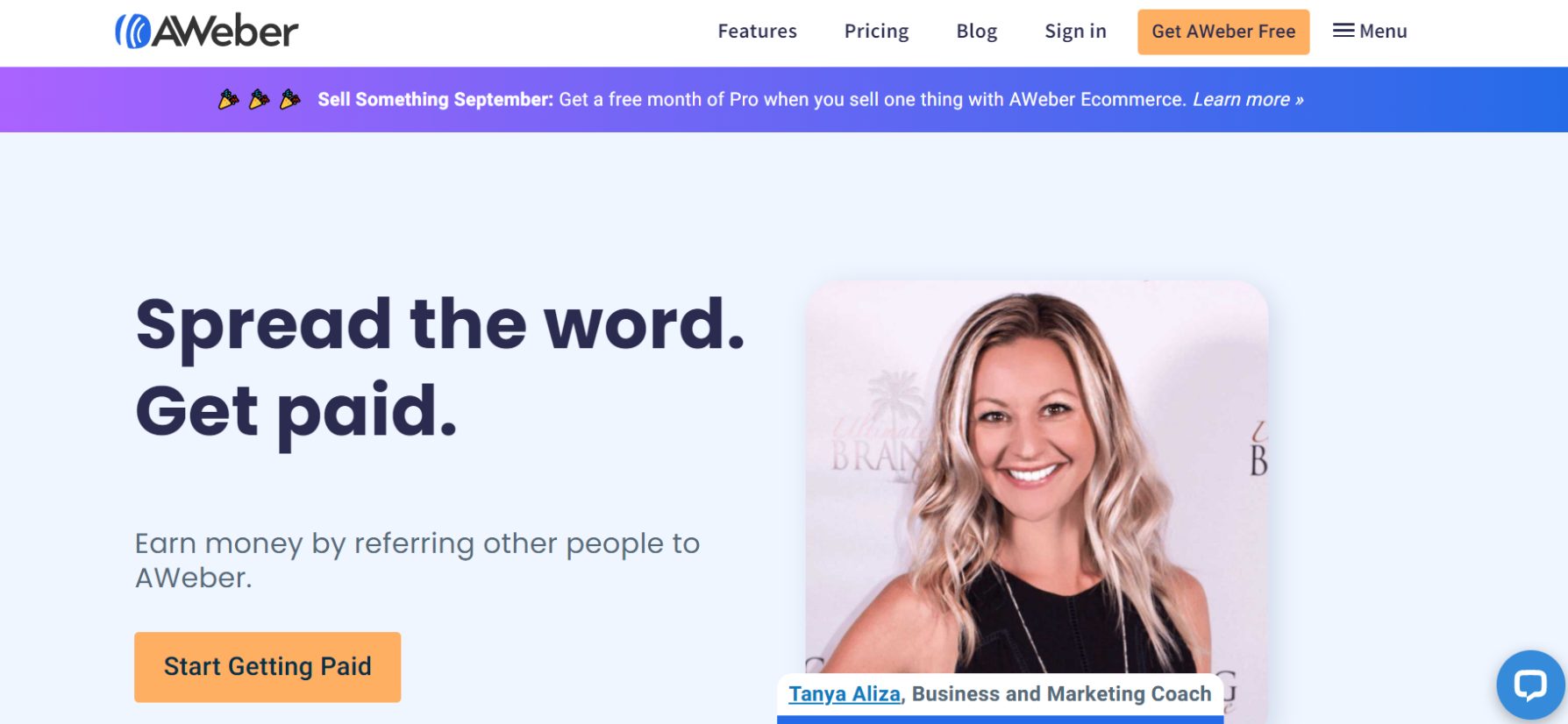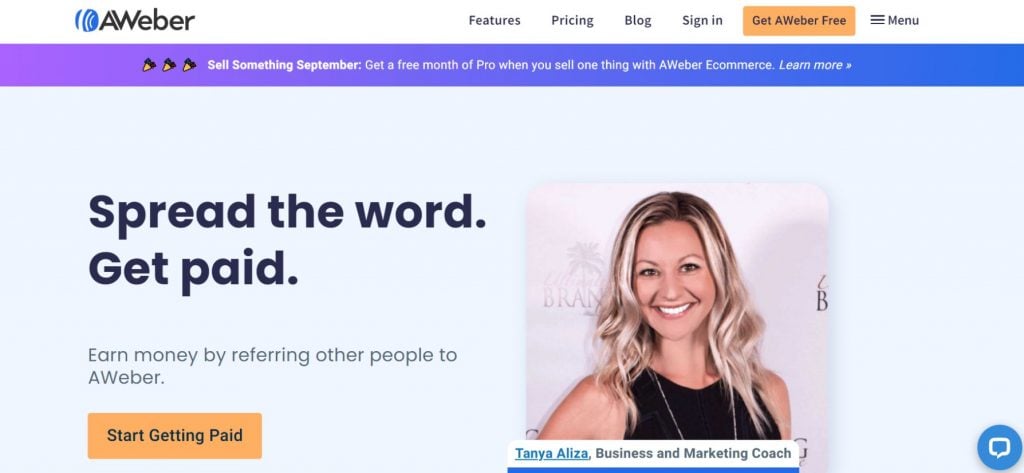 If you do any form of email marketing, you have probably heard of AWeber. They are one of the better-known brands in that marketing genre.
Like many such businesses, they are a natural fit with affiliate marketing. Their customers already know about online marketing and are generally already digital natives. They work mostly with small and medium-sized businesses and bloggers, though, rather than influencer superstars who need a different kind of tool to manage their massive email lists.
AWeber offers affiliates recurring 30% referral payments, with no set-up costs and monthly payments.
When you join their Customer Referral Program, they provide you with an ID. You then refer businesses in need of email marketing services to AWeber by tagging links to their site with your ID. If they then order an account (either on that visit or on a subsequent one), you'll receive a 30% customer referral payments on their account.
A nice feature of this program is that affiliates continue to earn this percentage on any recurring income. For instance, if you refer somebody to AWeber, and they sign up to a $19 per month email marketing program, you receive $5.70 each month until they leave.
---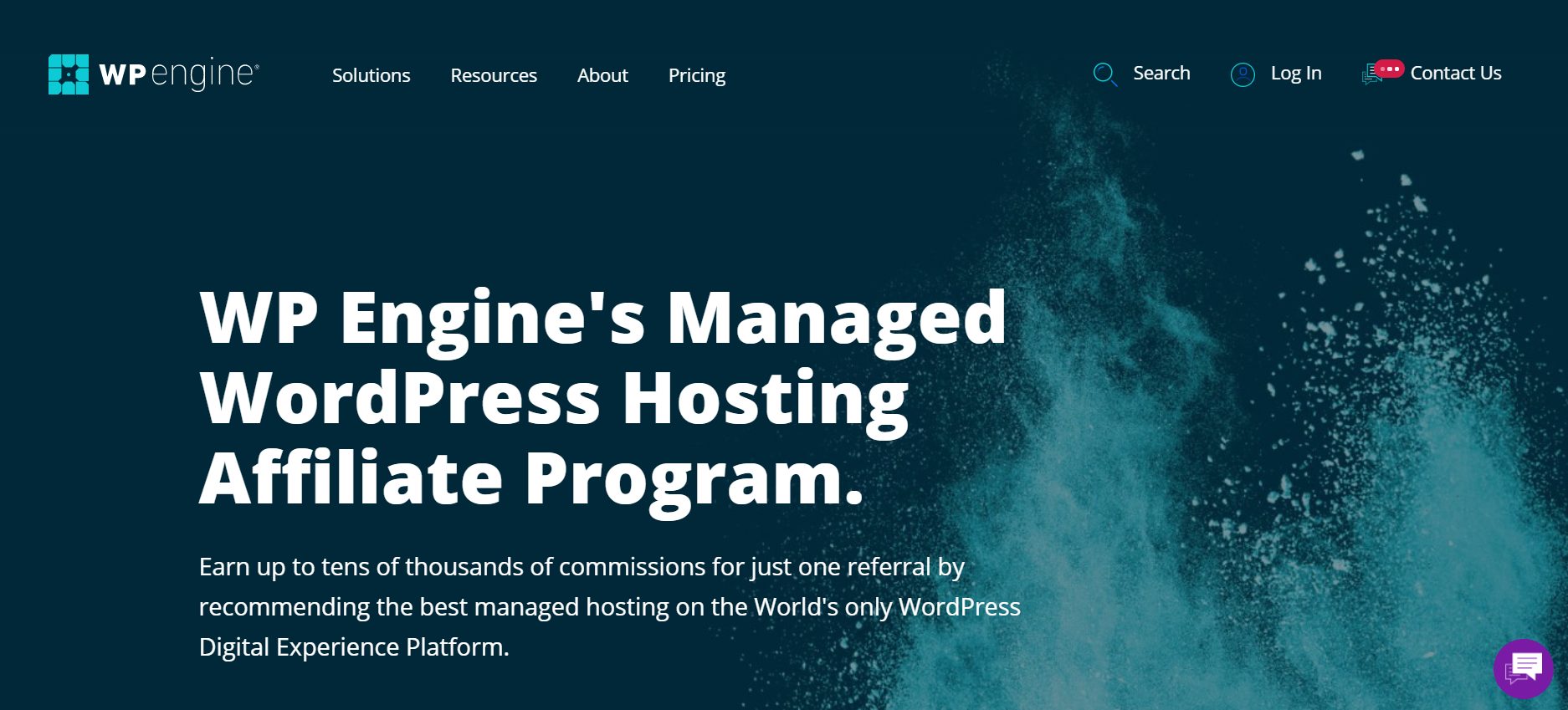 WP Engine describes itself as a WordPress digital experience platform. It provides tools for people to create WordPress sites and hosts them. They make it easy to build amazing, mobile-responsive WordPress digital experiences with 36 easy-to-use, premium themes powered by the Genesis Framework.
WP Engine's managed WordPress Hosting Affiliate Program encourages affiliates to earn by referring WP Engine platform and StudioPress theme customers. Affiliates can earn income in two ways: $200 minimum commissions for WP Engine sales and 35% of StudioPress theme sales.
One nice feature of this program is that you receive payment for both referring new customers and also for referring new affiliates. WP Engine will give you $50 for each of your referred affiliate's new customers.
---


Many readers, especially those based in the USA, will be highly familiar with Target stores. They have also built up a sizeable online presence in recent years, with many customers preferring to make their purchases from their phone or web browser.
Being a large retailer of many goods, Target has chosen to run its own affiliate scheme – Target Affiliates. As with most multi-product retailers, Target's commissions are smaller than companies that merely sell one or two in-house developed products. However, successful affiliates make up for these lower commissions by referring large numbers of potential customers to Target's website.
The commission rates of 1-8% depend on the nature of a product and the number of people you refer. For example, somebody who refers fewer than ten purchasers to Target's site who buy apparel and accessories will receive a 5% commission. However, if the affiliate were able to send more than 10,000 customers, they would receive 8% commission. There are eight commission tiers. An exception to this, however, is health and beauty, where affiliates only receive 1% commission, regardless of how many customers they refer.
One nice feature of the Target program is that people have a 7-day window in which to spend money at Target. For example, if somebody follows through a referral link on a Monday, any Target spending they do until the following Sunday, is counted as belonging to that original affiliate.
---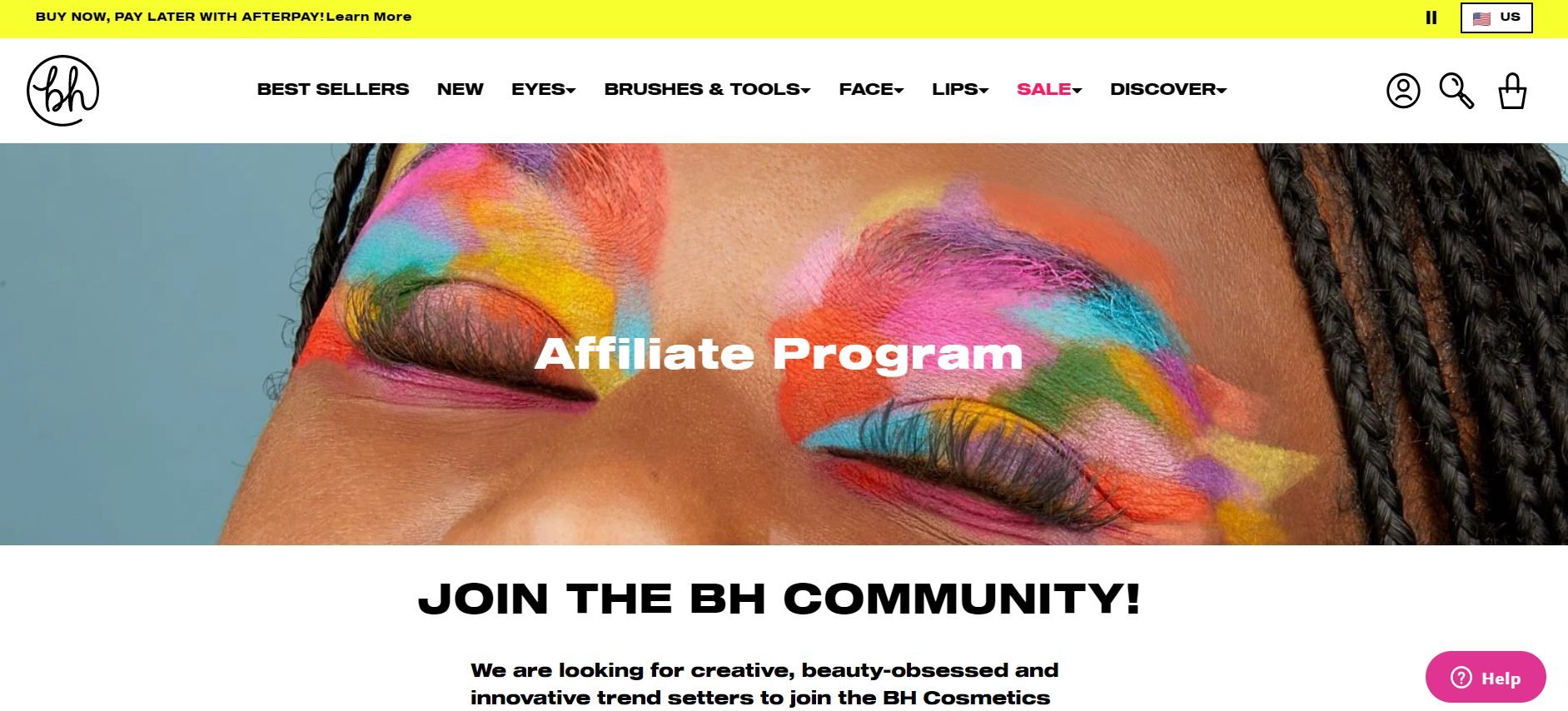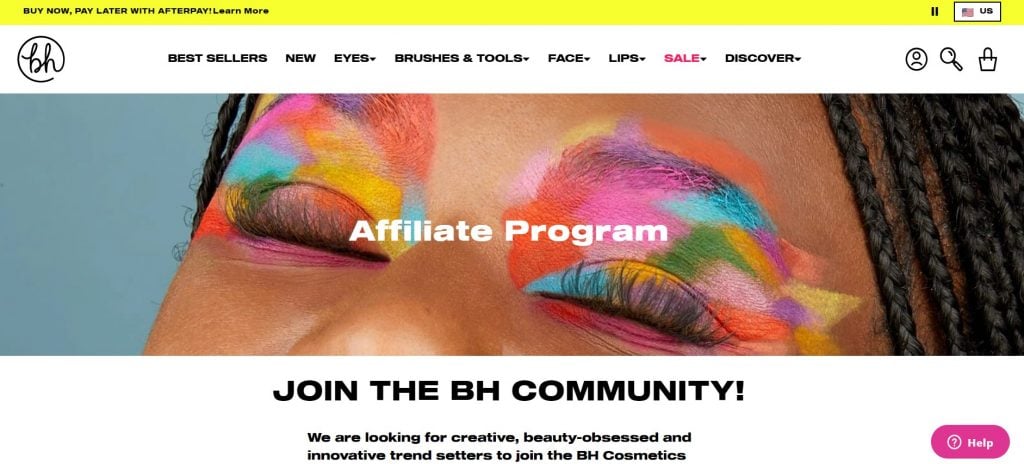 BH Affiliates sells a wide range of cosmetics and beauty products. It is dedicated to only providing cruelty-free cosmetics, containing vegan ingredients.
Their affiliate program pays up to 8% commission on purchases. Each time an affiliate directs a visitor to BHCosmetics.com, and they purchase within 60 days of their visit, the affiliate earns an 8% commission on that order.
---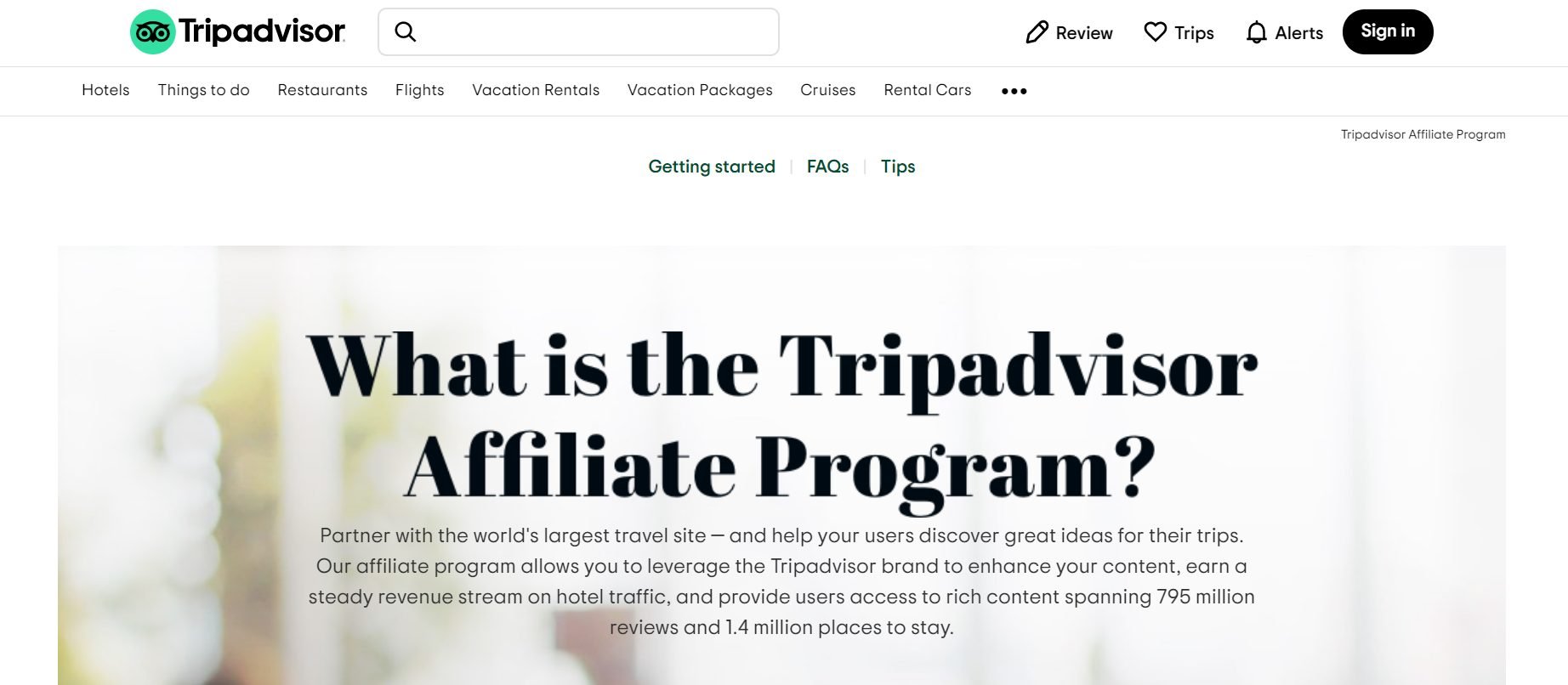 TripAdvisor runs its travel affiliate program, partnered with the CJ Affiliate network. You have to first apply to CJ Affiliate to become a TripAdvisor affiliate.
Affiliates get paid a commission of up to 50% for sending quality traffic to TripAdvisor.
TripAdvisor is a major travel site. They have large sections devoted to hotels, things to do, restaurants, flights, vacation rentals, cruises, and more. The website allows people to compare prices to find the lowest price.
The affiliate program pays commissions of up to 50% when people click on ads and links, taking them to a TripAdvisor partner website.
---
9. SellHealth (Health and Fitness)

SelfHealth considers itself to be the #1 health affiliate network. It works with affiliates to sell a range of natural health products covering skincare, anti-aging, sexual health, hair health, and general health. The products tend to be of high quality but correspondingly more expensive.
Affiliates can earn money through sales commission and referral bonus (for referring new affiliates to SellHealth). Affiliates will receive higher commission rates, the more sales they make, ranging from 30% to 50% of sales revenue.