Not only does Shopify have its own huge affiliate program that rewards affiliates for getting users to sign up for a paid plan, but it also offers a number of apps for Shopify users who want to start their own affiliate programs. Considering that the majority of Shopify sellers are first-time entrepreneurs, affiliate programs can be a good marketing strategy to explore as it can help them to land more customers without having to hire a big sales team.
As most Shopify merchants already use apps to increase sales, adding another app shouldn't be such a big leap. To help you explore this marketing route, here are 7 of the top apps to help you streamline your Shopify affiliate marketing program and keep track of your affiliates' performance. We've also included a couple of tips to ensure that you can put whichever app you choose to good use.
---
7 Top Shopify Affiliate Marketing Apps:
---
What is Affiliate Marketing?
In short, affiliate marketing uses individuals, like social media influencers or existing customers, to market specific products and brands. In exchange, they receive commission per sale, lead, or click. However, the reimbursement doesn't have to be in the form of a commission. Some affiliates receive discounts or free products in exchange for their promotional work. From email to blogging to social media, there are many methods that affiliates can use to spread the word about products to the right audience.
---
The Advantages of Using Affiliate Marketing
According to Statista's figures, affiliate marketing has enjoyed a steady year-over-year increase the past decade. In fact, according to Google Trends, the term "affiliate marketing" reached peak popularity as of June 2021. So, what are the driving forces behind its popularity? Here are a few reasons why Shopify merchants might want to turn to affiliate marketing.
1. Scalability
It's unlikely that the typical Shopify seller can afford to hire multiple sales reps, let alone any. However, by means of affiliate marketing, you can connect with many more potential customers without a big marketing team in place. Also, as affiliates typically get paid per sale, click, or lead, you'll only have to pay for actual results.
2. Presence on multiple social media channels
With the help of affiliate marketing, you can take advantage of your affiliates' influence on multiple platforms like Facebook, Twitter, Instagram, blogs, and online review sites. This is great for creating more brand awareness.
3. Simplicity
Thanks to the apps available, managing the program and evaluating its effectiveness are easy. These apps were designed to integrate with Shopify stores which means that you'll receive real-time updates. Plus, most of these apps will automate routine tasks like generating discount codes and paying commissions.
---
7 of the Best Shopify Affiliate Marketing Apps
There are more than 4,200 apps in Shopify's app store. From store design to customer support, there's an app to help you with virtually any task related to running your store. As we know that it's humanly impossible to go over thousands of apps while you're trying to run an online store, we've identified 7 of the top apps that you can use to launch and manage your Shopify affiliate marketing program. This is by no means an extensive list, but it's a good place to start.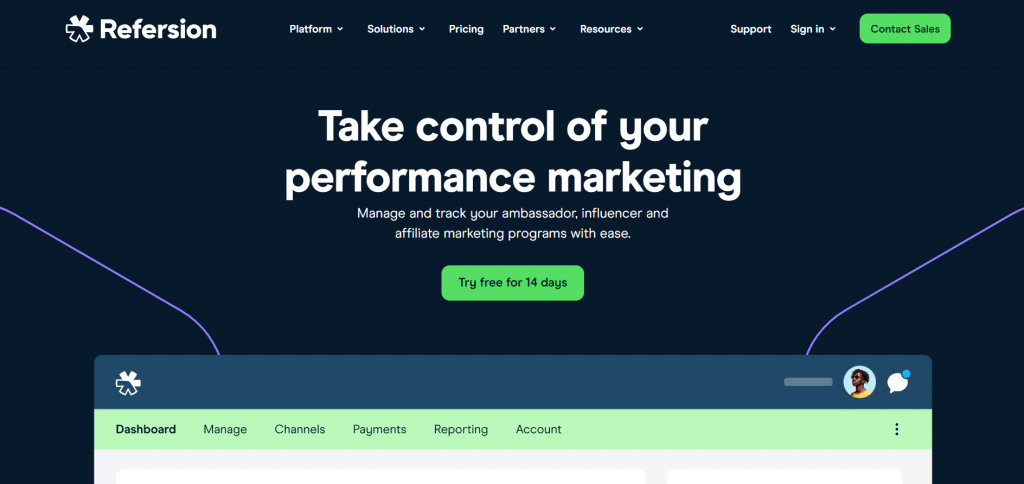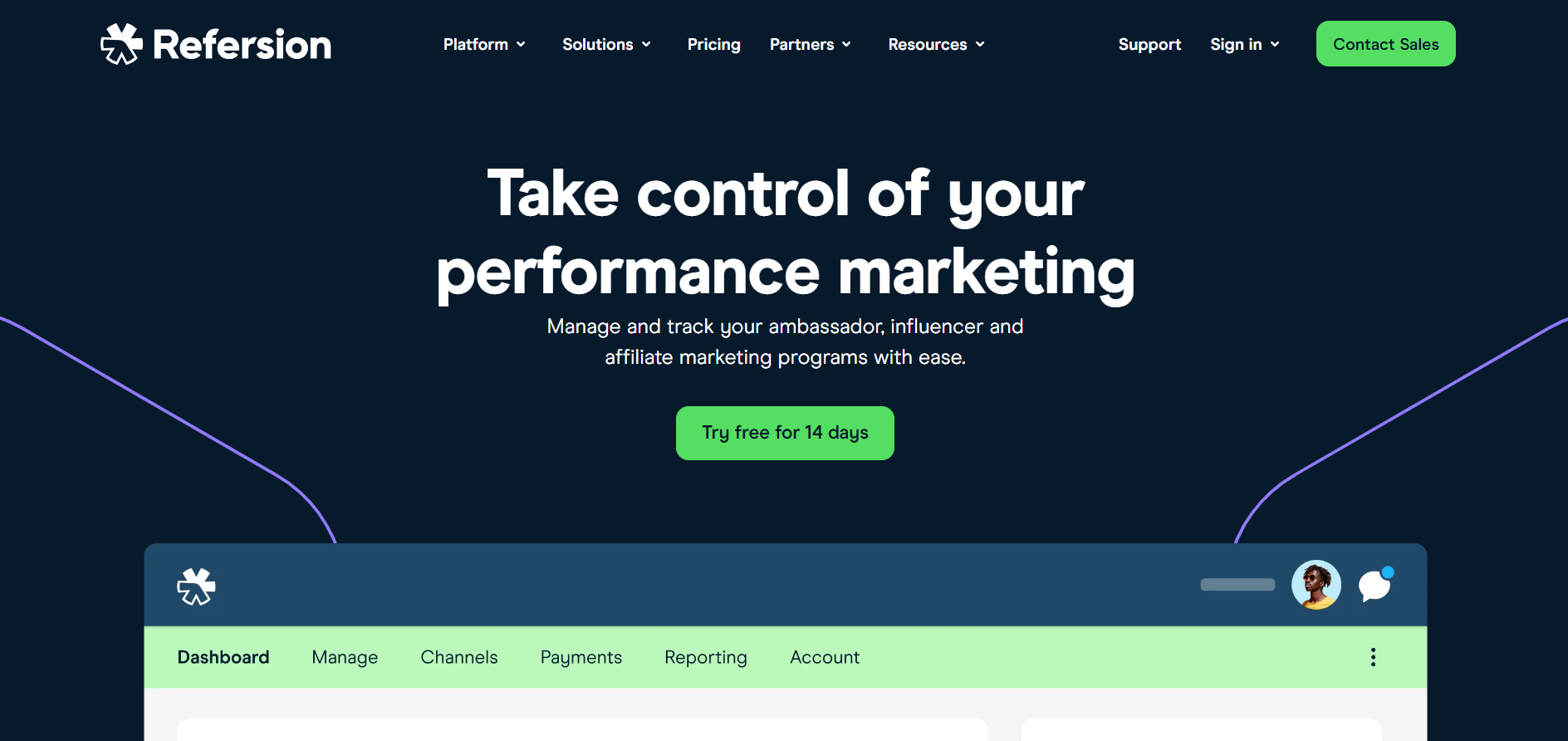 Refersion has a network of more than 500,000 affiliates that has helped close to 20,000 merchants power their affiliate marketing campaigns. One of the advantages that Refersion offers is that your affiliate program will get listed for free on the Refersion Marketplace which can help you to recruit new affiliates so that you can grow your affiliate network quickly. Alternatively, you can concentrate on your own existing customers by using its post-purchase widget to invite them to join your program.
Thanks to its fully customizable sign-up page, Shopify businesses can use content and colors that align with their branding. It also lets you add custom form fields to the registration page if you want to collect any extra info about your affiliates.
All in all, it's one of the most popular affiliate marketing apps in the Shopify App Store, boasting a score of 4.8 and nearly 900 reviews. That being said, it comes at a price, making it not the most affordable option for smaller online businesses, but better suited for enterprise-level businesses that need a powerful tool.
Key features:
Product-level commissions allow you to customize your affiliate marketing offer for individual products

Customizable registration pages to match your branding

Free listing on the Refersion Marketplace
Pricing: After the free 14-day trial, pricing starts at $89 per month for up to 130 monthly affiliate orders.
---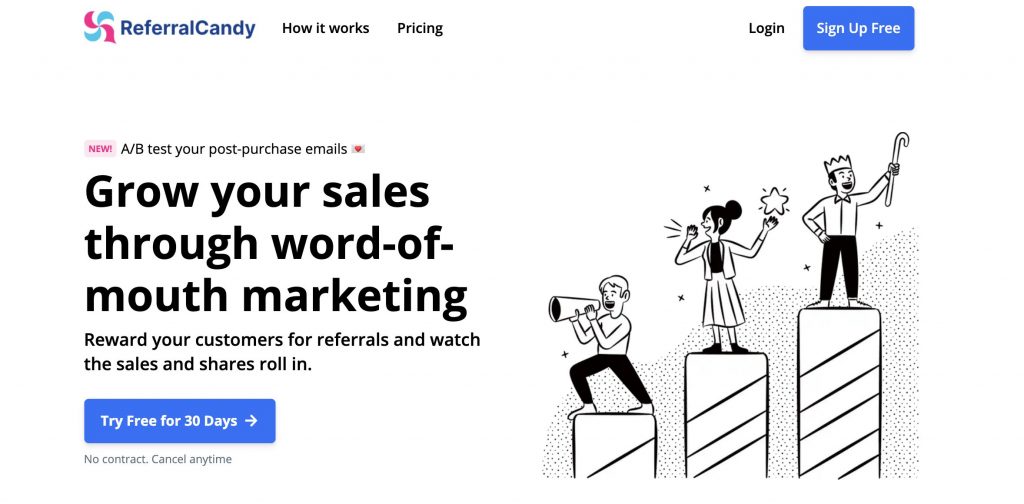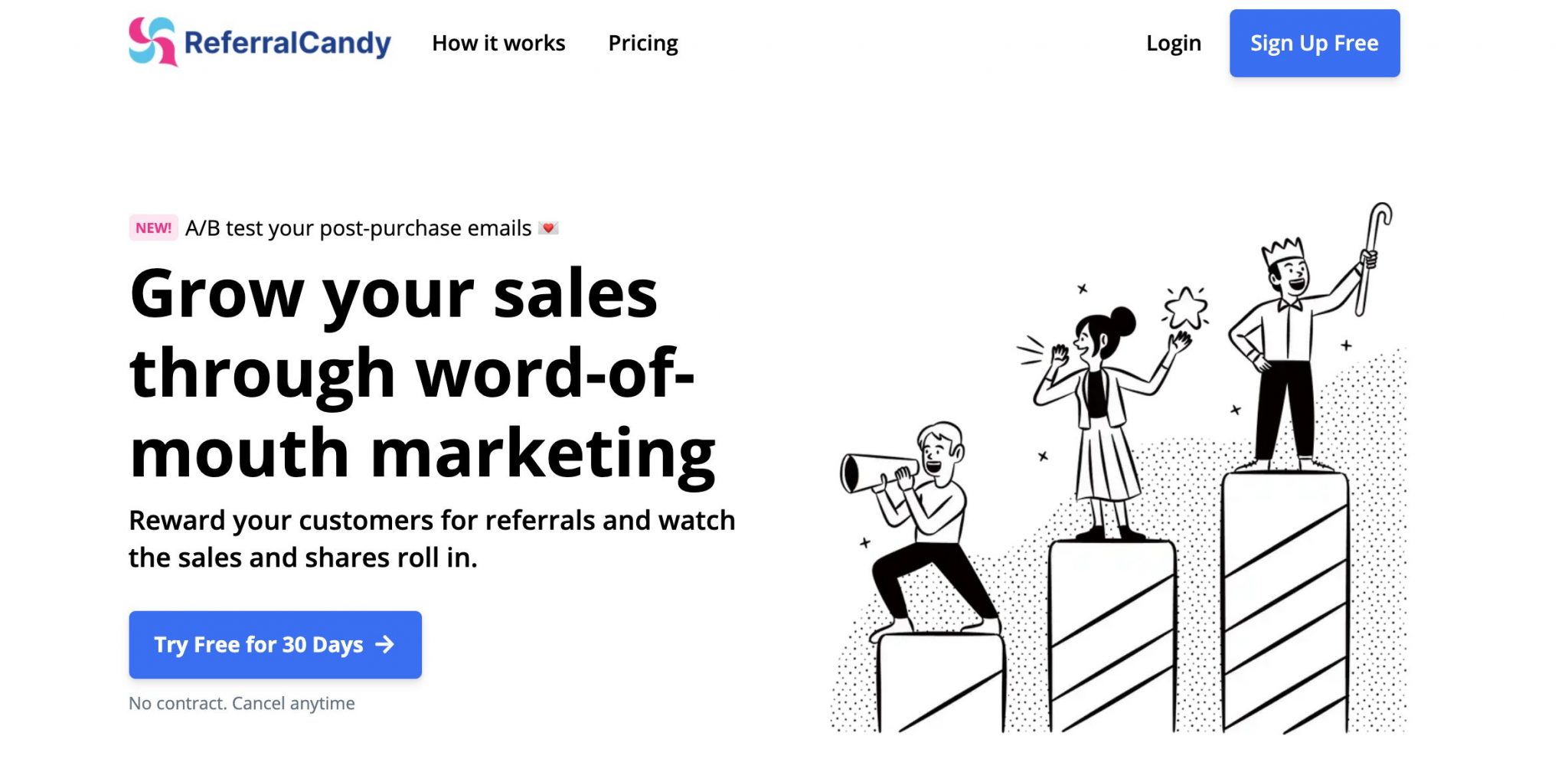 ReferralCandy has helped more than 30,000 online stores in a wide range of industries with their referral programs. The beauty of the app is that it basically runs on autopilot. Whether you prefer cash rewards, custom gifts, or store discounts, the app makes it easy to customize reward options.
In addition to Shopify and Shopify Plus, it also integrates with other main eCommerce platforms like BigCommerce, Magento and WooCommerce. It also easily integrates with marketing platforms like Mailchimp and Klaviyo.
All in all, it's one of the most popular Shopify affiliate marketing apps and very simple to use. Though, like Refersion, its pricing model can be a deterrent for some. In addition to a steep monthly fee, you'll also be charged a commission according to its tiered commission rate.
Key features:
Fully customizable emails

Automated payouts

Different incentives

Detailed analytics
Pricing: After a free 30-day trial, pricing starts at $49 per month per commission.
---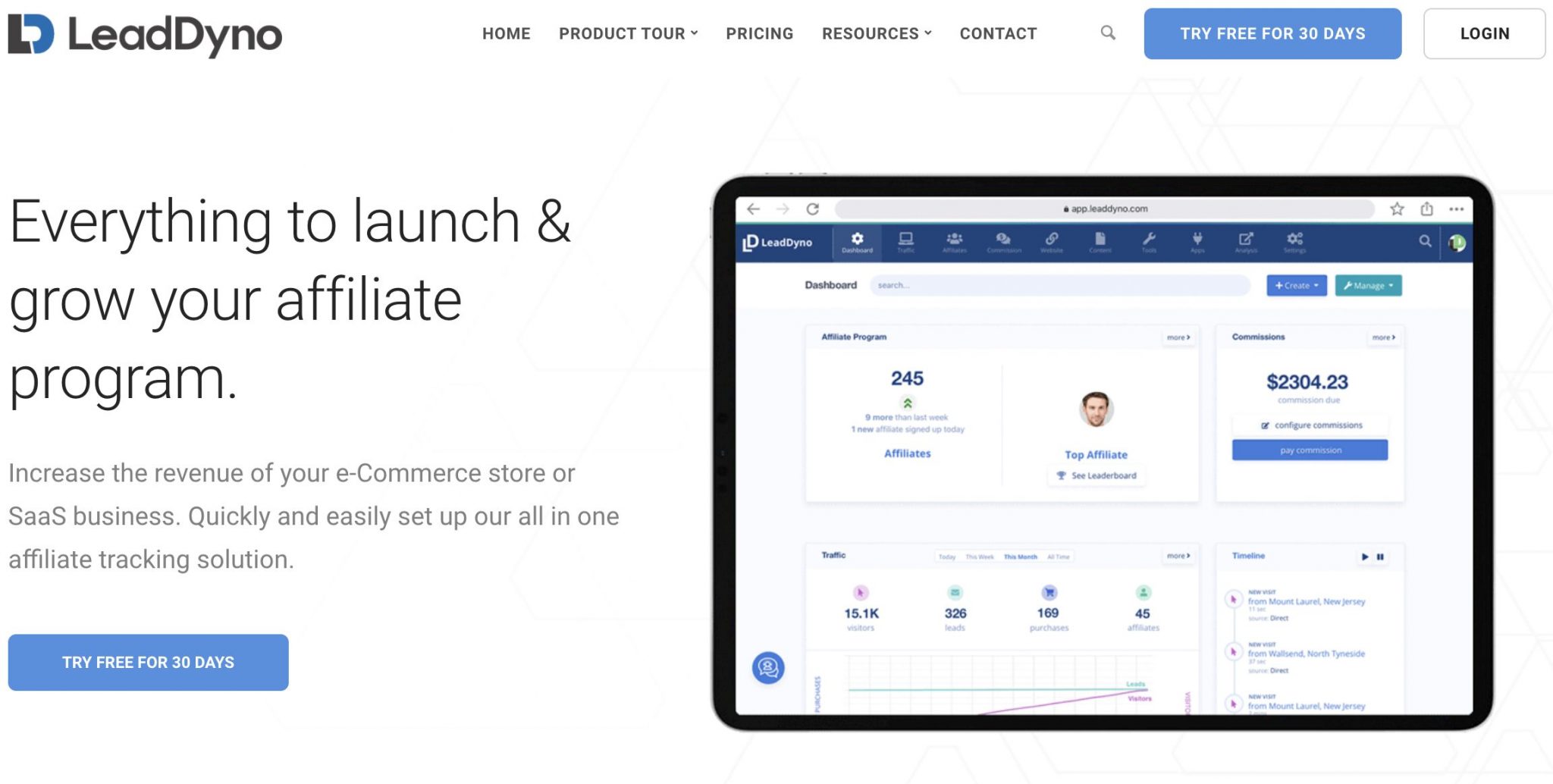 If you want to boost the revenue of your eCommerce store (or SaaS business), LeadDyno is another app that you can check out. In fact, in 2020 alone, more than $200 million in affiliate sales were generated with the help of its software.
Thanks to its one-click setup, it's one of the best apps if you use Shopify. It also offers a setup wizard, if you get stuck.
If you want to turn existing customers into affiliates (which is the best approach), you can use it to invite your customers to your program automatically. Once signed up, you can also use the app to send them automatic follow-up emails with new product offerings and other important updates.
One of its main advantages is that in addition to tracking the number of clicks, leads, and sales, you can also use it to keep tabs on your other marketing efforts. This means that things like paid ads, social media, and email marketing can be tracked via one dashboard. With this actionable data, it's much easier to allocate your marketing budget for the most effective campaigns.
Though, unlike a tool like ReferralCandy, LeadDyno doesn't offer you the ability to choose how you reward your affiliates. The only control you have is over the amount – you can set it up so that it's either a fixed amount or a percentage of a sale.
However, one area where they do offer users more control is regarding its own pricing plans. Unlike most Shopify affiliate marketing apps that offer only 2 subscription plans, LeadDyno has 3 plans in addition to customized options for enterprise clients. It might not sound like much, but it can make it more suitable for medium-sized stores that are often too big for the Starter plan, yet too small for the Enterprise option.
Key features:
Email support and live chat

Branded affiliate portal

Multi-level marketing
Pricing: After a free 30-day trial, pricing starts at $49 per month.
---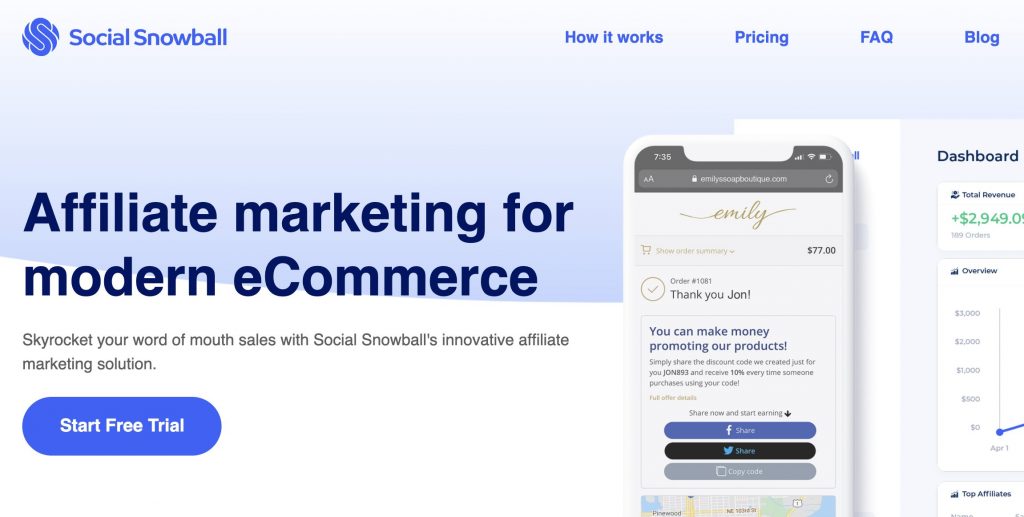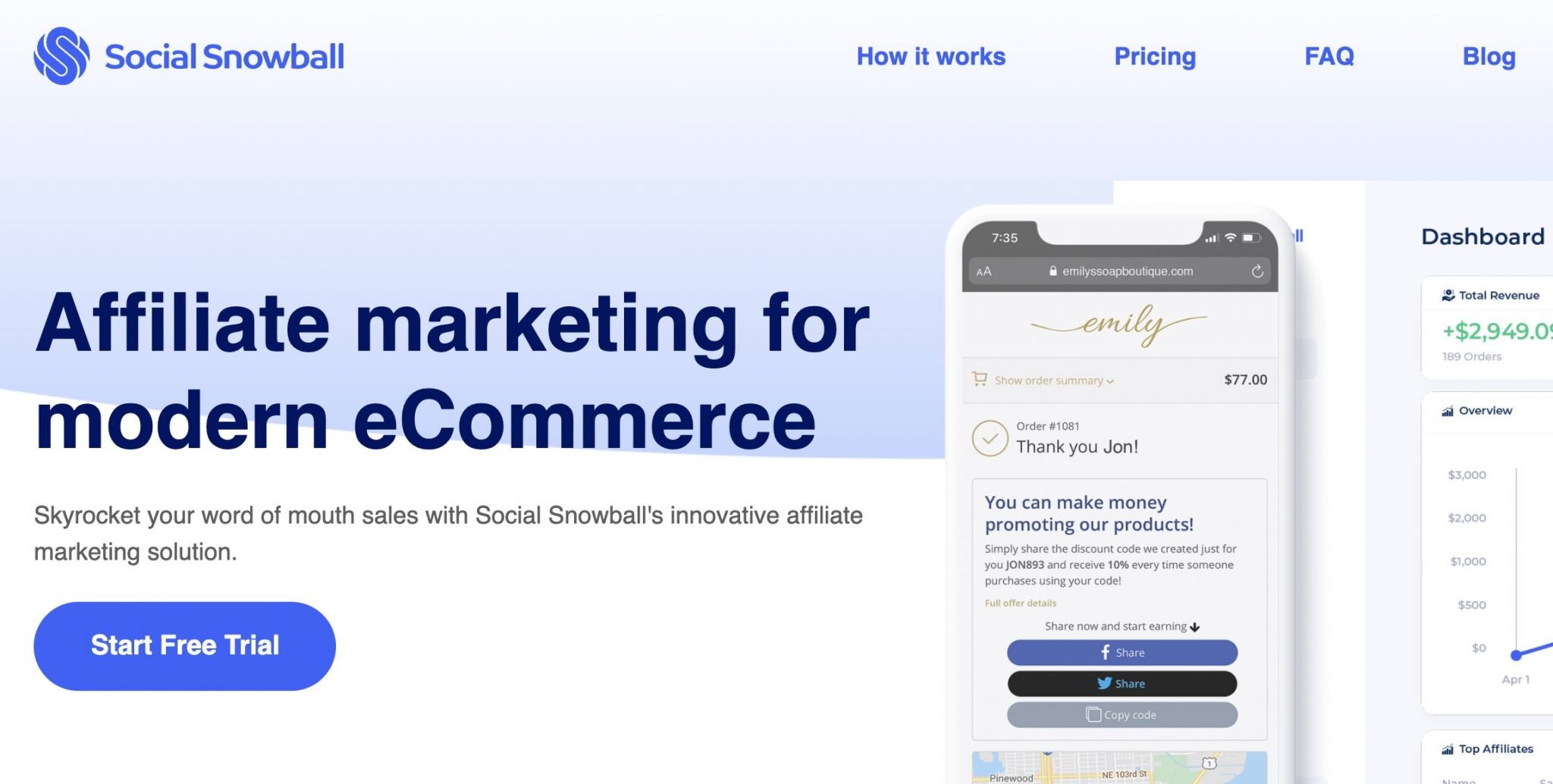 The Social Snowball app was specifically designed for Shopify stores. One of the most attractive features of Social Snowball is that all your customers can potentially become affiliates automatically. When a new customer buys an item from your Shopify store, an affiliate account is automatically created for them. Then, right via the thank you page, they'll receive the custom discount code and materials to promote it. It also offers an on-site pop-up for browsing visitors which will redirect them to the affiliate sign-up form.
Another pro that sets Social Snowball apart from many of the other apps is that it actually has a free plan (at least, sort of). With their "free" plan, you don't have to pay a monthly fee, but you'll have to pay 15% of the revenue that's generated with the help of its app.
Key features:
Live chat support

Instant payouts

Full customization

6 payout methods

Advanced fraud protection

Unlimited affiliates
Pricing: In addition to its Free plan, it offers 2 subscription plans: Snow Day ($39 per month + 10% of revenue) and Blizzard ($249 per month + 2.5% of revenue).
---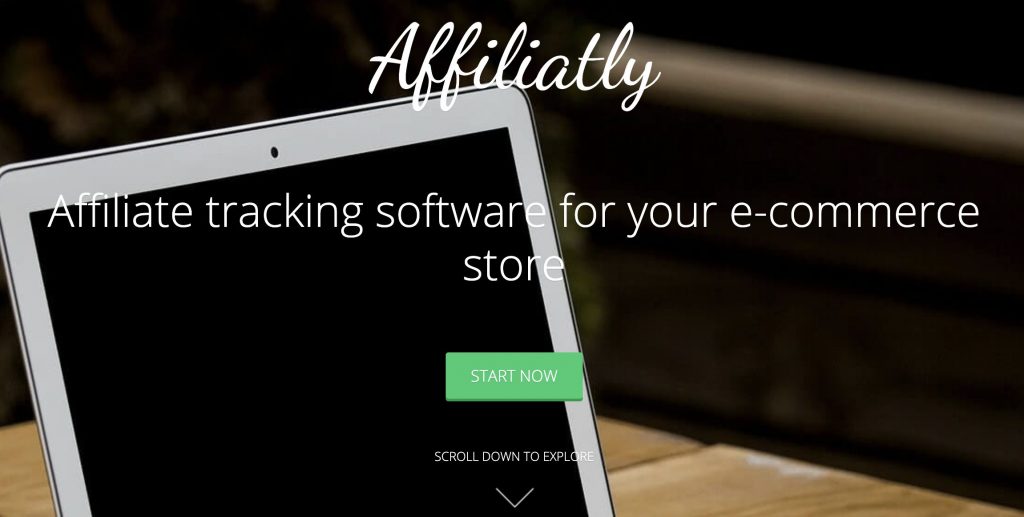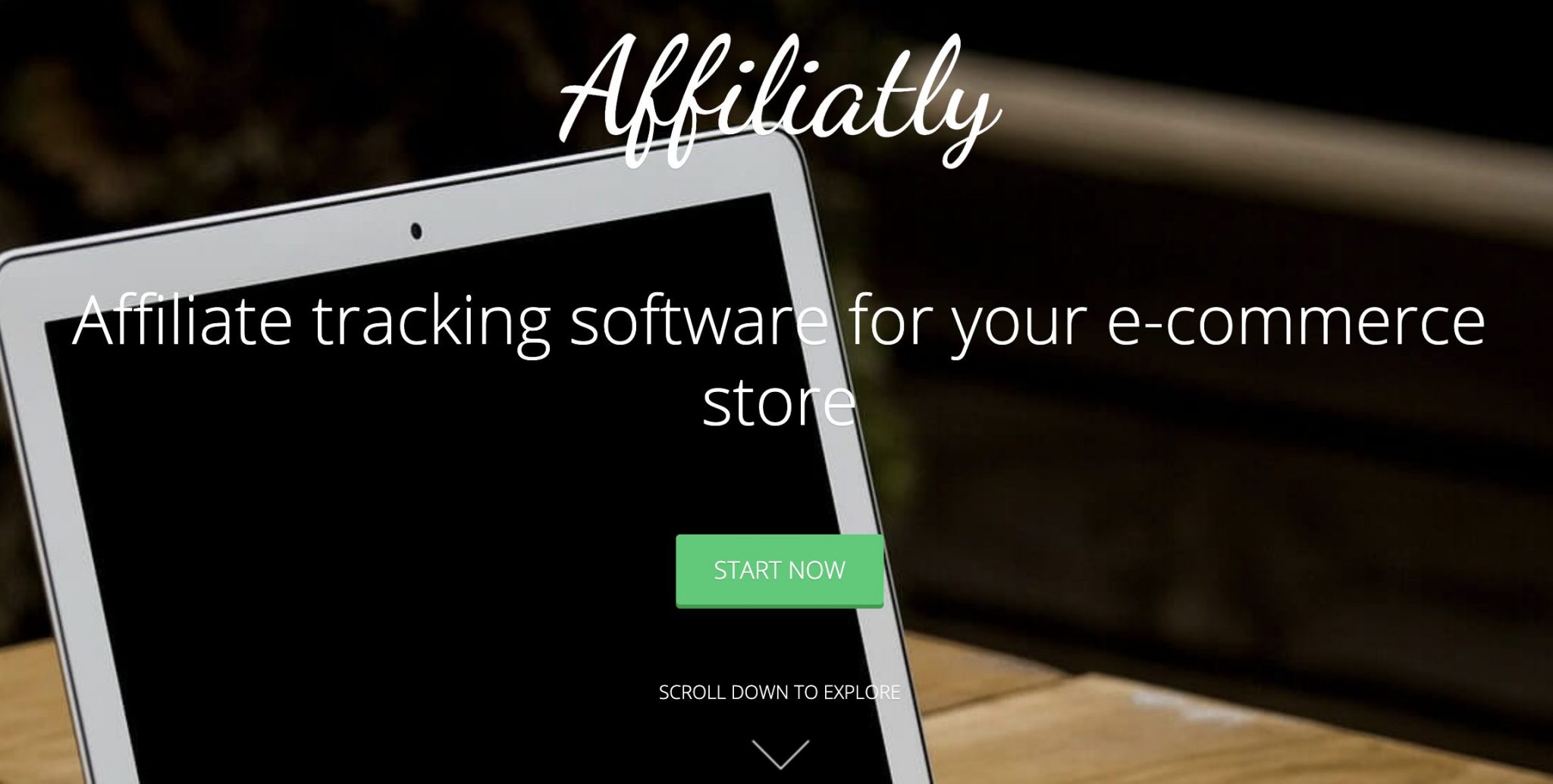 Affiliatly is one of the most cost-effective apps on the market. Not only does it offer a super generous free 90-day trial (something which we rarely see), but its cheapest plan starts at only $16 per month and you don't have to pay any percentage of the revenue that you make via its app. What's more, it offers 6 different pricing plans in total. So, you're bound to find a plan that suits your budget.
Whether you have your own custom online store or use an eCommerce platform like Shopify, Affiliatly offers plenty of integrations which makes it easy to get started. One of its main advantages is that it lets you create different types of incentives. If you prefer to pay your affiliates a commission, you can set up commission tiers for number of purchases, total sales amount, or total referred visitors. Alternatively, it also lets you pay your affiliates with gift cards for your online store.
If you like the idea of gamification, it also has a Leaderboard feature that you can explore. This way, it will list the top 10 affiliates by earnings on a leaderboard.
Just like LeadDyno and Omnistar, it also offers tier-level marketing. In other words, if affiliate A refers your program and affiliate B signs up via that link, affiliate A will get a percentage of the earnings that affiliate B generates. We don't particularly like this feature and PayPal could possibly suspend your account for violating their Ts & Cs. After all, it's your responsibility to market your affiliate program. If existing affiliates market your program, it's an added bonus. However, their main job should be to market your products.
Key features:
Different incentives

Leaderboard

Customized pop-up window to fit your branding

Email customization

Two-tiered marketing
Pricing: After a free 90-day trial, pricing starts at $16 per month.
---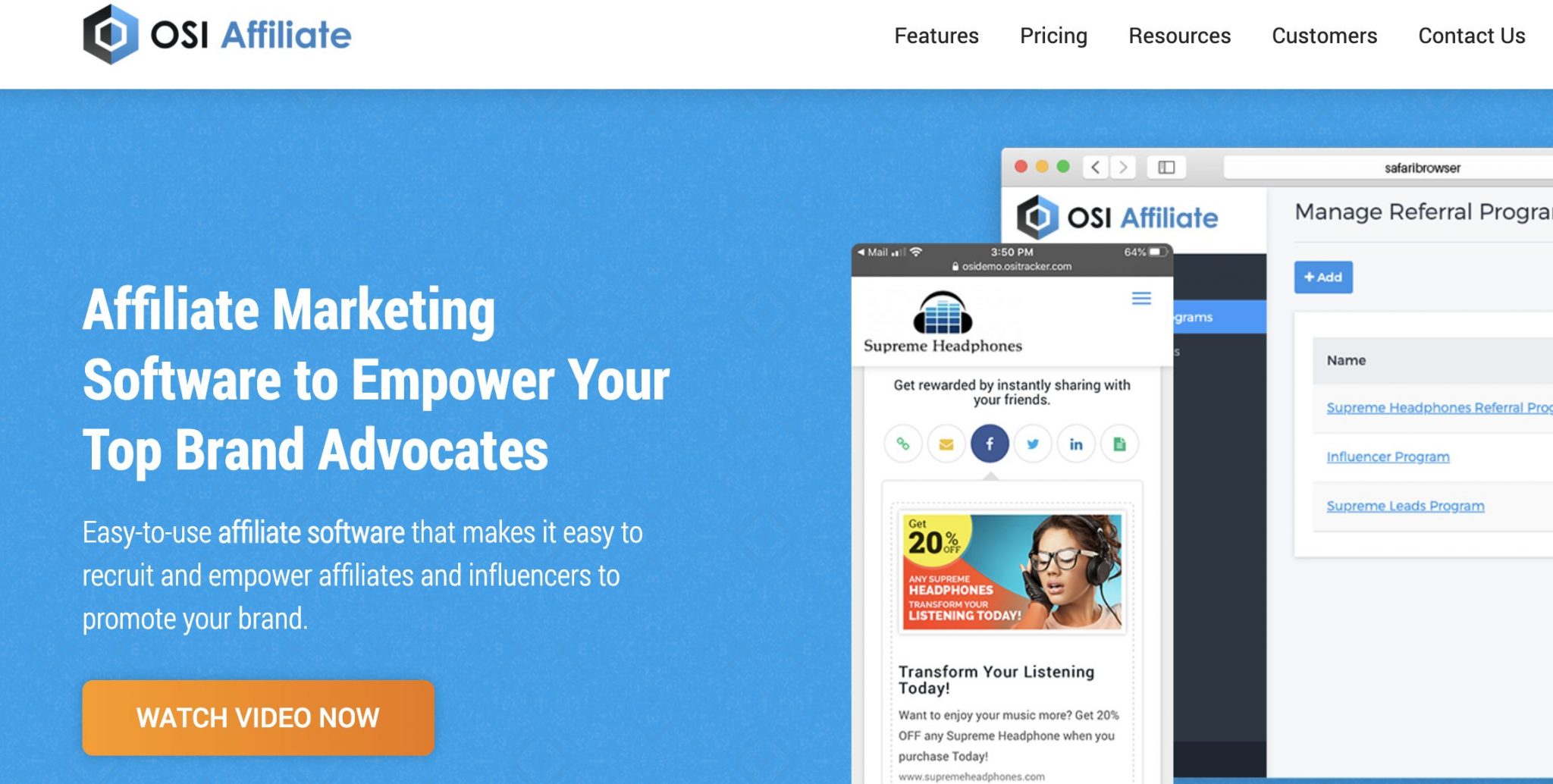 From dentists to online stores, Omnistar is trusted by 16,000 businesses across the world. Along with ReferralCandy, it's also one of the most reviewed referral software solutions on Capterra. What's more, the lowest score that it has received on Capterra is 4 out of 5 (which, in our books, is not low at all).
One of the most attractive features of Omnistar is that it offers social media sharing. It's fully integrated with LinkedIn, Facebook, and Twitter which means that it's simple for your affiliates to share their link across various social networks.
Also, unlike most of the other apps, Omnistar offers its own exclusive influencer directory. So, if you don't just want to use existing customers, this feature will help you to recruit qualified affiliates.
Key features:
Social media sharing

Setup wizard

Multi-level marketing

Different incentives

Email templates

Detailed reports
Pricing: After its free 15-day trial, pricing starts at $47 per month.
---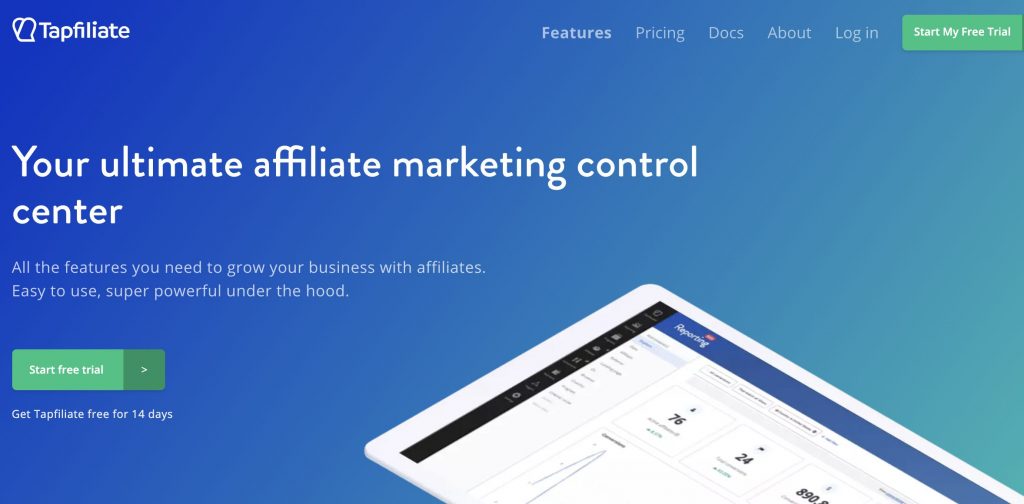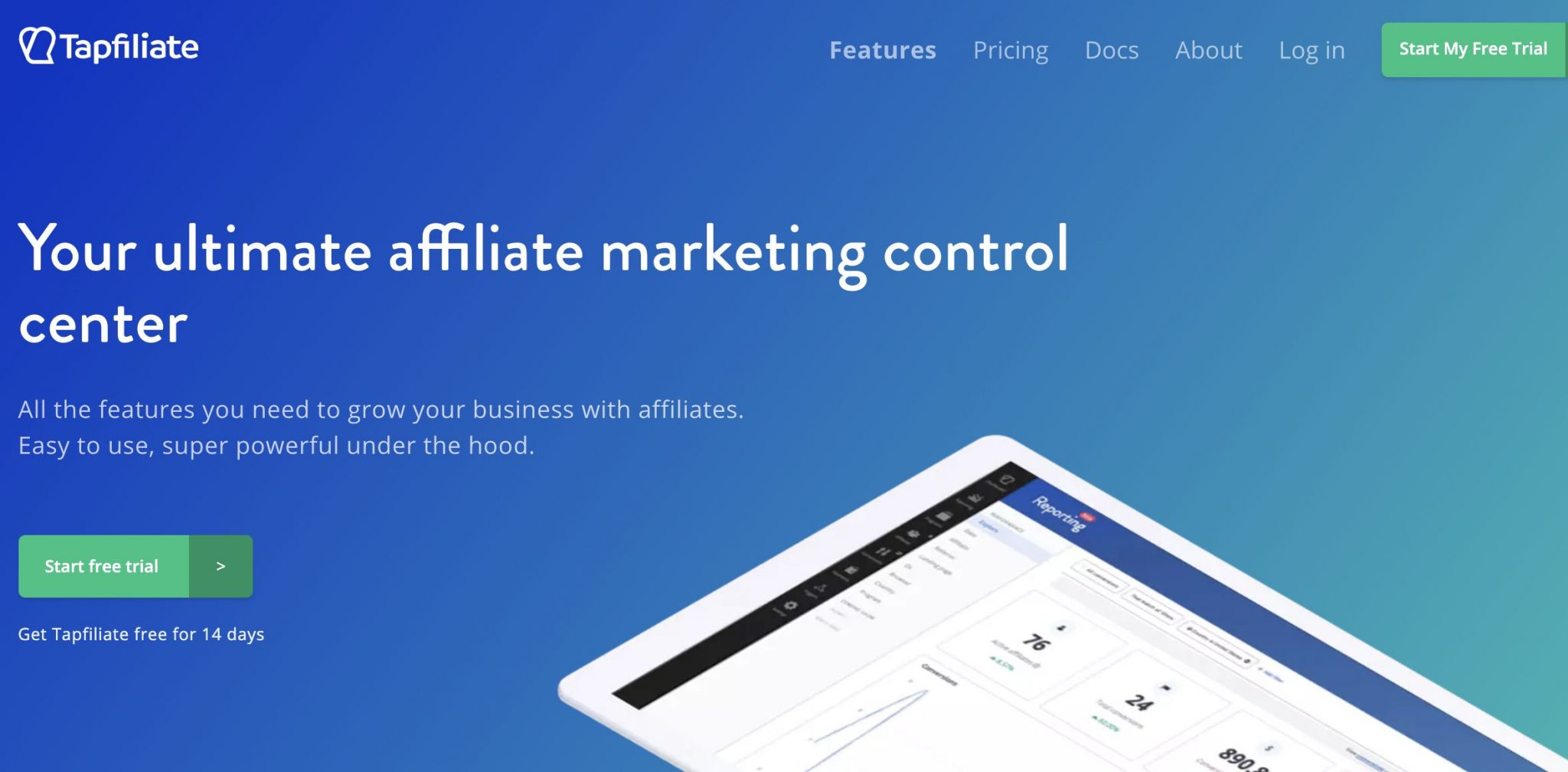 Tapfiliate offers you a couple of ways to recruit new affiliates. You can add them via an invite URL, a single sign-on (only available to enterprise clients), the API, or manually. As it also integrates with Mailchimp, you can also create email drip campaigns to help keep your recruits in the loop.
If you're part of a team, it can be an attractive solution as it lets you add team members who can help you to co-manage your marketing programs. Though, this feature is only available with its Pro plan ($149 per month). Even if you don't opt for the more expensive plan, Tapfiliate is one of the pricier solutions. Its cheapest plan starts at $69 per month. So, compared to the other tools in our list, it's not the most cost-effective solution for smaller stores.
Key features:
Real-time reporting

Multi-level marketing

Category-based commissions

Team members
Pricing: After a free 14-day trial, pricing starts at $69 per month.
---
Tips for Launching an Affiliate Program
While Shopify affiliate marketing apps can basically put your program on autopilot, there are still some basic things that you need to do if you want to use the tech and your program to the best advantage. Here are a few tips to help you as you grow your affiliate program for your online store.
Set goals
No two affiliate programs are the same or have to be the same, for that matter. What would you like your affiliate program to achieve? Who would be your ideal affiliates? Do you want to stick to using only previous customers or are you open to the idea of using an affiliate network?
It's also key that you first work out what you can afford to offer as a reward. There's no rule forcing you to pay a commission. You can also offer freebies or coupons.
Get the word out
The success of your affiliate program for your Shopify store hinges on getting the right type of affiliates. If you don't officially announce your affiliate program, how will potential affiliates join? A good place to start is social media. You can, for example, create an Instagram post to introduce your program and motivate your followers to apply. Make sure that you list the perks of joining so that more followers will be interested in joining.
Email works even better. If you have a subscriber list, send an email to your subscribers in which you introduce your program and encourage them to join or forward it to others in their network.
Communicate regularly
After you've spread the word about your affiliate program and got enough recruits, you can shift your attention to communicating with your affiliates on a regular basis. You want to ensure that they know your brand, the program's rules, and that they have enough content that they can share. For this, email is typically the best avenue to explore as many of the apps can automate certain emails.
Track the performance of your affiliates and program
To evaluate the effectiveness of your affiliate program, start by determining which affiliates perform the best. Then, identify what makes them so successful and try to replicate that recipe.
Not only do you want to zoom in on your top-performing affiliates, but you also need to gain insight into the overall effectiveness of your program. For this, you'll want to use metrics like total affiliate sales, number of new affiliates, and how many affiliates left your program. Most of these apps offer an intuitive dashboard and some form of analytics which make it easier to evaluate the results.
---
Wrapping Things Up
While it might be a mouthful, Shopify affiliate marketing is actually very straightforward. As the eCommerce platform already has a long list of affiliate marketing apps that you can use, launching your own program is even simpler. Before you plunge right in, do the groundwork and research the apps available. Most of the apps offer some type of free trial that will help you to test it out before making any financial commitments.
Frequently Asked Questions
How does affiliate marketing work?
Affiliate marketing is a performance-based marketing strategy in which a seller rewards individuals, like existing customers or influencers, with a commission for each customer referred or product sold by means of the individual's marketing activities. They can also be rewarded in exchange for leads or clicks. The commission also doesn't have to be monetary. Some affiliates receive discounts or free products in exchange for their promotional work.
Do influencers make good affiliates?
Yes! Influencers have an impressive reach in their industries and they generally have the reputation to go with that. When influencers post something related to their niche, people sit up and take notice. What's more, many affiliates first have to build up a new audience, but influencers already have their audience. Some of them already have their own YouTube channels and blogs. So, they basically just need to create the content.
Who can become an affiliate merchant?
Many affiliate merchants are big companies searching for extra ways to sell their products, like Amazon that uses its Amazon Associates program to sell products using affiliates as salespeople. Though, you don't have to be a big company like Amazon to become an affiliate merchant. You simply need to be an individual or a business with a product to sell. As a matter of fact, quite a number of small businesses and even solopreneurs create products that they sell online using affiliate marketers.
How can you attract more affiliates?
To help you attract more affiliates for your program, make a point of capturing as many of your online store visitors' email addresses as possible. People who are willing to share their email addresses are far more likely to take notice of your marketing than everybody else. You can then, for example, create newsletters or other targeted promotions that you email to your list. You can also consider adding a pop-up campaign to grab your potential affiliates' attention.
How do you create effective content for affiliate marketing programs?
High-value, helpful content that will sway your target audience into buying the product is the most effective. So, you'll need to write content that will match relevant keywords in your niche. Big websites most likely already hold the top Google rankings for more general terms. You should, therefore, rather focus more on long-tail keyword terms, in other words, longer, more specific terms. You can, for example, use a tool like Ahrefs to find suitable keywords to focus on for your content.