Advertiser Disclosure: Our unbiased reviews and content are supported in part by commercial and affiliate partnerships, and we adhere to strict guidelines to preserve editorial integrity. We may from time to time earn commission when you visit the suggested solution's and make a purchase. You will never pay more due to this.
With 16% of e-commerce sales generated through affiliate marketing, brands and affiliate marketers strive to improve their products and services to obtain greater revenue. Data-driven marketing applies to affiliate marketing as well. Tracking your marketing campaign's progress gives you valuable insights into user behavior and marketing trends. Affiliate tracking software allows you to monitor your progress and earnings, revisit campaigns, or plan a new strategy for different marketing channels based on real-time reports.
---
Best Affiliate Tracking Software for Boosting Sales:
---
What to Look for in an Affiliate Tracking Software
The ideal affiliate tracking software tracks and manages sales for any affiliate network. You will want to monitor the number of clicks and page visits, along with the commissions you've earned, all on one convenient dashboard.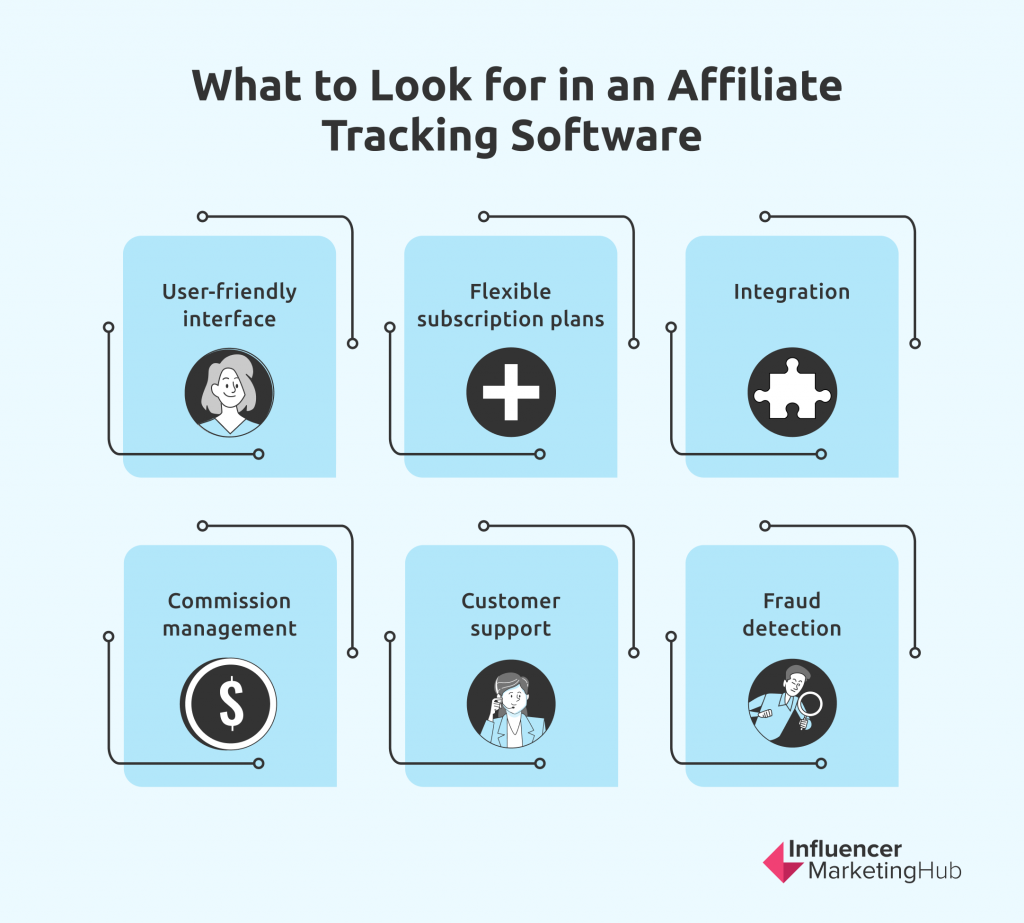 Regardless of whether you're a beginner or a seasoned affiliate marketer, investing in affiliate tracking software can maximize your affiliate marketing strategy. Not to mention, tracking software saves you the time to monitor conversion data. This is especially helpful when you're running multiple affiliate programs.
👉 User-friendly interface
Affiliate tracking software with an intuitive interface caters to marketers of all levels of experience. You want a dashboard that is easy to navigate and provides an overview of your progress. If the learning curve is steep, it can counter your productivity.
👉 Flexible subscription plans
Committing to a plan requires careful budgeting. If you are just getting started with affiliate marketing, you want to evaluate your goals and objectives. Do you want to create a full-time career through affiliate marketing? How much do you intend to earn from your affiliate links?
Fortunately, several affiliate tracking software offer free trial periods. Take this opportunity to explore the platform's features to determine if it meets your needs. Subscription plans are often categorized from basic to advanced. Experienced affiliate marketers should opt for a subscription plan that maximizes business growth in the long run.
👉 Integration
Integrating your tracker with other services, like payouts and email marketing, is essential for a seamless marketing strategy from beginning to end. Keep on the lookout for affiliate tracking software that comes with preset integrations, or allows you to customize your applications.
👉 Commission management
The best affiliate tracking software allows you not only to track customer clicks and page visits but also to monitor your sales. If you are running multiple affiliate programs, recording sales manually can be time-consuming. Choose a tracker that does the monitoring for you quickly and efficiently.
👉 Customer support
Regardless of how simple or complex software are, customer support is essential to guide you whenever you need expert help from the team. Beginner affiliate marketers benefit from real-time live customer support should an emergency occur while using the tracker. This also saves you from losing access to precious data.
👉 Fraud detection
Protecting yourself from bots and suspicious traffic help keep your affiliate links clear of fraudulent activity. You want to secure your affiliate marketing career, and the ideal affiliate tracking software can provide you with measures to filter out bots. Essentially, more protection is offered with more advanced subscription plans.
---
Best Affiliate Tracking Software
---
---
---
---
---
---
---
---
---
---
---
---
---