A growing number of brands are adopting affiliate management solutions to tap consumers as marketers of their products and services. This comes amid the growing influence of public feedback on consumers' purchase decisions.
Through affiliate programs, customers who patronize a company's products or services can be rewarded financially for making recommendations (through their websites or other platforms) that lead to a sale. Meanwhile, merchants or vendors (also called publishers) can track the performance of these partners or affiliates. Based on the latest statistics, sixteen percent of today's e-commerce sales come from affiliate marketing.
---
Best Affiliate Management Software Solutions for 2023:
---
Top Affiliate Management Software
Here are 20 of the best affiliate management software solutions that you can consider to grow your business.
---
---
---
---
---
---
---
---
---
---
---
---
---
---
---
---
---
---
---
---
---
Benefits of Affiliate Management Software
To find affiliates, owners of e-commerce stores and service providers with an online presence use affiliate management software. Affiliates are individuals or companies that can promote their products or services. The platform can also help them structure commissions and pay affiliates accordingly when referrals buy a product or pay for a service.
Many sectors—topped by fashion, sports and outdoor goods, beauty, and health—are already taking advantage of affiliate marketing to drive customer acquisition. Your business can also benefit from an affiliate management system in the following ways: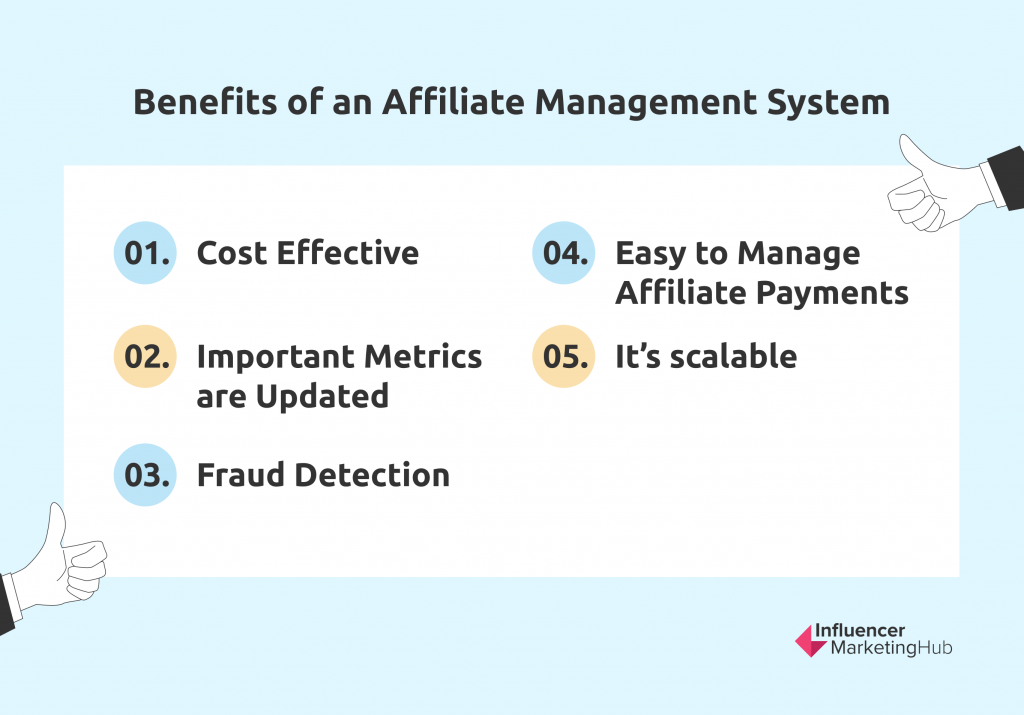 One of the top reasons behind the rise of affiliate management programs is the low start-up cost involved in running them. Instead of buying ad space or having an advertising team, affiliates do the work of marketing your brand on their platforms. Also, you only pay them when they bring in sales, which lowers the risk of financial loss.
You also don't have to hire an accountant as the software has built-in features to calculate commissions based on your setting per offer and report your sales earnings.
It keeps you updated on important metrics.
Affiliate management software can show you data in real-time, from links to purchases. Some tools allow you to discover which demographics are attracted to your business the most. This information will help you customize your offers to suit them.
A good affiliate solution has fraud-detection tools that can notify you of suspicious activity on your affiliate's website. For instance, scrupulous affiliates may resort to using bots to raise their click counts. With an anti-fraud detection feature, your software can identify any repeated sign-ups or orders from the same IP location and let you block them.
It makes paying affiliates easier.
Affiliate management programs automatically calculate commissions and let you pay affiliates through integrations with popular payment systems. Once you've set the different types of commissions and assigned an affiliate or group of affiliates under a certain commission category, your software can accurately determine the payout each affiliate should receive.
Affiliate software can scale with you as you take in more partners under your wing. With its vast database and automated features, the platform can store, generate, and track new data that comes as you deal with transactions coming from new affiliates—a cumbersome if not impossible task were it done manually on Excel sheets.
---
Features to Look for in an Affiliate Solution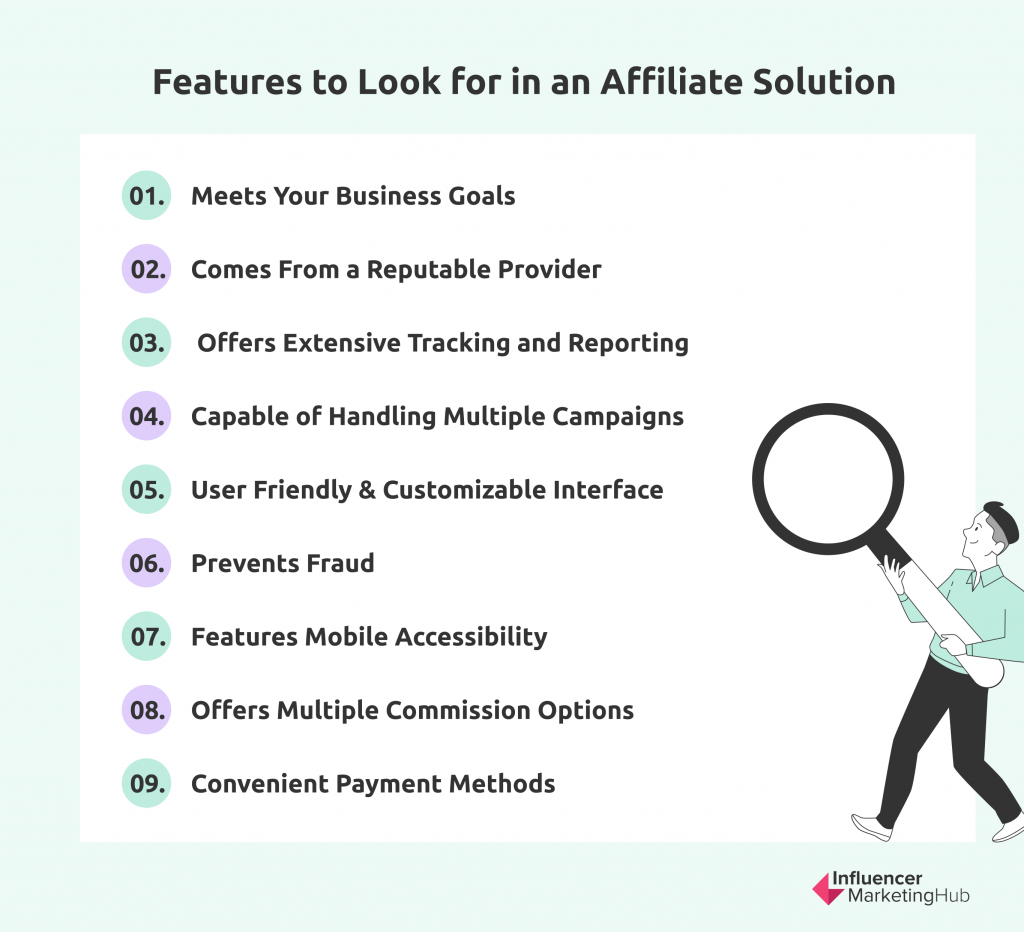 When picking the best platform to manage your affiliate program, you need to consider your business needs and what your affiliates are looking for. The right affiliate management solution should:
Do you need a system that will give you plenty of offer ideas? Or are you looking for software that can strengthen your relations with individual affiliates or affiliate groups? You can improve your software search by identifying what aspect of your affiliate program you'd like the software to help you with the most.
Besides our recommended software, you may also visit software review sites and go to the official websites of the platforms to learn about their specialization.
Come from a reputable provider
Subscribing to a respected platform will help you build trust among your would-be affiliates. Get user feedback about the use and payment modes of the platform you're eyeing. Avail of their free trial period to test its features.
Also, try to find out the leading affiliate solutions used in your industry. If one or two of the successful companies you're aspiring to become use a certain platform, it might be worth investing in that same tool.
Offer extensive tracking and reporting
When scouting for an affiliate solution, check if it can generate the kind of affiliate metrics you'd like to view quickly, such as impressions, conversions, and so on. You should also be able to have easy access to other data such as gross sales, refund rates, and others.
Be able to handle several affiliate campaigns
If you run several businesses simultaneously, with each one having an affiliate program, it would be best to look for a platform where you can run different campaigns with unique commissions from one platform.
Have a user-friendly and customizable interface
Select the software that affiliates can easily set up on their own, without requiring the installation of a separate tool before being able to run it.
It should also have an easy-to-navigate dashboard whose features allow your affiliates to easily reach you, track their performance and payouts, and pull up promotional assets. Also, pick a tool with a white-label—or customizable—dashboard where you can upload your logo and other elements related to your brand.
A platform's security features should be able to track sources of traffic and the number of clicks so that any suspicious activities and unacceptable behavior can be flagged and blocked, when necessary.
Feature mobile accessibility
When an affiliate solution has its own app or mobile-ready version, it allows you to check on your affiliates and the status of your business anytime, anywhere. This also means affiliates will be able to enjoy remote access.
Offer multiple commission options
Find a tool that will give you the flexibility to reward your affiliates in different ways—with one-time, recurring, lifetime, or performance-based commissions. You can also choose to pay commissions after affiliates reach a certain number of sales, clicks, or a specific revenue threshold.
Have convenient payment methods
The platform should allow you to schedule the release of one-time or recurring payouts besides offering automated payment.
---
Best Practices
Here are some steps you can take to nurture good and honest relationships with your affiliates:
Prepare your resource center assets before launching your program.
This includes defining your success metrics and communicating this with your affiliates. You should also have pre-written copy, images, reviews, and data ready for your affiliates to use or upload in their blog articles or emails.
Make it easy for people to apply but conduct due diligence.
Create easy-to-use signup forms with email verification. Tell affiliates how soon they can hear from you if you review applications before accepting them.
Affiliates who have worked with other brands before may want to sign up with you to get inside information about the size of your customer base and how your conversion rate stands. Validate the ownership of their websites and personally contact affiliates if possible to determine where they'll promote your brand and how they engage customers.
To ensure there's no miscommunication between you and your affiliate, create a contract that spells out your expectations (including a privacy policy), commission structure, and the duration of your relationship (with an option to renew).
Keep your commissions interesting.
You can launch limited-time offers with higher commission rates. Or you can tell your top-referring affiliates that they can earn a certain percentage more if they can produce X number of sales every month.
Send best practice guides and success stories.
Inspire your affiliates from time to time by sending emails containing testimonials from top performers and your own tips in acquiring paying customers. Instructions on how to start earning under your affiliate program should also be part of your onboarding.