While many smaller creators and merchants prefer to work with affiliate networks, many firms have designed their own affiliate programs, and operate them separately.
If you feel comfortable running an affiliate program and working hands-on with all your affiliate merchants, you don't have to fit into the rules of a network, potentially having your products in the same catalog as your competitors. And by operating your affiliate program directly, you can avoid paying any affiliate network fees.
Here, we look at some affiliate programs that operate independently of the networks (as well as a couple that partner with them).
It's important to remember that to be successful, affiliate marketers need an interested, keen audience, listening to their words of wisdom (or images of beauty). Most people are only interested in certain things, however. The best fashion influencer in the world will have little connection with people who couldn't care about clothing and attire. The world's top travel experts mean nothing to somebody who has never left his or her village and has no wish to do so.
This means that distinct niches are incredibly important when it comes to online marketing. Top influencers make super affiliates – as long as they operate in the same niche as the affiliate programs to which they belong. In many cases, influencers only choose to join affiliate programs for products they use and like. That way, they don't feel compromised when recommending these products to their followers.
We have taken a look at an assortment of affiliate programs here (excluding multi-product networks), and have a selection of what we believe are the best.
---
31 Best Affiliate Programs to Try:
---
Marketing and Business Affiliate Programs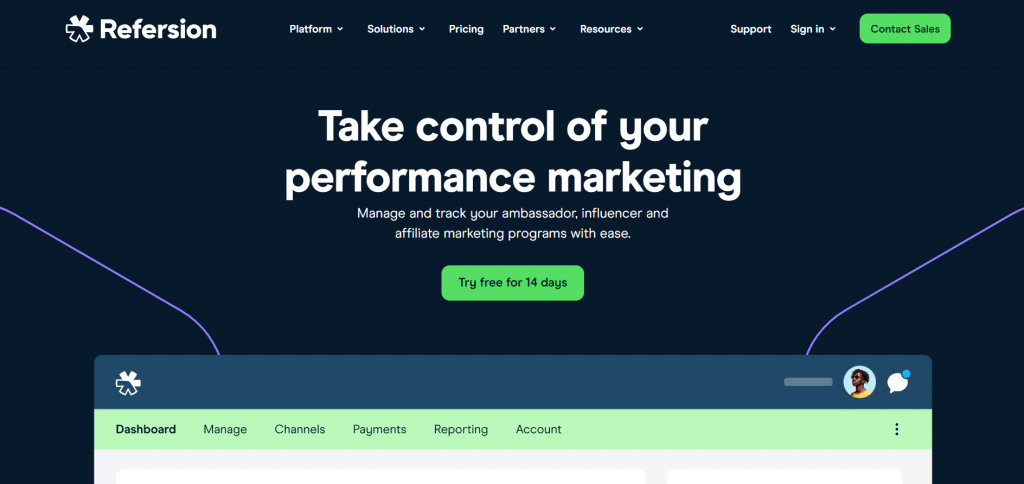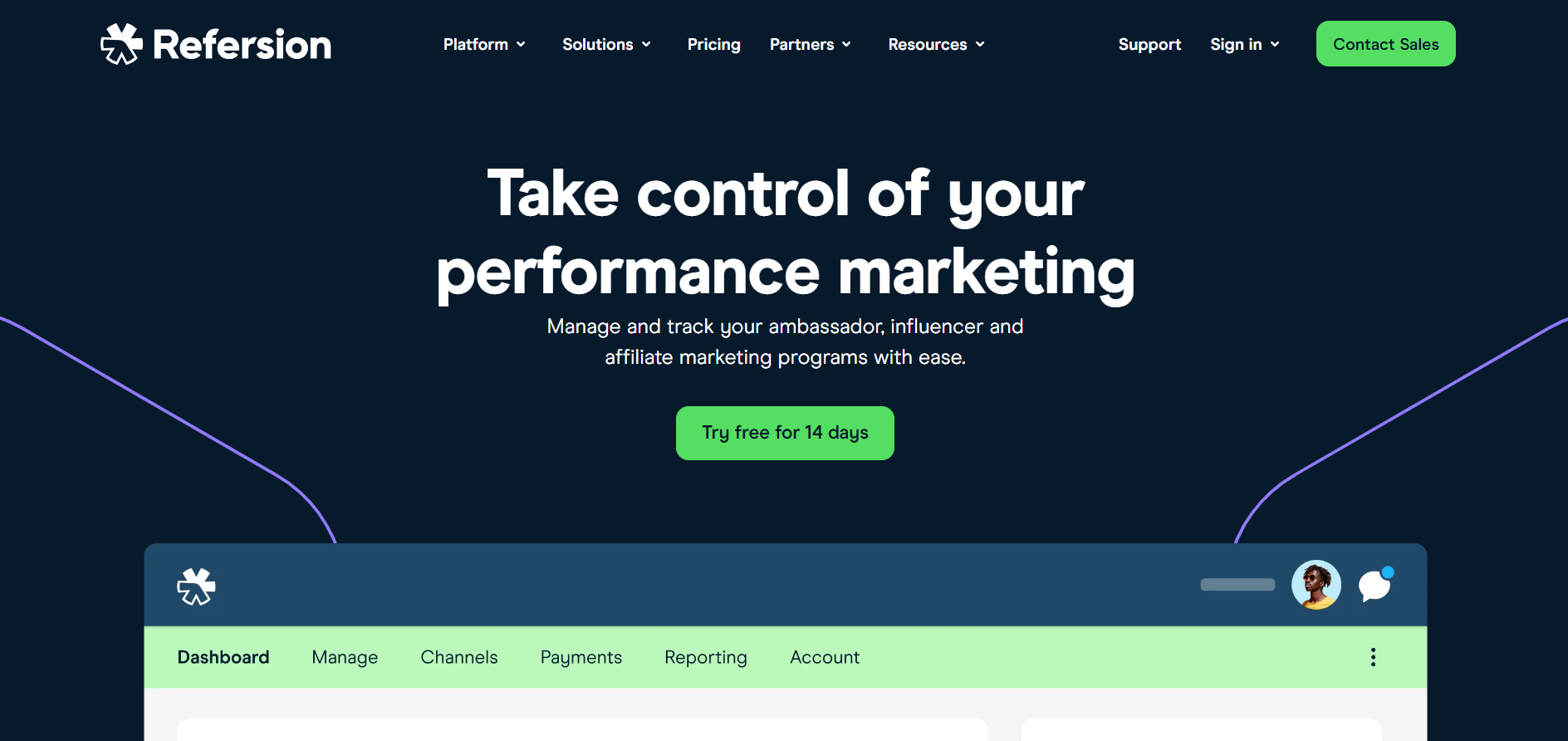 Refersion is an affiliate marketing network that also doubles as an all-in-one tool for launching promotion networks and creating smarter brand partnerships. The platform currently has 16,000 onboard merchants and 590,000 registered affiliates.
The Refersion Affiliate program rewards you with a 15% recurring commission, as long as your referrals maintain their subscriptions. It has a generous 60-day cookie window. To become a Refersion affiliate, fill out the registration form and wait for an email notification from the network. After that, you can start promoting Refersion products through links or banners.
Payouts are done via PayPal once a month. Note that your promotions must be done through legitimate channels only and not via methods like paid traffic, retargeting, and discount or coupon sites.
---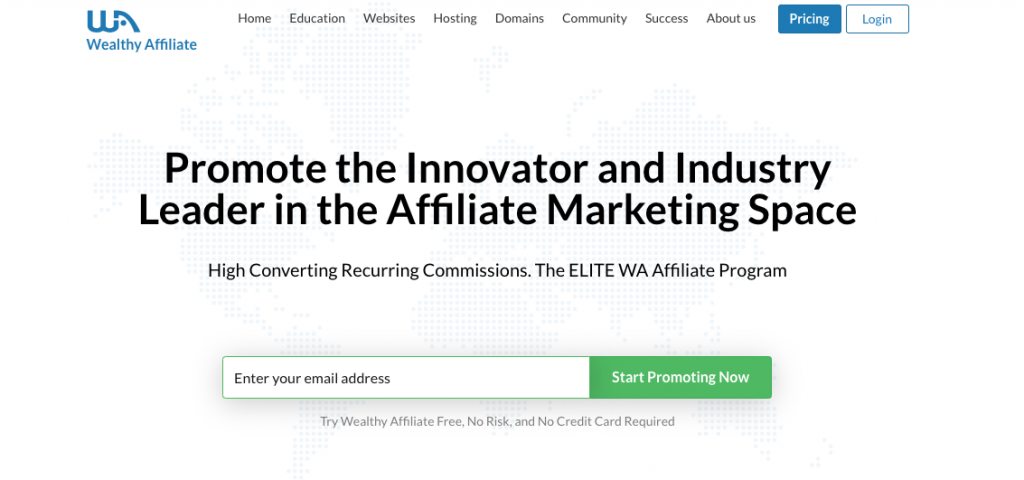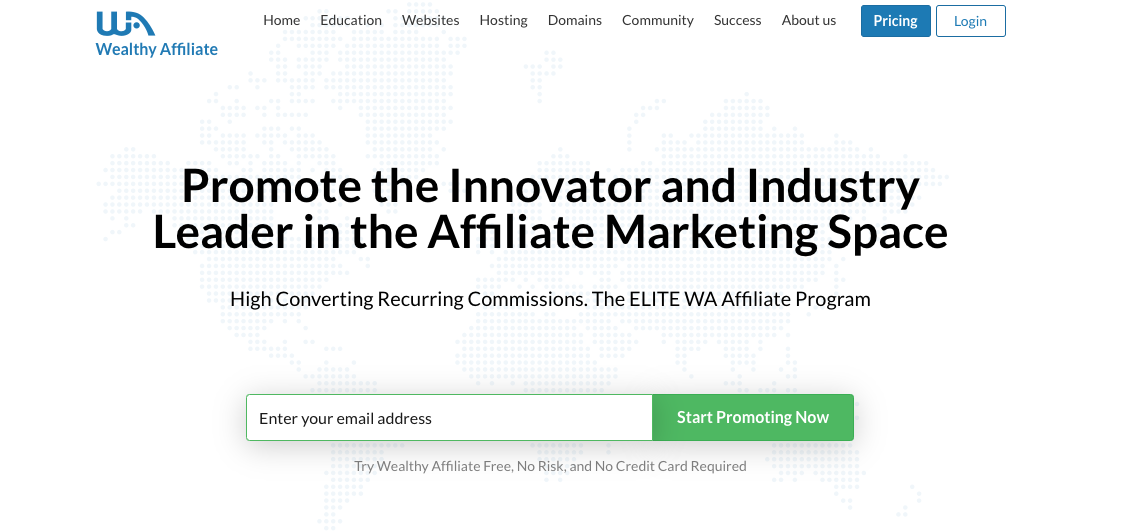 Wealthy Affiliate is in the slightly surreal position of being a website/training platform about affiliate marketing that pays affiliate commission to people who refer new customers to learn more about affiliate marketing.
In theory, at least, Wealthy Affiliate's affiliates could use their affiliate earning to reinvest into their Wealthy Affiliate membership to improve their skills and knowledge about affiliate marketing, and in turn, make more affiliate fees.
One of the benefits of a Wealthy Affiliate membership is that they will host your websites for no additional costs to your membership fees. You could, of course, use these to create review sites for Wealthy Affiliate.
Indeed Wealthy Affiliate includes a separate in-depth training program targeted at people who wish to act as affiliates for Wealthy Affiliate.
In the 14 years that Wealthy Affiliate has existed, it has had more than 1,400,000 members, with 10,000 new businesses built monthly.
Their affiliate program pays on a residual commission affiliate marketing model. Not only do you earn commissions for the first month that your referrals join, but you will also earn recurring commissions for your referral for the life of that member. The average commission works out to be more than $121 per sign-up.
---
3. Systeme.io (Marketing Automation)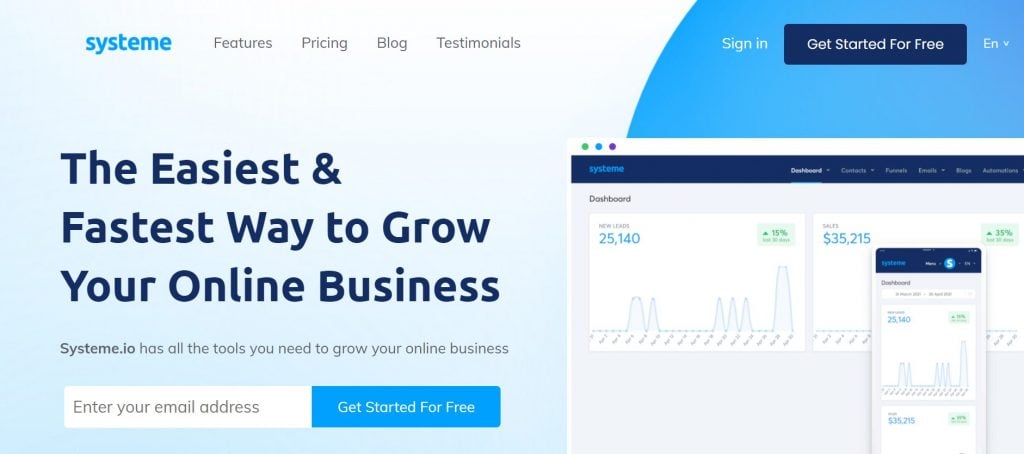 Systeme.io combines the features needed to build sales funnels, email marketing, online courses, website builders, affiliate program management, and marketing automation into one platform. Designed as an intuitive online business-building tool, it has helped more than 8,000 entrepreneurs worldwide grow their businesses.
Systeme.io has paid over $100,000 in commissions to its affiliates monthly. By becoming one of its affiliates, you can earn more with Systeme.io's high commission rates.
Its affiliate program currently offers 40% lifetime commissions on the sales of Systeme.io subscriptions and courses. You can also benefit from lifetime commissions from your referrals. This applies to all future products they purchase. For second-tier commissions (referrals by your referrals), you can earn 5% affiliate commissions from the sales they make using their affiliate links.
The best part is you can become an affiliate even without a Systeme.io paid subscription. You can receive an affiliate ID even with just the free plan.
---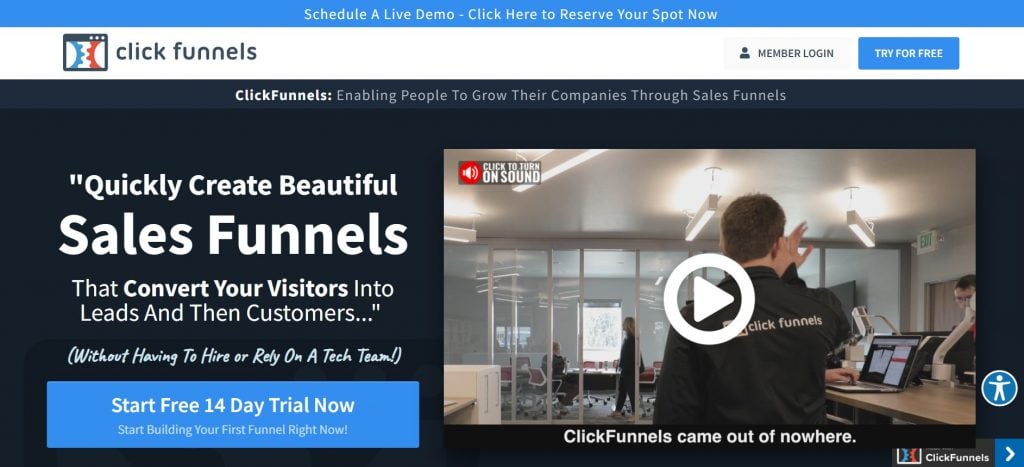 This funnel-building platform is used by over 104,000 entrepreneurs to build websites and sales funnels. It's intended to be a one-stop-shop for marketing and selling your products online. This popular web-based application is easy to use and features a drag-and-drop webpage editor and 1-click upsells, among other features.
ClickFunnels has an affiliate program that pays up to 40% monthly recurring commissions on all of ClickFunnels' front-end offers. These include the following book titles: DotCom Secrets, Expert Secrets, and Traffic Secrets. In addition to the 40% commission, you can also receive an extra $100 commission when someone buys One Funnel Away or 30 Days.
The ClickFunnels Affiliate Program comes in increments. New affiliates will earn 20% monthly recurring commissions from sales of ClickFunnels subscriptions. This means that as long as they're paying for their subscriptions, you'll still be receiving monthly commissions.
Furthermore, once you've reached a commission threshold of $1,000, you can apply to become an approved affiliate and earn 30% monthly recurring commissions. To be an approved affiliate who receives 40% recurring commissions, you need to have at least 40 active ClickFunnels members who have signed up to ClickFunnels for at least 30 days using your affiliate ID.
---
5. LeadPages (Landing Page Platform)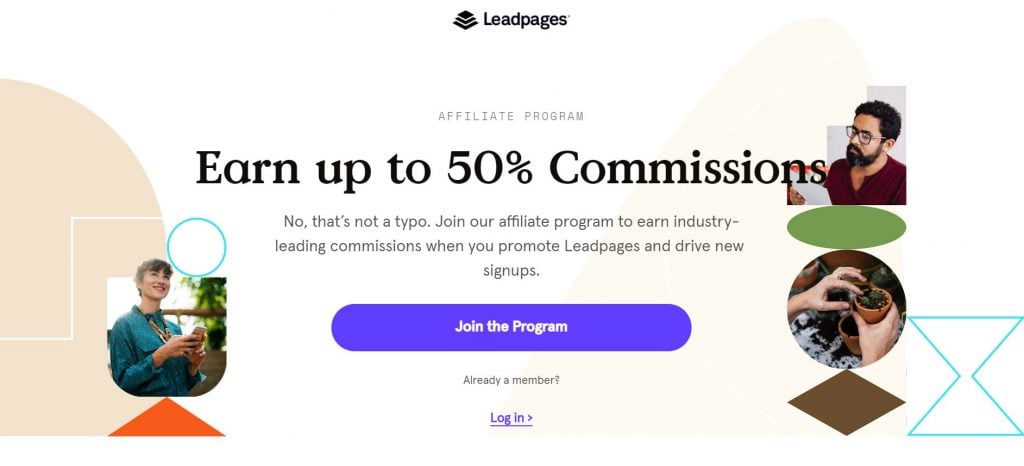 Landing pages are an integral part of marketing and growth strategies. Without a landing page, it can be challenging to fully optimize search engine traffic and generate leads and conversions.
LeadPages is a platform that lets you create code-free high-converting websites and landing pages. It features a Drag-and-Drop Builder that's optimized for conversions and is designed to be mobile-responsive.
The LeadPages Affiliate Program lets you earn up to 50% recurring commissions on all sales you generate. This includes one-time purchases and plans renewals or upgrades. The program is tiered and follows this structure based on your monthly new customer revenue:
Bronze tier ($0 to $49 net sales amount): 10% commission

Silver tier ($50 to $2,999 net sales amount): 40% commission

Gold tier (over $3,0000): 50% commission
When you become an affiliate, you get access to other perks such as a dedicated affiliate support team, periodic special promotions, and free content you can promote on your website.
---
Online Course Platform Affiliate Programs
6. Kajabi (Online Courses)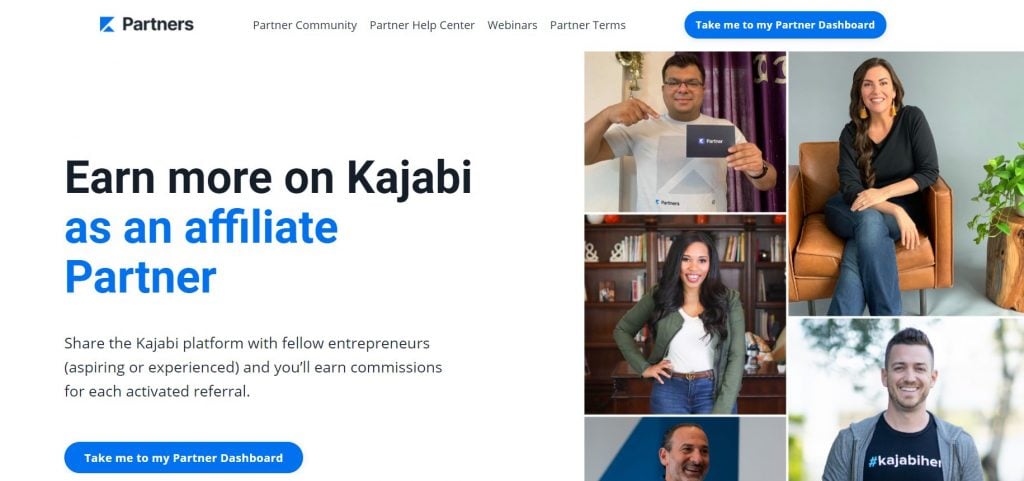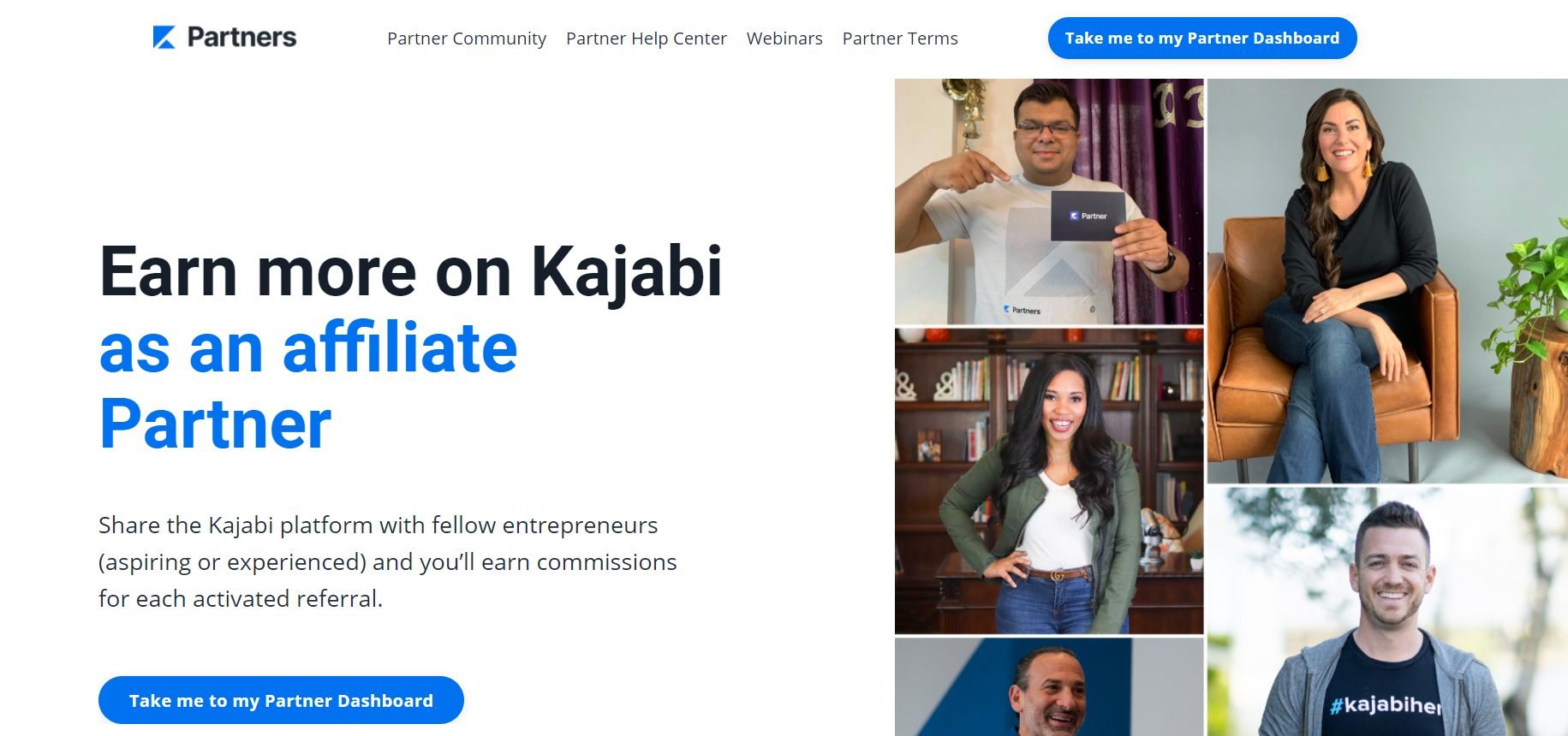 Kajabi may not have the high profile of course providers like Udemy or iTunes University. However, it is still a popular all-in-one platform that makes it easy to create online courses, launch marketing campaigns, build landing pages, and design the perfect website.
Indeed, it has highlighted its success with a few statistics: $1,000,000,000+ transactions made through Kajabi, 20,000+ businesses worldwide trusted through Kajabi, and 41,000,000+ consumers served through Kajabi.
It also features an attractive affiliate program, the Kajabi Partner Program. Affiliates receive 30% recurring commission, i.e., Kajabi will pay them 30% of the fees that any Kajabi customers they refer pay after their trial period, for each month they remain a member of Kajabi.
Kajabi also incentivizes its affiliate marketers by giving them exclusive rewards that they unlock as they progress to higher status levels. For instance, at the bottom (Blue) level, they will provide you with a commission of up to $116.70/mo or $1,119.60/yr. By the time you have 50 active referrals, you will reach the Diamond level, and Kajabi will give you a car, and a commission of up to $5,835.00/mo or $55,980.00/yr. Bonuses continue up to the Legend level (with 200 active referrals).
---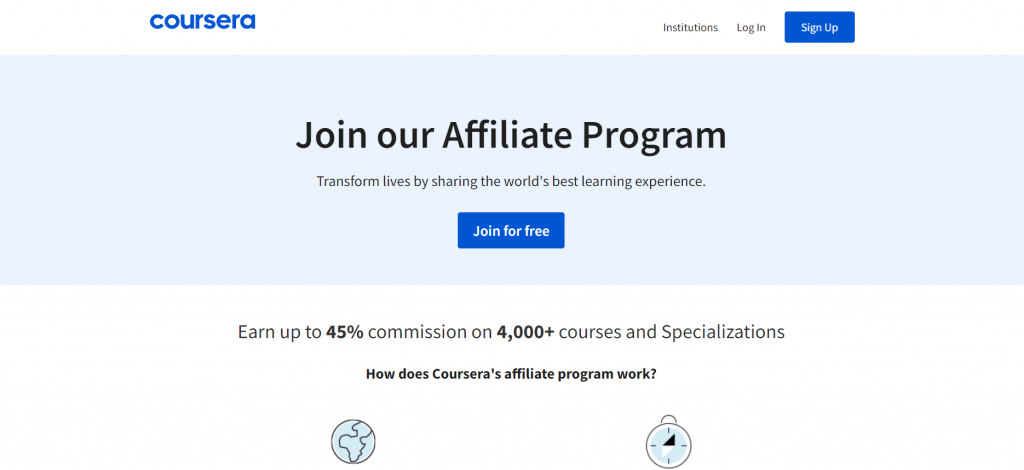 One of the most popular online learning platforms in the world, Coursera has over 82 million learners and offers thousands of courses from their more than 200 global partner institutions. Its course and specialization offerings include Data Science, Health, Personal Development, Arts and Humanities, and Computer Science.
Coursera's affiliate program, which runs on the Linkshare network, lets you earn between 10% and 45% commission from over 4000 available courses and Specializations. You're free to choose the Coursera products you want to promote, which you can then feature on your site using Coursera's custom banners and text links or you can opt to use your own format.
What's great about this affiliate program is you have the opportunity to earn commissions multiple times from a single user, given that they purchase multiple Coursera courses or Specializations using your affiliate links. However, note that Coursera doesn't offer recurring commission payouts for subscriptions. It only commissions the subscription's first month.
---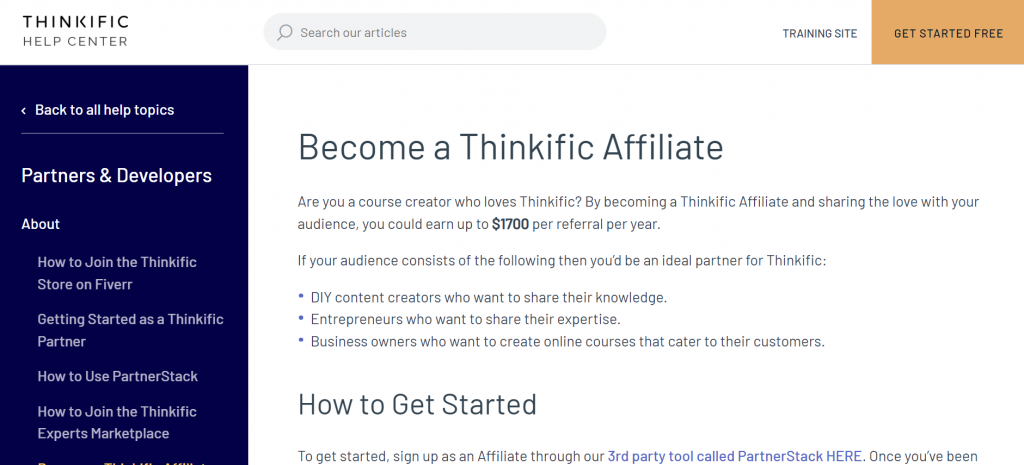 Thinkific is a platform that lets you share your knowledge by empowering you with the tools needed to create, market, and sell your online courses. It has over 50,000 course creators who have earned more than $650 million.
Aside from helping education businesses scale, Thinkific also provides individuals with another way to earn through its affiliate program. By becoming a Thinkific Affiliate, you'd have the opportunity to earn up to $1700 per referral per year. The program runs on PartnerStack.
Once you've signed up for the program through PartnerStack, wait for your approval. Once approved, you'll be able to access your unique referral link that has a 90-day cookie period. When someone clicks on your affiliate link, you can earn a 30% recurring commission on all subscription plans (as long as the subscriber pays for Thinkific's plans or services).
---


Teachable is another online learning platform that makes it easy for content creators and educators to share their knowledge to a global online audience. The platform currently has more than 100,000 creators who've collectively sold over $1 billion in courses and coaching. Courses on offer cover subjects, such as art, health, business, academics, and even niche topics like houseplant care and shoemaking.
Teachable's partner program gives you the opportunity to earn up to 50% recurring commissions with a 90-day cookie window. To be clear about the commission scheme, recurring commissions are always pegged at 30%. However, as you get more conversions and surpass conversions thresholds, you'll enjoy added bonus tiers that'll help you get up to 50% commissions.
---
Web Hosting Affiliate Programs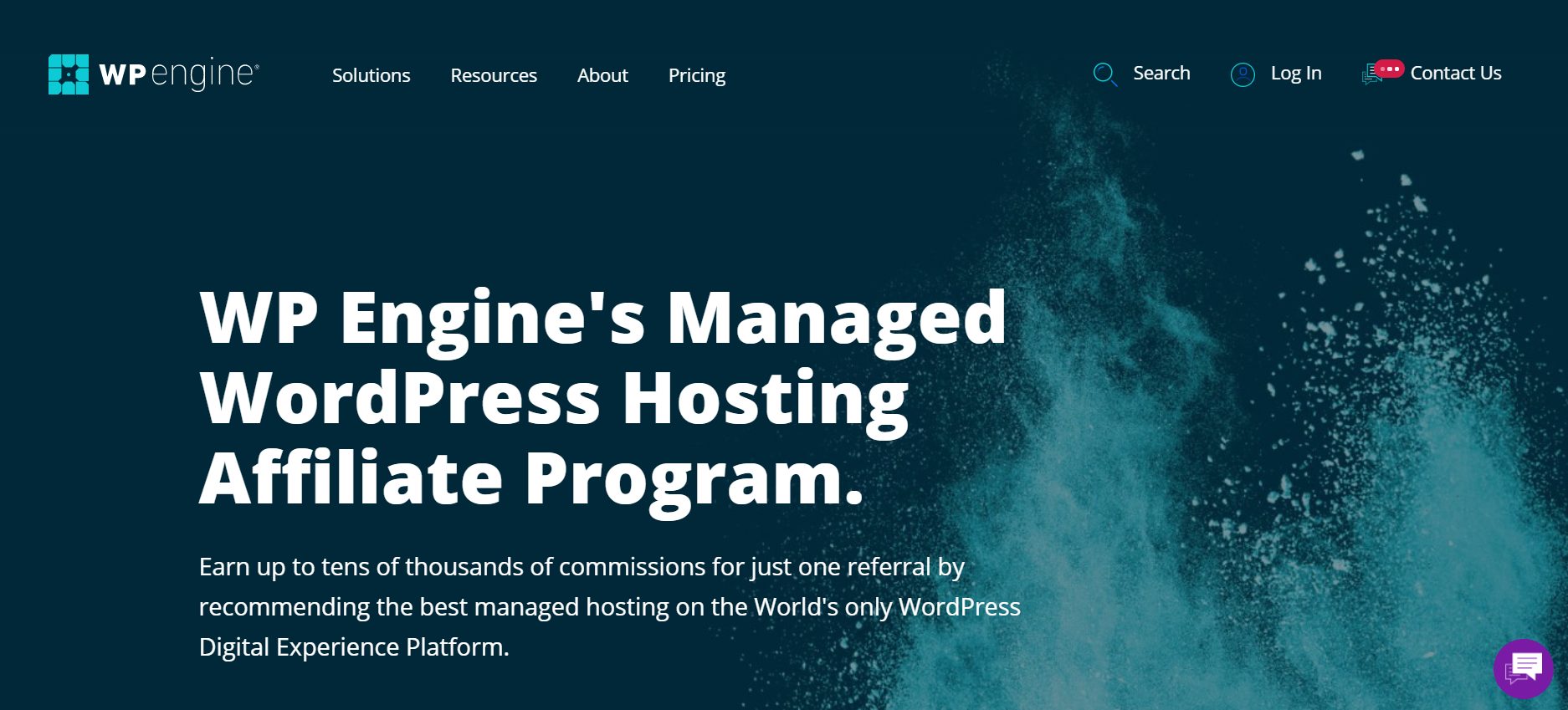 WP Engine describes itself as a WordPress digital experience platform. It provides tools for people to create WordPress sites and hosts them. They make it easy to build amazing, mobile-responsive WordPress digital experiences with 36 easy-to-use, premium themes powered by the Genesis Framework.
WP Engine's managed WordPress Hosting Affiliate Program encourages affiliates to earn by referring WP Engine platform and StudioPress theme customers. Affiliates can earn income in two ways: $200 minimum commissions for WP Engine sales and 35% of StudioPress theme sales.
One nice feature of this program is that you receive payment for both referring new customers and also for referring new affiliates. WP Engine will give you $50 for each of your referred affiliate's new customers.
---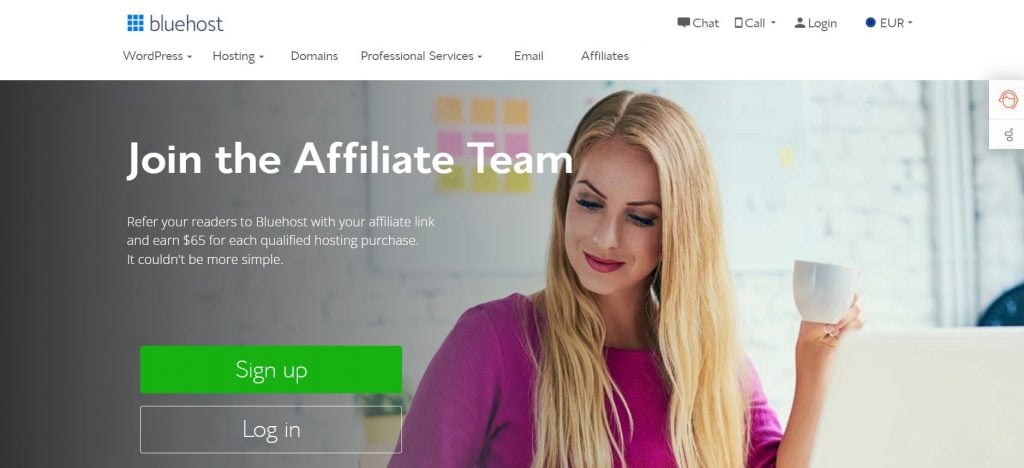 Bluehost is a feature-rich website creation and hosting platform. It's optimized to help online businesses scale and comes with built-in SEO tools, a free Google My Business profile, and Google Ad Services.
Its affiliate program lets you earn $65 when you refer your readers to Bluehost and they make a qualified hosting purchase. You can join the program for free and get access to custom tracking, a dedicated team of affiliate managers, and a range of promotional resources.
---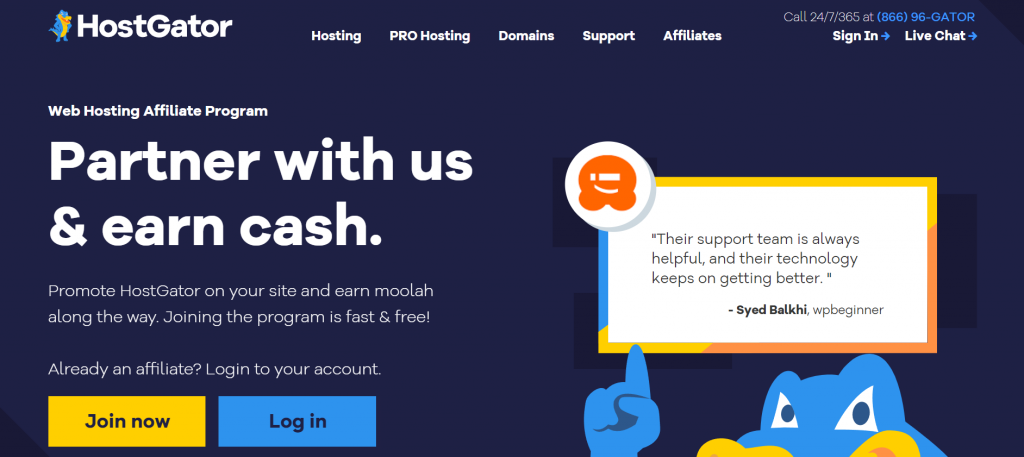 HostGator has been providing web hosting services since 2002 and is currently hosting more than 2 million websites. Aside from web hosting, HostGator also offers website builder tools and other perks such as free SSL certificates, one-click installs, and free site transfers.
Its web hosting affiliate program lets you earn between $65 per signup and $125 per signup. The best thing about HostGator's affiliate program is it has no minimum referral requirement. This means that whether you send one referral or 30 referrals their way, you can still earn. You'd also be free to choose the product you want to promote on your site.
The affiliate program follows this pay structure:
1 to 5 signups per month, $65 per signup

6 to 10 signups per month, $75 per signup

11 to 20 signups per month, $100 per signup

More than 21 signups per month, $125 per signup
For example, if you can manage to get 15 signups per month, then that's $100 x 15, which gives you $1,500. Aside from the generous pay structure, you'll also get regular bonuses.
---
Email Marketing Affiliate Programs
13. AWeber (Email Marketing)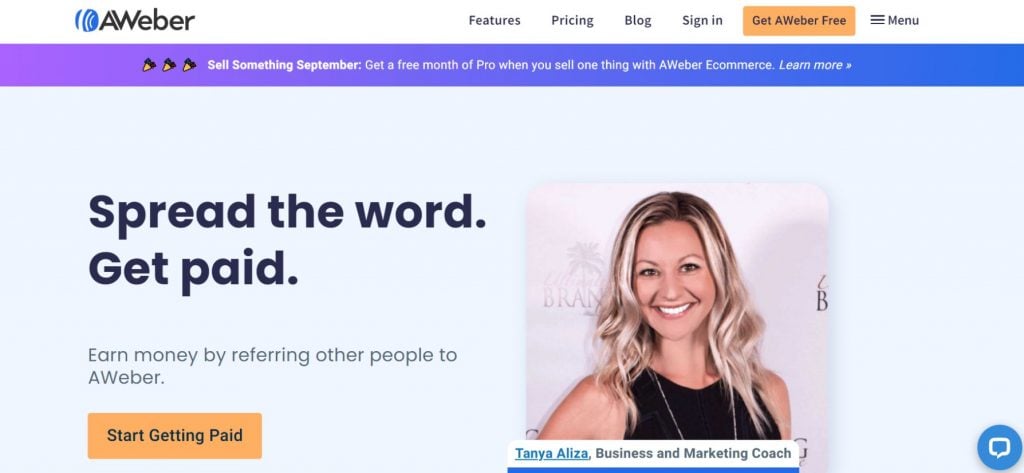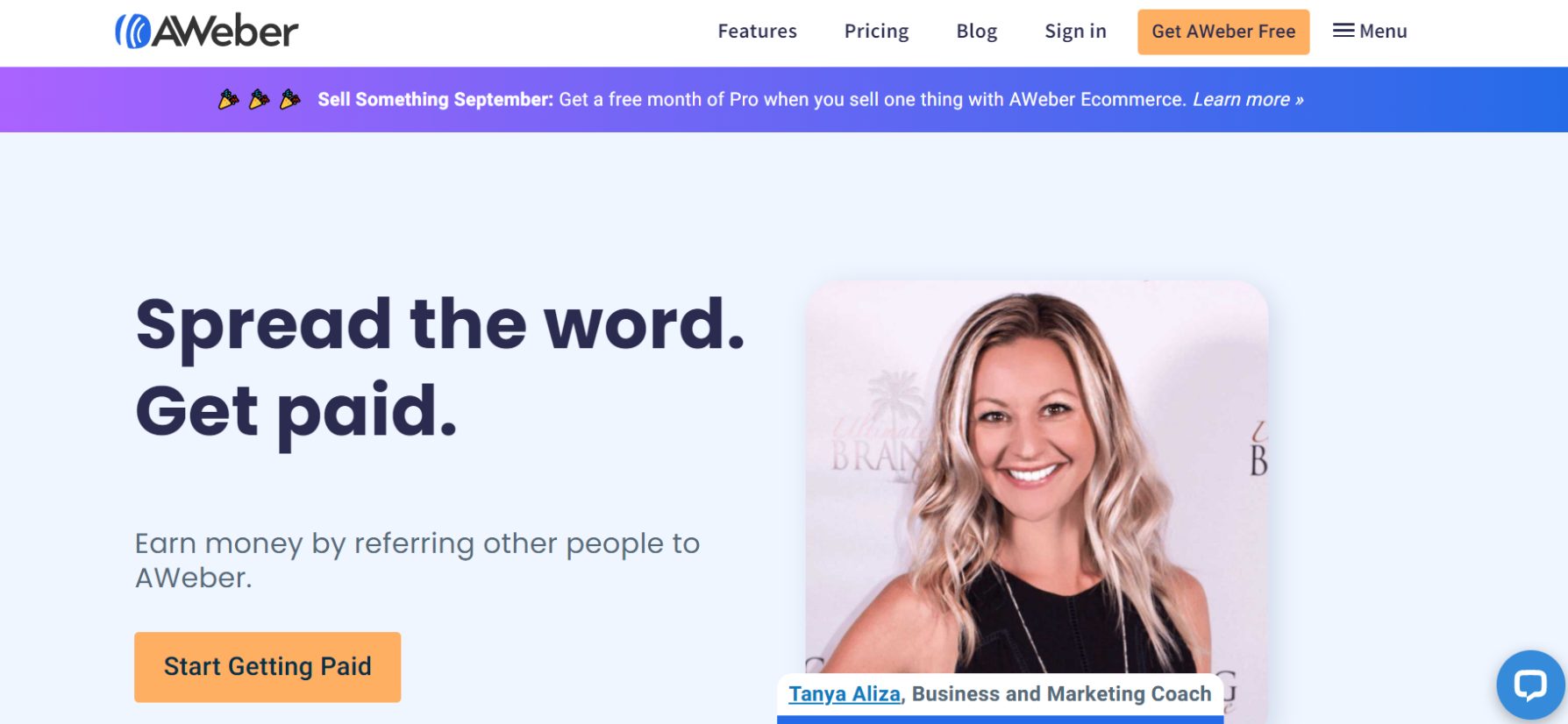 If you do any form of email marketing, you have probably heard of AWeber. They are one of the better-known brands in that marketing genre.
Like many such businesses, they are a natural fit with affiliate marketing. Their customers already know about online marketing and are generally already digital natives. They work mostly with small and medium-sized businesses and bloggers, though, rather than influencer superstars who need a different kind of tool to manage their massive email lists.
AWeber offers affiliates recurring 30% referral payments, with no set-up costs and monthly payments.
When you join their Customer Referral Program, they provide you with an ID. You then refer businesses in need of email marketing services to AWeber by tagging links to their site with your ID. If they then order an account (either on that visit or on a subsequent one), you'll receive a 30% customer referral payments on their account.
A nice feature of this program is that affiliates continue to earn this percentage on any recurring income. For instance, if you refer somebody to AWeber, and they sign up to a $19 per month email marketing program, you receive $5.70 each month until they leave.
---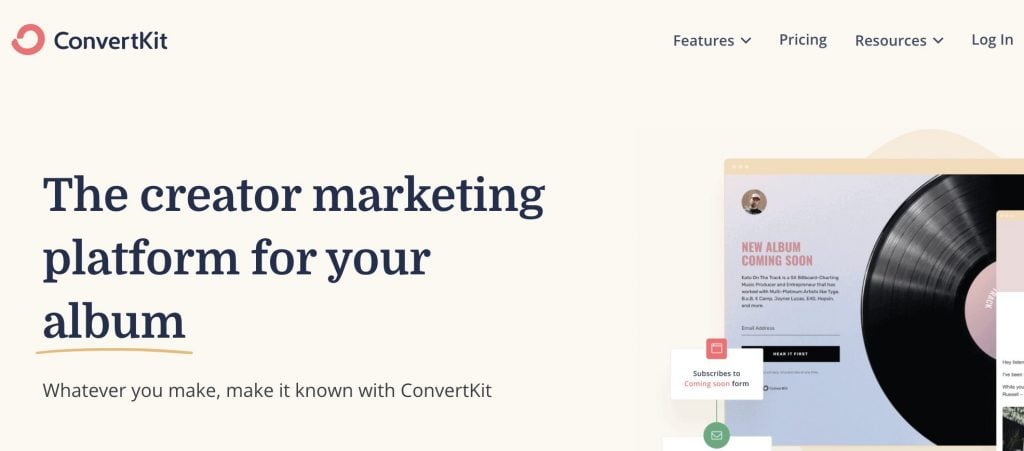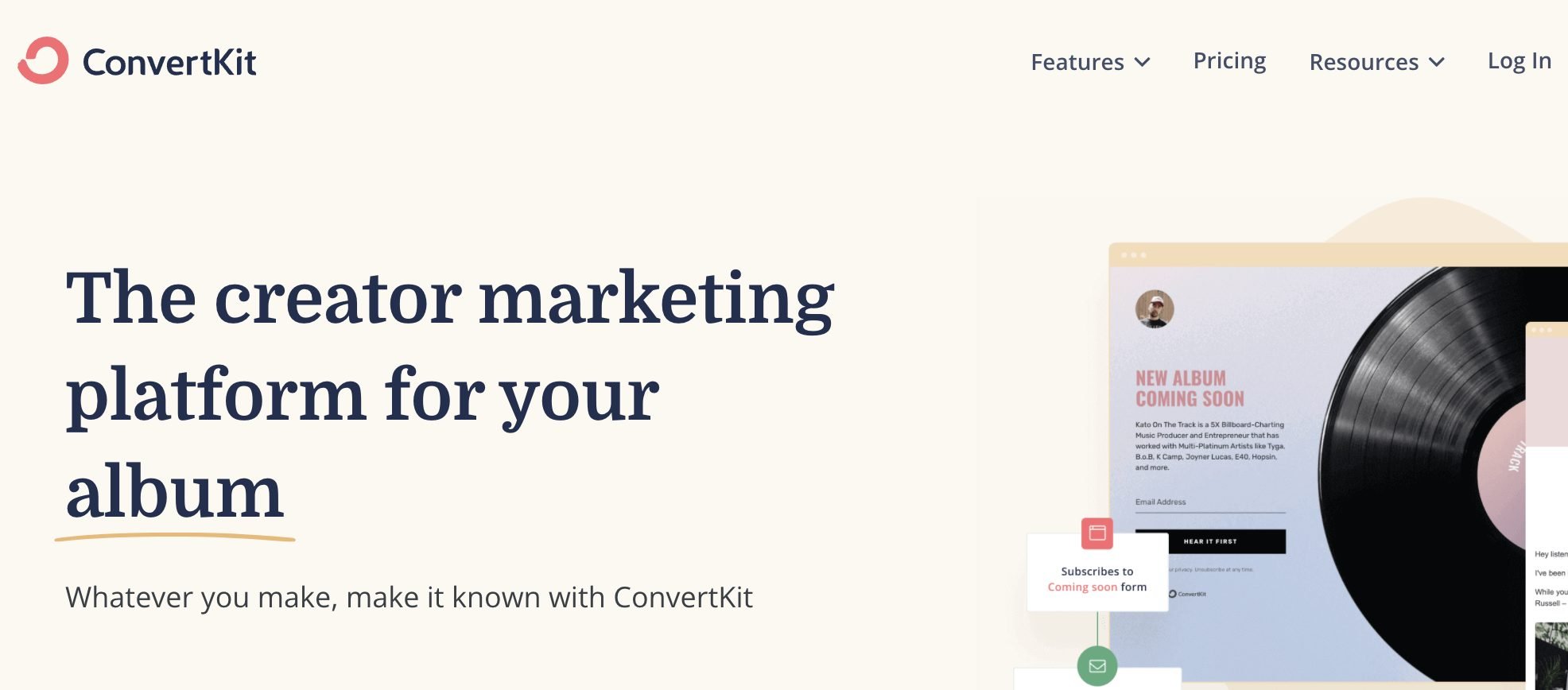 If you're a creator, you know the importance and challenge of building an online community and creating connections with your audience. ConvertKit is a creator marketing platform that's designed to help you grow your audience, build connections, and earn a living through selling digital products and subscriptions.
ConvertKit's affiliate program lets you earn a recurring 30% commission for every referral. The great thing about this program is that the commissions aren't just a one-time thing. As long as the person you referred to ConvertKit has an active account, you'll receive 30% every month. You can stand to earn more if you refer people who have larger email lists to ConvertKit.
---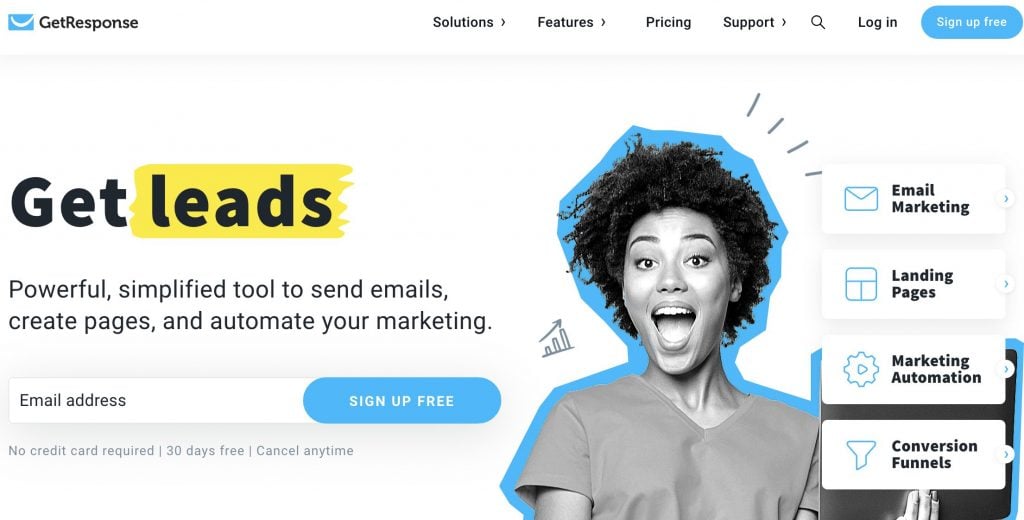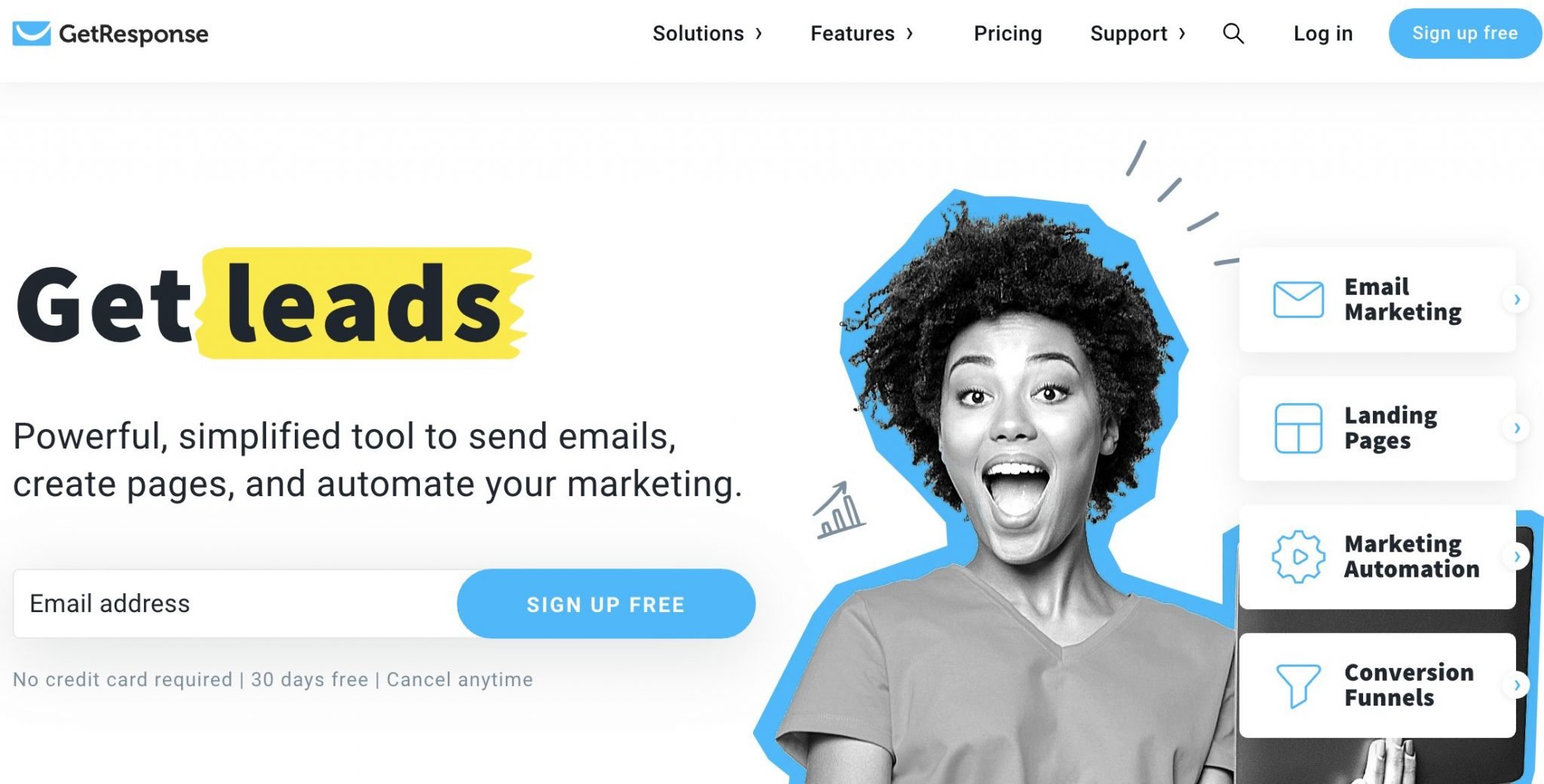 GetResponse is a powerful tool that you can use to automate your marketing campaigns. Aside from being used by marketers for inbound marketing, it also has tools, such as email marketing and paid ads, for entrepreneurs to market their business online.
GetResponse has a unique affiliate program scheme. You can choose between its Affiliate Bounty Program, which gives you a one-time commission of $100 for every sale referred, and its Affiliate Recurring Program, which gives you a long-term revenue of 33% for every sale referred. You get unlimited commissions, free marketing assets, and 120-day cookie life.
The affiliate program is designed for individuals, such as affiliates who are looking for a new income stream, freelancers, content creators, marketing consultants, and online marketing experts.
---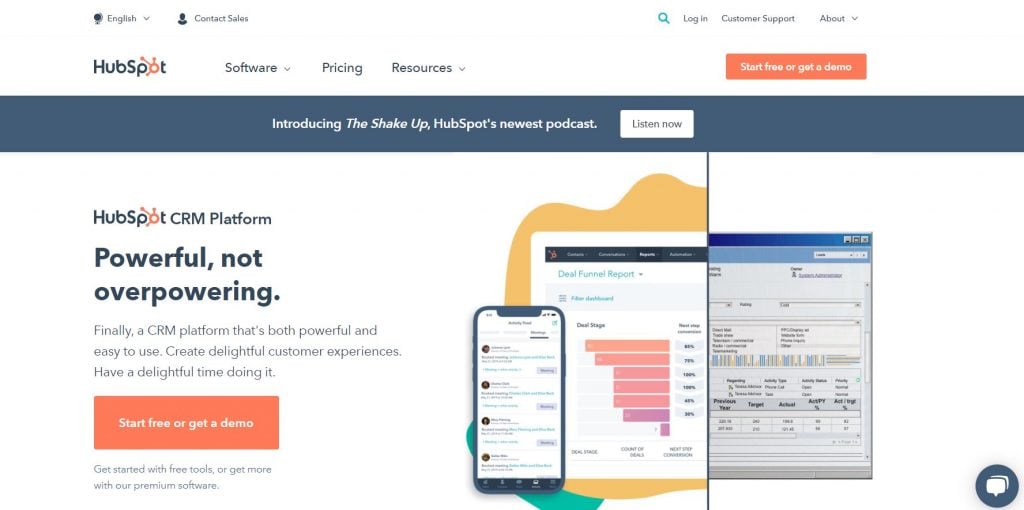 HubSpot is a powerful and easy-to-use customer relationship management (CRM) platform that lets you craft engaging customer experiences. It currently has more than 128,000 customers in over 120 countries.
More than being a CRM tool, HubSpot is also a valuable resource for free educational resources like eBooks, guides, courses and certifications, and articles that cover a variety of topics, such as sales, email marketing, and customer retention.
Joining HubSpot's affiliate program is free and has a 90-day cookie window. You won't be required to be a HubSpot customer to become one of its affiliates. In 2020, its affiliate program paid an average of $275 in commission payout.
Furthermore, you can choose how you want to get paid. You can apply for the Recurring Rate Program (with monthly payouts up to one year), where you can get a 15% monthly commission or you can sign up for the Flat Rate Program (one flat-rate payment), where you can receive 100% of the first month's revenue.
Additionally, you can receive monthly bonuses for qualifying free users. Depending on how many monthly qualifying signups you drive, you can earn between $5 and $20 each month.
---
VPN Affiliate Programs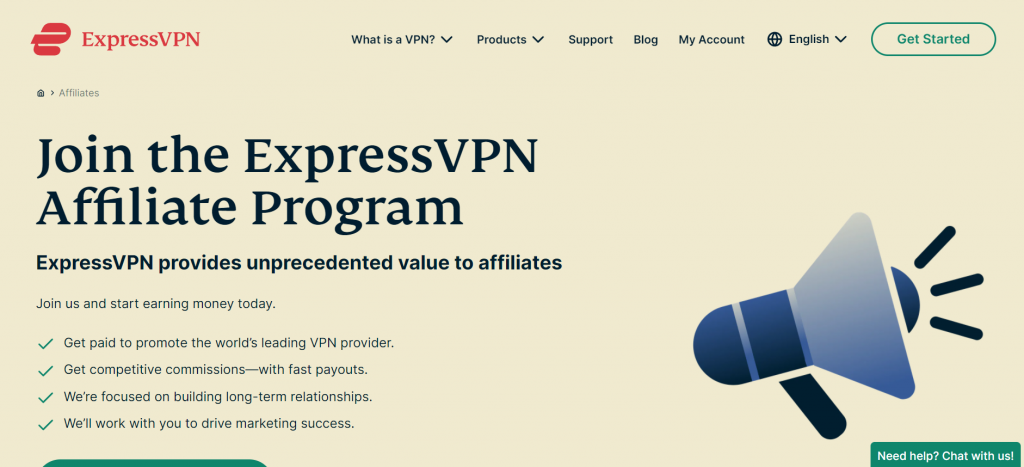 A virtual private network or VPN encrypts your internet traffic and provides you with a secure connection that makes it difficult for anyone to track your activities of steal your data. ExpressVPN gives you a safer way to browse on any device. It has ultra-fast servers in 160 VPN server locations in 94 countries allowing you to securely connect from anywhere, even when you're on the go.
Its affiliate program aims to offer value to its affiliates. By becoming an ExpressVPN affiliate, you can enjoy competitive commission rates and fast payouts. Its flexible commission structure means that the more sales you drive, the higher your commissions are.
The default commission structure goes like this: you get $13 for a 1-month subscription package, $22 for a 6-month subscription package, and $36 for a 12-month subscription.
To become one of its affiliates, you're required to have a live website with VPN-related content. If your website isn't VPN-related, you can sign up for ExpressVPN's Refer a Friend program.
---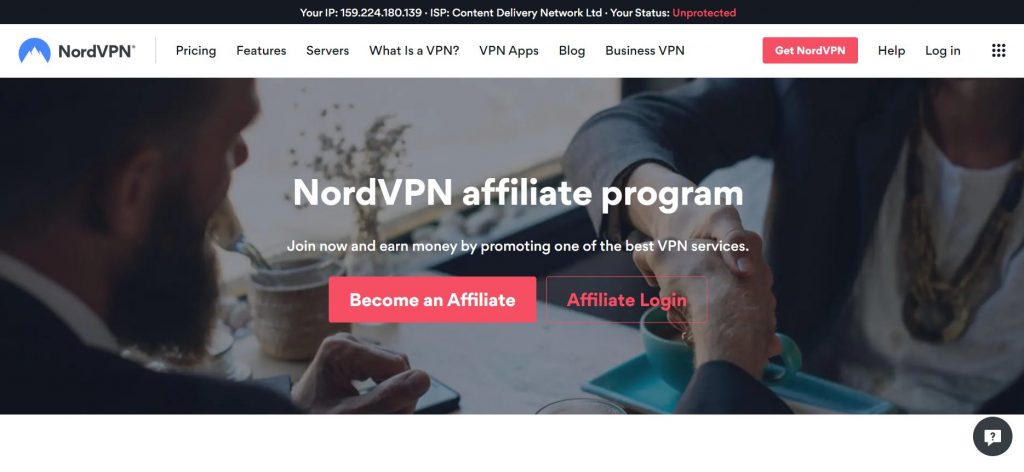 NordVPN keeps you protected even when you're connecting to a public network. It lets you securely access your personal or work information and encrypts your internet connection. NordVPN has more than 5100 VPN servers in 60 countries so you can enjoy a secure connection wherever you are in the world, without compromising your connectivity.
You can become a NordVPN affiliate and earn money in just three easy steps. Sign up for the program, get your affiliate links and promo materials, promote NordVPN on your site, and earn a commission for every qualified purchase.
How much you earn will depend on the subscription plan that the customers you refer select. To give you an idea of how much you can potentially earn, this is NordVPN's commission structure:
For 1-month subscriptions, you'll get 100% for new signups and 30% for renewals. For 6-month offers, 1-year offers, and 2-year subscriptions, you'll get 40% for new signups and 30% for renewals.
The NordVPN affiliate program also offers global campaigns. It works by converting all geos and different traffic types, allowing you to still monetize from your referrals, regardless of their location or the device they're using.
---
Travel Affiliate Programs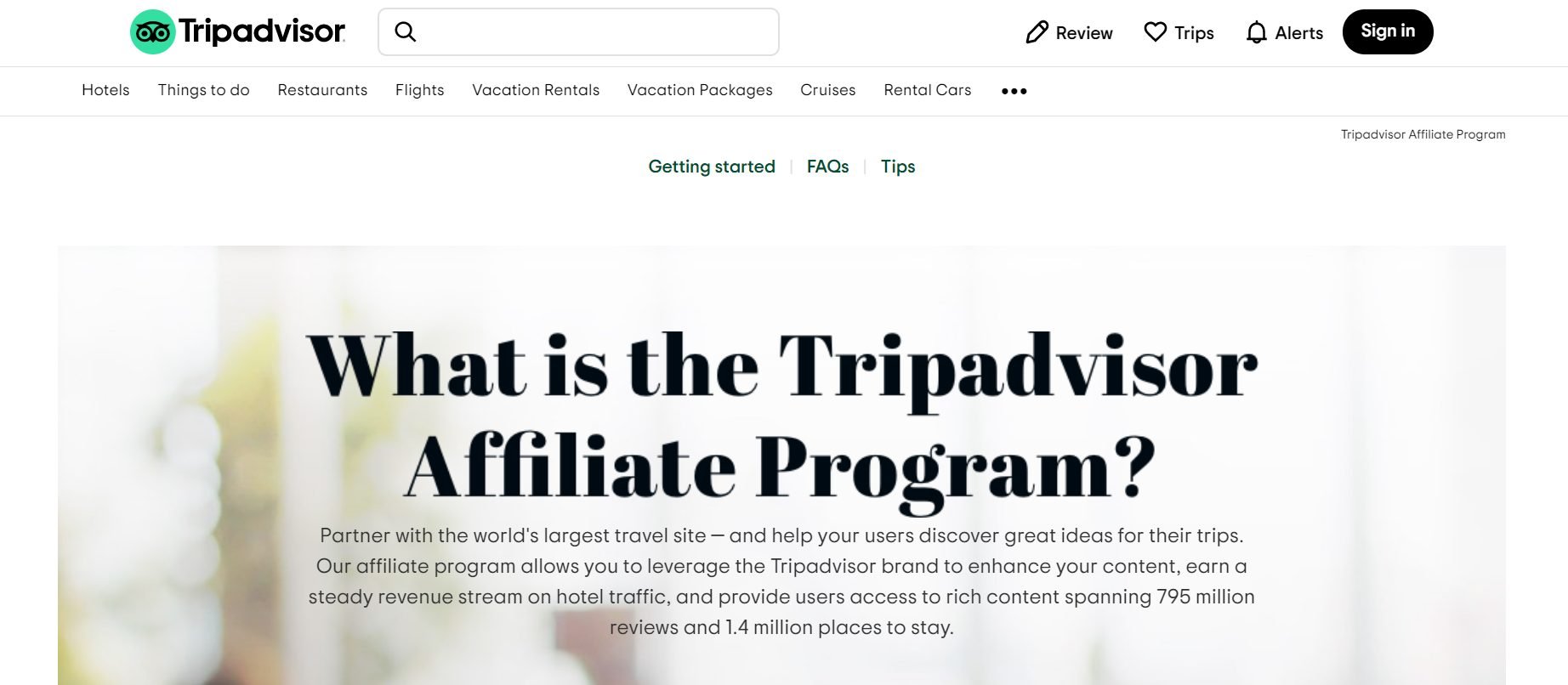 TripAdvisor runs its travel affiliate program, partnered with the CJ Affiliate network. You have to first apply to CJ Affiliate to become a TripAdvisor affiliate.
Affiliates get paid a commission of up to 50% for sending quality traffic to TripAdvisor.
TripAdvisor is a major travel site. They have large sections devoted to hotels, things to do, restaurants, flights, vacation rentals, cruises, and more. The website allows people to compare prices to find the lowest price.
The affiliate program pays commissions of up to 50% when people click on ads and links, taking them to a TripAdvisor partner website.
---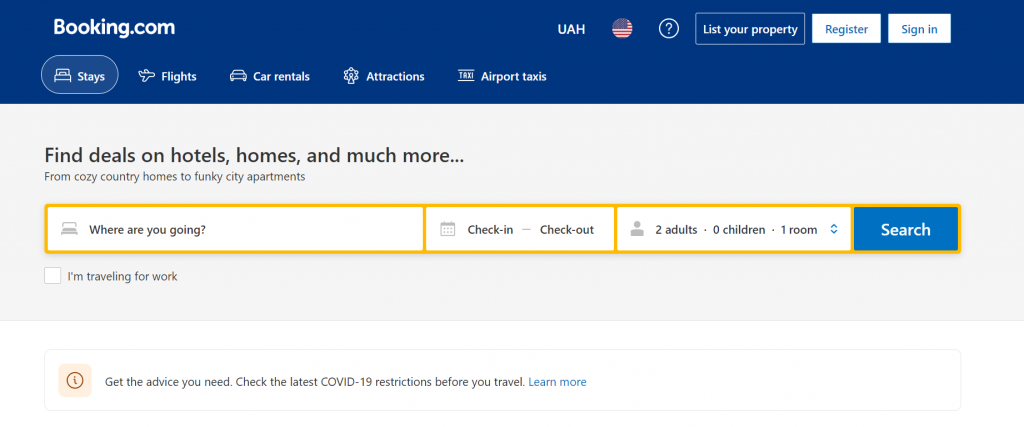 Booking.com is a digital travel company that's been around since 1996. It lets you easily search for and compare flights, as well as look for accommodations and places of interest. It's one of the world's largest travel marketplaces and offers more than 28 million accommodation listings, which includes homes, apartments, and hotels.
Booking.com runs its own affiliate partner program that lets you earn commissions from bookings made through your site. You can earn between 25% and 40% of the commissions made when someone books through your site. How much you earn will depend on how many bookings your site gets and how much these bookings are worth.
By becoming a Booking.com affiliate, you can enjoy the following perks: access the program's extensive customization options, choose the properties or destinations you want to promote and get a platform that helps you maximize your earnings.
---
Health and Fitness Affiliate Programs
21. SellHealth (Health and Fitness)

SelfHealth considers itself to be the #1 health affiliate network. It works with affiliates to sell a range of natural health products covering skincare, anti-aging, sexual health, hair health, and general health. The products tend to be of high quality but correspondingly more expensive.
Affiliates can earn money through sales commission and referral bonus (for referring new affiliates to SellHealth). Affiliates will receive higher commission rates, the more sales they make, ranging from 30% to 50% of sales revenue.
---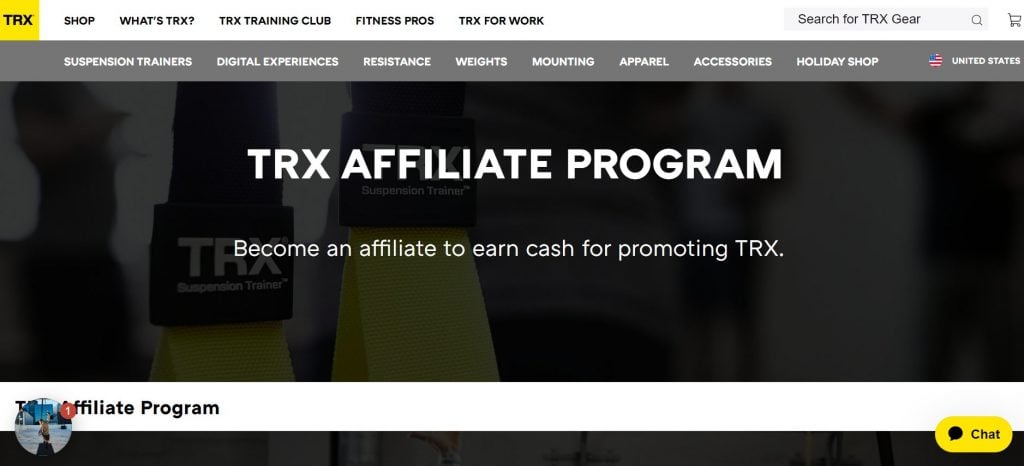 TRX pioneered suspension training, which uses your body weight and incorporates it into exercises using equipment like straps, cords, or chains.
It has since expanded its offerings to provide you with an all-in-one fitness experience. Aside from suspension trainers and training gear, TRX also provides you with access to its training club, which includes live daily classes, on-demand workouts, and REPLAY classes.
The TRX Affiliate Program leverages the popularity of functional training and can prove to be a lucrative income stream. With an average order size of $200 and commissions starting at 10%, you'll have the potential to generate a sizeable passive income. Its 30-day cookie duration means that if someone visits the TRX site via your affiliate link and makes a purchase within a 30-day period, you'll receive a commission for that sale.
Beauty Affiliate Programs
---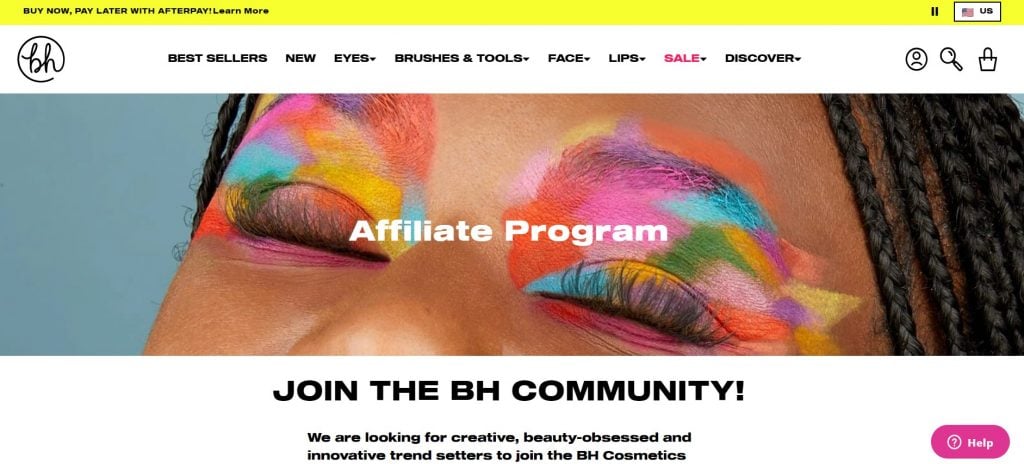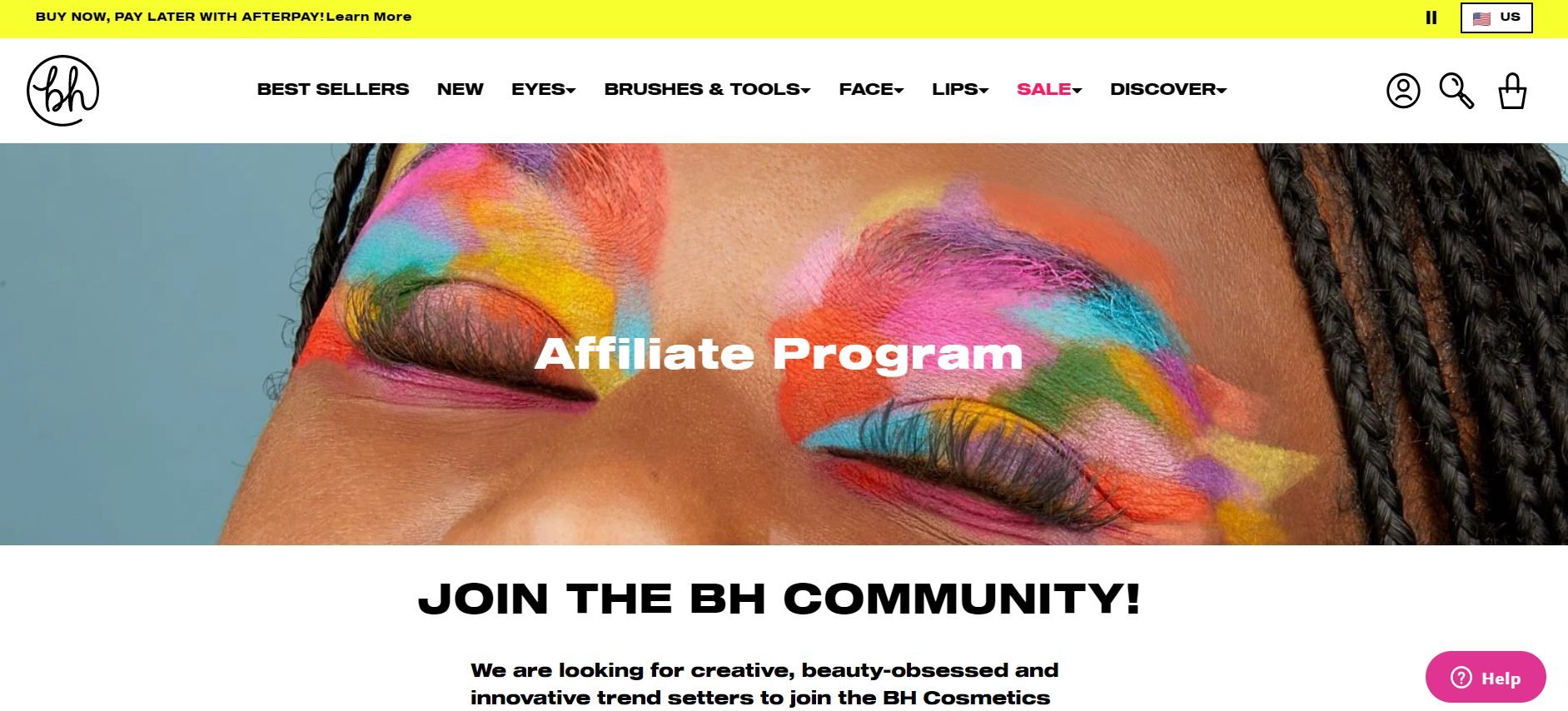 BH Affiliates sells a wide range of cosmetics and beauty products. It is dedicated to only providing cruelty-free cosmetics, containing vegan ingredients.
Their affiliate program pays up to 8% commission on purchases. Each time an affiliate directs a visitor to BHCosmetics.com, and they purchase within 60 days of their visit, the affiliate earns an 8% commission on that order.
---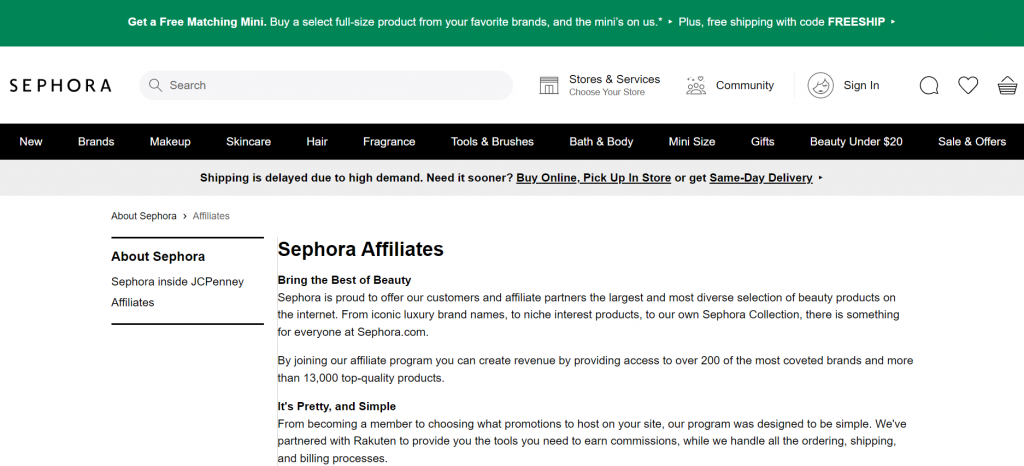 Founded in France in 1970, Sephora has since become one of the world's most well-known beauty brands. It operates in 35 countries and has over 2,700 stores. It continues to grow both as a brick-and-mortar establishment and as an eCommerce site.
Sephora is home to a diverse selection of beauty products, which includes luxury brands and its own collection. By becoming a Sephora affiliate, you can promote any of the beauty brands ' more than 13,000 products from over 200 brands.
It has partnered with Rakuten to provide its affiliates with the tools they need to earn commissions from promoting Sephora products on their site. Aside from earning commissions on all products, you get to enjoy additional perks, such as:
Daily free shipping for purchases over $50

Free samples with every order

Access to affiliate-only offers and promotions
---
Website Builders and Ecommerce Affiliate Programs
25. BigCommerce (Website Builders)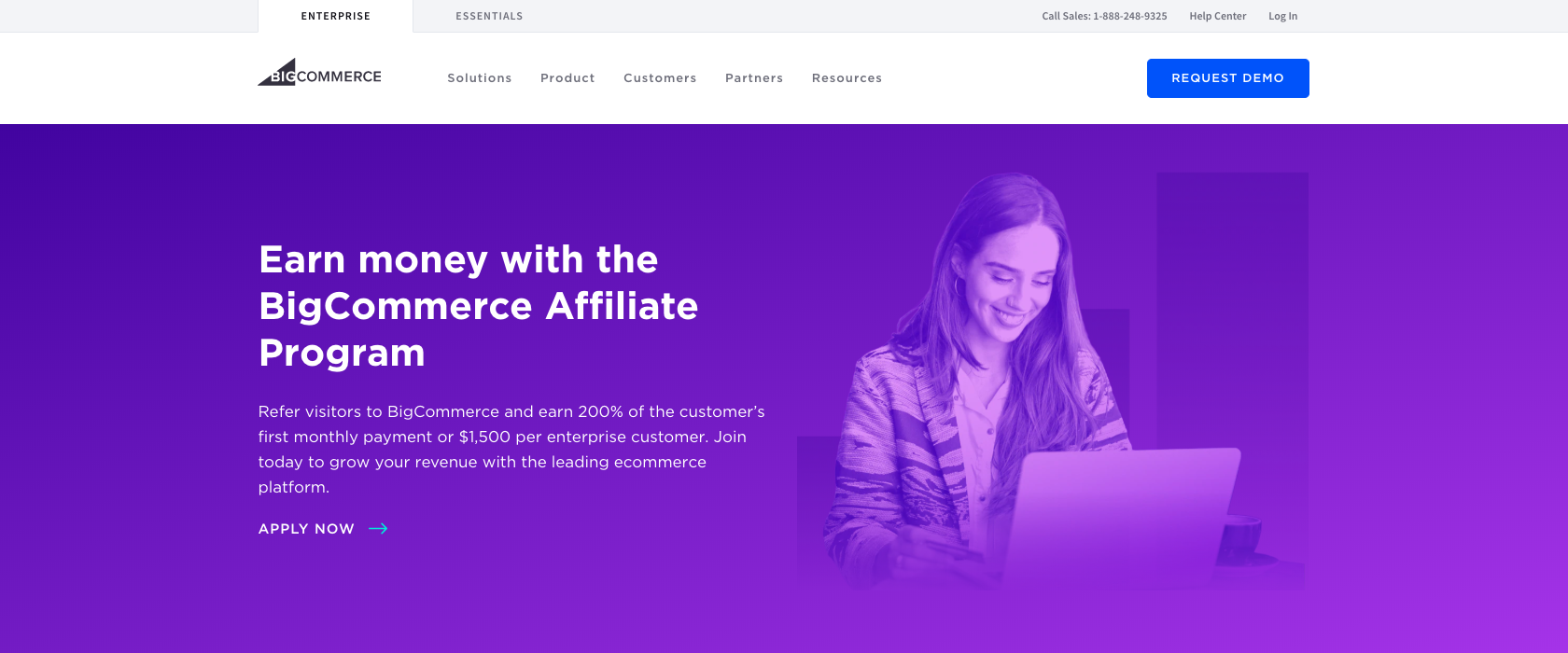 BigCommerce offers an online storefront for firms wanting to build an online commerce platform. You can use their platform to sell virtually anywhere online – not just in a shop on your website, but also integrated into marketplaces, such as eBay and Amazon, your social channels, and even connected to in-store POS systems.
They run an affiliate scheme where affiliates who refer visitors to BigCommerce can earn 200% of the customer's first monthly payment or $1,500 per enterprise customer. The more referrals you drive through the program, the higher your commission tier can go.
---
26. Shopify (Website Builders)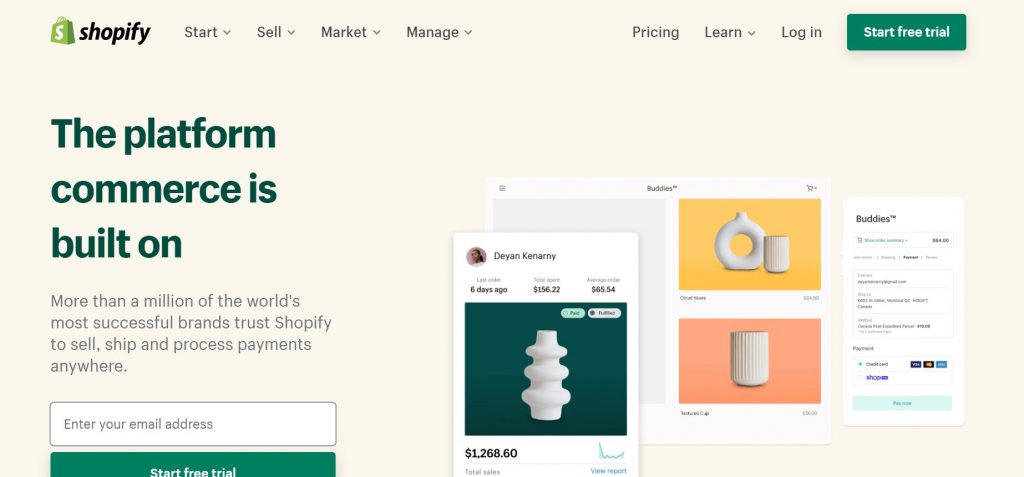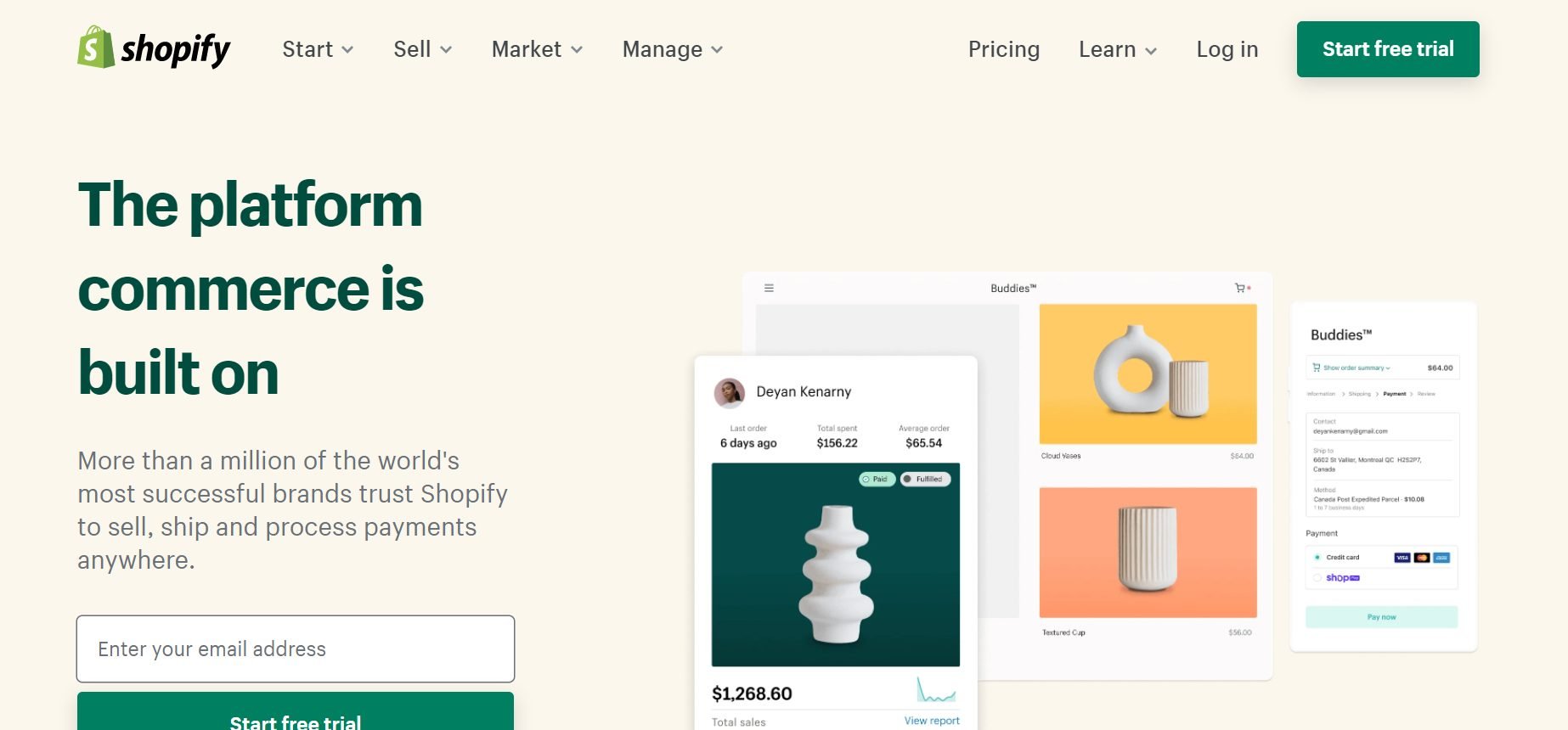 For anyone who's looking to build their own website and start their own business, Shopify is subscription-based software that lets you set up your online store and market your products. It's an eCommerce platform that lets you grow and manage your business, whether it's in a physical location or online. Its core products are its Shopify plans, which come with essential eCommerce tools such as website templates, SEO and marketing tools, and integrated payment processing features.
Whether you're an entrepreneur, a content creator, or an influencer, Shopify's affiliate program can not only help you grow your brand but can also let you empower others to bring their entrepreneurial vision to life.
Some of the requirements you need to meet to become a Shopify affiliate include owning and running your own website, having an established audience, creating original content, and having experience with Shopify or other eCommerce platforms.
As an affiliate, you can earn commissions of up to 200% of your referral's monthly subscription fee. For example, if someone signs up for a Basic Shopify account, which costs $29 per month, through your affiliate link, you get a $58 commission. Note that the commission is paid over the first two months of the subscription. Moreover, you can earn a flat rate of $2,000 for referrals who sign up for a Shopify Plus account via your affiliate link.
---
27. Wix (Website Builders)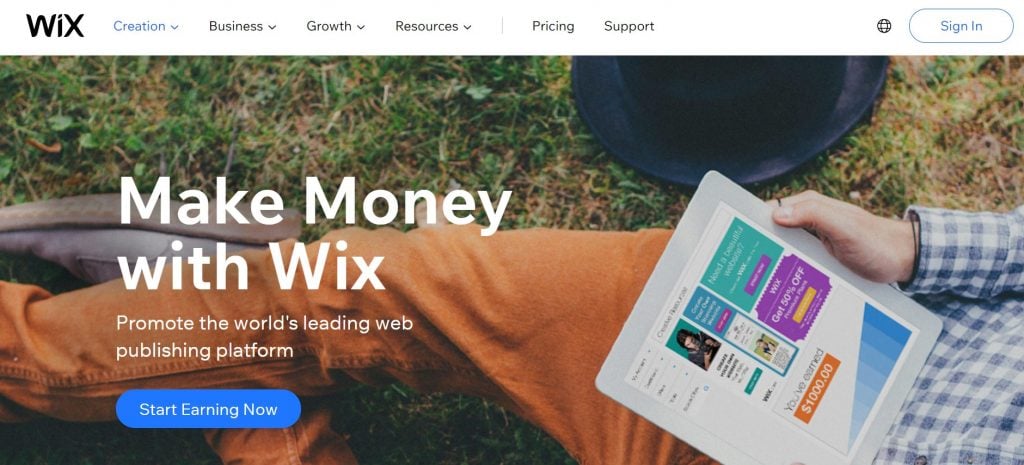 Wix is a popular website builder that makes it easy for creators and entrepreneurs to build their own websites and develop their online presence. It lets users access more than 500 customizable website templates for categories like business, photography, education, and blogs. As a Wix user, you'll also have access to its built-in tools, such as SEO tools, custom domains, and online scheduling software.
Drive traffic to Wix and earn money as one of its affiliates. For every sale, you get $100 in commission. Plus, Wix offers several reliable payment options so you can choose the payment means you're most comfortable with.
---
28. Target (Retail)


Many readers, especially those based in the USA, will be highly familiar with Target stores. They have also built up a sizeable online presence in recent years, with many customers preferring to make their purchases from their phone or web browser.
Being a large retailer of many goods, Target has chosen to run its own affiliate scheme – Target Affiliates. As with most multi-product retailers, Target's commissions are smaller than companies that merely sell one or two in-house developed products. However, successful affiliates make up for these lower commissions by referring large numbers of potential customers to Target's website.
The commission rates of 1-8% depend on the nature of a product and the number of people you refer. For example, somebody who refers fewer than ten purchasers to Target's site who buy apparel and accessories will receive a 5% commission. However, if the affiliate were able to send more than 10,000 customers, they would receive 8% commission. There are eight commission tiers. An exception to this, however, is health and beauty, where affiliates only receive 1% commission, regardless of how many customers they refer.
One nice feature of the Target program is that people have a 7-day window in which to spend money at Target. For example, if somebody follows through a referral link on a Monday, any Target spending they do until the following Sunday, is counted as belonging to that original affiliate.
---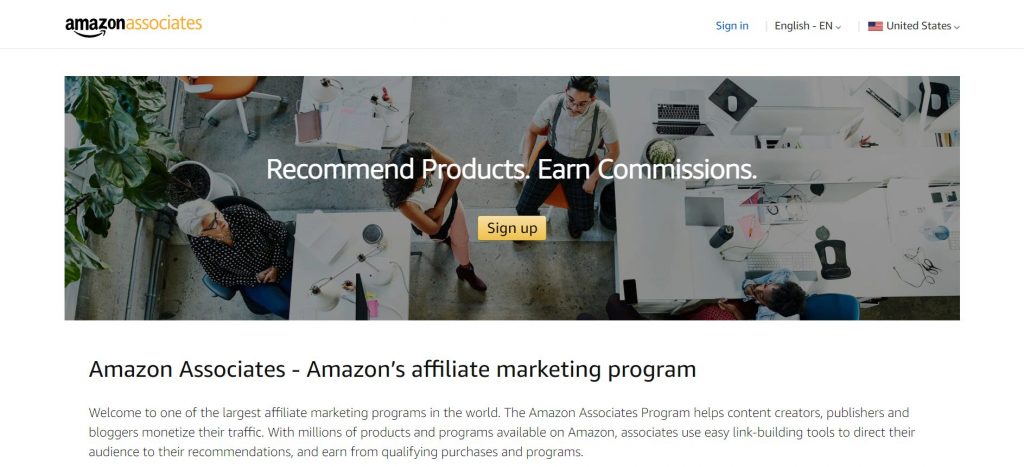 Amazon runs its own affiliate marketing program called Amazon Associates. It's one of the world's largest affiliate marketing programs, with tens of thousands of associates and millions of products you can promote.
The Amazon Associates Program is fairly straightforward. As an Associate, you get access to customized linking tools that you can use to direct traffic to your recommendations. Once someone makes a qualifying purchase, you can earn up to 10% in associate commissions.
Unlike other affiliate programs, Amazon Associates' commission rates can vary, depending on the product category. Rates range from 1% to 20%. Note that items such as gift cards, wireless service plans, and alcoholic beverages have a 0% commission rate.
So, for example, if you're promoting digital music from Amazon on your site and someone makes a purchase, you can earn a fixed commission income rate of 5%. If you're promoting Amazon products, such as Kindle or Fire devices, then you can earn 4% commission.
To qualify for the program, you need to have a qualifying website or mobile app. If you're an influencer, you can sign up for the Amazon Influencer Program.
---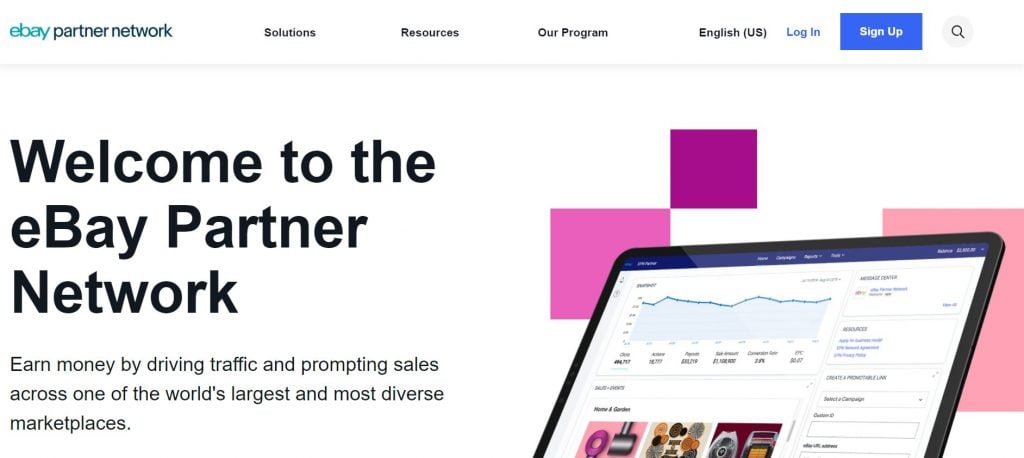 One of the world's oldest and largest eCommerce platforms, eBay has been around since 1995. Over the past 25 years, it has continued to grow and innovate, with 154 million active buyers worldwide and 19 million sellers on its marketplace.
Its eBay Partner Network lets you connect with a global audience of buyers and sellers. As an eBay affiliate, you earn commissions not only for the traffic you drive to your recommendations but also for any traffic that generates a sale. Commission rates range from 50% to 70%.
You also get access to an intuitive portal that lets you build ads and campaigns, drive traffic, and track your performance. One of the best features of the program is it isn't too restricting. This means that even though you're an eBay affiliate, you're still free to work with other merchants.
---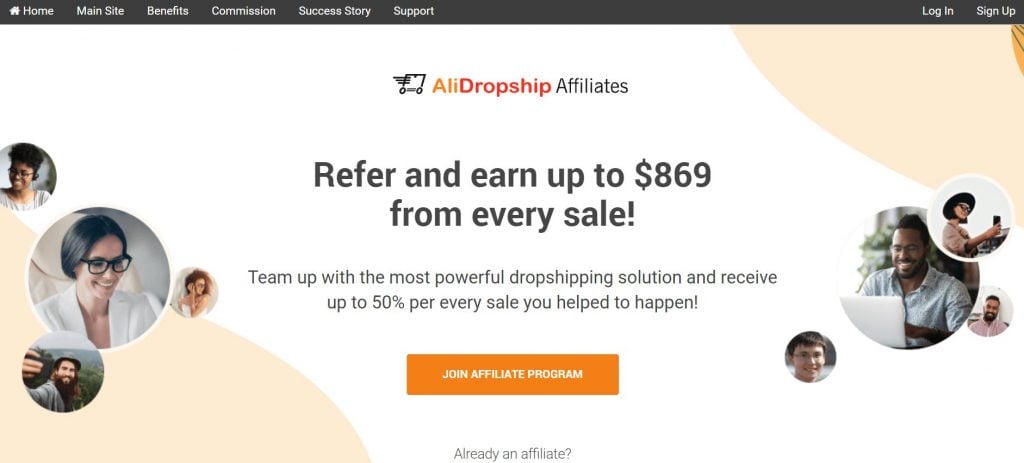 Dropshipping has surged in popularity with the advent of eCommerce platforms such as Aliexpress, Shopify, and Oberlo. This order fulfillment method has proved to be a lucrative venture for many entrepreneurs.
AliDropship is a platform that lets you create your own AliExpress dropshipping business. It's used by more than 50,000 entrepreneurs worldwide and offers three options for starting your business: you can create your own store, let AliDropship create a store for you, or opt to get an exact copy of a top-performing store complete with ready-to-use marketing campaigns.
This platform also gives you another way to earn through its AliDropship Affiliate Program. As an AliDropship affiliate, you can earn commissions of up to 50% per sale. The program currently has over 15,000 partners and has paid more than $1.1 million in commissions.
Not sure whether the affiliate program is a good fit for you? If you're an eCommerce enthusiast, a content creator, an educator, influencer, entrepreneur, or freelancer, there are many ways to make the AliDropship Affiliate Program work for you.
Joining the program is free and you won't have to worry about any monthly charges. What's great about the AliDropship Affiliate Program is that you don't have to be an AliDropship customer to become an affiliate. Furthermore, it doesn't impose any limits on how many products or solutions you can promote, which gives you the opportunity to earn more.