Customer loyalty needs to be a key part of any business strategy. It costs 5x more to acquire new customers than to retain existing customers—so increasing loyalty and retention is essential to cutting down costs. Many businesses do this through loyalty programs, affiliate marketing opportunities, offering discounts on a customer's next purchase, and other similar tactics.
But keeping your finger on the pulse of customer loyalty trends and what your customers really want to see in 2023 is a major part of this. What consumers want to see from their favorite brands is constantly evolving. This is why we've put together the top seven customer loyalty trends you need to know in 2023 to make the biggest impact on your customer base and keep them coming back.
---
Top Customer Loyalty Trends to Know in 2023:
---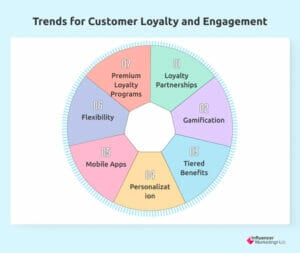 1. Loyalty Partnerships
Many brands have a loyalty program in which they offer discounts, freebies, or other incentives to customers after they make repeat purchases. While this is nothing new, it's often the basis for one of our 2023 trends, loyalty partnerships.
A loyalty partnership is where two or more brands collaborate on a loyalty program to offer benefits to customers of each involved brand in an attempt to reach a larger audience.
For example, Starbucks and Delta announced their loyalty partnership in fall of 2022, where customers can connect their Delta SkyMiles and Starbucks Rewards accounts in order to earn even more perks from both companies.
Once accounts are linked, rewards members are able to earn one Delta mile per $1 spent at Starbucks, increasing the likelihood that they'll become a more frequent Delta flyer. Then, on days when rewards members have a scheduled Delta flight, they can earn double Stars when making purchases at Starbucks.
Due to the fact that there's typically at least one Starbucks at every airport, this partnership between the two companies is a great idea.
Loyalty partnerships need to be between two non-competing but complementary businesses. Many credit card companies will partner with various hotel chains and airlines so their points can be used to purchase flights and book hotels. Ride-sharing app Uber has partnered with Marriott to offer Marriott Bonvoy points with each ride booked.
If you're considering a loyalty partnership in 2023, look to brands with a similar target audience whose customers would likely also be your customers. That's the sweet spot for a successful partnership.
---
2. Gamification
Gamification is the process of giving something—like your loyalty program—game-like elements. This is a major trend this year due to the impact it can have on your customer loyalty. One study found that brands using gamification in their loyalty programs can see a 47% increase in client engagement, 22% increase in brand loyalty, and 15% increase in brand awareness.
Because about 80% of Millennial and Gen Z consumers play video games on a weekly basis, gamification creates a digital experience that your audience is used to and that they enjoy. Ultimately, this makes them want to engage with your brand more so they can earn even more rewards.
One brand that does a great job of gamification in their loyalty program is Lazada, an ecommerce store based in Singapore and with a presence in countries like The Phillipines, Malaysia, Vietnam, Indonesia, and Thailand.
They have an app that customers can download to track their rewards, and in this app, users can get referral rewards, access discounts, see a countdown timer until various perks and rewards, and more.
One of the best features of their rewards program, though, is that they offer virtual banana seeds to customers. The seeds grow with every purchase, and the customer can monitor and nurture their virtual banana plants until it bears fruit. They can then exchange their bananas for in-app rewards or for real-life bananas that will be delivered right to their doorsteps.
This is a great way to increase customer engagement with your loyalty program and keep them coming back again and again.
---
3. Tiered Benefits
Another one of the customer loyalty program trends we're seeing is the continuation of tiered benefits. Tiered programs means the loyalty rewards that a brand offers are increased based on the amount of money a customer spends with the brand.
Sephora has a great example of tiered benefits with their Beauty Insider program.
Their Insider rewards is free to join and comes with a number of perks. But as customer spend more and more money, they're able to move up to VIB and Rouge benefits.
Creating a tiered rewards program entices customers to spend more with your brand. You just need to make the rewards available at each level worth it.
---
4. Personalization
80% of consumers are more likely to buy from businesses that offer personalized experiences—and that translates to your loyalty program as well. With your loyalty program, you can utilize customer data to make your offers more appealing to each specific customer.
For example, Marriott Bonvoy, Marriott Hotels' benefits program, is able to analyze their customer behavior and present rewards and benefits that appeal to each specific member.
Members get access to their own personalized dashboards with their points data and options for how they can redeem their rewards. One of the items that points can be used for are Marriott Bonvoy "moments," which can consist of activities to do while on a trip. These and other perks become personalized to each user the more and more they redeem points as the system is able to learn what each loyalty member prefers to spend their points on.
Personalization increases the number of positive experiences that your customers have with your brand. Look for ways you can personalize your loyalty programs.
But more than that, look for ways to personalize your customer interactions overall. Use customer data to present personalized options based on their past shopping behavior. This will likely increase customer loyalty in the long run, bringing them back again and again as you're making it easy for them to find products they'll love.
---
5. Mobile Apps
Creating a mobile app is another major trend in customer loyalty, though there are a couple of different ways you can see this through. First, having a mobile app for shopping is a great way to offer a seamless, omnichannel customer experience—plus, it makes it even easier to gather data on your customers' shopping patterns.
Or, you might consider creating an app specifically for your brand's loyalty program—or at least a tab or section that lets loyal customers monitor their progress or how many points they've received.
For example, the Starbucks app has a section dedicated to their rewards points (Stars) at the very top of their app's Home screen.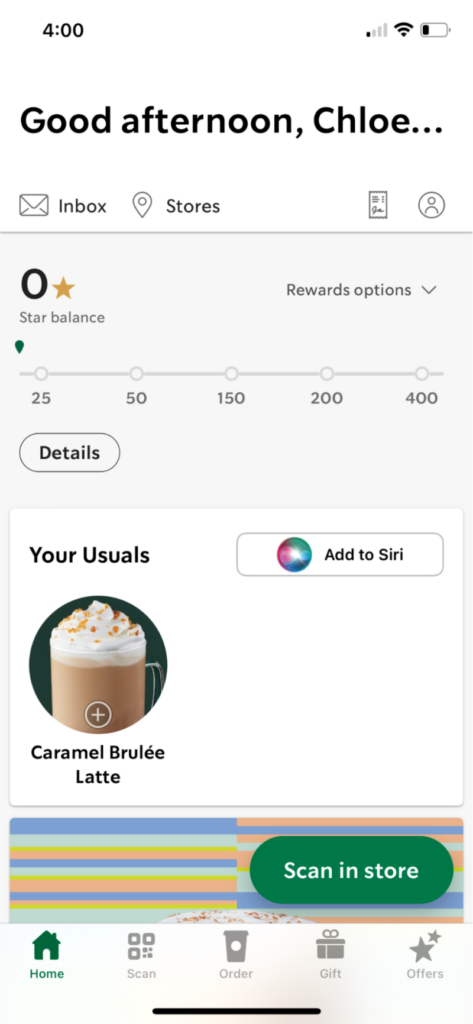 Customers are able to monitor the number of Stars they have, find out how to get more Stars, and discover how to spend or redeem their Stars.
Because the average person is spending at least 3 hours on their smartphone each day (and 20% of consumers spend 4+ hours/day), having an easily accessible mobile app can increase customer engagement, sales, and customer loyalty.
---
6. Flexibility
The next customer loyalty trend for 2023 involves flexibility. As in, your customers want to have the ability to be flexible in the items they redeem their rewards for. Loyalty programs that only let customers redeem their rewards for very specific items are going to lose loyal customers.
Instead, embrace flexibility.
Flexibility in how customers earn rewards and flexibility in how customers spend rewards. You don't want to limit customers in only allowing specific products be part of the loyalty program—instead, allow customer to earn rewards for any purchase they make. You can always make certain purchases worth more points than others as an incentive.
The North Face has a great example of a rewards program with a ton of flexibility, especially when it comes to how members can generate points. As you can see from their rewards landing pages, customers get rewards from every purchase.
Customers are able to join the rewards program, dubbed XPLR Pass, completely for free, then receive 1 point for every $1 dollar spent. After they've accrued 100 points, they get a free $10 reward to put towards any purchase.
This means there are no parameters around specific products that are eligible for the program, helping customers be as flexible as they want with their favorite products. Plus, The North Face has added even more ways for members to receive points, from referring a friend to visiting various areas in the world to downloading their mobile app.
Increase your customer base by offering just as much (or more) flexibility in your own loyalty program. Your customers will appreciate not being hindered by product eligibility and limited rewards.
---
7. Premium Loyalty Programs
A premium loyalty program is one that customers have to pay to be a part of. There are pros and cons to this type of loyalty program, but one of the biggest pros is that it denotes actual loyalty. These programs provide benefits to consumers right away—rather than a customer having to wait until they've accrued enough points to make use of them.
This means that only consumers who are actually loyal and passionate about a brand and its products or services are going to sign up for a premium loyalty program. It also means recurring revenue for your business from your loyal customers.
The Barnes & Noble membership is a great example of a successful premium loyalty program that has been in existence for years. For an annual fee of $25, members are able to get discounts on products, free shipping on online orders, members' only offers, and more.
This annual fee is more than worth it for loyal customers who regularly shop at Barnes & Nobles. And having that recurring revenue is more than worth it to generate a group of customers that are going to come back for purchases—and make sure that Barnes & Nobles is always their bookstore of choice.
Amazon Prime is another example of a premium loyalty program. Interested Amazon customers can pay $14.99/month or $139/year to get free, two-day (or sometimes less) shipping, access to Amazon Prime Video, and several other perks.
Look into ways that your brand can take advantage of a premium loyalty program and offer redeemable rewards immediately upon sign-up. Free shipping, exclusive access to products, and consistent discounts are all perks that can make a premium loyalty program worth the annual fee.
---
Implement These Customer Loyalty Trends in 2023
Improve your overall customer loyalty and retention in 2023. Get started with your own loyalty program if you haven't yet—and be sure to check out our roundup of the top loyalty integrations to further cement your brand as a favorite.
Frequently Asked Questions
What is customer loyalty?
Customer loyalty refers to the probability that a customer will come back and make another purchase from your business. However, it can also refer to the likelihood that a customer will refer your business to others and become a sort of advocate for your brand as well.
What are the three R's of customer loyalty?
The three R's of customer loyalty help measure and point you to the road of success when it comes to your customer loyalty strategy and program. They are:
Rewards

Relevance

Recognition
What is the KPI for customer loyalty?
The main KPI for customer loyalty is called customer lifetime value (CLV). This is the measurement of a customer's estimated full value to your brand from their first to their final purchase.
What are the main types of customer loyalty programs?
There are four main types of customer loyalty programs. They are:
Tiered loyalty programs

Subscription-based loyalty programs

Value-based loyalty programs

Points-based loyalty programs
What increases customer loyalty?
You can increase customer loyalty in a few different ways. One of the most popular methods is to create a customer loyalty program. Other tactics include gathering and implementing changes based on customer feedback, creating exclusive offers, sharing discount codes and sales, and more.