What's in a logo? Well, a lot.
It can help boost brand recognition, improve credibility, and build trust. A well-designed logo can communicate to your target audience what your brand is about and convey its unique personality that sets it apart from its competitors.
If you don't have a logo yet, you're probably finding yourself at that crossroads as you need one before you can move on to most of the major tasks like creating a website, designing your email signature, setting up social media business accounts, and printing business cards.
If you do already have one, perhaps it no longer matches your brand's image? After all, logos do need some TLC from time to time. It doesn't have to be a complete redesign, but it's good practice to refresh your logo from time to time.
An outdated logo can easily signal to consumers that your business is also out of touch with current practices and advances in technology. Don't get us wrong, it doesn't have to be what's currently trending. As a matter of fact, we advise against that as trends change too quickly.
The good news is that you don't necessarily need to hire a professional logo designer for the job. The internet is a great source of inspiration and there are many tools that you can use as an alternative to more expensive editing software. To help you tackle this exciting part of building a brand identity, we've summarized the logo design process in five steps. We've also included five free tools that you can use to design a logo on your own.
---
Your 5-step Guide to Designing a Logo (+ 5 Free Logo Tools):
---
How to Design a Logo in Five Steps
---
Step 1: Describe the Brand
Before you can doodle away, you first need to have clarity about the business. You need to understand its values, goals, target audience, brand personality, main competitors, etc. In short, you want to get enough background and context to understand the business better.
During this step of the process, you can also give thought to the feel and look you're going for. If you're designing someone else's logo, now would be a good time to list special requests and essential elements.
At the end of the day, the logo will play a crucial role in forming the identity of the brand. The information that you collect during this step will guide the rest of the logo design process. If you skim over this step, you'll only draw out the rest of the process and make it more difficult than it has to be.
---
Step 2: Research
Don't be fooled by the description of this step for this bit can actually be exciting. Now, you can turn your focus away from the business and start to look for examples of great design.
Google design typography. Google color psychology. Google the most iconic logos of all time.
In short, you want to learn more about design principles and find as many sources of inspiration as possible. While it's helpful to look at logo trends and design in general, you'll also want to turn your attention to the logos of direct competitors and other businesses in your niche.
To make sense of all this information that you've collected during this step and connect it back to the business, you can, for example, make a mood board. This way, you'll be able to communicate the ideas you had in mind for your logo in a more concrete way. You can do this digitally or by making a hard copy.
Also, if it becomes clear that you have more than one distinct style in mind, there's nothing stopping you from creating more than one mood board. In fact, it might be better to create individual mood boards for completely different logo design directions.
---
Step 3: Design
You can now finally get out a drawing pad and open up your app. Using what you've learned in the previous step, you can begin to play around with a few possible design options.
Even though you'll at the end need a digital version of your logo, it's still a good idea to start with pencil and paper. The goal isn't to draw perfect logos – you just want to get a few rough drawings.
While Adobe Illustrator is the go-to design software for designing logos, it does have a learning curve. It's also pricey. So, be sure to check out logo generator tools and logo maker apps. Most of these online tools are easy to use and several of them are actually free.
---
Step 4: Revise and Decide
You probably have a few possible custom logos now. Instead of simply using the eeny-meeny-miny-moe approach, you'll assess each design for simplicity and memorability.
It's also important to keep in mind where you'll mostly use the logo. Some designs don't work once they're converted to small thumbnails. Also, check that the design works well in black and white too. For instance, if your logo appears in the header of a newsletter, it will probably appear in printed material and that material won't always get printed in color.
---
Step 5: Update the Style Guide
If you've learned anything about branding by now, it's probably that consistency is crucial. At the end of the day, you want to ensure that your brand's identity remains intact. If you have logo variations in all shapes and sizes, it can confuse your target audience.
So, be sure to write down a list of guidelines for how the logo may and may not be used. For example, should it be placed against only a white background? May a tagline be added to it? Generally, you'll want to include guidelines about its color, size, orientation, and positioning and which modifications (if any) are allowed.
You can include this information in your brand's style guide. If you don't have a style guide yet, add this as Step 6. In short, a brand style guide is a document that has all the key info about your branding like the story behind your brand, color palettes, typography, how to use your brand voice, etc.
5 Free Tools for Designing Logos


Ucraft's Logo Maker breaks down the logo design process into three steps by focusing on icons, text, and shapes. Unlike many of the other online logo maker tools, it doesn't first ask you a series of questions about your business to generate a few potential logos. Instead, after you've clicked on "Make Your Own Logo", you'll immediately be redirected to a blank canvas. To your left, you'll see three buttons: icons, text, and shapes.
While it offers more than 1 million royalty-free icons, it strangely enough only includes three shapes (and you've most likely guessed what they are - a triangle, square, and circle). So, rather than running the risk of being square, it's better that you stick to icons. You can either scroll down the list of icons or use the search bar at the top to refine your search.
One con is that the search feature is pretty rudimentary. So, you have to stick to basic descriptions as opposed to abstract terms. Plus, as the icons also include shapes, you can skip the shapes section altogether. In fact, you'll find a bigger selection of triangles under its Icons than under its Shapes.
If you want to add text, you simply click on the Text icon and you'll be able to enter your own custom text, select the color, font type, and size. It offers about only 10 different fonts, but you can add new fonts with the help of Google Fonts.
While you'll need to have more or less an idea of what you want to create, you don't need to have any design skills. It uses a straightforward drag-and-drop tool which makes it easy to add, remove, or rearrange the different design elements.
Pricing: It's free to use, but just take note that to be able to download your creation, you'll need to sign in. And, for this, you'll need to part with your email address. Also, you'll have to pay $7 if you would like to download it as a scalable vector file.
---


Canva is one of our go-to tools and for very good reasons. Not only is it intuitive to use, but it offers a wide variety of templates. From infographics to LinkedIn banner art to birthday invites, you can use it to design virtually anything. So, it should come as no surprise that it also offers logo templates.
Unlike Ucraft where you need to design your logo from scratch, Canva offers professionally made logo templates that you can then just customize to create your own. To help you narrow down your search, it lets you filter its templates by category, color, or both. It includes categories for all the standard industries like fashion, beauty, education, sports, design, law, real estate, food and drink. So, you're bound to find something that you can adjust to fit your branding. Plus, once you select a template, it also includes a list of similar logo designs that you might like.
Once you've found a template that you can work with, it will offer you a few variations without you having to lift a finger at all. If none of these variations are perfect yet, you can use its intuitive drag-and-drop editor to edit elements like color, font, size, and layout. Alternatively, you can also just use its elements and start your own logo from scratch.
Pricing: It offers almost 2,000 free logo templates that you can customize. To unlock the other templates and be able to download the logo as a SVG file, you need to sign up for its Pro plan at $12.99 per month.
---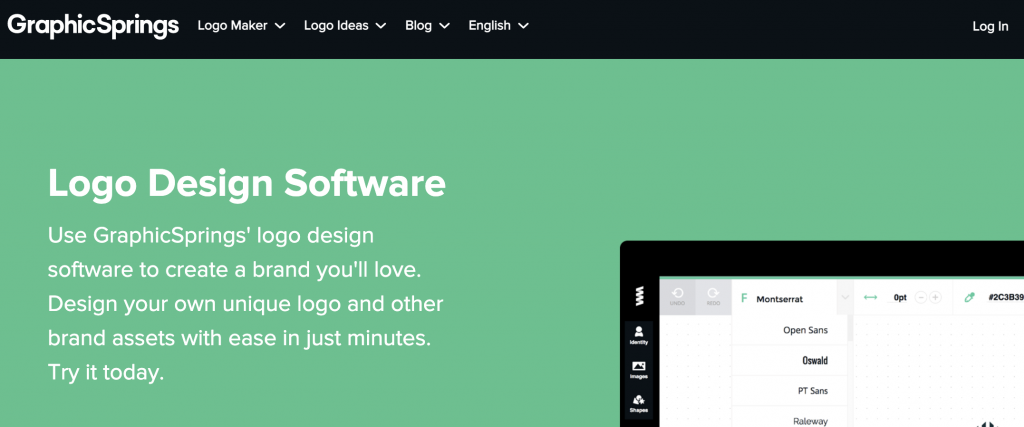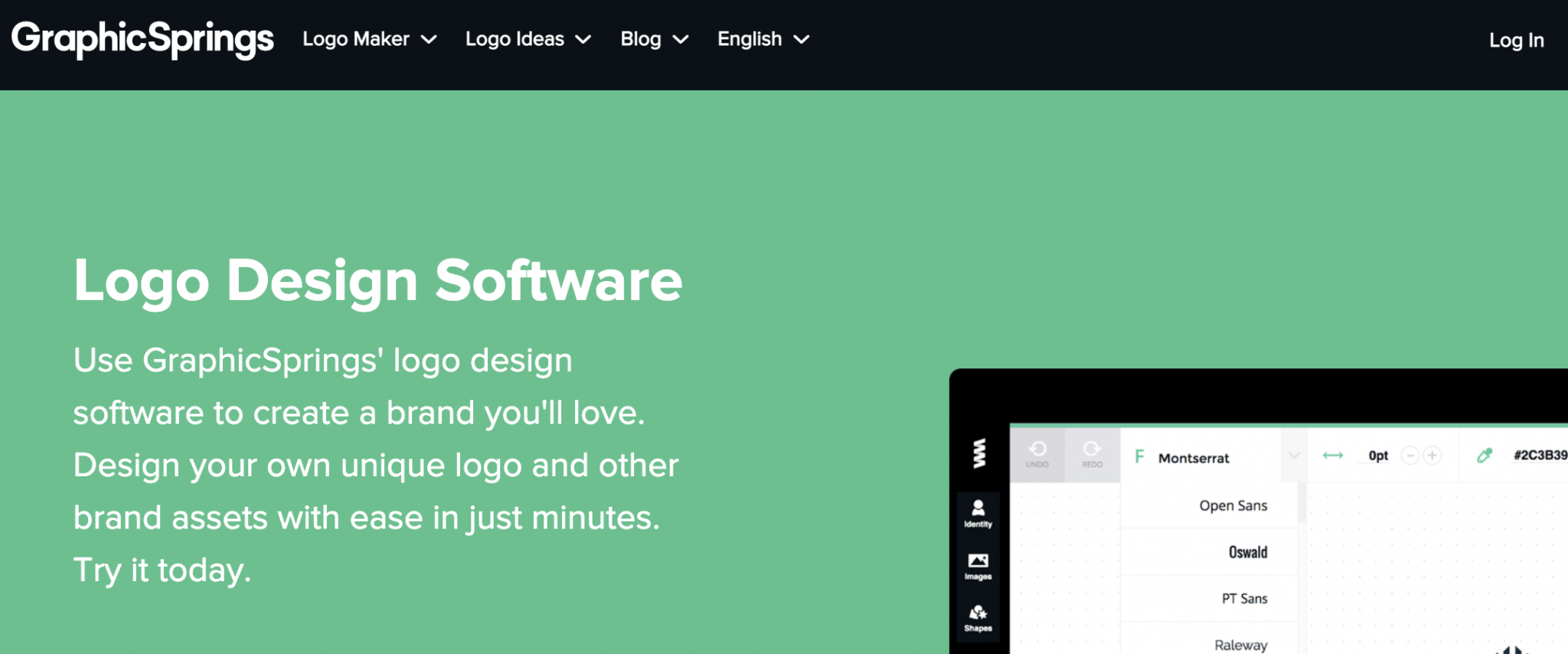 GraphicSprings is another free logo maker that provides a basic do-it-yourself logo design solution to businesses and personal brands. As you don't need any design skills, it doesn't require much time to get a fairly decent logo.
The first step is to enter the name of your business (and tagline if you have one). Next, you'll be asked to pick one of the 40 image categories. Most of these categories relate to a specific industry, but it also includes a letter-based category and staff favorites for if you have a very specific style in mind or have no idea where to start.
The platform will now automatically generate logos for you. Though, by "logos" they actually mean only images. Only after you click on a specific image will you see your business name that's been added as an afterthought. This is probably our biggest issue with GraphicSprings. Unlike Canva, there seems to be no true integration between the image and business name. Canva, at least, tries to play around a bit when it comes to layout.
That being said, after you've selected an image, you are free to edit the text or graphic. Plus, a redeeming factor is that by double-clicking, you can edit specific elements of the graphic.
Pricing: To be able to download your logo as a high-resolution JPG file, you'll need to pay $19.99.
---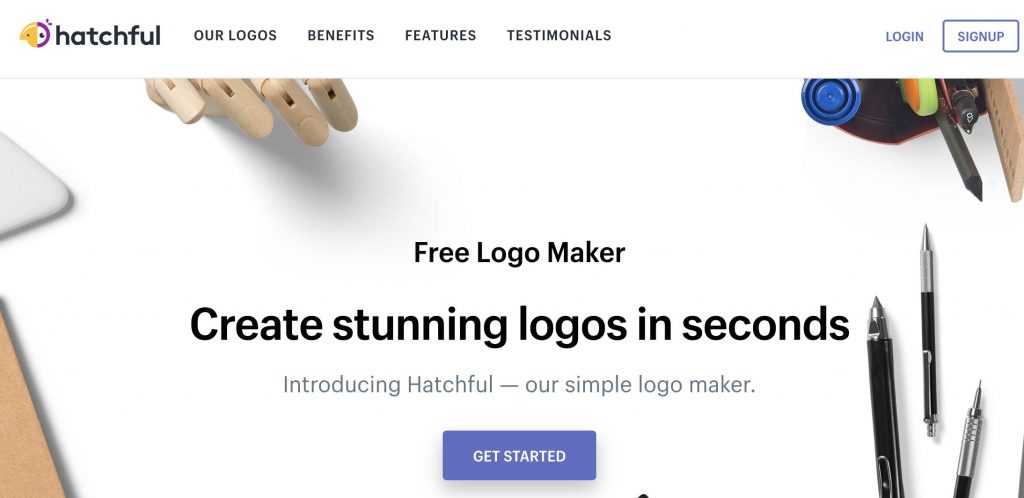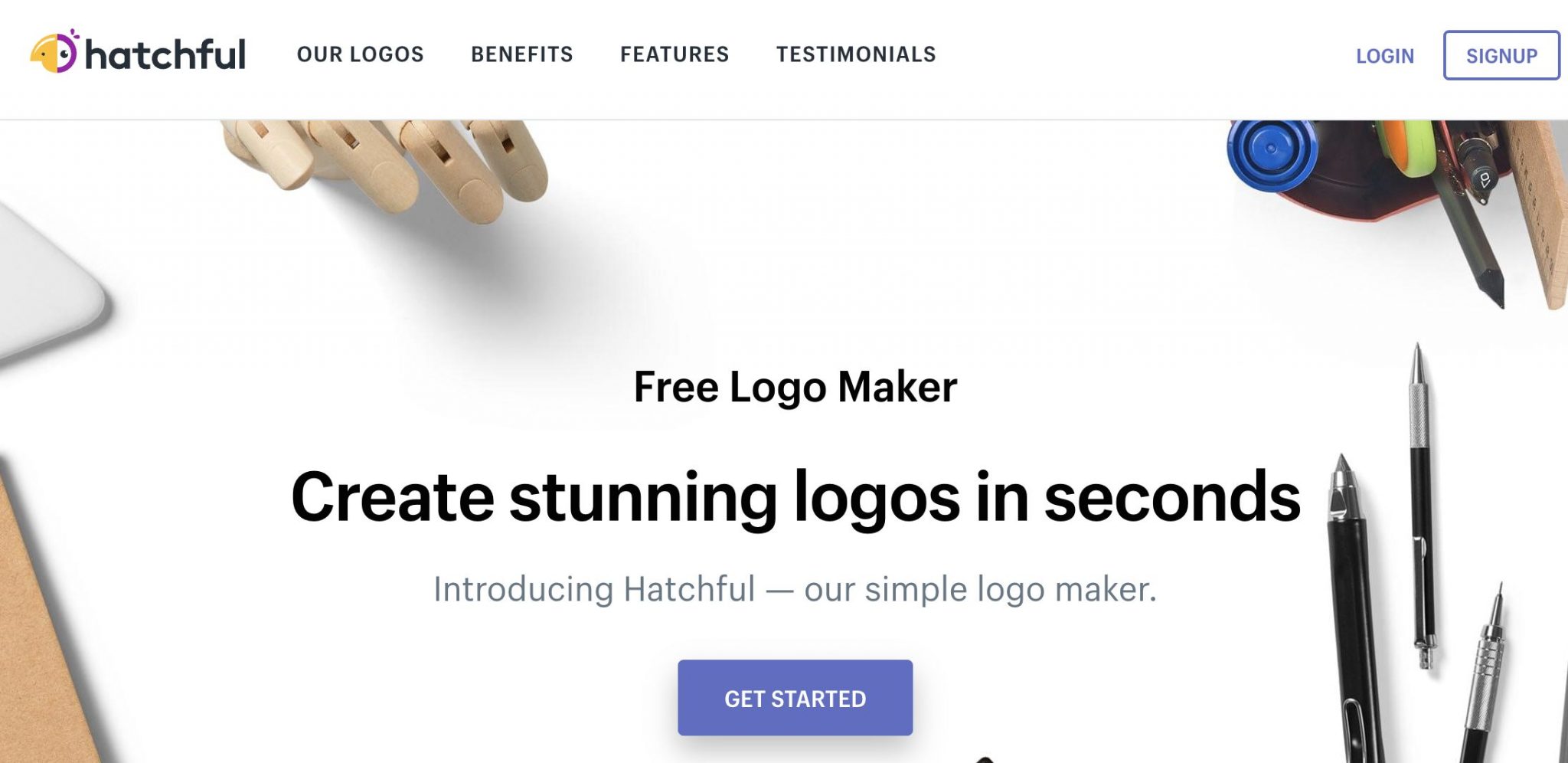 Hatchful is a free logo maker that was created by Shopify. To get started, you'll be asked to select your industry from a list of 12 categories. Next, you'll be prompted to select your visual style. From vintage to futuristic, it offers a decent selection of styles (16 in total to be exact). Only after you've provided this information will you be asked to share the name of your business and its slogan.
Once you've provided all this information, you'll be presented with a couple of logos. When we tried it out, our logos included a confusing array of graphics. From aeroplanes to beehives to light bulbs to lighthouses. Yes, there was even one with a syringe. Without opening an hornet's nest about how they curate the images, these templates do offer valuable ideas for layout and color combos. Though, it just makes us wonder, what's the use of answering all those questions in the first place.
In any case, once you've selected a template, you can edit the fonts, colors, layout, and icons. So, if you love a layout, but hate the random graphic, you can select your own graphic from its huge collection.
One of the most impressive features of Hatchful that will make us look past the image curation is its downloadable logo package. Included in all its logo packages are a favicon and profile image for Facebook, Instagram, Twitter, Pinterest, LinkedIn, and YouTube. What's more, it will even include a Facebook cover photo, Twitter banners, and LinkedIn profile banners.
Pricing: You need to create a free account to be able to save your logo and download the logo package.
---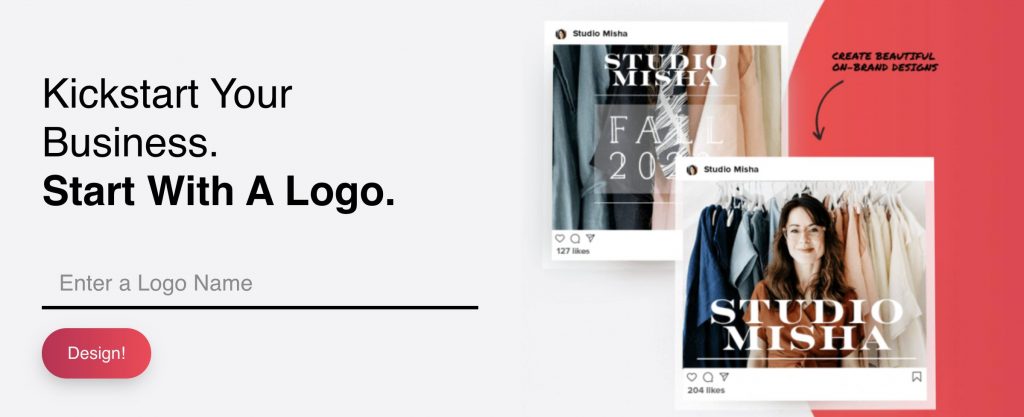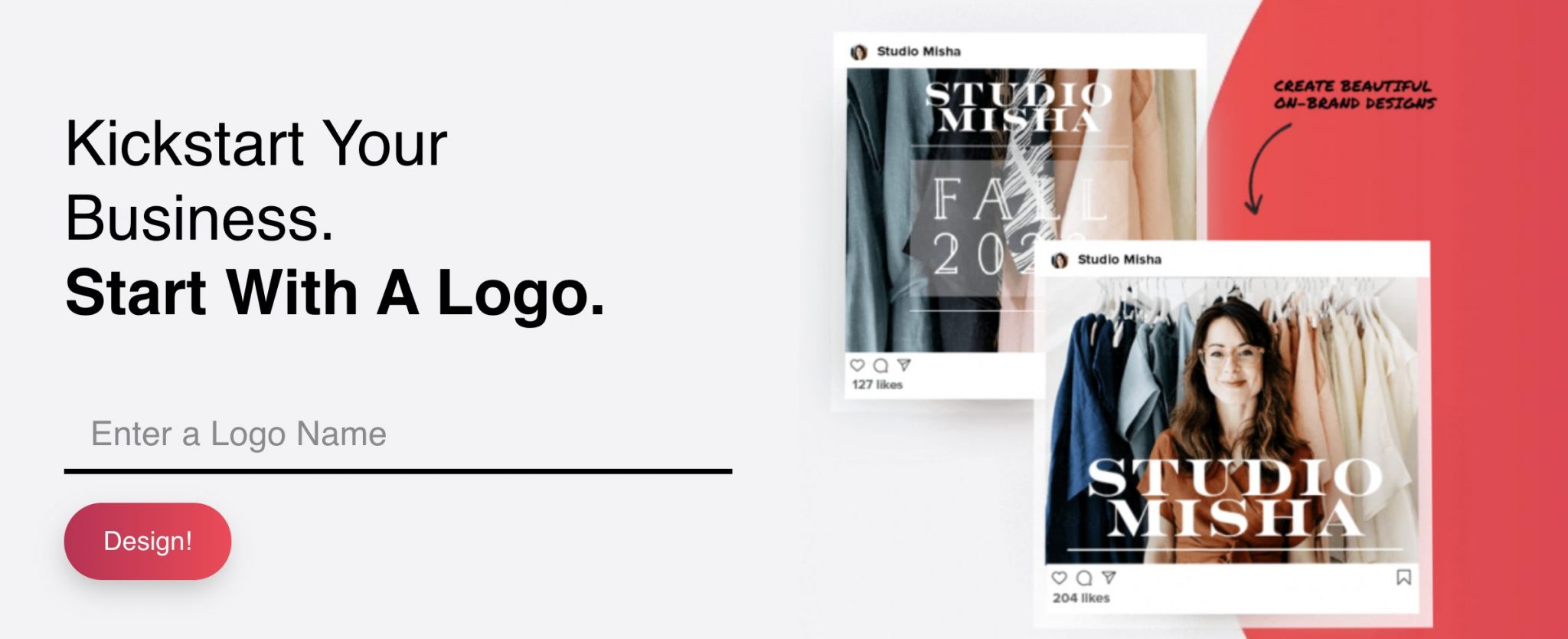 Ironically, the logo of Tailor Brands doesn't say a lot. However, their own choice of logo shouldn't be confused with what their platform can create.
It takes the same approach as GraphicSprings – starting with your business name. After you've entered this, you'll be asked to select your offering. There are five categories: physical goods, services, leisure and hospitality, original content, and software. If none of these accurately describe your products or services, it gives you the option to describe your offering in a sentence or two. Next, you'll be prompted to enter your industry.
One of the most attractive features of Tailor Brands is that it gives you the opportunity to select between an icon-based or name-based logo. If you've opted for an icon-type logo, you can either select a geometric shape or search for a symbol. Though, here's the frustrating bit, similarly to Hatchful, the graphics that they end up suggesting don't necessarily have anything to do with the company's offering.
Another frustrating aspect is that you first need to sign up for free to be able to see your logo options. The other tools at least give you a sneak peek before you have to share your email address. Also, it's only after creating your account that you can customize the logo further.
Pricing: You need to create a free account to be able to see and customize your logo. If you want to download it, you'll need to sign up for its Basic plan that costs $9.99 per month.
---
Wrapping Things Up
Creating a logo calls for a strategic approach. Initially, you'll do more research than designing. This is normal. After all, when you're crafting a logo, you need to ensure that it fits in with the overall branding of the business. For this reason, continuously check if your decisions make sense for the brand as a whole and not just for the logo itself.
Also, not every graphic designer will follow this five-step approach. It's merely a guideline for the different phases that you'll need to go through as you create your custom logo. While these free logo design tools that we've included will be able to whip up a logo in a matter of minutes, be prepared to put in hours of preparation to make the most of these tools. If not, the chances are good that you'll end up scrolling through a list of icons for what feels like forever.
Frequently Asked Questions
Why do I need a logo?
The short answer – brands are recognized by their logos and can help to improve brand recognition. A logo helps with brand legitimacy and credibility and can help you to build trust as you promote your business. The right logo also signals to potential and existing customers exactly what your brand is about. Through the use of colors, fonts, and symbols, a logo becomes an important part of your brand's identity, conveying your brand's unique personality, and helping your brand to stand out from your competitors.
How do you pick a color for your logo?
When selecting a color for your logo, it's better that you start off your logo design in black and white as you want the logo to be what people remember and not the color. You can then select a color palette that will set you apart from your competitors. Ideally, you don't want to use the same tired color combos that everyone else in your industry uses. Lastly, also consider where your logo will be displayed. Some colors don't look the same between print and online materials.
What's the difference between wordmark and lettermark logos?
Wordmark logos are text-only logos. This type of logo is the most common and includes just your brand name in a font that matches your brand identity. All visual elements form part of the words. Google, Canon, and Coca-Cola are just a few of the brands that use this logo type. Lettermark logos include just the initials of a brand name. If your business name is long, you might want to use a lettermark logo like UPS, or HBO.
Do you need Adobe Illustrator to design a logo?
No, you don't have to use Adobe Illustrator. While it's the leading vector editing software solution, it's expensive and comes with a learning curve. There are many logo tools available online that you can use to design basic, but effective, logos. As a matter of fact, many of them are free. You can, for example, check out:
- Hatchful (by Shopify)
- Canva
- Tailor Brands
- Designhill Logo Maker
- GraphicSprings
- Ucraft
- Logaster
Do you need design experience to create a business logo?
You don't necessarily need any prior design experience. What you do need is a general overview of your business, its target audience, vision, brand identity, etc. Next, you can look for sources of inspiration online. Armed with this knowledge, you can now use one of the many logo maker apps and generators available for free to come up with a few possible designs.