Advertising Disclosure
Advertising disclosure:
Our partners compensate us. This may influence which products or services we review (also where and how those products appear on the site), this in no way affects our recommendations or the advice we offer. Our reviews are based on years of experience and countless hours of research. Our partners cannot pay us to guarantee favorable reviews of their products or services.
As the wave of digital evolution continues to reshape our reality, it's clear that artificial intelligence (AI) is playing an instrumental role in redefining the parameters of various sectors and industries. The true power of AI lies in its ability to imbue processes with an enhanced level of automation, amplifying efficiencies and supplementing tasks that were once exclusively dependent on human expertise.
Among these tasks is the art of logo design - the creation of a unique visual emblem that encapsulates a company's values, mission, and unique offerings. It is an intricate process, combining creative talent with strategic thinking. But the AI Logo Generator software, an advanced tool based on machine learning, introduces a new level of automation, streamlining, and creativity to this pivotal marketing function.
---
Top AI Logo Generators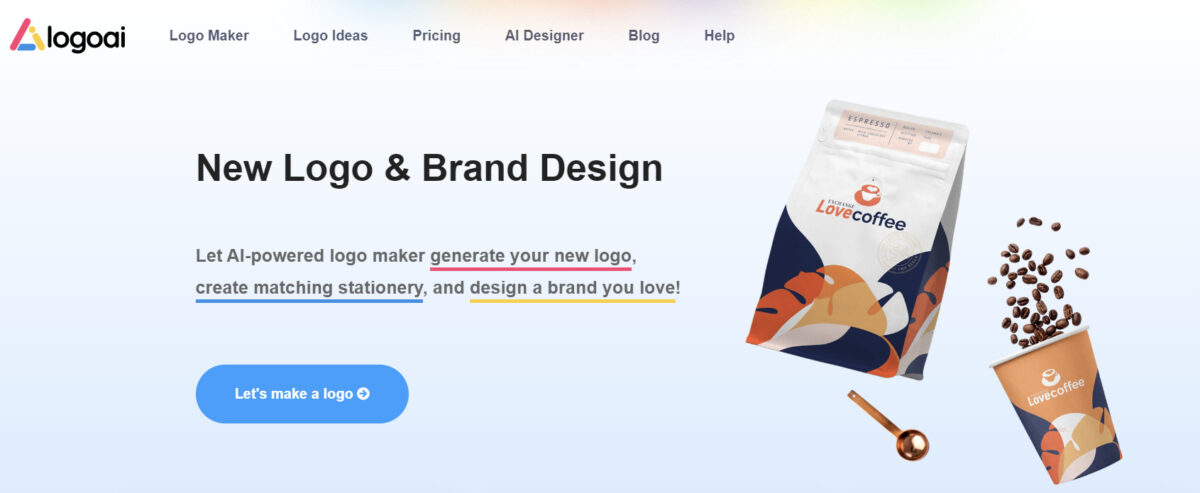 LogoAI is a revolutionary AI logo maker that simplifies the logo design process, making it faster, easier, and more efficient. With its smart AI engine, it combines logo data and design best practices to produce visually appealing and professional logos that accurately represent your brand.
The uniqueness of LogoAI lies in its innovative approach to logo design. Unlike many other tools that rely heavily on fixed templates, LogoAI creates new and unique designs for every customer, providing an elevated level of personalization. This ensures that your logo is distinctive and aligns perfectly with your brand identity.
LogoAI streamlines the logo creation process into three easy steps. First, enter your logo name and design preferences to generate a myriad of design possibilities. Next, choose your preferred design and edit logo layouts, change logo fonts and symbols, and try out different logo color combinations until you find the perfect match. Finally, download your logo design package, which includes high-resolution JPG, transparent PNG, PDF, and vector source files, comparable to the output from a personal designer.
Pricing: LogoAI offers a variety of plans, with pricing starting from as low as $29 per month.
---
Logo's AI-powered logo maker is an ideal choice for businesses seeking to create an outstanding logo for an artificial intelligence machine. It provides a fast and comprehensive solution to design a professional AI logo, offering customization options that allow for precise alignment with your vision.
Logo's AI maker online helps you create AI logo designs in just a few minutes, even if you have no logo design experience. The logos produced represent intelligence, sophistication, and innovation, and are perfect for businesses in the artificial intelligence field.
The process of creating an AI logo with Logo is straightforward. First, provide your company name, slogan, and genre of business. Then, preview the generated AI logo designs and select your favourite. Finally, customize your logo with different fonts, colours, and emblem selections to fit perfectly with your current and future branding.
Pricing: Logo offers a free option, while the brand plan starts at $10 per month.
---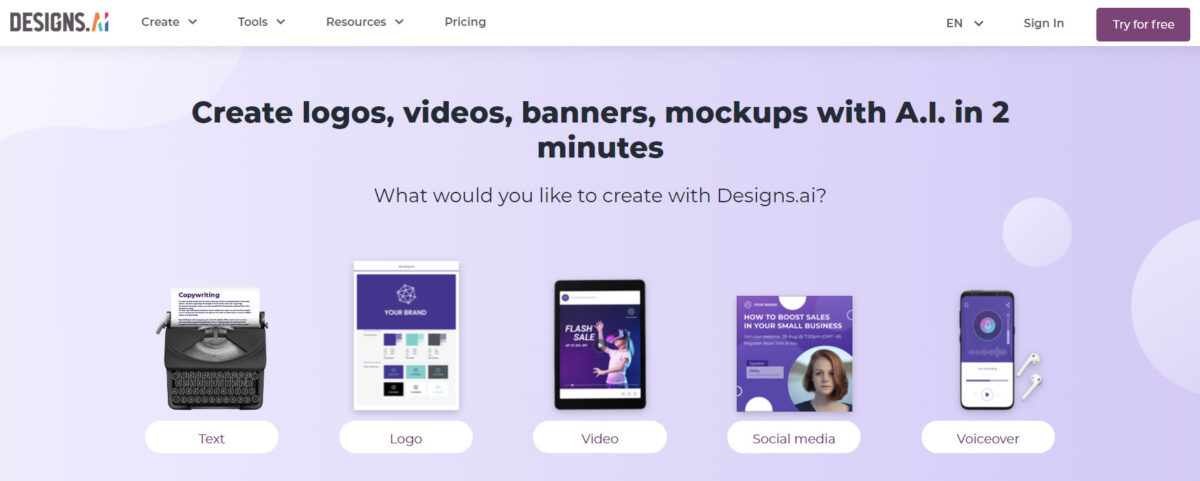 When it comes to efficient and effective logo generation, Designs.ai should be your go-to option. The platform relies heavily on advanced AI technology to analyze your brand information and quickly produce thousands of unique logos, providing a powerful brand identity in no time. This isn't just a logo maker – it's a comprehensive brand builder with the ability to generate full brand collateral packages instantly.
One standout feature is its smart, intuitive logo editor which is entirely browser-based, eliminating the need for any external software installation. With its real-time logo changes and step-by-step creation guide, designing a logo becomes an effortless task, saving your time, cost, and effort.
Designs.ai targets a wide range of users – from influencers, small businesses, startups, educators, to enterprises and government agencies. It provides custom services and features to each user type, allowing for more personalized and effective logo generation.
Pricing: Basic Plan goes for $29 per month, offering quick, easy project solutions for individuals, students, and marketers. The Pro Plan is $69 per month and is the most popular option among users. For businesses seeking tailored solutions, they also provide customized Enterprise plans.
---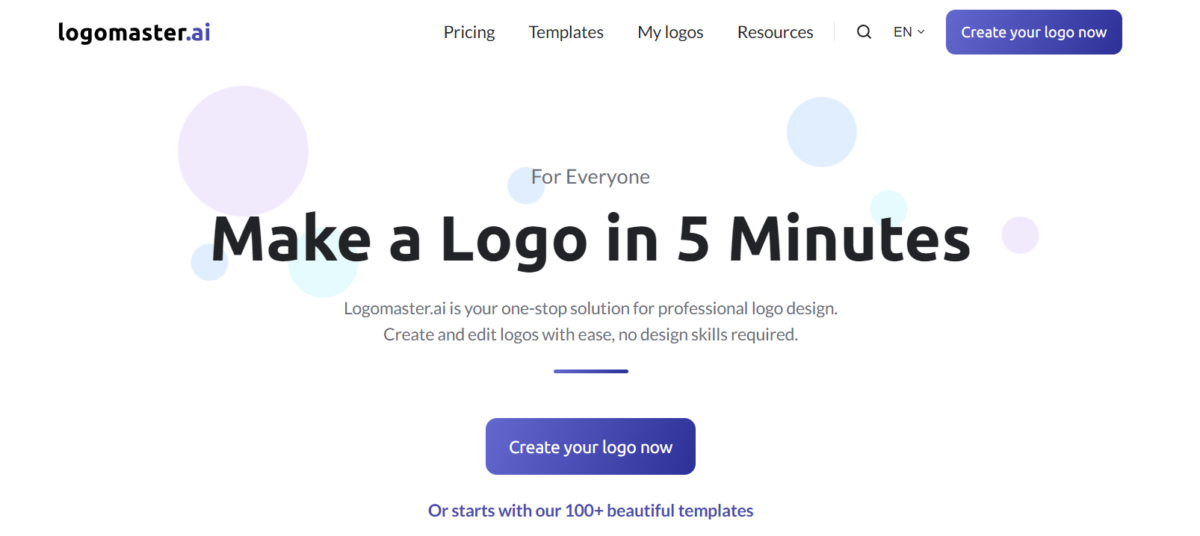 A professional logo in just five minutes sounds unreal, but Logomaster.ai makes it possible. This AI-powered platform simplifies the process of logo creation, making it accessible even to those without any design skills. You can either start from scratch or choose from 100+ beautiful templates to kick start your logo design.
One of the most notable features of Logomaster.ai is its AI-driven logo generation process, which provides you with proposals based on your industry and style preferences. You can review these AI-produced proposals, customize your selected logo, and then download it in high-quality files.
Logomaster.ai is not only easy to use but also budget-friendly. It's positioned as a '10x budget saver' compared to hiring a designer, with the additional benefit of control over the final result. Plus, it offers royalty-free logos that you can use for any commercial or non-commercial purpose.
The platform also caters to the needs of various industries and offers extensive flexibility in logo design. It provides web-ready and print-ready files, and permits unlimited changes to your logo design, making it an excellent tool for creating adaptable brand identities.
Pricing: Logomaster.ai offers a range of one-time fee plans. The Basic Plan is available at a one-time fee of $29, Premium at $69, and for larger organizations, the Enterprise Plan comes at a one-time cost of $109.
---

If you are seeking an AI logo generator that offers both speed and customization, Fotor is a solid choice. This AI Logo Generator lets you input your business information, after which it generates a range of free logo designs tailor-made for your enterprise. Its intelligent logo-making capabilities help you create logos faster than ever, with a design process that takes less than a minute.
Fotor stands out with its preset logo editor that allows you to personalize AI-generated logos down to the smallest detail. From fonts to style, every element is customizable to meet your brand requirements. Its impressive capability to generate unique logos using its random logo generator ensures your brand stands out from the competition.
Another striking feature is the practical application of the generated logos. Once satisfied, you can download your AI-crafted logos and apply them across various mediums, from social media platforms to product packaging, enhancing brand recognition.
Fotor also caters to different types of businesses, offering a variety of AI-generated logos from gaming logos, business logos to Youtube logos, and more. It simplifies the logo creation process, providing a step-by-step guide to create the perfect logo using its AI Logo Creator.
Pricing: Fotor offers a free version, and its paid versions start at $3.33 per month for Fotor Pro and $7.49 per month for Fotor Pro+.
---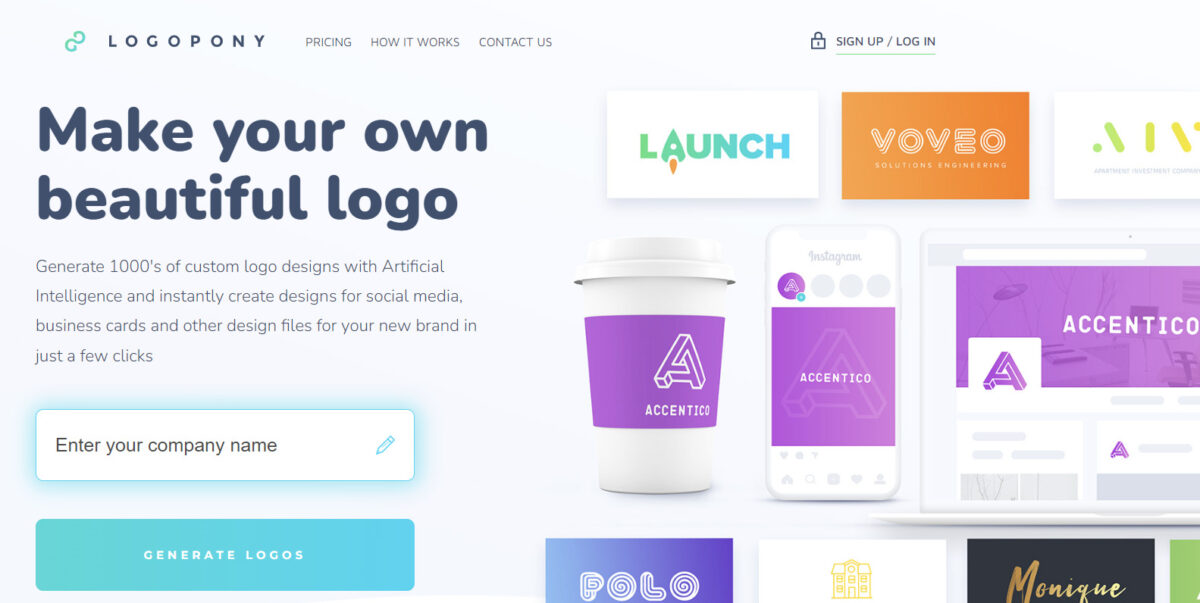 Logopony provides a comprehensive AI-driven solution for crafting timeless, professional logos. It allows you to generate thousands of custom logos effortlessly and offers an intuitive logo editor for tweaking every detail of your chosen design until it's perfect. Its AI algorithms focus on creating timeless, minimal designs that ensure longevity.
What sets Logopony apart is its complete branding package. After finishing your logo, you can instantly download all logo assets in various colors and sizes, ready to be used across platforms like social networks, emails, web, and even for printing on business cards or t-shirts.
In addition, it provides ready-to-use logo files for different applications like websites, business cards, social media, apps, t-shirts, packaging, stationery, and stickers. It also recommends printing partners for all your printing needs.
Logopony simplifies the logo creation process with its AI and Machine Learning capabilities, which generate creative and distinct logo ideas. It uses hundreds of premium fonts, icons, colors, and details in the process, ensuring a unique and personalized logo for your brand.
Pricing: Logopony offers a Basic plan for $20 which includes one logo and a Premium plan for $60 that offers 50 logos.
---

Tailor Brands, a premier AI-driven logo maker, provides a comprehensive toolkit for small business owners and individuals to craft unique logo designs effortlessly. It uses AI to customize logos in accordance with your specific business needs and brand personality, no previous design skills required.
The logo creator is built around a simple 6-step process: you provide your business details and preferences such as company name, type of business, preferred logo style, and favorite fonts. The AI then generates a selection of logos in under a minute. These logos are fully customizable, allowing for changes in fonts, icons, and colors.
An advantage of Tailor Brands is its comprehensive suite of logo resources. Once you've created a logo, you have access to hundreds of design variations and high-resolution logo files (Vector EPS, SVG, and PNG), which you can use across various platforms. Social media-ready formats are also provided, eliminating the need for a resize tool.
Beyond the logo, Tailor Brands' AI tool creates a brand book, branded letterheads, seasonal logos, business cards, and more to ensure a professional look for your business. It also offers a range of additional business tools, including website creation and digital business cards.
All Tailor Brands logos are unique, designed by an AI algorithm to perfectly match your business and brand identity. With the company's track record, it has become a preferred choice for millions of businesses, delivering beautiful logos that match current design trends.
Pricing: Users can create a logo for free and download a low-resolution version, while access to a high-res Vector file requires payment. Pricing plans start from $9.99/month.
---

Designhill's Free Logo Maker utilizes AI technology to assist businesses in creating professional logos with zero design skills required. This tool is capable of generating hundreds of logo designs based on your business name, logo style preferences, and chosen color, icon, and symbol themes.
The logo creator offers pre-created templates for quick logo generation. Once you have a design you love, you can easily personalize it using the logo editor, modifying elements to suit your liking.
Upon satisfaction, you can select a package and download your logo in the file format that best fits your needs. The downloaded logo is ready for use across all your marketing channels.
Designhill prides itself on offering an extensive library of premium fonts, icons, and graphics. The AI tool constantly learns which design elements work well together, enhancing its performance with each use. You can also use the tool to create animated logos, giving your brand a dynamic edge.
Designhill's logo creator extends beyond simply creating a logo. It offers print-ready designs, full ownership of downloaded logos, 24/7 customer support, and a brand guideline document that includes font names and color information. Logos are available in colored and transparent backgrounds as well as black & white versions.
With Designhill's Logo Maker, you can generate unlimited logo ideas for free and only pay when you find a logo you want to download. You can also save your designs and come back to them at any time, allowing for a flexible design process.
This DIY logo maker saves you time and money, and no design skill is required to use it. It is trusted by over 10 million business owners worldwide and has received excellent customer reviews.
Pricing: Plans start from $249.
---

For those in search of an AI logo creator that combines simplicity, versatility, and power, DesignEvo has got you covered. Touted as a perfect fit for both beginners and experts, this tool is powered by AI to offer an extensive selection of over 10,000 templates. It provides users with a wealth of creative ideas to start designing a logo, whether you're in the field of artificial intelligence or not.
Noteworthy is the vast pool of resources available, including millions of vector icons, stylish fonts, and powerful editing tools. Whether you're looking to use popular AI imagery like brains and circuit icons, or want to be unique with your design, DesignEvo helps you to personalize your logo to match your brand's aesthetic and vision.
The process of creating your logo is straightforward and quick, with three easy steps: Choose a template, customize your logo with icons and fonts, and save your high-resolution logo. You have the freedom to explore and tweak until you are content with your final design.
Beyond the AI-based logo creation, DesignEvo also has great reviews from industry experts. For instance, CNET praises it for being resourceful and abundant in text fonts, shapes, and searchable icons.
Pricing: For those on a budget, DesignEvo allows you to create a logo for free. For users who want to unlock more features, DesignEvo offers the BASIC package at $24.99 USD and the PLUS package at $49.99 USD.
---

Looka stands out as a personal designer powered by artificial intelligence, offering a dynamic platform to create a logo and build a brand you love. The AI at the core of Looka ensures that the logo generated will reflect your vision and avoid looking generic.
Looka offers a comprehensive branding solution, not just logo design. After finalizing your logo, Looka's Brand Kit enables you to apply your logo, colors, and fonts across a range of branded marketing materials such as business cards, social profiles, email signatures, and more.
Furthermore, Looka provides a ready-to-go version of your logo for various social media platforms. It offers 20 professional-quality design templates as starting points for your business card designs, and you can customize your profile and cover photos for platforms like YouTube, Twitter, and Facebook.
The AI is intuitive, allowing users to generate hundreds of custom logo mockups. Users can alter colors, symbols, sizing and more with Looka's easy-to-use editor. On purchase, you receive over 15+ high-resolution logo file types including SVG, PNG, EPS & PDF in black & white, color, and transparent background variations.
Pricing: Looka offers its comprehensive services starting from $96 per year, ensuring your brand appears professional and consistent across all mediums.
---
Wrapping Things Up
By harnessing this technological marvel, businesses can now reap the dual benefits of time and resource efficiency, while still producing high-caliber results. The potent combination of AI and design means logos can be generated in less time and with less effort, without compromising on their essential role in branding and identity formation. The innovation brought forth by AI Logo Generators is indeed a game-changer, offering a modern, effective approach to the timeless task of logo creation.
Frequently Asked Questions
Can I customize the logo created by the AI?
Absolutely. AI Logo Generators like DesignEvo and Looka allow you to customize the AI-generated logo to suit your brand's unique needs. You can tweak the color, font, icon, and size among other elements until you achieve your desired design.
Are logos generated by AI Logo Generators unique?
AI Logo Generators have been developed to produce a wide range of design options based on your unique inputs. However, it's always a good idea to double-check your final logo for uniqueness to avoid potential copyright issues.
Can I use my AI-generated logo across different mediums?
Yes, AI Logo Generators often provide high-resolution files in different formats suitable for a variety of mediums. For example, Looka provides over 15+ high-resolution logo file types that can be used across all mediums.
Can an AI Logo Generator replace a professional graphic designer?
AI Logo Generators are incredibly handy tools for generating quick and professional-looking logos, especially for startups and small businesses. However, they might not fully replace a professional designer when it comes to intricate, customized designs or if your branding requirements are complex and specific.