The thing about starting a business is that you can't do much else until you have created a logo. A logo is virtually everywhere, from business cards to a Facebook business page. So, crafting a memorable logo should essentially be one of the first steps to starting any business.
However, if you think that you need to fork out thousands of dollars to get a logo designed for your brand, think again. Google did not spend a dollar to create its original logo. Sergey Brin, the co-founder of Google, used GIMP, a free image editor, to come up with a logo design. At least, that's how one of the stories goes.
Since then, many free logo maker apps and generators have appeared as alternatives. We've searched the web to find some of the best tools for designing logos in a matter of minutes and on a shoestring budget.
---
11 of the Best Logo Maker Apps and Generators [Free Tools Included]:
---
Our Top 11 Logo Maker Tools in Alphabetical Order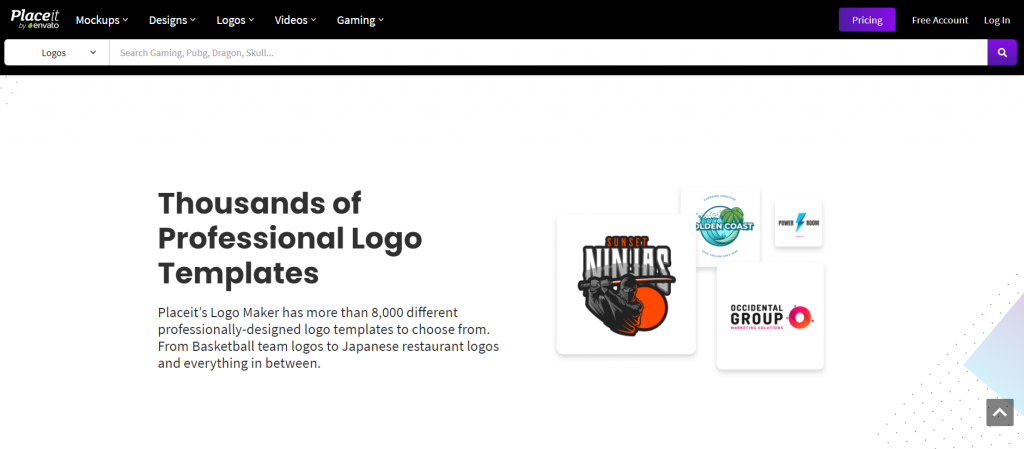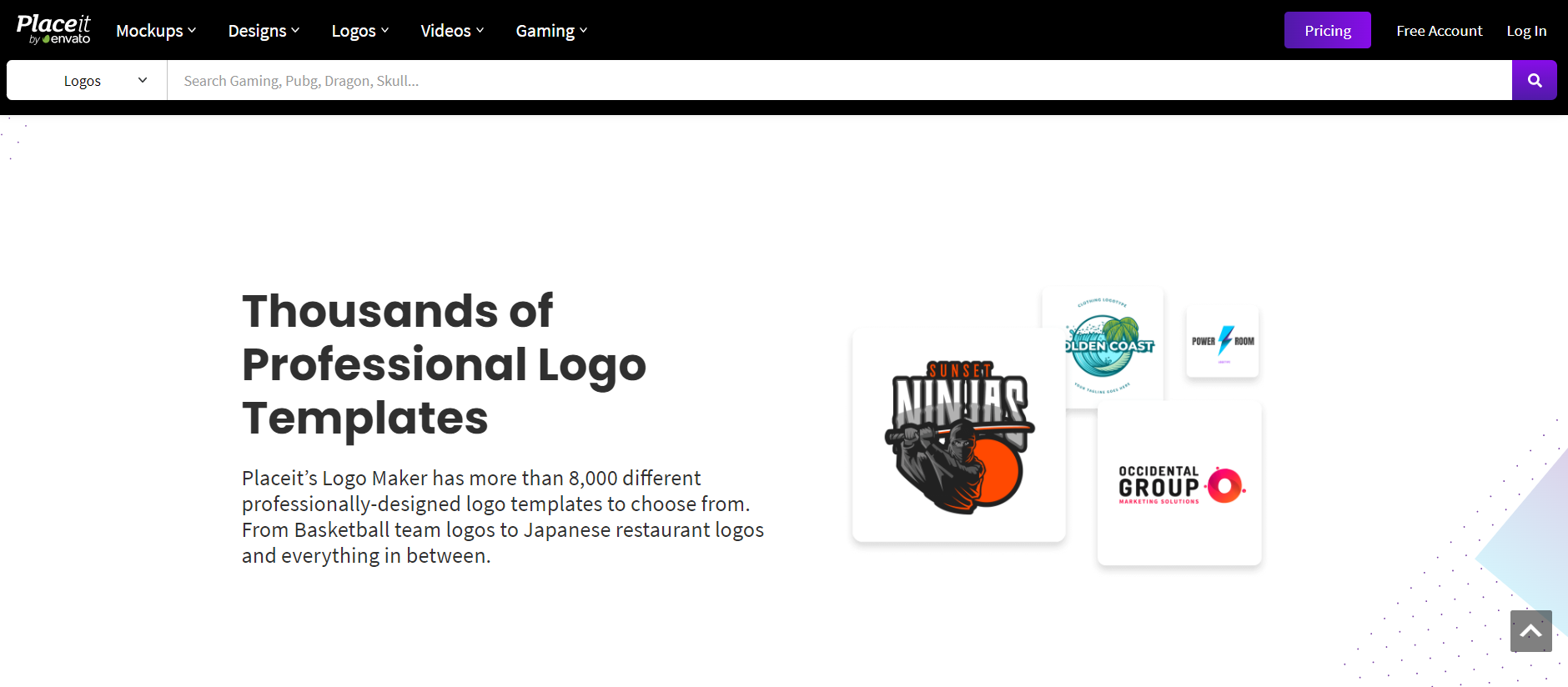 Placeit' has taken the concept of digital creativity and made it mainstream. The brand employs a team of design specialists to produce professional templates that you can take and make your own. This may sound like the least creative thing you could do, but it's terribly cost- and time-effective. You can create your new logo using their wizard. Start with a company name, pick an industry, select a graphic, and put the finishing touches on with custom text, colors, and other elements, and you're done!
Placeit offer over 8000 logo templates to choose from. If you're a gamer, you'll be pleased to know that gamers have the option of selecting animate graphics, too. Your logo is also versatile and ready for application to all promotional materials. So, if you want to print it, you can easily do so in as large a format as you require. Placeit plans start at around $14/mo, and you get access to its entire creative suite that includes mockups, designs, logo, video, and gaming.
---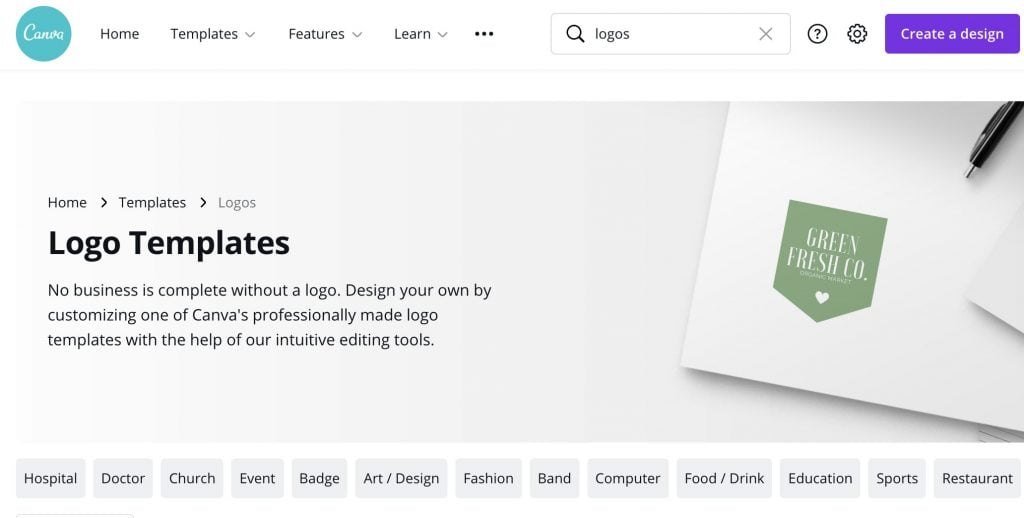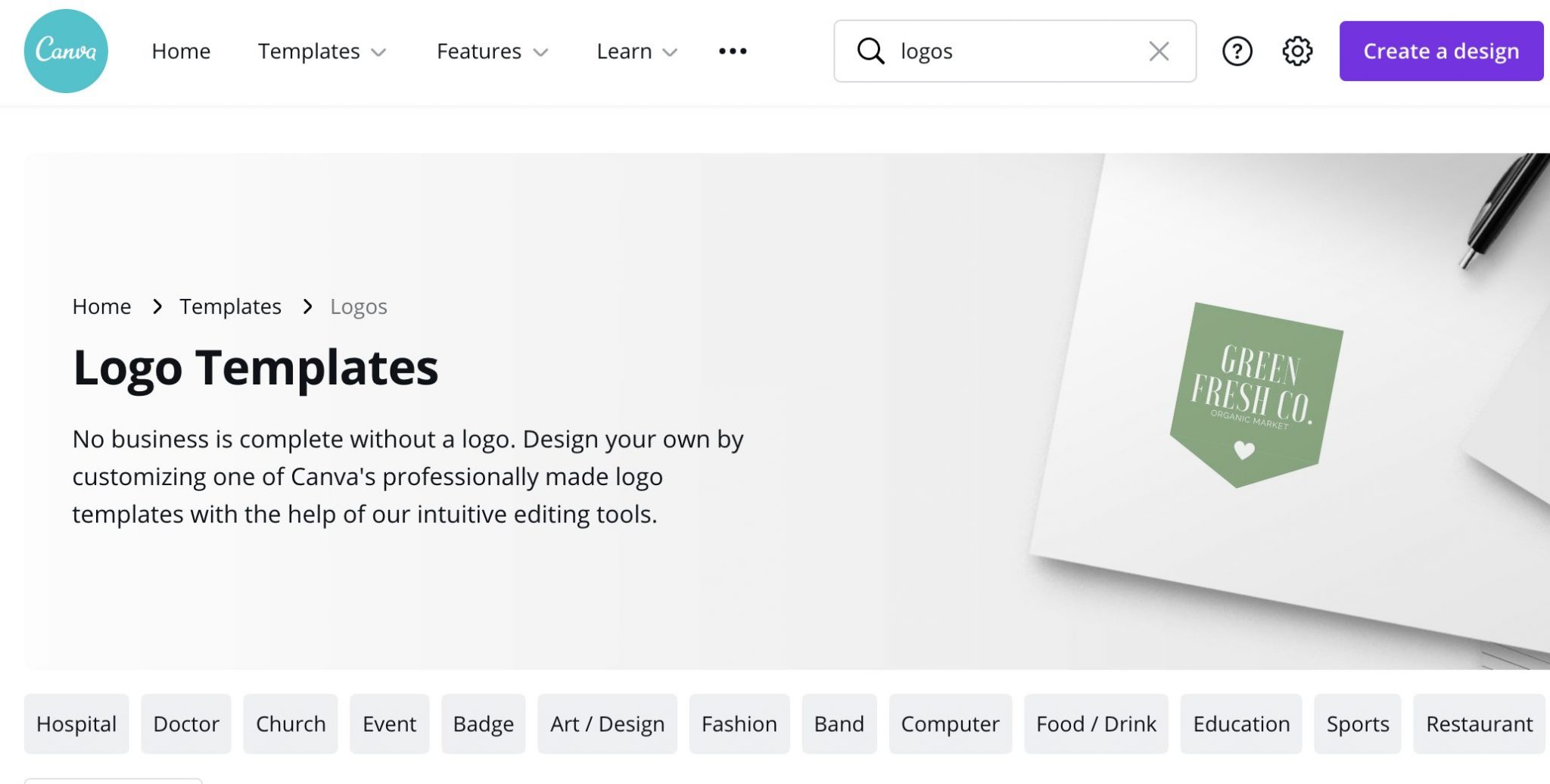 The chances are pretty good that you have already used Canva for something else. From YouTube channel art to infographics, Canva is useful for creating many different types of digital assets. As such, it can also be used for logos.
All in all, it offers a good selection of free customizable templates that you can search for by industry. One of its useful features is that once you click on a template, it also offers a list of similar templates that you might like.
Once you have selected a template, you can edit elements like color, font, size of the text, and positioning easily by means of its drag-and-drop interface. Logos can be downloaded as PNG or JPG files for free, and if you would like to download it as an SVG file, you need to sign up for its Canva Pro plan at $12.99 per month.
---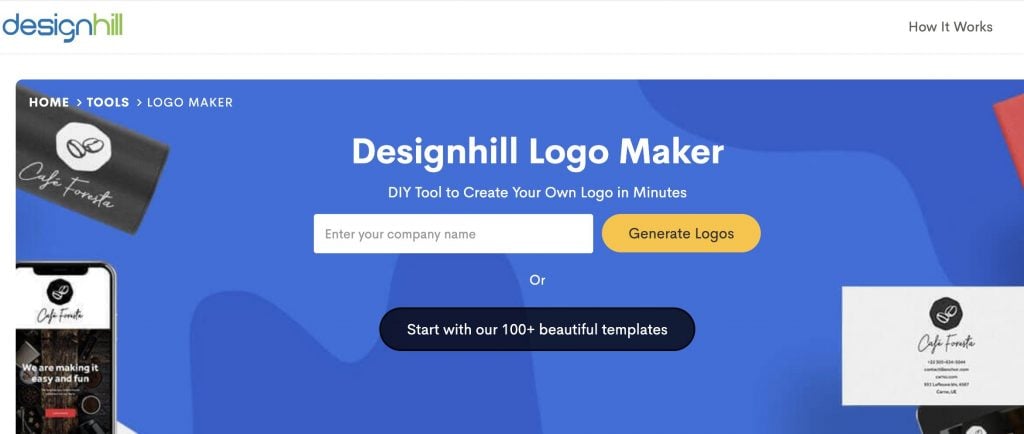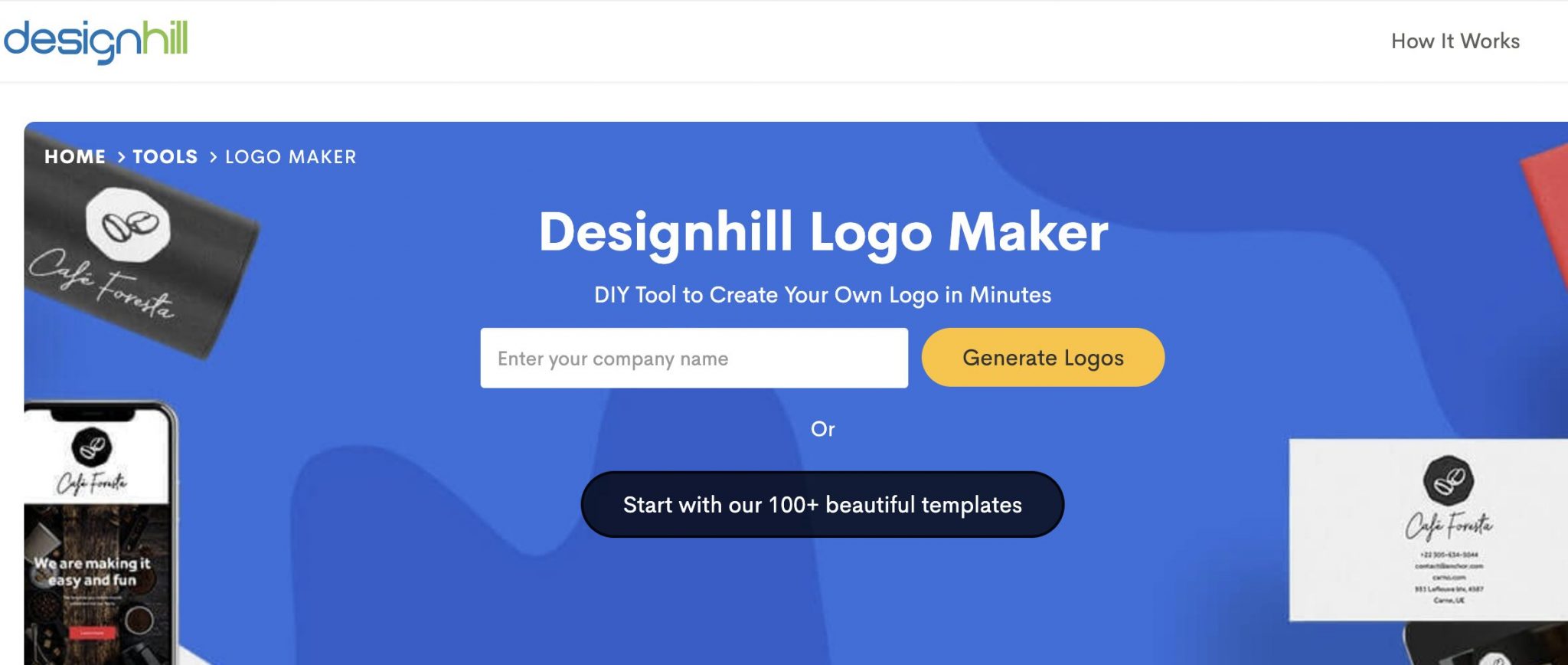 Boasting close to 30,000 reviews and more than 100,000 customers, Designhill makes it easy to understand where you should start the logo design process. You can either enter your business name or start by browsing its collection of 100+ templates.
If you opt to start by typing in your business name, you will be directed to a page with a couple of styles. You then need to select at least five styles that you like so that its system can get a better understanding of your taste. Next, you need to pick three colors. You also have the option of letting the system decide on a color scheme for you. One of the nice features is that if you hover over a color, it gives you a few connotations of that particular color. For example, green is associated with nature, growth, healing, and money. The second last step is to select your industry and budget and, finally, you are asked to add a maximum of five symbols that you would like your logo to include.
One con is that you need to sign up with your email address before you can even view the designs that they have generated for you. Also, while it does generate quite a few options for you, the designs tend to be on the generic side.
With regards to its pricing, for a one-time fee of $20, you get a low-resolution logo file. For high-resolution files for your social media, website, packaging, and branding, you need to pay a one-time fee of $65. It also sells other add-ons like email signatures, seasonal logos, business card designs, and letterhead designs.
---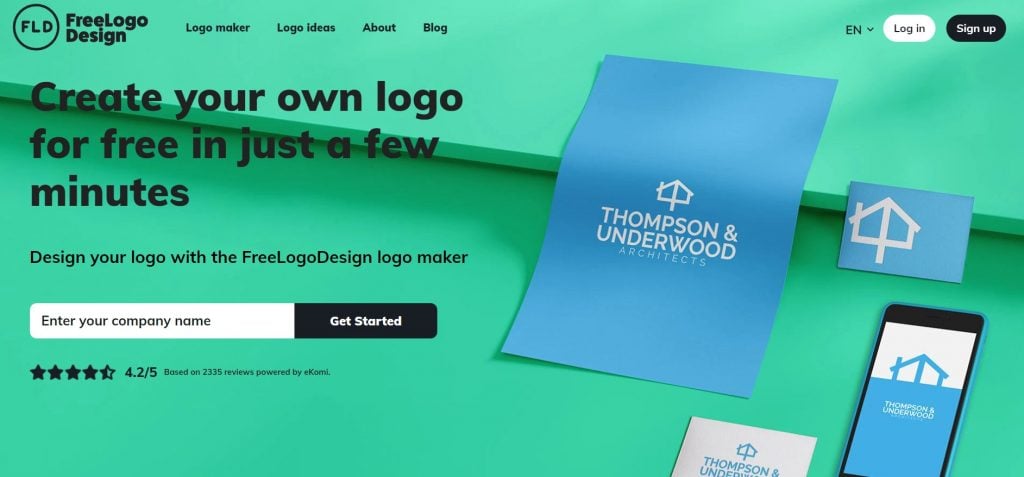 Founded in 2015, FreeLogoDesign is an advanced free HTML5 logo creator. It offers thousands of high-quality templates that you can customize by changing the font, font size, shape, and color. To date, it has been used to create over 2 million logos already!
Similarly to many other tools, you start by entering your business name and selecting the niche from the drop-down menu. It will then automatically generate a few options for you. Once you have clicked on a design that you like, you will be taken to its interface where you can edit it.
---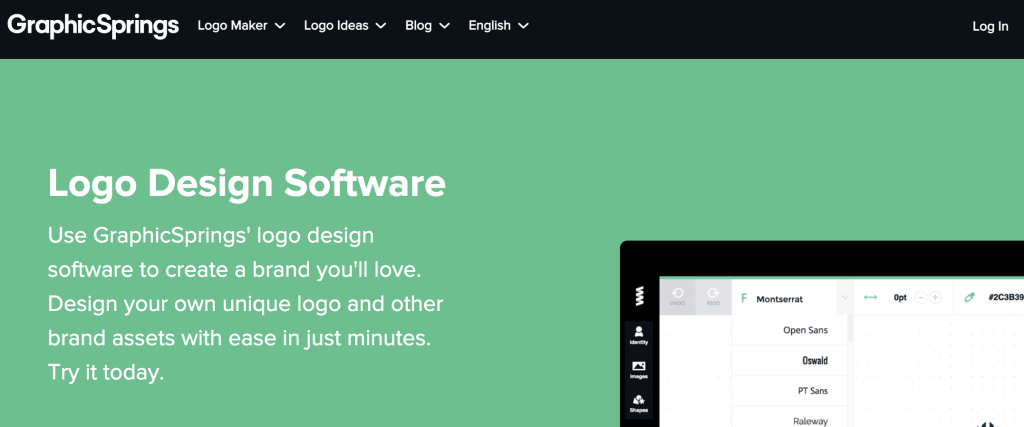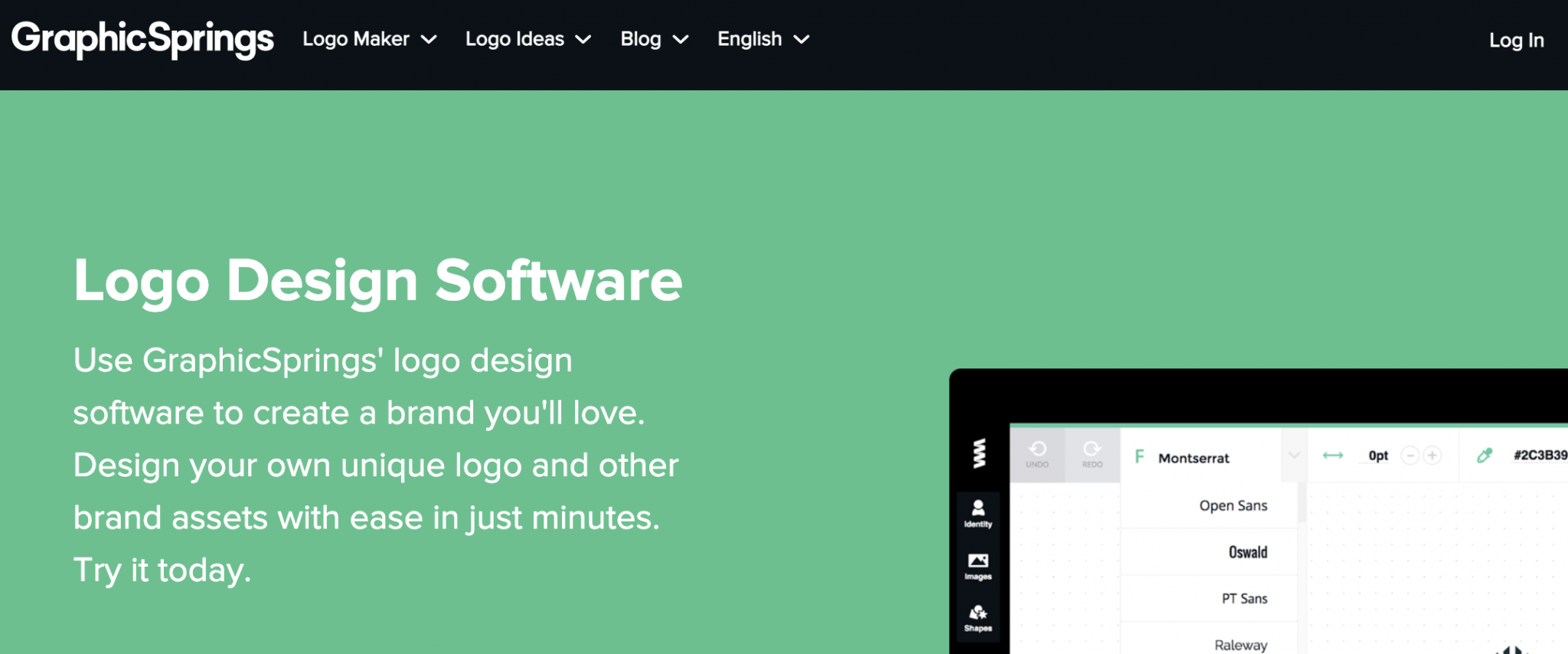 Like most of these tools, GraphicSprings was designed for users with no prior graphic design knowledge. It is a free logo maker that offers a basic logo design solution. Though, to be able to download your logo, you need to pay. So, this approach is somewhat confusing and annoying.
That aside, its design app is intuitive and boasts thousands of high-quality vector graphics that are sorted by category. You start by entering your business name. Then, you are prompted to pick an image category. From abstract to wedding services, it really does offer a great selection. After you have selected an image from the selection it has automatically generated for you, you are free to edit elements such as font, shadows, and strokes.
---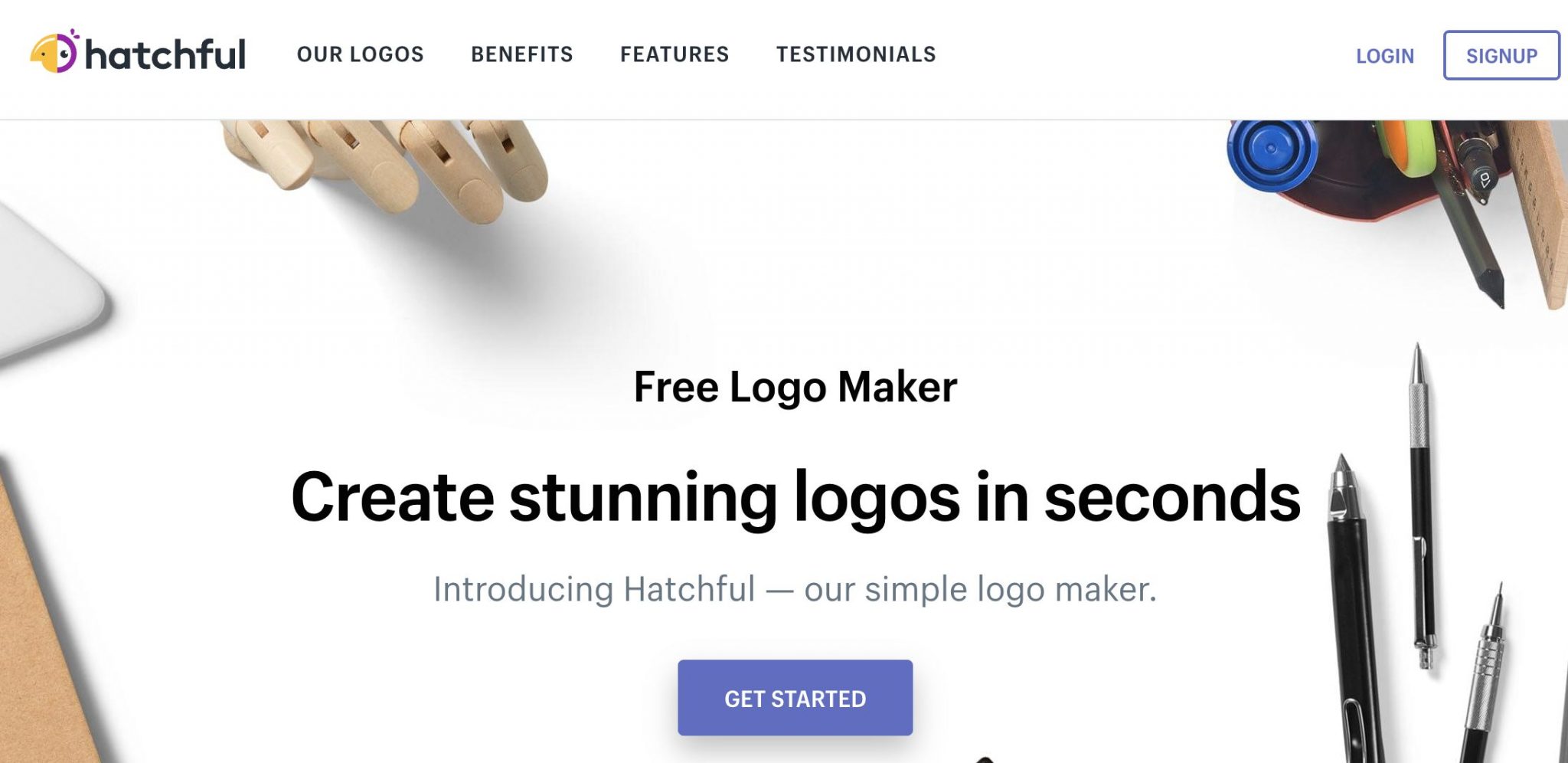 Trusted by more than 140,000 business owners, Hatchful is a free logo maker from Shopify. It was created with busy entrepreneurs without prior design experience in mind. There are hundreds of logo templates that you can customize to make it your own and build a unique brand. After you have customized a template and color combination, you can also download high-quality image files that have been optimized for merch, social media, and business cards.
Instead of starting with your business name, Hatchful begins the process by focusing on your industry and brand values instead. From beauty logos to telecoms service logos, it is logo design by industry made easy.
---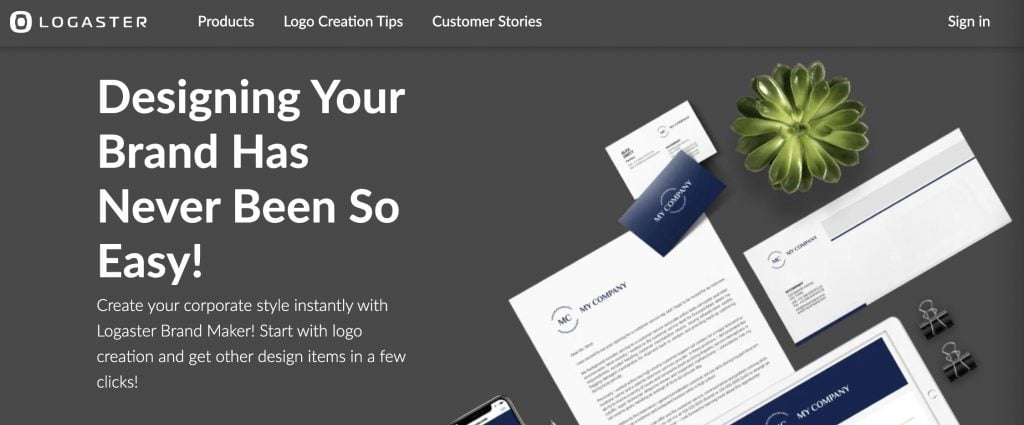 Logaster requires even less mental exertion than some of the logo makers mentioned in our list. You basically just enter your brand name and wait for it to generate a few examples automatically. If you want to, you can specify your niche and a color that you had in mind, but even that is not necessary.
If you find a design that you like, you can proceed to downloading your logo. Included in its all-in-one brandkit are: your logo for print and web, five color options, six logo layout options, business cards, a letterhead, social media bundle, email signature design, and website favicon and this does come at a price. Depending on the package, you are looking at paying a one-time payment that is anything from $28 to $65.
---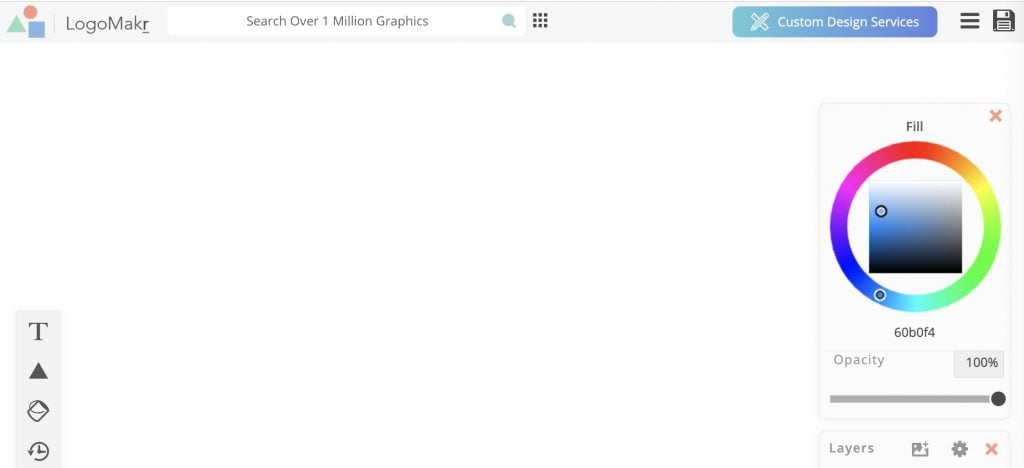 LogoMakr is quite different from many of the offer tools mentioned in our list. If you go to its website, you are immediately greeted by a blank canvas. You can either start by selecting one of its icons or create your own logo from scratch using the text, shapes, and paint-bucket tools. It also offers logos that were created with the help of its tool as templates that you can customize by changing the images and text. Though, we'll be honest, the blank canvas can be a bit intimidating and overwhelming, especially if you are not used to working with graphics editors. All in all, it is a good free platform that you can use if you do not necessarily need to be guided by a step-by-step approach.
---
Tailor Brands practically takes the same approach as the other logo makers. You start by entering your brand name and, by now, you basically know the rest of the drill. Though, one of the nice features is that if your business does not fit one of the five categories (physical goods, services, leisure, original content or technology), it gives you the option to describe what it is that your business offers. The same applies to when it comes to entering your industry. In addition to identifying your industry, you are also prompted to write a sentence or two about what you do. It then prompts you to choose a logo type: icon based, name based or initial based. This is a feature that very few other logo makers give. The third and final step is to select three styles you like from a list provided.
However, unlike many of the other logo makers in your list, you first need to sign up for free to see the logo options that Tailor Brands has created for you. If you choose to create a free account, it does offer a decent selection of logos that you can then customize further.
---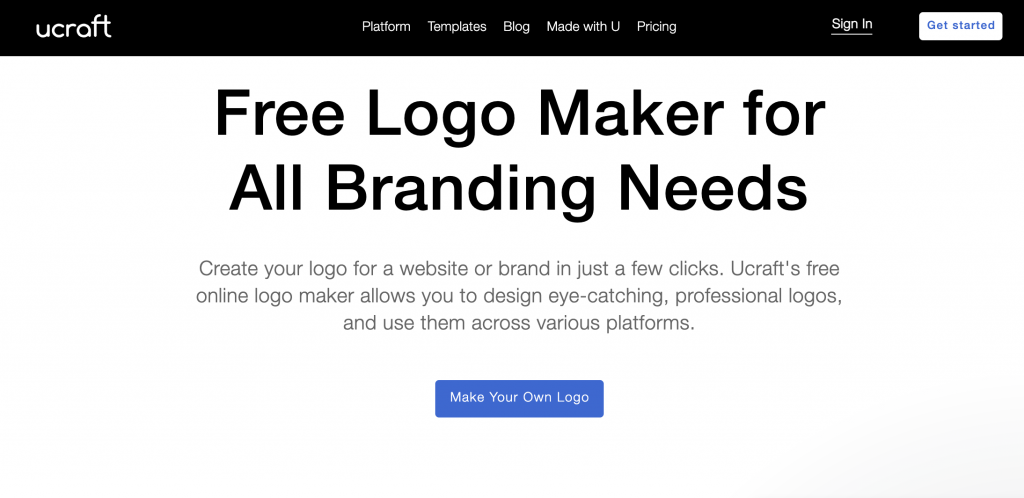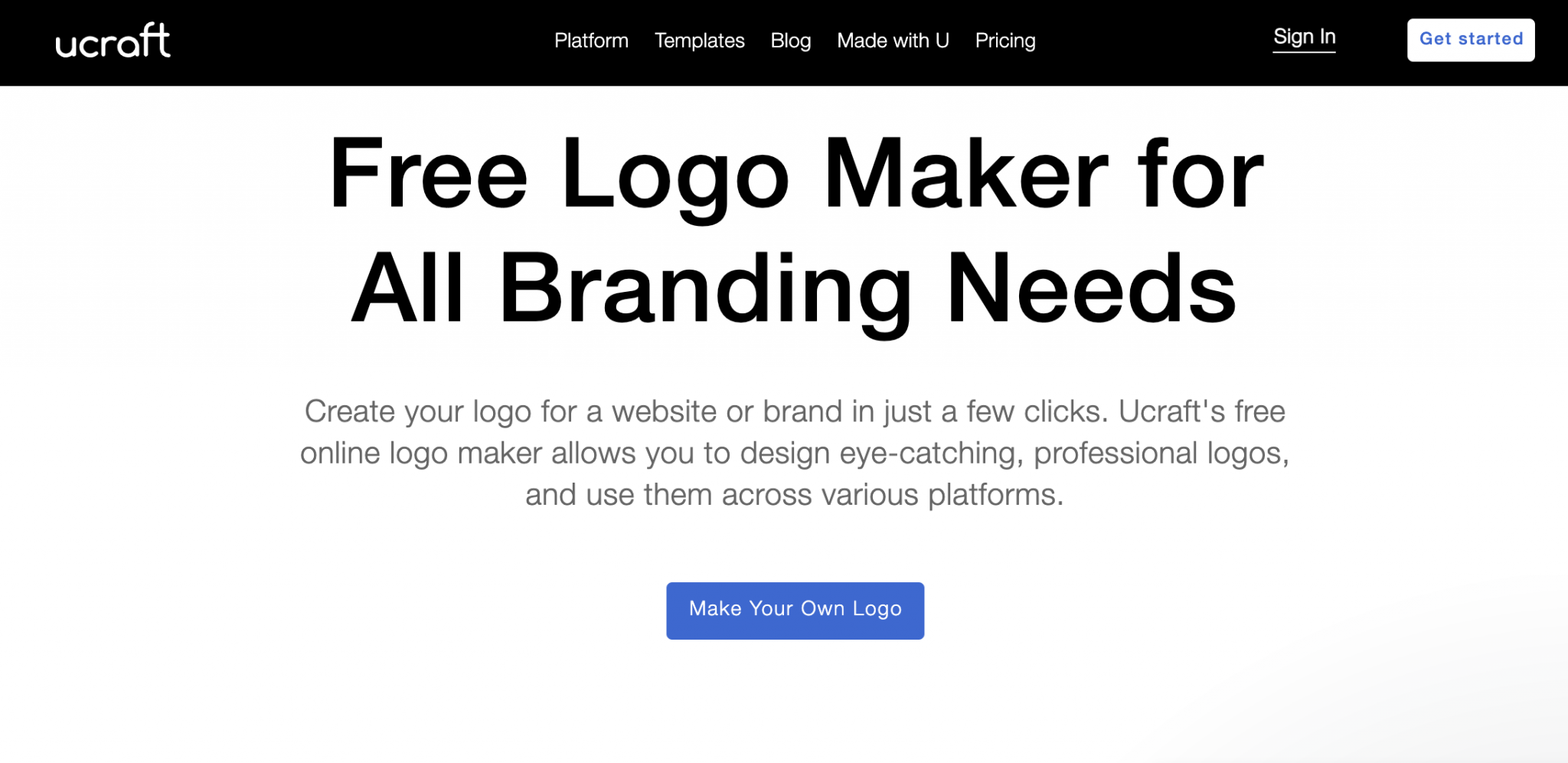 While you might be more familiar with Ucraft as a landing page creator, it also offers a free logo maker that you can check out. To make a logo with Ucraft is a straightforward three-step process. You select a royalty-free icon from its collection, add text and your brand name, and then customize the text by changing elements like the size, color, and font. As it uses a drag-and-drop tool, no design skills are needed. The most time-consuming step, though, is choosing an icon as there are millions. Luckily, to help you, they offer a search bar so that you can narrow down your search by typing in industry-related words.
One con is that in order to download it, you need to create an account. Also, if you want to download it as a scalable vector file, you need to purchase it as an SVG file which costs $7. The advantage of using vector files over PNG format is that they are infinitely scalable. So, if you plan on using a big logo somewhere, this is the route to follow.
---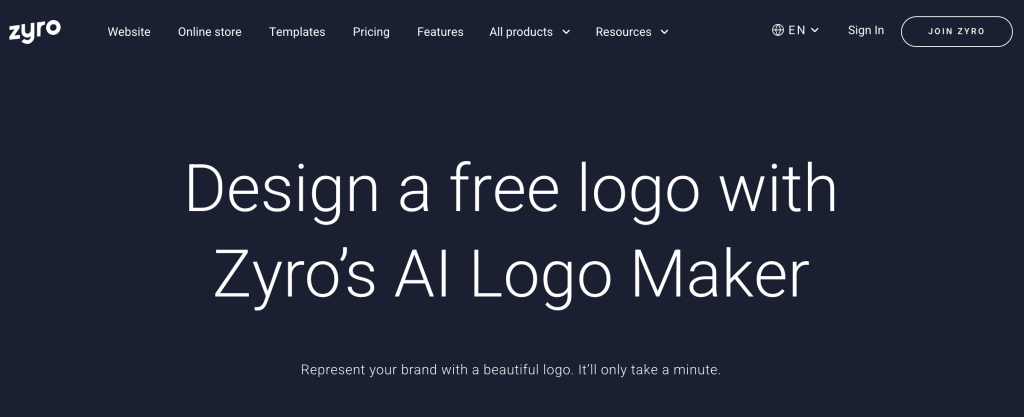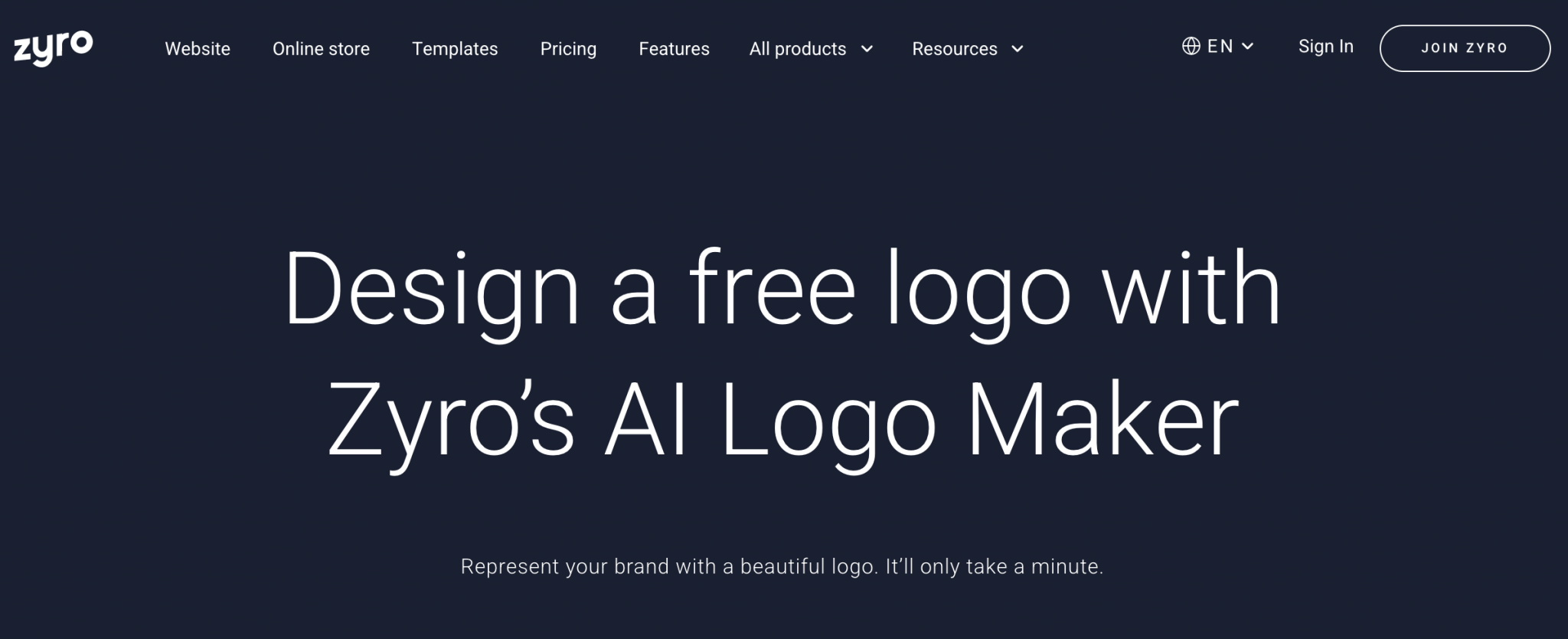 With Zyro, you can design a business logo in a few steps. You pick a starter logo, select a color, and then pick a shape. Then, after tweaking elements like the size, and font, you are ready to download and publish it. While it is completely free to use, you need to enter your email address in order to download your design, but in exchange for your email address, you will get full commercial usage rights, a high-resolution PNG file and a transparent image file.
Frequently Asked Questions
What is a logo maker app?
A logo maker app works similarly to a logo maker online, but it only allows you to design a logo directly on your mobile phone or tablet – not from your desktop computer. One main advantage of logo design apps is that you can use them anytime and anywhere. This helps you to save time and get the job done on the go.
How does a logo creator work?
All you need to do to use most logo creators is enter your brand name, choose a template, and then customize your logo until you're satisfied with the results.
What is a good logo?
Your logo is more than just a group of symbols, letters, and colors. A well-designed business logo can: grab potential customers' attention and communicate your brand values quickly. Good logos can make your brand memorable, express your unique selling proposition, and connect with your audience, which can lead to better retention and sales over time. It can also build trust with people before they even interact with your brand.
How do I design my own logos?
You do not necessarily need prior design experience and an expensive image editing application and powerful PC to design your own logos. Instead, you can use one of the many logo maker apps and generators available for free. For example, a tool like Hatchful will create several potential logos for you, and you can then edit them using the app or through your web browser before you download them.
How do I decide on a color for my logo?
It is best that you start off your logo design in black and white, because you want the logo to be what people remember and not the color. Then, pick a color palette that sets you apart from your competitors. Ideally, you do not want to use the same tired color combos that everyone else in your industry uses. Lastly, also consider where your logo will be displayed. Some colors do not look the same between print and online materials.