Advertising Disclosure
Advertising disclosure:
Our partners compensate us. This may influence which products or services we review (also where and how those products appear on the site), this in no way affects our recommendations or the advice we offer. Our reviews are based on years of experience and countless hours of research. Our partners cannot pay us to guarantee favorable reviews of their products or services.
As digital marketing continues to evolve, so too does the way that images are used to sell products or promote a brand. Gone are the days when you had to create high-quality images manually—now, there are several AI image generators out there that can do the hard work for you.
In this article, let's look at the Top 7 AI image generators and what they offer marketers. By understanding the benefits and drawbacks of these tools, you'll be better equipped to make the best decision for your own marketing strategy.
---
7 AI Image Generators That Will Boost Your Marketing Strategy:
---
What is an AI image generator?
An AI image generator is a text-to-image tool that was designed to make it easier for digital marketers and content creators to create images online. By using a machine learning algorithm, they are able to generate realistic photos and illustrations based on a set of text instructions. This means that they're great for quickly producing images that can be used as marketing tools in creating materials or blog posts.
---
How does it work?
Using an AI art generator is easy, especially when you have an idea of the kind of image you want to create. Every generator has a text prompt where you input a description of your image, and the generator will handle the rest. Some generators require only a few keystrokes to generate an image, while others may require more time and effort. It all depends on what type of image you're trying to create.
---
7 AI Image Generators
It can be challenging to create content that reflects your brand's unique style and voice. Whether you are a startup looking to build awareness, or a business owner looking to promote a newly launched product, a reliable AI image generator can help you save a lot of time and energy by giving you a more accurate image of what you need.
---
---
---
---
---
---
---
---
What are the Benefits of Using AI Image Generators?
Marketing is a tough job in itself, but with the right tools and strategies, it can be a lot easier. By using these AI tools, you get to enjoy the following benefits:
It Saves You Time and Energy
One of the most valuable things about AI image generators is that they save you a lot of time and energy. You won't have to spend hours creating or editing images from scratch—instead, you can use a generator to get started quickly. Because they're easy to use, you'll be able to get effective results in no time at all.
---
You Get to Produce Original Artwork
Whether or not you are a beginner in the world of art, a high-quality image generator can help you produce images for any purpose. Even if your artwork is a derivative of a well-known style, AI generators allow you to create customized pieces of imagery that can be used for marketing purposes. This will make it easier to produce the images you need for any particular messaging, helping boost your overall online and social media presence.
---
You Dictate Your Preferred Art Style
The image generated depends on what you tell the AI tool to generate. If you want a realistic image using a paintbrush or digital art created with charcoal, you can dictate this to the tool. If you need something more like a caricature artist and want a mermaid-like image with realistic attributes, you can specify this in the generator's settings. Whatever strategy you have for your brand, AI tools will help bring it all to life.
---
You Can Sell Them as NFTs
Non-fungible tokens or NFTs are a trend, and if you want them as a marketing strategy, AI image generators can help you with that too. AI-generated images are a great way to create something unique for the NFT market. NFTs also create an opportunity to generate income by attracting the appropriate market.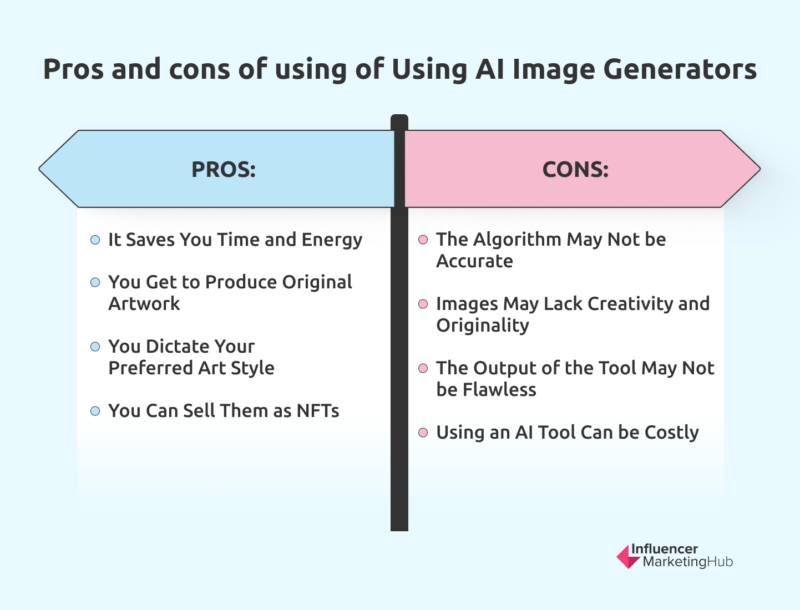 ---
What are the Downsides of Using AI Image Generators?
It's no surprise that AI image generators are so popular. They can help you generate images that can be tailor made for your marketing campaigns. However, there are a few potential downsides to using them.
The Algorithm May Not be Accurate
The artwork and images you produce may not always be accurate because these AI tools are limited by their algorithms. For example, a generator that uses facial recognition technology may inaccurately identify people in your photos. This may result in images that may not exactly create a human face that is true to life.
---
Images May Lack Creativity and Originality
Although AI image generators can produce unique images, the artwork created will always be limited by the AI model's capabilities. AI models are not as creative as human artists, which means that a lot of the generated images may look similar to each other or too generic. As a result, AI image generators may lack originality and creativity if you don't put in the effort to write a detailed text prompt.
---
The Output of the Tool May Not be Flawless
Using AI to produce images can give you results that are close to what you want, but not exactly. AI image generators can't perfectly recreate a photo or realistically mimic artwork styles. If AI produces something that isn't quite right for your needs, it's wise to use a different generator or tweak the settings of the one you have. If absolutely necessary, you may need to edit the artwork on your own.
---
Using an AI Tool Can be Costly
AI image generators are not always free. AI tools can be expensive, so you may need to pay a fee to use them. It's imperative to understand the costs associated with AI technology so that you don't end up spending more than your budget allows.
---
Things to Consider When Choosing an AI Image Generator
AI image generators provide a convenient way to produce images quickly and easily, but there are some things you should consider before choosing one.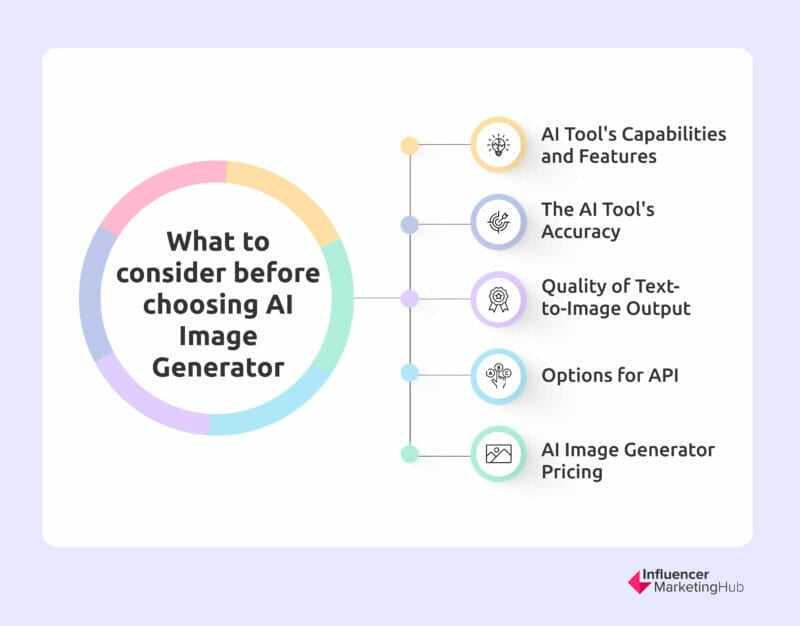 AI Tool's Capabilities and Features
While the current AI tools for images seem to have the same capabilities, each AI tool may have different features and settings. For example, stable diffusion is a new technology that AI image generators may offer, and this can help you create more natural-looking images. It's helpful to understand what specific features each AI tool offers so that you can find the one that best meets your needs before committing to a payment plan.
---
The AI Tool's Accuracy
When using AI image generators, accuracy is key. Does it offer realistic facial recognition technology? Do its algorithms create artwork that is true to life based on what you need? Can the AI generator accurately match the colors of your branding? Knowing the AI tool's accuracy is essential to getting the best results.
---
Quality of Text-to-Image Output
AI image generators can create unique images, but customization and output may still vary from the prompt. For example, some generators might have a wide variety of text description generator presets while others might offer no presets at all. Even though accuracy could be achieved, the quality of the AI generator's output may still be variable.
---
Options for API
For a lot of businesses, a reliable image generator is more useful if they offer API options. API options allow you to connect the tool with your own software and use its features outside of the platform itself. This option can easily integrate AI image generators into your existing workflow so you don't have to start from scratch.
---
AI Image Generator Pricing
Even if there are many AI tools that offer a freemium account, they all come with a price tag. Regularly generating high-quality images requires AI technology that might be expensive. It's important to keep an eye on the prices and understand which AI image generator fits within your budget.
---
Supplement marketing with AI image generators
With the ever-growing popularity of artificial intelligence, it's no wonder that image generators are becoming more and more popular. By using an AI art generator, you get to boost your marketing strategy by creating high-quality images that are consistent with your brand. Not only do they save you time and money, but they also help to create images that are appealing to a wide range of audiences.
Overall, AI image generators are a great way to create stunning visuals for your marketing campaigns quickly and easily if you know how to use them correctly. They may not be perfect, but they can certainly help you save time and money in the long run. If you want to make your marketing campaigns stand out, AI image generators are an essential tool to have in your arsenal.