Images play a crucial role in how website visitors interact with your content. Images are easy-to-comprehend, improve readability, and make your website appealing. A recent study by Nielsen found that internet users spend more time viewing relevant images than reading text. The experiment conducted by Nielsen Norman Group found that users spent 10% more time viewing images on a webpage even though the text consumed 316% more space.
According to another study found that people who follow directions with both text and images perform 323% better than people who follow directions without images. This is because the human brain is tuned to processing visual content.
As much as 50% of our brain is involved in some kind of visual processing. This is the reason why images are easy-to-comprehend because our human brain can easily sense and process visual data. Your website visitors are more likely to interact with images more than other non-visual content. This was proved by BuzzSumo when it analyzed more than a million articles and found that articles that use an image after every 75-100 words received 2x more social media shares than their counterparts.
You can't ignore images be it product images, graphs, charts, blog post featured images, illustrations, infographics, or any other type. But you don't have to do it at the cost of ruining your website's load time and user experience.
If your images aren't properly sized and optimized, they'll increase site load time which will increase bounce rate, reduce conversion rate, and will negatively impact the user experience. Besides, you can't use a single image without resizing it on your blog, Facebook, Instagram, Pinterest, Twitter, and other channels. Each social media channel has its image size requirements. For instance, Instagram, Facebook, and Twitter have different image dimensions that will work best.
Image resizing is also essential for your website. You have to make sure images fit the screen properly irrespective of the device. If you don't, you'll get notifications like these in Google Search Console:
Resizing an image takes a few minutes if you are using the right tool. There are several image resizer tools that you can use to make photos look better. Here is a list of the best image resizer tools online that you can choose from.
13 Best Image Resizer Tools Online:

---


The Image resizer tool by Influencer Marketing is totally free and allows export of images for all your social media sizes you will ever need.
Social Media Network sizes supported from:
Twitter

Facebook

Instagram

LinkedIn

Pinterest

YouTube
---
Landscape by Sprout Social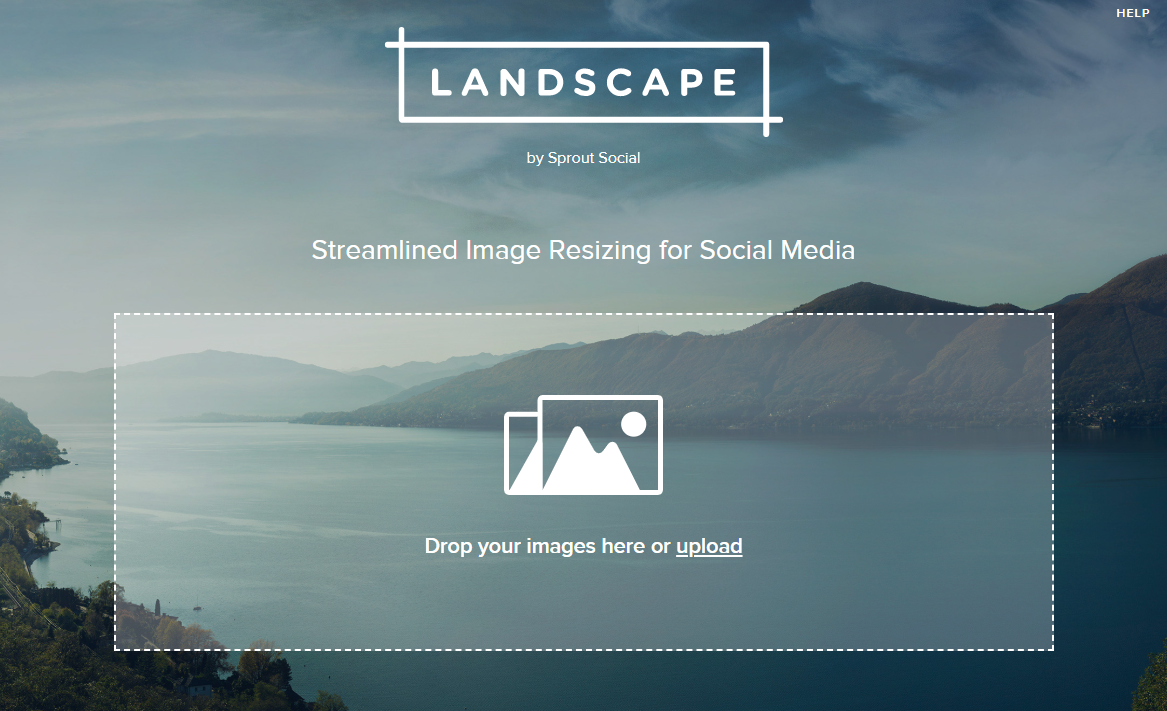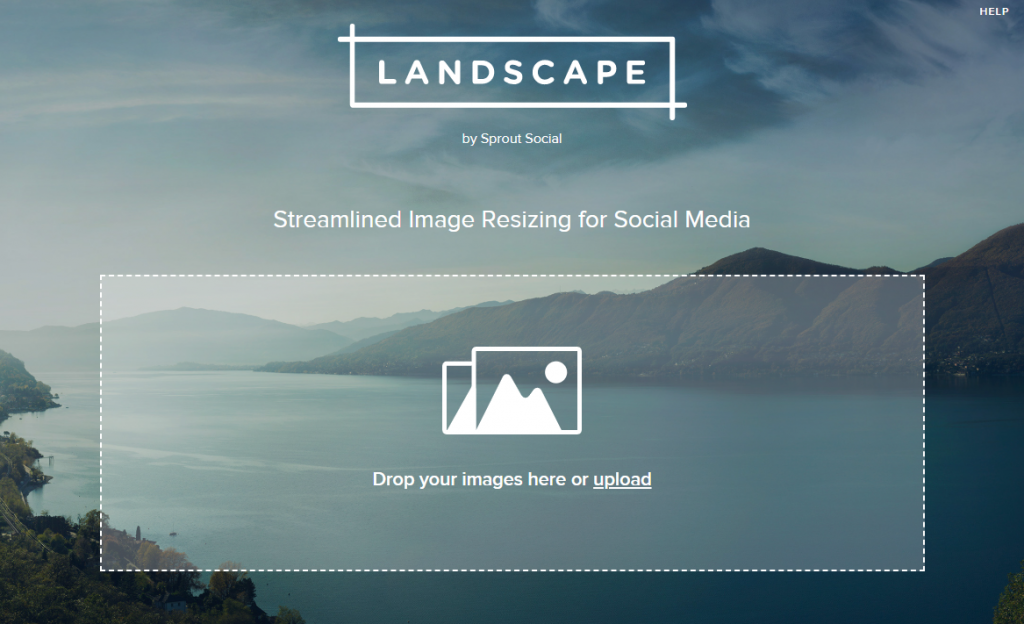 The Landscape is a free image resizer tool by Sprout Social that is perfect for social media. It lets you resize any image for any social media site. If you are interested in resizing your image for a specific social network, like Instagram, you can choose from available dimensions after uploading your image.
Once you upload an image, you are asked to choose the network you want the image for. It supports the following social networks:
Twitter

Facebook

Instagram

LinkedIn

Pinterest

YouTube
It also has a custom resize option that is useful for resizing images for your website and blog.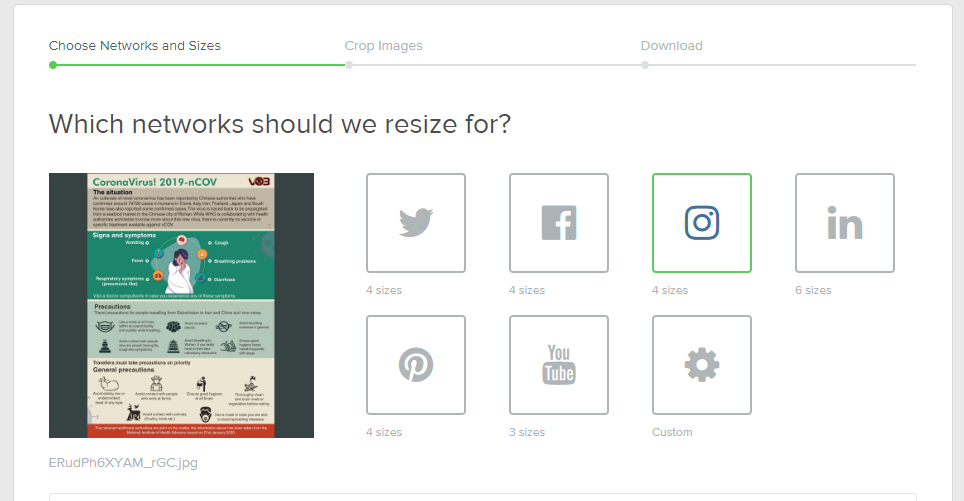 When you choose a social network, you can choose where you want to post the image such as profile, post, etc. You can finally crop the image at the final step. Once it is done, you can download it and post it on the social networking site of your choice.
You don't need to enter image dimensions at any stage. This makes Landscape an ideal free image resizer tool for social media.
Key Features
Easy-to-use

Suitable for social media
---
BeFunky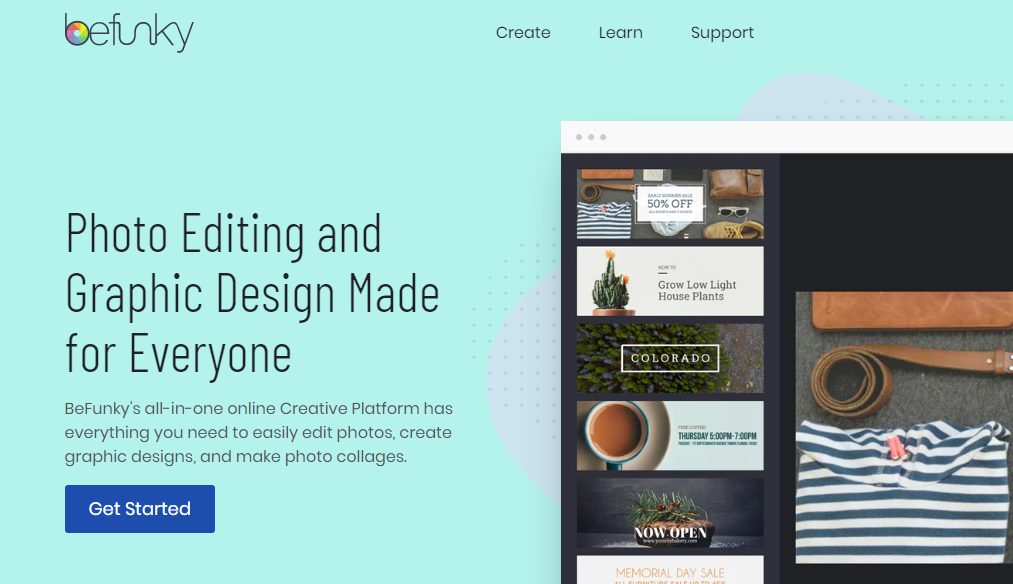 BeFunky is a free online photo editing tool that does a lot of things including photo resizing. It is a feature-rich tool that offers graphic designing, photo editing, and collage making services. The photo editor is where you can resize any image free of cost.
Upload your image, click Edit, add dimensions, click Apply, and save your image.
You can view image size in real-time as you tweak its size. The user-interface is quick and easy-to-use, so you won't have any issues tweaking image size.
Key Features
Perfect for all types of images

No learning curve

Professional image resizing tool
---
Design Hill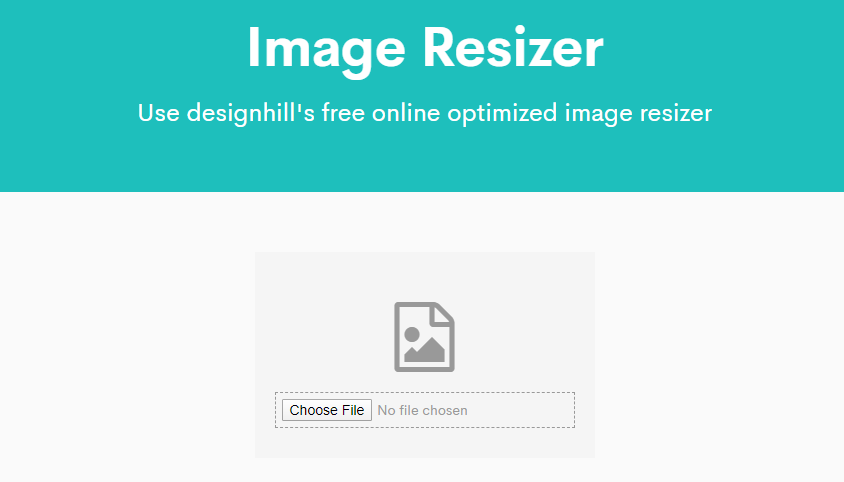 Design Hill is a creative marketplace that connects businesses with designers. It also offers several DIY tools to businesses including an Image Resizer tool that's free to use. It is one of the easiest and simplest online image resizer tools in this list.
You have to upload your image and add the desired width and height to resize your image. The image resizes in real-time which makes it easy to adjust its size. You can download the resized version of the image free of cost.
Design Hill's image resizer tool works best even if you don't know the right dimensions for your image because you can view the actual image (not on canvas).
Key Features
Resize images quickly

Simple and clean design
---
BIRME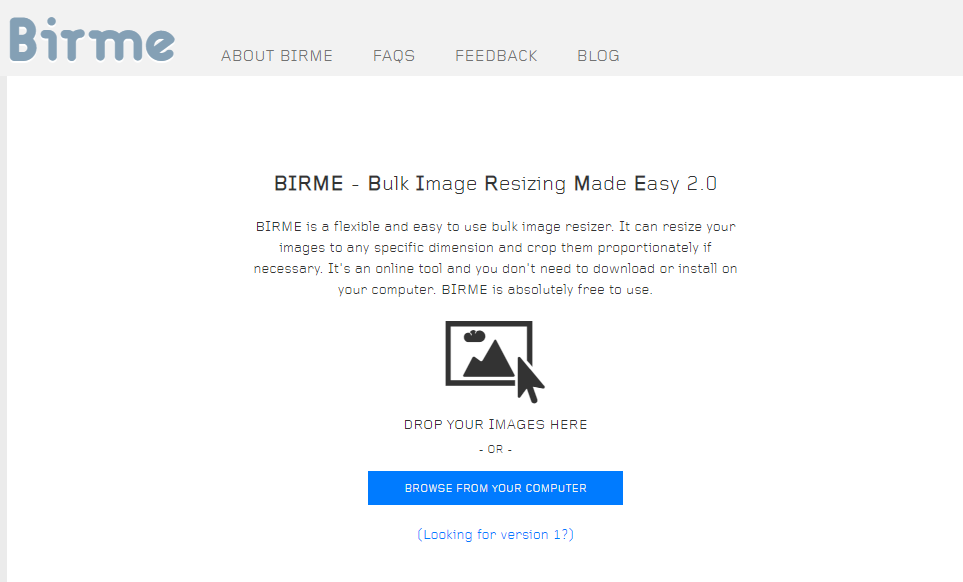 Are you interested in resizing multiple images? BIRME is the right tool for bulk image resizing. You can upload images in bulk from your computer (zip file), add dimensions, add a border (if needed), tweak image format and quality, and download your images in a zip folder.
It will save you a lot of time if you want to resize several images for your website. Imagine you have changed your website theme and you have to resize featured images for the new theme, it will be a lot of work if done manually. BIRME can help you in such a case.
Key Features
Supports zip file

Bulk resizing
---
Online Image Resize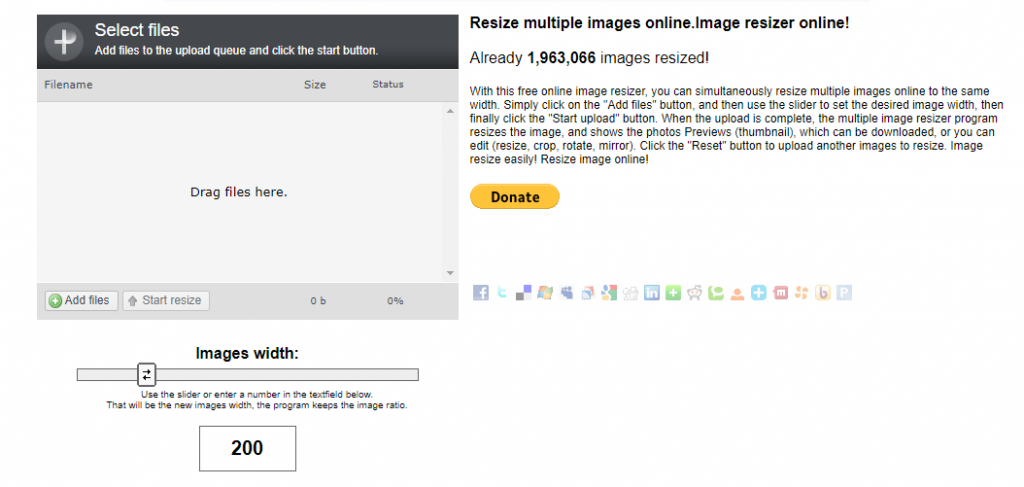 Online Image Resize is another free bulk image resizer tool. It has a simple user-interface and is much easier to use as compared to BIRME. You can add one or more photos, choose the width desired width, and click Start resize.
You can then tweak images individually (e.g. rotation, cropping, etc.). Images can be downloaded individually or as a zip file. The only issue with this online image resizer tool is that you can't edit the height of the images when doing bulk resizing. You can, however, change height individually by dragging the corners which is a bit complicated.
Key Features
Bulk image resizing at no cost

Simple user-interface
---
Online Image Resizer by Shopify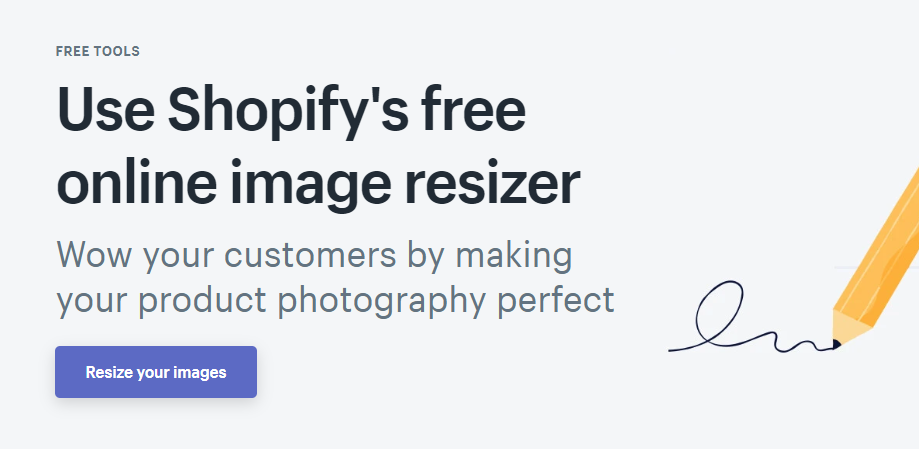 Shopify has a lot of free tools for its customers and its online image resizer tool is one among them. If you want to resize product images for your Shopify store or any ecommerce store, you should use Shopify's resizer tool as it keeps things clean.
You can resize up to 6 images in a single go. You can choose from the three available resize options: Compact, Medium, and Large. You can't define your own image size. If you have a Shopify store, you'll love this tiny free tool.
Key Features
Resize multiple images

Best for product images

Instant resizing with a clean interface
---
PicResize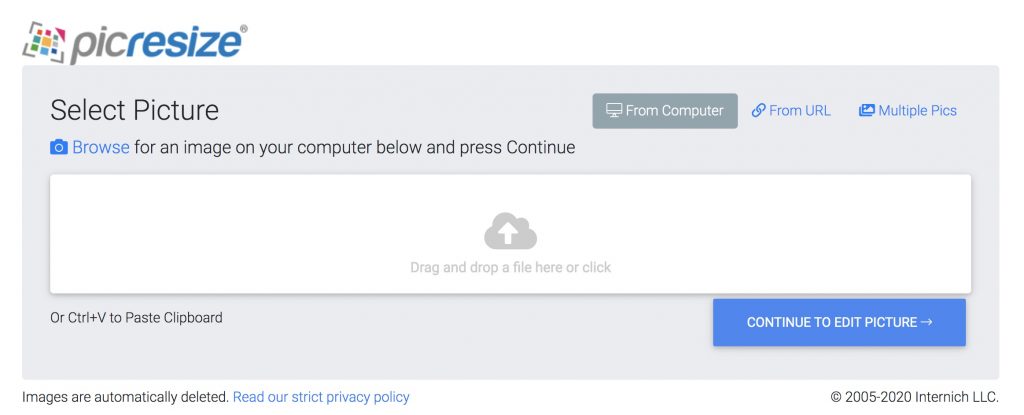 PicResize is another free online image resizer tool that lets you resize images in different ways. You can upload images from your computer, from a URL, or you can add multiple images. The user-interface is straightforward so resizing an image isn't a big deal.
The best thing about PicResize is its features. You can resize images in several ways, add effects, crop, rotate, and change the format and quality of the final version. The URL feature is amazing because you don't have to download the image on your computer to resize it. It is available in multiple languages and supports batch resize.
Key Features
Resize images via URL

Several features and image editing effects
---
Resizing.app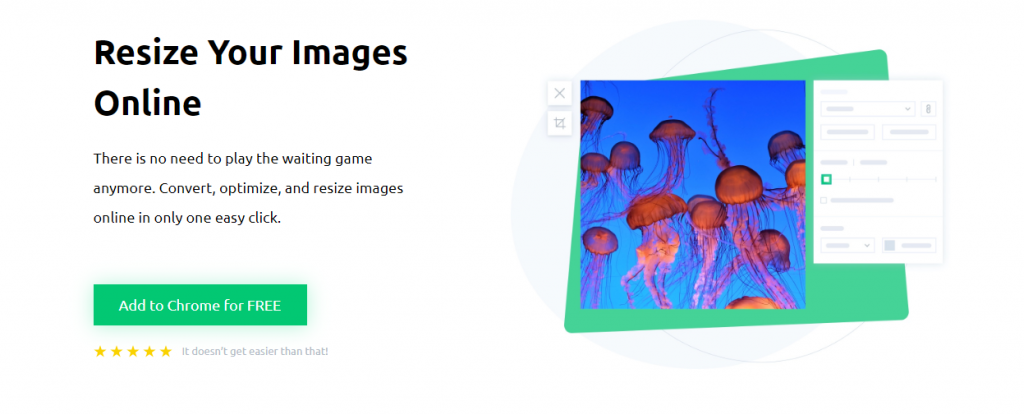 Resizing.app is an amazing image resizer and optimization tool. It doesn't just resize but optimizes your images too. It has several features that make it better than other image resizing tools such as it supports multiple image formats, it optimizes images, it has a Chrome extension that makes image resizing a piece of cake, and it supports image conversion.
The resizing tool is quick and clean. You can resize an image by width, height, percentage, largest side, or by custom dimensions. Download its Chrome extension to resize and optimize images instantly with a single click.
Key Features
Image optimization and conversion

Chrome extension
---
Social Image Resizer Tool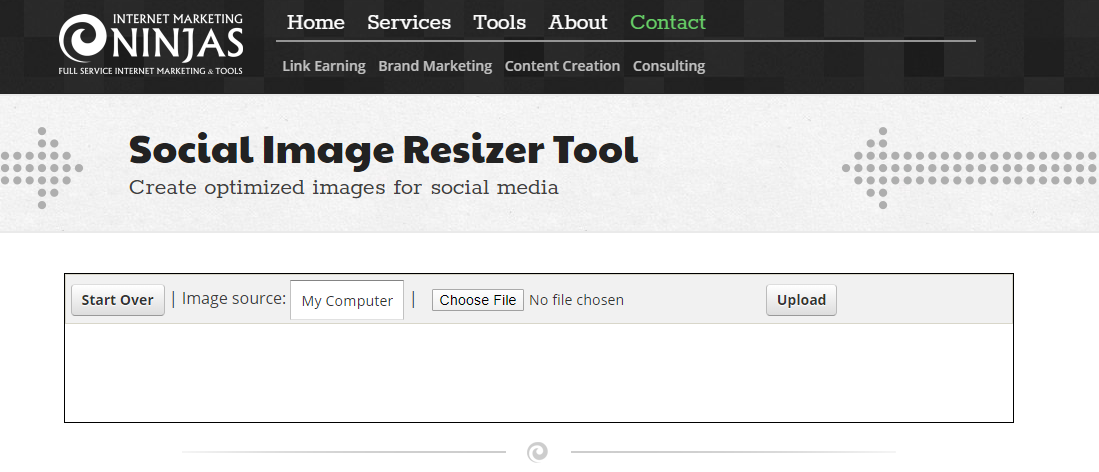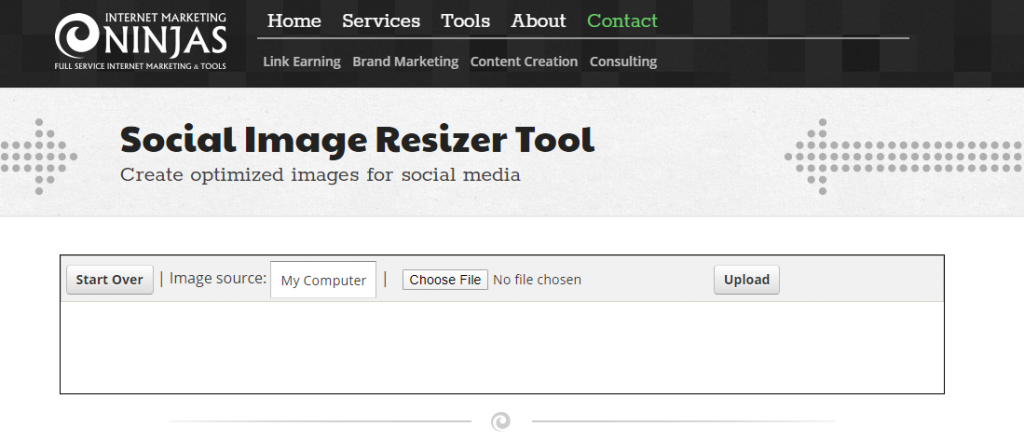 Social Image Resizer Tool is developed by the Internet Marketing Ninjas that develops internet marketing tools for marketers. Most of their marketing tools are free including their image resizer tool.
You can add an image from your computer or via URL to resize it. You need to drag the selection box to resize your image instead of entering actual width or height. It works best for social media images. For instance, if you have to convert an infographic into several tiny snippets, this tool will work great.
Key Features
Visual resizing tool

Straightforward and clean user-interface
---
I Love IMG

I Love IMG offers tons of image-related services that are all free. You can resize multiple images with its resizer tool. You can upload images from Google Drive or Dropbox too besides uploading them from your computer. Select the appropriate width and height and all the images will be resized in a single go. It also supports image resizing by percentage.
If you have images saved in Google Drive or Dropbox, you should use I Love IMG for resizing images. You don't have to download images from the cloud to your computer to resize them.
Key Features
Simple user-interface

Supports bulk resizing

Works with Google Drive and Dropbox
---
Photo Resizer


Photo Resizer is a multi-purpose feature-rich photo editor. It isn't sophisticated like BeFunky but it is quite helpful especially in image resizing. You can upload images from your computer and then resize it by its user-friendly size bar. 
Resizing an image with Photo Resizer is quite easy because its interface has a menu with different dropdown tabs. You don't need to learn anything, it is like using your operating system.
Key Features
Simple dashboard

Visually resize images

Save the image in multiple formats
---
Simple Image Resizer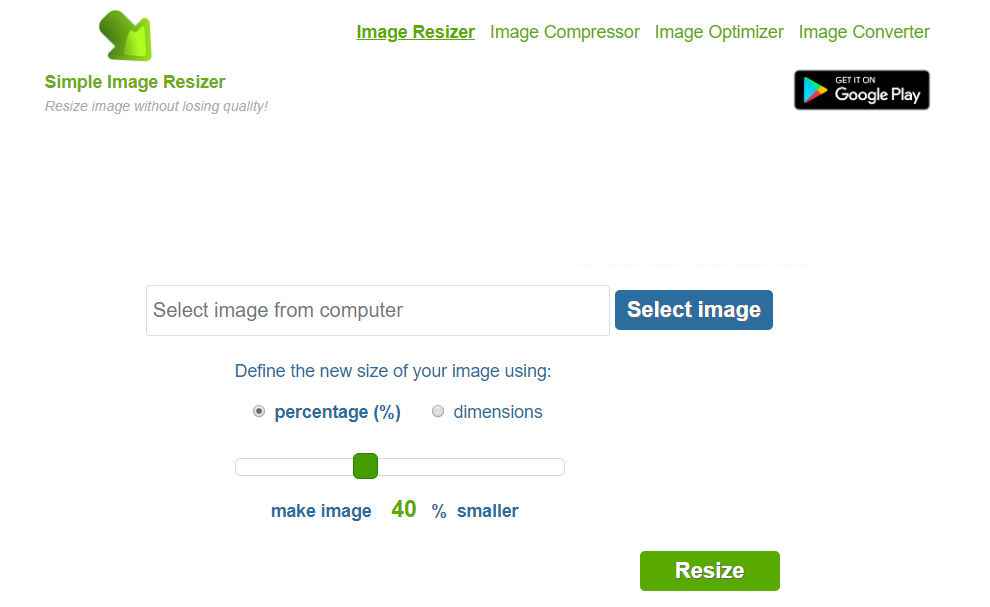 Simple Image Resizer is another free online image resizer tool that lets you resize images by its dimension or percentage. You can upload one image at a time from your computer. It doesn't show you image size in real-time, so you'll only be able to see the image after downloading the final version.
It offers other image editing tools such as image compression, optimization, and conversion. The best part: You can download its app on your smartphone. You can resize images from your smartphone too.
Key Features
Instant image resizing

Works on Android devices too
---
Final Words
Visual content will continue to play its role in marketing, sales, and other online fields. Your target audience loves interacting with images as long as they improve customer experience and not deteriorate it.
Images should be visually pleasing. Use the right tools from the list above to resize images for your website, social media, and other marketing collateral to boost engagement and to make them appealing. It doesn't cost you a penny to resize an image, get started today.