Advertising Disclosure
Advertising disclosure:
Our partners compensate us. This may influence which products or services we review (also where and how those products appear on the site), this in no way affects our recommendations or the advice we offer. Our reviews are based on years of experience and countless hours of research. Our partners cannot pay us to guarantee favorable reviews of their products or services.
When done well, eCommerce marketing can boost your sales, drive lead generation, build brand awareness, create better customer experiences, and drive customer loyalty. eCommerce marketing tools like automation software let you streamline your operations and optimize your workflows, allowing you to unlock benefits like greater reach, better customer relationships, and increased revenue. 
Discover some of the best eCommerce marketing automation software, how automation can benefit your business, and how you can choose the best automation solution for your eCommerce business. 
---
7 Best eCommerce Marketing Automation Software to Streamline Your Operations
---
---
---
---
---
---
---
What Is eCommerce Marketing Automation?
In a nutshell, eCommerce marketing automation is the process of using software, systems, or tools to automate manual or repetitive marketing activities and streamline your business processes. When done well, eCommerce marketing automation can optimize your operations and help scale your online business. Some aspects that such tools cover include order processing, ad retargeting, customer service (through chatbots), and sending automated abandoned cart emails. 
Furthermore, aside from web channels, eCommerce marketing automation software can be applied to mobile, email, and in-app channels. Some common real-world examples of eCommerce marketing automation include offering automated product recommendations to boost conversions and offer better customer experiences and sending out surveys or feedback forms to collect insights from your customers.   
---
The Benefits of eCommerce Marketing Automation for Your Business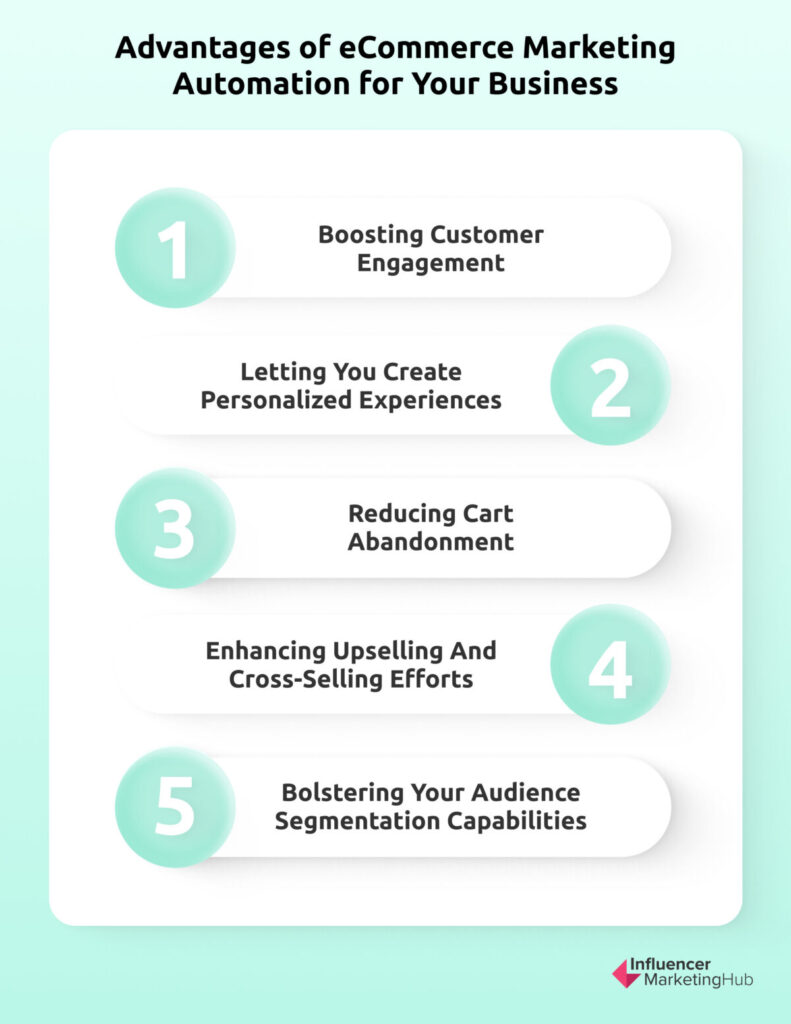 Aside from automating manual or repetitive tasks, boosting efficiency, and reducing human errors, there are other benefits to leveraging eCommerce marketing automation for your business. These include:
Boosting Customer Engagement
Automation lets you send triggered emails, which are automated and personalized emails based on factors like customer behavior, engagement history, and pre-defined events, for different situations. For example, you can send automated welcome emails to new customers or deploy lead-nurturing emails to keep your existing customers engaged. Through workflow automations, you can also quickly create and deploy personalized customer experiences at scale. By helping you improve your customer journey orchestration, automation lets you keep your customers engaged. 
Letting You Create Personalized Experiences
Automation helps you create positive touchpoints throughout a customer's buyer's journey. Automation also makes it easier for you to connect with customers and use data to build tailored messages and experiences, as well as drive conversions. Moreover, automation reduces human error, which may lead to poor customer experiences. 
Reducing Cart Abandonment
The average cart abandonment rate is 70.19%, causing businesses to lose billions of dollars worth of sales. Marketing automation can help reduce cart abandonment rates by allowing eCommerce businesses to send automated cart abandonment emails or reminders to customers. With these targeted messages, you're guiding your customers to take action and, therefore, complete their purchases.
Enhancing Upselling and Cross-Selling Efforts
72% of sales professionals who upsell and 74% who cross-sell saw a 30% increase in their revenue.
Effective upselling and cross-selling tactics allow you to provide better customer experiences and drive more sales for your eCommerce business. Marketing automation software allows you to utilize customer data to create personalized offers and scale up your upselling and cross-selling efforts.
Bolstering Your Audience Segmentation Capabilities
Automation streamlines the segmentation process and eliminates all the guesswork when it comes to deploying your marketing campaigns. This lets you leverage customer data to build more targeted campaigns based on factors like customer behavior, preferences, and previous actions. Furthermore, because automation lets you collect more data, you're better equipped to understand your customers, including their pain points, interests, and wants. 
---
Choosing the Best eCommerce Marketing Automation Software for Your Business
Before choosing an eCommerce marketing automation solution, it's crucial that you first determine what your business goals are. For example, do you want to improve your email marketing efforts or do you want to focus on improving your customer journey orchestration? Identifying what your business needs are is also important. This helps you determine what features and capabilities you need to look for in an eCommerce marketing automation solution. Once you've identified your goals and needs, you need to consider the following factors:
Ease of Use
No matter how good an automation software may be, it'll practically be useless if your team will have a hard time putting it to good use. Opt for a solution that has a user-friendly interface. If possible, contact the service provider to ask for a demo so you can see how the software actually works. If you're having a hard time completing a task, then it may be a good idea to look for another solution so as not to hamper your productivity. 
Features
Each eCommerce marketing automation tool comes with a variety of features, which can get overwhelming. Ideally, you should assess your automation requirements beforehand. Do you want to automate your email and SMS marketing campaigns or do you require more robust automations? Based on your requirements, create a list of must-have features. 
Integrations
Consider your current tech stack and what apps or platforms you're currently using. Make sure that the automation software you end up choosing integrates with your stack. 
Scalability 
When choosing an automation solution, it's important to also consider its scalability. Go with a solution that is flexible and capable of growing as your eCommerce business grows. 
Pricing 
While many automation solutions offer free plans, these are often limited in scope. Make sure that the plan you choose will align with both your budget and requirements. 
Customer Support
Choose an automation solution that offers comprehensive customer support options so you can quickly resolve any issues. Aside from 24/7 support, check to see if you can contact the service provider via different channels like email, phone, or live chat.   
Other important factors to consider before you embrace automation include your target audience and their behavior, your resources (both financial and human), and the competition. Knowing what the competition is doing and what automation strategies they're implementing helps you make more informed decisions when it comes to adopting automation for your eCommerce business. Furthermore, take the time to test out all the different solutions available. 
Most of the automation solutions available today offer a free trial period, allowing you to test them out and see if they're a good fit for your eCommerce business. Checking client reviews and case studies also gives you a good idea of how others are using a particular tool, which can help you narrow down your choices. 
---
Wrapping Up
More than just automating repetitive or manual tasks, eCommerce marketing automation software helps you build more effective marketing campaigns. Today's automation solutions are capable of effectively segmenting your customers, analyzing their data, and giving you more accurate insights into your customers and your business' performance. With automation, you can create more engaging and seamless experiences for your customers throughout their buyer's journey, grow your customer base, build better relationships with your customers, and uncover new growth opportunities.  
Frequently Asked Questions
What are the common challenges to eCommerce marketing automation?
Adopting eCommerce marketing automation solutions can greatly benefit your business, but it's not without its fair share of challenges. Common obstacles to successful adoption include not having a solid marketing strategy beforehand, choosing complex automation software, and using inaccurate or low-quality data. 
What common eCommerce marketing automation strategies are businesses using?
Below are some of the common eCommerce marketing automation strategies that you may have come across:
Automated product recommendations

Customer service automation through solutions like chatbots

Dynamic pricing

Personalized marketing campaigns using audience segmentation

Automated upselling and cross-selling