Advertising Disclosure
Advertising disclosure:
Our partners compensate us. This may influence which products or services we review (also where and how those products appear on the site), this in no way affects our recommendations or the advice we offer. Our reviews are based on years of experience and countless hours of research. Our partners cannot pay us to guarantee favorable reviews of their products or services.
Email marketing has been around for a long time, practically since the Internet started. But it is still among the most effective marketing methods that small and large-scale brands utilize—and rightly so. A 2020 survey found that brands earn $36 for every $1 spent on email marketing. The ROI is highest in retail, eCommerce, and consumer goods industries, with about $45 return per dollar spent!
The email marketing market is valued at around $7 billion and is expected to grow to $17.9 billion by 2027. It remains a practical part of a business's marketing arsenal.
When it comes to email marketing, success means having captivating, creative correspondence and finding the right leads to engage with that email. The whole process can be tedious without the right tools to automate things.
Among the crucial tools for marketers is email verification software. Email verification is a process that helps companies ensure they're sending out legitimate newsletters and advertising materials. There are available apps that can analyze each address on your uploaded file, check for validity and deliver them to the inboxes of users who fit your niche.
---
Most Reliable Email Verification Tools for Your Brand:
---
Why Use Email Verification Tools?
Email verification software lessens the chance for emails to go to invalid addresses. Each type of verification tool uses a combination of validation processes and algorithms to filter your email list. These tools also analyze the email address against other databases, like spam traps or attack lists, to generate a clean, entirely legitimate email list.
These are some of the automated techniques involved in the email validation process:
Scans Syntax. Verification software checks any improper or dubious formatting and ensures the address aligns with the IETF standards.
Scans Domain or MX Entry Info. The verification tool can check if the DNS entries of an email address are invalid or are missing some properties.
Limits Role-Based Accounts. The software can flag emails for role-based accounts (e.g., info@, admin@, sales@, etc.) because these can affect your overall eligibility and flag your listing in some ISPs.
Detects Spam Accounts. The verification tool can thoroughly analyze emails in known spam listings to flag all spam seeds, BOTs, honeypots, and bogus addresses.
Flags Disposable Email Address. Some emails look legitimate enough but are created as throwaway or disposable accounts. These are only used for signups to bypass login requirements. An email verification tool can detect such emails.
Checks DNSBL for Blacklist. A DNS-based blackhole list (DNSBL) used for spamming activities. These are domain names that are included in spam messages. Email verification tools can check known DNSBLs to trap spam networks.
Final Verification. The last phase is a deeper level SMTP verification done on the email list. This involves pinging the email to check if there's an active inbox without having to send an actual email to the inbox.
---
Most Reliable Email Verification Tools
Here are some of the best email verification tools you can consider to optimize your email marketing, maintain credibility, and reach only the right customers:
Top
email verification tools
2024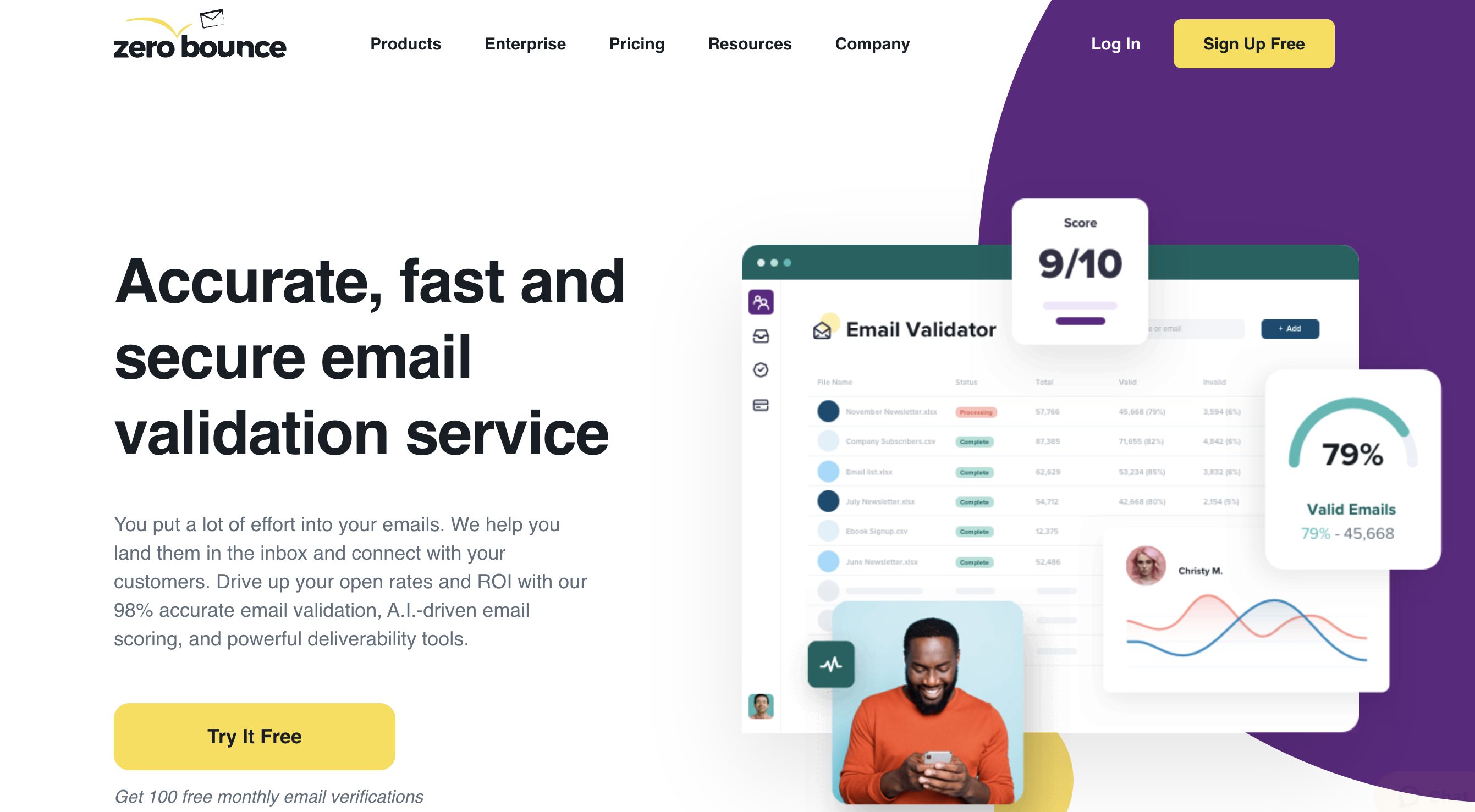 ZeroBounce is the choice by major enterprises like TripAdvisor and Comodo, to name a few. The tool has several useful features that make verification easy and integrated with the team's workflow.
First off, ZeroBounce complies with GDPR standards and has an accuracy rating of 99%. It provides the best value-for-money email verification service.
ZeroBounce is reliable because its ZeroBounce AI system can filter fake email accounts, emails that mark messages as spam, honeypot traps, and emails that return hard bounces. The software does bulk verification processing, where you can upload the entire list.
For the emails that are considered legitimate, ZeroBounce prepares key customer data you can use for marketing, including subscriber name, geolocation, gender, age, and more. It also has a real-time verification API on your site's mailing list form. This feature automatically keeps suspicious emails from being added to your list.
ZeroBounce starts at $16 for 2,000 email verifications. The software has a pay-as-you-go option afterward. Premium plans now have a 6% discount, priced at $15/month. The software also has a freemium plan that caps the verifications to 100 per month.
| | |
| --- | --- |
| | |
| Option for both bulk list and single email verification | |
| | No email creation feature |
| Gathers key customer demographics | |
| Integrates seamlessly with email providers and other marketing tools | |
| | |
---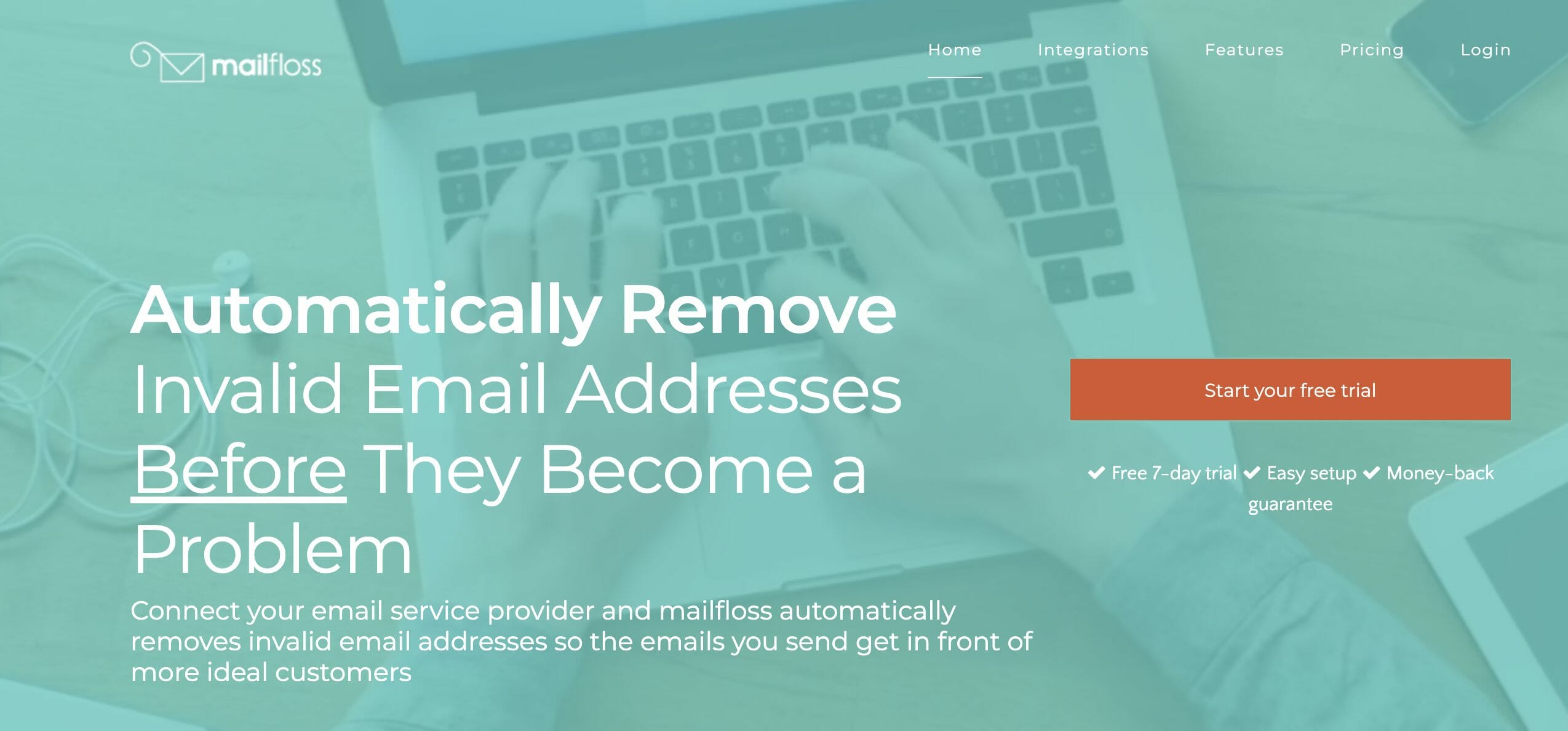 Mailfloss is a simple and quick email verification tool that double-checks the accuracy of your email list. The tool detects invalid and questionable email addresses, so there's no need to go through your list individually. You can use it with any email service, including MailChimp, Drip, Sendinblue, and more.
Mailfloss removes emails with hard bounces, checks any accounts with syntax errors, and cleans the listing. The tool connects easily with any marketing service provider you already have in your site. With a one-time setup, you can let the software do its thing. Email lists are protected from bounces, invalid email accounts, honeypot scams, and those that have typo errors. You have an automatic daily verification with the tool, plus decay protection to prevent stale lists.
Pricing at Mailfloss can be monthly or one-time bulk payments. It starts at $17 per month for up to 10,000 email verifications and up to $200 per month for 125,000 email checks. Mailfloss also has a credit option, where you can have over 125,000 email verification credits. There are two months free for annual setup, and they offer a 7-day free trial to test the tool.
| | |
| --- | --- |
| | |
| Bulk email and individual email checks | After-cleaning report format may be confusing |
| | |
| Whitelist/Blacklist options | No alerting feature about weekly changes in the number of cleaned accounts |
| | |
| | |
| Great customer support 24/7 | |
| | |
---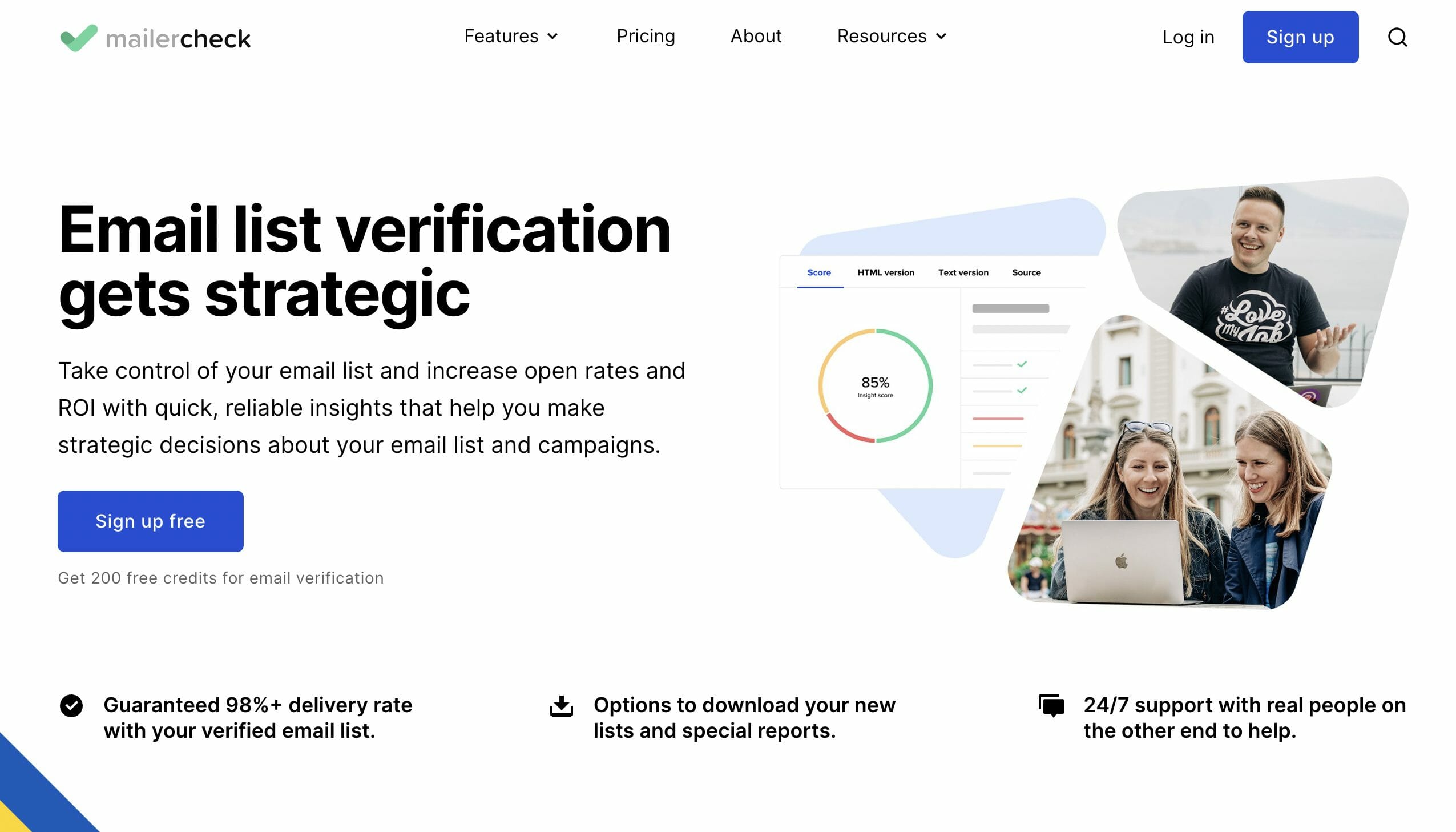 MailerCheck is another trusted email validation software that can detect inactive inboxes, syntax errors on accounts, disposable accounts, and more. It is created by MailerLite – one of the biggest email marketing platforms with over 1.1 million customers. MailterLite has a high-delivery rate for email marketing, which lends credibility to its email-checking software.
MailerCheck allows both individual and bulk email verification by uploading CSV or integrating with your email provider. You can import your subscribers directly from the site. The tool has an Inbox Insights module where you can do campaign analytics on spam, HTML validation, sender authentication, and more. It lets users use API and Zapier to integrate easily with marketing tools and generate accurate reports.
Payment plans include one-time payment schemes that start at only $10 for 1,000 email checks. The more credits are purchased, the lower the individual check price will be. What's more, there's a monthly subscription option that has a 20% discount.
| | |
| --- | --- |
| | |
| Comprehensive reports on duplicates, bounce rate analysis, spam and syntax errors, and more | |
| | |
| | |
| Reliable 24/7 customer service | |
---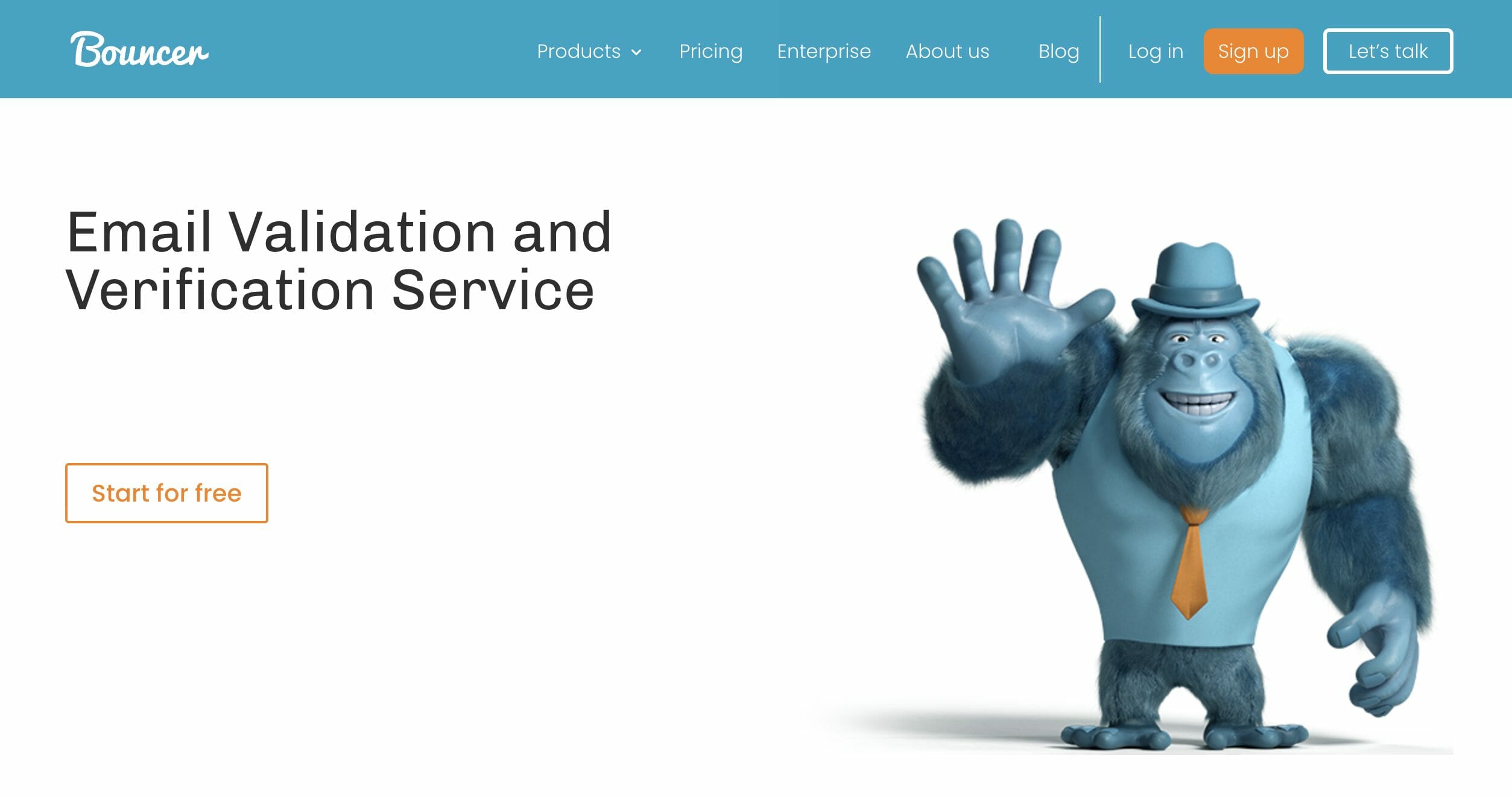 Bouncer is a relatively new software launched in 2017 but is now recognized as one of the best email verification tools available. It's used by over 10,000 businesses from all over the world.
Bouncer is efficient, with up to 200,000 email verification every hour, for every business customer. Some noteworthy features include email Toxicity Check, that filters all the suspicious accounts in real-time, and Deliverability Kit which can improve the listing quality.
This software covers different email service providers, including Office 365, catchall Google Workspace, and has a secure server. The intuitive UI lowers any false negatives, so you don't lose any legitimate emails. Plus, it makes email scan analytics accessible.
Regarding pricing, Bouncer has a free service for up to 100 email checks. They allow a pay-as-you-go option that gives a higher discount the higher the number of emails. Starting rate is $7 per 1,000 verifications, while there's also a monthly program that has a 25% discount. Credits do not have an expiry date, and the software does not charge duplicate emails separately.
| | |
| --- | --- |
| | |
| Rapid email verification process | Free option only shows basic information |
| Real-time verification through API | More expensive than other tools |
| Habitual complainer detection, aside from usual suspicious email features | |
| | |
| Highly accurate results (99.5%) | |
---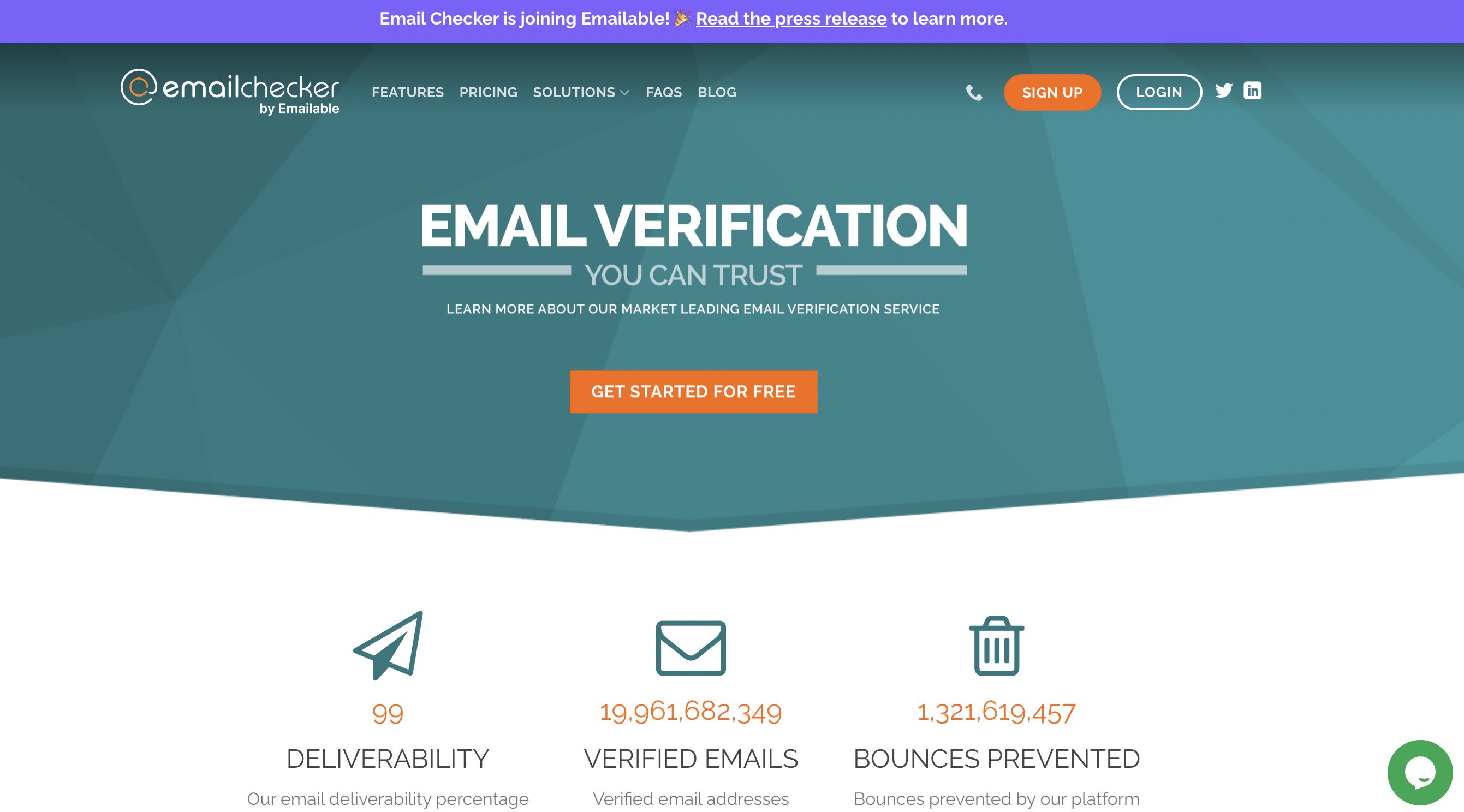 Email Checker has processed about 19 billion emails to date, ensuring that clients flag over 1.3 billion bounce accounts to affect their email marketing. The software is a reliable name in the industry, with major companies such as Seagate, Box, and EE being part of their clientele.
Email Checker works real-time, extracting temporary emails, emails with invalid domains and syntax errors, and honeypot accounts. The tool has a high accuracy rate that detects hard bounce emails and immediately removes them from the list. Email Checker integrates well with eCommerce apps, because it prevents customers from entering invalid email addresses right at the checkout form. The automate list API is downloadable and lists daily checks.
Payment options at Email Checker are either monthly subscription or a credit-based system. There are about a dozen credit tiers, highly convenient and scalable for every business. The price starts at $14 for every 1,000 email verifications, capped at $2,499 for 2.5 million email checks. You have the monthly rate starting at $10 per month for every 1,000 emails. The software requires a 2-month minimum subscription upon signup.
| | |
| --- | --- |
| | |
| | More expensive than other tools |
| | |
| Seamless integration with eCommerce tools | |
| | |
| Reliable customer service | |
---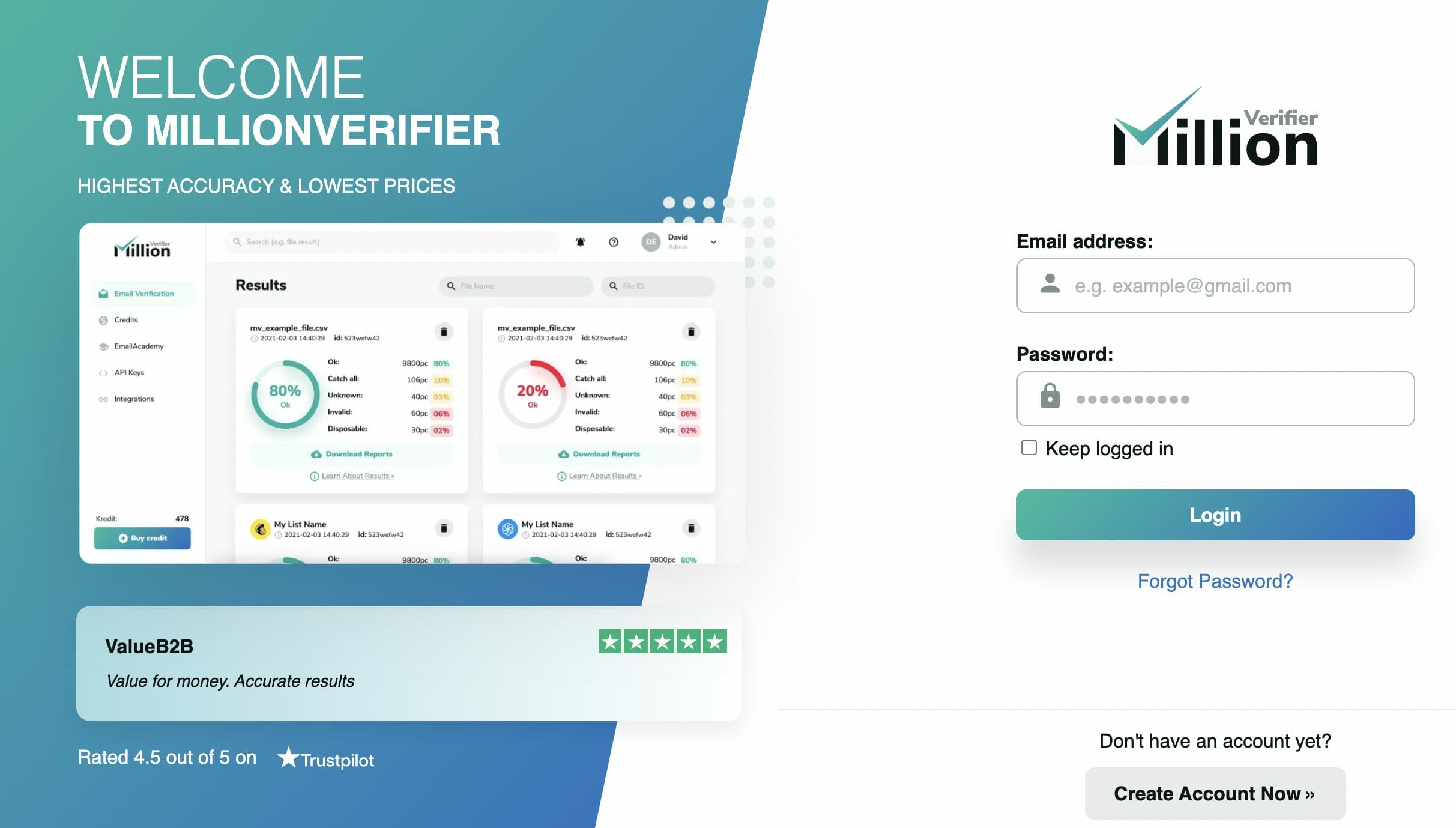 MillionVerifier is operated by a European company that provides some of the best services without the steep costs. It is perfect for those who want accurate results for massive email checks. It guarantees 99% email verification accuracy while charging less than other tools. MillionVerifier is GDPR compliant, and you can upload the list in a file or integrate it with the API.
MillionVerifier removes all high-bounce accounts, syntax error and spelling error emails, and has a catch-all detect system. There are some criticisms about the catch-all verification quality, but the software has available customer service to deal with any issue. Reports are downloadable and easy to interpret. Email verification is rapid, with about 100,000 emails checked for every hour.
The software's big advantage is its affordability. MillionVerifier's service only costs $299 for 1 million email verifications – the lowest pricing on the market. You only pay for successfully verified accounts. The company can help businesses protect their email listing while saving as much as $722 if they choose competitor software.
| | |
| --- | --- |
| | |
| | Catch-all detection system still has lapses |
| | |
| | User interface is not as convenient as other tools |
| Perfect for large number of emails | |
| Perfect for large number of emails | |
---
---
Conclusion
If you're ready to maximize your brand's email marketing scheme, you need to rely on an email verification tool. It incurs monthly or credit-plan costs, but using bulk email verification is crucial for both small businesses and enterprises.
Whichever software you choose, these tools have become indispensable for brands that want to send mass emails to the right audience. Not only can it ensure accuracy in your listing, email verification tools help protect your email reputation and shield you from sanctions. Email verification software reduces bounce rates, which save you time and money when conducting email marketing.
The process involves an address-by-address analysis using copyright algorithms. These tools support every type of email marketing, at every scale. Each one has a 24/7 customer support team that can assist in case any problems or questions arise during the verification process. Having a reliable team to facilitate automated email scans keeps your team focused on creating engaging and eye-catching emails.
When you put a premium in email verification, you inherently maximize your resources and how your brand reaches legitimate customers. Separate dubious accounts and error-laden emails from high-value customers that your sales team must engage.
Frequently Asked Questions
What is the best email validation tool?
The best email validation and verification tools to clean up your email list:
ZeroBounce

Mailfloss

MailerCheck

Bouncer

Email Checker

MillionVerifier
What is an email verification tool?
Email verification tools help ensure your emails are deliverable. They help reduce bounce rates and improve your email marketing and outreach campaigns. In addition, email verification tools can help with bots and inactive users to make sure your business emails reach real, active people.
How can I verify someone's email?
Here are the best ways to verify someone's email address before sending an email:
Ping the server

Check the email syntax

Send an email for another account

Look up the DNS

Perform an IP address lookup

Use an email verification tool
How do I mass verify my email?
To mass verify your email, you will need to use a bulk email verification tool. Email verification tools help ensure your emails are deliverable. They help reduce bounce rates and improve your email marketing and outreach campaigns.