Do you want to get started with Facebook advertising but don't know where to begin?
In this guide, you'll learn Facebook advertising start to finish. We'll start with why you should use the Facebook advertising platform and even walk you through how to make a Facebook ad.
By the end of this guide, you'll be a master at Facebook advertising. But, even if you aren't, you'll have everything you need to run a killer Facebook ads campaign right at your fingertips.
---
The Beginners Guide to Facebook Advertising:
---
Why Use the Facebook Advertising Platform
Facebook has more than 1.73 billion daily active users, making it the biggest social network worldwide. No matter who your target audience, it's a pretty safe bet that a large portion of them are on Facebook.
And Facebook is still growing.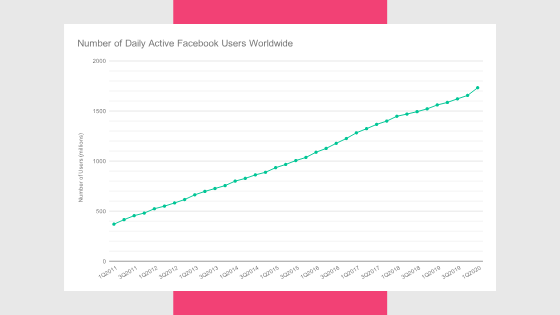 But, other than the sheer size of the network, why choose Facebook ads?
Not only does Facebook offer an enormous pool of active users, but those users also spend nearly an hour a day on the platform.
The Facebook Ads platform also offers advertisers extensive targeting options.
You can target your Facebook ads based on:
Location

Gender

Age

Interests

Behaviors

Life events

...and more
Facebook Ads has many advertising tools that you can use to target the right people with your marketing message. You can create Facebook ads using text, images, videos, events, links, and offers.
Basically, if you can imagine an ad and a target market, Facebook advertising can help you reach them.
Plus, now that Facebook owns Instagram, you can run both Facebook and Instagram ads in a single campaign. With more than 500 million daily active Instagram Stories users worldwide, your advertising efforts can have an even greater impact.
---
Types of Facebook Ads
We briefly touched on the types of Facebook ads you can use, but let's take a closer look at each ad type.
Video Ads
Facebook video ads help you show off product features and naturally draw viewers in with sound and motion.
---
Image Ads
Images ads on Facebook work to drive viewers to your website and apps with high-quality visuals.
---
Collection Ads
Facebook Collection Ads show off products from your catalog, encouraging viewers to take a closer look.
---
Carousel Ads
Carousel ads let you showcase up to ten videos or images in a single ad. The best part? Each image or video can have its own link.
---
Instant Experience
Instant Experience ads give you a full-screen, mobile-optimized ad experience.
---
Lead Generation Ads
Lead ads on Facebook are great for collecting information from people who are interested in your business so you can continue marketing to them. You can create lead ads with image, video, or carousel ad formats.
---
Offers
Everyone loves a discount. Offer ads can appear as video, image, or carousel ads.
---
Boost Awareness
Facebook offers a few different ways to boost your brand awareness with ads: post engagement, event responses, and page likes.
Post Engagement
Boost your Facebook posts with an engagement ad to get more likes, shares, comments, and views.
Event Responses
Event response ads can promote awareness of your event and drive responses. You can use image or video formats for these ads.
Page Likes
If you want to drive more visitors to your Facebook page, a Page Likes ad will help you do it. You can use video and image formats for these ads.
---
How Do Facebook Ads Work?
As you can see, Facebook offers quite a few options to help you build your best Facebook advertising campaign.
But, how do Facebook ads work? And how much does Facebook advertising cost?
Facebook uses an auction system, so you'll bid against other potential advertisers to win the right to show your advertising campaigns. This means that there's no set cost to run a Facebook ad campaign.
So, how do you know how much you'll be spending on your Facebook ad campaigns?
Budgeting.
When you set up your ad, you'll choose a daily budget. This tells Facebook the most you're willing to pay each day to get your ad seen.
Now that you know a bit more about how Facebook ads work, you're probably wondering how to create a Facebook ad campaign.
Before creating your ad, there are a couple of things you need to do first: set up your account for Facebook advertising and research your target audience.
---
Getting Your Account Set Up for Facebook Advertising
To set up your account for Facebook advertising, go to the Facebook Business Manager and select Business Settings in the upper right corner of the screen.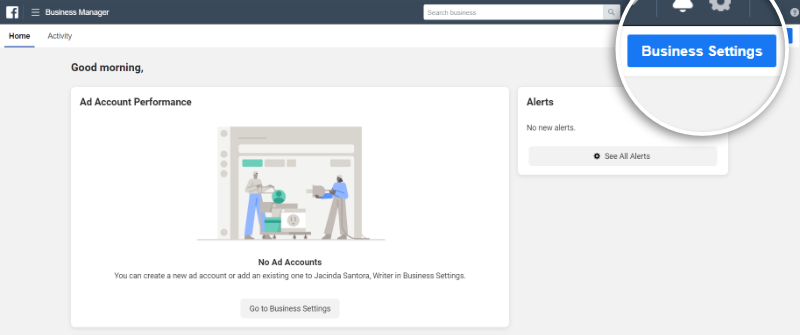 On the next screen, click on Ad Accounts in the menu on the left. Then, click the + Add button in the center of the screen to add a new Facebook ads account.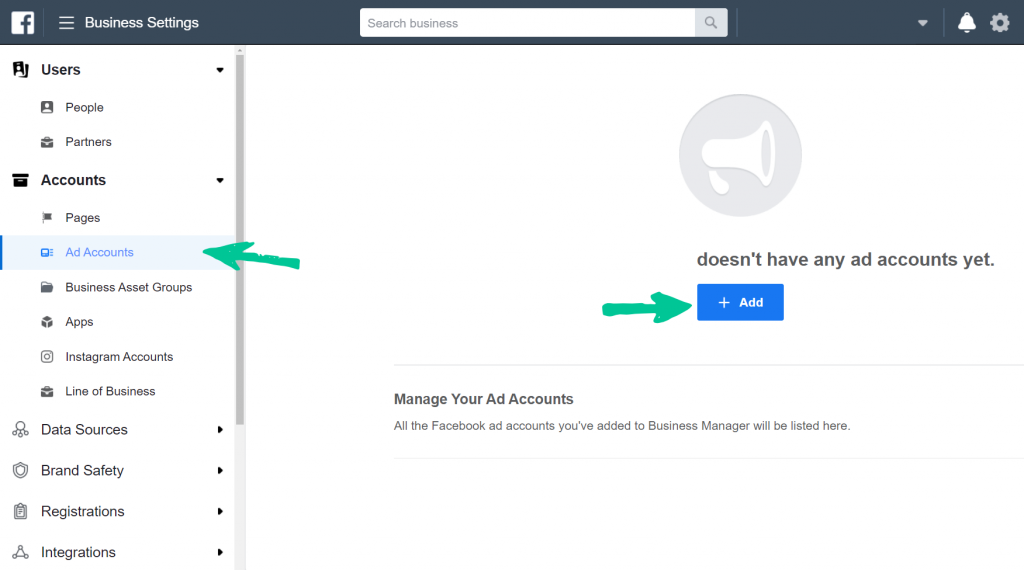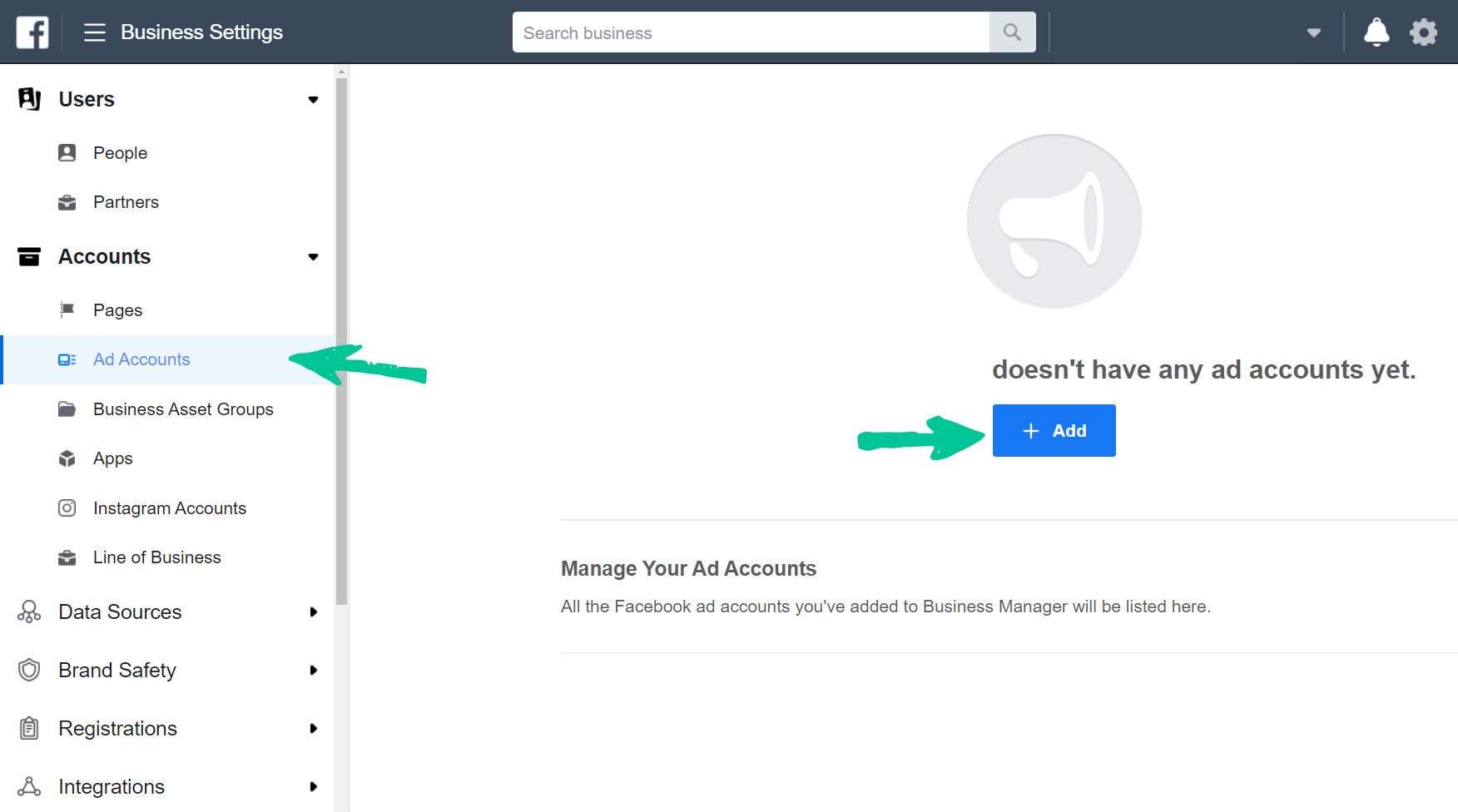 From the dropdown list, choose Create a New Ad Account and walk through the steps to create your new account.
Once you've created your ad account, it will show up in the Ad Accounts list.
To add a new payment method to pay for your Facebook ads, click on the small arrow to the right of Open in Ads Manager at the top right of the screen.

This takes you to a screen where you can add a new payment method, see when your next bill will hit your payment method (and how much it will be), and set an account spending limit to control total ad costs.
After you've updated your payment method, click on Ad Accounts at the top of the menu on the left, and finish your Ad Account Setup.
---
Finding the Right Audience for Your Facebook Ads
Now that you've got your Facebook advertising account set up, it's time to think about who you want to target with your Facebook ads.
Yes, you'll be choosing your target audience when you create your Facebook ad, but you should already know going in who you want to reach.
Finding the right audience is vital to the success of your Facebook ad campaigns, not to mention crucial to your company's success overall.
So, how do you find the right audience for your Facebook ads?
Research.
Audience research isn't hard, but it does take time. We promise that the time you spend finding your best audience will pay off.
Here are three key questions to help you uncover the best audience to target with your Facebook ads.
1. Who are the standout influencers, thought leaders, and brands in your industry?
Start by creating a list of the most important people in your niche. This is easily done with a simple Google search.
2. What do they do in their downtime?
Dig a little deeper to find out what books and magazines your industry's leaders read, their favorite websites, and the events they attend.
3. What makes them special?
What makes this particular audience stand out? What is it about them (traits and behaviors) that make them the perfect people to target through Facebook ads?
---
Facebook Ads Tutorial: How to Create Facebook Ads
Now that you've gotten your Facebook ads account set up and you know who you want to target with your Facebook advertising campaign, it's time to create a Facebook ad.
Your Campaign Objective
The first you'll need to do when creating a Facebook ad is to choose the objective of your ad campaign. This is the outcome you want from the ad and could be anything from increasing sales, getting more app downloads, or simply boosting brand awareness.
In the Facebook Ads Manager, click on Create Ad: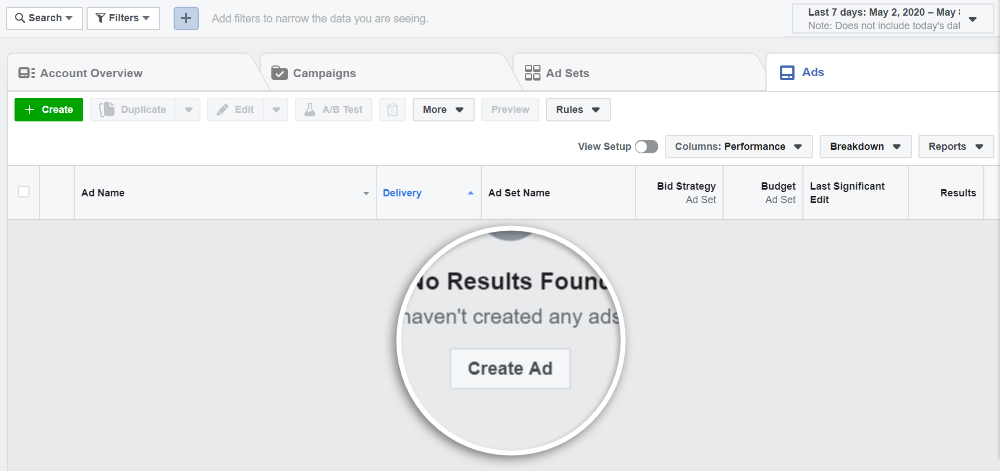 Next, choose your objective.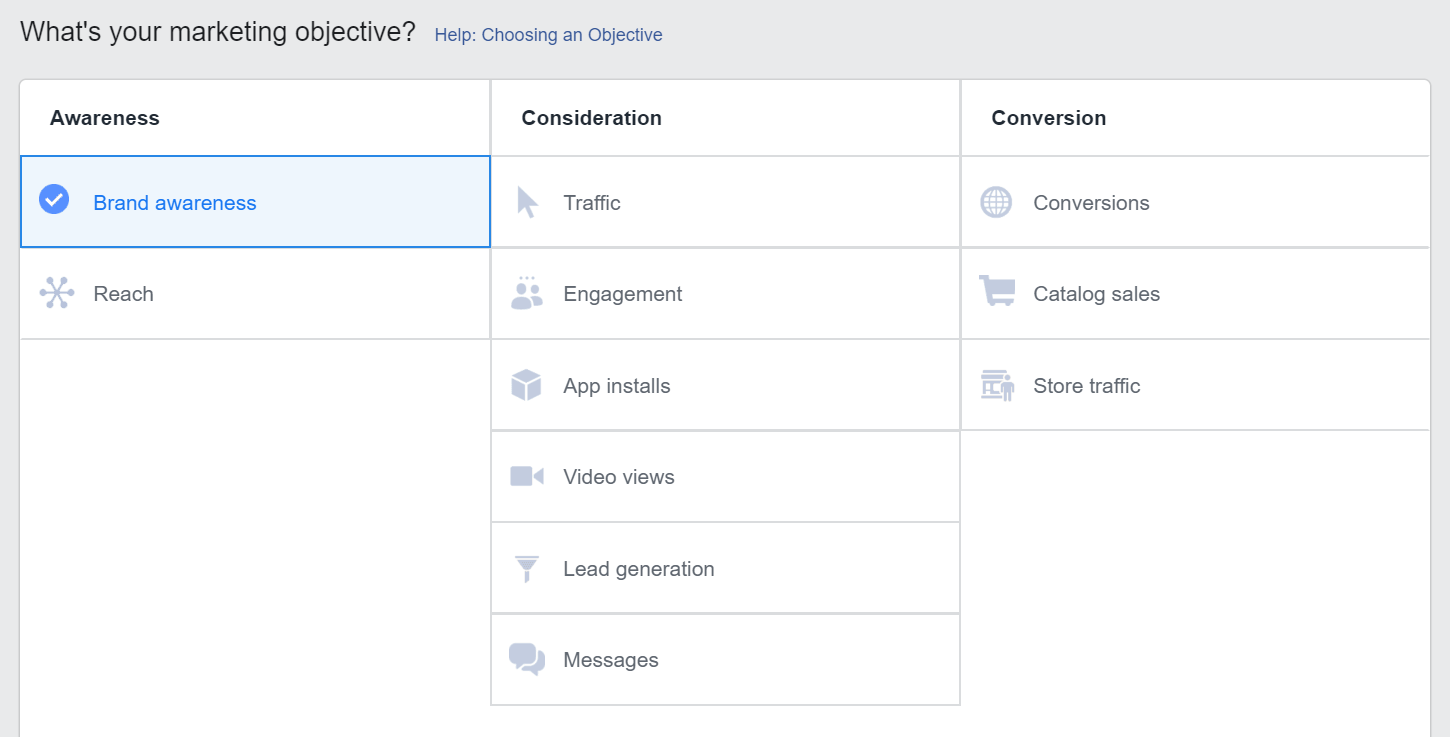 Once you've chosen your objective, you'll be able to name your campaign and set a daily budget.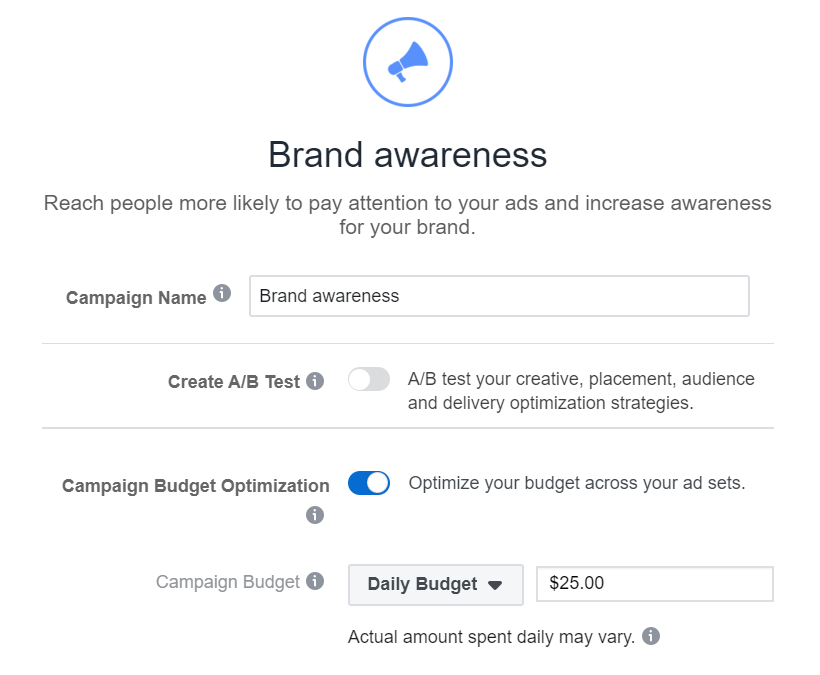 Clicking Show More Options at the bottom of the screen will give you the chance to change your campaign bid strategy, ad scheduling, and delivery type.
Make the changes you want and click Set Up Ad Account.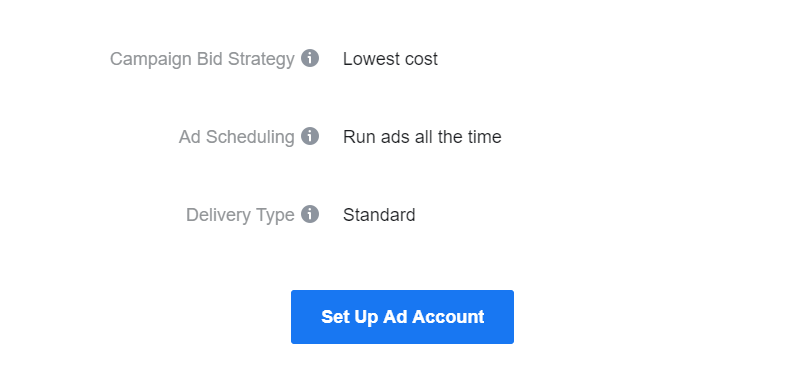 A quick note: You can't change your ad campaign objective once you've set it, so pick the objective that aligns with your goal.
After you've set up your objective, you'll be able to confirm that your account information is correct. Make any needed changes and click Continue in the lower right corner of the screen.
---
Your Audience
Now it's time to put that target audience research to work!
Start by changing the Ad Set Name to something you can easily identify. This is the name that will show up in reporting, tips, insights, and notifications.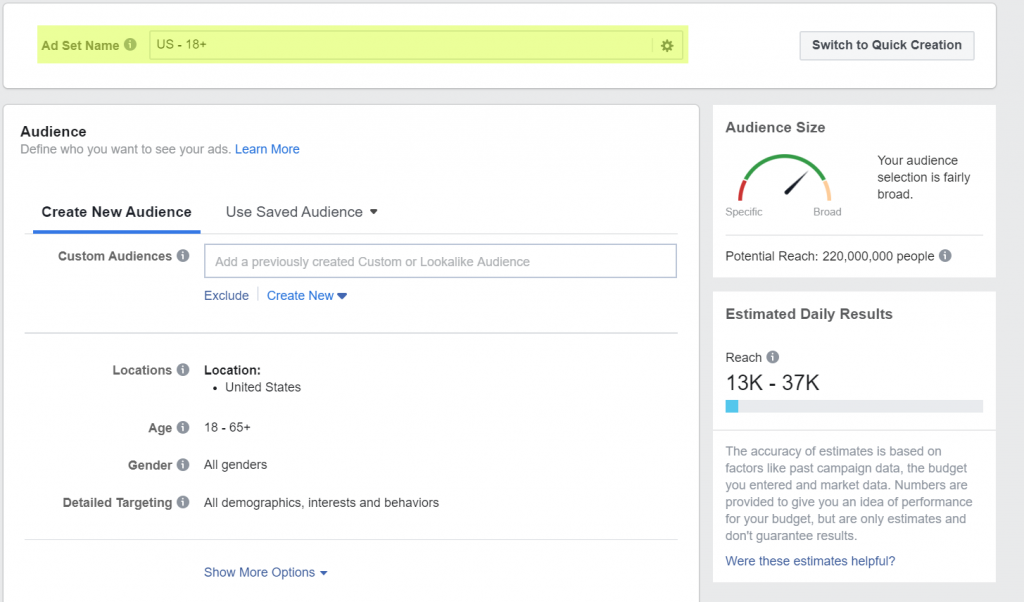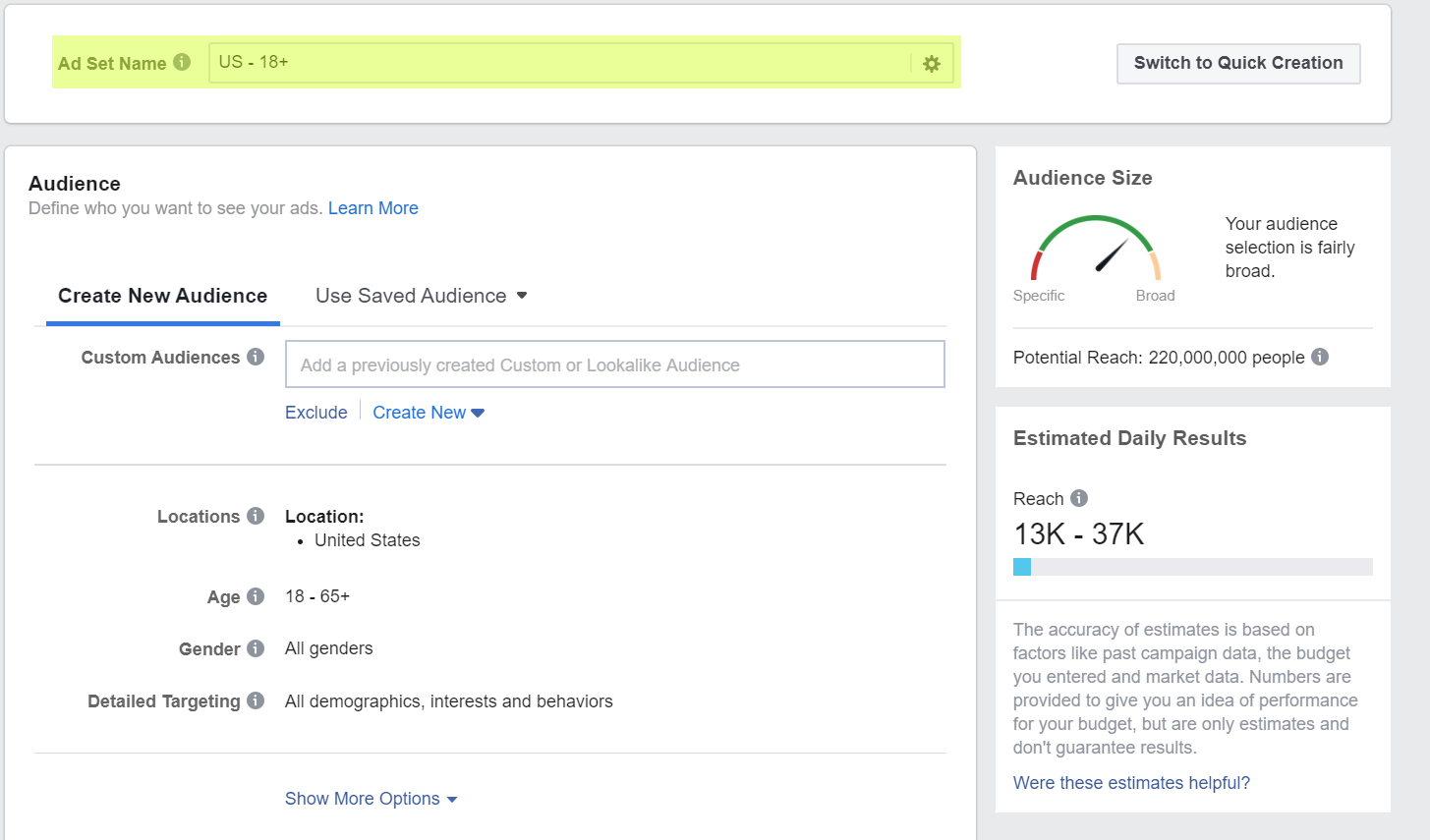 Next, you have the chance to create a new custom audience.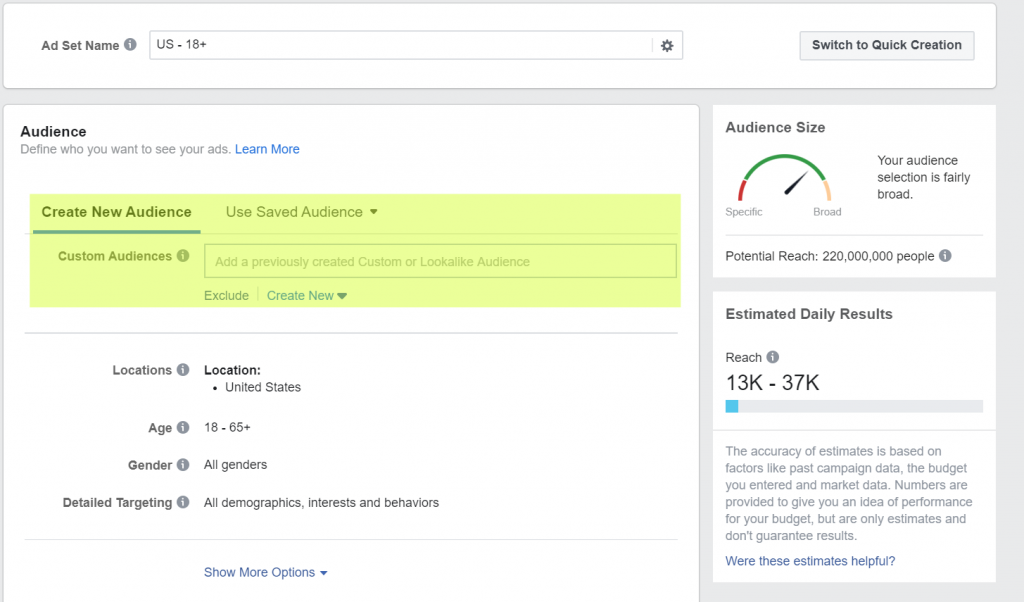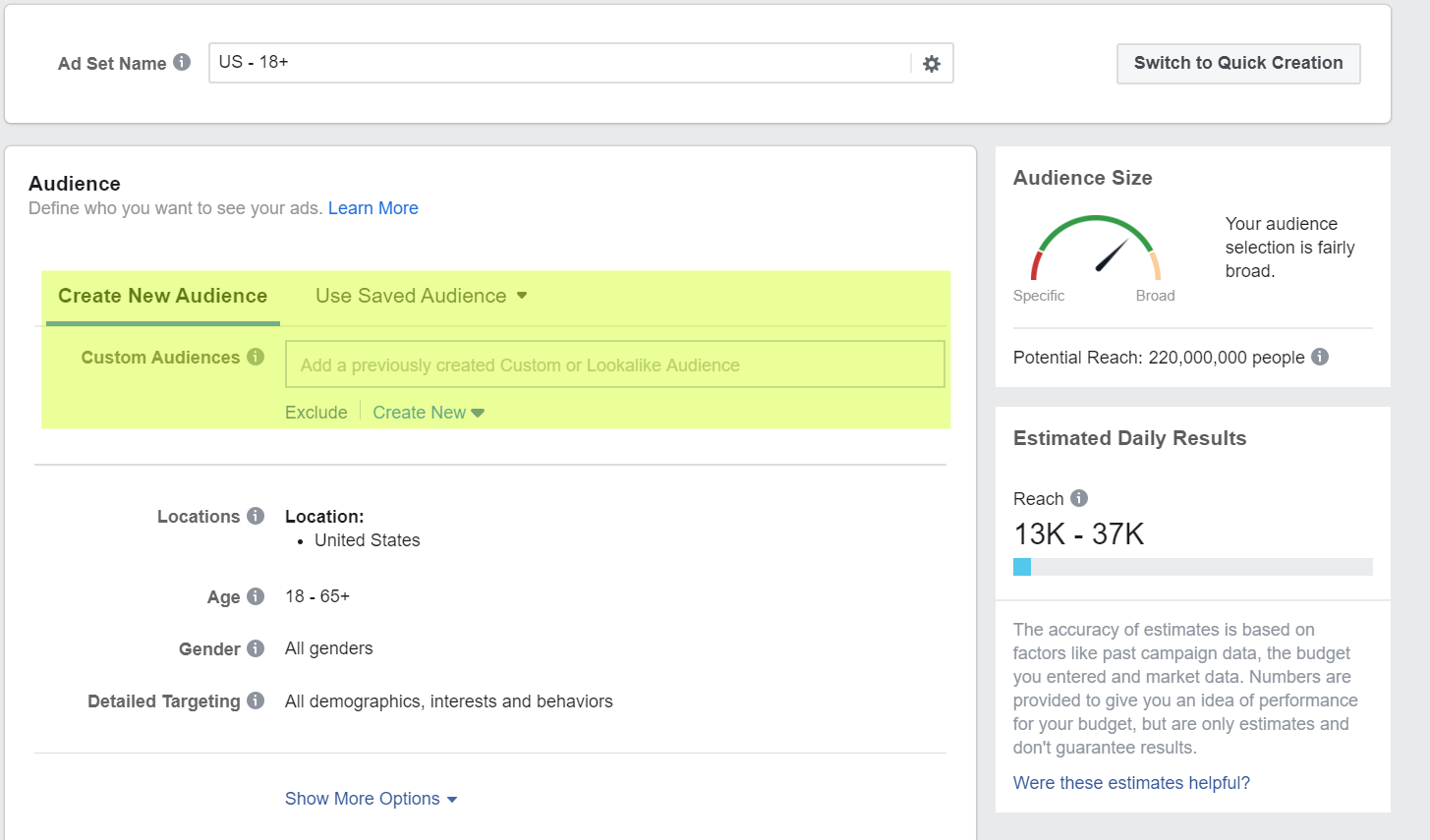 Clicking on Create New gives you two options:
Custom Audience:

People who have already interacted with your business.

Lookalike Audience:

New people who are similar to your most valuable audiences.
Have a specific audience in mind? You can build your target audience manually by choosing from locations, age, gender, and detailed targeting options: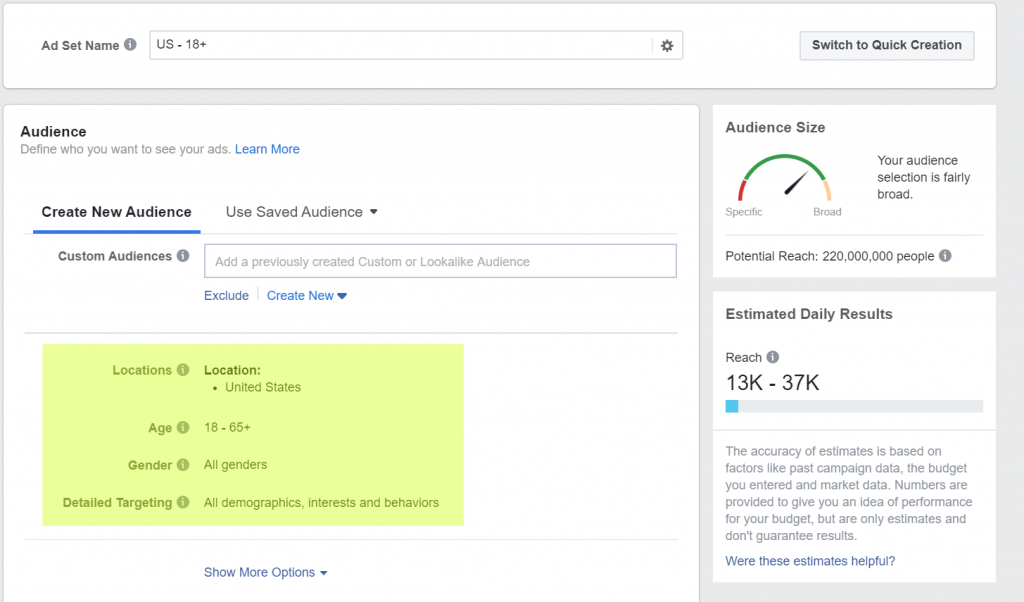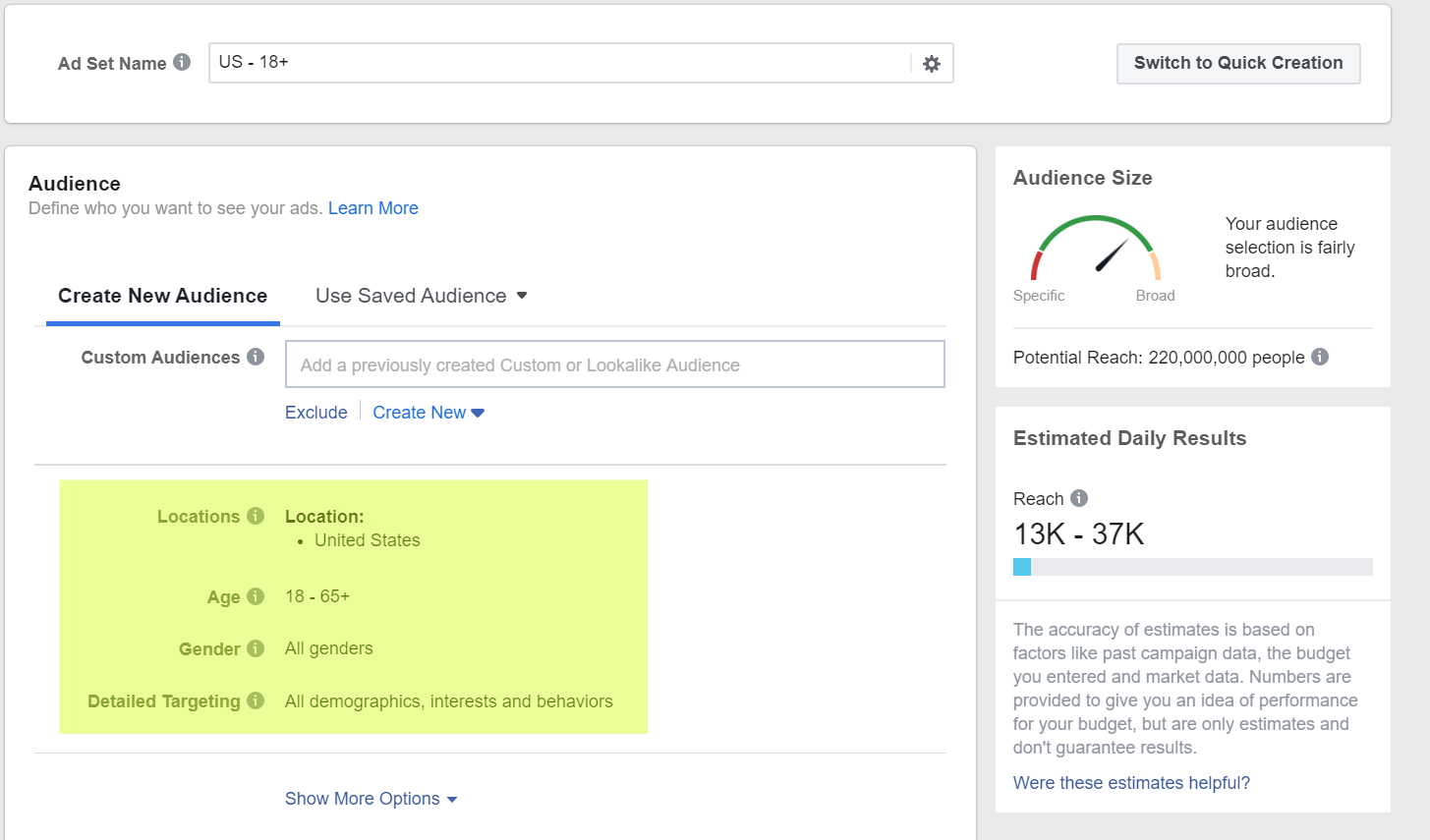 As you make changes to your target audience, the Audience Size monitor on the right side of the screen will change: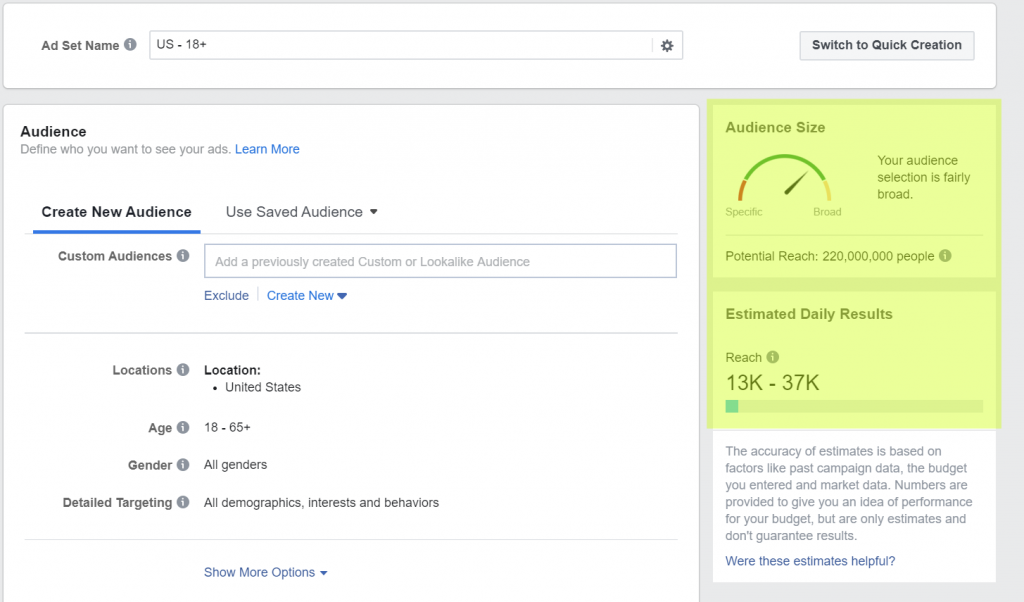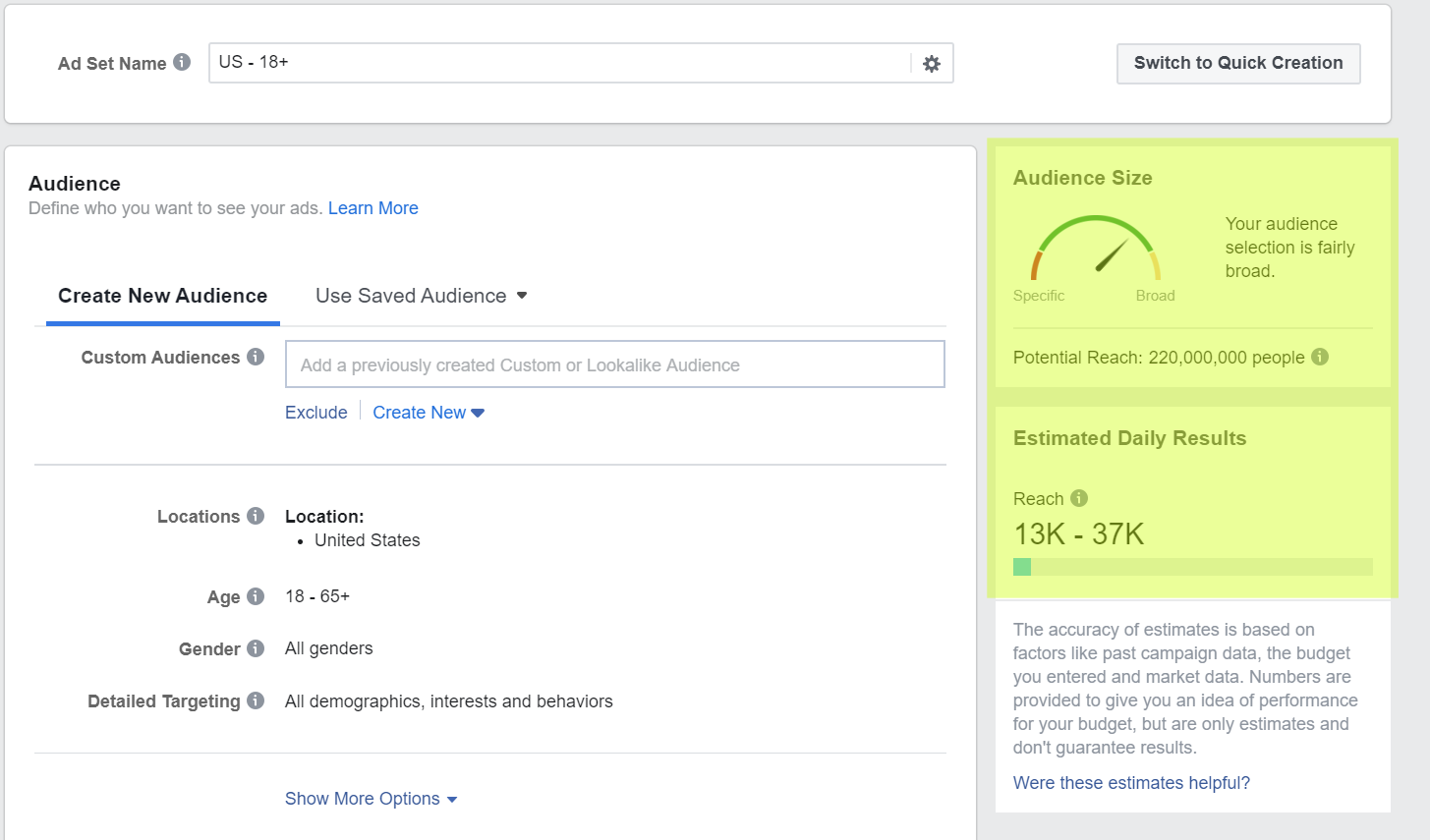 If your audience size seems a bit large, you can choose to narrow it: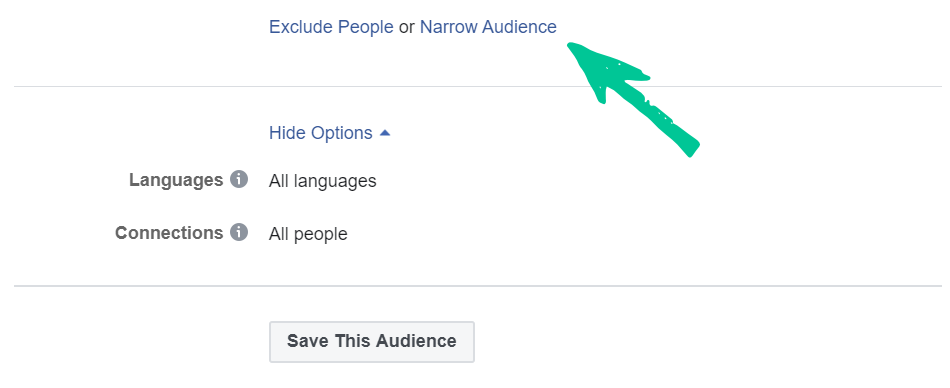 Once you have a good audience size, click Save This Audience.
What is a good audience size for Facebook ads, you ask? We recommend keeping the audience size under 500,000 people.
---
Facebook Ads Placements
After you save your target audience, it's time to choose your ad placements.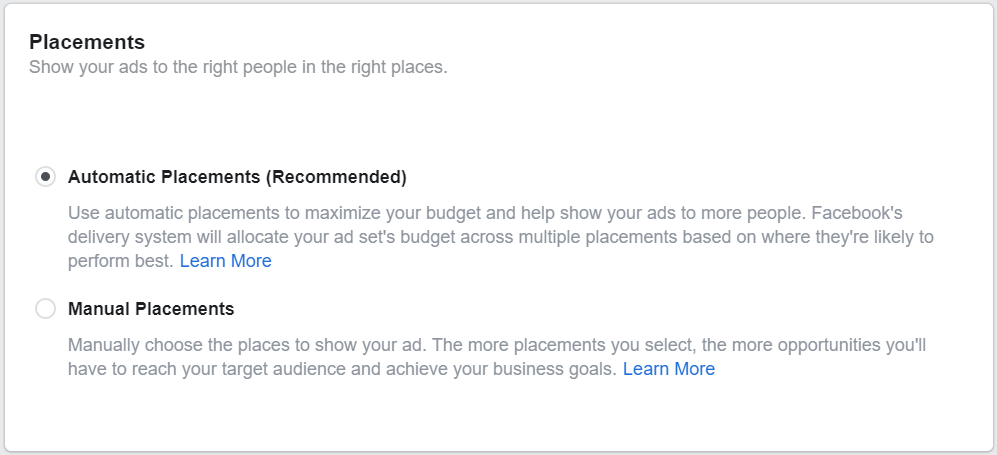 You can choose to have Facebook place your ads automatically, which is what we recommend. However, if you want to choose your own ad placements, you can.
Just choose the Manual Placements radio button to bring up all of the ad placement options available to you (there are a lot of them).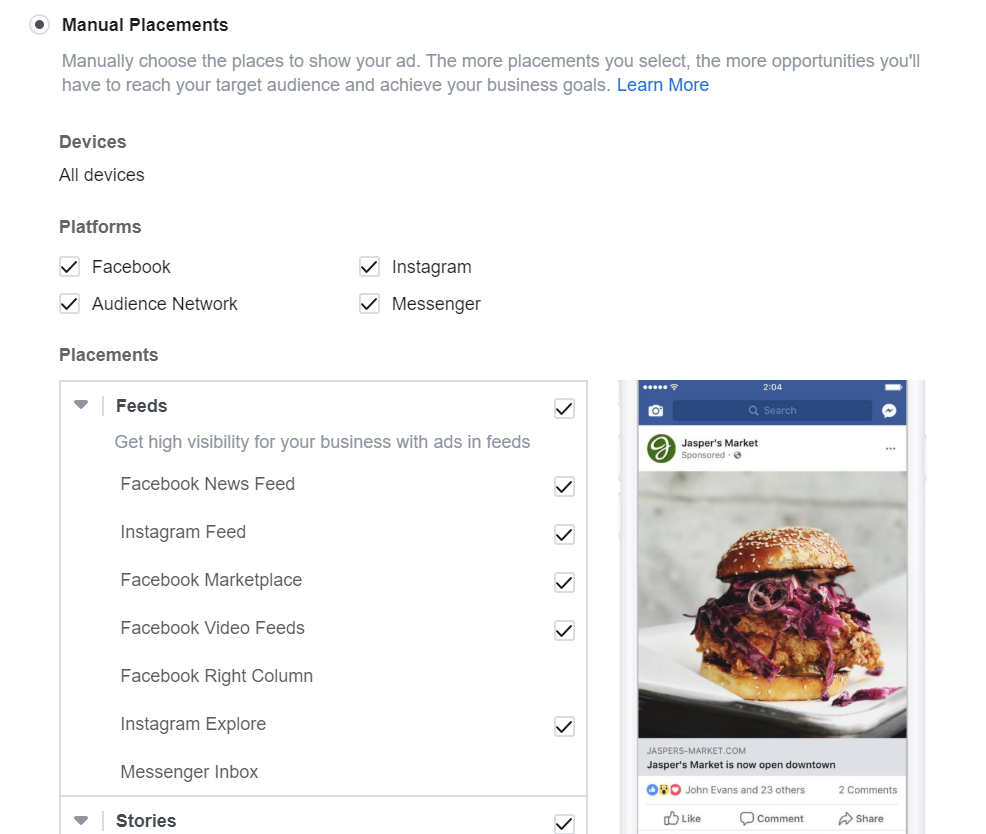 We're going to stick with automatic placements.
---
Budget and Schedule
You've got your audience and chosen your placements, so you're ready to decide how much you want to spend on your Facebook ad as well as how often it will run.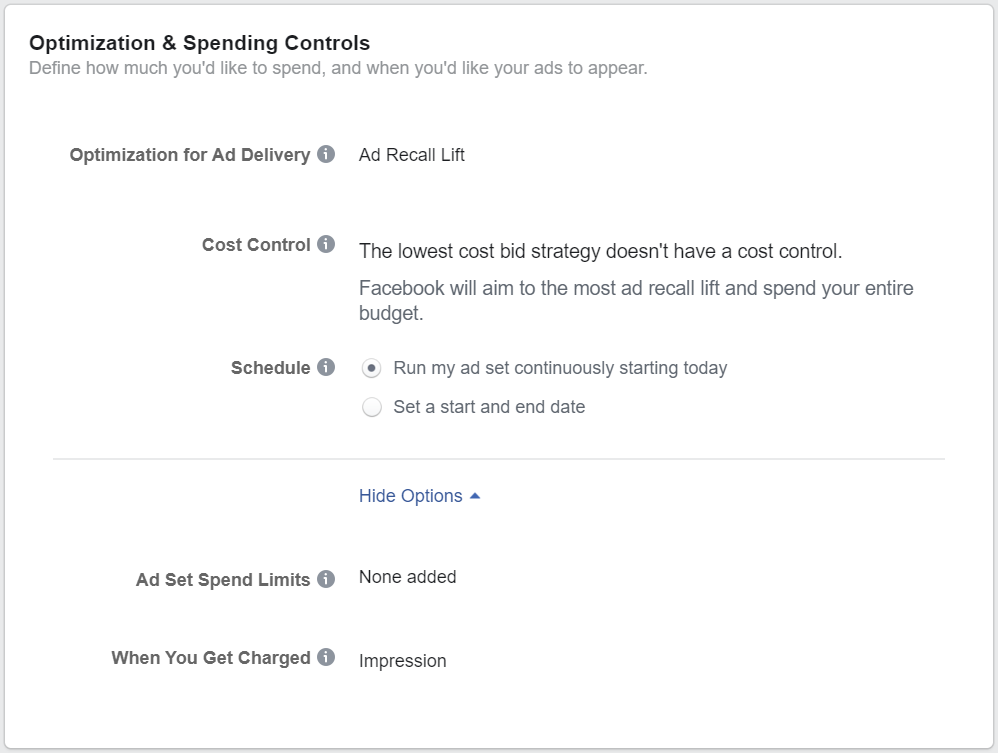 As we already mentioned, it's hard to pinpoint exactly how much your Facebook ad will cost. When you're a beginner to Facebook advertising, it can be a bit confusing, especially when certain objectives only allow certain optimization and spending controls.
Let's take a closer look at each option you have here:
---
Optimization for Ad Delivery
This tells Facebook which event you want to optimize for in your ad set and affects who sees your ads. For example, choosing to optimize for link clicks triggers Facebook to show your ad to the people who are most likely to click your link.
---
Cost Control
If you have a specific cost goal and have chosen an ad delivery that allows it, you can set a cost control. Without it, Facebook's ad system tries to spend your entire budget to get you the most results.
---
Schedule
You can set your Facebook ad campaign to run continuously starting from the moment it's created or within a specified date range.
---
Ad Set Spend Limits
You can add a minimum target spend limit or a maximum spend limit to control spend on this Facebook ad set. We recommend setting a maximum spend limit to avoid unhappy surprises when it comes time to pay for your Facebook ads.
---
When You Get Charged
For many optimization goals, you'll pay each time your ad is served (known as an impression), but some goals let you choose actions like link clicks or ThruPlay.
Once you've set your budget and schedule choices, click Continue in the lower right corner of the screen.
---
Identity
With the ad settings out of the way, we now focus on what our Facebook ad is going to look like.
The first step is to choose which Facebook page you'll be running ads for. If you want to connect an Instagram account, you can do that here.


---
Designing Your Facebook Ads
You have a few different options when it comes to creating a Facebook ad.
Create your ad from scratch

Use an existing post

Use a mockup
You also get to decide how you want to structure your ad. With the objective we chose for our Facebook ads tutorial, we can create a carousel ad or a single image or single video ad.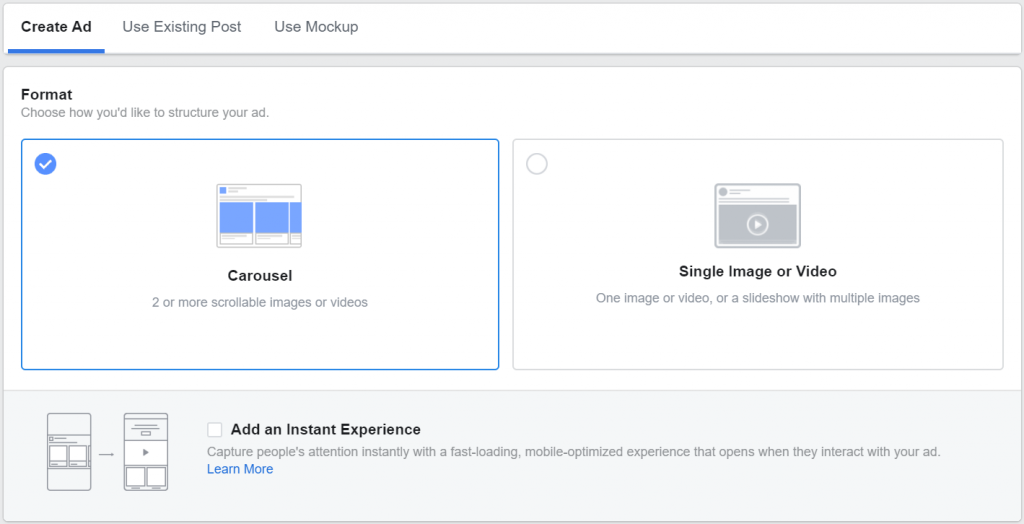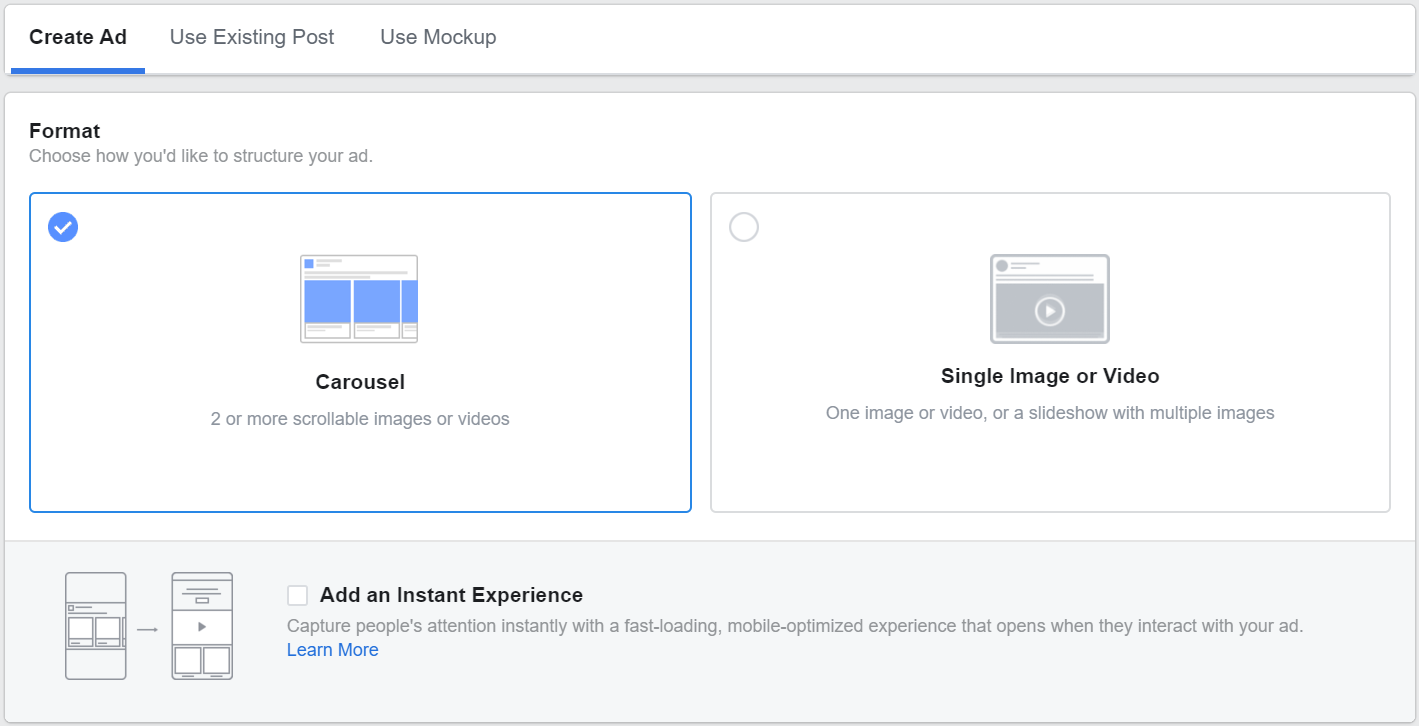 Images
After you've chosen the ad structure you want, you get to choose your media:

In the Media section, just click Add Media and choose to add an image or a video to your Facebook ad set.
Facebook's recommended image size for ads is 1200 X 628 px.
Text & Links
Chances are, you're creating an ad to drive viewers to a specific site. So, go ahead and click the checkbox next to Add Website URL and enter your target URL in the Website URL field:
Now, enter your Primary Text.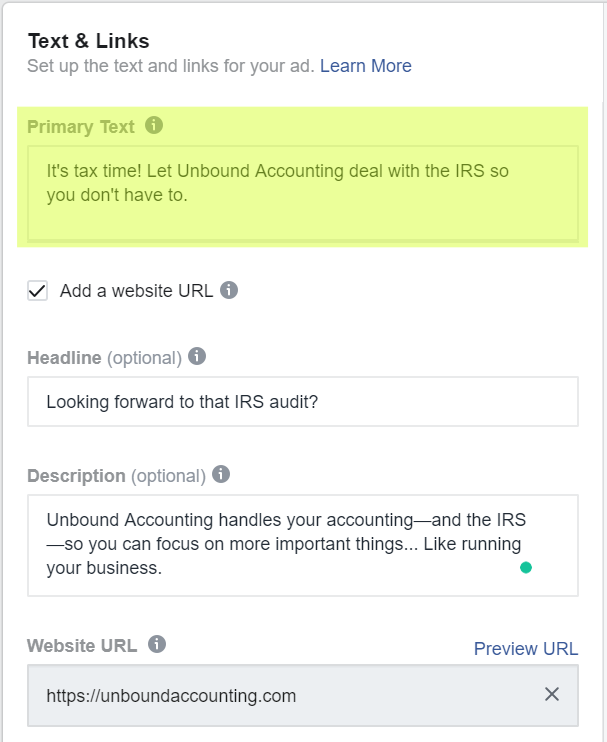 The Primary Text for Facebook ads shows up in most placements, but the position varies. You can use @ to tag Facebook profiles or Pages. Facebook recommends keeping primary text limited to 125 characters or less.
You'll want to include your value proposition in your primary text; this is your chance to pull viewers in with your ad and showing them the value in you and your product will help do that.
Next, create a headline that is compelling and entices viewers to click. While not exactly the same, email subject lines serve the same purpose, so look to those for inspiration.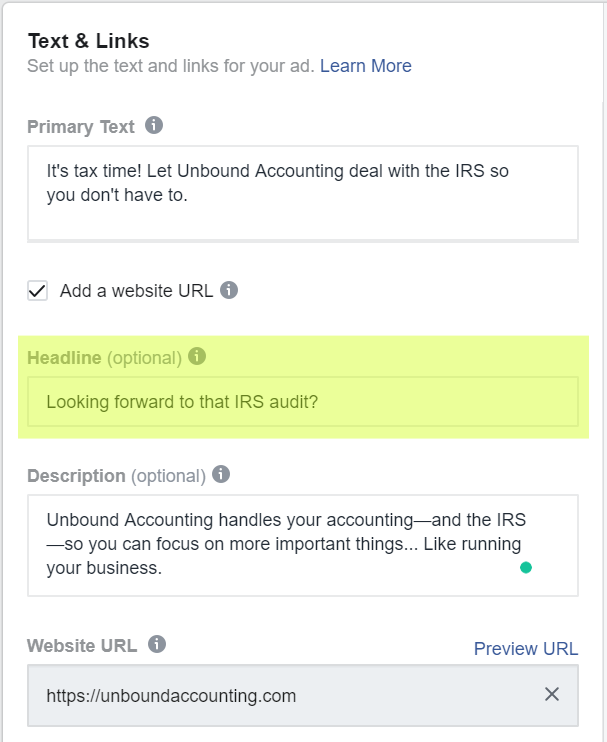 Facebook recommends keeping headlines to 50 characters or less.
You can also add a description if you want.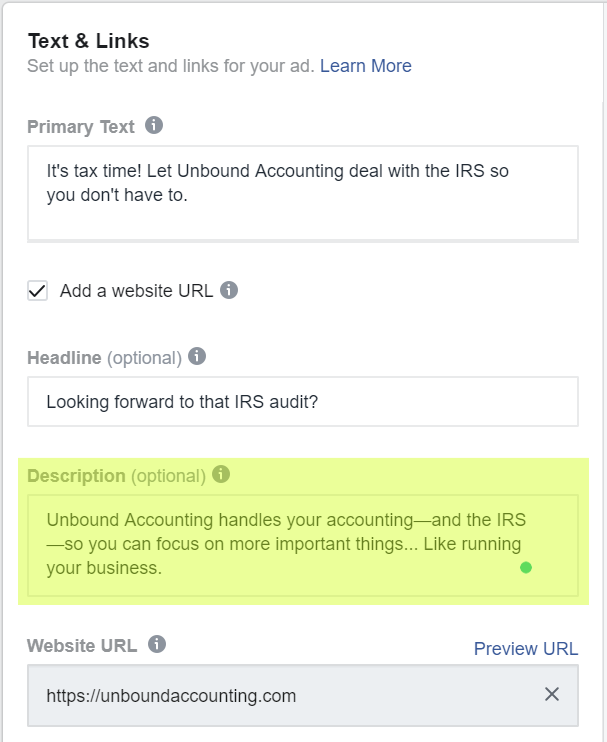 Descriptions are optional and show up in some Facebook ad placements in varying positions.
Call to Action
You can choose to add a call to action button to your Facebook ad.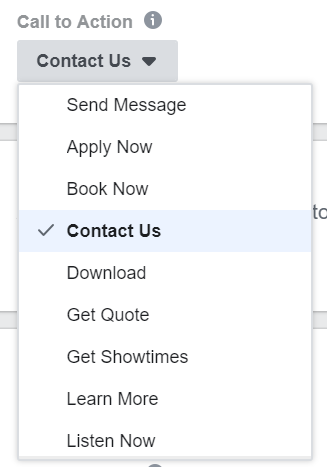 Calls to action are great for telling visitors exactly what you want them to do.
Languages and Tracking
The last two steps of creating a Facebook ad are Languages and Tracking.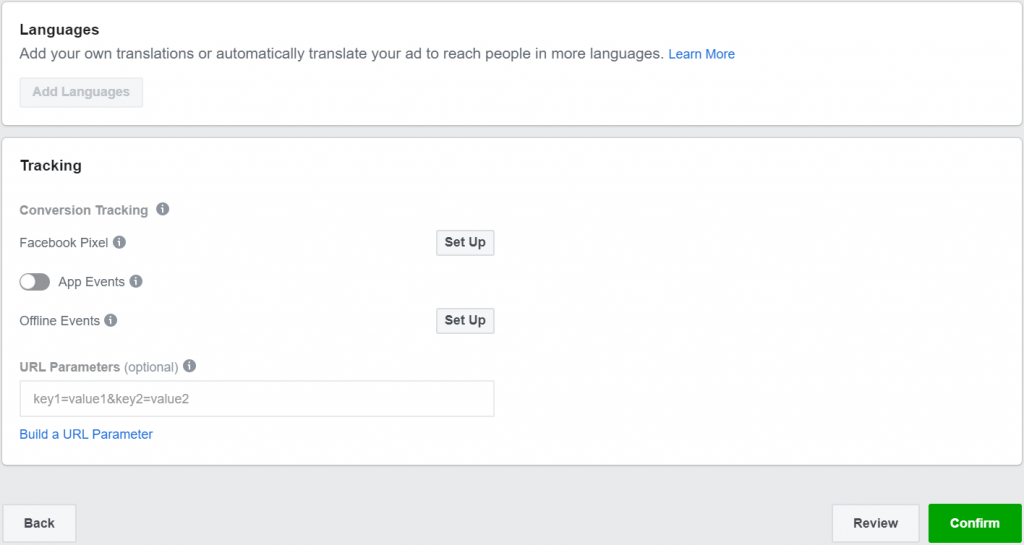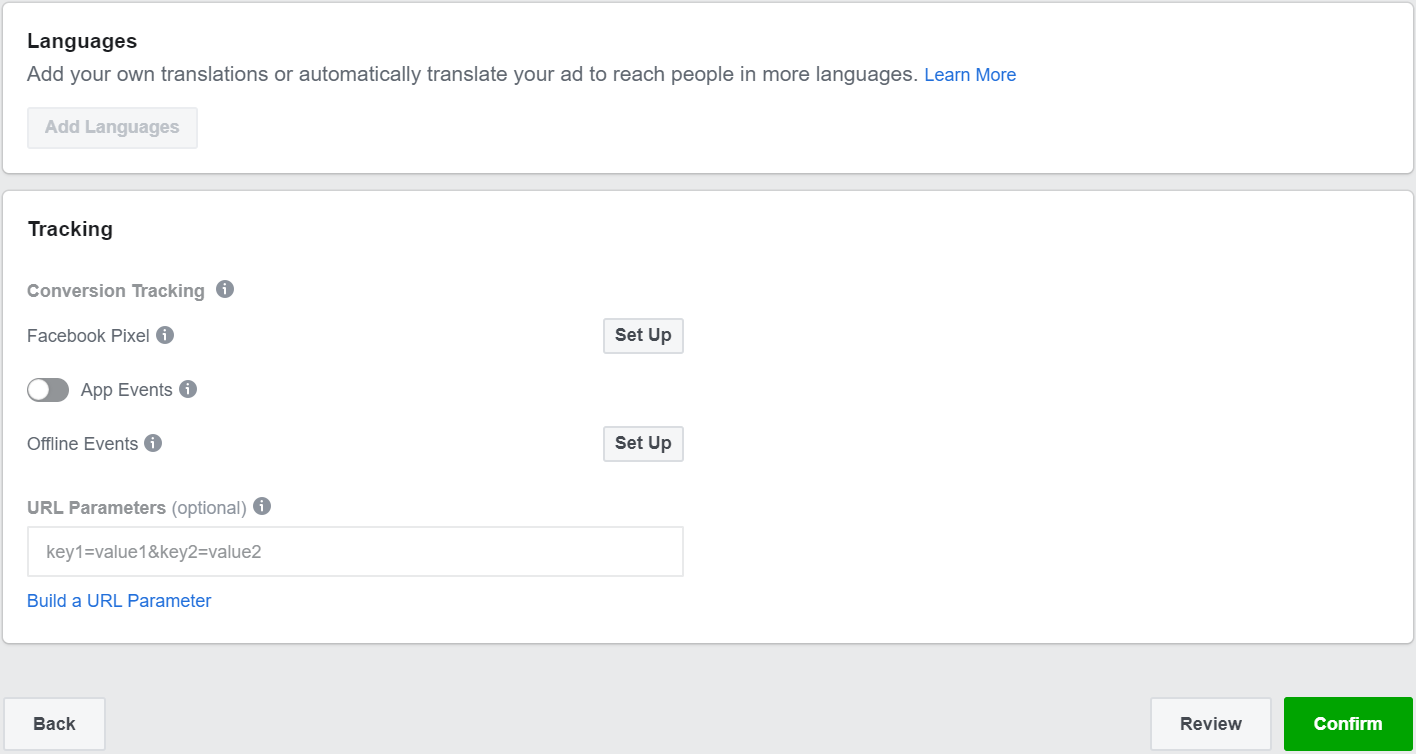 Under Languages, you can add your own translations or let Facebook automatically translate your ad so you can reach more people.
In the Tracking section, you'll find different methods of conversion tracking that will help you analyze your Facebook ads ROI (return on investment).
Once you choose the conversion tracking method you want to use (if any), click the Confirm button and you're done!
Awesome work! You've just created your first Facebook ads campaign.
---
Analyzing the Effectiveness of Your Facebook Ad
Did you think you were done? The fun is just getting started!
Now that you've got a Facebook ad campaign running, you'll want to make sure that it's doing what you want it to do.
After three days or so, head back over to the Facebook Ads Manager and check out your ad campaign's performance.
Under the Columns dropdown, you'll have access to all the information you need to ensure that your ad is meeting your goals.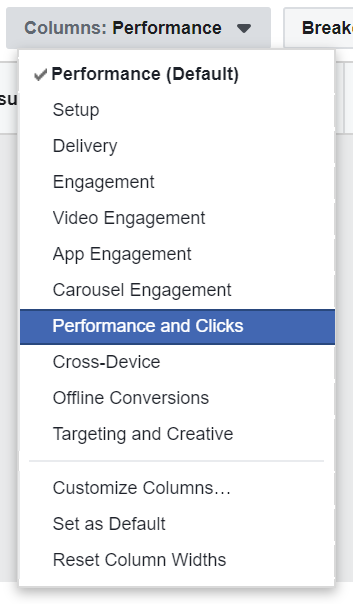 Facebook Ads Manager gives you the analytics you need to find out what's working.
---
Optimizing Your Facebook Ads
By now, you're an old pro at Facebook advertising. So, how can you take your Facebook advertising even further?
Here are three great ways to optimize your Facebooks ads:
A/B Testing
Split testing (aka, A/B testing) is a great way to find out exactly what's working on your Facebook ads and how you can make it even better.
Plus, Facebook makes A/B testing your ad campaigns really easy. You can A/B test any of these ad elements:
Creative:

Compare different ad images, text, creative types.

Audience:

Add or remove certain locations for your audience, or compare a custom audience with an interest-based audience.

Delivery Optimization:

Compare campaigns with and without Campaign Budget Optimization enabled to measure its impact on your ad's performance.

Placements:

Compare placement types to see what is most effective at reaching your audience.

Product Set:

Compare different product sets to see which has the most impact.

Multiple Variables:

If you want to compare two complex Facebook ad strategies against one another, you can.
Repurpose Influencer Content
Influencer-generated content is a brilliant way to draw in viewers with your Facebook ads.
Repurposing content created by influencers for your brand will boost the effectiveness of your Facebook ads because this type of content is typically seen as more relatable than ad copy from your marketing department.
Use Social Proof
Influencers are just one type of social proof you can use to make your Facebook ads stand out. The more reactions, comments, and shares you can get on your posts, the better.
The Facebook algorithm loves social proof.
---
Wrapping Up
Congratulations; you can officially call yourself a Facebook advertising beginner no more!
In this article, you learned everything you need to launch your first (and second, and third, and…) successful Facebook advertising campaign. Plus, you learned how to monitor its performance and some tips to make it perform even better.
The only thing that's left to do is start advertising.
Looking for inspiration? Here are some Facebook ad examples that will help you take your Facebook ad campaign to the next level.