Facebook has long evolved from just a social media platform to an important marketing and sales platform for businesses. Facebook's business pages provide an array of useful features that can be leveraged by businesses. Whether it is simply connecting with consumers or driving potential customers to the website, there's a lot that can be achieved.
Therefore, it is very important for brands to optimize their accounts, groups, or business pages to engage their audiences. And, one of the first things that someone sees when they visit your page is the cover picture.
It takes up almost half the screen and is a big, bold representation of what your brand stands for. Cover photos are extremely important for making a good first impression on your audience. And, therefore, you should pay special attention to selecting one that makes a good impression.
In this post, we discuss not only what makes a good Facebook cover photo, but also list the tools that you can use to make one. This will help strengthen your Facebook marketing strategy.
---
How to Create Great Facebook Cover Photos:
---
Facebook Cover Photo: The Basics
Before we get into the details of what makes a good Facebook cover photo, let's first understand some basics.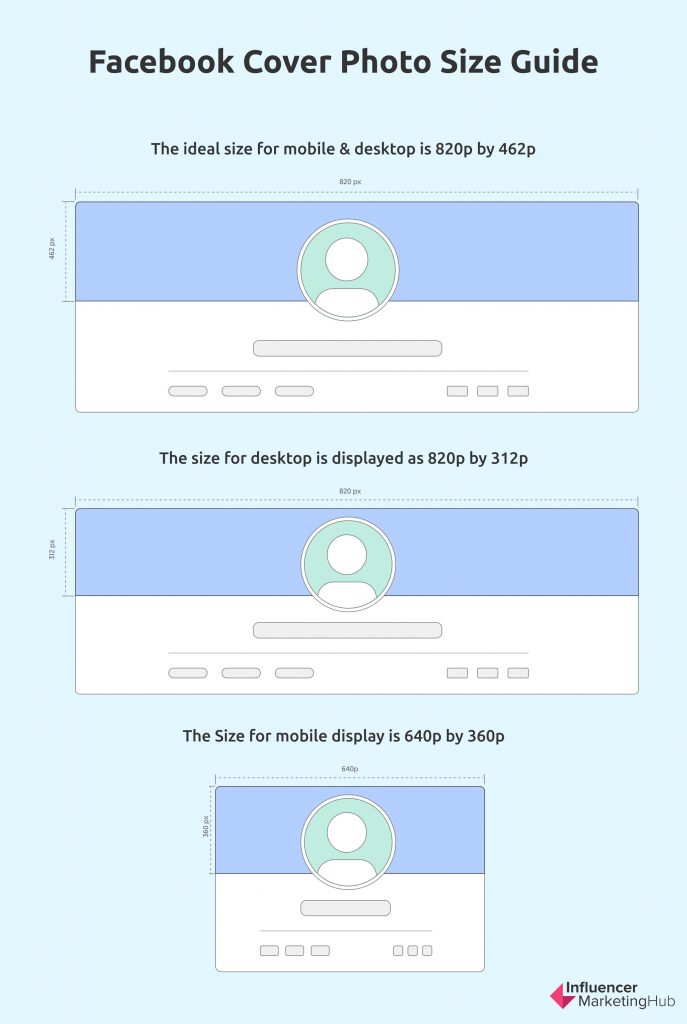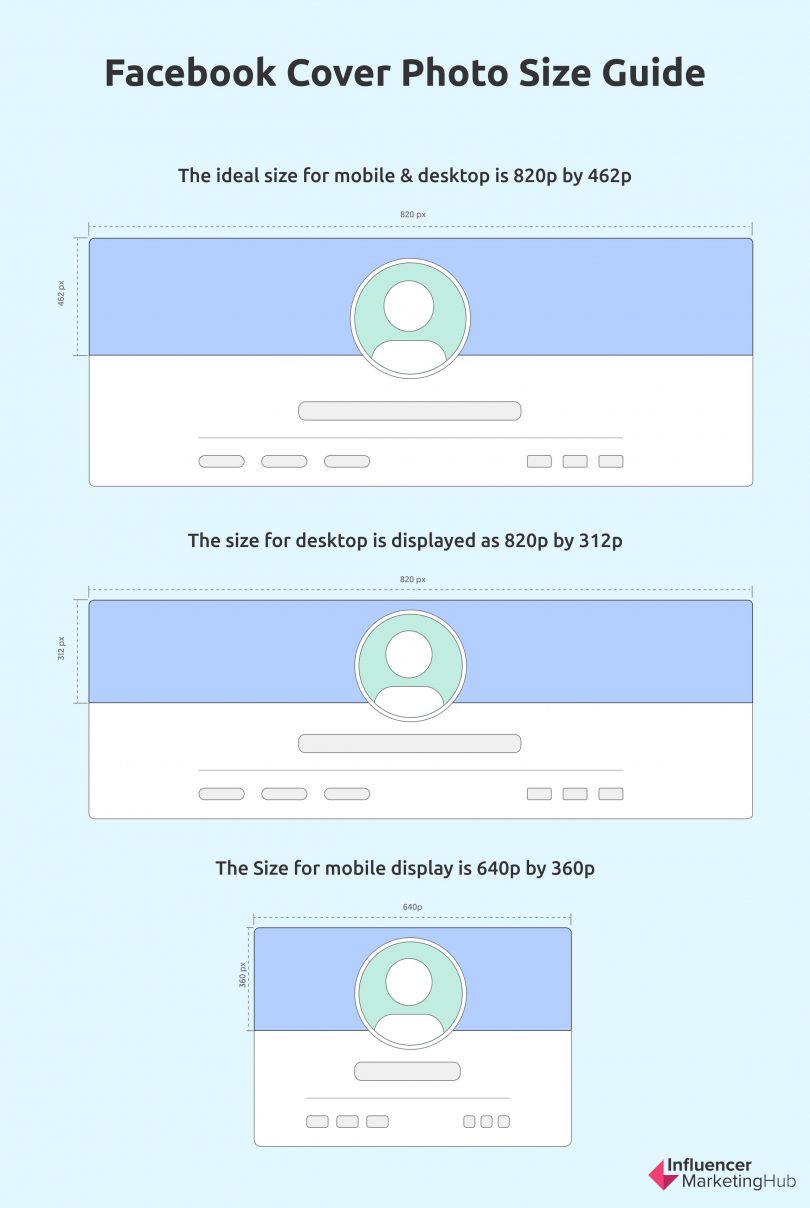 Size Guide
The ideal size for a Facebook cover photo is 820p by 462p. This is because it is the best size for using the same picture for both desktop and mobile.
Facebook cover photos for desktop are displayed as 820p by 312p. And, for mobile display, the size is 640p by 360p.
So, if you want to use an image that displays well on both devices, then 820p by 462p is your best bet.
Cover Videos?
Facebook now also provides the option to put a cover video instead of a still image. And, brands have been using this feature in innovative and engaging ways.
However, for this post, we will limit our scope to just cover photos.
---
Qualities of a Great Facebook Cover Photo
Your Facebook cover photo is your one chance to make a great first impression on your audience. And, it can be difficult to find that one perfect picture that is just right, from among millions of choices that you have.
Therefore, we have listed some of the qualities of a great cover photo that will help you narrow down the list and choose the one that suits you best.
Image Quality
The most basic requirement for a good Facebook cover photo is that the image should be of good quality. Make sure it is not blurred and what you want to show is clearly visible and in focus.
Relevance
Your Facebook cover photo should be relevant to your brand. It should be something that represents your brand. You could always add your brand logo to your cover picture to make it more relevant.
Colours
Just like any other visual content on your page, your cover photo should have your brand colours or should match your brand's overall aesthetics.
Text
You can also add a quote, phrase, or any other text to your cover photo. The text should be such that it generates curiosity in people to see more of your page.
Typography
The font should be clear, easy-to-read, and should match your brand aesthetics.
Ability to Evoke Emotion
One of the most important qualities of a Facebook cover photo is that it should evoke some emotion in the viewers. The best pictures are those that make people feel something, as that helps them connect with it more.
---
Facebook Cover Photo: Best Practices
Here's a quick list of tips and best practices for your Facebook cover photos. Follow these as general rules for selecting a good cover picture.
---
Ideas For Great Facebook Cover Photos
Now that you know the basics, let's get some inspiration for creating beautiful cover pictures. Here are some great Facebook cover photo ideas along with examples.
1. Tell Your Brand Values or Story
One of the best ways to connect with your customers is to tell them what you stand for. Explain your core values, your story, and what makes you "you." This is easier to do using a video, but can also be done via an image.
You can use a picture that represents your brand or what it is all about and write your core values. You can also make a statement that explains your values, like in the example below.
Here's how Cisco uses its cover photo to tell people that their brand is all about connections.
---
2. Show Your Employees
For some brands, it is difficult to connect with customers because of their very nature. Technology companies, for example, may find it difficult to form strong customer connections because, well, who connects with software or hardware?
However, putting a face to a brand helps humanise the brand and makes it easier for people to connect with it. That is why sharing pictures of your employees works in your favour and adds a soft touch to your brand aesthetic.
Buffer, for example, is a brand that often uses this strategy, both for Facebook and other social media platforms. They use the pictures of their employees for a lot of different things, including their Facebook cover pictures.
Their most recent cover picture is about their latest podcast series and that also has pictures of employees on it.
---
3. Display Your Products
This is one of the most common types of Facebook cover photos that almost all brands try at least once. Whether it is to inform people about an upcoming product launch or feature your latest collection, you can always display products in your cover pictures.
However, don't overdo it and only display one product or range of products at a time. Displaying too many products can distract people and won't draw attention to any particular product.
---
4. Design an Image to Showcase What You Do
If you want people to visit your page and immediately know what you do, then you can use this strategy. Essentially, you need to use an image, with or without text, that can inform people about what you do.
This is especially useful for companies that are not that well-known.
SpaceX's cover photo, for example, is enough to let people know that this company is all about space exploration.
---
5. Highlight an Ongoing Marketing Campaign
If you have any active social media marketing campaigns going on, then you can also feature them in your cover picture. This helps get more recognition for your campaign.
Take Oracle showcasing their men's health awareness campaign via their Facebook cover photo, for example. They asked men around the world to share pictures of themselves with a moustache to win AirPods.
---
Tools to Create a Great Facebook Cover Photo
Here are some of the best photo-editing tools that you can use to create great Facebook cover photos.
Canva is one of the most popular photo editors that can be used to design beautiful Facebook cover photos. The interface is simple to use and comes with lots of stock photos and templates for you to use. And, you also don't need to worry about image size as it has all popular sizes available.
This is a powerful photo-editing tool from the software giant, Adobe. It is a brilliant tool that lets you create beautiful Facebook cover pictures without requiring any design skills. It also comes with numerous templates and stock photos for you to choose from. You can, of course, upload and edit your own custom images.
This is another great tool to create Facebook cover photos. Simply select a template, an image, and add your own text to create your cover picture. Like the other two tools, this also has several templates and images to choose from.
Use any of these brilliant photo-editing apps and start creating your Facebook cover photos like a pro.
---
Conclusion
This post has everything that you need to know about Facebook cover photos and how to create a good one. Use this to create your next cover picture and see how well it works for your brand and audience.
You can always experiment with the different ideas and tools mentioned here until you get the hang of it. Happy experimenting!