Advertising Disclosure
Advertising disclosure:
Our partners compensate us. This may influence which products or services we review (also where and how those products appear on the site), this in no way affects our recommendations or the advice we offer. Our reviews are based on years of experience and countless hours of research. Our partners cannot pay us to guarantee favorable reviews of their products or services.
Financial marketing is a specialized field that focuses on promoting and selling financial products and services, such as investments, insurance, banking, financial and wealth management. The primary objective of financial marketing is to engage potential clients, build brand awareness, and ultimately drive sales or conversions for financial institutions and service providers.
A financial marketing agency is a company that offers customized marketing solutions to financial institutions, such as banks, credit unions, investment firms, insurance companies, and wealth management firms. These agencies possess in-depth knowledge and experience in the unique challenges and regulatory requirements of the financial industry. By leveraging their specialized expertise, they help financial institutions build and execute effective marketing strategies to increase their market presence and grow their customer base.
Financial marketing agencies are necessary because they help financial institutions navigate the complex landscape of regulatory compliance while maintaining a competitive edge in the market. The financial industry is highly regulated, and it is crucial for companies to adhere to the guidelines set by regulatory bodies such as the Securities and Exchange Commission (SEC), Financial Industry Regulatory Authority (FINRA), and Consumer Financial Protection Bureau (CFPB). A financial marketing agency understands these regulations and helps its clients to create marketing strategies that comply with industry standards while effectively reaching their target audience.
---
Top 12 Financial Services Marketing Agencies to give you a Competitive Edge:
---
Top 12 Marketing Agencies for Financial Services to Give You a Competitive Edge
We are introducing a list of top 12 financial services marketing agencies that we will be reviewing. These agencies have been selected based on their proven track record in the financial services industry, their innovative approach to marketing, and their commitment to delivering excellent results for their clients.
Top
financial marketing agencies
2024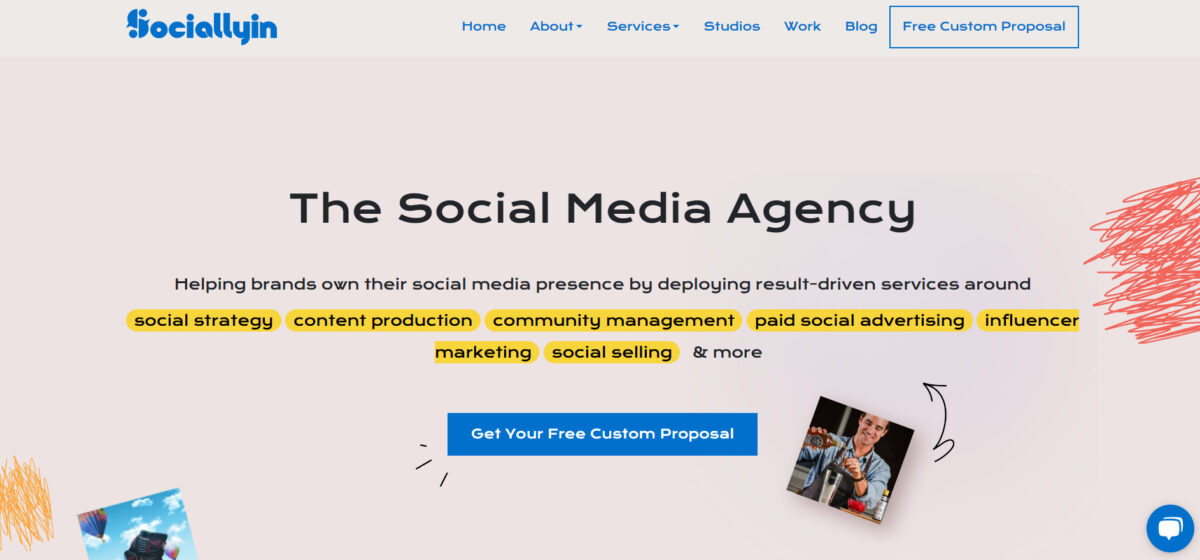 Sociallyin is a 100% social-focused agency with over a decade of experience in delivering result-driven services for financial businesses. Recognized globally for their innovation and leadership, Sociallyin's services include social media strategy, community management, influencer marketing, social selling, and more.
Their results-driven approach, in-house production, and focus on social media make them a one-stop shop for financial businesses seeking to enhance their online presence. By implementing tailored strategies, Sociallyin boosted CreditRepair.com's subscriber count from 688 to 752 and achieved a staggering 6,573,936 views. This achievement highlights Sociallyin's commitment to collaboration and curiosity in crafting unique brand voices, positioning their clients as authorities in the competitive financial market.
Services:
Social Media Management

Community Management & Listening

Influencer Marketing

Social Selling

Data Analysis & ROI Modeling

Paid Social Advertising

Content Production
---

SmartSites is a top-ranked internet marketing agency specializing in digital marketing for financial services. Their proven strategies have helped clients achieve remarkable results, such as a 457% increase in total site traffic for Sharemoney and a 3943% increase in organic search traffic for Nationwide Merchant Solutions.
With extensive knowledge in the financial services industry, SmartSites offers a comprehensive range of services, including website design, search engine optimization (SEO), and pay-per-click (PPC) marketing. They work with various financial service providers, such as insurers, credit card processing companies, and wealth management firms, to generate traffic, improve organic rankings, and maximize ROI on ad spend.
Services:
Digital Marketing for Financial Services
Website Design for Financial Services
Search Engine Optimization (SEO) for Financial Services
Pay-per-click (PPC) Marketing for Financial Services
---

Disruptive Advertising is a leading financial services marketing agency specializing in digital marketing strategies tailored to address the unique challenges faced by financial companies. Their expertise has helped clients achieve remarkable results, such as a 120% increase in lead volume for Security National Life Insurance and a 68% decrease in cost per closed lead for Lift Credit.
Disruptive Advertising utilizes precise keyword targeting, ad copy matching, and service-specific landing pages to deliver high-quality leads that seek the financial services their clients offer. They also assist clients in maintaining compliance and tracking leads throughout the funnel to measure revenue generation.
A recent case study showcases Disruptive Advertising's successful work with Davinci, a virtual office solutions provider. The team analyzed Salesforce reports and identified the top closing keywords, restructuring the ad spend based on these keywords. As a result, Davinci experienced a 36% increase in ROAS, a 15% increase in total deals, a 16% decrease in spend, and a lifetime value increase of over $50,000.
Services:
Digital Marketing Strategy for Financial Services
Keyword Targeting
Ad Copy Optimization
Service-specific Landing Pages
Compliance Assistance
Lead Tracking and Revenue Measurement
---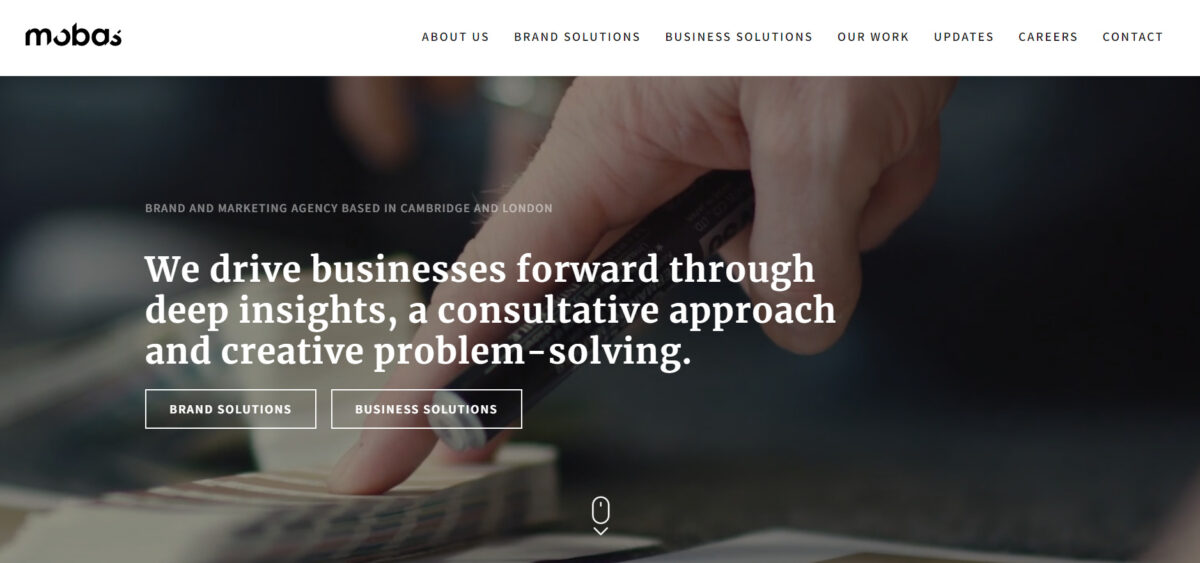 As a premier marketing agency, Mobas boasts a strong track record of ROI and accomplishments in the financial services sector. Their extensive understanding of the industry spans personal finance, insurance, and investment management.
Focusing on the big picture, Mobas adopts a strategic approach to financial services marketing, delving into in-depth analysis and competitor research. Through strategic workshops, they pinpoint and refine key sales propositions, applying strategy and design to meet the escalating aspirations of their clients and consumers. With exceptional expertise and capabilities, Mobas assists businesses in comprehending their audience, establishing their brand, and fostering growth within the sector.
Services:
Brand Strategy and Development
Digital Marketing and Advertising
Content Marketing and Copywriting
---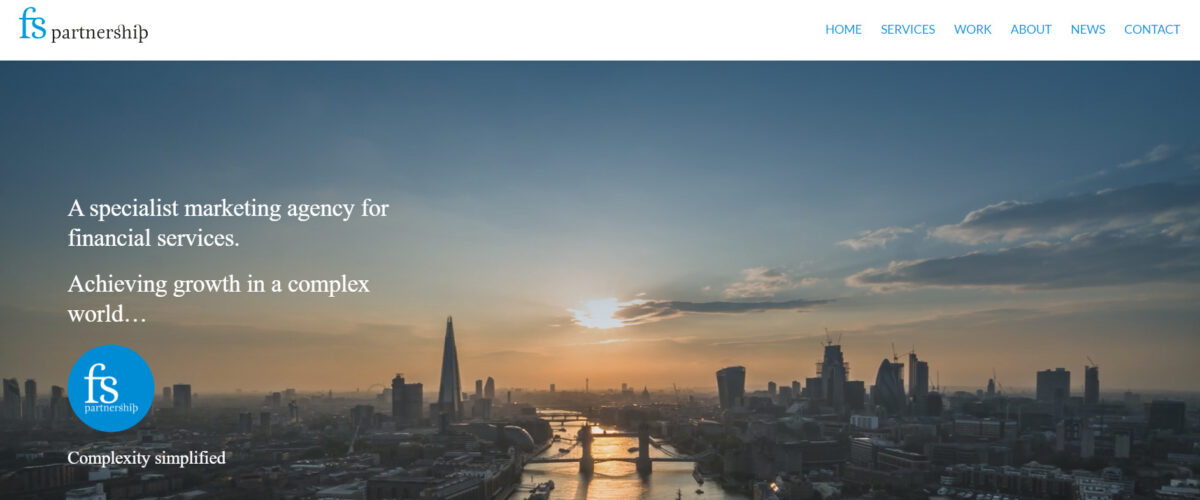 FS Partnership is a specialist marketing agency for the financial services industry. They work with a wide range of clients, from global institutions to fintech startups, in sectors such as retail and commercial banking, fintech, wealth management, payments, insurance, and investment management.
The agency offers a full range of services, including developing strategic marketing plans and specialist technical writing. They take the time to understand their clients' organizations and create effective plans for meeting their commercial targets. They also have deep knowledge of the financial services industry, providing critical insights into their clients' most prized customers and prospects.
Services:
Strategic Marketing Consultancy
Brand Development and Design
Digital Marketing
Social Media Marketing
Public Relations
Event Marketing and Management
---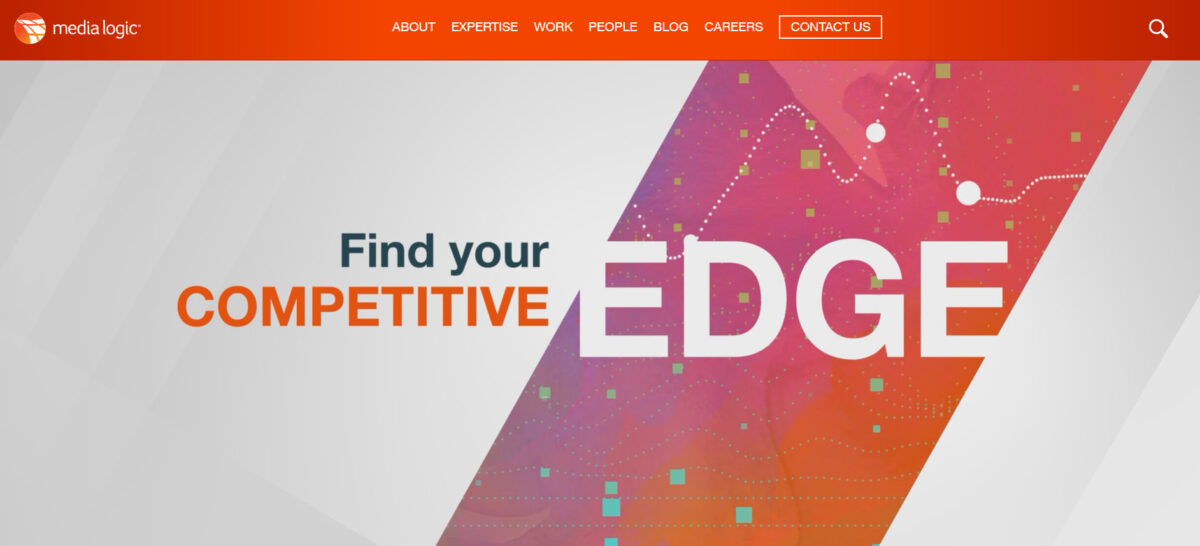 Media Logic is a go-to marketing agency for the financial services industry. Their specialty is in payment product marketing, retail bank marketing, private bank and wealth management marketing, and co-brand card marketing. This agency works with a broad range of industry leaders, from iconic financial services brands including Visa, Chase, Bank of America, and U.S. Bank to regional banks, credit unions, and related technology companies.
Media Logic's 20-year relationship with Visa is a testament to their expertise and capabilities. They have helped Visa evolve from a credit card brand to a payment technology solution and have also developed hundreds of complex co-brand marketing programs that have helped their financial services clients succeed on the biggest stages.
Services:
Brand Strategy and Positioning
Integrated Marketing Campaigns
Content Marketing and Development
Digital Marketing and Advertising
Social Media Strategy and Management
Direct Mail and Print Marketing
---
7. CSTMR
CSTMR is a specialized financial marketing agency focusing on fintech and traditional financial services. Their deep industry knowledge helps businesses stand out, gain new customers, and achieve lasting growth. A prime example of CSTMR's expertise is the successful launch of SELFi, a borrower-centric mortgage marketplace. Through comprehensive services, CSTMR enabled SELFi to create a proof-of-concept business model, resulting in nearly $25 million in savings for customers.
Offering services such as strategic marketing planning, brand strategy, and UX/design strategy, CSTMR ensures long-term growth and program optimization. CSTMR is an excellent choice for businesses seeking a reliable and specialized financial marketing agency.
Services:
Strategic Marketing Planning
Brand Strategy
UX/Design Strategy
Go-to-Market Customer Acquisition
Paid Media Advertising
Organic Marketing
Experience Design
---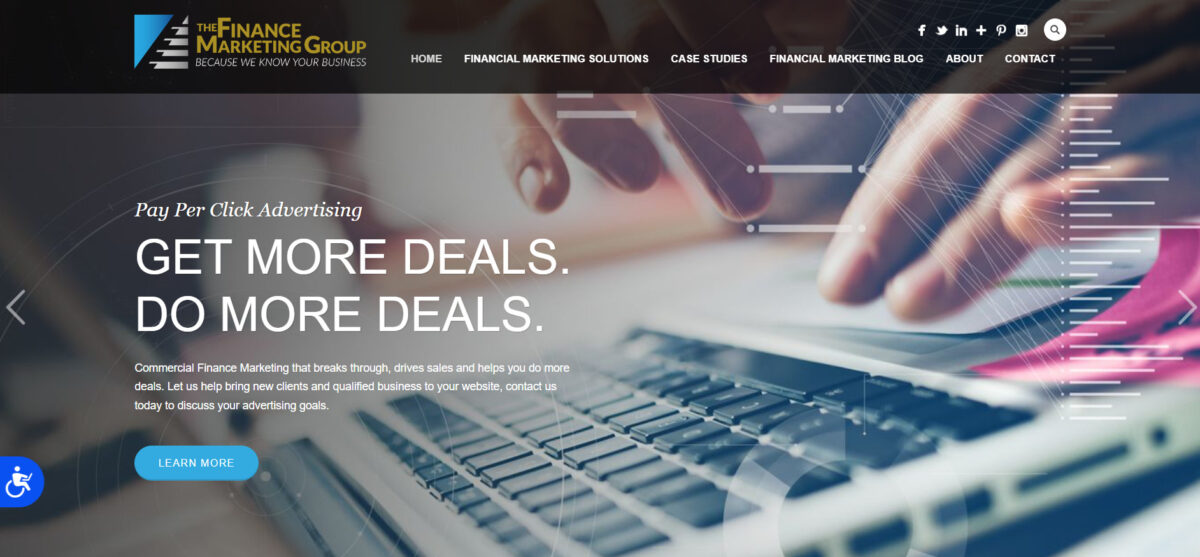 The Finance Marketing Group is a one-of-a-kind digital marketing agency that concentrates solely on commercial finance, financial services, and bank marketing. They know the finance industry and offer online marketing tactics, website design and development, traditional marketing strategies, and brand development.
Their team of creative marketing professionals with finance backgrounds delivers extraordinary results for their clients. Based in Albany, New York, The Financial Marketing Group boasts an array of knowledgeable, forward-thinking professionals ready to grow your business.
Services:
Online Marketing Tactics
Website Design and Development
Traditional Marketing Strategies
Brand Development
---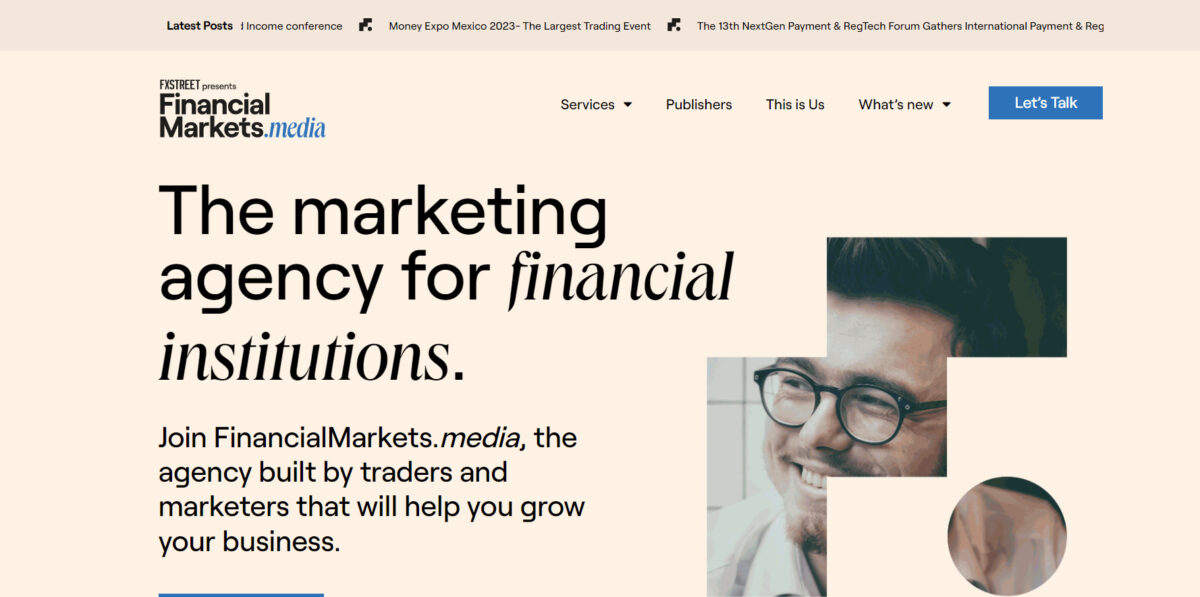 If you're looking for a marketing agency that specializes in financial services, FinancialMarkets.media is a great option. Their team of traders and marketers can handle all aspects of your marketing needs, including Ads campaigns, SEO strategy, and content creation. They can also help you integrate Forex and Crypto news feeds into your web, mobile, or app platforms.
Their process is simple: schedule a call, find the best online marketing strategy for your business goals, create the marketing actions that will get the best ROI for your budget, share the results, optimize campaigns, and plan the next moves as results come in.
Services:
Ads Campaigns
SEO Strategy
Content Creation
Forex and Crypto Integration
UX/UI Services
---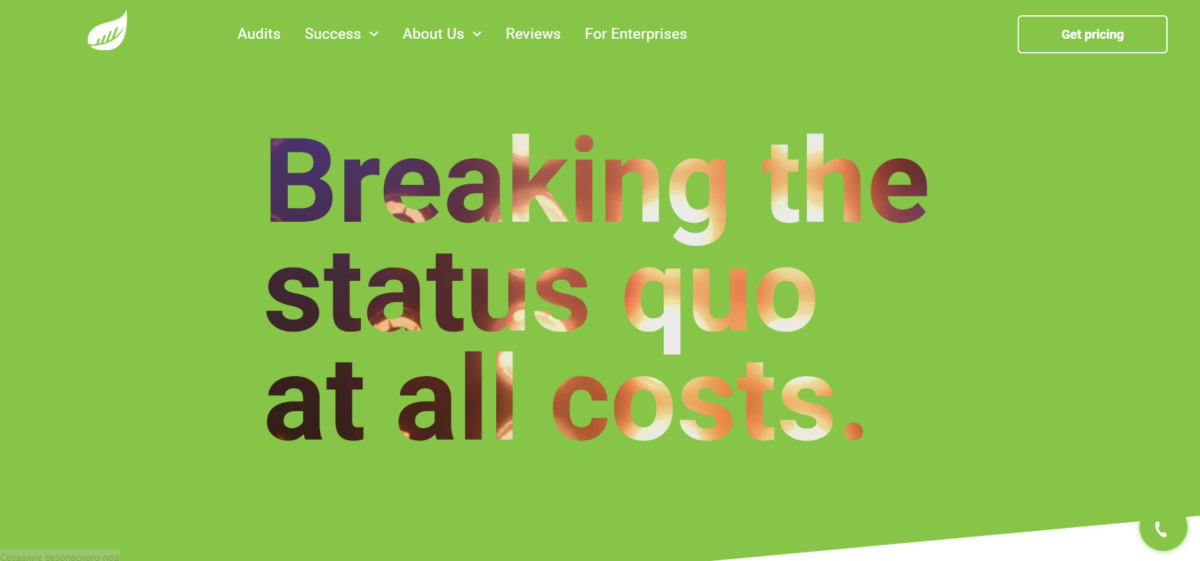 BusySeed is a top-notch financial services marketing agency with an impressive track record in helping financial service companies thrive online. As the only Forbes accredited full-service digital marketing agency for financial services out of 63,000 agencies, BusySeed boasts a remarkable reputation in the industry.
Their comprehensive range of services includes social media posting, SEO & ranking, digital ads, and landing page development, all designed to help financial businesses achieve their goals. One of their notable success stories is a 600% increase in leads within just one month for a financial services client using Google Ads. Additionally, they've helped a home loan lender outperform competitors on Google Ads, achieving nearly 13% more impression share than their closest competitor. Their award-winning work, coupled with their extensive range of over 95 services, makes BusySeed an excellent choice for any financial business looking to grow its online presence and achieve desired results.
Services:
Social Media Posting
SEO & Ranking
Digital Ads
Landing Page Development
Market Research
Brand Management
---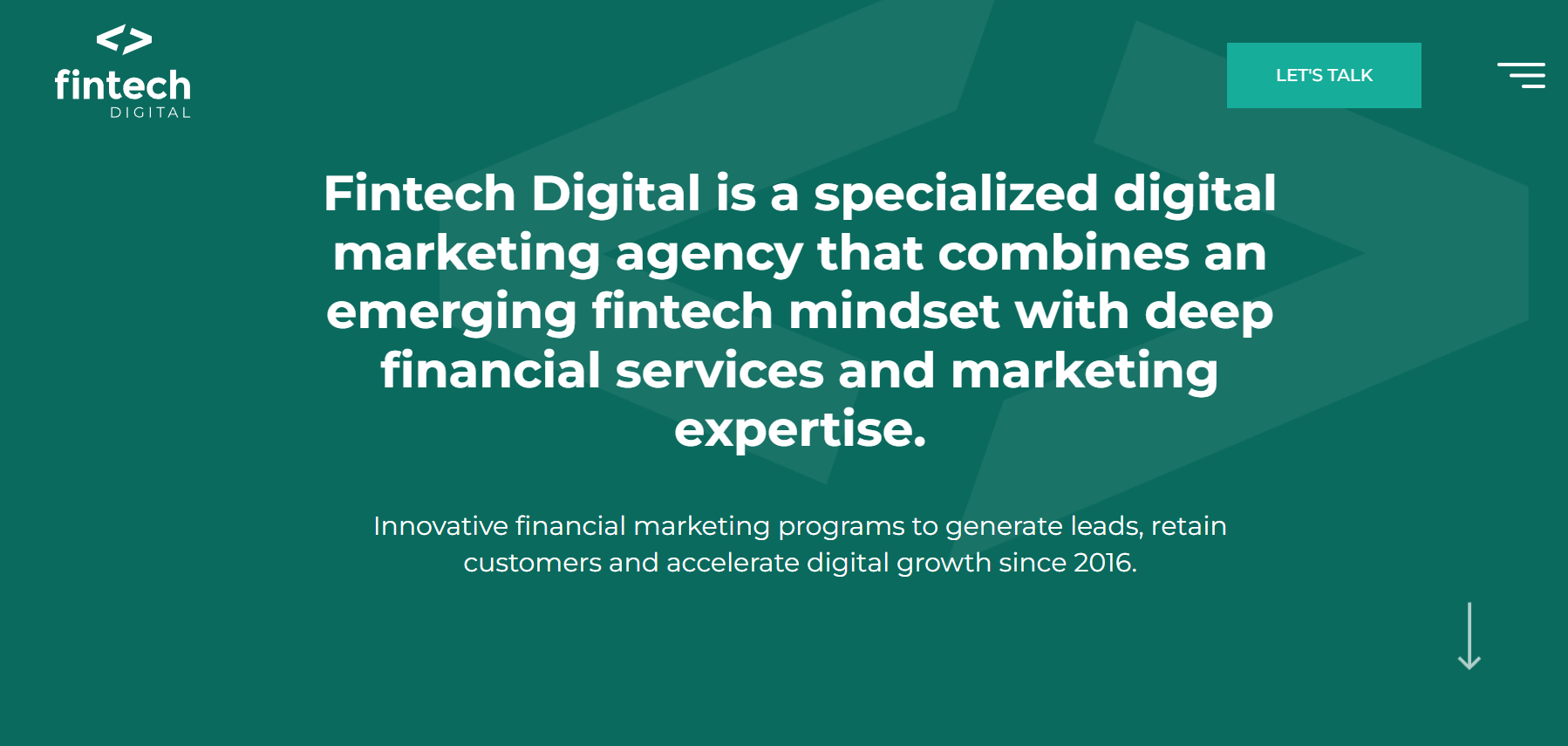 Fintech Digital is a specialized digital marketing agency with a focus on the financial services industry, offering innovative marketing programs designed to generate leads, retain customers, and accelerate digital growth since 2016. Their deep financial services and marketing expertise make them a reliable partner for businesses targeting any financial services industry or audience.
Their clients include OppFi, First Women's Bank, Polygon, Greenwood, Pomelo, Sapphire Ventures, and The Change Company. With successful partnerships with these well-known companies, Fintech Digital has demonstrated its ability to deliver results and create unique, customer-centric experiences.
Fintech Digital's services span across sales, customer engagement, and campaigns, including lead generation, cross-selling, education, loyalty, brand, and product promotion. Their expertise in banking, investing, consumer, wholesale, insurance, legal, compliance, and regulations makes them a top choice for financial services marketing.
Services:
Website Design & Development
SEO & Marketing Collateral
Content Marketing
Performance Marketing & Social Media
Technology Implementation
---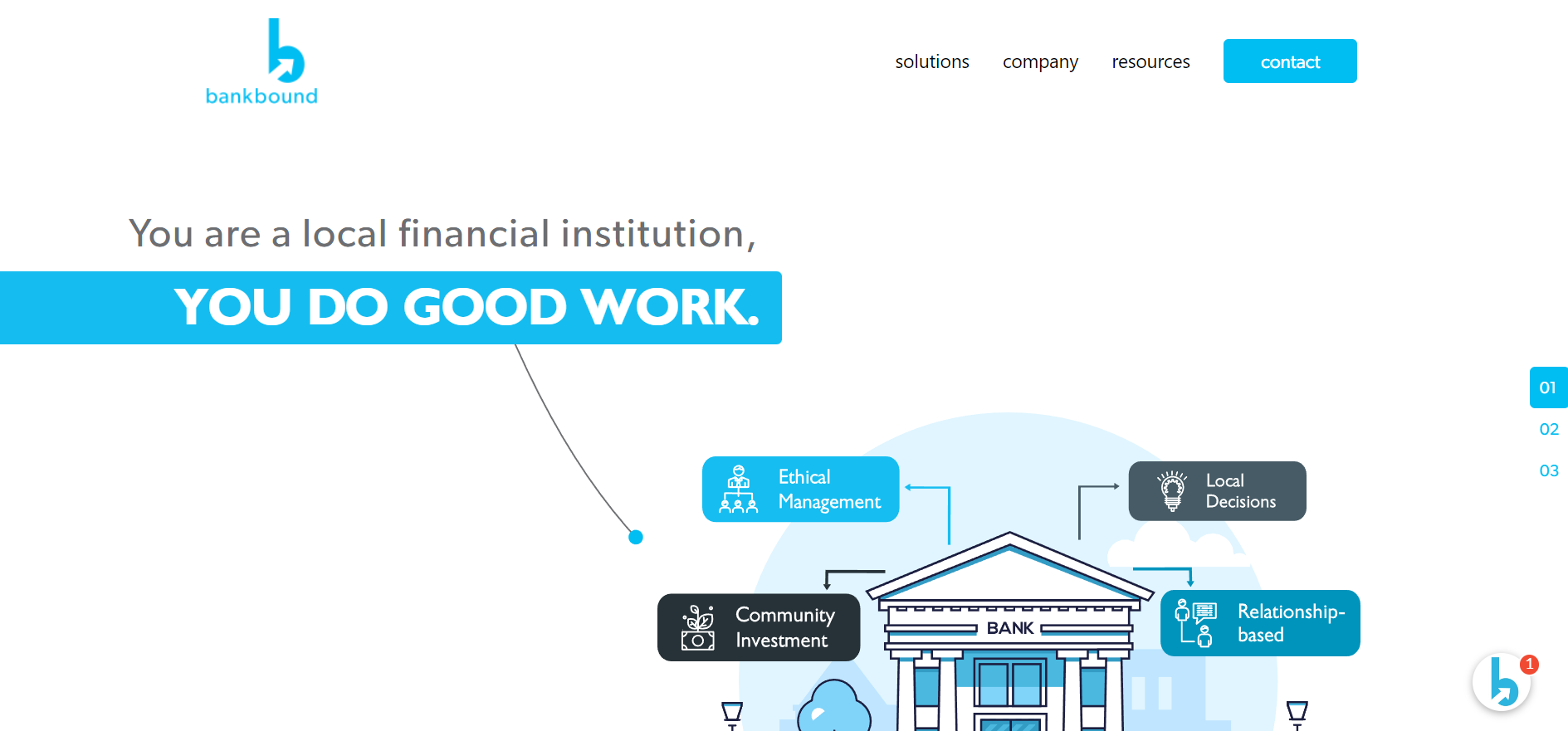 BankBound is a data-driven financial marketing agency specializing in generating results for financial institutions that desire to continually grow their organization and local communities. With their exclusive focus on the banking industry, BankBound offers unmatched expertise and knowledge of financial marketing.
Their team members possess a variety of credentials, including Google Analytics Academy Certifications, Google Ads Academy Certifications, SEMrush Marketing Analytics Academy Certifications, Marketing Financial Services (American Bankers Association course), and more. These certifications and extensive training ensure that BankBound consistently delivers high-quality services to their clients.
BankBound's client testimonials attest to their ability to serve as an incredible extension of financial institutions' marketing teams. Their range of services includes analytics, SEO, content, ads, automation, social media, and ADA compliance, making them a comprehensive solution for financial businesses looking to enhance their digital presence and achieve their goals.
Services:
Analytics
SEO
Content
Ads
Automation
Social Media
ADA Compliance
---