Who hasn't Googled a symptom?
Aside from quickly Googling a persistent cough or sudden rash on the sly, increasingly more patients are turning to the internet for help with healthcare in a more official way. It's become common practice to find a healthcare provider by doing a quick online search.
Whether it's to self-diagnose or get professional help, most searches begin online. Even in those cases where a healthcare facility or product was recommended, it will be followed up with an online search to verify their track record.
To let this count in your favor, though, you'll need to ensure that your website reflects your expertise and professionalism. Like your physical location or product packaging, your medical website design will be used to evaluate the quality of your service and knowledge.
From written content to overall user experience (UX), here's what you need to keep in mind when designing websites for medical organizations or medical services.
---
Best Practices for an Effective Healthcare Website Design:
---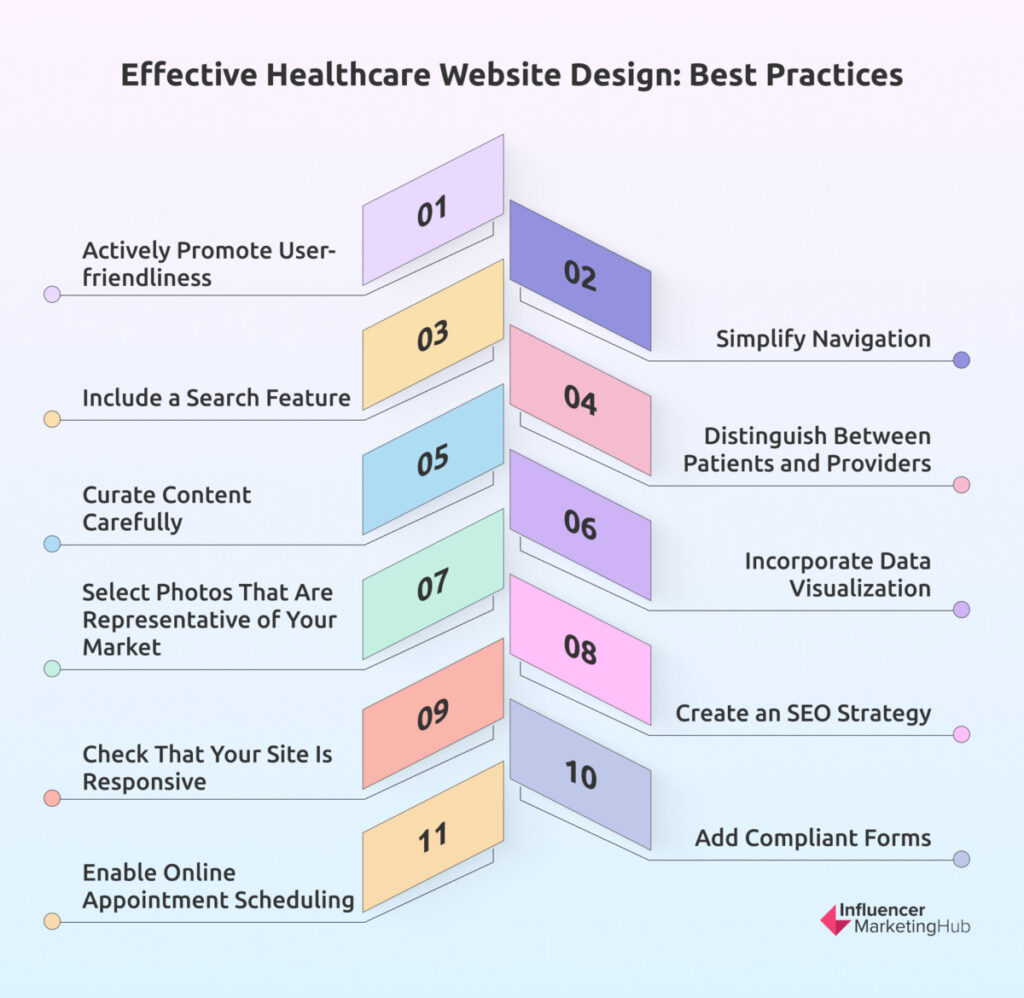 1. Actively Promote User-friendliness
You can't just assume that your website will be easy to use and understand. It requires a strategy and specific actions. From buttons to popups, there are various ways that key website elements can either improve or hinder the overall user experience.
Here are some suggestions for how you can improve the usability of your website:
Ensure that your font size is a minimum of 12 pixels. However, some resources suggest at least 16 pixels to play it safe.

Rather use

clear call-to-action buttons

over popup notifications. If you really must use a popup, try to personalize it so that it's relevant to where they're at in their journey.

Make your buttons and processes more descriptive by, for example, numbering steps.

Reduce the number of characters you use per line to improve the readability of your content.

Keep your sentences and paragraphs short. You can also add images between paragraphs to improve the readability further.
You'll also need to design for people with disabilities, even more so if you're designing for the healthcare industry. To make your website more accessible to them, implement the following best practices:
Add alternative text (alt text) for all images

If you have any videos, add closed captions

Use high contrasting colors

Underline all clickable links

Make sure that assistive technology, such as screen readers, can access your website
---
2. Simplify Navigation
Irrespective of which industry you design for, navigation matters. Getting navigation right becomes even a whole lot more critical considering that your target audience might be visiting your website in case of a medical emergency.
Aside from the standard sections like About Us, Services and Contact, you might also want to add quick links for how they can schedule an appointment or reach you in case of an emergency.
---
3. Include a Search Feature
Even if you design your website with user-friendliness in mind and ensure that the navigation is intuitive, it's a good idea to add a search tool. Also, try to include filters so that they can refine their search results further.
Nowadays, practically everyone is pressed for time. What's more, if you're dealing with a healthcare matter, finding the right information quickly becomes even more important, making a search tool and filtering options a necessity.
---
4. Distinguish Between Patients and Providers
It depends on your business, but there's a good chance that your target audience will include both healthcare providers as well as patients. This makes designing a website more challenging as these groups will have quite unique needs.
One of the easiest ways to avoid confusion is to create two separate website versions — one for providers and one for patients.
You might even consider creating an online patient portal where they can find personal details about their health. This way, patients can gain round-the-clock access.
Convenience, though, shouldn't come at the cost of security. If you plan on sharing this type of info online, you'll need to ensure that you've put stringent security measures in place.
In fact, in the United States, there are security rules in place specifically to safeguard electronic health information. The Health Insurance Portability and Accountability Act (HIPAA) outlines national security standards for how certain health details may be stored or transferred in electronic format. So, before you think about storing patient data on your website, double-check local laws first and rather partner with agencies that specialize healthcare marketing.
---
5. Curate Content Carefully
When it comes to content, healthcare organizations are held to a higher standard. Accuracy is non-negotiable.
If your home remedy for getting rid of a stain on a wool sweater goes wrong, the worst case scenario is that you'll be without that sweater. That's not the case for healthcare.
Also, the focus is less on marketing and more on facts. Basically, your goal should be to become a reliable resource.
Not only should your target audience be able to trust your services or products, but so too the information that you share. Whatever you do, never mislead your patients. Avoid including guarantees if you know that you won't be able to make good on your promises.
Guard against simply resharing others' content. It might be relevant, but unless you've fact-checked it, you can't assume that it's accurate.
Here are some ideas of content that you can share: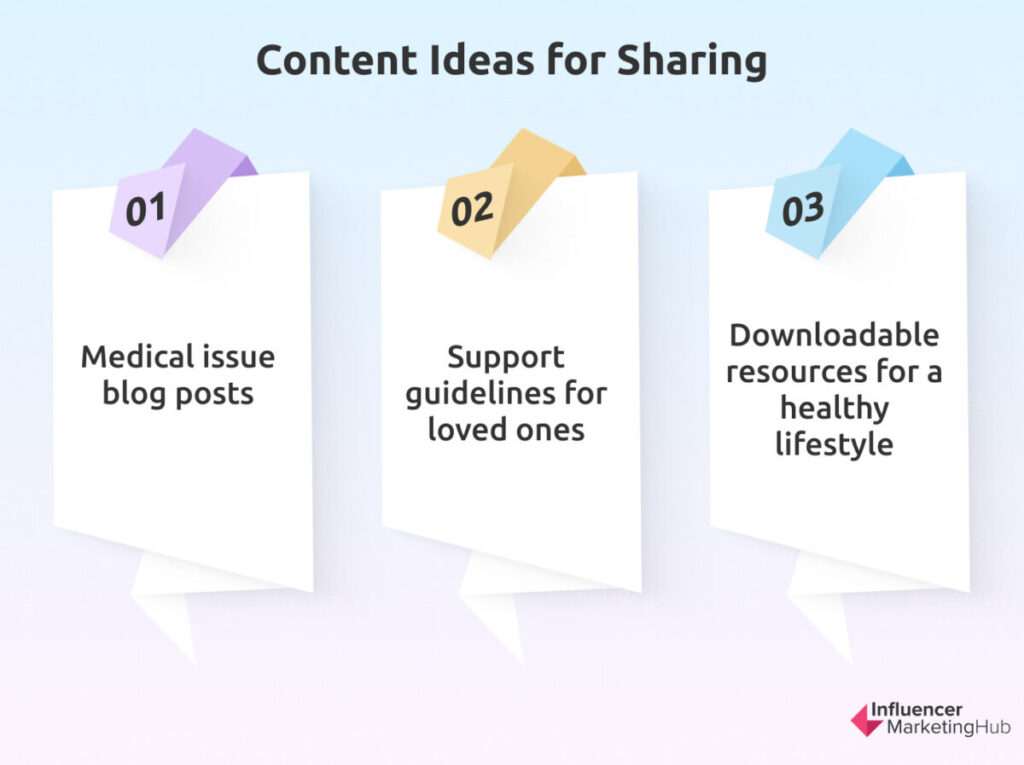 Blog posts about medical problems

Checklists with guidelines about how to support loved ones dealing with a specific medical condition

Downloadable resources to make it easier to lead a healthy lifestyle
In addition to accuracy and relevancy, also ensure that everything is as up to date as possible. Rather remove an outdated piece altogether than leave it on your website. The last thing you want is to share contradictory advice. Then, to add credibility, also include links to clinical trials or the original research.
You can also add the contributors credentials. Do they belong to any medical associations? Has their work been recognized with any awards? Perhaps there are other relevant achievements worth highlighting?
Getting the hard copy of your degree framed and hanging it strategically behind your desk isn't the only way that you can share your expertise. We're operating more and more in a digital world, making it important to ensure that qualifications and achievements are highlighted online too.
You can, for example, go the extra mile and write short bios instead of merely listing degrees. This can add a warm, personal touch that's often lacking when dealing with healthcare brands. These bios can also be used for social media accounts, helping you to attract more followers and grow your online presence.
It's not just about what you share, but also the tone of voice that you use to communicate these facts. The written content should communicate in the same way that you expect a doctor to communicate with patients — calm, reassuring, and professional. Without offering false hope, also try to incorporate a positive tone.
---
6. Incorporate Data Visualization
Medical information is generally more difficult to digest. There are numbers and hard-to-pronounce conditions that can easily overwhelm and confuse patients potentially already stressed.
As such, it's even more important to pay attention to how you present data. Instead of sharing an article published in a medical journal, summarize the key findings using a graph or chart. Infographics can also work really well. There are several infographic tools that you can use to create visuals, eliminating the need to outsource this task to graphic designers.
Then, to enhance your chosen format, pay attention to colors too. The colors should fit in with the rest of your website design and branding and, at the same time, highlight key details. Aside from using some system of hierarchy to help draw attention to important info, you can also use contrasting colors.
---
7. Select Photos That Are Representative of Your Market
In addition to text and possibly infographics, your website will also need photos. Personal interaction is a big component to patient care and photos will help to humanize your brand.
The trick is to find photos that your target market can identify with. That said, because of the confidential nature of healthcare, you can't feature photos of your actual patients.
A solution — stock images. You can, for example, check out a website like Shutterstock or Getty Images. Here, you'll find a huge selection of photos with a Creative Commons license that feature your target market. Apart from being representative of those that you're serving, double-check that the photos aren't too graphical. The photos that you select shouldn't scare your patients away.
---
8. Create an SEO Strategy
If your main offering is in-person consultations, local SEO will form a big part of your SEO strategy. Basically, local SEO's goal is to boost online visibility of local businesses that have physical locations. With this strategy, you'll target prospective patients searching for nearby healthcare services.
However, if your focus is specialized procedures, you can use national, or even international, SEO. Your potential patients will be more than willing to travel to find the best healthcare service, especially if it can have long-term effects on their quality of life.
If you want to go the local SEO route, here are some practical tips:
Optimize your Google My Business profile

Double-check that your physical address and contact numbers are displayed accurately

Create location pages for your website

Incorporate keywords searchable in your local area
If you need to broaden your target audience, consider the following:
Translate the content into multiple languages

Allow visitors to change the language of your website

Where prices are listed, convert it to local currencies
Irrespective of which SEO approach you decide to take, there are still a number of SEO best practices that you should incorporate like:
Creating long-form content that incorporates relevant keywords

Optimizing your website for mobile devices

Creating internal links and checking that all your links work
---
9. Check That Your Site Is Responsive
Even if SEO isn't your top concern, ensure that your website is responsive. Basically what this means is that your website should automatically adapt its layout to fit the screen sizes of different devices.
For example, a navigation menu will automatically turn into a hamburger-style menu if the website is opened on a smartphone. In other words, the browsing experience should be consistent, irrespective of which device is used.
Here's the thing: potential patients often need to book an appointment while they're on the road or sitting in a waiting room. So, responsive design isn't a nice-to-have feature for healthcare websites. It's a must.
---
10. Add Compliant Forms
Most websites have some type of contact form. In many cases, these are added as an afterthought.
However, when designing websites for healthcare organizations, forms play a very important role and require more thought. Aside from using it for lead generation, you can also use it to reduce the load of paperwork.
For instance, if patients are able to complete a form online, it will add to the in-person experience too. Plus, it's kinder to the environment too. Alternatively, you can consider sharing the forms online so that they can print it out at home, complete it before their appointment when they're less rushed or anxious, and then bring it along to their visit.
If you want to add a form to your medical website, though, you'll need to respect the rules about electronic transmission and storage of personal details. As mentioned earlier, there are very specific rules that healthcare organizations need to follow. Any personal details should be handled with care, but when it comes to sharing personal medical information the stakes are higher.
---
11. Enable Online Appointment Scheduling
In addition to uploading forms to your website, you can also consider allowing patients to schedule appointments online. Not only is it more convenient, but it will also lessen the workload of the reception desk.
Without this function, your reception will need to read out the appointment slots available. Who has time for that? This old-school approach also has a high chance for human error and double-bookings.
---
Wrapping Things Up
Just like healthcare should be approached holistically, so too should website design for healthcare. A great website is more than simply functional.
It should also be easy on the eyes. In fact, more than that, it should be striking so that website visitors are compelled to scroll further.
While everything should work as it's supposed to, you'll also need to set higher standards for yourself. Your healthcare website should also be intuitive. In other words, it's not good enough that your contact forms merely work, but they should also be easy to complete. Plus, they should be easy to find among your pages of content.
As for the content, it should be accurate, up to date, and free from hard-to-understand medical jargon. It takes a different skill set to write for the healthcare industry.
Then, to make your content more engaging and easier to scan, remember to add visuals. Infographics in particular can work well for healthcare websites.
Whatever you do, prioritize confidentiality and security. The last thing one of your patients want is to be used as a case study divulging personal medical details.
Frequently Asked Questions
Which web design agencies specialize in healthcare?
There are a number of great healthcare web design agencies that you can check out. These include:
Moburst

Clay

duck.design

Online Optimism

Neuron

Thrive Internet Marketing Agency

Medical Web Experts
Why is it important to work with a web design agency that focuses on healthcare website design?
Website design agencies that specialize in the healthcare industry will understand the unique requirements and challenges of the field. For example, regulatory standards are more stringent and there are greater privacy concerns. They understand that websites need to be functional, compliant, and visually pleasing, while the tone of voice should be compassionate and the content clear. They will also be up to date with the latest industry trends, enabling them to design a website that remains at the forefront of such a highly technological field.
How do you select the best agency to design a healthcare website?
When you're selecting a web design agency for your healthcare brand, keep the following factors in mind:
How many years of experience do they have in the healthcare industry

The quality of their previous work

Their knowledge of healthcare regulations

How do they approach user experience

Are they experienced at integrating key features like online scheduling

The level of ongoing support and maintenance that they offer
How much can you expect to pay for a healthcare web design agency?
The cost of designing a healthcare website can vary significantly. Depending on the project's scope and complexity, you can expect to pay anything from as little as $1,000 to more than $25,000. Also, some website design agencies prefer to charge an hourly rate. In this case, you can expect to pay anything between $50 and $199 per hour.
Which features should a healthcare website include?
In addition to general website design best practices like user-friendliness, intuitive navigation, responsiveness, etc., you'll also need to consider adding a few extra features when you're designing for a healthcare business. These include:
A search feature with filters

A patient portal

Infographics

Compliant contact forms

Online appointment scheduling