Competition is fierce among merchants on Amazon, where more than 1.9 million sellers—including more than 150,000 B2B merchants—worldwide offer their goods.
Amazon sellers can achieve profitability in various ways. From selecting the right products to partnering with influencers, you have plenty of options for boosting online sales.
One of the quickest ways to sell more is by ensuring your items appear consistently in the Amazon Buy Box. Initially known as Featured Merchant, the Buy Box is on the right side of an Amazon product page and includes the "Add to Cart" and "Buy Now" buttons. This feature attracts shoppers, with 83% of sales pulled through the Buy Box.
---
5 Strategies to Consistently Win the Amazon Buy Box:
---
Buy Box Wins
The Buy Box Wins is a percentage representing the number of times your Amazon product page featured a Buy Box when shoppers visited that page divided by all the times your site visitors checked that page.
You can view this statistic on your Amazon account on Seller Central. Click on "Reports" from the menu, then choose "Business Reports." Afterward, select "Detail Page Sales and Traffic by Child Item."
On Seller Central, Amazon displays your Buy Box percentage over the past two days and the last 30 days.
---
How Does Amazon Determine Who Gets the Buy Box? Follow These 5 Steps to Win It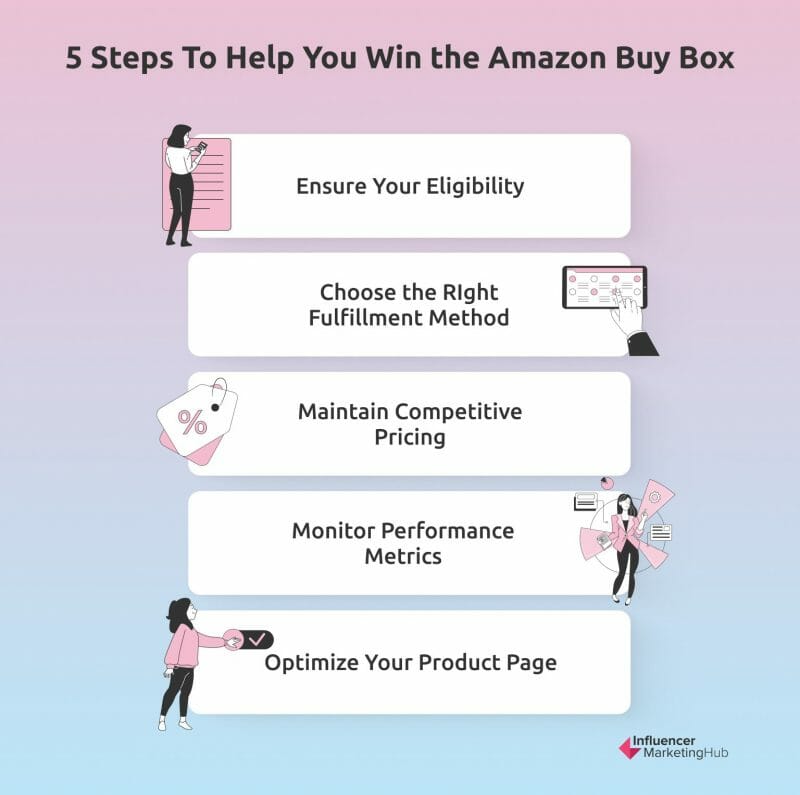 Not all sellers get a Buy Box. Amazon uses an algorithm to determine the merchants who will get their share of the Buy Box privilege.
The retail giant does not share its criteria. However, analytics indicate that Amazon uses specific criteria to determine which sellers get the Buy Box. We can divide these indicators into five main points:
Ensure your eligibility.
You become eligible for the Amazon Buy Box when you: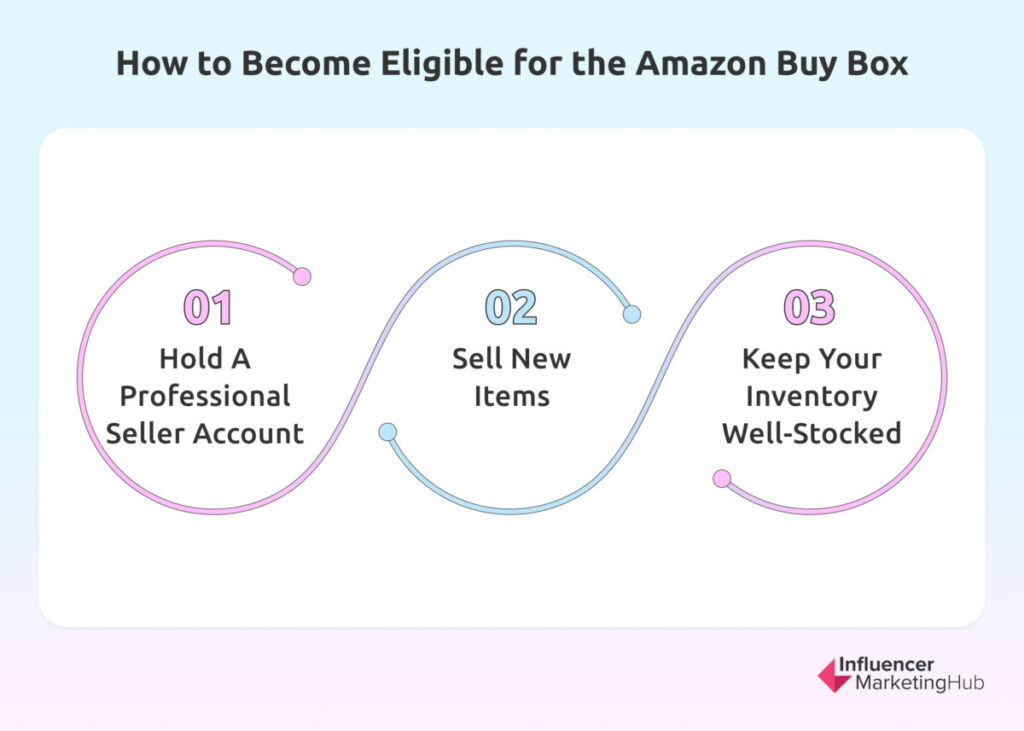 Hold a professional seller account
Amazon merchants with professional seller accounts can view for the Buy Box on their product pages. Merchants who sell more than 40 units monthly save on seller fees by signing up for professional accounts. Professional sellers only pay a flat subscription fee of $39.99 monthly, regardless of the number of items they sell. Meanwhile, individual account holders pay Amazon a $0.99 fee for every sale.
As several merchants can sell the same product, Amazon uses a system for this box to "rotate" through a host of sellers.
You must offer only brand-new items for sale to be eligible for the regular Buy Box. Amazon has a separate "Buy Used Box" for pre-owned or refurbished products.
Keep your inventory well-stocked

.
Sellers with a large and updated inventory to meet high-volume and consistent sales are on Amazon's radar for the Buy Box.
---
How To Check if You Are Eligible
You can check your eligibility by doing the following after logging in to your account in Amazon Seller Central:
Go to the "Manage Inventory" page

Click "Preferences"

Tap "Buy Box Eligible"

Select "Show when available" from the drop-down menu.

In the menu's "Buy Box Eligible" column, you can view accounts according to their SKU. You will find "yes" in the field if you are eligible.
---
Choose the right fulfillment method.
You raise your chances of getting a Buy Box by selling your items through Amazon's order fulfillment services or Fulfillment by Amazon (FBA).
When you sign up for FBA, Amazon becomes responsible for ensuring quick delivery, a ranking factor for Buy Box wins.
FBA sellers send their products to Amazon's fulfillment centers, and the company does the picking, packaging, and shipping for you. The company knows exactly the status of your inventory as it houses stocks of your products. Amazon also takes care of customer service needs, including returns.
Merchants who sell via Seller Fulfilled Prime (SFP) speed up shipping, giving them a better chance of winning a Buy Box.
---
Maintain competitive pricing.
Because Amazon values providing exceptional goods at affordable prices, your product page is likely to win a Buy Box when your item draws plenty of buyers due to its price.
For more competitive rates, offer a lower landed price for your product or the total amount customers need to pay inclusive of shipping. Of course, ensure that you still earn a profit.
You can reduce prices by negotiating with your supplier and third-party logistics providers for lower prices. At the same time, you must monitor the pricing of your product against your competitors' rates.
You can adjust your product price in a variety of ways: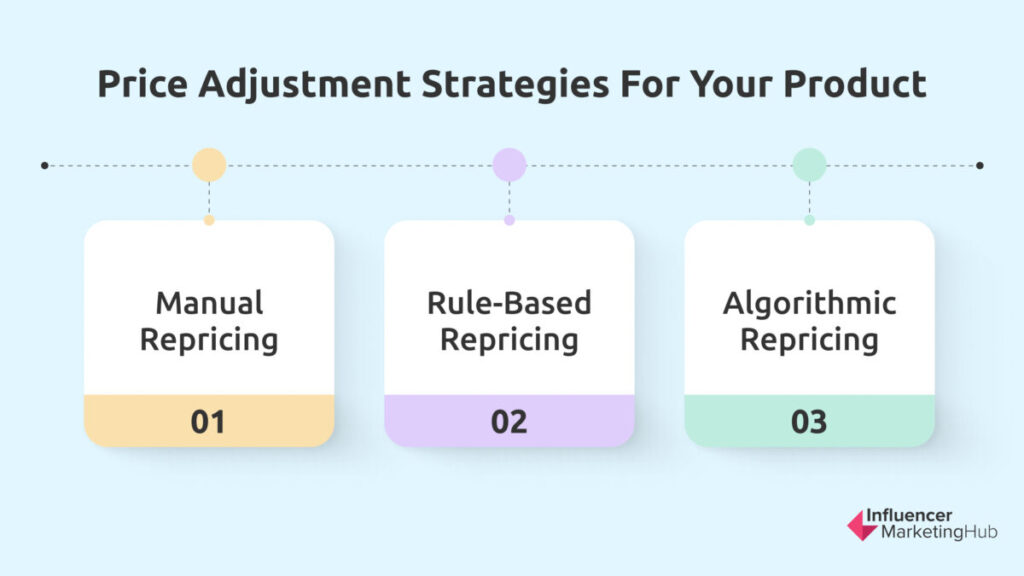 Manual repricing

involves keying in the price of your item manually after spotting market changes and competitor pricing. This method is ideal for new sellers offering only a few products.
You can do this by logging in to Seller Central, hovering on "Inventory" in the menu, and clicking "Manage Inventory." Among the "Filters," choose "Active" to deal only with items with adequate stocks and currently listed on Amazon.
Look at the "Lowest Price" column toward the right side of the table to see whether the price you listed for your item is the lowest (inclusive of the shipping fee). You will see the word "Lowest" with a green check mark if your rate is the lowest. If your price is not the lowest, you can click the "Match Low Price" button beside it to edit your current price.
Rule-based repricing

allows you to set your parameters for price adjustments through online

Amazon profitability calculators

. For instance, you can set your repricer to automatically adjust your item's price to $0.50 lower than the competitor selling at the lowest price. But this can be tricky as the Buy Box does not always go to the merchant with the cheapest rate.

Algorithmic repricing

offers more profitability and higher chances of winning the Buy Box. With prices on Amazon changing every ten minutes, manual and even rule-based repricing can be tedious if not impossible for professional sellers.
You can subscribe to software with artificial intelligence capabilities to automate repricing according to your current Amazon seller performance metrics, ongoing marketplace situation, and competitor behavior. When your Amazon performance level is high, you can trust your repricer to set a higher price without fear of losing the Buy Box.
One such software solution that you can check out is Pacvue Commerce, an enterprise platform to help Amazon sellers with advertising, sales, and intelligence. Its customized reporting makes it easy to keep track of data relating to pricing and sales. If you specifically want to focus on winning the Buy Box, it can help you to manage all the variables that will have the biggest impact on the Buy Box, such as the price history. It can, for instance, help you to work out the Buy Box weight on revenue and adjust your strategy accordingly, helping you to reduce leaked revenue.
---
Mind your performance metrics
As a customer-driven business, Amazon favors sellers with high customer service ratings. You can check your performance by going to your Account Health page found under "Performance" on the Seller Central homepage. Aim for the following percentages to maintain a "healthy" Amazon seller account:
Product quality:
Order defect rate: below 1%

Order cancellation rate: below 2.5%

Return dissatisfaction rate: below 10%
The return dissatisfaction rate represents the customer's experience regarding their product returns. The rating covers negative buyer feedback, providing a response after 48 hours, and incorrectly denying return requests (invalid rejection rate).
Customer engagement:
Messages replied to after 24 hours and non-replies: below 10%

Customer feedback score: at least 90%

Feedback count (number of buyers who give feedback): the higher, the better
Proactively request customers to send reviews and provide timely assistance to raise your feedback count. A 2022 eComEngine survey showed that 55% of merchants use Amazon's request a review feature to achieve this.
Meanwhile, you can email comm[email protected] to report suspected multiple fake reviews.
Are you a brand owner? Register your brand. Amazon's brand registry lets brand owners file complaints about trademark violations and counterfeiters. Being an Amazon-registered brand will give you control over your content and tools to check property rights breaches. You also gain access to the names of sellers listed on their branded products.
Also, consider enrolling in Amazon Transparency to securely track your inventory using Amazon's unique numerical codes. Customers can also scan these codes, giving them more assurance about the product's authenticity and methods for registering for warranties.
Shipping:
"On-time" arrivals for 97% of deliveries

Late shipment rate: below 4%

Valid tracking numbers for 95% of shipped packages
---
Optimize your product page.
Ensure that your product page contains terms that your target market will use when searching for your product on Amazon. Make your descriptions accurate, concise, and easy to read.
Also, the benefits of the products should stand out more than their features. Feature the most important information on top when using bullet points.
Don't just optimize words—you must also use images effectively by complying with Amazon's specifications. Refer to Amazon search engine optimization guide to refine your product listing.
---
Amazon Buy Box Myths
Here are some misconceptions about how the Amazon Buy Box works and the truth to dispel the myths:
Myth: The seller with the lowest price always gets the Buy Box.
Truth: While pricing is crucial in winning the Buy Box, other factors such as your fulfillment method and seller performance also play a role in acquiring the much-coveted Amazon feature.
Myth: The Buy Box is like a badge that will stay on a product page once a merchant's sales perform well.
Truth: No group of merchants claims exclusivity to this Amazon feature. The online retailer rotates the Buy Box to multiple sellers with high-performing metrics.
Myth: Sellers "activate" their eligibility to the Amazon Buy Box.
Truth: Merchants have to earn their way to get the Buy Box to appear on their product pages. Amazon will ultimately decide based on its algorithm.
Myth: You cannot compete against Amazon for the Buy Box.
Truth: You can compete with the retail giant, but you will have to lower your item's price below Amazon's offer and keep a near-perfect sales record.
Veteran merchants say that Amazon is likely to give the Buy Box to third-party sellers if its number of stocks for a specific product is very limited. The move will help the retailer keep its inventory intact for the meantime until it deems that conditions are best to make a sale.
---
What Is the Suppressed Buy Box?
Amazon removes the Buy Box from product pages when no seller qualifies for it. When you see a box containing a button that says "See All Buying Options" instead of "Add to Cart" and "Buy Now," what you have is a Suppressed Buy Box. Clicking this button will bring buyers to another Amazon webpage showing the different prices of the same product, arranged from lowest to highest.
Buy Box suppression is in line with the company's Marketplace Fair Pricing Policy, which involves price monitoring of products sold on the platform and comparing them with other prices that customers can find anywhere else online.
Amazon would normally take away the Buy Box when it spots the same product sold by you or other sellers at a lower price outside the website.
However, Buy Box suppression can also occur due to the following:
The item has a high landed price amid low sales volume.

The product sells at its original price after being sold at a lower promotional price for some time.

Sellers' metrics drop below Amazon's standards. The decline can be a result of low sales or poor performance rates (inventory, shipping time, cancellations, or chargebacks)

Content on the product page does not comply with Amazon's specifications. These "defects" may include unclear product images, inaccurate product information, or a word count beyond the limit for product title or bullet points.

Amazon detects suspicious activity such as the sudden increase in positive reviews.
A suppressed Buy Box is different from losing the Buy Box. When you lose the Buy Box, it means that Amazon "awarded" it to another seller with an offer and performance metrics currently better than yours.
---
Let the Amazon Buy Box Work for You
The Buy Box rotates evenly among sellers throughout the day, week, and month according to Amazon's algorithm. By applying the steps above, you can improve your Buy Box wins and the marketability of your products. Continue giving buyers the best offers by keeping your account healthy and staying on top of market trends by signing up for our newsletter or visiting our eCommerce Tools and Resources page.