If you're selling products online and delivering to different cities and even other countries, you have the freedom to target people from almost everywhere. But what if you want to reach people from a very specific area? This is often the case for local businesses and brands that want to drive foot traffic to their brick-and-mortar store. Fortunately, hyperlocal social media marketing has made it easier to get very specific with your location-based targeting.
So what is hyperlocal social media marketing and why does it matter for your brand? And if you were to try it out, how can you get started in the first place? Let's take a look.
---
8 Creative Hyperlocal Social Media Marketing Strategies for Your Brand:
---
What is Hyperlocal Social Media Marketing?
Hyperlocal social media marketing is the process of creating a marketing campaign that targets people from a specific geographic area. This typically involves leveraging geo-targeting to deliver paid ads to people living within a certain radius of the business's physical location. However, it can also involve other marketing strategies such as partnerships with local influencers.
As such, it's a highly effective solution for small businesses that cater to a local audience such as restaurants, salons, cafes, grocery stores, dentists, etc. as it helps them to drive foot traffic. Moreover, larger brands may use hyperlocal social media marketing to attract visitors for the launch of a new brick-and-mortar location. Similarly, this type of marketing is an excellent way to draw in attendees for a local event.
---
Why Hyperlocal Social Media Marketing Should Matter for Your Brand
While the benefit of hyperlocal social media marketing for local businesses may be obvious, you may not be too sure if it applies to your business. Doubting its benefits for larger businesses is perfectly normal. But let's take a closer look at some of the main reasons why hyperlocal social media marketing should matter for your brand.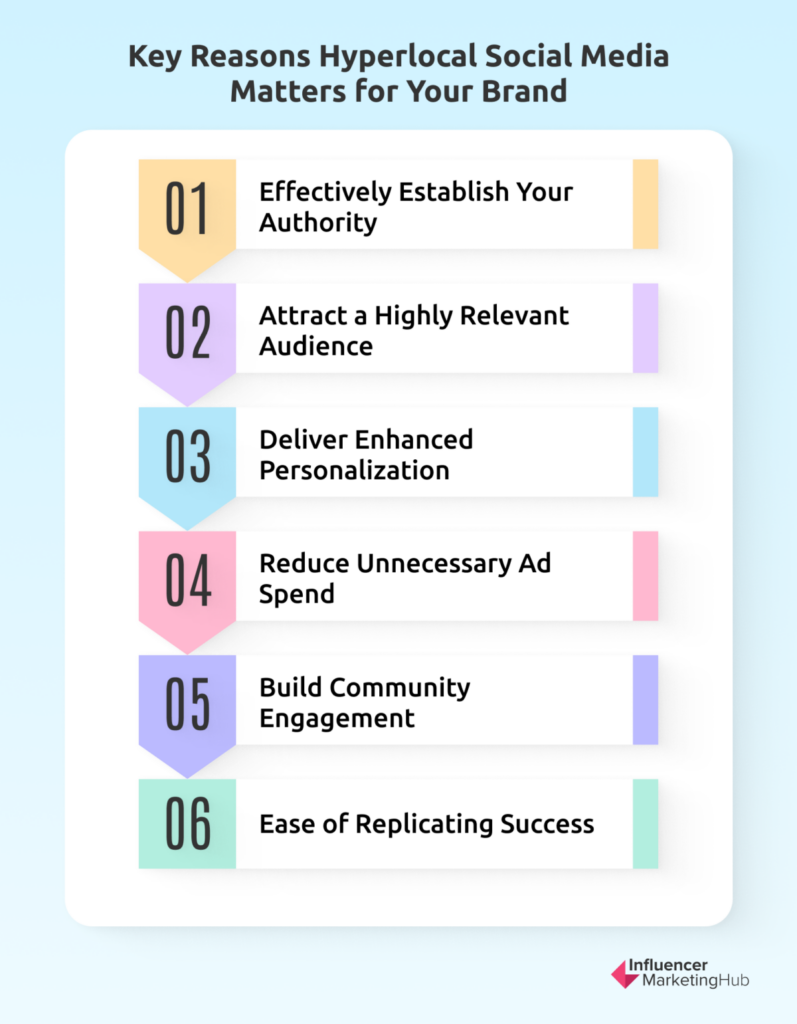 Effectively Establish Your Authority
Hyperlocal marketing is an effective way to position your business as the leading provider of a particular service or product in your target area. This is particularly true if you're leveraging the influence of local personalities that are trusted members of the community. You'll be able to establish yourself as an authority in your chosen niche or industry and gradually build your brand reputation.
---
Attract a Highly Relevant Audience
Targeting a hyperlocal audience means you can effectively reach people who are highly relevant to your business. You'll be able to attract people who will have a need for your offering, especially since your business is easily accessible to them. If you run a café in Arlington, Washington, for instance, you'll be specifically targeting people living within a 10-mile radius of the café who can regularly visit the café instead of targeting all of Arlington.
---
Deliver Enhanced Personalization
With hyperlocal social media marketing, you can personalize your offers according to the unique needs, interests, and preferences of people living in a specific area. This means that your campaigns are more likely to resonate with them, which will not only help with conversions but also improve their perception of your brand.
For instance, you may offer solutions for pain points that are specific to people living in your target area. Or you could highlight choices and offers exclusive to the location.
---
Reduce Unnecessary Ad Spend
With hyperlocal marketing, your campaigns are focused on a hyper-specific audience that has a higher chance of converting. That means you won't be spending unnecessarily on targeting people who have a much lower chance of finding your business relevant to them. Following the same example above, someone living 30 minutes away from your café is much less likely to visit your café even after seeing your ad compared to someone who can reach your café in just a 5-minute walk.
---
Build Community Engagement
Part of hyperlocal marketing involves community participation, which can then be showcased through your social media. Whether this involves supporting a local sports team or participating in a local charity event, it's a great way to drive community engagement and build a loyal hyperlocal audience.
---
Ease of Replicating Success
Hyperlocal marketing can essentially serve as a test run for your marketing campaign, with the target audience being your focus group. The success of your marketing campaign for a specific area can then be replicated for other areas with a much lower risk of failure. It's a cheap and effective way to test different strategies and marketing materials instead of risking it all in one big campaign.
---
8 Hyperlocal Social Media Marketing Strategies
Based on the benefits highlighted above, you're probably excited to get started with hyperlocal social media marketing. So how exactly do you do that? Let's take a look at eight effective hyperlocal social media marketing strategies to give you inspiration.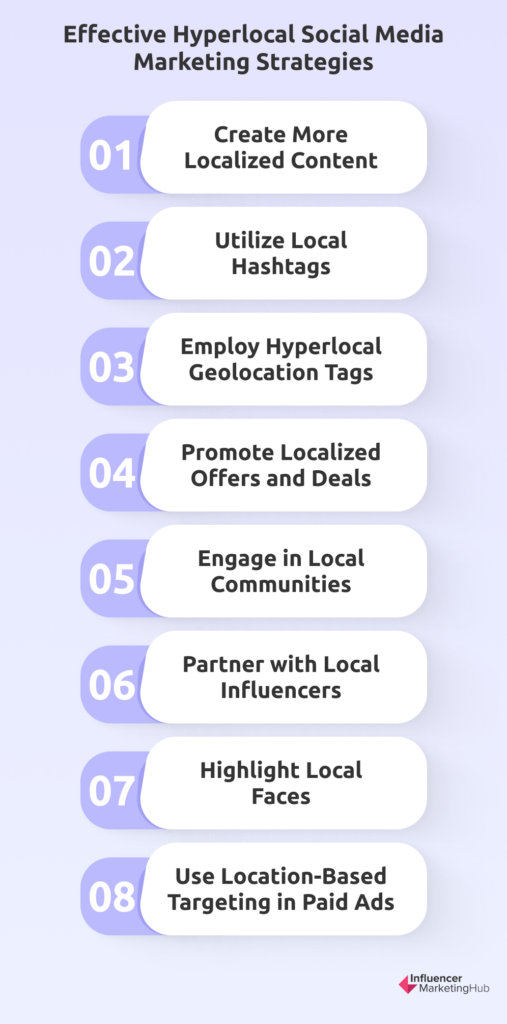 1. Create More Localized Content
The first thing you can do is create content that's more localized according to the area you're targeting. This could be as simple as making a few tweaks to your existing content strategy by including the name of the area in your copy or adding some relatable information for people living in that area.
Better yet, you could take it even further by creating content that specifically caters to the needs and desires of a hyperlocal audience. What challenges do these people face on a regular basis that are different from people living in another region? What unique experiences might they be looking for based on where they live? Are there any pain points unique to the location?
Based on this, you can come up with social media content that will address those challenges and pain points. You could also tap into their unique desires or personalize your content according to their biggest hobbies, activities, interests, and professions.
Here's an excellent example from a local outdoor equipment shop in Colorado Springs. The post is localized in two ways–it talks about the current weather condition in the area, and it discusses a popular activity for people living in the area. It then addresses a major pain point based on those two details by providing tips on how to stay dry while camping.
---
2. Make Use of Local Hashtags
Hashtags are a great way to improve content discovery on social media. When it comes to hyperlocal social media marketing, you can leverage local hashtags that will attract people from your target area. This would typically involve using hashtags that consist of specific location names, so when people search for those hashtags on social media, your post has a good chance of showing up.
In other words, using local hashtags will get your business in front of a hyperlocal audience, allowing you to attract more customers. For example, the following tattoo artist is based on Cocoa Beach, Florida. He regularly shares photos of his works on Instagram and includes local hashtags such as #cocoabeach and #cocoabeachtattoo so that the posts will show up in relevant location-based searches.
---
3. Use Hyperlocal Geolocation Tags in Your Posts
Geolocation tags are another great way to ensure that your social media posts show up in relevant searches for specific locations. They're particularly useful on platforms like Instagram, where the tags will show up under the "Places" tab for different searches. If someone clicks on one of these location tags, it will display all the popular posts using that geolocation tag.
To get more hyperlocal with this tactic, make sure to use geolocation tags for specific neighborhoods instead of the generic city-based tag. For example, the following Seattle-based realtor uses a hyperlocal geolocation tag for some of the homes that she's listed. So the posts will show up in searches for their respective neighborhoods such as Ballard or Queen Anne instead of Seattle in general.
---
4. Promote Localized Offers and Deals
If you want to drive more foot traffic and conversions, entice your audience with localized offers and deals promoted through attractive social media posts. This may involve discounts, freebies, experiences, and other attractive offers that would make them want to come to your store or buy from you. Make sure to design attractive graphics to highlight this promotion and provide all the details they'd need to follow up.
For instance, the following local flea market promoted a deal on the occasion of National Burger Day. They shared an eye-catching coupon and mentioned where, when, and how it can be used.
---
5. Show Your Participation in Local Communities
One of the best ways to attract a hyperlocal audience is by showing them that you're an active member of the local community. You can do that by participating in events and activities that are organized locally and then showing that participation through your social media accounts. There are a number of local events and activities that you can be a part of such as charity drives and fundraisers, sporting tournaments, community celebrations, festivals, and more. While participating in a local charity event is ideal, your participation shouldn't just be limited to that.
The point is to show them that you care about the local community and that you love being a part of it. You could even partner with local organizations and businesses to put together an event that would show your support for the community. For example, the following Montana sports shop partnered with Showdown Montana to organize an obstacle challenge in support of The Montana Vet Project.
---
6. Partner with Local Influencers
Every local community has a few individuals that everyone looks up to. Whether it's a local community leader, athlete, entrepreneur, or activist, having them vouch for your business is an excellent way to win people's trust. You could have them visit your store and share their experience with their social media followers or get them to review your products and offerings. You could even invite them to an event that you're organizing so they can help attract attendees.
For example, the following Denver-based chicken joint partnered with a local food influencer to promote their establishment. The influencer created an Instagram Collab post with the joint to provide her followers with a list of reasons why they should visit the place.
---
7. Highlight Local Faces to Nurture Your Community
Sometimes, you don't even need influential figures to help you promote your business. All it takes is a bunch of familiar faces to get people to visit your establishment. Seeing friends, family, and acquaintances visiting your business could entice many to also make a visit.
You could use social media to put a spotlight on some of your local customers and show your appreciation for them. This not only makes them feel seen and valued, but it could also help you win the trust of other people in the community. Encourage customers to share their photos and experiences via social media and tag your business, then get their permission to repost those photos as social proof.
You could even collect the photos and reviews submitted by customers and reshare them on your social. Here's an excellent example from a café based in Springfield, Missouri.
---
8. Leverage Location-Based Targeting for Paid Ads
Finally, you can effectively reach a hyperlocal audience with the help of paid advertising. Many social media platforms let you customize your targeting to deliver your ads to people living within a specific radius of your business. That way, you can create awareness and attract customers that are highly relevant to you because they live so close by.
This type of hyperlocal targeting is an excellent way to get the most out of your advertising dollars. U.K.-based food delivery company, Deliveroo was able to generate 5x higher engagement rates and 124% more incremental orders delivered with the help of accurate local ads on Facebook.
---
Ready to Get Hyperlocal on Social?
There you have it–eight highly creative hyperlocal strategies to market to your audience on social media. Whether you invest a bit in paid ads or decide to opt for a completely organic approach, these strategies can effectively help you attract the right audience for your business.