Influencer marketing is now a mainstream form of marketing. It is one of the most popular ways for businesses to distribute content on social media to a far wider audience than their own. As long as brands select suitable influencers, they receive very positive rates of return on their influencer marketing expenditure.
However, like all industries, influencer marketing is evolving. The world of influencer marketing is very different now from what it was four years ago. Even if you have successfully tried influencer marketing in the past, it makes sense to upskill and learn what is happening in the world of influencer marketing.
There are now many influencer marketing events planned around the globe. Many of these cater to a broader audience, for example, social media marketing, but they include influencer marketing in the topics they cover.
Here are the leading events that should help you in 2021 to learn more about the latest trends in influencer marketing and how the industry is changing to meet the demands of marketers and brands.
---
Top Influencer Marketing Events for 2020 & 2021:
---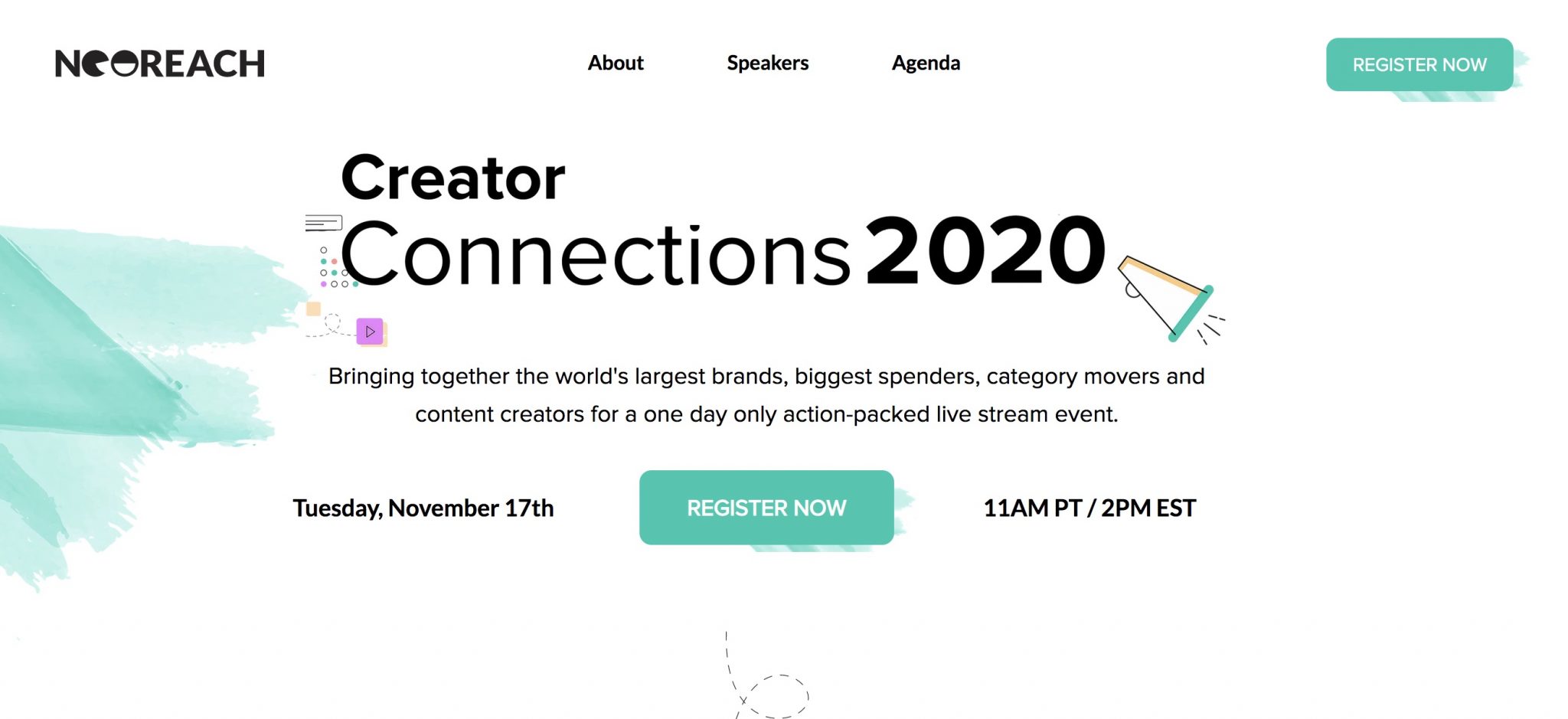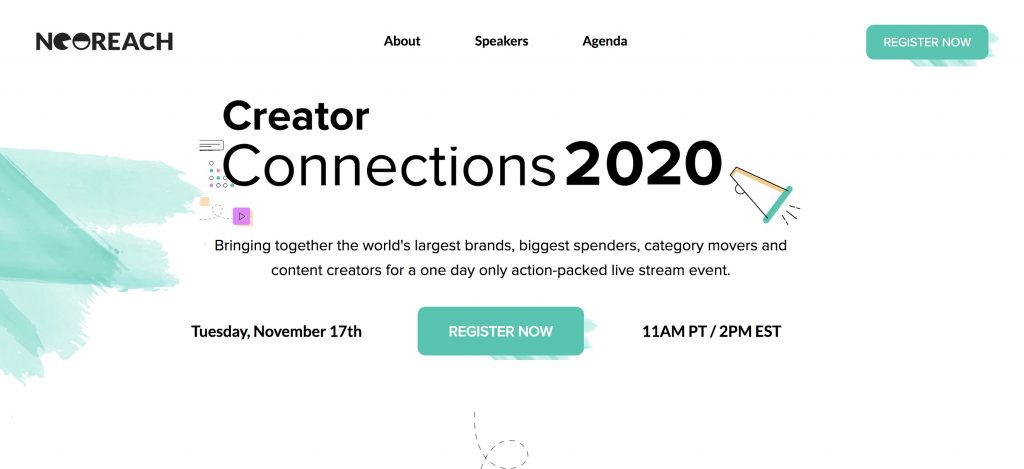 November 17, 11 AM PT/ 2 PM ET
Join the NeoReach team for a few hours of discussions led by market experts as they discuss influencer marketing in a post COVID-19 world. Get the perspective on new trends in digital marketing and influencer expectations from the creators and experts themselves. Learn how to build effective influencer marketing campaigns that understand the value of safety and action among the political, technical, and environmental underpinnings of the present and future.
The event is only one day, but a day packed with discussions about how audience, creator, and advertiser expectations are changing in today's current online and offline environments. COVID-19 has made a major impact on the way creators and brands approach digital marketing, but other factors such as diversity and changing platforms also directly affect the way we approach marketing. Join moderators Chris Gonzalez and Brian Sorel, CEO and COO respectively, as they take you through a full itinerary of events and discussions. Throughout the day, you'll cover a wide range of topics, including:
Today's Trends in Influencer Marketing

Top Players

Simplifying Campaign Management

A Creator Fireside Chat

Audience QandA
---
December 8, 11 AM to December 9, 4 PM ET
In this event, the many disciplines of brand activation come together to help you create a successful campaign. See how a variety of industries bring their brands to life including a look into some of the most creative influencer campaigns and topics of late. Get insights from a team of storytellers, marketers, innovators, and leading brand activation experts Register now to get your seat for in-depth case studies with experts and the latest tools, trends, and tech.
The event has a few different registration packages you can choose from, starting at $99 and going up to $299. Register your whole team or go individually to learn about the topics and tactics that are most important right now. Some of the events include:
Growing an Empowered Organic Influencer Community

Chipotle: Super Charging the Super Fans

Activating Brand Purpose Through Meaningful Marketing

Nationwide and the NFL: Commitment to Philanthropy and Community

Spartan Race: Creating a Loyal Brand Activation Army
---
December 1-3
Learn how to master your marketing leadership in a new terrain and internet climate. This program is designed for CMOs and their leadership teams to gain insight on everything from customer experience to market insights and marketing technologies. Learn how to successfully navigate change in the market by thinking differently and utilising analytics.
Gartner calls it "unparalleled marketing insights for unprecedented times", and that's just what they are providing in this symposium. To best educate their audience of marketers on advertising practices, Gartner has a line up of interactive and informational options. Scenario planning can help sharpen your leadership skills. Collaborate and network with other marketing peers to share tips on best marketing practices. Plus, explore the findings from their extensive 2020 CMO Spend Survey. See how COVID-19 has impacted CMOs, the industry as a whole, and future predictions about the world of digital marketing.
People from all different industries gather at this event to learn more about marketing in their field, especially how to roll with the punches in the rapidly changing world of digital and influencer marketing. Some of their most popular one-on-one meeting topics include:
Marketing technology and emerging trends

Customer experience design and execution

Multichannel marketing

Marketing organization and operations

Marketing data and analytics
---
2021
Although the event for this year was cancelled, DC Podfest is coming back in 2021. It's a great place to strengthen your skills as a creator and network with other podcast hopefuls and brands. People from all around the world gather to build their podcasts and learn from expert speakers.
DC Podfest has four components: education, fun, community, and inspiration. Focus on the influence, creativity, and influence of podcasting in workshops and sessions. They are specifically designed so that experienced podcasters can learn alongside the ambitious first timers. You will be engaged, productive, and entertained regardless of your skill level or experience.
On top of the education, this event is a place to have fun and socialize. Networking is an integral part of working on social media. To facilitate the most enjoyable type of networking, D.C. Podfest hosts everything from an open bar night to pancake breakfasts. You'll find plenty of people to socialize with, because everyone at the conference shares a passion for podcasting and a desire to improve both their own content and the platform in general. People gather from all over the world for Podfest, you're sure to find someone, or many someones, to talk to and learn from.
Finally, get your shot of inspiration not only from the many impassioned experts invited to speak at the event, but also from the attendees around you. No matter the topic of an individual podcast, this event will provide you with valuable information on building a community or best practices for monetizing your content through talks with podcast and marketing masters. Just a few of the discussion topics that will be covered include:
Marketing and Monetization

Technology from Audio to Editing

Best Practices: Podcasting 101!
---
November 2021
Social Media Week is the can't miss global event on all things internet related. Social Media Week brings together digital marketing professionals from over 50 countries to share ideas, insights and strategies for how to advance their businesses and brands in an age of unprecedented human-connectivity. There are over 1,500 attendees and 200 plus speakers leading sessions and building connections. Last year's line up included CMOs, CEOs, and influencers each with a unique perspective on the changing market. They had Lindsey Turner, Head of Creators at Twitter; Steven Bartlett, CEO of Social Chain Group; James Lamon, Head of Content at Buzzfeed UK; Paulina Mustafa, Product Designer at Google; Jane Kinnard, Instagram Creative Strategist; and so many more. The next year's line up is sure to be just as impressive.
The theme for 2020 was HUMAN.X. The convention spearheaded an important conversation focused on what it means to take a human-first and experience-driven approach to marketing. While there is not yet a set list of what to expect from the 2021 conference, we can take a few hints from the most recent event. Some of these sections, many of which are sure to make a reappearance in the coming years, included:
Influencer Marketing and Creators

Storytelling and Creativity

Monetization and Commerce

Society and Culture

Emerging Trends and Future Tech
---
3-5 May 2021
AdWorld is the world's largest online advertising event for brands, founders, SEOs, digital marketers, webmasters, performance designers, podcasters, influencers, and on and on. Join thousands of the world's brightest minds in advertising to learn and share secrets of online marketing through an online conference. The three days will be filled with AdWorld's Digital Advertising Tracks, consisting of hyper-focused speeches, workshops and live Q&A sessions to help take your business to the next level.
They've got an all star advertising line up of speakers who are prepared to share their secrets by presenting actionable insights, data-driven knowledge and innovative ideas from the online advertising industry. As for events, just a few topics listed on the itinerary include:
Digital Marketing

Influencer Marketing

Conversion Optimization

Search Engine Optimization

Design for Growth

Ad Tech and Traffic Sources
---
2021
DigiMarCon is the largest digital marketing, media and advertising conference and exhibition series in the world. Conferences are held across the world everywhere from Amsterdam to Dubai to D.C. Not only is the geography wide reaching, so are the speakers and events. DigiMarCon is your chance to hear from thought provoking speakers on topics such as digital marketing and media advertising in a safe and hygienic environment. Get insight into emerging strategies and the latest tech all while networking with your peers and experts in the field. A few of the topics on their line up for next year include:
Digital Strategy

Social Media Marketing

Web Analytics and A/B Testing

Geo Targeting

Sustainable Growth Strategies
---
June 28 - July 1, 2021
The upcoming Marketing World Convention will be hosted in Barcelona and follow the theme "Connected Impact". Connectivity is an integral part of digital marketing, which is why creators, innovators, and leaders all gather at this huge mobile event to help shape the tech future. Learn from the brightest minds alongside teams of people who share your passions. In addition to speakers, showcase your product at an exhibition or browse the amazing tech already there. Just a few of the confirmed attendees who will build the experience include:
Amazon

Microsoft

T Mobile

Vodafone

Samsung
---
Various dates 2020-2021
Digital Marketing World Forum has been at the forefront of the global digital marketing community for over 12 years, delivering the latest marketing insights via top-level online content and world-class events in London, New York, Amsterdam and Singapore. Explore the latest trends and strategies within digital marketing covering everything from influencer marketing to virtual reality. The next conference, DMWF Europe, will be held online in November and gather speakers from Nissan, Facebook, Adidas, and more. But if you're not a European marketer, look forward to the Asia conference in December and the North American one in March of 2021. The next global Digital Marketing World Forum event won't be until June of 2021, where you will get expert perspective from companies and leaders around the world.

---
2020 Past events
Los Angeles, CA USA – 1 February 2020
#BlogHer Health celebrates the female storytellers who use their voices to raise awareness for our collective health. The last #BlogHer Health event saw nearly 1,000 LA-based content creators gathered to be inspired and informed about the latest in health and wellness, straight from the experts who have turned their passion into a profitable business and the top brands looking for partners. The 2020 event should be just as active.
Speakers include Erin Cutler (Founder and CEO, Neon Rise Agency), Hunter McGrady (model and activist), Jenna Finley (board-certified genetic counselor, Invitae, and many more).
#BlogHer has been inspiring, empowering, and celebrating women content creators since 2005. They have held major events in many different blogging niches for nearly 15 years now. #BlogHer Health is now in its third year.

---
Mechelen, Belgium – 1 February 2020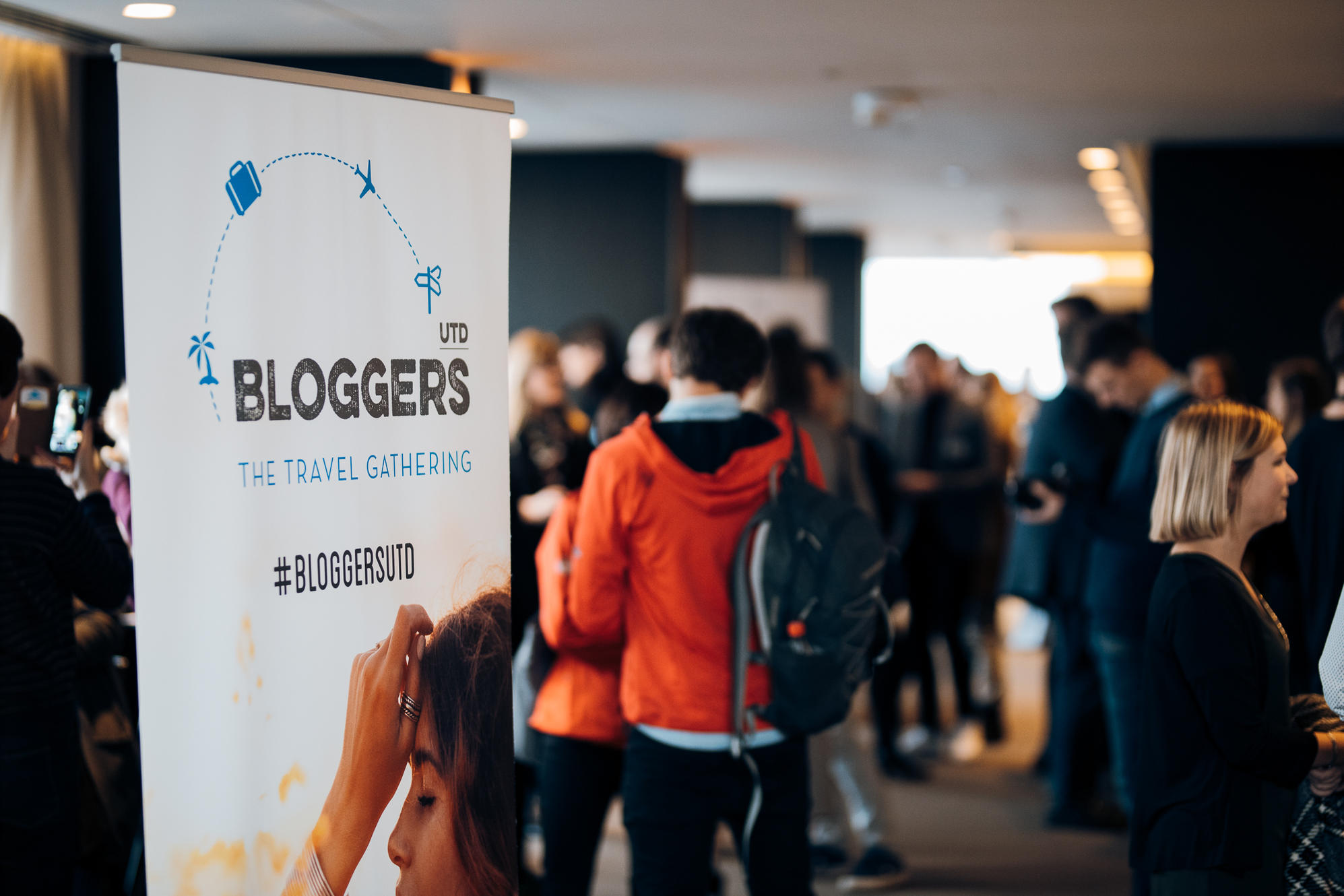 Bloggers UTD – the Travel Gathering is the biggest meet-up between Belgian travel and lifestyle bloggers and the tourism industry. It is an afternoon of networking and knowledge-sharing. The event allows travel partners and bloggers to find the perfect match for their next collaboration.
In the afternoon, partners can attend four keynote presentations about influencer marketing. The hosting city will also organize some cool workshops for visiting bloggers during the day.
There is plenty of time for networking after the keynote sessions. All partners will have their stand at the event. Bloggers are welcome to chat with the attending partners, introduce their channels, and to propose possible collabs.

---
Melbourne, Australia – 12-14 February 2020
Australia's largest digital marketing conference happens over three days in February. During that time, there will be three social events, 30 outstanding speakers, 35 noteworthy sessions, and 30 emerging traffic sources.
The conference will focus specifically on digital marketing to help grow your business. You can expect sessions on multiple online marketing topics, including influencer marketing.
Each day is going to be full of different topics that expert speakers will cover. You can network with the industry's brightest minds, absorb mastermind-level content on stage, and be exposed to vetted, high quality sponsors overflowing with opportunities to push your business forward and propelling growth.

---
Los Angeles, CA USA – 12-15 February 2020
The goal of Podcast Movement is to bring together and educate active and aspiring podcasters and to grow the podcast community and industry as a whole. They do this through educational and informative breakout sessions and panels spread across seven tracks, enlightening and encouraging keynote presentations, and fun networking events and parties.
They have taken special care to format the conference in a way that includes sessions and activities that directly benefit anyone currently involved with, or looking to get into, podcasting, and the podcast industry. With over 100 speakers and panelists participating in sessions across the three tracks, they have tried to make sure there will be something for everyone at Evolutions.
One entire track is geared towards "behind the scenes teams" and industry professionals. The most successful networks, ad sellers and buyers, statistic providers, and everything in between will be sharing what has been working (and what hasn't) in the past year, and what they are doing for the future.

---
London, UK – 20-23 February 2020
Mexico City, Mexico – 30 April – 3 May 2020
Anaheim, CA USA – 17-20 June 2020
VidCon begins its second decade in 2020. It describes itself as being for people who love and make online videos. It covers all social channels that feature video, including YouTube, Instagram, Facebook, Snapchat, LinkedIn, Twitch, and TikTok.
It offers three tracks, depending on your area of interest:
The Community Track – for fans who want to celebrate online video with their friends, meet their favorite creators and have the time of their life.

The Creator Track – for video-makers wanting to create better content, grow their channel, break into the industry, and meet fellow creators.

The Industry Track – for companies, brands, and technology companies who wish to learn secrets from the experts, and build the strategies, insights, and alliances that will bring lasting success.
The industry track will be particularly beneficial for marketers, business owners, creators, or Influencers wanting to be involved in video Influencer marketing. The Industry Track has its own lounge and its own seminars, keynotes, panels, and fireside chats.

---
Los Angeles, CA USA – 25-26 February 2020
Influencer Marketing Conference & Expo (IMCX) is a series of networking & educational events attended by senior-level marketing decision-makers from brands, influencer marketing agencies, influencer marketing platforms, social media influencers, and other stakeholders involved in the multi-billion dollar influencer marketing economy.
Some of the topics that the conference will cover include:
State of the Influencer Economy

Growth-Hacking with Influencers - a spotlight on the trend of Influencer Owned Brands

Targeting Millennials & Gen-Z via Influencer Marketing (Best Practices)

Building Communities with micro & nano social media Influencers

Cross Border Influencer Marketing

Agency Versus In-house influencer marketing

Influencer Marketing Versus Influencer Relations

Music, Film/TV & E-sports

FTC Disclosures (Legal Updates)

Emerging Social Media Platforms

Optimizing Influencer Marketing Campaigns on Facebook, Instagram & Youtube

The Science of Influencing

Influencer Development Workshop

Influencer Fraud

Funding Your Influencer marketing campaign

Metrics & Measurement

The Future of Influencer Marketing

B2B Influencer Marketing- Best Practices

Innovative Influencer Marketing Platforms

Beat The Algorithm. Social Media Growth Hack Strategies
---
Washington DC USA – 27-29 February 2020
The Dad 2.0 Summit is an open conversation about the commercial power of dads online, and an opportunity to learn the tools and tactics used by influential bloggers to create high-quality content, build personal brands, and develop business ideas.
It is an annual conference where marketers, social media leaders, and blogging parents connect to discuss the changing voice and perception of modern fatherhood.
The community and annual summit bring together ​an elaborate spectrum of people who see fatherhood as a vital social good, including
online dad influencers (bloggers, YouTubers, podcasters, Twitter & Insta stars)

Dad entrepreneurs & business owners

Men's media (e.g., Esquire)

Commercial creators (authors, filmmakers, producers & publishers)

Brand marketers who target dads & families

Fatherhood researchers & advocates
---
San Diego, CA USA – 1-3 March 2020
Social Media Marketing World is designed for the marketing professional. It aims to showcase important trends and how to implement the latest techniques successfully.
Most attendees either own or work for businesses with fewer than 100 employees - social media marketers, consultants, solopreneurs, agency owners, network marketers, and corporate marketers.
Social Media World splits its session into the following tracks:
Instagram Marketing, Facebook Ads, Facebook Organic, YouTube for Business, Video Marketing, LinkedIn Marketing, Social Strategy, Content Marketing, Video Creation, Live Video, Twitter Marketing, Pinterest Marketing, Local Business Marketing, Analytics, Messenger Bots, and Customer Advocacy
While it doesn't have a separate influencer marketing strand, many of the session tracks will still be highly relevant to firms wishing to engage in influencer marketing. One session that stands out is "Influencer Marketing Strategy: How to Maximize Your ROI" by Neal Schaffer.

---
Brighton, UK – 16 April 2020
The BrightonSEO 2020 Online PR Show is dedicated to successful digital public relations, outreach, and influencer marketing. It takes place the day before the BrightonSEO conference.
It will feature a selection of industry professionals as speakers. Topics include:
Creating a kick-ass seeding list to land links on more than just the nationals

What is digital PR strategy?

How to win friends and influencers in international markets

Questions your PR team should be asking your paid team

Tweak It, Fake It, and Research Until You Make It

How to Agree Tangible, Measurable KPIs with your Colleagues and Clients

Frameworks for Getting Links & Coverage for Campaign Launches

Making Headlines: Pitching Tips and Debunking Digital PR Myths
---
San Diego, CA USA – 20-22 April 2020
The Content Tech Summit has a clear mission – "to show how the effective use of technology and better processes can help your strategic efforts to create, manage, deliver, and scale your enterprise content and provide your customers with better digital experiences."
The summit will try to answer how your business should be using or preparing for the right content and marketing technology innovations. How do you use content and technology to help in the ever-changing market landscape?
Attendees of ContentTECH will learn from practitioners and experts in content technology and marketing strategy. Both speakers and attendees are trailblazing pioneers who have set the bar for epic content marketing through technology.

---
Amsterdam, Netherlands – 21-22 April 2020
Savage Marketing 2020 will feature 50 speakers holding 40 sessions for 500 marketers on topics affecting B2C marketing. Is will be a place to learn, share, and network. It is one of Europe's premier marketing conferences.
Although it covers all spheres of marketing, there will be much of value for those interested in digital marketing, content marketing, and influencer marketing.
Topics in 2020 include:
Synchronizing online and offline experiences to brand proposition

Creating powerful experiences that engage GenZ

Creating a single customer view is the key to data-driven engagement

The importance of geofencing in virtual engagement
---
Chicago, IL USA – 29-30 April 2020 (Pre-Summit Workshop 28 April)
The Influencer Marketing Strategies Summit aims to help marketers launch, scale, and measure their influencer programs. It runs parallel with the Social Media Strategies Summit.
The Influencer Marketing Strategies Summit teaches you the nuts and bolts of building an influencer marketing strategy that drives business results. The Social Media Strategies Summit features case studies, panels, and how-to sessions to help your team create a strong-performing, engaging social media presence for your brand.
The influencer keynotes are:
The State of Influencer Marketing, Social Algorithm Changes and Top Trends of 2020

The Role of Trust and Relationship Building in Influencer Marketing

The Rise of Influencer Entrepreneurs and Their Impact on Brands

How Brands and Creators Can Be Tapping into Emerging Channels for Their Influencer Marketing Campaign

Brand, Agency and Creator Perspectives — Best Practices in Campaign Management and Creative Strategy
The pre-summit Workshop offers two influencer workshop topics:
How to Generate Creative, Compelling Influencer Marketing Campaign Ideas that Align with Your Brand

Building a Data-Driven Influencer Marketing Strategy
Also, there are numerous other influencer-related sessions and panels.

---
London, UK – 29-30 April 2020
Marketing to the younger generations can be a daunting experience if that is not your own demographic. For a start, Generation Z can't stand banner ads, and most install some form of ad blocking software. They trust their influencers far more than they do brands or even traditional celebrities.
Youth Marketing Strategy, London, is a two-day youth marketing festival on the latest trends, youth perspectives, and brand case studies.
The agenda includes an influencer marketing track. Tailify offers two hours of content around the buzz word phenomenon of the 21st century. Their discussion touches upon three primary pillars that will help you to truly connect with your audience and speak to their needs on a more relevant and authentic level.

---
Los Angeles, CA USA – 6-9 May 2020
Mom 2.0 is a gathering of influencers and leaders who create content online and on-air in parenting, entertainment, food, politics, business, marketing, technology, social change, travel, and design.
Many prominent women are booked as speakers for this event, although their topics have not yet been announced.

---
Atlanta, GE USA – 12-14 May 2020
The Social Shake-Up is another recurring conference that grows in popularity each year. The Social Shake-Up allows you to hear from the movers and shakers in social. They will give you ideas to move you and your brand forward.
Many of the speakers are C-suite execs who understand the place of social in business. You will participate in provocative discussions about what's next and how you need to prepare.
The conference includes interactive sessions, case studies, panel discussions, fireside chats, clinics and more focused on Social Strategy, Integrated Comms, Customer Experience, Video, Monitoring, Data, Facebook, Snapchat, Instagram, Twitter, LinkedIn, Content Marketing, Mobile, Crisis Management, Podcasting, Blogging, Social Good, Visual Storytelling, Paid Social, Organic Social, SEO, Online Communities, Customer Mapping, Talent Retention, Measurement, and Social Commerce.
The Social Shake-Up provides numerous networking opportunities, which could be a useful time for brands to build relationships with influencers.
The Shake-Up continues its tradition of closing out the show with a roundtable of top influencers shaking up social. They have gathered a diverse set of sought-after influencers who will share their secret sauce for engagement, innovation, and online commerce. Brands will get a final unvarnished look at what makes a successful partnership from an influencer's point of view.

---
Las Vegas, NV USA – 1-3 June 2020
Digital Growth Unleashed is an updated version of what was previously known as Conversion Conference, which was held more than two dozen times at various locations around the world since 2010.
The event will leave you knowing how to attract the right audience, align business models with the user experience, optimize the lifetime value of client relationships and introduce you to the right technology to make it all happen.
It is a live-only event with no video recordings. Attendees will gain actionable content from industry-leading speakers and insightful perspectives from top keynotes. You will be able to make connections and talk in-depth with your favorite speakers.
Your team will have plenty of choices, as there are four content streams, and four concurrent sessions throughout the conference.
Digital Growth Unleashed is co-located with the Marketing Analytics Summit and the Email Innovations Summit.

---
Munich, Germany – 23-24 June 2020
Munich's Online B2B Conference aims to provide strategies for successful online B2B marketing. They recognize that community building, content marketing, and influencer relations are now rapidly becoming relevant for B2B marketing. At the Online B2B Conference, you will learn from lectures and practical examples of how you can implement these trends.
Networking, making contacts, and intensive exchange in a relaxed atmosphere: the conference offers a lot of time and space for the exchange of participants with each other and with the speakers.
The conference features more than 25 industry experts speaking over two days. This includes technical contributions, case studies, and the exchange of experiences.

---
Long Beach, CA USA – 30 September - 3 October 2020
FinCon is the conference where money and media meet. It aims to help financial influencers and brands create better content, reach their audience, and make more money.
You can collaborate with other influencers who share your passion for making personal finance personal. The conference features more than 200 speakers and more than 100 exhibitors.
More than 2500 personal finance content creators and influencers came together to connect, collaborate, and learn from each other in 2019, and there should be similar numbers in 2020.

---
Cleveland, OH USA – 13-16 October 2020
The Content Marketing World Conference and Expo will return in 2020. It provides an opportunity for you to learn and network with the best and the brightest in the content marketing industry. Leading brand marketers and experts from around the world will present over 125 sessions and workshops. These will cover strategy, storytelling, ROI, demand generation, AI, and other new ideas.
They expect more than 4,000 attendees from more than 550 companies in 60 countries, listening to 225 speakers.
Although the 2020 agenda is not yet available, the 2019 conference included many sessions relevant to those engaging in influencer marketing.

---
Washington DC USA – 6-8 November 2020
DC Podfest brings podcasters and digital influencers together for three days of sessions, networking, workshops, and fun.
It focuses on the business, creativity, and influence of podcasting. The sessions and workshops are designed for everyone, from those who are still thinking about podcasting, to those who have been around the block a few times.
There's plenty to do for socializing, networking, and a good time. They host everything from open bar events to pancake breakfasts.
The speakers and workshop hosts are chosen for their passion and expertise in areas from starting a podcast to building a devoted audience and monetizing.
DC Podfest offers new and veteran podcasters two days of speakers, workshops, networking, branding sessions, a VIP Party, recording sessions, ending with a live podcast closing party.