Instagram is one of the most popular social media networks used by marketers to connect with their audiences. It is also the most popular social network for most influencer marketing platforms, with many influencers in different niches and more emerging each day.
Almost all brands and marketers have, at some point, worked with an influencer or have plans to. And, most prefer working with smaller influencers who are more authentic and affordable.
However, if you have a large enough budget and want to reach millions of people via just one post, then celebrities are your best bet. No one can beat the power and influence of a celebrity or match their follower bases.
Here's a list of the top highest-earning celebrities and influencers on Instagram with whom you can collaborate to reach millions of people.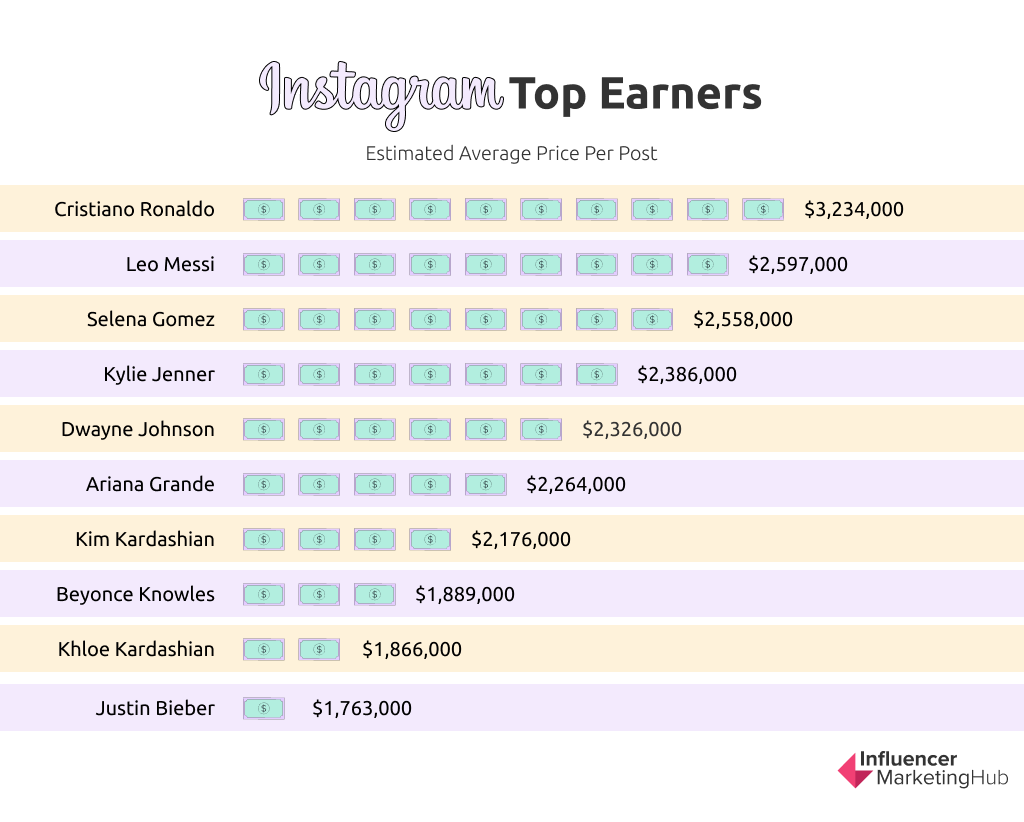 ---
Highest Paid Instagram Stars in 2024:
---
Estimated Average Price Per Post - $3,234,000
Christiano Ronaldo is one of the most popular football players in the world and doesn't really need an introduction. However, for all those who don't know about sports, he is a Portuguese football player, who plays forward.
Ronaldo is the dream celebrity for brand endorsements for any sports brand and he also does it well. Unlike other celebrities who often just mention a brand and don't even bother to write a caption, he actually does a good job. Here's one such example of his post in which he promoted shampoo by Clear.
---
Estimated Average Price Per Post - $2,597,000
Lionel Messi is an Argentine professional footballer who doesn't really need any introduction. He is one of the most popular footballers of all time. He plays forward both for Argentina's national team and the Spanish club, Barcelona.
He has done several brand endorsements, not limited to brands in the sports and fitness categories. Here is an example of his paid collaboration with the food brand, Lay's.
---
Estimated Average Price Per Post - $2,558,000
Selena Gomez is a Spanish singer and actress who has a massive fan following worldwide. She has a huge follower base on Instagram and has been among the most popular Instagrammers for years. She breaks the norm that celebrities don't get high engagement rates on their posts and gets an average of 1.41% engagement rate on her Instagram posts.
She is often seen endorsing fashion, lifestyle, and beauty brands. Here's one example.
---
Estimated Average Price Per Post - $2,386,000
Kylie is the owner of the beauty brand, Kylie Cosmetics, and is one of the most influential people in the beauty industry. She belongs to the popular Jenner-Kardashian clan of "Keeping up with the Kardashians" fame. The entire extended family rose to fame because of that show, but each has their own set of accomplishments.
Kylie is a celebrity influencer who charges $600.000 per post and is mostly seen endorsing luxury fashion and beauty brands.
---
Estimated Average Price Per Post - $2,326,000
Dwayne, popularly known as, "The Rock," is a Hollywood actor who first gained popularity as a wrestler in the TV show called WWE. He is known for his solid build and is mostly seen in action movies. And, that makes him a perfect celebrity influencer for health and fitness brands.
Here's an example of him promoting a water brand on Instagram.
---
Estimated Average Price Per Post - $2,264,000
Ariana is an award-winning, American singer, actress, and songwriter who has several hit singles. Her recent single, "Just Look Up" has been on almost all prominent music billboards worldwide.
A simple mention from her on her Instagram feed can help you reach her 354 million followers. Here's one such post where she mentions the beauty brand, Ulta Beauty.
---
Estimated Average Price Per Post - $2,176,000
Kim Kardashian is another celebrity who rose to fame after being featured in a TV series based on her family. She just launched her cosmetics brand, KKW beauty, following after the footsteps of her half-sister, Kylie Jenner.
Kim is very popular on social media and consistently has media attention and gets both good and bad publicity. Here is a paid post where Kim is seen promoting a wellness brand.
---
Estimated Average Price Per Post - $1,889,000
Beyonce is a very popular singer and actress who was earlier a part of the famous band, "Destiny's Child." She is one of the most popular singers in the world and has sold over 100 million records worldwide.
Netflix launched a film about her life, and she promoted it on her Instagram page.
Beyonce has worked with Adidas to promote their Ivy Park range of clothing.

---
Estimated Average Price Per Post - $1,866,000
Khloe Is another businesswoman and socialite from the Jenner-Kardashian clan. She co-founded an apparel brand called Good American. She is also involved with Kylie's beauty brand and often designs several collections and fragrances.
Here is an Instagram post where she is promoting her ZenWtr alkaline water.

---
Estimated Average Price Per Post - $1,763,000
Justin Bieber is a popular Canadian singer who has made it to the list, primarily because of his massive fan following. He has a global fan base and that makes him coveted for brands who want to reach that audience.
Here's an example of him promoting an apparel brand.
---
Estimated Average Price Per Post - $1,758,000
Kendall Jenner is the sister of Kylie Jenner and a part of the Jenner-Kardashian family. She also features in the TV series, "Keeping up with the Kardashians," which is based on this family.
She is a model who has worked with several reputable companies like Victoria's Secret and Estee Lauder. Her popularity and a huge social media follower base keep landing her paid collaboration opportunities. Here is one such example of a sponsored post that she created for the fashion brand, Calvin Clein.
---
Estimated Average Price Per Post - $1,611,000
Taylor Swift is an American singer and songwriter with a global fan base. She is one of the highest-selling artists of all times and has several record-breaking singles. She has received 10 Grammys, one Emmy, 12 Country Music Association Awards, and 23 Billboard Music Awards.
Here's a commercial for Amazon Music that she posted on her Instagram feed.
---
Estimated Average Price Per Post - $1,497,000
Jennifer Lopez, often called J.Lo, is an American actress, singer, dancer, fashion designer, producer, and businesswoman. In 1997, she became the first Latin actress to earn over $US1 million for a film and established herself as the highest-paid Latin actress in Hollywood. She has also tasted success in the music industry and became the first woman to have a number one album and film in the same week in 2001.
---
Estimated Average Price Per Post - $1,384,000
Virat Kohli is the current captain of the Indian cricket team. Many regard him as one of the best contemporary batsmen in the world. He plays for Delhi in domestic cricket and Royal Challengers Bangalore in the Indian Premier League (IPL).
In 2020, Forbes ranked Kohli 66th in their list of the top 100 highest-paid athletes in the world for that year, with estimated earnings of $26 million. He received the Rajiv Gandhi Khel Ratna, the highest sporting honor in India, in 2018.
He has recently used Instagram to make paid partnership posts promoting Wrogn styles for Myntra.
---
Estimated Average Price Per Post - $1,344,000
Nicki Minaj is a famous rapper, singer, songwriter, model, and actress. She has won several awards for her music, including six American Music Awards, four MTV Video Music Awards, and 11 BET Awards. She was nominated for 10 Grammy awards but has not won one yet.
She often endorses luxury brands or simply mentions them in her Instagram posts. Here's once such post where she mentions the luxury fashion brand, Fendi.
---
Estimated Average Price Per Post - $1,343,000
Like her sisters, Kourtney Kardashian starred in Keeping Up with the Kardashians. She is involved in the retail and fashion industries and has launched several clothing collections and fragrances.
She has made much use of her Instagram and other social accounts, endorsing products such as waist slimming pants, beauty products, Coca-Cola, and prescription drugs.
She shared posts on behalf of Febreze, although many of her internet fans weren't impressed by the non-glamorous product promotion.
---
Estimated Average Price Per Post - $1,276,000
Miley Ray Cyrus is an American singer-songwriter, actress, and record producer. She became a teen idol while portraying the title character of the Disney Channel television series Hannah Montana. As Hannah Montana, Miley attained two number-one and three top-ten soundtracks on the U.S. Billboard 200. She has also achieved three U.S. number-one albums in her own right, as well as three other albums in the top five. People often cite her as an example of a successful child actor-turned-singer.
She went from innocent Nickelodeon star to full pop star, and she used her Instagram account to help her re-brand. She deleted her account briefly in 2018, but it wasn't gone for long.
---
Estimated Average Price Per Post -$1,220,000
Katy Perry is an American singer, songwriter, and television judge. She rose to fame in 2008 with her second album, One of the Boys. All subsequent albums have topped the U.S. Billboard 200.
She has nine U.S. Billboard Hot 100 number one singles, five Billboard Music Awards, five American Music Awards, a Brit Award, and a Juno Award. Her Super Bowl XLIX halftime show performance is the most-watched in history.
She has learned the benefits of using Instagram Stories for marketing. That is how she teased her new Katy Perry Collection in 2017.
She still promotes shoes from her Katy Perry collection through her Instagram account.
---
Estimated Average Price Per Post - $1,141,000
Neymar is a Brazilian footballer who plays forward for the Brazil national team and the French club, Paris Saint-Germain. He is a recent phenomenon and has quickly risen to fame and is now counted among the legends like Messi and Ronaldo (who are also on this list).
He is a good option for sports and fitness brands that are looking for a celebrity to endorse their brand. Here's an example of one of his Instagram posts where he is promoting the sports shoes brand Nike.
---
Estimated Average Price Per Post - $1,071,000
Kevin Hart is an American actor, stand-up comedian, and producer. He has acted in several popular movies and TV shows including "Jumanji" and "Modern Family." He is quite active on Instagram and has a substantial follower base.
As a celebrity, he sometimes gets the opportunity to design his own collections for different brands, like the one shown in the example below.
---
Conclusion
These are some of the highest-earning Instagrammers who have massive follower bases and are recognised worldwide. Collaborating with any of these Instagrammers can help you reach millions with a single post. So, if your goal is to reach as many people as you can, then these are the ones you should collaborate with.
Note: All engagement rate calculations are done using HopperHQ.
Frequently Asked Questions
Who is the highest paid on Instagram 2024?
The highest-paid Instagram celebrity and influencer in 2024 is Christiano Ronaldo. The celebrity topped our 2024 Instagram rich list, with a whooping $3,234,000 cost per post.
How much do Instagrammers get paid?
Instagrammers will get paid different amounts of money depending on how many followers they have. For example, Instagrammers with less than 10,000 followers will make around $88 per post. The Instagrammers with less than 100,000 followers will make $200 per post on average, though it depends on the profile. Some accounts will instead be gifted free products.
How much money does 1 million Instagram followers make?
An influencer with 1 million Instagram followers will make $10,000 per post. If you are an influencer with more than 1 million followers, you can charge anywhere from $10,000 to $100,000 per post or campaign.
Who is the most paid social media influencer?
These are the highest paid social media influencers:
Cristiano Ronaldo, who makes $3,2 million per sponsored post
Lionel Messi, who earns nearly $2,5 million per sponsored post
Selena Gomez, who makes nearly $2,5 million per sponsored post
Kylie Jenner, who makes $2,3 million per sponsored post
Who is the richest YouTuber?
Justin Bieber is the richest YouTuber in the world today. The richest YouTuber in the world is worth around $300 million. His net worth is nearly one third as large as the second richest YouTuber, Jeffree Star, who is worth $200 million.